The 6 Best Data Recovery Wellington Specialists
Image Credit: Arn
It's very frustrating to lose your files and projects, especially if you've put a ton of effort into those. Fortunately, we've listed the best data recovery Wellington specialists to get your files back quickly when disaster strikes.
We basically selected those who have the expertise and professionalism to recover your data. Also, we picked those that charge decent rates and have great reviews.
Without any delay, let's delve into the list of the best data recovery Wellington specialists. You should call them at once if you notice a problem with your device.
1)  Geeks On Wheels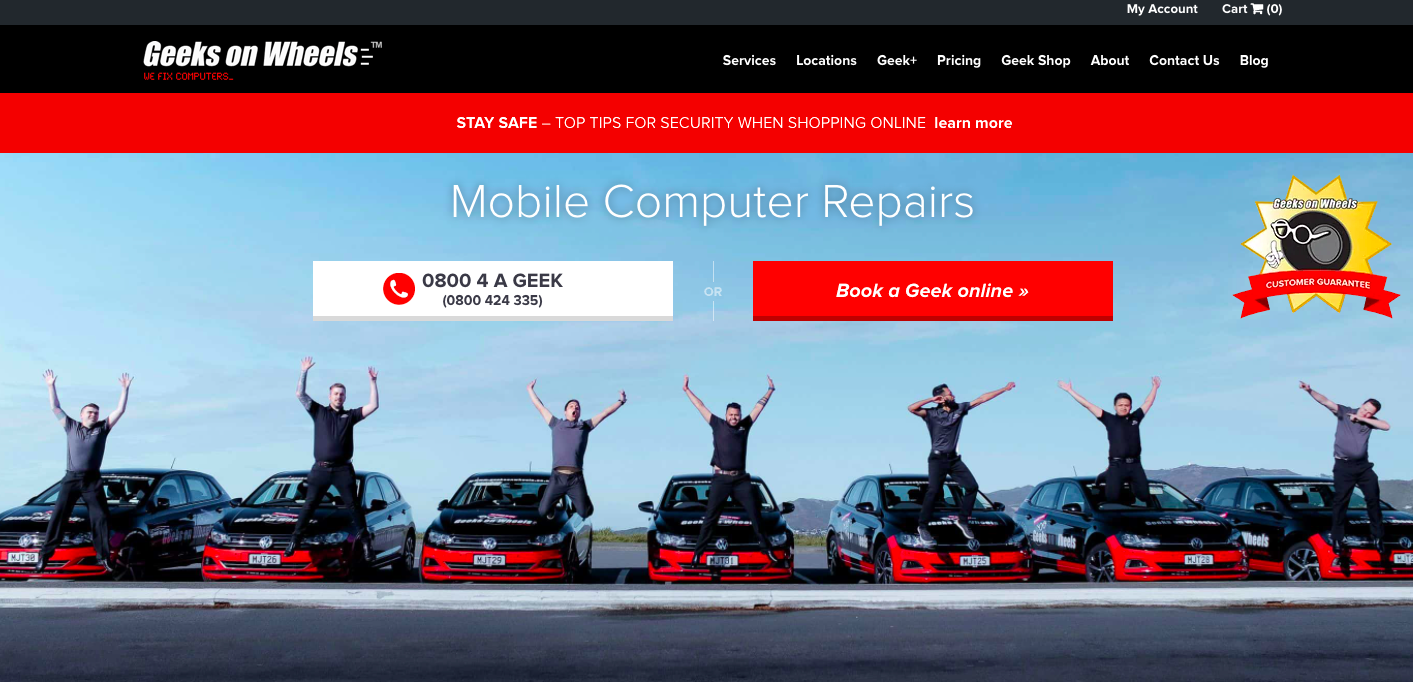 BEST FOR
SERVICES
Data Recovery, Computer Upgrades, Computer & Laptop Repairs, Smart Phone & Tablet Training, Malware Removal, Internet & Email Setup, Set Up New Devices
WEBSITE
https://www.geeksonwheels.co.nz/services/data-recovery/
ADDRESS
CONTACT DETAILS
Toll-Free: 0800 424 335
Email: [email protected]
OPERATING HOURS
Monday to Friday: 8:00 am – 8:00 pm
Saturday: 8:00 am – 6:00 pm
Sunday: Closed
Geeks on Wheels offers mobile computers repairs and support, meaning they'll conveniently come to your location to provide their services. This New Zealand owned and operated company's roaming services can help you to save both time and money.
Geeks on Wheels has more than a decade of experience in the industry as a mobile tech repair and support company. They specialize in handling  "everyday IT" issues that most people need help with like configuring a new device or removing malware, among many others.
Geeks on Wheels also specializes in data backup and recovery, with a wide array of solutions to help people protect their files and information. Whether it's an external hard drive, a network attached storage device, or an encrypted offsite Cloud backup service, they've got it covered. 
If you're looking for a reliable and efficient technician to help you with your computing problems, Geeks on Wheels is a choice worth considering. For those that have full schedules and need to save time, this mobile tech support company is one of our top picks in Wellington.
Highlights
Visits you at your location to provide assistance
Quick, responsive service
Offers various options for data backup and recovery 
Customer Reviews 
Let's take a look at what their clients have to say:
"Technician  was excellent.  Friendly and helpful.  He explained everything very well. We will use there services again. And would recommend." – Paul Houlihan
"Yuri was very helpful and patient with us. We had very limited knowledge of the digital world and we now feel reasonably confident. His knowledge was of great value to us. We highly recommend him. From Sheila and Garry Shaw." – Sheila Shaw
2)  Tech Guru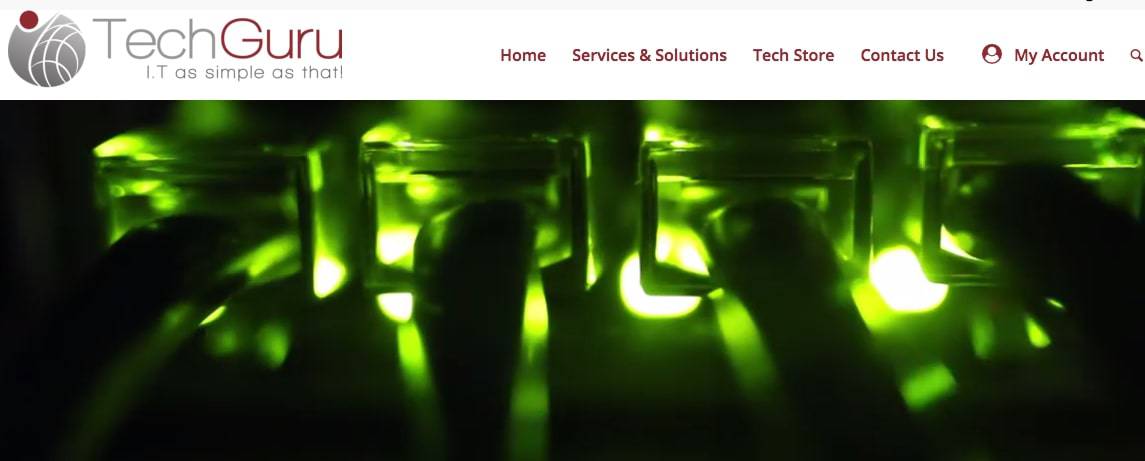 BEST FOR
Cost-Effective DR Solutions
SERVICES
I.T. Support Services

Softwares & Apps

Backup & Disaster Recovery Solutions

Infrastructure/Cloud Solutions & Services

Systems & Network Protection

Web & Logo Design

Office Networks Solutions & Services

WEBSITE
https://www.techguru.co.nz/
ADDRESS
Level 4/64 Dixon Street, Te Aro, Wellington 6011, New Zealand
CONTACT DETAILS
+64 4-889 3656
OPERATING HOURS
Monday to Friday: 8.30am – 5.30pm
Tech Guru prides itself on providing cost-effective IT solutions and support services to customers from various sectors: retail, oil & gas, finance, industrial, business and home.
One of their services is data backup and recovery, which is highly sought-after by businesses, especially when confidential and critically important files are lost.
Their experienced team can recover all types of files including those lost on cloud storage. Furthermore, they can give you advice to improve your current data solution.
Customers say that they provide a professional and expert service, keeping things hassle-free throughout the work.
Highlights
Cost-effective data recovery
Experienced team
Recover all types of files and information
Hassle-free service 
Customer Reviews 
One client, Jenny O'Connor, commented on the website: 
"Prompt and expert service at an outstanding price. Would definitely recommend to others, thanks."
3)  IT Today

BEST FOR
Clever and Personable Technician
SERVICES
Computer Repairs

Data Recovery

Computer Upgrades

Backup Solutions

Spyware & Virus Removal

IT Security

WEBSITE
https://ittoday.co.nz/data-recovery/
ADDRESS
101 Nelson St, Petone, Lower Hutt 5012, New Zealand
CONTACT DETAILS
(04) 979-8921
OPERATING HOURS
Monday to Friday: 9am – 5.30pm
Is your hard drive making odd sounds out of the blue? If so, know that you can minimise data loss and corruption from its malfunction by getting advice or professional IT services from IT Today.
IT Today is an IT and computer servicing firm based in Petone, Lower Hutt. They have over 18 years' experience and cover Hutt Valley and Mana to the entire Wellington Region.
They can recover your data or files from your laptop and desktop computers as well as your hard drive, USB, and flash memory cards.
Some of the best data recovery Wellington specialists, they provide a friendly and expert service, said their clients.
Highlights
Friendly and expert service
Recovers data or files from your laptop and desktop computers
Provides professional advice
Covers the Wellington Region
Customer Reviews
Here's Jane, one customer from Lower Hutt, who said on the webpage:
"I have used Steve on a number of different occasions and he has always provided excellent service. He knows his stuff & explains things in easy terms to a 'non-tech' person like myself. 10/10"
4)  Datalab

BEST FOR
Urgent Data Recovery
SERVICES
Data Recovery

Data Forensics

Data Security

WEBSITE
https://www.datalab.co.nz/
ADDRESS
Level 15/171 Featherston Street, CBD, Wellington 6011, New Zealand
CONTACT DETAILS
+64 800 328 2522
OPERATING HOURS
Monday to Friday: 8.30am – 5.30pm

Urgent and after-hours service
Lost your important pictures or videos on your camera, phone or laptop? If your answer is yes, then you should get in touch with Datalab.
They are composed of the best data recovery Wellington specialists who conduct the work in a state-of-the-art lab. From data corruption to server repair, they have you covered.
To keep it interesting, they've implemented a 'no data no charge policy'. This means if they are not able to recover the memory or data from your device, you don't pay.
Also, their team is ready for any data recovery task 24 hours a day, 7 days a week. They'll do it so fast that it will cause little to no disruption to your business or schedule.
Highlights 
Recovers files from PCs, cameras and phones
Skilled and trained team
No data no charge policy
Available 24/7
Customer Reviews
On the webpage, TR Falconer who is one of their clients, said:
"Thank you dataLab for recovering 5 years' worth of photos from my external hard drive that I deleted by formatting the drive accidently."
5)  Computer Troubleshooters

BEST FOR
Mac and PC Data Recovery
SERVICES
Hardware Troubleshooting

Software Troubleshooting

Internet & Email Support

Upgrades & Installation

Data Recovery

Networking

WEBSITE
http://www.ctsws.co.nz/index.htm
ADDRESS
41 Ashton Fitchett Drive, Brooklyn, Wellington 6021, New Zealand
CONTACT DETAILS
+64 21 869 907
OPERATING HOURS
24/7
Need a reliable team to recover your files on your Mac and PC? If you do, then you can count on Computer Troubleshooters!
Computer Troubleshooters is a franchise company with over 480 locations globally. They have extensive experience in all aspects of computer repair and servicing.
They can recover and secure your files whether your system has crashed, become damaged or accidentally formatted. This will be done without giving you any more stress than you are already feeling.
And while you're there, you can also let them sort out any other issues you may have with your laptop!
Highlights
Successful franchise company
Specialises in computer repair
Experienced data recovery technicians
6)  Tech Masters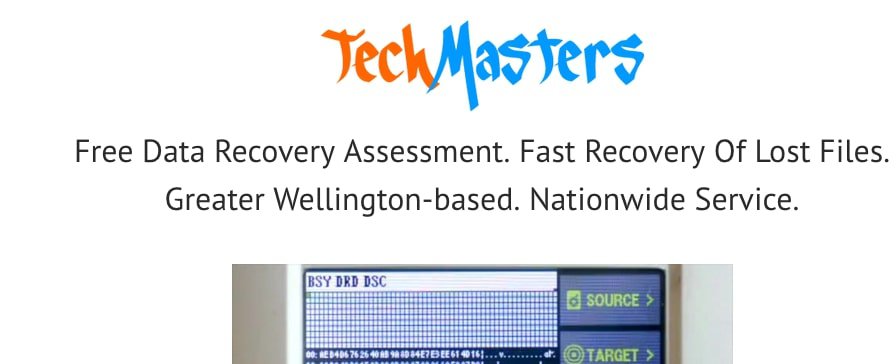 BEST FOR
Lower-Priced Data Recovery Services
SERVICES
●     Recover lost photos

●     Computer won't start or boot

●     Data and deleted file recovery from crashed or broken internal hard drives, external backup drives, SSD drives

●     Recover failed USB stick flash drives & SD memory cards

●     NAS, DAS & Server RAID recovery

●     Smartphone data recovery

●     Hard disk forensics

●     Hard disk drive upgrades including HDD to SSD

●     Data and file transfers

●     Cloud backup support

WEBSITE
https://www.techmasters.co.nz/data-recovery.html
ADDRESS
Dale Road, Raumati South, Paraparaumu 5032, New Zealand
CONTACT DETAILS
After hours: (04)595-1050
OPERATING HOURS
*By arrangement only

Monday to Friday: 8am – 8pm

Saturday: 9am – 5pm

Sunday: 9am – 1pm
TechMasters solely specialises in computer and smartphone data recovery services. Here, they also have a no-data, no-recovery-fee policy, which can be very reassuring.
They've been in this business for over 25 years with a proficient and well-equipped team. They can handle data loss for your hard drives, solid state drives, flash drives, SD memory cards, and even important server files from your workplace.
Since they don't have a clean-room facility and its associated overhead costs, they can offer their clients a lower price than most competitors.
You can also get a free initial assessment from them to identify and gauge the data loss of your hard drive or memory card. They'll get back to you within 24 hours.
Highlights
Quick and safe data recovery
Lower rates compared to others
Professional team
Over 25 years' in the business
Free initial assessment
Customer Reviews 
Certainly, they have some of the best data recovery Wellington specialists. Check out the review from Paul on the testimonials page on their site: 
"We are extremely grateful for TechMaster's efforts in saving almost all the data on what turned out to be an irreparable drive. Not only was Keith able to restore all the pictures and home videos we thought were lost, he also repaired the computer. I can thoroughly recommend TechMasters to anyone who wants quality computer advice and service at a very reasonable price."
Anyway, that completes the list for the best data recovery Wellington specialists! With these pros, there's no need to worry at all about suddenly losing your data.
Do you agree with the ones that we've featured here? You can tell us all about it by sending us a message and we'll reply to you in a short while.
What's more, you may want to read about the best power banks in New Zealand next. This'll ensure all your hard work on your laptop is saved without any data loss in case the battery drops to zero.