The 6 Best Debt Collection Wellington Agencies
It's frustrating if a client doesn't follow through with his credit's payment to your business. Fortunately, we've gathered the best debt collection Wellington agencies here to recover what you're owed.
We selected those with an adept and experienced team who drive excellent debt collection results. Also, we picked those who update you constantly and have favourable reviews.
Let's get those bad debts of yours written off. Now, here are the best debt collection Wellington agencies for that purpose!
1)  Global Credit Management Ltd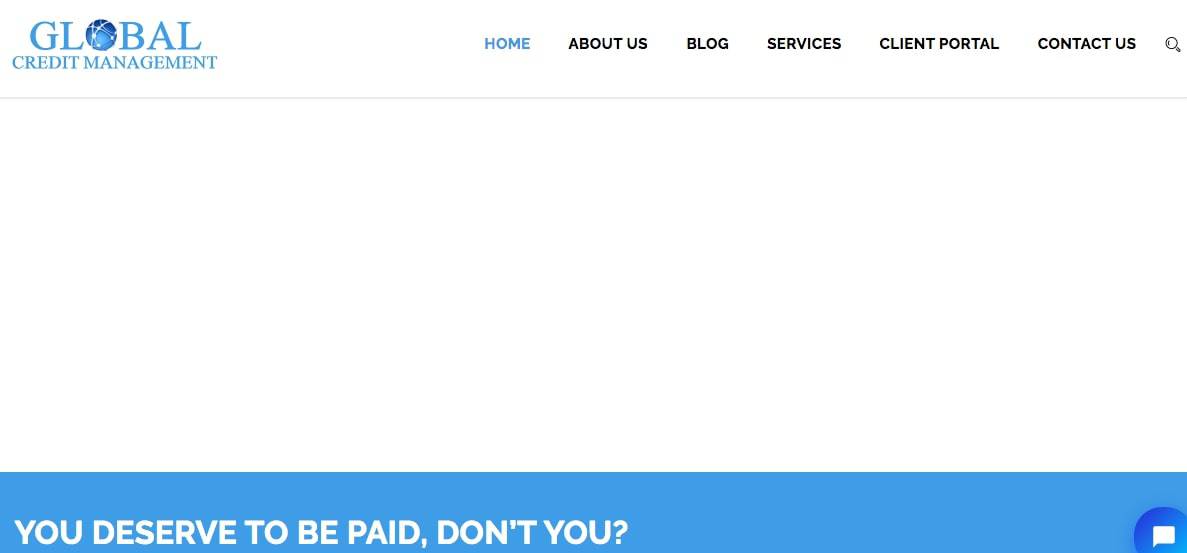 BEST FOR
Results-Driven Collection Fee
SERVICES
Debt Recovery

Credit Checks

WEBSITE
https://globalcredit.net.nz/
ADDRESS
Wellington, New Zealand
CONTACT DETAILS
+64 4-472 9893
OPERATING HOURS
Monday to Friday: 8.30am – 5pm
Have overdue payments and bad debts on your record? Turn that expense into income through the assistance of Global Credit Management Ltd.
Since 2001, the debt collection company has gained the trust of customers around New Zealand. They offer a results-driven collection fee structure where you don't pay them unless full payment has been made to you by the debtor.
In working with them, you will be given online access to track the status of your debt recovery. You will also be regularly updated by the team every step of the way.
Many clients have been working with them for a long time. This shows that they are one of the best debt collection Wellington agencies. 
Highlights 
Drive results
Operating since 2001
24/7 online access
Excellent communication 
Customer Reviews 
Check out the review from Bulk Water Transport Ltd on the website:
"Partnering with Global Credit Management is one of the best business decisions we have made.  As a small business, we don't have the time or resources to spend chasing up outstanding payments. 
We have every confidence in the process, as Mike has always handled our clients in a positive manner, and provides us with regular feedback as to progress.  Using Global Credit Management has saved our company thousands, and I wouldn't hesitate to recommend them."
2)  Marshall Freeman Collections (NZ) Ltd

BEST FOR
Efficient and Hassle-Free Debt Recovery
SERVICES
Debt Repayment

Debt Recovery

Investigations

Legal Work

Accounts Receivable

Document Services

Credit Reports

Liquidations

Debt Reduction

Debt Management

WEBSITE
https://www.marshallfreeman.co.nz/debt-collectors-wellington/
ADDRESS
Wellington, New Zealand
CONTACT DETAILS
09 580 2444
OPERATING HOURS
—
Marshall Freeman Collections is the preferred debt collection specialist by more than 20,000 businesses throughout New Zealand and Australia.
Their professional team is dedicated to recovering your debts as quickly as possible. They are highly trained and compliant with local laws and regulations.
Any type of debt can be recovered from $100 to $100,000 and up. They assist all sizes of businesses. And no debt recovered on your part means no commission for them.
You also get 24/7 access to their debt management system. Here, you can write your own trading terms or commission letters, monitor your debt progress and others.
Highlights
Preferred debt collection specialist
Quick debt recovery
Professional and firm collectors
Reliable online system
Customer Reviews 
Emily Martin, one client, shared on Google:
"I found Marshall freeman to be very knowledgeable and understood my situation. Not only did they recover money owed to my business, but they were also helpful in providing recommendations to help reduce situations of slow payers recurring. They were a great help and would definitely use again. :)"
3)  Rainey Collins Lawyers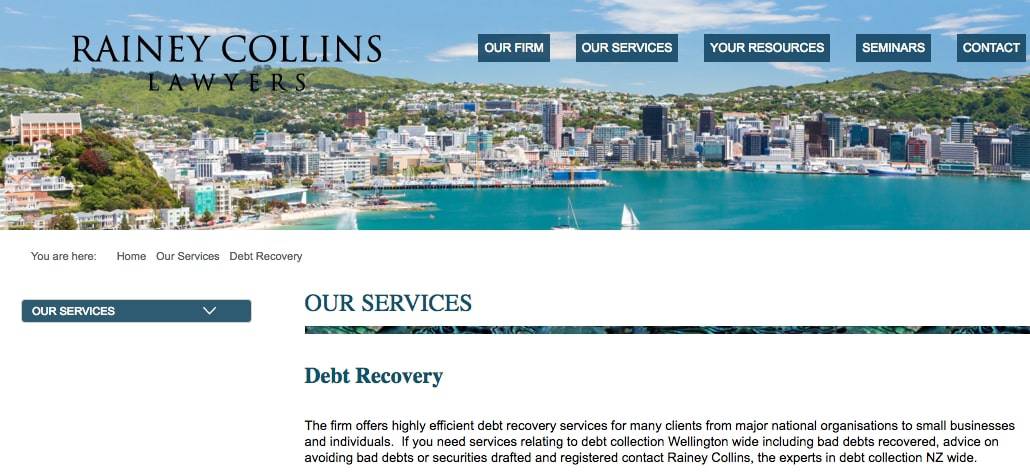 Rainey Collins Lawyers is a Wellington-based law practice with a long history dating back to 1919. They offer a breadth of services that include debt recovery.
The law firm prides itself on delivering highly efficient debt recovery from startups to national organisations. You'll be working with experienced dispute resolution lawyers.
They recover all types of bad debts, such as ones for bankruptcies, frauds, unpaid wages, building contracts and personal debts.
Furthermore, they can advise you to help you avoid incurring bad debts for your company or business next time.
Highlights 
Highly efficient debt recovery
Experienced lawyers
Can recover all types of bad debt
Offers their services NZ-wide 
Customer Reviews 
Find out what one client, Brandon Jones, said on Google:
"Fantastic experience dealing with Alan at Rainey Collins… quick, to the point, hassle-free, and most of all… genuinely helpful.  :)"
4)  New Zealand Collections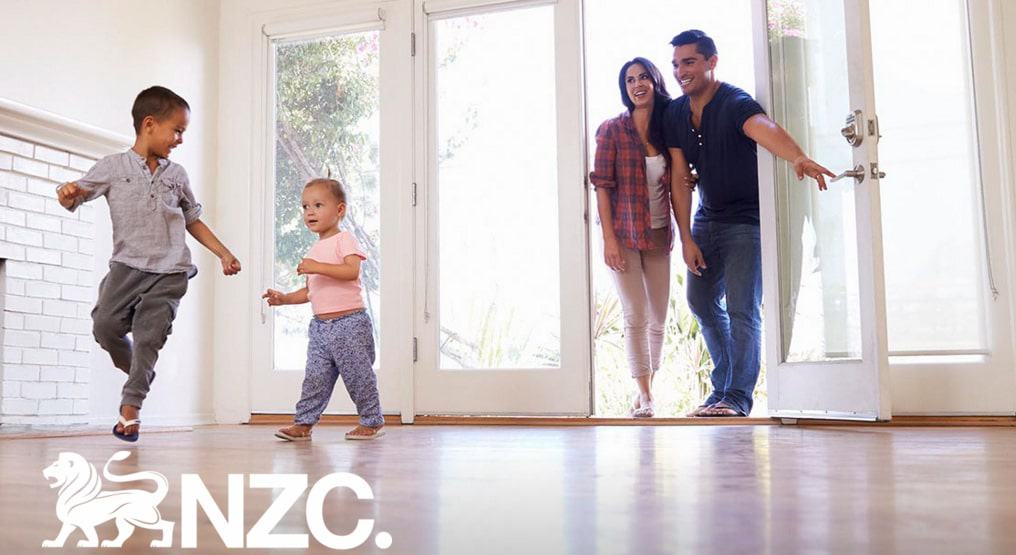 BEST FOR
Property Debt Collection
SERVICES
Debt Collection

Debt Recovery

Civil Enforcement

WEBSITE
https://www.nzcollections.co.nz/
ADDRESS
Wellington, New Zealand
CONTACT DETAILS
0800 968 766
OPERATING HOURS
Monday to Friday: 9am – 5.30pm
In terms of property or tenancy debts, New Zealand Collections is among the best debt collection Wellington agencies. This is what they specialise in.
You might have come across a tenant who's avoiding the rent at all costs and in all ways. Nonetheless, NZC has the perfect solution to collect the debt from him. If he won't be able to pay the debt, at least he'll be set on a repayment plan.
They are a company of values like compassion, transparency, communication and results. These enable them to provide an effective service and objective resolution of the debt incurred.
Highlights
Property debt collectors
Effective solution
Founded with values
Serves the Wellington Region
Customer Reviews 
Let's see the review coming from Pamela Crane of Premium Executive Rentals: 
"Dear NZ Collections, after exhausting ALL avenues to recoup our debt from a past tenant, many emails and phone calls, not to mention the time involved. We decided to put the debt with you (our first one). How delighted were we when the accountant rang me after hours to say that in the space of 24 hours the debt had been paid into our account in full by the debtor.
We were pretty impressed and relieved. A fantastic result for us and our Landlord – well done NZ Collections! And here is to many future successful recoveries for your clients."
5)  EC Credit Control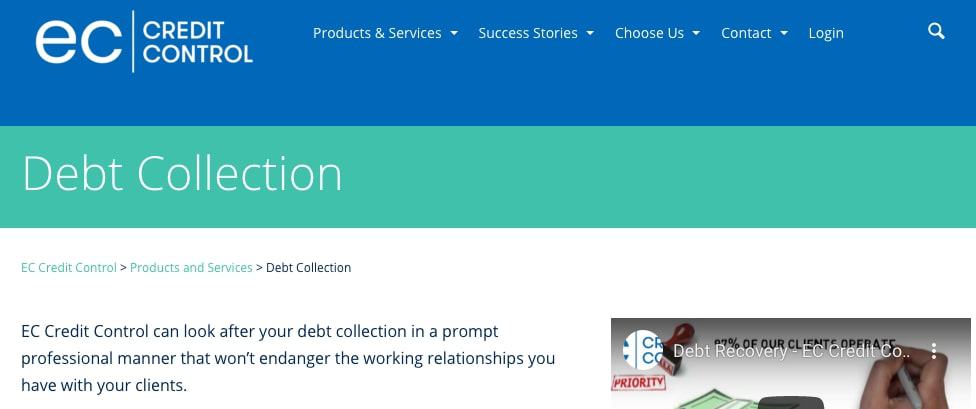 Why spend your valuable time chasing debtors when EC Credit Control is here? They pride themselves on their prompt and professional debt recovery service.
They'll do their absolute best to make the debtors pay without filing a lawsuit. This way, you can still have a healthy professional relationship with them afterwards.
It won't matter if the debtor is in the South Island or abroad. They are proven to bring results (within 15 days or less) and you'll be the first to know about it.
All the documents and records the team has are accessible from their website. These are in detailed and easy-to-view format so that you'll know the current status of the work.
Highlights
Prompt and professional service
Results within 15 days or less
Skilled and rational team
Reliable online tracker
Customer Reviews 
EC Credit Control is another of the best debt collection Wellington agencies. Duncan Leask wrote this on Google:
"We have used EC Credit for many years now. We have always found them to be ken to help us where they can, Setting up our Terms of Trade, Debt recovery and recently help with issues that COVID 19 have caused. Mel our account is great and always has her finger on the pulse. Would recommend."
6)  Secure Collections & Investigations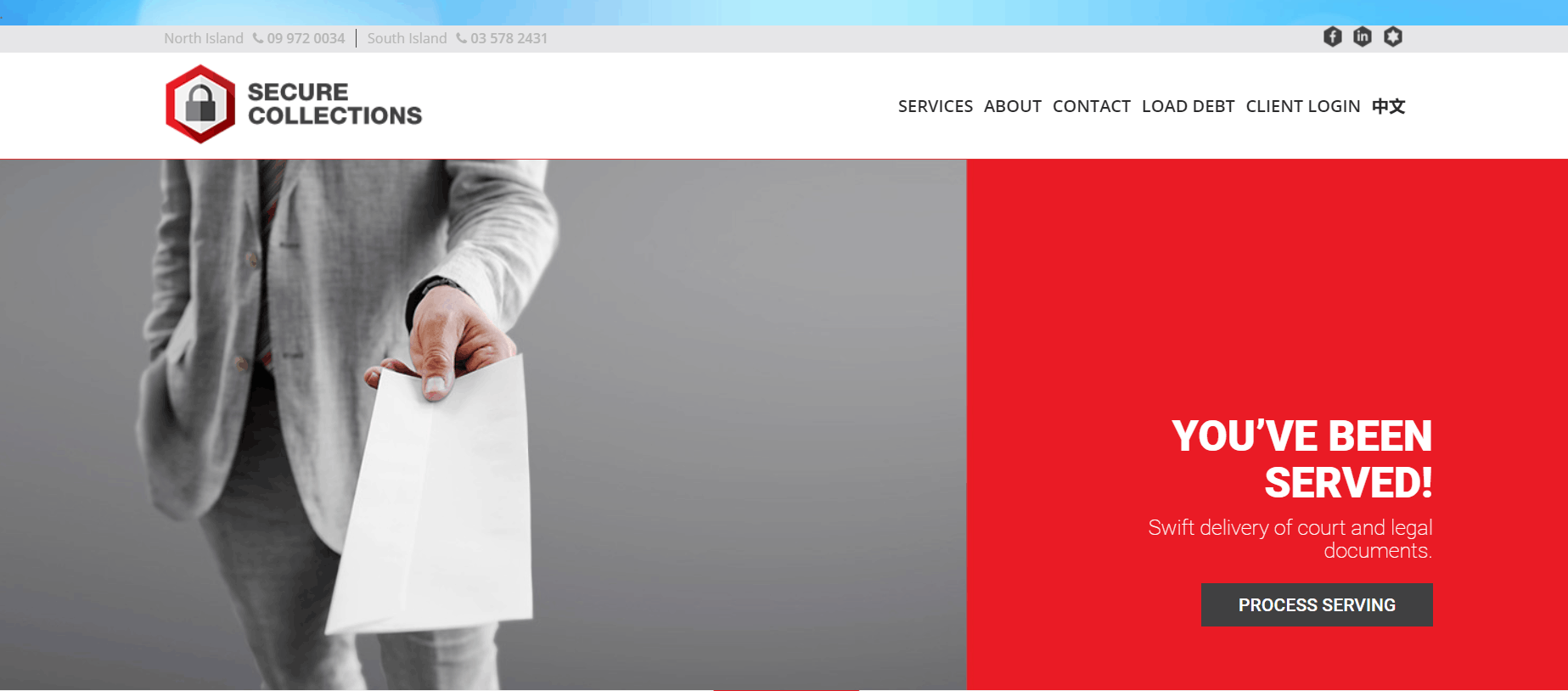 BEST FOR
Thorough Collection Services
SERVICES
Business debt collection
Personal debt collection
Debt litigation
Third Party Insurance Recoveries & Investigations
Enforcement of Judgments including Bankruptcy and Liquidation
Document & Process Serving
Private investigation & Surveillance
Repossession & Asset Recovery
Debtor Interviews & Agent Field Calls
Credit checking
Default loading
Tracing (locating debtors and persons of interest)
Pre Employment Background checks
WEBSITE
https://securecollections.co.nz
ADDRESS
P.O.Box 113010

Newmarket

Auckland 1149

CONTACT DETAILS
+64 9-972 0034
OPERATING HOURS
Monday – Friday: 8:30 AM – 8:30 PM
Debt collection is a tedious process, but Secure Collections & Investigations strives to minimise the hassle as much as possible. Many praise them for having a high success rate in when it comes to all kinds of debt collections.
Their team of collectors are attentive to their cases and make sure to keep in touch with their clients constantly. Their consistent updates give you a better idea of how your case is proceeding, so you won't need to worry about progress not being made.
If the debt isn't able to be collected, they're also capable of proceeding to litigation and enforcement of debts. They'll make use of all the available methods at their disposal so you get your payment as fast as possible.
Finally, they have connections nationwide that allow them to collect debts anytime, anywhere. Given their efficient work and excellent results, Secure Collections & Investigations is an agency you should consider no matter what kind of debt you need collected.
Highlights
Many years of experience
Wide range of services
High success rate
Affordable prices
And those were the best debt collection Wellington agencies. If someone is trying to forget what he owes you, just let their professional team recover it for you.
Any questions or comments about this list? Provided you have one, feel free to let us know by messaging us and we'll get right back to you.
Also, you can try the best Wellington property management agencies. Besides maintaining your property, these agencies will find you good tenants who will pay their rent on time — reducing the chances of rent arrears.