The 12 Best Deck Builders in Auckland Reviewed
Do you enjoy the outdoors, sun, nature, coffee, chatting, or reading — or all of them? You might want to build a new deck for your home to better enjoy those things, then. And for that, we can help you out, as we've rounded up the best deck builders in Auckland here!
We chose the deck builders who are licenced and highly qualified to build a superb deck for you. Since great communication and a friendly and hardworking attitude are vital as well, we chose those who have them also!
Furthermore, we looked at what past customers had to say. This told us that we had been actually right in including the companies for this list of best deck builders in Auckland.
Note that most of them below can build pergolas and fences too if you like. Anyhow, regardless of whether you want a deck or a pergola, here are the best deck builders in Auckland!
The Best Deck Builders in Auckland Reviewed
1) Holtom Builders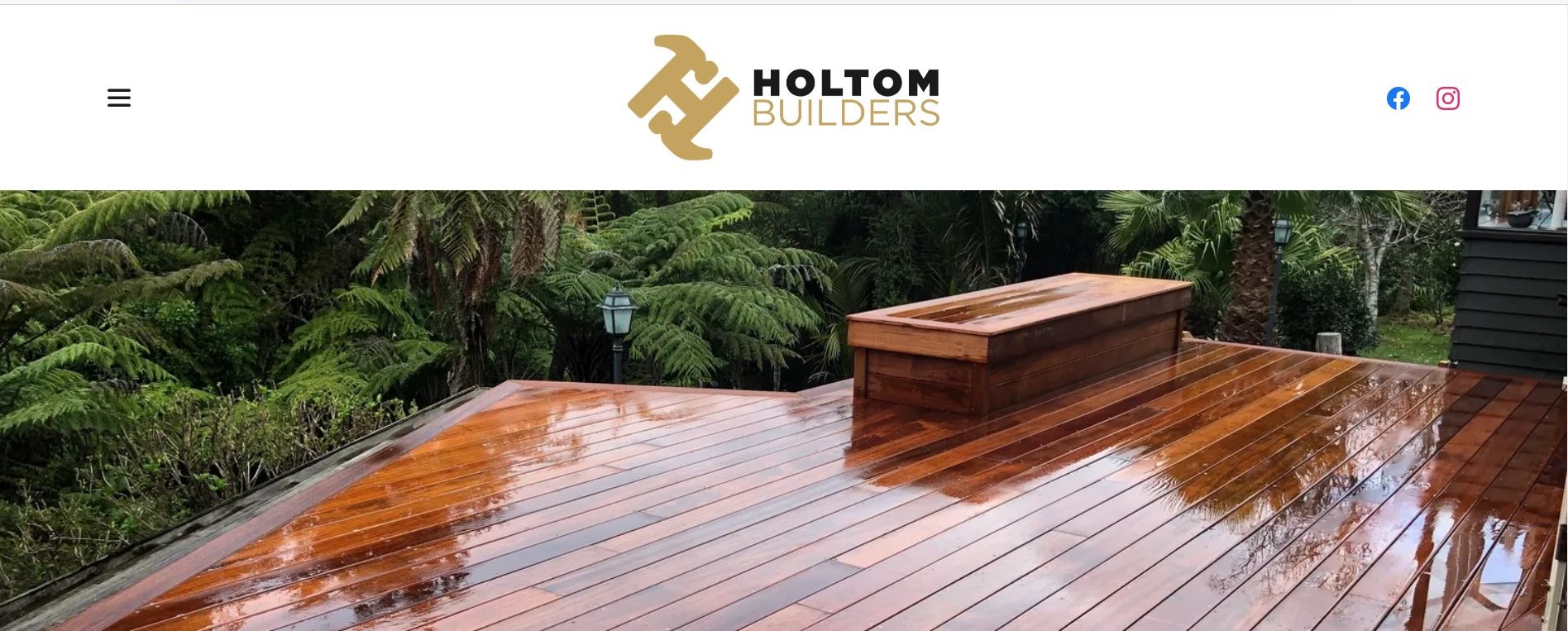 | | |
| --- | --- |
| BEST FOR | Qualified and licensed builders |
| SERVICES | decks, pergolas, fencing, retaining walls, new homes, foundations, home maintenance and alterations |
| WEBSITE | https://holtombuilders.co.nz/ |
| ADDRESS | Silverdale, Auckland |
| CONTACT DETAILS | 224030073 |
| OPERATING HOURS | Open 24 hours |
Next on our list is Holtom Builders, one of the best deck builders in Auckland. Holtom Builders is known for their highest-quality deck designs with an emphasis on design, safety, and value.
If you're looking for decks, Holtom Builders makes an excellent choice. In addition to that, they're also readily available for jobs concerning fences, walls, and so much more.
You can book online for them to come and check out your house. Let the expert deck builders in Auckland do the job so you're guaranteed a durable work that would last you a long time.
Any other inquiries can be asked on the website.
Highlights
High-quality craftsmanship
On-time start and finishing
Competitive rates
Customer Reviews
This is what Nicqui Redman had to say about Holtom Builders' quality and overall service as a deck builder among many others:
"Holtom Builders are totally professional with their communication, quoting, and work. Sam turned up when he said he would, talked through the project, gave me options and advice, and a start date when he sent through the quote. He started on time and 4 days later I was blown away by the workmanship of my beautiful Kwila deck. No mess, no fuss, just awesomeness 🙂 The price was realistic as well."
2) Tailored Building Solutions
Tailored Building Solutions has been in service as deck builders in Auckland since 2010. Paul Buddle, the qualified and passionate builder of the company, believes that every project should be approached with creativity, quoted with honesty, and finished to the highest standard of excellence.
People like them because they manage projects like deck design in NZ from conception to completion. Another reason is they are the one who gather the relevant conatcts for architects and subcontractors to ensure that the clients building needs are met with the most high-quality materials and workmanship.
Over the years, through Paul's building experience, they have built a reputation for themselves due to the outstanding quality of their services.
Unlike other companies, they always focus their attention to customer experience and are dedicated to deliver a stress free and transparent service.
Highlights
Accurate and dependable quote
Adjusts to fit your schedule
Can take any size of project
Customer Reviews
Here are some reviews from Tailored Building Solutions' previous clients:
"Paul has undertaken a total renovation of our house including and not limited to a new kitchen, a walk in wardrobe conversion an extension to our house and extending various rooms by taking walls out and replacing with supporting beams etc. The quality of the work is second to none and Paul is always very accommodating to our needs. We have since had Paul undertake electrical upgrades and audio system installations"
"Paul and his team at Tailored Building Solutions (TBS) did a renovation and addition to our 1960's house in Howick Auckland . His brief was to keep the new addition in line with the existing house , something TBS did extremely well . Other than the usual council hold ups the project was completed on time and to a very high standard . I would not hesitate to recommend TBS for any future renovations ."
3) The Decking Specialist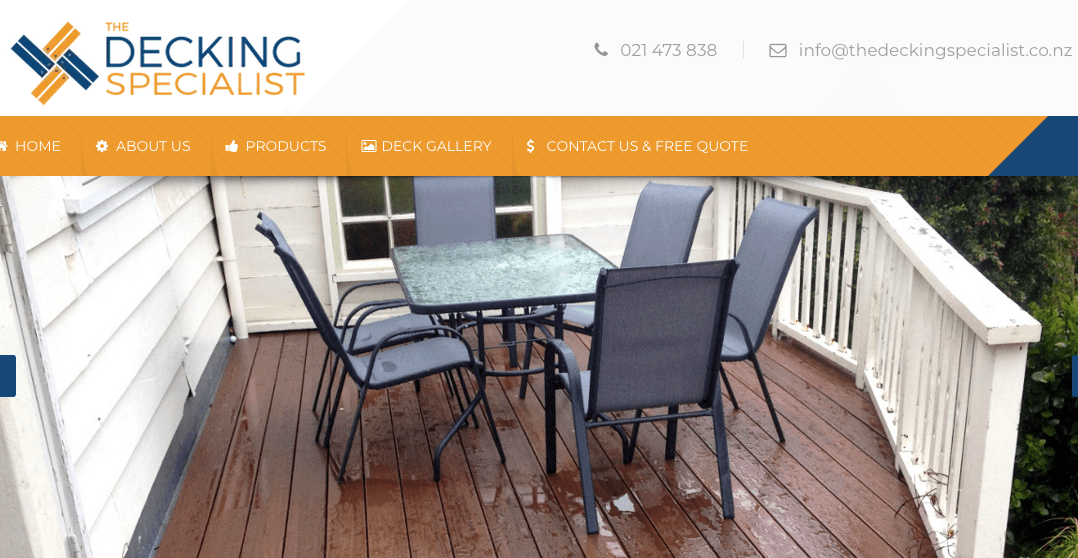 Hands down, the Decking Specialist is another of the best deck builders in Auckland for their expertise, customer-focused approach, and comprehensive services.
Their categories include hardwood, composite, traditional pine, and commercial decking as well as stairs.
Composite decking is lower in price and easier to maintain, whereas hardwood varieties are very durable, elegant, and will last for many years.
They are committed to providing you with high-quality and aesthetic, complete finishes. This can include handrails and/or stairs to enhance the styling of your house.
Highlights
High quality and aesthetic complete finish
Offers a variety of deck types
Experienced & knowledgeable team
Will enhance the styling of your house
Customer Reviews
On Google Business, ​Tania Harrison stated:
"I highly recommend Glen if you are considering undertaking a building project. His craftsmanship, and "anything is possible" motto made my deck and stairs addition a dream project. Attention to detail, punctual and hard working combined with a cheerful disposition make Glen one of the best builders I have ever used."
4) Concept Decks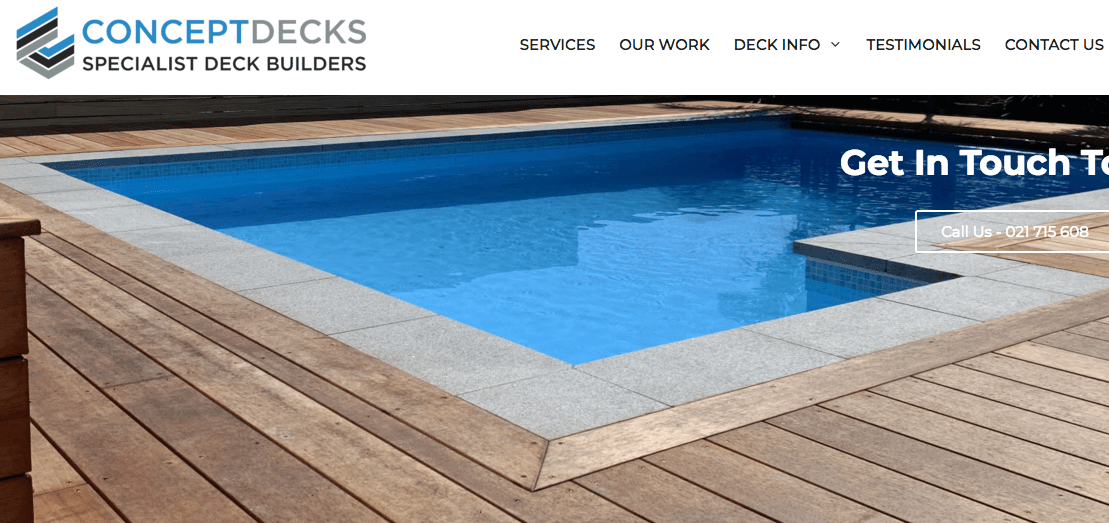 BEST FOR
Helpful & Reliable Deck Builders
SERVICES
Premium Pine Decks

Hardwood Decks

Eco or Composite

Oiling & Staining

WEBSITE
http://conceptdecks.co.nz/
ADDRESS
14 Norfolk Road, Stanmore Bay, Auckland 0932, New Zealand
CONTACT DETAILS
+64 21 715 608

OPERATING HOURS
Monday to Friday: 8am – 6pm
If you want a deck-building service in Auckland with seamless process and fantastic communication, then Concept Decks should be your choice!
They have over 20 years of experience serving clients from the North Shore to Whangaparaoa. Their small team prides itself on their deck workmanship and quality wood.
Whether it's pool fencing and decking, solid and premium pine decking, or oiling and staining to keep your deck in great condition, they have it all.
Their strength as deck builders in Auckland lies in their communication in that they collaborate with their clients. Also, they can provide you with valuable advice or suggestions to achieve your dream deck design in nz.
Highlights
Small family business
Prides itself on their deck workmanship and quality wood
Excellent communication
Over 20 years of experience
Works closely with their clients
Customer Reviews
Scoring perfect scores on Google Reviews and Facebook as well as 99% on No Cowboys, they are a shoo-in for one of the best deck builders in Auckland!
Amanda said this about them:
"Chris at Concept Decks did a fantastic job with our new deck. The timber and style matched exactly to our current deck and they went the extra mile with some suggestions that were really helpful. They were always on time, friendly and left everything in perfect condition. Would definitely recommend."
5) Deckreation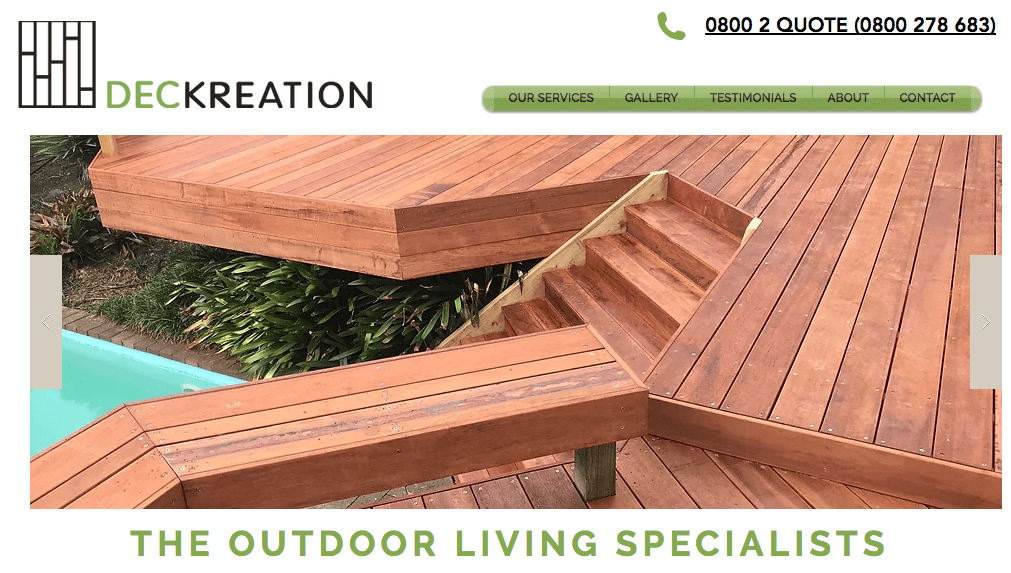 BEST FOR
Stunning Outdoor Spaces & Landscapes
SERVICES
Deck Building

Pergolas

Fences

Retaining Walls

Landscaping

Excavation

WEBSITE
https://www.deckreation.co.nz/
ADDRESS
Auckland, New Zealand
CONTACT DETAILS
0800 278 683

OPERATING HOURS
Monday to Friday: 8am – 5pm
A division of JMD Contractors, Deckreation is an outdoor building and landscaping specialist for decks, fences, pergolas, retaining walls, and landscaping design.
They have been in this business for 15 years and are still going strong. Their team has great attention to detail and prides itself on its incredible-quality workmanship.
With their assistance, you'll be able to achieve your dream deck ideas in NZ and increase the value of your home at the same time. They serve customers across Greater Auckland.
Highlights
Incredible-quality workmanship
Formed in 2005
Great attention to detail
Offers a range of services
Customer Reviews
Here's the review from Cate & Mark on the website:
"We are really happy with the deck, thank you so much for what your guys did. They were absolutely fantastic, they worked hard and long hours and they were always smiling. They were always polite, tidy and helpful. We couldn't have asked for more. They have produced a fabulous area for us, with attention to detail in the finishing. The quality shines through. The whole thing's been a great experience and we would happily recommend you to anybody. It's not often one deals with such awesome guys/company".
6) Custom Decks & Fences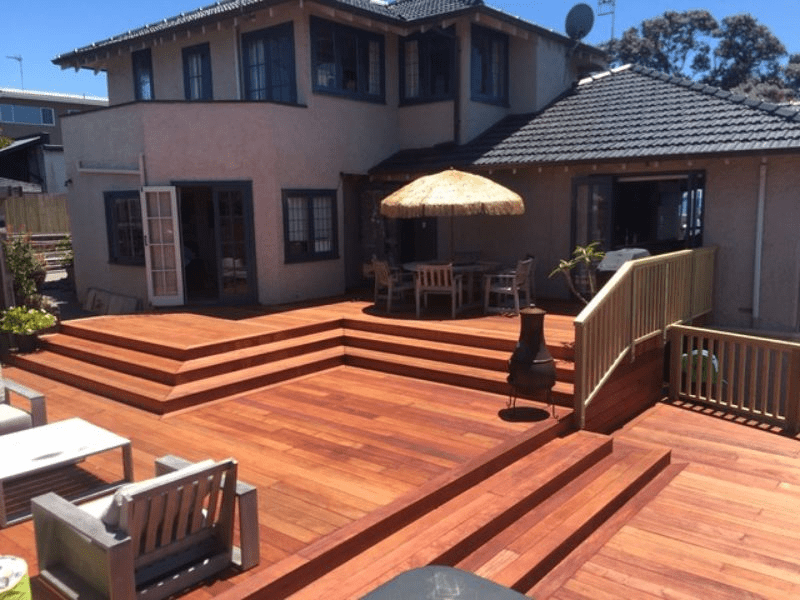 BEST FOR
Custom-Designed Decks
SERVICES
Decks

Pool Fences & Decks

Fences & Trellis

Pergolas & Carports

Retaining Walls

Handrails

WEBSITE
https://customdecks.co.nz/
ADDRESS
19 Attwood rd Paremoremo Auckland, New Zealand 0632
CONTACT DETAILS
027 246 965609 413 8572

OPERATING HOURS
—
Here at Custom Decks & Fences, you get a customised deck design in nz to your liking. From the screws to the deck type to the treatment, you'll get it exactly as you want it!
Their team prides itself on supplying and using premium materials for endurance and style. You'll get a deck that you can enjoy for a long time ahead.
Director-operator Glen Beh always makes sure the work is conducted efficiently and properly by his licenced builders. After the task, they always tidy up and clean the place before leaving.
You will get value for your money for an unbeatable service. Also, you can check out their gallery to give you some inspiration or ideas on what you'd like for your deck build.
Highlights
Customised decking to your liking
Efficient, skilful and professional team
Value for money
Uses premium materials
Customer Reviews
One client, Miller, left a 100% scored review on No Cowboys for them. He said:
"he new deck extension has been completed and we are very pleased with it. I am a fussy architect and i must admit i am hard to please, but the workmanship of Glen and his team is one of the best i have seen. the screws line up perfectly, the timber is laid immaculately, the site was left sparkling clean, the framing under the decking was done as per the code, Highly recommend this company"
7) Greenroom Projects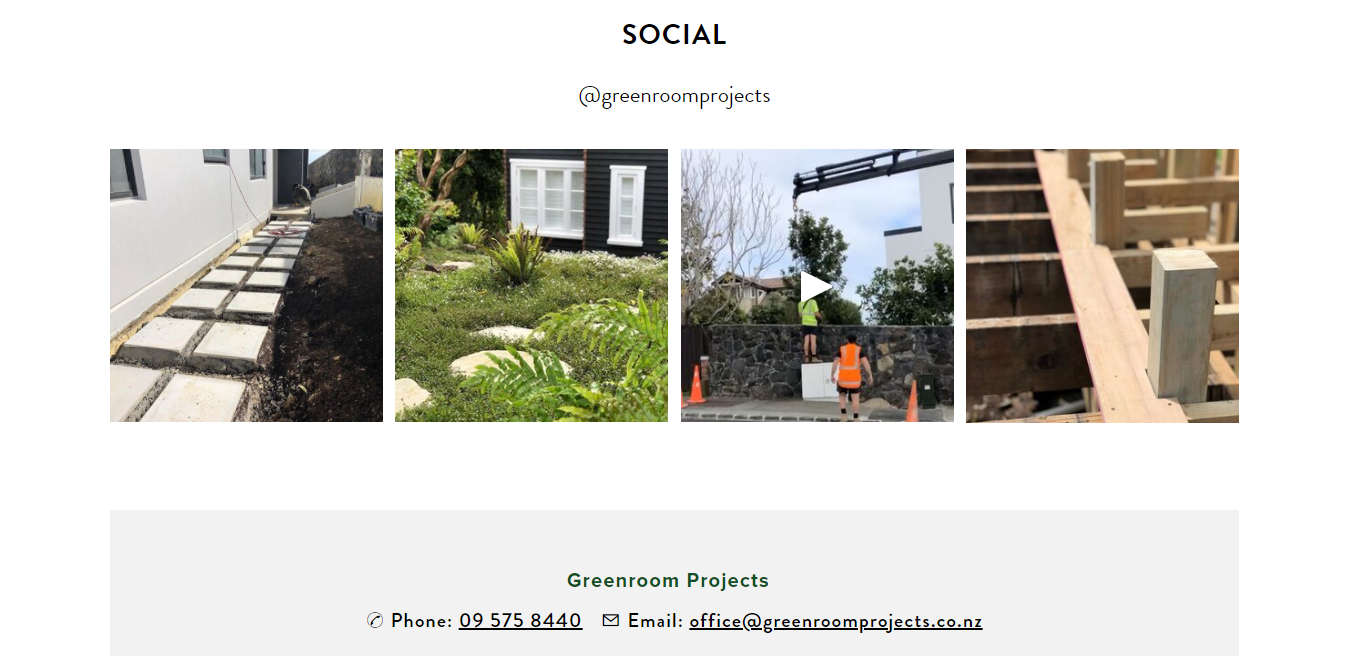 BEST FOR

Organic consumables and high-quality materials

SERVICES

Deck building

Landscaping

Retaining walls

Project management

WEBSITE

https://www.greenroomprojects.co.nz/

ADDRESS

135a Portsmouth Road, RD1, Bombay 2675, New Zealand

CONTACT DETAILS

+64 9-575 8440

OPERATING HOURS

Monday to Friday: 8.00am – 5.00pm
At Greenroom Projects, they are experts in bridging your outdoor and indoor living spaces. They offer services for landscaping, deck building, and retaining walls.
For deck building, Greenroom Projects will handle everything from planning and design to maintenance. They also apply this hands-on approach to landscaping projects.
Greenroom Projects guarantee their clients quality materials, extensive experience, and an eye for detail. Aside from these notable qualities, they also use organic consumables to preserve your yard's condition.
Highlights
Expertise in landscaping, deck building, and retaining walls

Hands-on services for the entire project

Organic consumables and quality materials
Customer Reviews
Here's a review from Jeanene Piper to tell you more about Greenroom Projects:
"Thanks heaps Greenroom for resigning our deck space. Appreciated the quick response, great comms and attention to detail."
8) Kiel Marshall Builders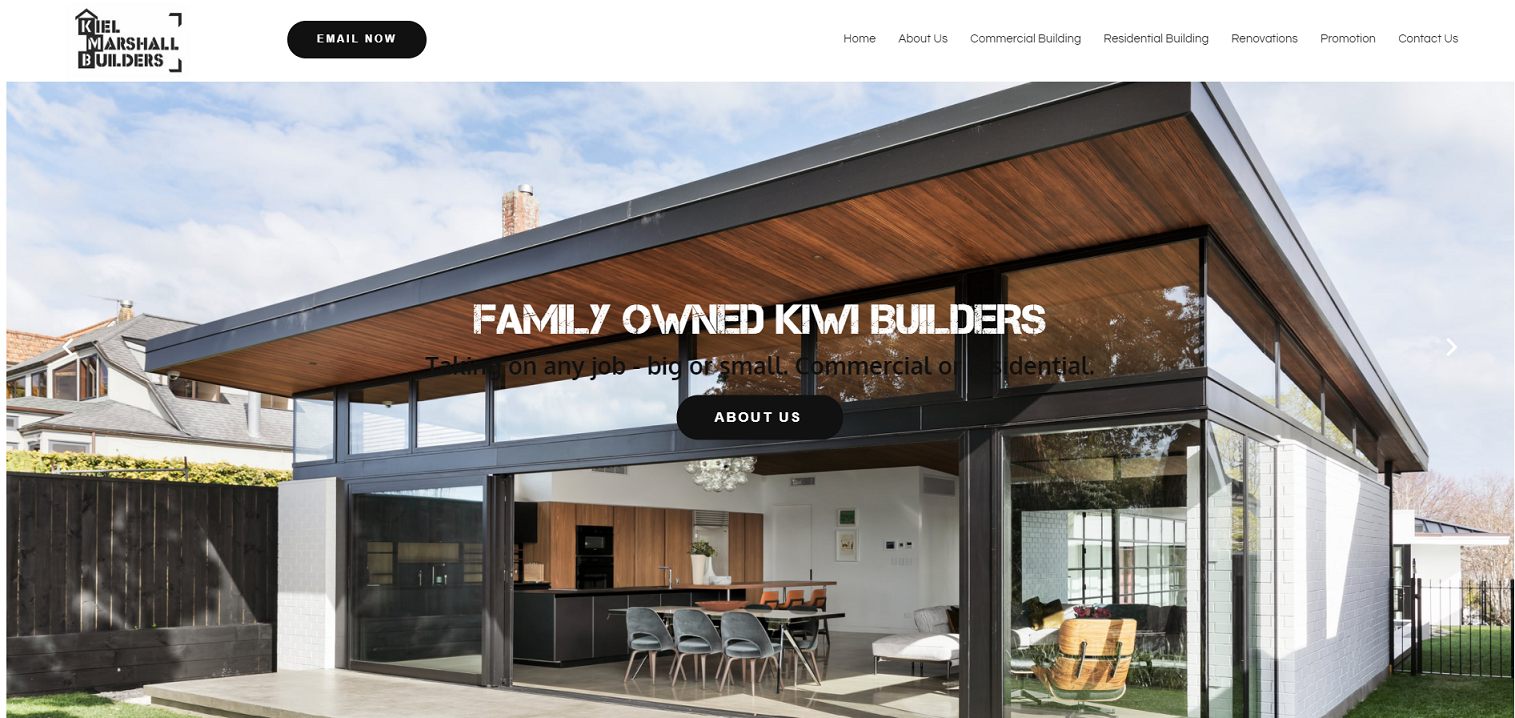 If you prefer customised and personalised service in deck builders in Auckland, you should consider this.
Kiel Marshall Builders is a family run business that offers high-quality building work to their clients. They offer commercial and residential building services, as well as renovations.
They can take on any job, big or small. Get the home of your dreams with Kiel Marshall Builders.
Highlights
Over 20 years of building experience
SiteSafe member
9) Kiwi Deck and Fence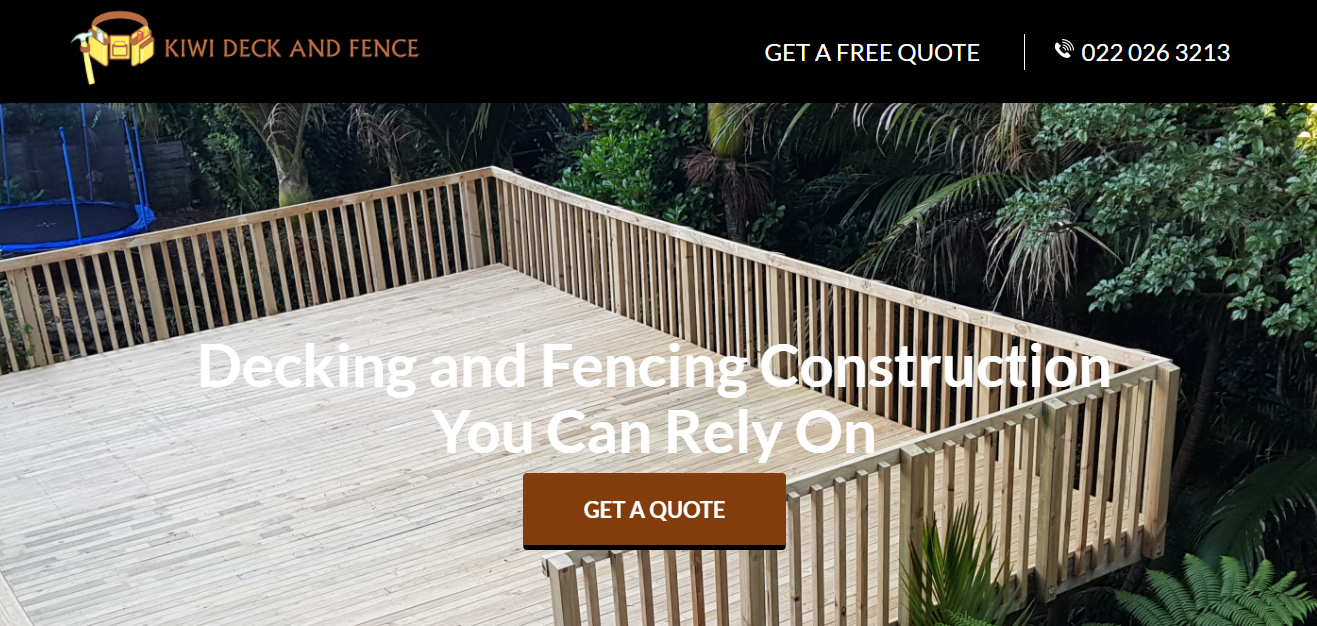 Being one of the fencing and deck builders in Auckland, Kiwi Deck, and Fence has a great experience that you can rely on. They can guarantee you that they can give you high-quality services at a fair and reasonable price.
They use best practice techniques when building fences and decks to ensure long-lasting results. More than that, they pride themselves that no matter how small or big the job is, they will surely give their best in providing you the services.
With their expertise, best believe that they can provide you with the high quality of fence in decks good for your residential or commercial place!
Highlights
Low cost of services
Wide array of service
Residential and Commercial
Good looking fence and decks
10) Bakers Builders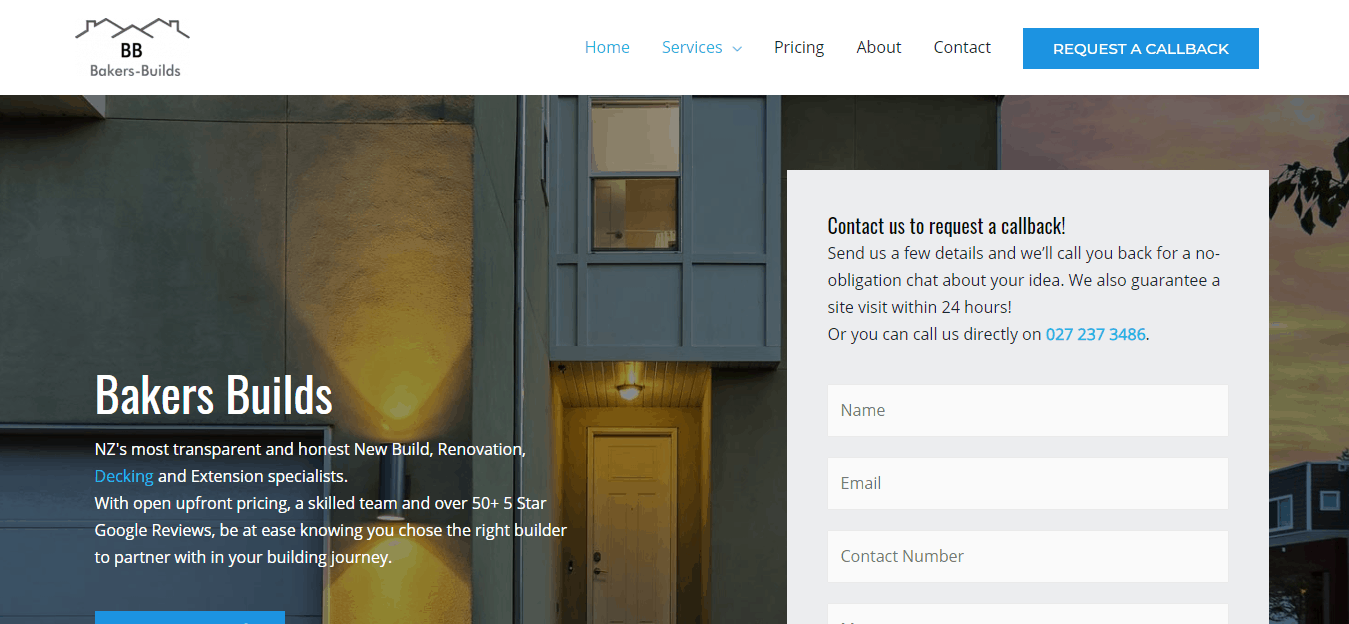 | | |
| --- | --- |
| SERVICES | Deck building, renovation/extensions, commercial repairs, home maintenance |
| WEBSITE | https://www.bakersbuilds.nz/ |
| ADDRESS | 740 Manukau Road, Royal Oak, Auckland 1023 |
| CONTACT DETAILS | +64 27 237 3486 |
| OPERATING HOURS | Monday – Friday: 7:30 AM – 5:00 PM |
If you're looking for a contractor to help you with just about any construction project or deck ideas in NZ, then Bakers Builders may be a sound choice. Whether it be a simple decking project or a full-scale renovation, Bakers Builders is always ready to help.
It has a wide service area as it can handle projects here in Auckland and as far south as Queenstown. Despite this wide reach, Bakers Builders still guarantees to provide a site visit for each client within 24 hours of their request.
When it comes to deck building, Bakers Builders prices its services depending on size and the type of finish of the deck. It offers Pine, Vitex, and the signature Kwila finish.
Like many of its other services, Bakers Builders' deck building services covers everything from designing and project management to construction and rubbish removal.
As a guarantee to its sturdy builds, Bakers Builders also provides a 10-year residential guarantee insurance. This guarantee covers structural and non-structural defects alike.
However, you should know that some homeowners who previously hired Bakers Builders for minor repairs and adjustments in their houses were left unhappy with this contractor's services. Luckily, most of its deck-building clients were pretty satisfied with its services.
Highlights
Pine, Vitex, or Kwila finish

In-house inspection within 24 hours

Complete services from planning to cleaning

10-year Halo guarantee

Wide range of construction services
Customer Reviews
If you still can't decide whether or not Bakers Builders is a good fit for your deck building project, perhaps these reviews can help you make a decision:
"Best building company I have ever dealt with. They communicate and turn up on time when agreed – something that lacks within the industry. David the owner is honest and very nice to deal with I feel very comfortable dealing with him and he always responds so quickly. They also have done small jobs and big jobs they don't only take on the big money ones. Highly reccomended if you are looking for an excellent Builder don't look any further. Bakers Build is the way to go!"—Campbell Upton
"So it all begin one morning, sending an email to these guys inquiring about decking our backyard and out comes a phone call 1 min later from David. Quickest response ive ever experienced in regards to tradies. Next thing you know, booked a time on a weekend for quick on-site quote. From there on it was a matter of getting the job done. David and his team was able to meet my needs, quickly start the job and deliver on the promised goods. Our backward is amazing! thanks for Mana and his boys in having to work in some unfavourable conditions (Auckland weather, mud, narrow access to the backward) to deliver a quality built deck. Definitely will recommend them. Highly responsive, professional, will get onto any issues you have or encounter and deliver."—Rex Huang
11) Auckland Deck Builders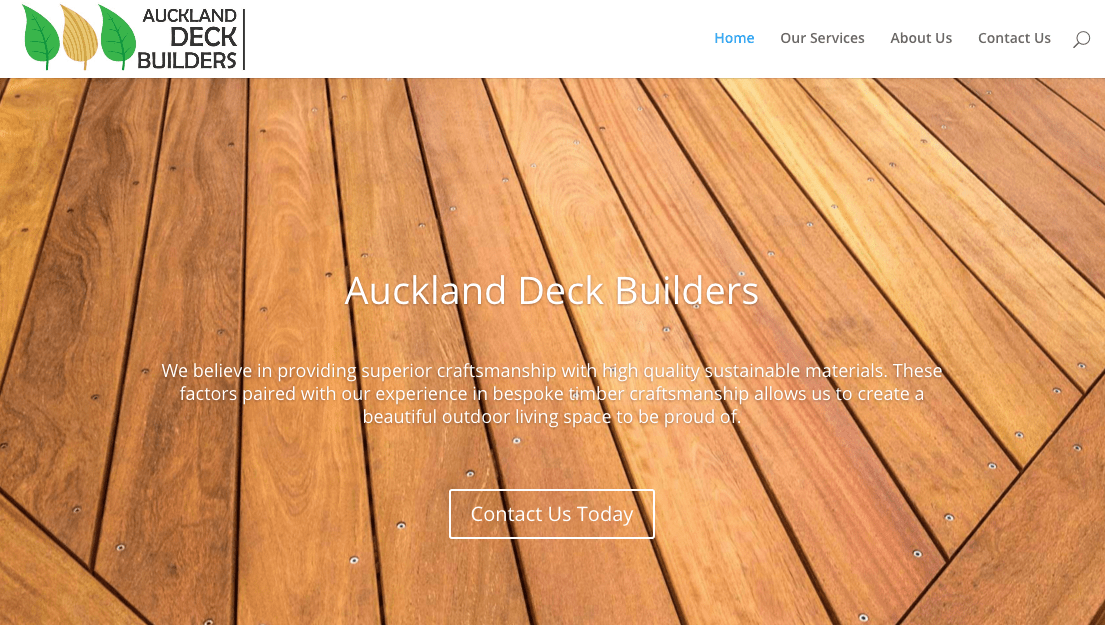 BEST FOR
Superior & Sustainable Craftsmanship
SERVICES
Decking

Pergola

Fencing

Retaining Walls

WEBSITE
http://aucklanddeckbuilders.co.nz/
ADDRESS
Auckland, New Zealand
CONTACT DETAILS
021 0285 4993

[email protected]

OPERATING HOURS
Monday to Saturday: 7.30am – 5.30pm
Extend your garden space by having someone construct a bespoke deck for you. For this, you should contact Auckland Deck Builders!
They build great decks using timber that's sourced through sustainable practices. Not only will you have a long-lasting deck, but you'll also reduce your harm to the ecosystem.
Whatever your budget or need, they can handle it. They are very flexible and have a range of materials, designs, and finishes you can choose from.
What's more, they can also build fencing, retaining walls, and pergolas for the perfect home backdrop you'll be proud of.
Therefore, as your complete one-stop outdoor solutions provider, they are one of the best deck builders in Auckland!
Highlights
Great, eco-friendly decks
Licenced and competent builders
Can work around your specific budget or needs
Built to last
Can also build fencing, retaining walls, and pergolas
Customer Reviews
One client, Roshilla Naicker, wrote on Google Business:
"Very happy with our amazing 55sqm deck built by Henry and his team. Henry managed a very complicated project involving anchor piles, CCTV footage and council inspections when building close to pipes very efficiently. The team was extremely reliable and trustworthy, and with excellent workmanship. The price was very competitive and definitely the smoothest experience in all of our year long house renovations project."
12)  Team Green Projects
Team Green Projects is an Auckland-based deck building company that serves the greater Auckland area. This owner-managed company strives for the best possible outcome for every project. Their mission is to add value to their customers' lives by providing high-quality service, workmanship, and products. Putting up a deck, fence, pergola, or retaining wall doesn't have to be a stressful experience.
They take pride in their ability to listen to our client's vision for their project and then use their years of experience to make that vision a reality. While advising them on which materials and systems are best suited to their specific requirements.
Their team will assist you in making the most of your space by installing high-quality timber Kwila decking or decks made of Jarrah, Garapa, or pine. In addition, they can also construct composite decks, fences, gates, pergolas, custom furniture, and provide dependable deck restoration.
They won't also leave you blindsided as they will walk you through the entire process, from material selection to planning, design, installation, and maintenance. They will collaborate with you to ensure that you get the most bang for your buck and that everything is completed on time.
Highlights
20 years of experience in the industry
Also builds fences, pergolas and custom furniture
Customer Reviews
Here are some of the feedbacks of their clients from Builderscrack Review:
Deck and Pergolas
"Cobus was extremely efficient in communicating and giving an hones quote."
Koko Mews Deck
"The Teamgreen guys did an exceptional job. My deck came out way better than I expected. Quality craftsmanship delivered on time and on budget"
Replace Decking
"Cobus and his team were very responsive from quoting stage to completing the work, communicating timeframes and setting expectations. He delivered on time and within budget where possible, and discussed where he found issues and we planned together how to resovle that. The quality of work, and materials (wood), used was excellent. All in all Team Green were great to deal with."
And that's it for now for the best deck builders in Auckland. For that perfect deck, you can start calling one of these professionals when it's convenient!
Do you agree about the companies we've listed here? Share with us what you think of them. Simply drop us a line and we'll get right back to you.
Also, check out our other design and construction lists. For instance, you can read about the best tilers in Auckland who can help you lay tiles for your walls or flooring.
And if you need help with roof painting in Auckland, we've got that for you too!