The 5 Best Dentists in Christchurch
To look good, taking care of oral hygiene and teeth is paramount. And therefore, we have listed down the best dentists in Christchurch to help you find the right one for you to get that killer smile.
Some dentists are better suited to general dentistry, some are proficient in cosmetic dentistry, and there are also dedicated ones that look after children's teeth. But still, Christchurch is a big city, so where do you even start?
You can think about the location, experience, and their prices. Look for those who explain the assessment clearly and have a caring and friendly attitude along with the latest equipment.
If you really don't know where to start… well, that's what we wrote this for! Now to go on, here is the rundown for the best dentists in Christchurch!
1) Christchurch Boutique Dental
BEST FOR
Cosmetic Dentistry
SERVICES
Composite Dental Fillings
Cosmetic Gum Surgery
Crown and Bridge
Digital Dental Implants
Digital Smile Design
Botox, Fillers and Facial Aesthetics
Invisalign
Oral Surgery
Periodontal Treatment
Root Canal Treatment
Teeth Whitening
Veneers
WEBSITE
http://boutiquedental.co.nz/
ADDRESS
105 Wainui Street, Riccarton, Christchurch 8041, New Zealand
CONTACT DETAILS
03-925 9929
OPERATING HOURS
Monday to Saturday: 9am – 5pm
Christchurch Boutique Dental's founder and principal dentist, Dr. David Kao, has developed advanced skills in microscope enhanced treatments in the field of cosmetic dentistry.
Christchurch Boutique Dental practices a holistic approach to both general and cosmetic procedures. This philosophical approach to dentistry allows for precise and natural results. Their team uses advanced technology to perform these holistic general and cosmetic procedures with absolute precision. They are ready to serve with great precision to satisfy their patients.
Highlights
Highly skilled in cosmetic dentistry
Holistic approach to both general and cosmetic procedures
Uses advanced technology
Customer Reviews
Check out Irene Cho's feedback on Google Business:
"Love the service at Christchurch Boutique Dental. David and Kah ern are friendly, professional and I feel at ease each time I go. I fly from Auckland for my appointments and will gladly continue doing so! Highly recommend!"
2) The Smile Company Dental Care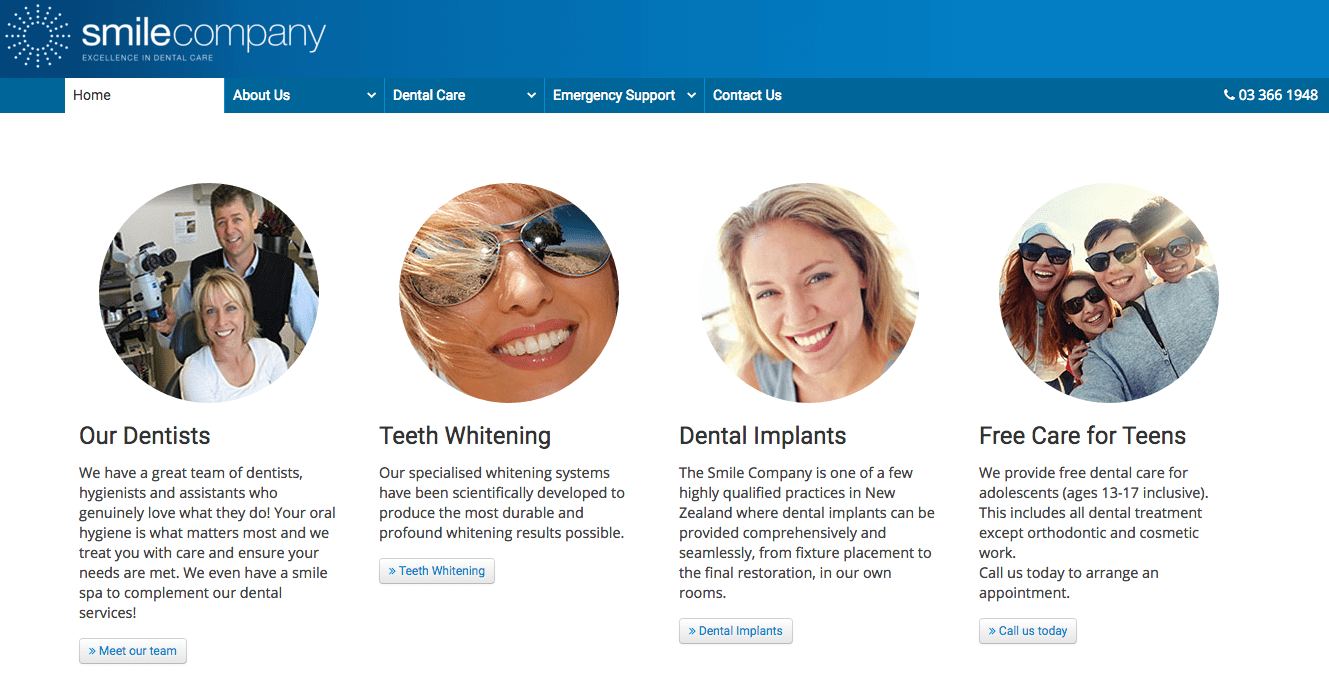 BEST FOR
Cutting-Edge Equipment
SERVICES
Teeth Whitening, Dental Implants, Veneers, Crowns and Bridges, Root Canal Treatment, Wisdom Teeth Extraction, and others
WEBSITE
https://www.smileco.co.nz/
ADDRESS
75 Cambridge Terrace, Christchurch 8013, New Zealand
CONTACT DETAILS
03 366 1948
OPERATING HOURS
Monday to Thursday: 8am – 5pm

Friday: 8am – 4.30pm
From the moment you enter their reception, you will be greeted with smiles and happy faces. An excellent service having exceptional dentists, cutting-edge equipment, and comfortable treatment with as little pain as possible.
If you enter the room, there's a screen the dentist can look at that monitors your teeth as well as a 3D X-ray machine to give you the best solution. Moreover, they will explain what's going on, what causes the pain, and what your options are.
Adolescents from ages 13 to 17 get a free basic checkup that excludes cosmetic treatment and orthodontics, by the way. So this is one of the best dentists in Christchurch if you have a teen with troublesome teeth.
Smile Company gives you a smile that you can wear with confidence every day and has been around for over 35 years. This is genuinely one of the best dental clinics in Christchurch.
Highlights
Exceptional dentists
Cutting-edge equipment
Gives you a smile that you can wear with confidence every day
Customer Reviews
Here's the review of one patient, Ben Boothy, on Google Business:
"Kind caring professional service. From walking upto the service counter to getting dental work done you don't feel like you are being treated like a number. Tom and the team are brilliant."
3)  Smile:Design
| | |
| --- | --- |
| BEST FOR | Bespoke Specialised Treatments |
| SERVICES | Single Implant Crowns, Crowns, Full Denture, Implant Bridges, Composite Resin Bondings, Full Mouth Implant, Implant Denture |
| WEBSITE | https://www.smiledesign.co.nz/ |
| ADDRESS | 7 Wairakei Road, Bryndwr, Christchurch 8052, New Zealand |
| CONTACT DETAILS | 03 351 5013 | [email protected] |
| OPERATING HOURS | Monday to Thursday: 9am – 5pm |
From single tooth to whole mouth implant solutions, Prosthodontist (Dental Implant and Restorative Specialist) Dr Nathan Lewis of Smile:Design offers bespoke specialised treatments to restore your function, your smile, and your confidence.
Smile:Design offers dental implants that match your natural teeth and give your mouth a strong, permanent foundation. Dental implants can enhance your appearance, lift your self-esteem and improve your oral health.
Highlights
Bespoke specialised treatments
Offers a wide range of services
Customer Reviews
Here's Vanessa's comment on Google Business:
"Nathan is an artist. He listens to you and he is most concerned at keeping you happy. I feel very fortunate to have been recommended as client. I could not be happier with all Nathan have done to redesign my smile. I am confident in recommending Nathan to anyone!"
4)  Smile Concepts

BEST FOR
Highly Trained and Experienced Dentists
SERVICES
GENERAL DENTAL SERVICES
Dental Examination with x-rays
Dental Fillings
Tooth Replacement
Tooth Extractions
Dental Hygiene Services
Root Canal Treatment
Dentures – Partial and Full
Wisdom Teeth
SedationCOSMETIC SERVICES
Teeth Whitening
Dental Crowns & One visit Rhondium permanent dental Crown in a single appointment.
Veneers
Bridges
Tooth Colour Restoration
Inlays and Onlays
Dental Implants
Cosmetic Fillers and Botox – Free Appointment
WEBSITE
https://www.smileconcepts.co.nz/
ADDRESS
104 Colombo Street, Sydenham, Christchurch 8023, New Zealand
CONTACT DETAILS
03-3326399

03-3326398

OPERATING HOURS
Monday & Wednesday: 8.30am – 9pm

Tuesday, Thursday & Friday: 8.30am – 5pm
Smile Concepts is a Christchurch dental surgery located in the popular suburb of Sydenham. Their dentists are highly trained and experienced in different areas of dentistry.
Knowing that dental costs are an important consideration while choosing a dentist, they have kept their services affordable, yet wide-ranging and complete. They will go through any concern you have regarding your smile, teeth or gums, and chalk out the most appropriate treatment plan for you.
Smile Concepts' services are comprehensive and range from routine dental check-ups and preventative maintenance to teeth whitening, root canals, implants, dentures, tooth extraction, and gum treatment. To administer the best dental treatment for you, they use the latest available technologies, materials, and techniques and source their materials and equipment from well-known and reputed international suppliers.
Highlights
Highly trained and experienced dentists
Affordable, yet wide-ranging and complete services
Customer Reviews
Jazz Pazz, one of their patients, wrote on Google Business:
"Smaller friendly team with a homely feel. I visit Natalie and I always leave feeling satisfied and happy with my service. They have a less is more, preventative focus which I like as it will always save the customer in the long run! I feel as far as dentists go, they are quite affordable."
5)  Windsor Dental

BEST FOR
Cost-Effective Dental Care
SERVICES
Fastbraces
Invisalign Orthodontics
Complex Dental Work
Dental Implants
Full Mouth Rehabilitation
Cosmetic Dentistry
Smile Designing
Removal of Wisdom Teeth
Sedation
WEBSITE
http://www.windsordentalcentre.co.nz/
ADDRESS
142 Marshland Road Shirley, Christchurch, New Zealand
CONTACT DETAILS
(03) 385 3778 | [email protected]
OPERATING HOURS
Monday & Tuesday: 8.30am – 7pm

Wednesday to Friday: 8.30am – 5.30am

Saturday: 8.30am – 12pm
Over the years, Windsor Dental's regulars have been steadily increasing due to their services. They offer high quality dental care at an affordable rate, which is what helps them keep their customers.
First time visitors of a dental centre are bound to feel nervous about their appointment– Windsor Dental understands that feeling well. Their staff are friendly and polite at all times, as an effort to make the procedure less daunting for their clients.
They're professional and informative as well, which helps clients better understand the procedure they will be going through. Due to these factors, Windsor Dental Centre continues to be well known and recommended by their clients.
Highlights
Offer high quality dental care at an affordable rate
helps clients better understand the procedure they will be going through
Professional and informative
Customer Reviews
Mike Southworth, one customer, said on Google Business:
"I have to start by admitting that i do not generally like 'the dentist chair' and have managed to get to quite an age avoiding dental practices where possible. Colin and his team have been treating me for the last month and have put me at ease, been kind, professional and explained each step of my plan carefully. I am in the process of having many filling replaced and some new fillings in a short time frame. I was recommended Colin and his team and have confidence in the great work they are doing for me. I would like to recommend this dental practice to anyone :)"
---
And with that, we conclude the list of the best dentists in Christchurch. These dentists scored really high on Google Reviews, which means a lot of people are satisfied with their services. So, it's worth giving them a try if you happen to be nearby.
Have you tried one of these dentists that we have recommended? If you did, share your experience with us by commenting below as we'll be happy to hear it.
Other than that, if you simply want to whiten your teeth in a matter of days, you could check out the best teeth whitening products in New Zealand. But before doing so, it's best to consult with a dentist first!