To look good, taking care of oral hygiene and teeth is paramount. And therefore, we have listed down the best dentists in Christchurch to help you find the right one for you to get that killer smile.
Some dentists are better suited to general dentistry, some are proficient in cosmetic dentistry, and there are also dedicated ones that look after children's teeth. But still, Christchurch is a big city, so where do you even start?
You can think about the location, experience, and their prices. Look for those who explain the assessment clearly and have a caring and friendly attitude along with the latest equipment.
If you really don't know where to start… well, that's what we wrote this for! Now to go on, here is the rundown for the best dentists in Christchurch!
1)  Pathway Dental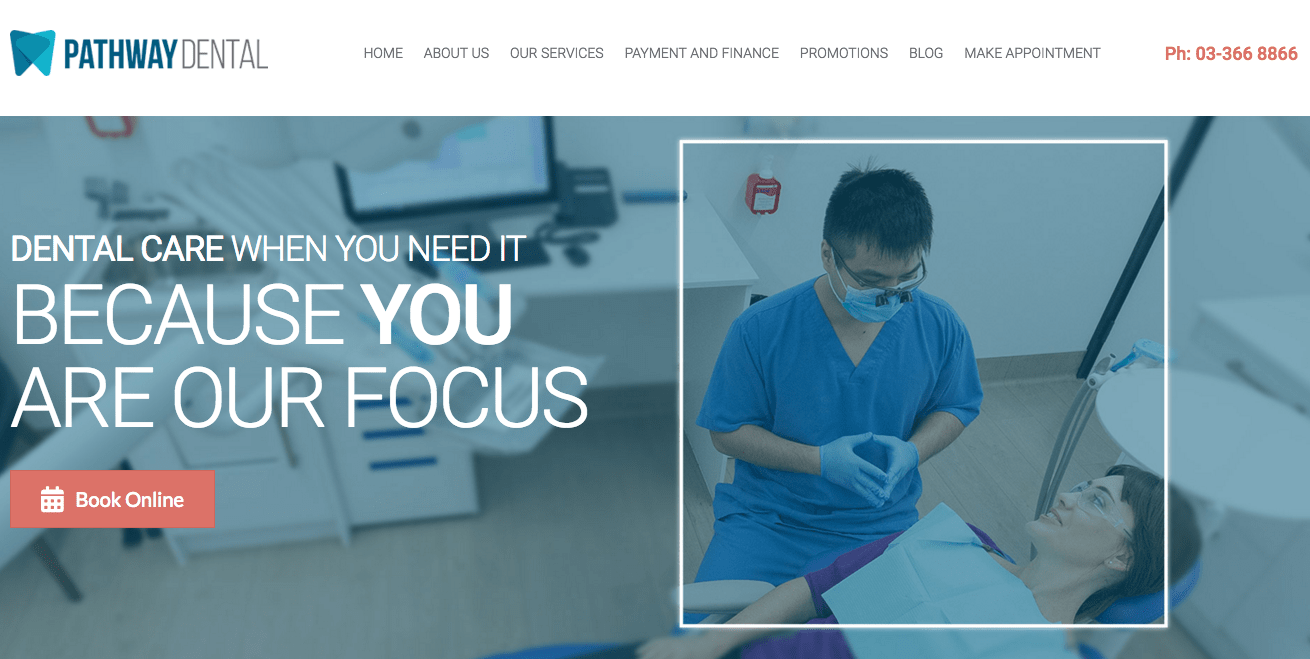 | | |
| --- | --- |
| Clinic address | Level 1 – 91 Riccarton Road, Christchurch 8011 |
| Services | Dental Emergencies, Cosmetic Dentistry, Crowns, Full and Partial Plates, Teeth Whitening, Exams and Consultations, Wisdom Teeth and Tooth Extraction, Child and Adolescent Care, Root Canal Therapy, Dentures, Restoration and Fillings |
| ACC | ACC and WINZ quotes |
| Contact no. | 03 366 8866 |
| Website | https://www.pathwaydentists.co.nz/ |
When coming into the clinic, it's nice to be treated not just as a patient but also as a person. And to have a dentist understand what made you come and let you feel at home in the dental chair — this is what Pathway Dental is all about.
The team is composed of Dr. Nathan Sombunya, Dr. Soon Jee Low, and Dr. Yasmin Akrum and dental assistants and a clinic technician. All of them try to make sure your experience in the clinic goes smoothly.
You will get back to smiling again, free of pain or any distress, with their wide array of treatments including Crowns, Full and Partial Plates, Root Canal, Fillings, and more.
Open from Mondays to Sundays, they are there to deal with the painful toothaches even late at night. That's why they're among the best dentists in Christchurch today.
2) Christchurch Boutique Dental
Clinic address
105 Wainui Street, Riccarton,
Christchurch 8041, New Zealand
Services
Composite Dental Fillings
Cosmetic Gum Surgery
Crown and Bridge
Digital Dental Implants
Digital Smile Design
Botox, Fillers and Facial Aesthetics
Invisalign
Oral Surgery
Periodontal Treatment
Root Canal Treatment
Teeth Whitening
Veneers
ACC
Not specified
Contact no.
03-925 9929
Website
http://boutiquedental.co.nz/
Christchurch Boutique Dental's founder and principal dentist, Dr. David Kao, has developed advanced skills in microscope enhanced treatments in the field of cosmetic dentistry.
Christchurch Boutique Dental practices a holistic approach to both general and cosmetic procedures. This philosophical approach to dentistry allows for precise and natural results. Their team uses advanced technology to perform these holistic general and cosmetic procedures with absolute precision. They are ready to serve with great precision to satisfy their patients.
3)  G & E Dental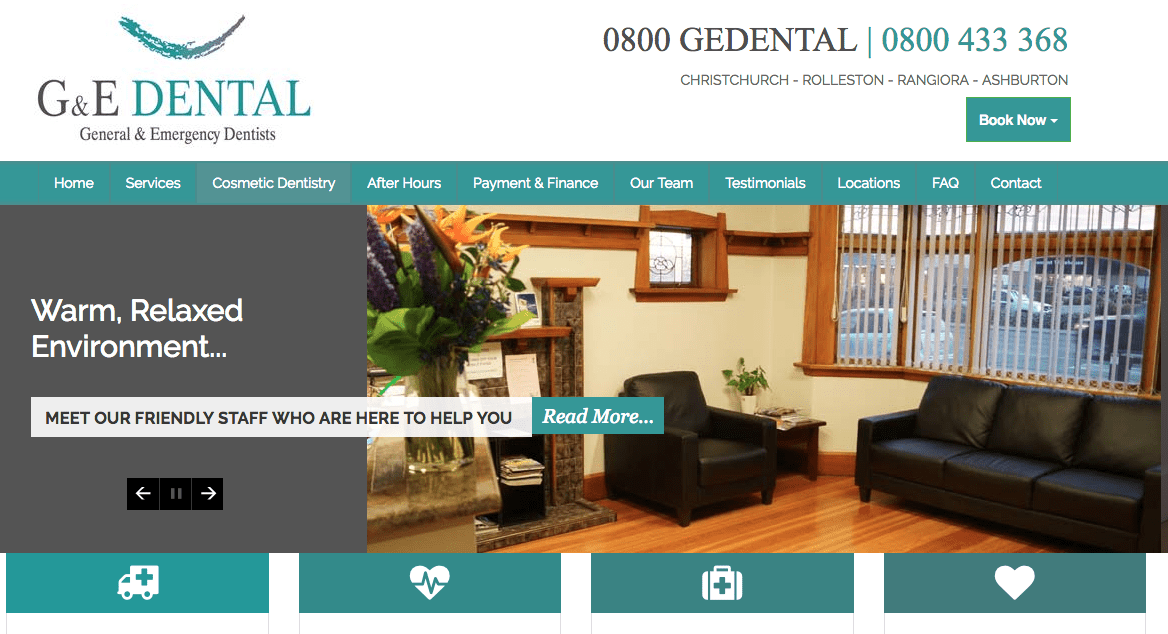 | | |
| --- | --- |
| Clinic address | 369 Main South Road, Hornby, Christchurch |
| Services | Tooth Extractions, Root Canal Treatment, Hygiene, Cosmetic Dentistry, Veneers and Composite Bonding, Crowns and Bridges, Permanent and Temporary Fillings, Orthodontics, IV Sedation, Dentures |
| ACC | Not specified |
| Contact no. | 0800 433 368 |
| Website | https://www.gedental.nz/ |
G & E Dental is your go-to dentist for everything from family checkups to Restorative and Cosmetic treatments. It has 4 branches across the South Island in Christchurch, Rangiora, Ashburton, and Rolleston.
Accidentally knocked off a tooth or in need of some emergency tooth extraction? The dental clinic in Hornby is open from Mondays to Sundays and even the holidays, and is even available for after-hours emergency calls so they'll be there when you need them.
Dr Meena Chawdhry, the lead dentist and owner, is experienced in dental surgeries where she can give the patient confidence and help them avoid the usual dentist-related anxiety.
Also, they have a team of dentists assigned in different branches capable of doing everything from producing a new denture to repairing broken teeth.
4)  Merivale Dental Group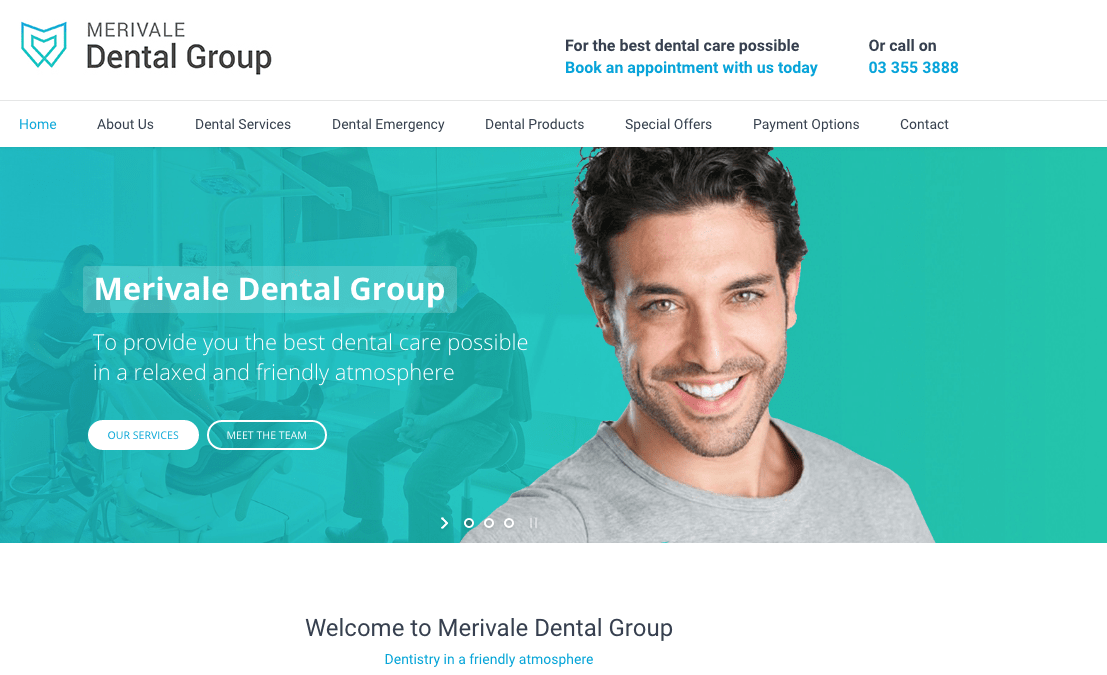 | | |
| --- | --- |
| Clinic address | Level 1, 184 Papanui Road, Merivale Christchurch, 8014 Canterbury, New Zealand |
| Services | Dental Checkup and Consultation, Wisdom Teeth Removal, CEREC (Ceramic Reconstruction), Tooth Whitening, Preventative Dentistry, Tooth Coloured Fillings, and Root Canal Therapy, and Children and Adolescent Dentistry |
| ACC |  Emergency ACC |
| Contact no. | 03 355 3888 |
| Website | https://merivaledental.co.nz/ |
Merivale Dental Group expresses what it stands for in a sentence: "to provide you the best dental care possible in a relaxed and friendly atmosphere."
That's their goal every step of the way and they live up to it, which is why we included them among our best dentists in Christchurch.
You might notice in their services that they offer CEREC, by the way. CEREC means ceramic reconstruction that will forge the perfectly sized, quality veneer, crown or partial crown for your teeth — on the same day!
The dental clinic offers a range of general and cosmetic dentistry services. In addition to cosmetic treatments, Dentist Jenny Kim also specialises in endodontics dealing with any problems or diseases found on the pulp or soft tissue found at the core within your teeth.
What's more, they have a killer NZ$89 price for dental checkups and x-rays. They will have a close look at your teeth and assess your dental and oral condition and give solutions or advice; this is a great deal since it encourages annual checkups that keep your teeth and smile healthy and cool.
5)  Smile:Design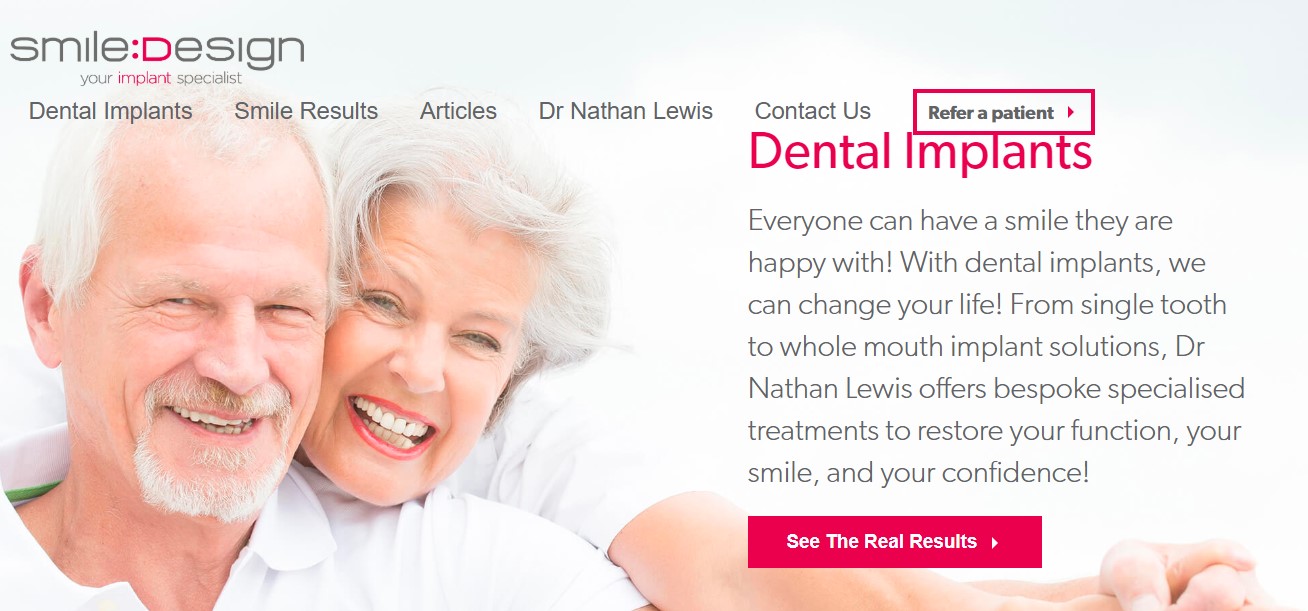 | | |
| --- | --- |
| Clinic address | 7 Wairakei Road, Bryndwr, Christchurch 8052 |
| Services | Single Implant Crowns, Crowns, Full Denture, Implant Bridges, Composite Resin Bondings, Full Mouth Implant, Implant Denture |
| ACC | ACC Accredited |
| Contact no. | 03 351 5013 | [email protected] |
| Website | https://www.smiledesign.co.nz/ |
From single tooth to whole mouth implant solutions, Prosthodontist (Dental Implant and Restorative Specialist) Dr Nathan Lewis of Smile:Design offers bespoke specialised treatments to restore your function, your smile, and your confidence.
Smile:Design offers dental implants that match your natural teeth and give your mouth a strong, permanent foundation. Dental implants can enhance your appearance, lift your self-esteem and improve your oral health.
6)  Smile Concepts

Clinic address
104, COLOMBO STREET, BECKENHAM, CHRISTCHURCH 8023
Services
GENERAL DENTAL SERVICES
Dental Examination with x-rays
Dental Fillings
Tooth Replacement
Tooth Extractions
Dental Hygiene Services
Root Canal Treatment
Dentures – Partial and Full
Wisdom Teeth
SedationCOSMETIC SERVICES
Teeth Whitening
Dental Crowns & One visit Rhondium permanent dental Crown in a single appointment.
Veneers
Bridges
Tooth Colour Restoration
Inlays and Onlays
Dental Implants
Cosmetic Fillers and Botox – Free Appointment
ACC
ACC and WINZ quotes
Contact no.
Phone: 03-3326399

Fax: 03-3326398

Website
https://www.smileconcepts.co.nz/
Smile Concepts is a Christchurch dental surgery located in the popular suburb of Sydenham. Their dentists are highly trained and experienced in different areas of dentistry.
Knowing that dental costs are an important consideration while choosing a dentist, they have kept their services affordable, yet wide-ranging and complete. They will go through any concern you have regarding your smile, teeth or gums, and chalk out the most appropriate treatment plan for you.
Smile Concepts' services are comprehensive and range from routine dental check-ups and preventative maintenance to teeth whitening, root canals, implants, dentures, tooth extraction, and gum treatment. To administer the best dental treatment for you, they use the latest available technologies, materials, and techniques and source their materials and equipment from well-known and reputed international suppliers.
7)  Beale and Cullen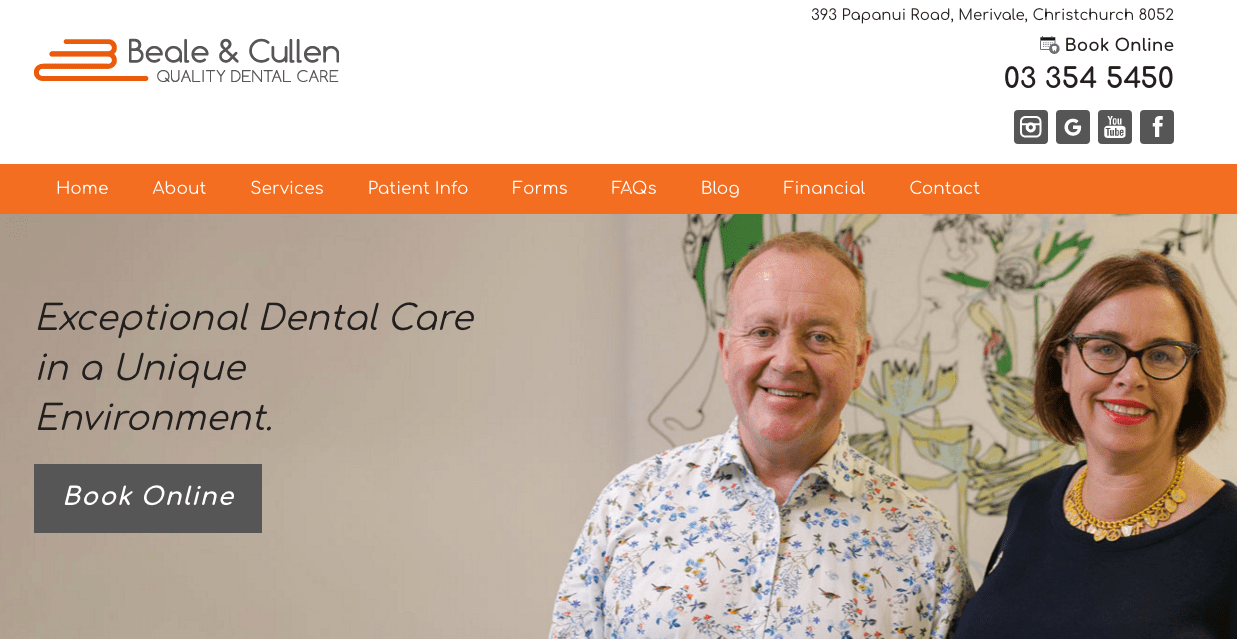 | | |
| --- | --- |
| Clinic address | 393 Papanui Road Merivale, Christchurch 8052 |
| Services | Bridges, Dentures, and Partial Dentures, CEREC One-Visit Crowns, Cosmetic Dentistry, Dental Implants, Emergencies and Extractions, General Dentistry, Periodontal Treatments, Root Canal Treatment, Teeth Whitening, Tooth Coloured Fillings, and Veneers |
| ACC | Not specified |
| Contact no. | 03 354 5450 |
| Website | https://www.bealeandcullen.co.nz/ |
 Going to the dentist might be daunting for others, especially for kids, but not in the type of clinic as Beale and Cullen has.
You will meet either Richard Beale or Louisa Cullen, who are lead dentists — gentle and caring in personality and approach. Sounds like a prospect for your best dentists in Christchurch if you get anxious at the dentist's!
From a simple checkup and cleaning to the more complex treatments such as tooth coloured fillings and root canal treatment, you will be comfortable, at ease, and definitely in the least pain possible.
Their clinic has a lively and comfortable atmosphere. And when you go into their treatment rooms, you'll find yourself relaxing thanks to their calm and friendly attitudes.
Beale and Cullen Dental Care is situated at Papanui Road in Merivale Christchurch. They have parking space for your car if needed too.
8) Windsor Dental

Clinic address
142 Marshland Road Shirley Christchurch
Services
Fastbraces
Invisalign Orthodontics
Complex Dental Work
Dental Implants
Full Mouth Rehabilitation
Cosmetic Dentistry
Smile Designing
Removal of Wisdom Teeth
Sedation
ACC
Contact no.
(03) 385 3778 | [email protected]
Website
http://www.windsordentalcentre.co.nz/
Over the years, Windsor Dental's regulars have been steadily increasing due to their services. They offer high quality dental care at an affordable rate, which is what helps them keep their customers.
First time visitors of a dental centre are bound to feel nervous about their appointment– Windsor Dental understands that feeling well. Their staff are friendly and polite at all times, as an effort to make the procedure less daunting for their clients.
They're professional and informative as well, which helps clients better understand the procedure they will be going through. Due to these factors, Windsor Dental Centre continues to be well known and recommended by their clients.
9) The Smile Company Dental Care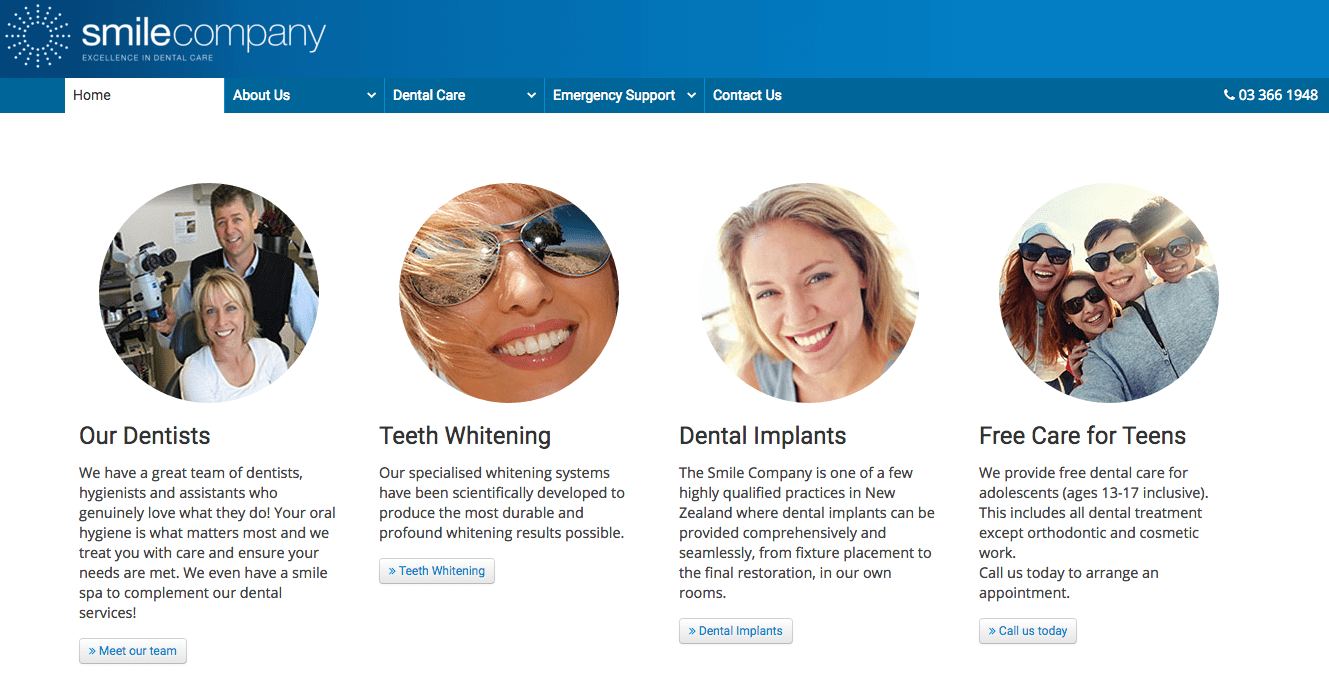 | | |
| --- | --- |
| Clinic address | 75 Cambridge Terrace, Christchurch 8013, New Zealand |
| Services | Teeth Whitening, Dental Implants, Veneers, Crowns and Bridges, Root Canal Treatment, Wisdom Teeth Extraction, and others |
| ACC | Not specified |
| Contact no. | 03 366 1948 |
| Website | https://www.smileco.co.nz/ |
From the moment you enter their reception, you will be greeted with smiles and happy faces. An excellent service having exceptional dentists, cutting-edge equipment, and comfortable treatment with as little pain as possible.
If you enter the room, there's a screen the dentist can look at that monitors your teeth as well as a 3D X-ray machine to give you the best solution. Moreover, they will explain what's going on, what causes the pain, and what your options are.
Adolescents from ages 13 to 17 get a free basic checkup that excludes cosmetic treatment and orthodontics, by the way. So this is one of the best dentists in Christchurch if you have a teen with troublesome teeth.
Smile Company gives you a smile that you can wear with confidence every day and has been around for over 35 years. This is genuinely one of the best dental clinics in Christchurch.
---
And with that, we conclude the list of the best dentists in Christchurch. These dentists scored really high on Google Reviews, which means a lot of people are satisfied with their services. So, it's worth giving them a try if you happen to be nearby.
Have you tried one of these dentists that we have recommended? If you did, share your experience with us by commenting below as we'll be happy to hear it.
Other than that, if you simply want to whiten your teeth in a matter of days, you could check out the best teeth whitening products in New Zealand. But before doing so, it's best to consult with a dentist first!