The 5 Best Dentists in Rotorua
Regular dental checkups and treatments can help keep your teeth, gums, and mouth healthy. If going to the dentist makes you anxious, don't worry, we've rounded up the best dentists in Rotorua that you can visit.
Choosing a dentist can be difficult, but we've done our research and have provided you with some of the top options worth considering. We based our picks on the dentists' reputations, services offered, and feedback from their patients.
Now, if you're delaying your decision to visit a dentist because of costs, we get you. So let's talk about their rates first to get it out of the way.
How much do Dentists cost in Rotorua?
In New Zealand, all school children are entitled to free basic oral health care. This includes dental examinations, fillings, and extraction of primary teeth just to name a few.
Most adults, however, need to pay for treatment out of pocket and costs will vary for each dental clinic. Location sometimes plays a role in dentists' rates, meaning that cities tend to charge higher compared to smaller towns in rural settings.
Now, if your teeth are generally in good condition and all you need is a general check-up, you can expect this to cost on average around $150. However, more complicated procedures such as implants can easily reach up to a staggering $3000 in fees.
With these kinds of rates, we would suggest that you find a dentist that includes teeth cleaning as part of the check-up so that you can increase your savings.
If, however, your teeth are damaged in an accident, your treatment may be backed via ACC, which is the government's accident compensation scheme. You'll need to apply for eligibility first though, but it's well worth a try.
Moreover, residents who have low income and have a Community Services Card might be eligible to receive emergency dental care as well. This includes pain relief, urgent extractions, and those with specific medical conditions or disabilities.
Once you realize the exorbitant cost of oral care, getting yourself dental insurance is an option worth considering if you want to protect your finances. Depending on the policy you apply for, you can get coverage for up to 100% of your dental treatment costs.
However, in the end, regular check-ups are still the best way to keep your costs down. After all, taking care of your health is also taking care of your wealth.
To give you a better idea of how much common procedures and treatments cost, we've compiled the average range of estimated prices in the table below.
| Dental Procedure | Cost |
| --- | --- |
| Check up with scale/polish | $94 – $140 |
| Check up with x-rays and scale/polish | $120 – $179 |
| Amalgam filling (one surface) | $125 – $180 |
| Amalgam filling (two surfaces) | $175 – $230 |
| Composite filling (molar) | $210 – $280 |
| Extraction | $189 – $250 |
| Porcelain Veneer | $1,100 – $1,490 |
| Composite Crown | $310 – $450 |
| Porcelain Fused Metal Crown | $1,205 – $1,500 |
| Molar Root Filling | $990 – $1,300 |
| Single Tooth Implant | $2,500 – $3,000 |
The Best Dentists in Rotorua
Now that you know how much a visit to the dentist will cost, let's take a look at our top picks for dentists in Rotorua.
1. Absolute Dental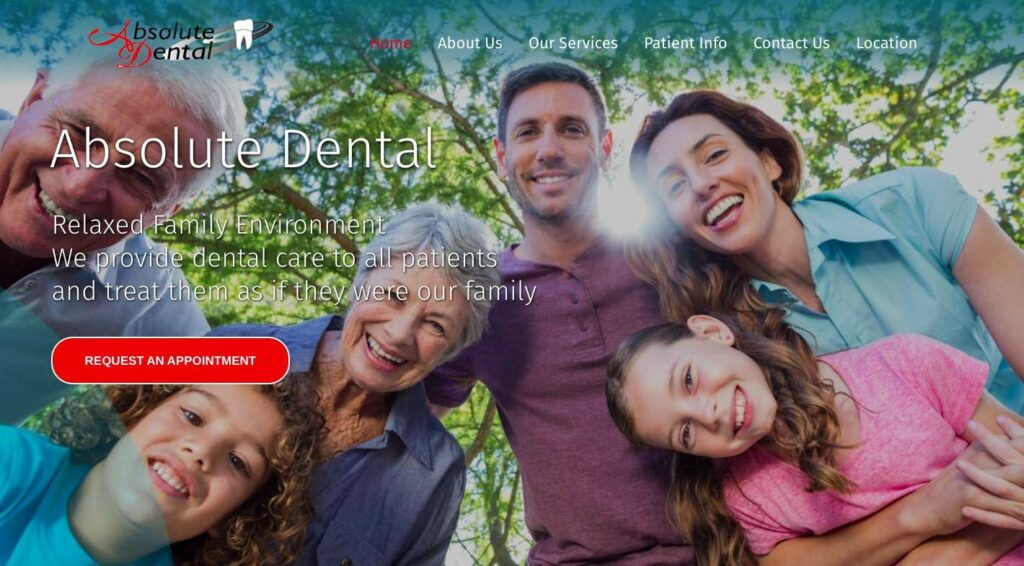 Test
Info
SERVICES
X-Rays, Consultation, Examinations , Fillings, Pregnancy Dental Services, Wisdom Tooth Extraction, Root Canal Treatment, White Fillings, Tooth Jewelry, Teeth Bleaching, Porcelain Veneers, Teeth Whitening, Teeth Cleaning, Mouth Guards, Bite Splints, Sealants Dental Hygiene/Cleaning, Restorative, Single-visit Crown, Dentures (Full & Partial), Crown, Bridge, Implants
WEBSITE
https://www.absolutedental.co.nz/
ADDRESS
164 Old Taupo Road, Utuhina, Rotorua 3015
CONTACT DETAILS
Phone: (07) 348-3882

Email: [email protected]

OPERATING HOURS
Monday to Thursday: 8:00am - 8:00pm

Friday to Sunday: 8:00am - 5:00pm
Absolute Dental was first established in 2000 by Dr. Shashikant "Shash" Mohanbhai Patel. In 2014 he was joined by Dr. Deepak Pardal as one of the clinic's directors.
Offering affordable dental services in Rotorua and the surrounding areas in the Bay of Plenty and Waikato region, Absolute Dental has clinics in Kawerau, Ngongotaha, Tokoroa, and Morrinsville.
Absolute Dental's main branch is located in Rotorua where two of the clinic's directors are also practicing. They have the most dentists on rotation out of all their clinics which means it may be easier to book an appointment here.
Covering all aspects of dentistry, Absolute Dental likewise provides emergency services for any urgent care. Their Rotorua clinic is the only one that accommodates late-night and weekend appointments as well.
Absolute Dental provides numerous routine procedures that include extractions, root canal treatment, and fillings. They also offer restorative services such as dentures, bridges, and single-visit crowns, altho
One of Absolute Dental's unique services is providing oral care for pregnant women, specifically for issues that may arise because of the increased response of bacterial plaque to hormonal changes. They can treat gum inflammations and any erosive after-effects caused by vomiting from morning sickness.
Apart from oral treatments, Absolute Dental also offers cosmetic services that are aimed towards improving the aesthetic of your smile. They can perform teeth whitening, veneers, and even temporary jewelry for your teeth!
The painless procedure of adding ornaments to your teeth involves mounting a temporary crystal glass jewel with aluminum foil and dental glue. However, do take note that their dentists must also be the ones to remove or replace it by polishing it off your tooth.
Another reason why we like Absolute Dental is that they offer mobile dentist services. This is ideal for those that have mobility issues and would benefit from getting treatment in the comfort of their home.
With a variety of cosmetic services and treatments, Absolute Dental is one of our top dentists in Rotorua. They offer state-of-the-art treatments that make them an excellent option worth considering for your oral care needs.
Offers emergency service treatments
Accepts late-night appointments
Can treat pregnancy-related oral issues
Open daily
Closes early on weekends
Doesn't offer braces
Customer Reviews
Price was incredibly reasonable
"Fabulous service from two lovely ladies. You made my extraction a stressless experience. Receptionist was lovely too. I got a courtesy call the next day to check that I was ok. Price was incredibly reasonable. Can not recommend enough." – Jemma Johnston
Friendly professional team
"Fantastic dental team! I have just joined this practice and today I had quite a bit of work done. It is the first time I have had multiple injections that are pain free plus the bill was not too painful either. They are a gentle, caring, friendly professional team who appear to put excellent customer service before profit. All my family are now registered with them. A big thank you to the Absolute Dental Team!" – Frances Midgley
2. Rotorua Dentists by Bright Smile Dental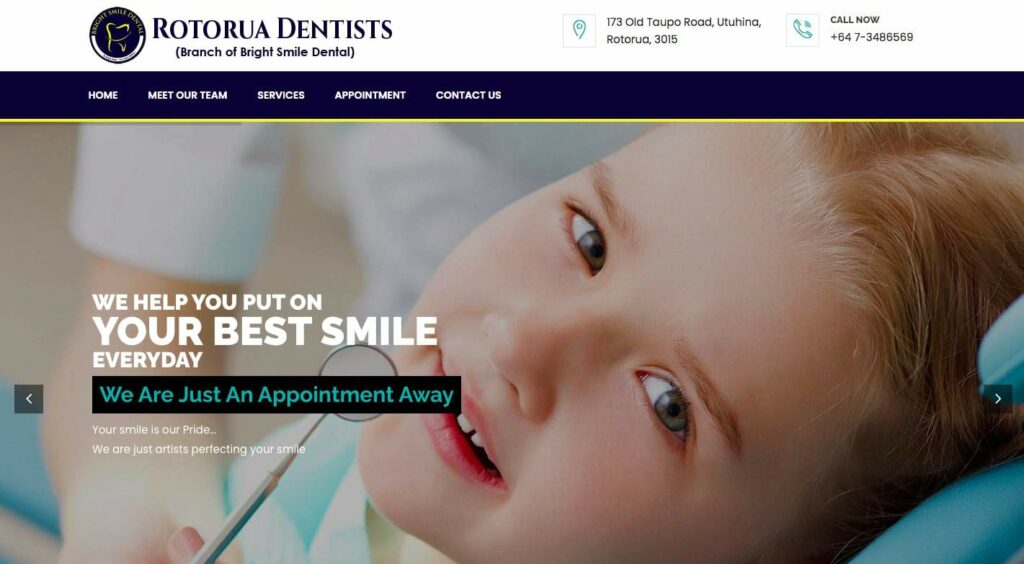 Test
Info
SERVICES
Fillings, Root Canal Treatment, Extractions, Dentures, Emergency Dental Services, Crowns, Bridges, Veneers, Teeth Whitening, Implants, Gum Treatment
WEBSITE
https://rotoruadentists.co.nz/
ADDRESS
173 Old Taupo Road, Utuhina, Rotorua, 3015
CONTACT DETAILS
Phone: (07) 348-6569

Email: [email protected]

OPERATING HOURS
Monday to Friday: 9:00am - 5:00pm
Dr.Gopi Reddy is the founder and director of the Bright Smile Group which owns and operates the Rotorua Dentists clinic. Since their founding in 2008, they have set up a total of 14 branches and 2 dental laboratories around New Zealand.
Along with a team of skilled dental professionals, Rotorua Dentists also has state-of-the-art facilities to offer its clients. They strive to use the most current innovations and methods in their craft to treat a wide variety of oral issues.
They perform common dental procedures such as root canal treatments, extractions, fillings, and gum treatments. Some of the cosmetic services they provide include teeth whitening and veneers.
However, take note that while Rotorua Dentists can perform dental implants, they can only fit in the replicated tooth or crown to the implant. For the actual placing of the implant, you'll need to visit a third-party Oral and Maxillofacial surgeon first.
Nevertheless, Rotorua Dentists provide emergency services as well to treat urgent trauma, broken fillings, cracked teeth, toothaches, and infections. They also specialize in treating Temporomandibular Joint (TMJ) or lockjaw, which is an excruciating condition that makes it difficult to open and close your mouth.
For these kinds of dental emergencies, Rotorua Dentists will provide free consultations and an immediate WINZ quotation if needed. If it's an accident or injury, they offer ACC consultations as well to help sort out insurance if necessary.
One reason to like Rotorua Dentists is that booking your appointment online automatically grants you a 5% discount on your total bill. All you have to do is visit their website and fill up their webform with your preferred appointment date and a few personal details.
In short, we like Rotorua Dentists because of their consistent reputation with clients and their comprehensive services. While they may only have one clinic in the area, it's our opinion that they're an option worth considering if you need an experienced and qualified dentist.
Can treat TMJ or lockjaw
Emergency services include expedited WINZ quotation
Discount offered for online booking
Closed on weekends
Needs to refer third party surgeon for dental implant
Customer Reviews
Highly recommend them
"Absolutely lovely to deal with. Dentist was Patient, and gave thorough explanation and very empathetic of my recent dental ACC accident. She made it effortless and easy to understand where to from here. Highly recommend them, lovely receptionist too. I'll definitely be back. Great experience." – Louise Lowe
I highly recommend
"After not going to the dentist for almost 10 years I'd built up a real phobia about getting my teeth looked at. A sore tooth turned into a bit of an emergency and someone from work recommended Rotorua Dentists and I'm so glad they did! Since that initial visit I've had all my teeth fixed and I'm once again smiling the way I used to many years ago… and all without needing a second mortgage! Thank you so much for the kindness, care, patience and professionalism you have shown me. I highly recommend you to all." – Shelley Honig
3. The Dentists Dental Group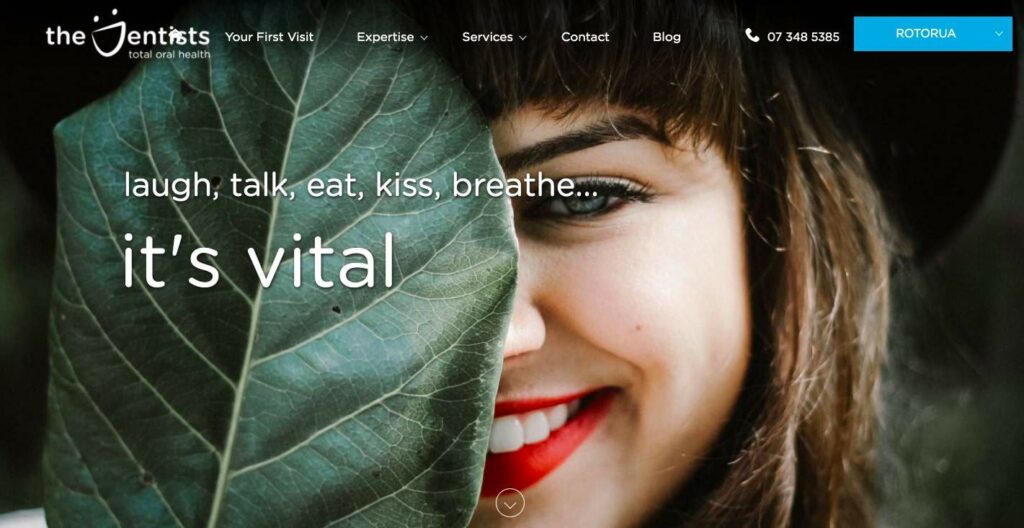 | Test | Info |
| --- | --- |
| SERVICES | Preventative Care, Cleaning & Hygiene, Crowns, Bridges, Fillings, Dentures, Implants, Full Mouth Reconstruction, Amalgam Replacement, Cosmetic, Braces, Dental Makeovers, Veneers, Teeth Whitening, Procedures, Extractions, Root Canal, Wisdom, Teeth, Braces, Implants |
| WEBSITE | https://www.dentistsrotorua.co.nz/ |
| ADDRESS | 1125 Pukaki Street, Rotorua 3010 |
| CONTACT DETAILS | Phone: (07) 348-5385 |
| OPERATING HOURS | Monday to Friday: 8:00am - 5:00pm |
The Dentists Dental Group Rotorua branch is led by co-director Dr. Arjuna Rajasingham, who received his Bachelor of Dental Surgery in 1999 from the University of Otago. The other co-directors are Dr. Adam Durning and Dr. Regan Leslie who practice in the dental group's other branches.
Dr. Rajasingham is a member of several dental associations and is also experienced in the field of facial aesthetics. He is also the man behind the company's motto which is "Oral health is fundamental to lifelong well-being".
Subscribing to the belief that caring for your oral health is the secret to overall health and longevity, The Dentists advocate their philosophy in their practice. When you visit one of their clinics and receive treatment, you'll also be educated on how to care for your oral health in the future.
Moreover, what we like about this practice is that you get a free check-up after any major procedure to check on the treatment's progress. Your dentist will conduct a private consultation to ensure that your oral health is in good shape.
With that said, The Dentists Dental Group is not only known for their bedside manner but for their state-of-the-art equipment and resources as well. One of their unique offerings is Invisalign braces, which are made out of transparent material that offers a subtle look as opposed to traditional metal or ceramic braces.
The Dentists Dental Group also offers what they call a "dental makeover" which is a comprehensive treatment plan that aims to restore your teeth to their full potential. This will involve several treatments though depending on your teeth' condition which includes shortening, whitening, and straightening to name a few.
The Dentists Dental Group likewise offers financing options so that you can get the care you need without worrying about how to pay for it. They offer a 12-month financing plan with no interest, but you may only avail of this if you're using Q-Card to pay.
Each major treatment has a free check-up
Offers full dental makeover treatment
Provides financing options via Q-Card
No emergency services
Closed on weekend
Customer Reviews
Keep up the wonderful work
"I'm usually very anxious at the dentist but Susie is so calm/patient with me I feel at ease. Top technology – very clean – hygienic. Kind receptionists everytime i go. I've enrolled all my adult children here. Keep up the wonderful work" – Karri-Ann Vercoe-Black
Would highly recommend this dental practice
"I would highly recommend this dental practice. I had most of my worn down front teeth built up by top technology called dental abrasion. I was so impressed by the procedure and the teamwork between the assistant and dentist. My teeth look great and I will be going back in the future. Efficient staff all around. Well done!" Vivienne Gee
4. Modern Dental (formerly Grant Wells Dental)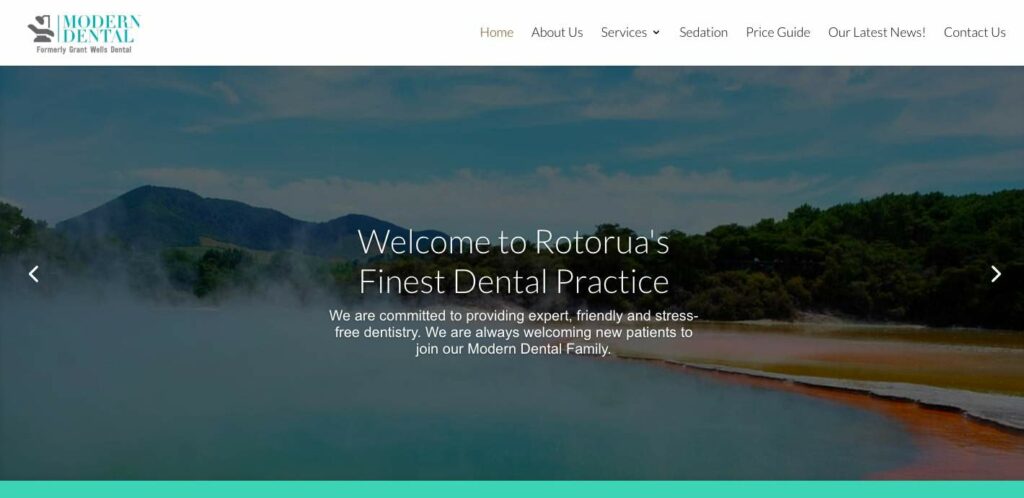 Test
Info
SERVICES
General Family Dentistry, Root Canal Treatment, Wisdom Teeth & Extractions, Dental Implants, Implant Supported Bridge/Denture/All-on-4, Cosmetic Dentistry, Porcelain Veneers, Crowns and Bridges, Teeth Whitening, Invisalign, Dentures, Partial Plates, Sedation
WEBSITE
https://moderndental.co.nz/
ADDRESS
Floor 7, 1154 Hinemoa Street Rotorua 3040
CONTACT DETAILS
Phone: (07) 348 3895

Email: [email protected]

OPERATING HOURS
Monday to Friday: 8:00am - 5:00pm
Modern Dental is formerly known as Grant Wells Dental, established by Dr. Wells over four decades ago. Today, it is under the new leadership of Dr. Ankush and Dr. Swati Bajaj, a husband and wife team.
Having both received their Bachelor of Dental Surgery degrees from H.P. University in Shimla, the Bajaj's both immigrated to New Zealand from India. They established their first clinic, Applecross House Dentists, in Matamata in 2012 and followed this up with Modern Dental in 2021.
Dr. Ankush has extensive experience in emergency centers with a special interest in surgical extractions, root canal treatments, crowns, and implants. Dr. Swati, on the other hand, focuses on cosmetic dentistry with a general focus on veneers and dentures.
This clinic as a whole is a family-oriented practice that aims to be a one-stop-shop for all your dental needs. They seem to place great importance on providing free general dentistry for teens, although this is mandated by the New Zealand Ministry of Health.
Modern Dental encourages parents to begin bringing their children to the clinic when they are between 12 and 17 years old. Apart from checking their general oral health, the dentists here aim to promote a stronger oral care routine to help kids avoid costly treatments when they are older.
As members of the New Zealand Dental Association (NZDA), you have assurances that Modern Dental will adhere to the highest professional standards. So whether you're bringing in your children for a check-up or you need an implant, this clinic is an option worth considering.
Modern Dental uniquely offers Invisalign, which are invisible apparatuses that straighten teeth. However, do take note that these transparent braces need to be changed every two weeks and need a periodic visit to the clinic every 6 to 8 weeks.
This clinic also offers two kinds of cosmetic dentistry, the first being one that targets specific characteristics of your teeth like a missing tooth, discoloration, misshapen teeth, or gaps. They also provide "full mouth rehabilitation" which aims to completely restore your smile to help give you more confidence when you're out.
They also have state-of-the-art equipment in their clinics such as CEREC, 3D CBCT Scan, and an Endodontic Microscope. However, some of these advanced services and equipment might not be available in Modern Dental and might only in Applecross, their sister clinic.
Special focus on providing free services to children
Members of the New Zealand Dental Association (NZDA)
Offers "full mouth rehabilitation"
May still be in the process of setting up
Some services may not be available just yet
Customer Reviews
Excellent service
"Excellent service & care. Highly recommended." – Kimberly Labuschagne
5. Team Dental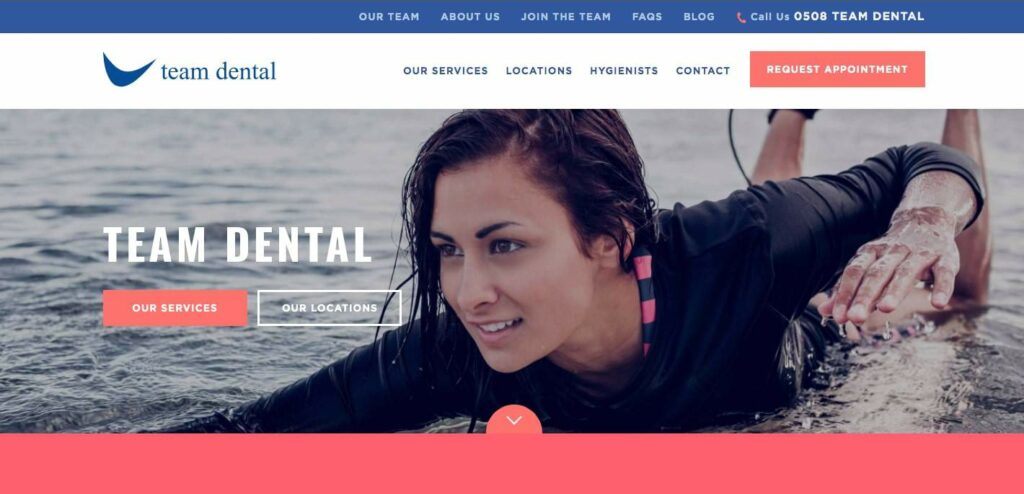 | Test | Info |
| --- | --- |
| SERVICES | Accidents, Amalgam Removal, Dental Crowns, Veneers, Dental Examinations, X Rays, Dentistry For Children, Dentures, Emergency Dentistry, Tooth Extractions, Fillings, Root Canal Treatments, Toothache, White Fillings, Winz TreatmentsLaser, Dentistry, Cosmetic, Cadcam Dentistry |
| WEBSITE | https://www.team-dental.co.nz/ |
| ADDRESS | 5 Tarawera Road, Lynmore, Rotorua 3010 |
| CONTACT DETAILS | Phone: (07) 222-5053; 0508 Team Dental |
| OPERATING HOURS | Monday to Friday 8:30am - 5:00pm |
Team Dental claims that one of their goals is to provide simple and affordable dentistry to their patients. They have 6 other dental clinics across New Zealand, which include locations in Christchurch, Tauranga, and Whangarei.
So whether you need urgent treatment, a general check-up, or dental fillings, Team Dental is available year-round for appointments. We like that they can accommodate emergency dental appointments as well as scheduled appointments with only a short lead time.
However, if you have a dental accident or emergency that occurs after-hours, you'll need to go to an emergency room instead of Team Dental for initial treatment.
Now, Team Dental may have a "pay on the day" policy but they offer various ways of settling your bill. You can use your Q Card to pay but if your bill is over $300, you may settle it via Genoa Pay as well.
Through this financing option, you can spread out your payments over 10 weeks so that you can focus on getting treated without worrying about costs. However, do take note that you need to pre-register or be pre-approved by Genoa Pay before your appointment.
Offering a wide range of services and procedures some of Team Dental's services also include extractions, examinations, x-rays, hygienist treatments, and dentures, to name a few.
One of their unique services is replacing amalgam fillings with tooth-colored alternatives. The procedure includes conducting tests and setting up a treatment plan, although do take note there are no proven health benefits to this process.
Provides emergency dental services
Offers financing options via GenoaPay
Performs amalgam filling replacements
No after-hours services available
May refer you to third-party dental hygienist
Customer Reviews
Professional manner and gentle work
"Fabulous Dentist! Highly Recommended after a muck up at another dentists and professional manner and gentle work much appreciated. Great staff Thank You! Now I will Highly Recommend also!!!!!!" – Ruamoko Ngatihine
Absolutely awesome
"Absolutely awesome dentist. Was very gentle, even with pulling a tooth out thanks to another dentist. Will definitely be using you guys again" – Catherine Worth
How to Choose a Dentist
Making the personal decision to go to the dentist is stressful enough as it is and choosing the right one can be equally daunting. However, with these tips, you'll be well on your way to choosing the right dentist for you.
Do Your Research
Don't just choose the first dental office you see – researching a dentist's experience, qualifications and reputation are important as well. You should also seek referrals and recommendations from friends or colleagues who are patients at the same clinic.
Researching a dentist also involves visiting the clinic in person. Checking the clinic's cleanliness and if it has modern equipment will give you a general idea of the quality of dental work that will be performed on you.
Moreover, while a dentist will walk you through the treatment you need or seek, you can ask about patient comforts offered during the procedure. These include if you can watch TV during a procedure or if sedation is available.
Discuss Cost Before Treatment
Once you've found a few prospects, don't be afraid to ask how much the procedure or treatments will cost. Asking for fees can also guide you in seeking a second opinion, which you should consider for any medical treatment.
Seek Emergency Services or After-Hours Service
Accidents or injuries can happen at any time, so knowing if your chosen dentist provides emergency services is a great option to have. Moreover, you may want to seek a clinic that offers after-hours or weekend services as well, just in case it's difficult for you to schedule an appointment because of your working hours.
FAQs about Dentists
---
And that's our list for the best dentists that you can visit in Rotorua. We hope you consider one of our suggestions for your next annual visit.
Are there any other dentists you think we should add to our list? If so, please send us a message and we'll check them out!
Now that you know how complicated and expensive visiting the dentist can be, you may want to check out our list of the best dental insurance in New Zealand.