Image Credit: Pixabay
At one point or another, tooth problems can be a pain to deal with, especially if we haven't been taking proper care of your teeth. Here, we've featured the best dentists in Wellington to remedy your toothache or dental issue whilst being safe and comfortable.
Now, before we get to our list of the best dentists in Wellington, you're probably wondering how we chose our favourites.
A quick answer to that is we picked those who have amassed a significant amount of training or experience. Not necessarily those senior individuals if you like but just those with top competency and modern equipment and tools at the ready.
Another thing is a specialist who explains clearly with a kind and caring attitude. In addition to having your dentals treated, you will also get the advice you need to keep your smile in healthy condition through the years.
Those were the main things followed by the rates. And now, without any further ado whatsoever, we bring you the best dentists in Wellington!
1)  City Dentists Ltd.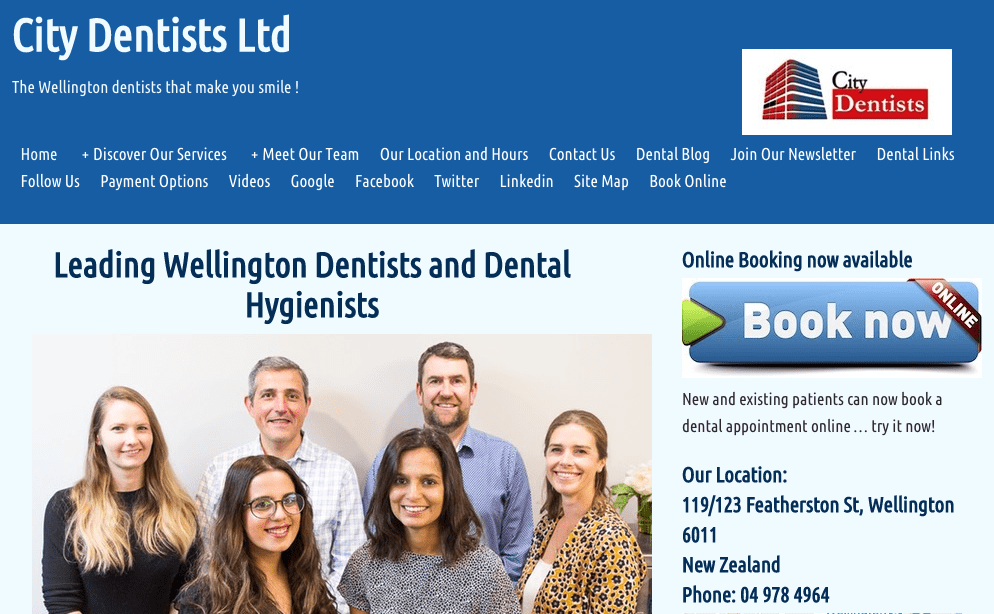 | | |
| --- | --- |
| Clinic address | 110/123 Featherston St, Wellington 6011, New Zealand |
| Services | Dental Implants, Teeth Whitening, Dental Veneers, Dental Crowns, Sedation, Wisdom Teeth,  Hygiene Treatment, and other treatments |
| ACC | Not specified |
| Contact no. | 04 978 4964 |
| Website | https://www.citydentists.co.nz/ |
 With a specialised team of dentists and hygienists, City Dentists will assess what's been bothering your teeth, treat you with the utmost care and precision, and on top of it, remove the nervous tension and replace it with a comfortable feeling.
Situated in an accessible location in Wellington, close to the bus pickups in Lambton Quay and the Wellington Train Station, plus the business district, it's close by when you need to visit for your appointment.
Its principal dentist is Kamil Tinawi, an NZDA (New Zealand Dental Association) member who has 20 years of experience since coming to Wellington. He specialises in Restorative Dentistry for the likes of implants, crown and bridge work, and cosmetic treatments.
2)  Capital Dental Newtown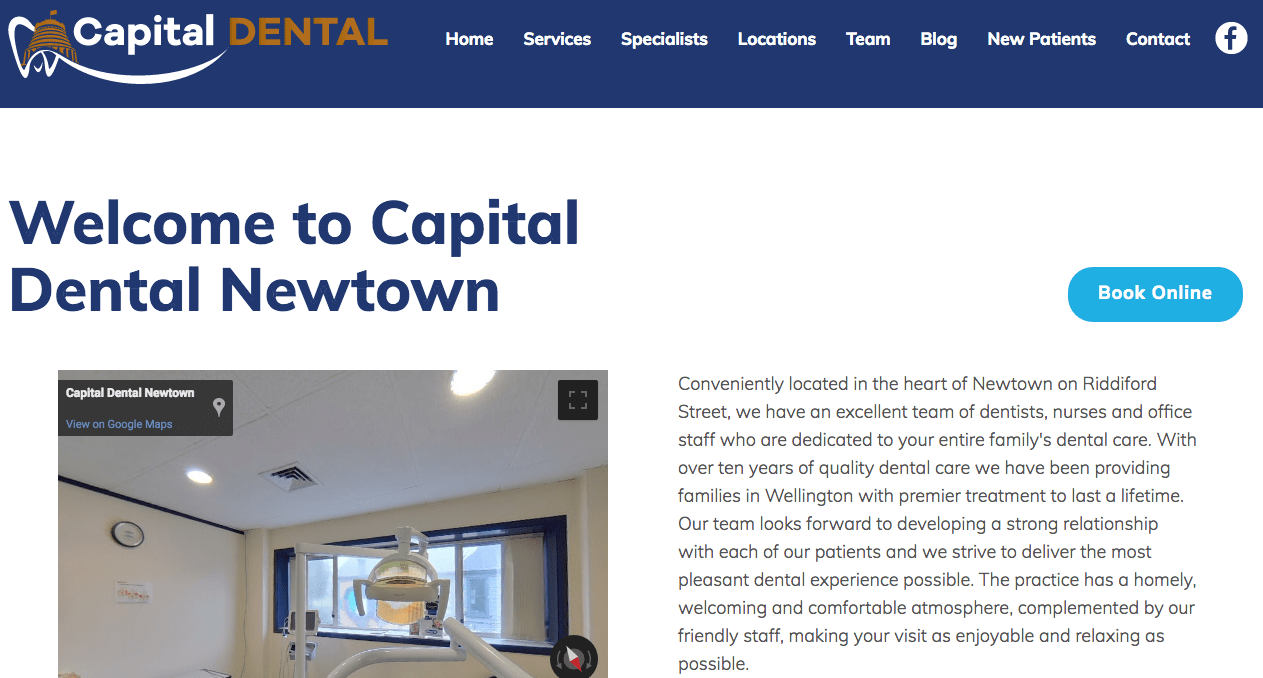 Clinic address
Capital Dental Newtown, 125 Riddiford Street, Newtown

, Wellington 6021, New Zealand

Services
Preventative Dentistry, Restorative Dentistry, Cosmetic Dentistry, Orthodontic Dentistry, Surgical Dentistry, Sedation, Dental Sleep Medicine
Discounts
WINZ quote and student discounts
Contact no.
04 389 8880
Website
https://www.dentistwellington.co.nz
Going forward with our best dentists in Wellington, this clinic in Riddiford St oozes professionalism, courtesy, and expert dentists for that model smile you always wanted.
Doctors here specialise in Restorative, Orthodontic, Surgical, and Preventative Dentistry. They will look into those hidden cavities you are not aware of or implants so the teeth will not wobble and move as you eat or talk.
If you are fancying having a brace or Invisalign, leave it to them. For guys and gals, this can keep your teeth looking beautiful, symmetrical, and confident.
They offer discounts for Victoria University students and patients with WINZ quote. They are very kind and always aim to provide a rate that is competitive and fair.
3)  The Terrace Dental Practice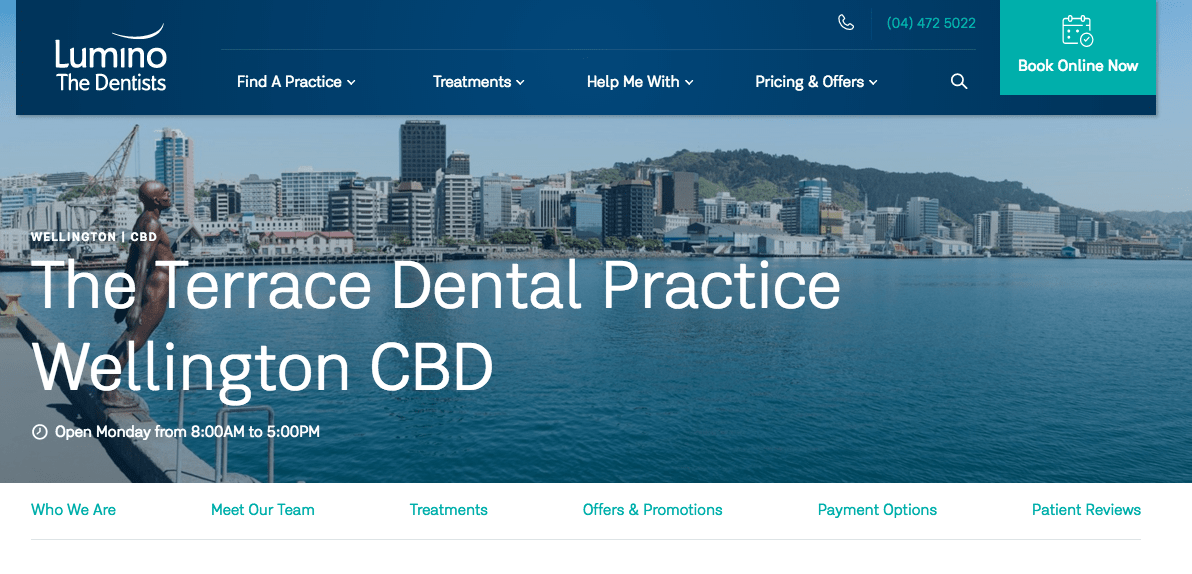 | | |
| --- | --- |
| Clinic address | Level 1, 50 The Terrace, Wellington Central, Wellington 6011 New Zealand |
| Services | Exams and X-Rays Checkup, Teeth Whitening, Hygiene Services, Invisalign, Fillings, Crowns, Dentures, Bridges, Root Canals, Veneers, Dental Implants, and Tooth Extraction |
| ACC | There are doctors that are registered with the ACC. It covers dental treatments as a result of sports injury, accident, and dental treatments |
| Contact no. | (04) 472 5022 |
| Website | https://lumino.co.nz/ |
Make The Terrace Dental Practice your partners in all your oral and dental care needs. They are made up of highly qualified dentists and hygienists with awareness of the newest research and studies.
Whether you are looking to stabilise your set of teeth or fill it up to heal the decay caused by a cavity, they have the answer to that with fair and good rates.
Lead dentist Dr. Andrew Middlemiss specialises and is keen on equipping Orthodontics and Invisalign for patients. Dr Irene Swartz, on the other hand, is well-versed in family and cosmetic dentistry.
The Terrace can be found in Central Wellington and is accessible to the customers via commute or car.
4)  Supreme Dental Concepts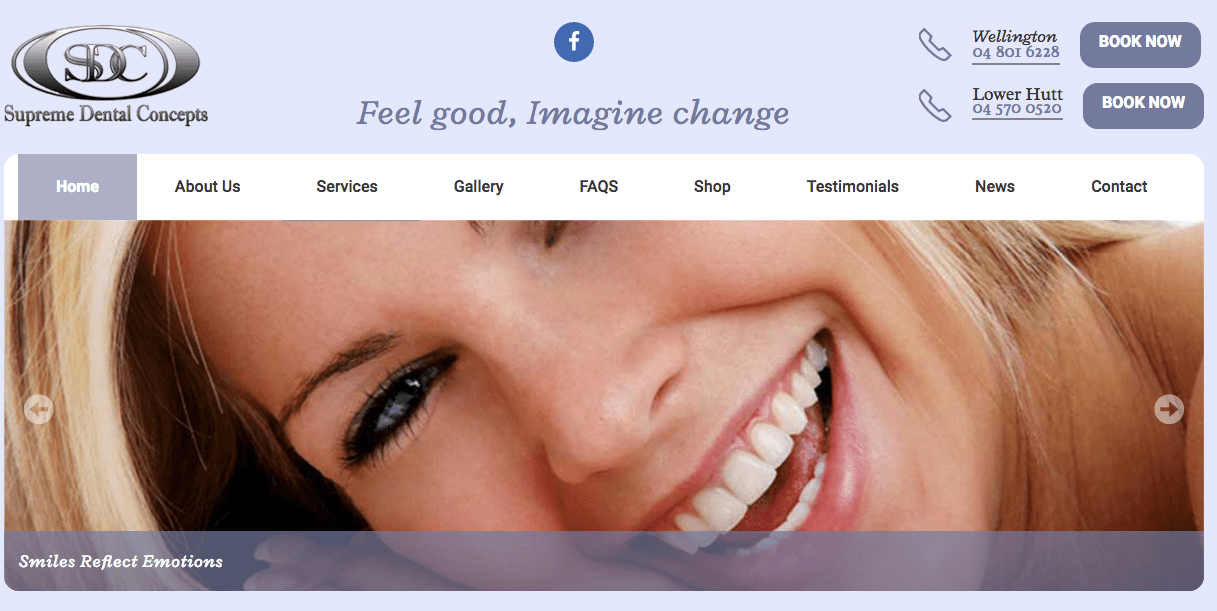 | | |
| --- | --- |
| Clinic address | Tennyson Dental Centre, 32 Lorne Street, Te Aro, Wellington 6011 New Zealand |
| Services | Dental Bite Splint, Dental Bonding, Bridges, Crowns and Veneers, Children's Teeth, Cosmetic Dentistry, Dentofacial Aesthetics, Extractions, Fillings, Gum Disease, Inlays, Onlays, Invisalign, Periodontal Disease, Root Canal, TMJ Treatment, Tooth Whitening, and Wisdom Tooth |
| ACC | ACC emergency injuries is usable to cover a part of the treatment costs |
| Contact no. | 04 801 6228 |
| Website | https://www.supremedentalconcepts.co.nz/ |
 Valuing communication with their patients is one of their strong points, and is why they're among the best dentists in Wellington. They always talk to you clearly and warmly about your options for the treatment they will do.
With this approach, you will have the result and smile that you want as well as be able to take great care of your teeth for life. And that means fewer costs, less inlays or onlays, and generally healthier teeth.
They have two offices: one in Wellington and the other in Lower Hutt. They boast a comprehensive range of treatments that include even delving into Dentofacial Aesthetics — like wrinkles, lip enhancement, and facial threads.
5)  Dental Care Centre Lower Hutt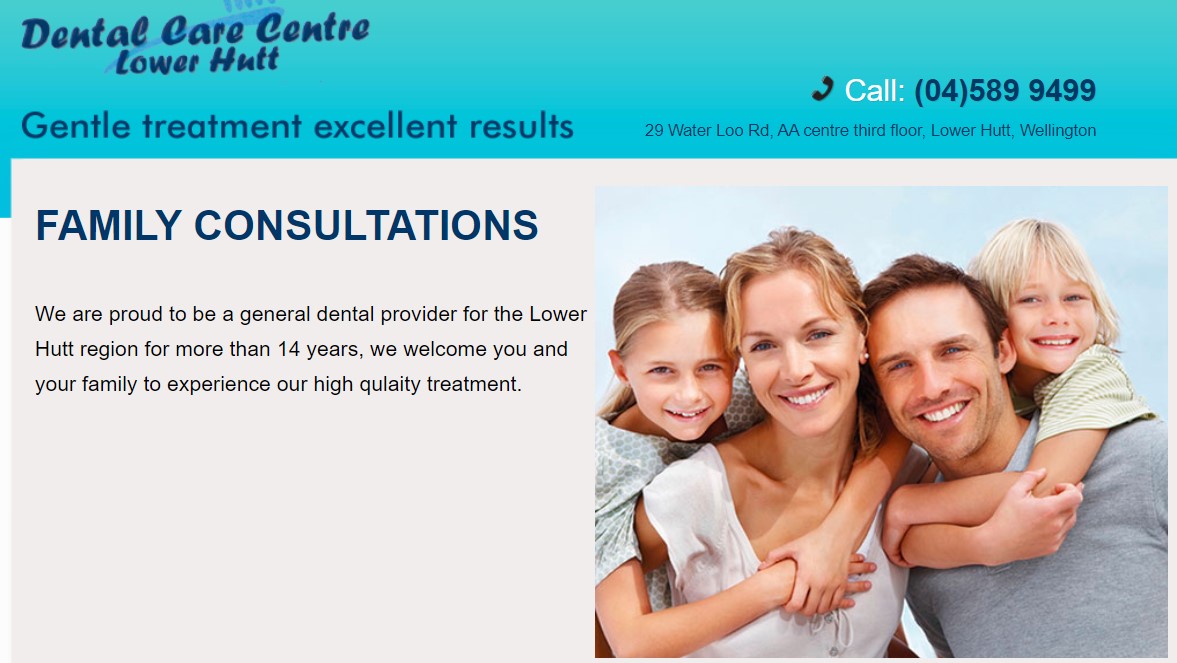 Dental Care Centre is based in Lower Hutt, Wellington, and they offer a full range of general, cosmetic and emergency dentistry. They also offer dental advice and emergency appointments for those who urgently need expert dental care.
Dental Care Centre also provides Finance option for Dental treatment (GEM VISA, FARMERS CARD, Q CARD).
Dental Care Centre is open from Monday to Frida, 8.30 am – 5.30 pm.
6)  Peninsula Dental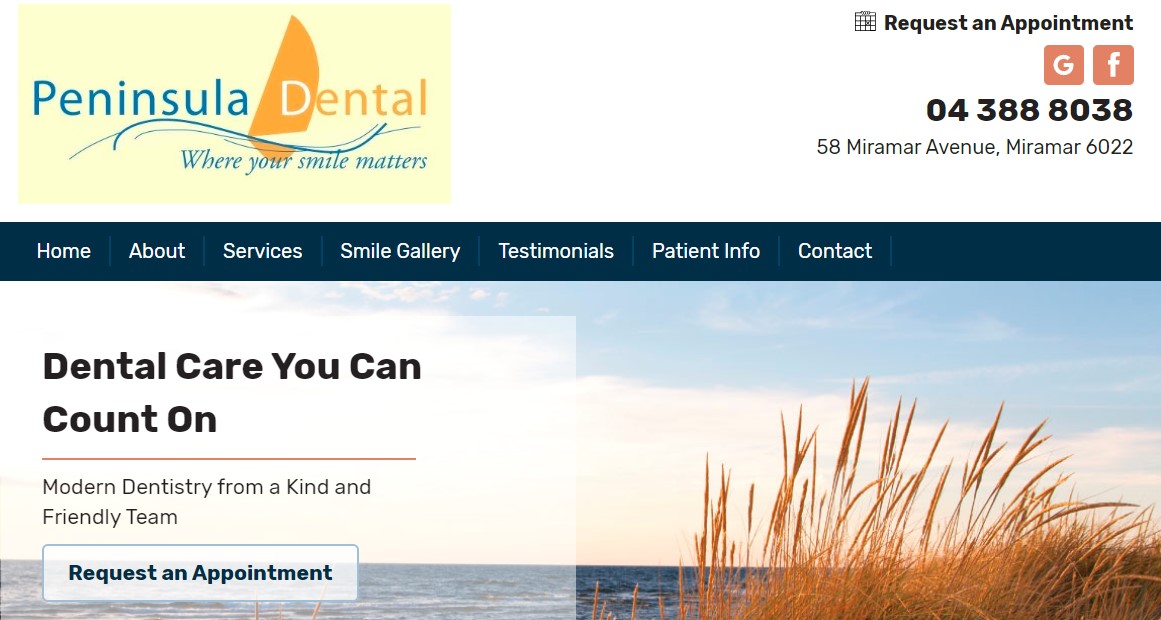 Clinic address
58 Miramar Avenue, Miramar, Wellington, North Island 6022
Services

Prevention and treatment of periodontal disease
Restorative care including crowns, bridges, and dental implants
Preventive screenings, examinations, and cleanings
Cosmetic care including teeth whitening and veneers
Orthodontic treatment with Invisalign
Fast treatment to provide pain relief, including root canals and extractions

Discounts
Contact for details
Contact no.
04-388 8038
Website
https://www.peninsuladental.co.nz/
Peninsula Dental are pleased to serve the community of Miramer by offering high-quality family and cosmetic dental care. Their dentist and team are friendly, gentle, kind and will help you feel completely at ease. Here's what you can expect from your consultation with them:
Friendly, welcoming, professional staff
A commitment to put your health, safety and comfort first
A dedication to knowing their patients as people first, and understanding their unique needs
Compassionate care that addresses your concerns
Willingness to listen carefully and support the decisions you make regarding your health
7)  Dr. Gavin Cho of The Wellington Dental Practice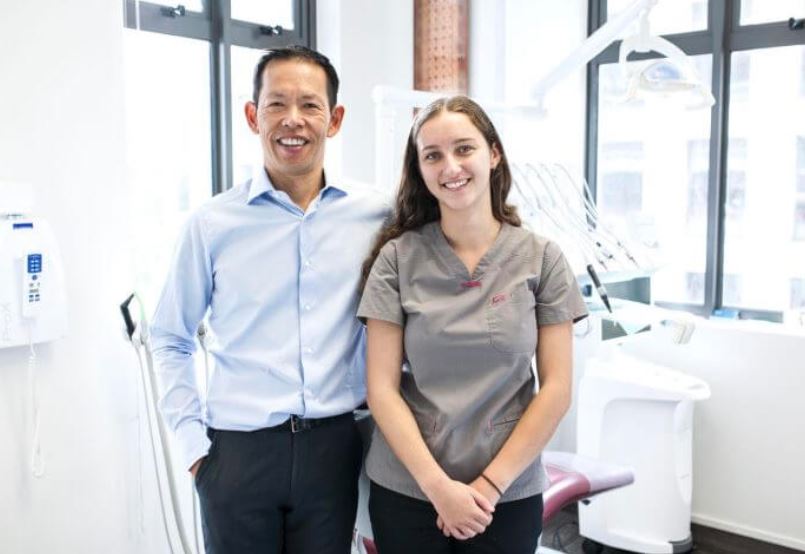 In the 30+ years Gavin has been practising dentistry he has honed his skills to become an expert in creating healthy and functional smiles.
Gavin has always appreciated the value new technologies provide to his patients in convenience, comfort and superior results. He was one of the first dentists in New Zealand to adopt a CAD CAM system in 2000 thus enabling the completion of ceramic restorations in a single visit.
Facial aesthetics and skin health are an integral part of a beautiful smile, and his ability to offer patients Fastbraces® Orthodontics, Botox, Dermal Fillers, and other skin therapies has made the possibility of a healthy smile accessible and achievable for many.
As President of the Wellington Branch of the New Zealand Dental Association, Gavin is very active in the local dental community. He inspires The Wellington Dental Practice's team to give back to the community by volunteering his time and resources at the DCM (Downtown Community Ministry) dental clinic which focuses on the needs of those marginalised in our community (particularly the homeless).
8)  Wellington Dentists Ltd.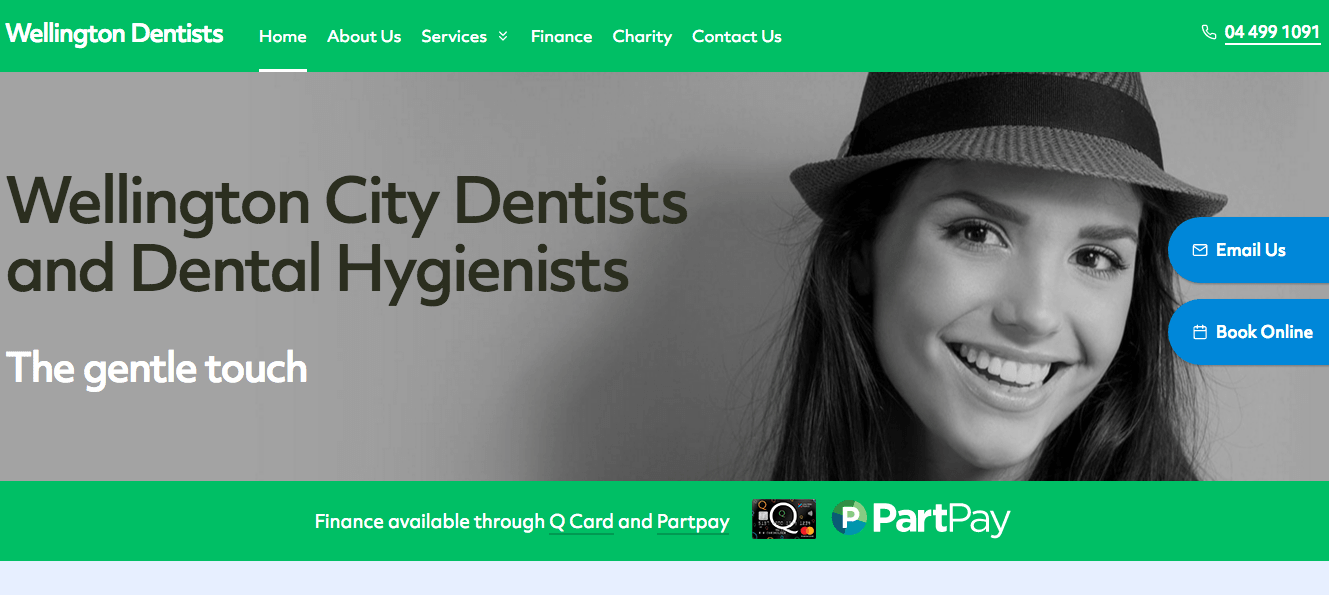 | | |
| --- | --- |
| Clinic address | 124 Willis Street, Te Aro, Wellington 6011, New Zealand |
| Services | Dental Hygienist Services, Cosmetic Dentistry, Missing Teeth Replacement, White Fillings, Wisdom Tooth Extraction, Teeth Whitening, Dental Implants, Root Canals, Crowns, Dental Charity, Invisalign or Orthodontics |
| Discounts | Student discounts for checkup and x-ray for $55 package and also 10% for other treatments |
| Contact no. | 04 499 1091 |
| Website | https://www.wellingtondentist.co.nz/ |
 Hands down, Wellington Dentists are some of the best dentists in Wellington when it comes to cosmetic dentistry. Think missing teeth, crooked and yellowish stains, and bad decays fixed, filled, and whitened for that bright smile.
Cosmetic dentistry is a deeper and more sophisticated speciality than regular dentistry. They have decades of experience in the industry and have studied and trained with a degree or under other specialists to master this art.
Another amazing thing is that their rates are 10-20% lower than others, which is why a lot of people are switching over to Wellington Dentists. They have excellent dentistry service at an affordable price.
Plus if you're a student and want to have your teeth checked with an x-ray, you get a special price of NZ$55 only.
---
And that's it for now with the best dentists in Wellington! These are good suggestions if you are looking for a dentist based in the Wellington area.
Have any questions about our discussion today? Share with us your thoughts, comments, suggestions, and criticisms so that we can update it or answer your questions.
Furthermore, about tooth whitening, you can also try certain whitening products if you don't want to head to the dentist yet. To know more, read up on the top products for the best teeth whitening in New Zealand.