5 Clinics for the Best Dermatologists in Christchurch
People develop skin problems due to lifestyle or genetics. Whatever the cause of yours, we've listed the best dermatologists in Christchurch today to help you overcome your skin issue or ailment.
Want to get a facial cleaning or fraxel treatment on your acne scars? Or are you worried that your skin might have taken too much damage from the sun?
Well, worry no more, because we've found the Christchurch dermatology centres with the best professionals. These are the ones whose doctors are careful, safe and dependable.
With that in mind, we give you the best dermatologists in Christchurch! Take a look at them below and see which one fits your needs best.
1)  Encore Health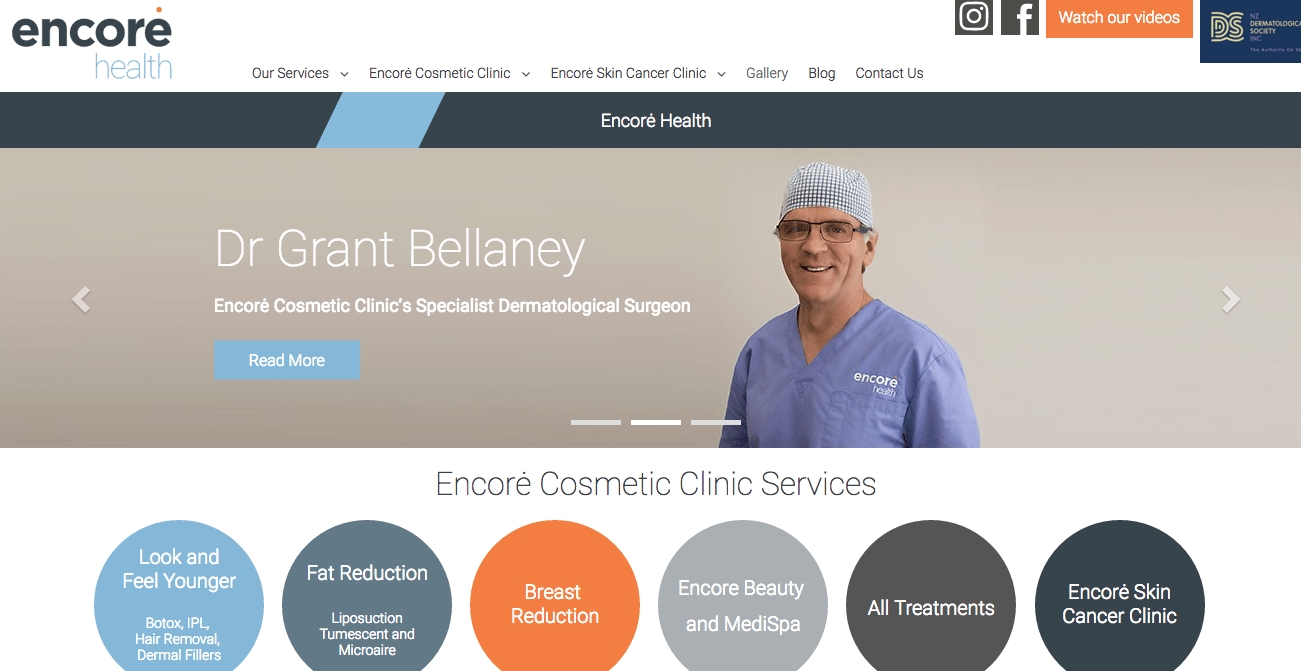 | | |
| --- | --- |
| Services | Cosmetic Treatments, Fat Reduction, and Breast Reduction |
| Dermatologists | Dr. Grant J. Bellaney |
| Address | 248 Papanui Road, Merivale, Christchurch, New Zealand |
| Contact no | 0800 566 596 or 03 356 0214 |
| Website | https://encorehealth.co.nz/ |
You can have a fitter and more attractive body through liposuction in Encore Health. They also specialise in Botox injection and Hair Removal using the latest technology.
Careful, effective, and safe methods are their aim in their service to you. The dermatologist, Dr Grant Bellaney, is a dermatological surgeon assisted by highly trained nurses during every procedure.
Their range of services includes MACS facelift, Chemical Peeling, Female or Male Breast Reduction, Sciton IPL, and a host of other procedures. You can be sure you'll find the skin solution you need here.
By the way, they also provide skin cancer treatment for the mild Basal Cell type and the more intense types of Melanoma and Squamous Cells in their skin cancer centre.
Highlights
Careful, effective and safe treatments
Offers a comprehensive range of dermatological services
Also provides treatment for skin cancer
Customer Reviews
Tanuj Nakra commented on Facebook:
"Grant is a thoughtful aesthetic specialist who always prioritizes the very best outcomes for his patients."
2)  Transform Appearance Medicine and Laser Clinics Ltd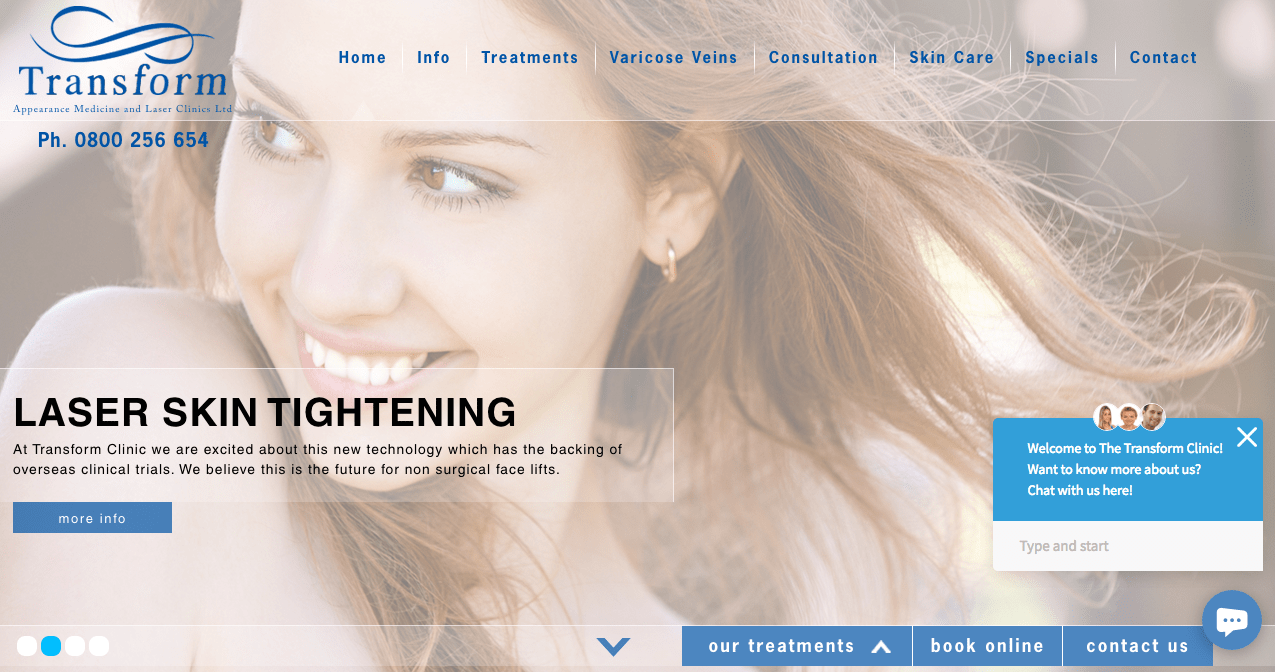 Services
Botox, Dermal Fillers and Lip Enhancement, Varicose Veins, Facial Vein, Laser Skin Tightening, Laser Hair Reduction, Hair Restoration, Tattoo Removal, Skin Cancer Checks, Teeth Whitening, and others
Dermatologists
Dr Ian Little
Address
52a Mandeville Street,

Riccarton, Christchurch, New Zealand

Contact no
0800 256 654
Website
https://www.2lookgood.co.nz/
Transform is constantly on the lookout for safer alternatives and more efficient technologies. They have been making faces beautiful and skin impeccable in Christchurch for over 20 years.
Speaking of safer alternatives, you should try their laser skin tightening or botox for noninvasive dermatological solutions. You can always discuss with them to find out which are the best methods of dealing with your particular problem.
They also treat unsightly varicose and spider veins on your legs and feet. With their expertise and talent, you will certainly be satisfied with the result after the treatment.
Treatment is conducted safely with less downtime and faster recovery periods. This, coupled with skill and technology, earns the place a spot in our list of the best dermatologists in Christchurch!
Highlights
Have been serving the local community for over 2 decades
Safe treatments with minimal downtime
Doctors with the knowledge and expertise
Utilises state-of-the art medical equipment
Customer Reviews
Hein Bremen writes a review on Facebook:
"I have been going to Transform Clinic now for over 15 years for various therapies and I have never been disappointed in the service or the results. The staff are so caring,friendly and honest with their advice and recommendations. This is particularly important to me. I would have no hesitation in recommending them to anyone."
3)  Skin Rejuvenation Clinic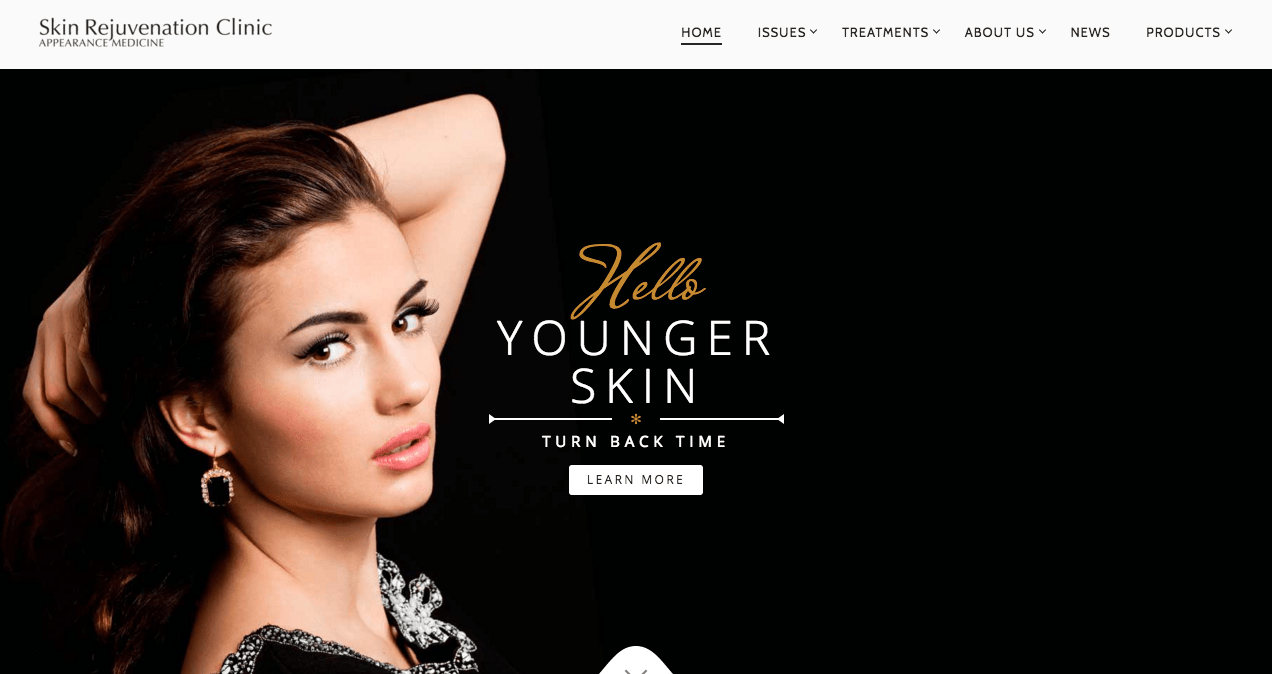 | | |
| --- | --- |
| Services | Cosmetic Treatments, CoolTech Fat Freezing, Hydrabrasion, Intensify Radio Frequency Skin Tightening and Resurfacing, Micro-Needling, IPL |
| Dermatologists | Dr Brigid Lee |
| Address | 80 Wairakei Road, Strowan, Christchurch 8052, New Zealand |
| Contact no | (03) 351 3241 |
| Website | https://skinrejuvenationclinic.co.nz/ |
If you want natural-looking skin with the least discomfort, leave it up to Dr Brigid Lee of the Skin Rejuvenation Clinic. She's had several years of specialist training in the area of Cosmetic medicine.
Now this clinic offers a wide range of skin care and age reversing services like Botox, Skin Tightening and Resurfacing, IPL, Platelet Rich Plasma, and CoolTech Fat.
Go ahead and discuss your plans with the dermatologist. They are here to map out the best way possible with you to get the result you are going for while putting you at ease throughout.
Ageing will seem to be reversed and you're going to be a few years younger after their work. You will feel young, revitalised — and handsome or beautiful. Isn't that reason enough to check them out?
Highlights
Highly trained dermatologist
Provides an array of skin care and treatments
Personalised approach
Customer Reviews
R S mentioned on Google Reviews:
"Can highly recommend this clinic, Dr Brigid and Denise are very friendly, patient and professional. They keep up to date with the latest trends and they really know their stuff! The clinic itself is immaculate and tastefully decorated, to top it off they also have plenty of off street parking spaces."
4)  Christchurch Dermatology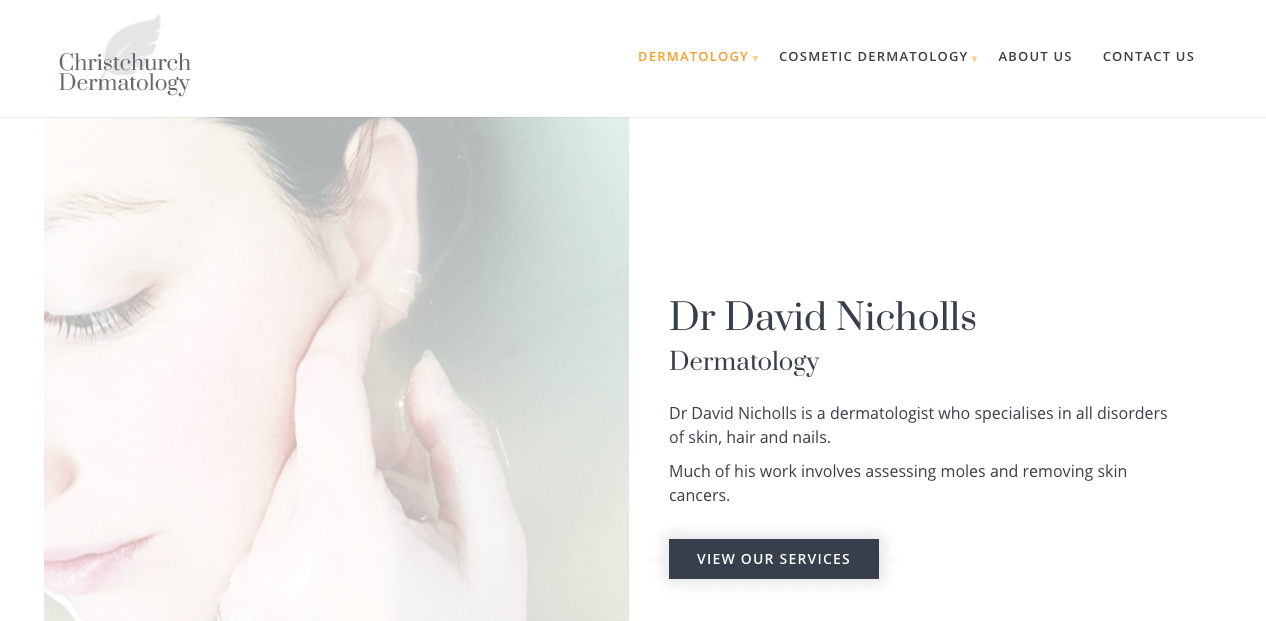 | | |
| --- | --- |
| Services | Dermatology and Cosmetic Treatments in Skin, Hair, and Nail |
| Dermatologists | Dr David Nicholls |
| Address | 154 Leinster Road, Merivale, Christchurch 8014, New Zealand |
| Contact no | 03 355 4477 |
| Website | https://www.chchdermatology.co.nz/ |
Any sort of problem you might have with skin, hair or nails — you can count on Christchurch Dermatology, one of the clinics with the best dermatologists in Christchurch.
Here, Dr David Nicholls will attend to your derma needs. With extensive experience in the field, his special interests are Botox, acne, skin cancer treatment, and skin or facial surgeries.
One of the services involves a Dermapen, which basically uses needles to enter the skin channel in order to heal and restore the burned skin to a healthy state.
And they also have PCA skin peel products to shed those layers with the acne scarring or ageing properties. It will take you about 6 months to have such renewed and supple skin.
Highlights
Speciality areas are in Botox, acne and skin cancer treatments
Extensive clinical experience
Also offers PCA skin peel products
5) Mohs and Skin Cancer Specialist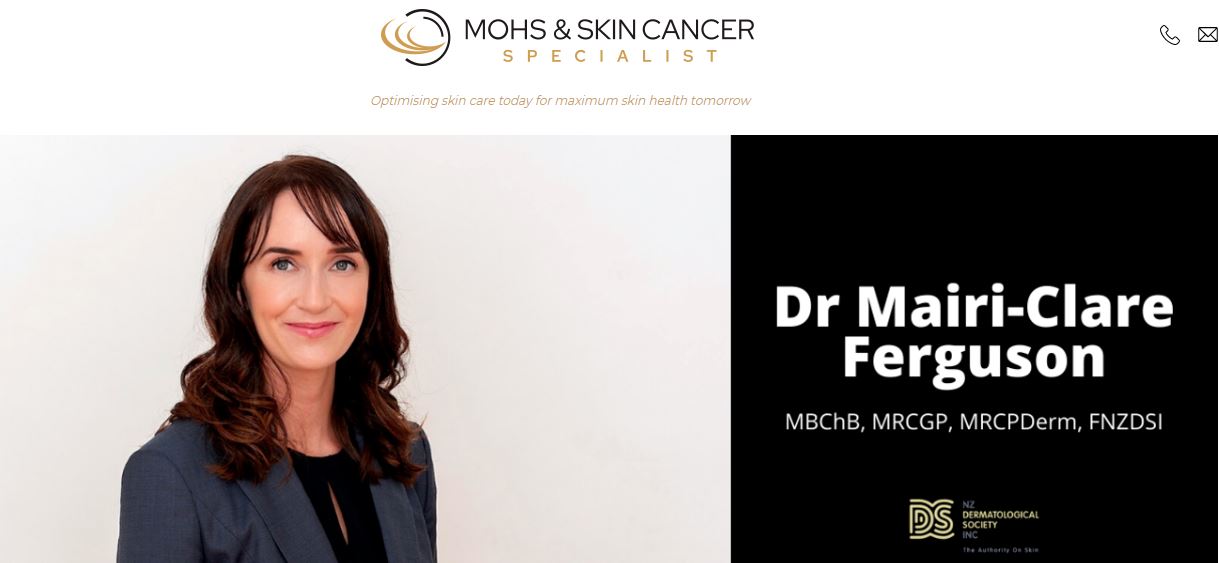 Services
Mohs Micrographic Surgery
Full mole checks
Assessment of specific lesions of concern
Non-surgical treatments of suitable skin lesions
Surgical excision including local skin flaps and grafts
Acne and Rosacea treatments
Dermatologists
Dr Mairi Clare Ferguson
Address
Mohs & Skin Cancer Specialist is located at the Encore Health Clinic – 248 Papanui Road Christchurch
Contact no
[email protected]
Website
https://www.mohsandskincancer.co.nz/
Mohs and Skin Cancer Specialist provide the optimum full skin check experience in Christchurch.  Not only will the examination be carried out by certified dermatologists, but they also use world-leading Fotofinder technology for crystal clear imaging and accurate mapping of skin lesions.
In addition, Mohs and Skin Cancer Specialist use artificial intelligence (AI) to greatly enhance detection of melanoma, even in its earliest stages.
Highlights
Provides a full skin check on patients
Certified and knowledgeable dermatologists
Have high-tech equipment
Customer Reviews
Dick Ongley writes on Google Reviews:
"I went to see Mairi as I was worried about the possibility of skin cancer on my face. Mairi was professional and efficient and made me feel at ease. I am going to get my annual skin with her from now on."
---
Anyway, that concludes our list of the best dermatologists in Christchurch. Looking better is just one appointment away from these dermatology clinics!
Has our discussion been crystal clear? If you have any questions, you may send us a message and we will reply in a bit!
If you would like to explore more about New Zealand dermatologists, we've done a list of the best dermatologists in Auckland for you too.