14 Best Digital Marketing Agencies in Auckland Reviewed
You're probably here because your website is going unnoticed, or you need to boost your sales or presence online. Digital marketing agencies can help with that, but only if they're good ones. Luckily for you, we've collated a list of the best digital marketing agencies in Auckland to make things happen.
For this, we've chosen the competent ones who have helped their clients increase their revenue and visibility drastically, besides being easy to communicate and work with.
So now, here are the best digital marketing agencies in Auckland to increase your company's profitability!
The Best Digital Marketing Agencies in Auckland
1) Marketing Minds

Best for
Strategy and Branding
Services
Digital Marketing
Lead Generation and Automation
Marketing Training and Coaching
Marketing Audit and Implementation
Cross Cultural and Cross Border
Address
4 Williamson Avenue,
Ponsonby, Auckland 1021
(BizDojo shared space, next to Countdown Ponsonby)
Contact no
Email: [email protected]

Phone: +64 9 634 4390

Website
https://www.marketingminds.co.nz/
Marketing Minds can help you determine exactly what you need and give you whatever level of support you require. From vision to execution, they will do whatever they can in order to take your business to the next level.
Their company is a marketing agency based in Auckland. Their team of professionals know how to make marketing measurable and transform your business into a customer magnet.
Bringing knowledge from several industries and applying it to yours helps them innovate and change the playing field.
Marketing Minds is also an approved Regional Business Partner Network service provider. This means that if you're a business that meets the criteria, you may be eligible for grants and funding in the form of the Capability Development Voucher. This is partial payment (up to 50%) towards the cost of capability development and training.
Highlights
Offers NZ grants and funding
Offers LinkedIn training
Has knowledgeable and insightful marketing ideas
Finalist in TVNZ NZ Marketing Awards 2020
Marketers experienced in both local and international markets
Customer Reviews
Various people have left them reviews on Google:
"Xcentuate NZ Limited used the services of Marketing Minds and we received exceptionally good service from Anne & the team. They were incredibly supportive and accommodating as we were going through structural changes that impacted the timelines. They have great marketing & technical knowledge that they were a happy to share with us. Ultimately the Marketing Minds team delivered on what they promised, and we achieved the outcome we were looking for."
"Anne is great to deal with, knowledgeable and insightful in marketing ideas and strategy for corporate as well and small business like ours. Their website has a ton of great resources and their newsletter is one of the few I find worth opening and actually reading. Seek them out if you want an honest and relatable marketing team."

2) Squid Group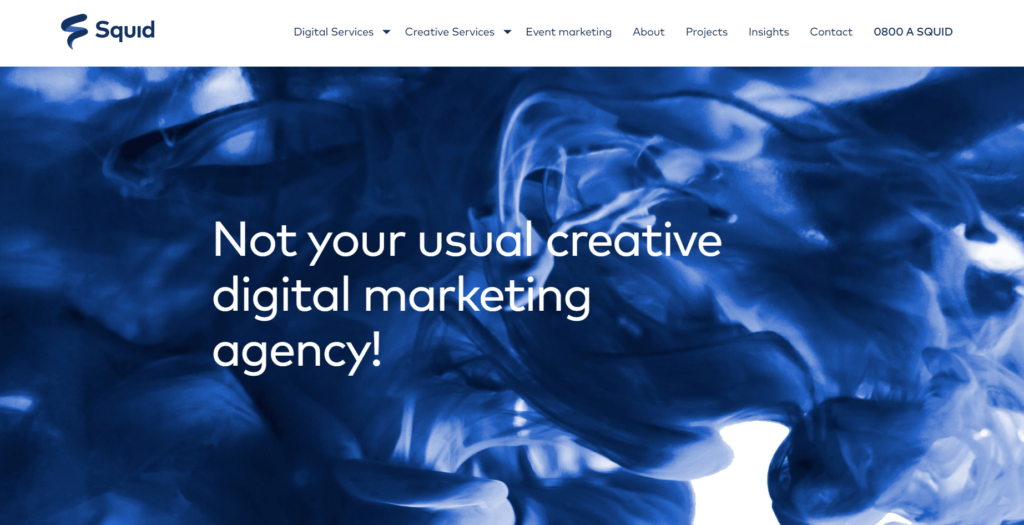 No company can do it all when it comes to digital marketing in Auckland, but Squid Group is one of the few that comes close to it. With their wide range of quality, effective marketing techniques, they deliver solutions that produce nothing but favorable results.
After serving many businesses big and small, they've expanded to offer some of the most comprehensive marketing services available in the market. Some of said services include social media marketing, web design, and SEO, to name a few.
Their team of experts know that not all businesses function and develop in the same way. That's why they strive to adopt a personalised approach for each and every one of their clients to be able to accommodate their marketing needs, whatever it may be.
Finally, if they come across a problem that's beyond their abilities, their extensive network of partners from various industries will be able to assist you instead. Given their attentive, top-notch services and customer-oriented team, Squid Group is a digital marketing agency in NZ well worth considering.
Highlights
Wide range of services
Extensive marketing experience
Skilled team of experts
Cost-effective
Customer Reviews
Here are some reviews of their clients:
"The digital marketing and website support Laurence and the team at Squid Group have offered us has been invaluable! They have been incredibly supportive of our Company's needs, provided advice and have helped us navigate the digital world as our business has grown. Whether it was an urgent website request or our monthly digital marketing, we know we can rely on Squid Group to deliver. If you are looking for a marketing agency which you can trust, I would strongly recommend getting in touch with Squid Group." -Neisha Livermore
"Great company to work with! They have been helping us with our social media marketing as well as our Google ads and re-marketing. I would definitely recommend them to other businesses needing marketing help!" -Shannon Funk
3) Fabric Digital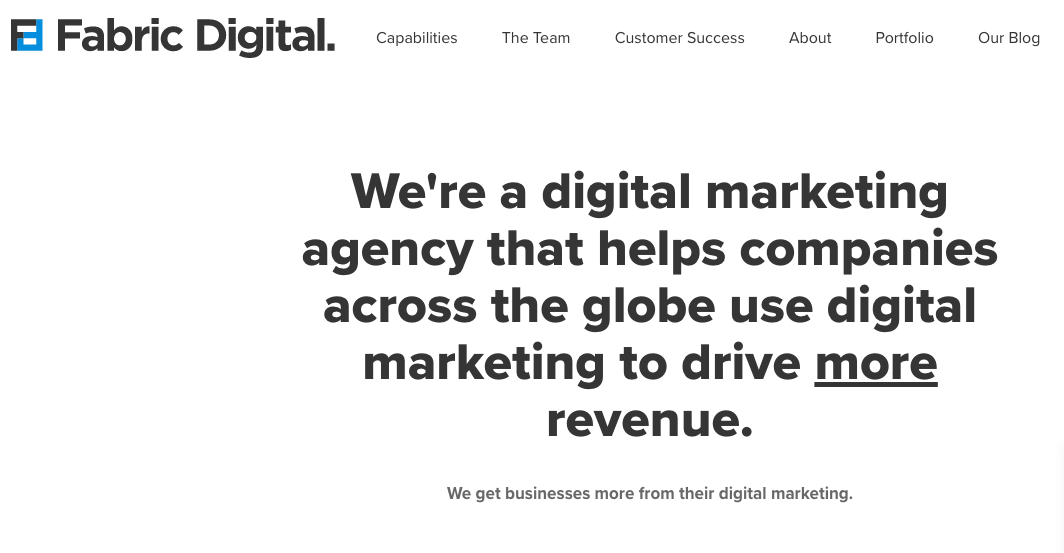 Unlike many other agencies, Fabric Digital cares about your business as much as you do. They have the tools and knowledge for digital marketing that can increase your revenue by a long shot.
Along with this, communication with them is seamless and prompt throughout the process. Also, they use data and analytics to maximise your resources and help you reach the right audience.
They are a one-stop shop for your digital marketing needs and business growth for New Zealand-wide and abroad. And they are one of the best digital marketing agencies in Auckland.
Highlights
Excellent online marketing agency
Helps you to grow your business
Trustworthy and dedicated team
Prompt and seamless communication
Customer Reviews
Jamie Williamson writes on Google Reviews:
"Not one to usually write a review but these guys were outstanding. Fabric created our website, flyers and has supported us on our journey thus far. Very professional, proactive and responsive! Would highly recommend their business to anyone looking."
4) Business Refinery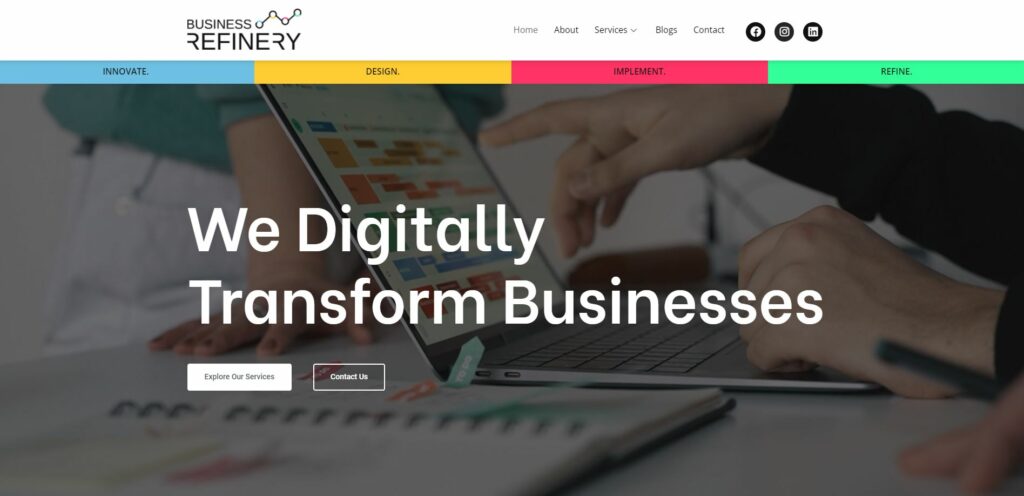 Best for
Digital Marketing Services in Auckland for Small to Medium Businesses

Services
Web Design & Development
Search Engine Optimisation (SEO)
Google Ads
Social Media Marketing
Copywriting
E-commerce Website Design
Graphic Design
Google Analytics & Reporting
Facebook Advertising

Address
8a Sylvia Park Road, Mount Wellington, Auckland 1060
Contact no
Email:

[email protected]


Phone: 027 584 4655

Website
https://business-refinery.com/

Want to generate new leads and drive business growth? Business Refinery is a Digital Marketing Agency based in Auckland with a team of Google & Microsoft certified specialists. They can help your business grow by generating new leads and providing tailor made strategies based on your industry.
They have a dedicated team that provide SEO, Website Development, Google Ads, Graphic Design and Social Media Management. A full-service digital agency!
What makes Business Refinery stand out is their experience with a range of software's and solutions across platforms and a dedicated support team that will support you through your journey!
We focus on results!
Highlights
Trustworthy and dedicated team
Experienced Marketing Professionals
Fast response time.
Affordable cost for small to medium sized business
Focuses on driving results
Customer Reviews
Here are some feedback left by satisfied clients of Business Refinery:
"I am very satisfied with the website optimisation, email and hosting service work that was recently done for me by Business Refinery. Their work was fast, they understood what I needed and made it happen! I've now handed over some other technical projects to them and feel relieved to have them as technical support that I can rely on. Thanks, Azriel and the team…you've made so many of my tech headaches disappear!"
"We cannot speak highly enough of Azriel and the team at Business refinery. We engaged their services to help build a new website and we were not disappointed. They offered great value for money while delivery a quality product. We were listened to the whole way through and nothing was ever too much trouble.
Azriel is always quick to respond to any concerns or suggestions and has provided us with some of the best customer service I have experienced.
We have just launched our website and SEO campaign and already seeing great results.
Thanks so much for a great experience."
5) Adcelerate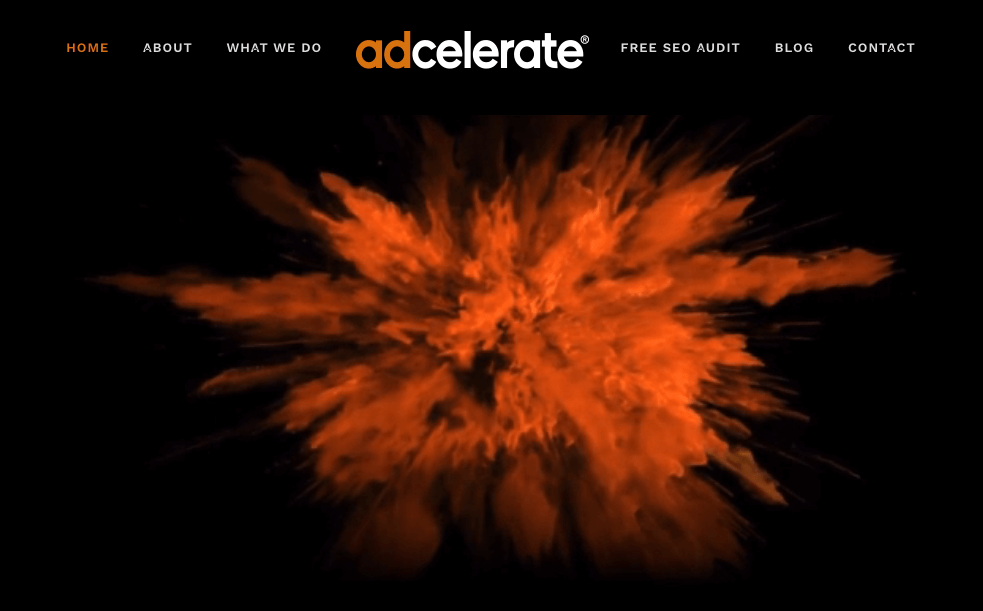 | | |
| --- | --- |
| Best for | Small and Medium Companies |
| Services | Digital Marketing, Google Advertising, Social Media Advertising, Website Development, Search Engine Optimisation, Remarketing |
| Address | Level 1, 18 Northcroft St Takapuna, Auckland, 0622, New Zealand |
| Contact no | 0800 237 665 |
| Website | https://adcelerate.co.nz/ |
Partner up with Adcelerate to build a new website or advertise your products. With a team familiar with how Google works, they can make your company rank high on search results.
Through the years, they have done around 1,800 campaigns — mostly for small and medium businesses. That helped them establish their brand and target the right customers, leading to fantastic ROI.
They also offer remarketing services, so that you won't squander opportunities with customers.
Highlights
Certified Google partners
Best for small and medium enterprises
Offers a wide range of digital marketing services
Customer Reviews
From the Adcelerate website, Amanda Hodgson wrote a brief review:
"We have been working with Adcelerate since 2016, running both Google and Facebook advertising. In that time our business has grown 38% per year, thanks in no small part to our digital marketing."
6) Firefly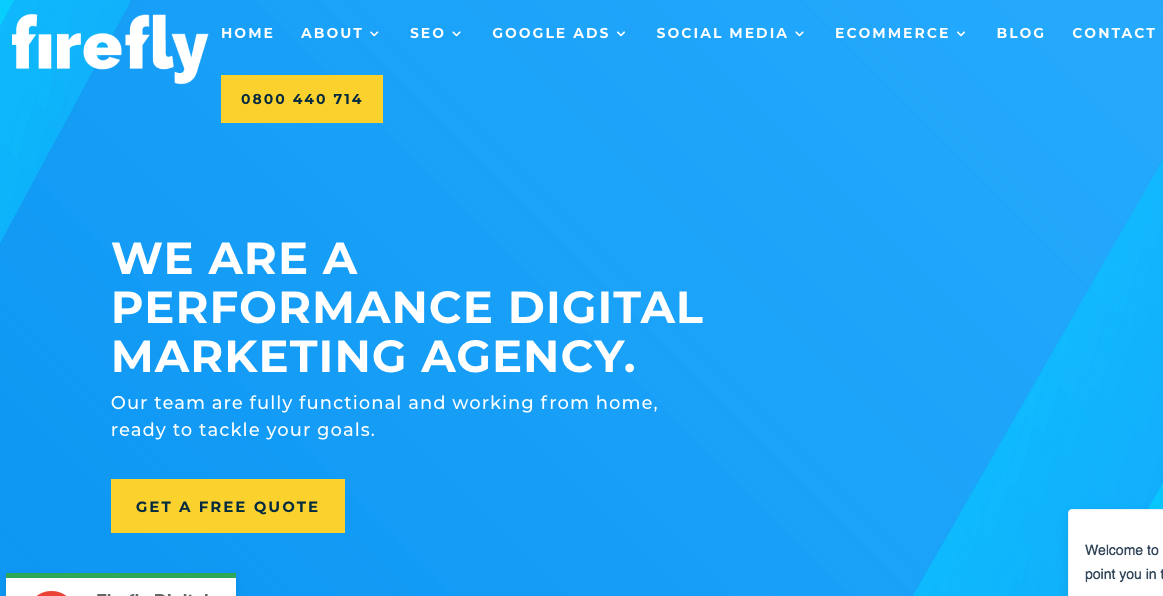 | | |
| --- | --- |
| Best for | Optimising Growth for Your Company |
| Services | SEO, Google Ads, Social Media, and eCommerce |
| Address | Partners Life House 33-45 Hurstmere Rd, BizDojo, Level 3, Takapuna, Auckland 0622, New Zealand |
| Contact no | 0800 440 714 |
| Website | https://fireflydigital.co.nz/ |
Struggling to get into the top organic search results? Get in touch with Firefly! They specialise in digital marketing, and can work with you full-time to achieve the results you intend for your business.
They are able to help you in the following areas: SEO, online stores, Google Ads, and social media campaigns. Prices are transparent, so you won't be waylaid by nasty surprises.
Firefly has also won top spots in the prominent and renowned Deloitte FAST lists. This only proves that they are one of the best digital marketing agencies in Auckland that can help you!
Highlights
Drives leads and revenues
Full, end-to-end support
Won top spots on Deloitte FAST
Fixed prices for their services
Customer Reviews
On Google Reviews, Devan Tyler wrote how Firefly has helped their company:
"Firefly has helped us get off our feet in so many ways! They have tied up all the loose ends with not only our website, but also our online presence across all social media platforms. They provided really helpful advice, and we had constant communication and updates throughout the week. The marketing plan has increased our online revenue to a place that we couldn't have imagined. The team is extremely professional and friendly. 100% would recommend!"
7) Bluelight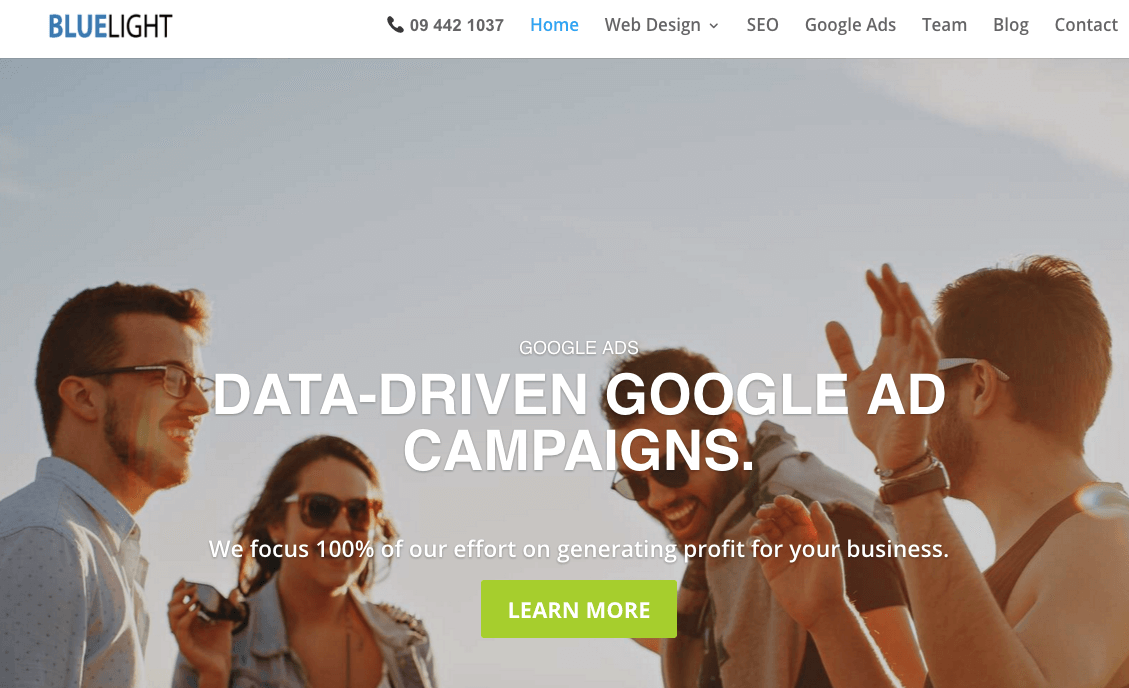 | | |
| --- | --- |
| Best for | High Search Engine Rankings |
| Services | Web Design, SEO, and Google Ads |
| Address | 149 Wairau Road, Auckland, New Zealand |
| Contact no | 09 442 1037 |
| Website | https://www.bluelightweb.co.nz/ |
For an incredibly high ranking on Google, Bluelight marketing agency in Auckland has you covered. They are SEO experts and will handle your digital marketing, such as competitor analysis, keyword development, and brand strategy.
In addition to SEO, they can also re-design your page or online store to be more engaging and stylish. Furthermore, they can place call-to-action buttons where needed to help convert new leads into sales.
The company guarantees first-page results for your website, and if this is not achieved, you will get a full refund from them.
Highlights
Experts in SEO
Create captivating and stylish websites
Streamlined process (research, data, design)
Money-back guarantee if rankings are not achieved
Customer Reviews
Jariwala Yash wrote on Google Reviews:
"Nick designed an awesome website for me, I am very pleased with the end result. Nick is very professional and the process was smooth and efficient from start to finish. I highly recommend him to anyone looking to build a new site or improve an existing one."
8) Sprocket Digital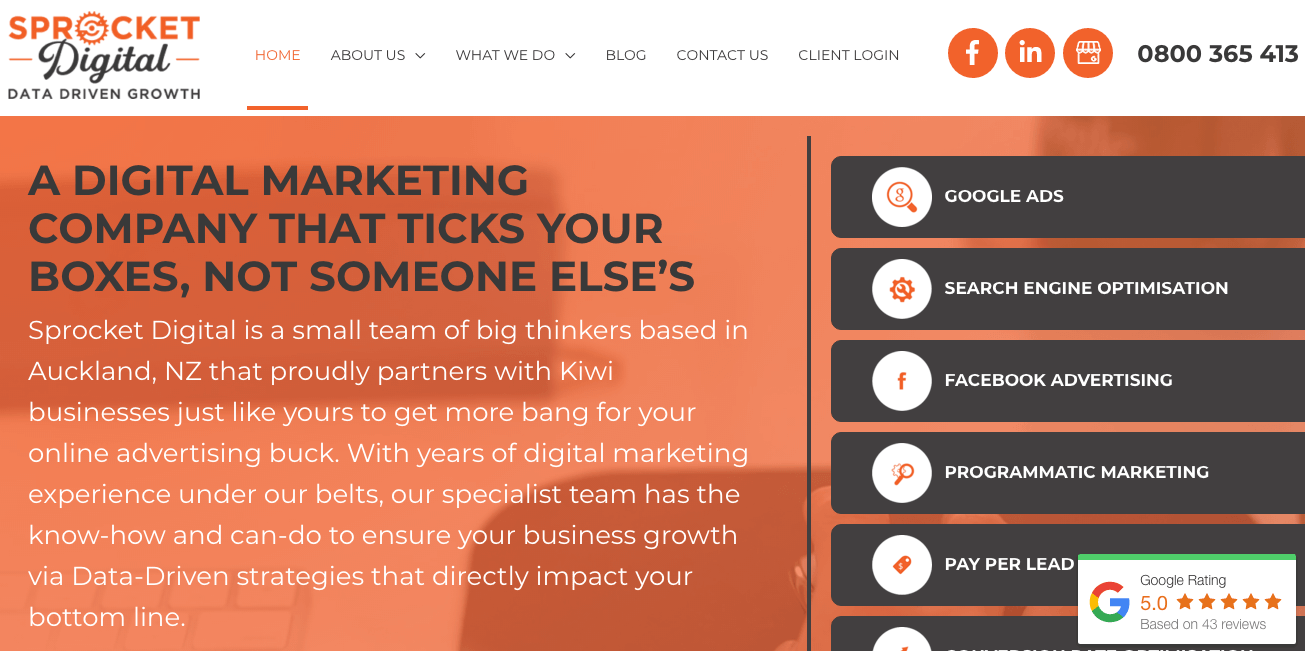 | | |
| --- | --- |
| Best for | Tailored Service Approach |
| Services | Google Ads, Search Engine Optimisation, Facebook Advertising, Programmatic Marketing, Pay-Per-Clicks, and Conversion Rate Optimisation |
| Address | Level 1/694 Great South Road, Penrose, Auckland 1061, New Zealand |
| Contact no | 0800 365 413 |
| Website | https://sprocketdigital.co.nz/ |
Sprocket Digital is another of the best digital marketing agencies in Auckland. They can give your company the attention it deserves — by offering personalised marketing strategies!
Their passionate and adept team will work to deliver impressive results for your company. You can see the progress and data from their customised dashboard over the course of the project.
Regardless of what venture you're in, they can greatly fortify your online presence in multiple channels, such as Google Ads, social media, and marketing campaigns — all to advance your business.
Highlights
Delivers impressive results for your business
Committed and adept team
Personalised digital strategies
Accessible dashboard where you can track their progress
Customer Reviews
Sprocket Digital received extraordinary reviews, with all customers scoring it 5 stars. Alex Mclachlan wrote from Google Reviews:
"Highly Recommend Sprocket Digital! We have only been with them for a few months so far, however, ever since jumping on-board with them our online sales have rocketed!
Their continuous support is amazing, always there to help when ever needed! They're constantly thinking of new ideas and initiatives to improve our business's competitive edge online which has been incredibly helpful."
9) Automation Central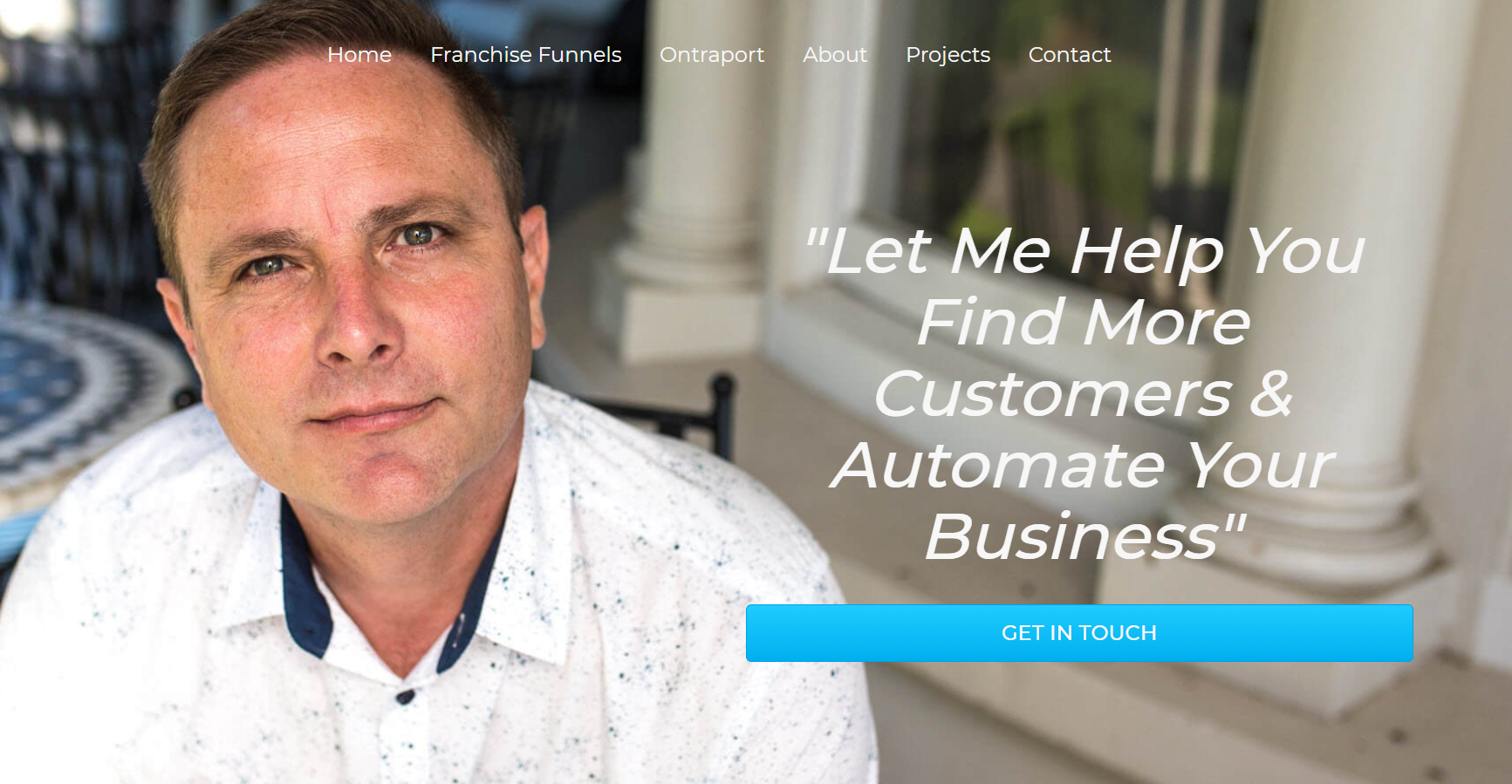 | | |
| --- | --- |
| Best for | High Converting Marketing Strategies |
| Services | Digital Marketing and Automation, Sales and Marketing Funnels, Facebook™ Advertising, WordPress Websites, Ontraport CRM, Klaviyo Integration. |
| Address | Suite 3C, 14 Waikumete Road, Auckland, 0602, New Zealand |
| Contact no | 0800 525 324 |
| Website | https://www.automationcentral.co.nz/ |
Since 2007 the founders of Automation Central have been deeply involved in digital marketing, from leveraging databases with over 1 million emails per month producing multi-million dollar revenues to running successful lead generation campaigns with a strong focus on conversion strategies to increase the return on marketing spend.
Automation Central believe conversion is the foundation of all good digital campaigns, it's one thing to drive traffic to a pretty looking website, it's a completely different matter to get that phone ringing, appointments booked and shopping carts filled and paid for – something Automation Central take very seriously.
Highlights
Ontraport Certified Consultants
Klaviyo Partners
API Integrations and Automation
Specialist in Funnel Marketing
Love, love, love working with the Franchise Industry
Customer Reviews
Victoria Partridge, Director of Red LBP wrote on AC's site:
"The team at Automation Central have transformed our sales pipeline, where others have failed miserably, they have succeeded with bucket loads of quality leads to interview as prospective franchisees who we ultimately convert the pick of the bunch into brand new franchise business units.
With our full investment recouped in just one sale, the ongoing ROI has been fantastic.
AC's understanding of how prospective franchisees 'think and act' is like having the golden chalice in your hands. Their ability to draw in and hold the attention of the right prospects has made the world of difference to our business – I'm thrilled with the results"
10

) Edifian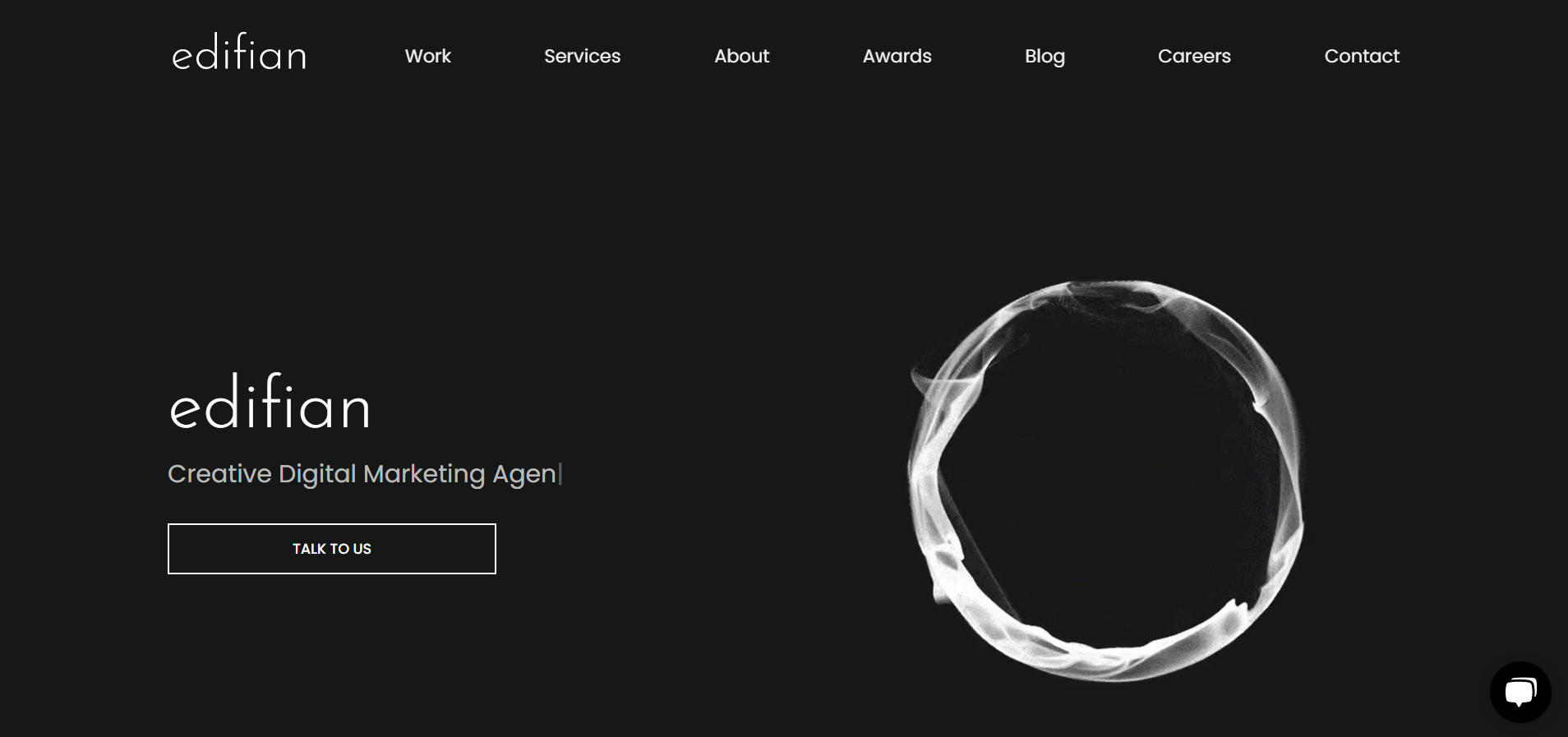 | | |
| --- | --- |
| Best for | Digital Creatives |
| Services | Design Strategy, Creative & Design, Digital Platforms, Data & Analytics |
| Address | Auckland, New Zealand |
| Contact no | [email protected]+64220647073 |
| Website | https://edifian.digital |
Edifian is a creative digital agency partnered with many businesses in New Zealand. With their wide variety of services, they help companies navigate the digital landscape.
They are well-versed in web development, digital transformation, marketing, and user experience. Contact them now to grow your business digitally!
Highlights
Full service agency
Team of various industry specialists
11) This Side Up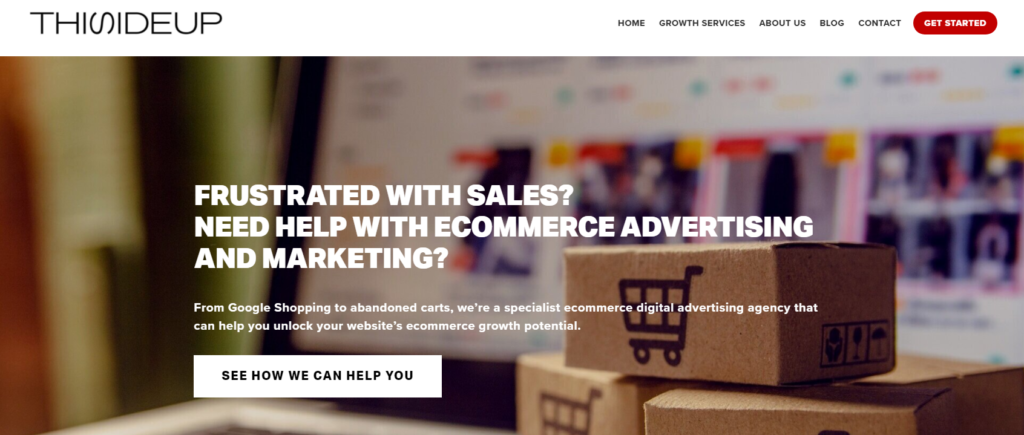 Best for
Advertising and Marketing for E-Commerce brands
Services
GROWTH MARKETING
Google Search Ads (AdWords)
Google Display Ads
Google Shopping Ads
Remarketing Ads
Facebook Ads
Programmatic Ads
YouTube Ads
LinkedIn Ads
Bing Ads
Search Engine Optimisation

GROWTH INSIGHTS
Website Testing Strategies
Website Analytics Consulting
Reporting Dashboards
Address
3 Glenside Crescent, Auckland Central, 1010
Contact no
09 360 2299


[email protected]

Website
https://www.thissideup.co.nz
This Side Up, otherwise known as "The Digital Growth Agency" is an independently owned and operated firm known for the, you guessed it, steady growth it promises and delivers to its clients.
Constant results from this firm have resulted in numerous awards, all for the work the firm does in the fields of marketing and advertising. And, This Side Up truly does good work, evident not only through its accolades but also in the wide array of services it offers to help clients grow in the digital space.
For those interested, do know that the work doesn't only start and end with This Side Up.
This Side Up is known for collaborating closely with its clients, so expect the firm to keep in contact as they learn the intricacies of the brand, its needs and wants, and target audiences, all with one goal in mind: To curate digital solutions that will provide the client with a steady upward trajectory.
Highlights
Full suite of advertising and marketing services
Multi-awarded firm
Bespoke services
12) fedora digital

Try as we might to deny it, digital marketing plays a significant role in businesses' success these days. As a business person, you likely want the same for your brand.
So, if you're looking for a firm that can help you become successful through digital campaigns, then look no further than fedora.
fedora is a locally owned and operated boutique agency that offers a large suite of digital solutions, including but not limited to paid social media marketing, email marketing, and web design. This isn't the only reason why fedora comes highly recommended, though.
Another reason why we recommend fedora is their approach to creating digital campaigns. fedora works closely with all of their clients, opening a direct communication line with clients to ensure that fast and reliable results are acquired.
Choosing fedora means choosing a firm that wants to get to know your brand and what it has to offer. After that, fedora carefully curates digital solutions that will boost your brand's visibility in the digital space.
Highlights
Small, boutique agency
Offers an array of digital solutions
Bespoke services
13) Solute Digital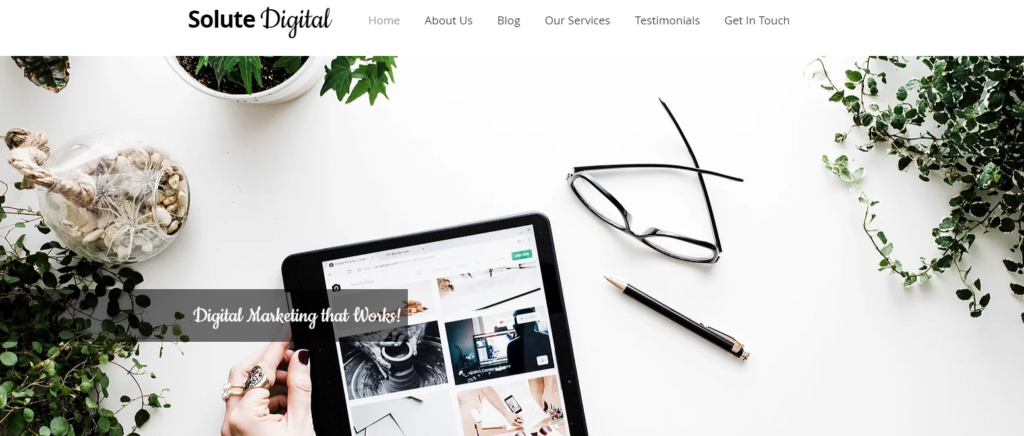 When choosing a digital marketing agency, we have so many factors to consider, many of which change depending on our actual needs, the nature of our business, and even the size of it.
For smaller businesses or start ups, the next item on our list makes an excellent choice given the affordability of its services. Solute Digital is a digital marketing firm that offers a wide array of solutions, including but not limited to SEO, social media marketing, website design, and email marketing.
These services are all tailored to meet the clients' needs. So, it isn't at all surprising that Solute Digital takes the time to consult with each client, even giving a complimentary first consultation, to learn more about the clients' businesses, what it offers, who its target market is, and what are the goals in mind.
Now, aside from the affordability and diversity of its services, we also commend Solute Digital for being highly professional, friendly, and punctual with every job it takes on. Overall, Solute Digital is shaping up to be a great contender for all digital marketing needs.
Highlights
Offers complimentary consultation

Offers an array of digital solutions

Bespoke services
14) Verum

Highlights
Offers free consultations
Wide range of digital marketing services
Works with clients from different industries
And that's all for the best digital marketing agencies in Auckland. In this digital age, your website can make or break your business, but it will certainly be a "make" with the help of these agencies.
Do you have any questions for us? If you have one, feel free to send us a message, and we will get back to you as fast as we can.
Other than that, you may want to read about the best creative agencies in Auckland. Their creatives can help establish your company or brand, so that people will trust it and soon make a purchase.
And if you want to focus more on your brand's forefront image, you may want to take a look at the best website designers in Auckland too.