The 6 Best Dishwashers in New Zealand
A dishwasher simplifies your kitchen life while economising your power and water use. If you're looking for decent ones, you're on the right track, as we've collated the best dishwashers in New Zealand here.
There are countless dishwashers you can find now, differing in features and styles. However, it can be difficult to find the right dishwasher that will fit your home and lifestyle.
Fortunately, we're here to make the work easier, which is why we'll first tackle the fundamentals on how to buy a dishwasher. But feel free to skip this part if you want to.
Now, without any more ado, we give you the best dishwashers in New Zealand!
How to Buy a Dishwasher in New Zealand
A dishwasher is a great investment. That's because you won't have to do any manual washing for clean dishes, saving you a lot of time and trouble.
Before you look through our list, however, it's important to consider the following factors so that you'll be able to make an informed buying choice and get value from the dishwasher.
So, let's take a closer look at each of them in turn:
1) Quality of Cleaning
Choose a dishwasher that can thoroughly clean your plates, bowls, glasses and silverware. No plate should have grease, stains or residue after the wash.
You also want to check out the appliance's drying ability. It's normal that after dishwashing, the plates will be slightly wet. However some high-end ones will suck up the moisture to dry the dishes after washing.
Dishwashers also usually come with a number of filters with 3 or 5 stages, for instance. What filters do is that they separate the food particles from the water during washing, so ones with more filters are usually better.
Also, each dishwasher has different cleaning methods that can affect the cleaning quality. But our featured products below have been tested and proven to clean dishes exceptionally.
2) Capacity
How many people do you have at home? Capacity is important, as you'd want to clean all dishes in one go, which means you won't be wasting your energy or water.
You'll come across the term 'place settings' when you're talking about dishwasher capacity. Place settings refer to the kind and number of dishes and accompanying tableware a dishwasher can accommodate.
Large dishwashers mostly fit 12 to 16 place settings. If you have plenty of people at home then you should choose a dishwasher with capacity in that range.
3) Efficiency
You can know this through the product's water and energy rating label. The higher they are, the better.
Some dishwashers have an auto-wash feature that senses the type and number of dishes inside. This allows the dishwasher to adjust its power usage for efficient dish cleaning.
4) Advanced Features
There are many advanced features in a dishwasher. Here are some of them:
Delayed Start – This feature lets you set the timer when you want the dishes to be washed. This also comes in handy for taking advantage of on- or off-peak rates or if someone is using the hot water at the moment.
Child-Safety Lock – As the name suggests, this keeps the dishwasher door closed to keep children safe from the plates and utensils.
Voice Controls – Premium dishwashers feature voice-supported controls. You can turn your dishwasher on or off by commanding Amazon Alexa or Google Assistant.
5) Ease of Use
Apart from what we've mentioned, a dishwasher has to be easy to use. Examples are adjustable shelves, soft-touch controls, castor wheels, and alert sounds.
Having some of these ergonomic features will certainly make your work around the kitchen easier.
6) Quietness
A quiet dishwasher lets you work or do your tasks without going deaf from the noise of its operation. If you can, try to get a dishwasher within the range of 40dB to 50dB for a pleasant and unobtrusive appliance.
The Best Dishwashers in New Zealand
Now that you've gone through the basics, here is our roundup of the best dishwashers in New Zealand!
1) Haier Freestanding Dishwasher HDW13V1W1
Best Budget Dishwasher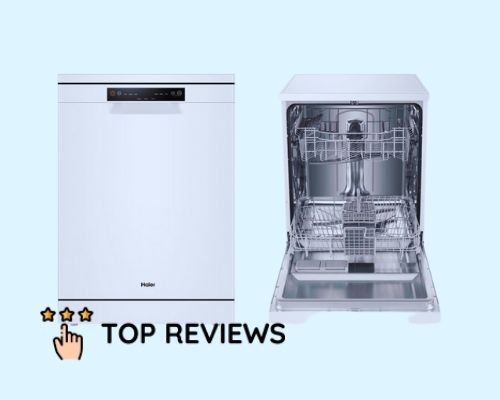 Price: NZ$651
This Haier dishwasher features a smart auto-washing mode, adjustable top basket, and 6 wash cycle programmes with a price that's great for those on a budget.
An auto-wash feature senses the grime on your plates, cutlery and glasses, washing them clean whilst conserving energy use. Meanwhile, its delayed start function means your dishes can be cleaned whenever you want.
Its sleek and neat design blends nicely with any kitchen background. Moreover, the dishwasher sports a child safety lock to prevent curious kids from opening it.
With a capacity of 13 place settings, it has loads of space to place in your dishes. On top of that, you get a 24-month warranty for this product on The Market.
Pros
Great for those on a budget
Auto-washing mode helps conserve your energy
Generous capacity
Sleek and neat design
6 wash cycle programmes
Cons
2) Simpson Freestanding Dishwasher SSF6106W
Best Dishwasher for Value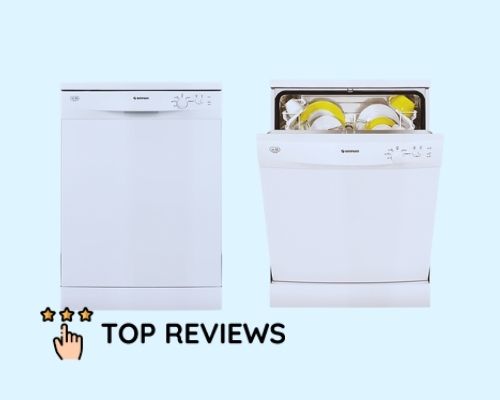 Price: NZ$854
Although the Simpson Dishwasher has a higher price tag than most, this has been said to perform its job well, and is easy and quiet to use, according to users.
With foldable shelves, this dishwasher lets you place in your plates, dishes, cups and glasses in many ways. The SoftSpikes feature holds a variety of drinking glasses securely.
Its 3-stage filtration system effectively cleans and dries your dishes. The simple knob control allows you to set your preferred wash setting or change between them.
Like our Haier dishwasher, it has a smart sensor detecting the types of plates within and adjusts the wash temperature accordingly, helping to reduce your energy bills.
Also, its capacity is big enough for the whole family, with 13-place settings while the noise is measured at a moderate 51dBA.
Pros
Great-quality dishwasher
Easy to use
Energy-efficient
Foldable shelves
Cons
Pricier than dishwashers of the same class
Doesn't beep when washing is done
Customer Reviews
There are only minor complaints for the dishwasher. Clients say it doesn't make a noise to alert you when the washing's been done and that its shelves have to be set vertically to prevent spilling onto the dry dishes.
Having said that, most people said that the Simpson dishwasher was simple to use, worked as expected and quiet.
One buyer, Julie, commented:
"This is a good basic dishwasher, it has no screen so you cannot tell how much longer it has to go and it also doesn't make a noise when finished. It does the job it's supposed to do though, and seems to do it well."
Here's another remark from Kristen:
"A smart looking, easy to use and gets everything clean."
3) SMEG Stainless Steel Dishwasher DWA6214X2
Best Overall Dishwasher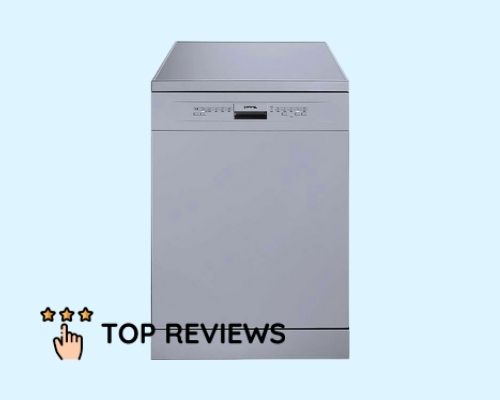 Price: NZ$1,199
SMEG is a well-known Italian brand that makes innovative and reliable appliances including coffee machines, fridges and dishwashers.
The SMEG DWA6214X2 has a stylish stainless steel finish. Thanks to their orbital washing system and 5-stage filter, your dishes will be spotless and sparkling every time!
The dishwasher is equipped with main and satellite spray arms. The two spray arms basically 'orbit' within, with the satellite spray revolving 10x per main spray revolution, both of them splashing away at the dish items and leaving no part of your tableware untouched.
With a 5 WELS rating, this product can save you a lot of money when it comes to water usage. Also, it has 5 wash programmes — with a 70-degree antibacterial rinsing on all of them.
Pros
Superb and thorough dish cleaning
Antibacterial rinsing
Very water-efficient
Durable dishwasher
Cons
Expensive
Limited features
4) Miele Active SC Dishwasher G4203
Best Premium Dishwasher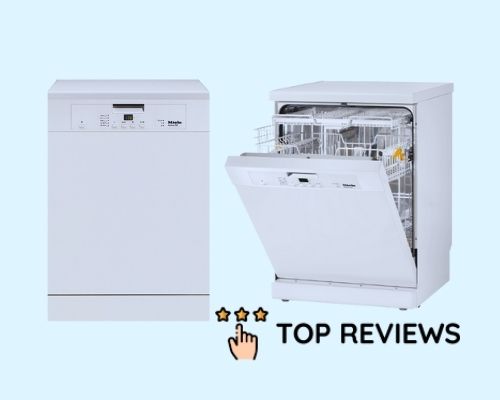 Price: NZ$1,699
Check This Out On Miele Online Shop
With a 24-hour delay start timer, you can save up to 40% of electricity tariffs. Just turn it on during off-peak hours and your dishes will be cleaned without a stain.
This can be fitted into a cavity in the kitchen but do check if its size is correct before you buy it for such spaces. The Miele Active SC dishwasher's dimensions are 60 (w) x 84.5 (h) x 60 cm (d).
There is a cutlery holder that won't let your spoons and forks be disorganised. Runners slide easily and smoothly, making it easy to load and unload all sorts of dishes.
Finished in luxurious silver and steel, this dishwasher will last. 5 wash programmes allow you to dictate how your tableware will be washed.
In eco-mode, this Miele Dishwasher is rated at 4-star WELS and has a 3-star energy rating.
Pros
Efficient operation
Convenient crockery basket
Durable and stylish
Easy-to-use controls
Cons
High price point
Long cycles
Customer Reviews
Other than the longer cycle time and incompatibility with tablet detergents, the same customers commended the dishwasher as being reliable, resilient and very quiet.
One client, Simonne, gave her feedback on Miele's website:
"I brought this about a month ago and am very happy with it, exceptionally quiet, cleans and dries well. Cycles are quite long but we put it on at night. The runners when sliding out the trays are very smooth too."
5) MIDEA Single Drawer Dishwasher JHDWSD7SS
Best Compact Size Dishwasher

Price: NZ$1,199
The Midea Single Drawer Dishwasher is compact with dimensions of 59.5cm x 57cm x 41.5cm. It has adjustable and foldable racks to cater to various sizes and orientations of dishes.
And with its stainless steel sprayer arms and tub, it is also less prone to corrosions. It has seven operating modes, namely, Auto, Delicate, ECO, Heavy, Intensive, Super Fast, and Wash & Dry, to serve all your needs.
Not only will you save up space with this product, but you will also save up on utilities because it has a WELS rating of 4.5 and an energy savings rating of 3.5. It uses only 6.7L of water per operation for low water costs.
This single drawer dishwasher also has a sleek LED display for easy electronic controlling and child-safety locks for good measure. Another great thing about its controls is that you can set a 1-24 hour delay start.
Pros
Energy-efficient and water-efficient
Compact size and foldable racks
Versatile settings
1-24 hour delay start
Low maintenance BLDC motor
Cons
Limitations in upright plate sizes
Customer Reviews
Aside from stainless steel materials for durability and anti-corrosion, Midea Single Drawer Dishwasher also has protective gear for durability. Here's a review from a customer for more details:
"Much cheaper and just as well built. nice layout inside and really good racks with protective rubber on them just like the F&P ones. Best thing is they fit the same space so when the F&P blows up you can replace with one of these 🙂
6) Fisher & Paykel Dishwasher DW60FC2W1
Largest Dishwasher Capacity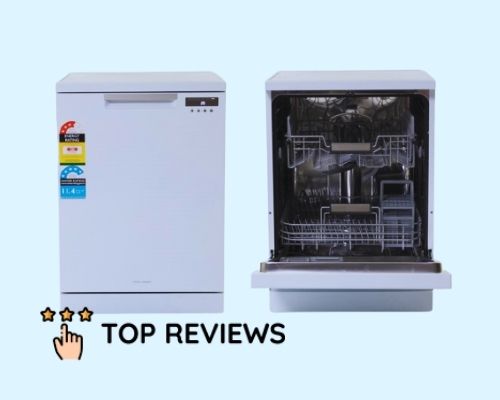 Price: NZ$1,049
If you're seeking a dishwasher that will give you the most bang for your buck, then you've found it. This Fisher & Paykel dishwasher features fast-drying tech, an adjustable top basket, as well as efficient and quiet operation.
With ThermoDry technology and variable wash pressure, the dishwasher removes the moisture build-up from the wash for remarkably cleaner and drier dishes and utensils.
You won't have to worry about your wine glass being broken accidentally after the wash cycle thanks to the stemware holder.
Furthermore, this Kiwi-brand dishwasher has 6 wash programmes for customised washing and holds 15 place settings, so it's suitable for larger families and households.
Pros
Fast-drying technology
Energy-efficient
Quiet operation
Suitable for large families or groups
Value for money
Cons
Some buyers complained about its durability
Customer Reviews
Well-rounded and affordable, this F & P dishwasher earns itself a spot on the best dishwashers in New Zealand list.
Here's what one customer, Janine, had to say on Product Review Australia:
"This dishwasher is really what I expected a dishwasher would do, I can have all b=my dishes washed in under 40 minutes on an eco cycle, which is a breeze as my previous machine would not wash anything for under 2hours, really recommend, it is a great piece and save me times and energy in the kitchen."
Also, Lana said:
"We loved this dishwasher since the day we purchased it. I like everything about it. I am really impressed with the eco cycle, it is very fast and washes my dishes clean and sparkling. The inside designed very well too and can fit lots of plates and even larger ones. I can even fit small pots on the side."
And that's all for the best dishwashers in New Zealand. These top-notch dishwashers will make your dishes immaculate and save you the effort of manually washing them.
Has everything been clear about this list? If you have any questions or comments, just drop us a line and we'll get back to you in a moment.
Also, you may be interested in checking out our list for the best appliance repairmen in Auckland. If you run into any problems or issues with your dishwasher, their technicians can come and fix it fast.