Featured Image Source from Nose to Tail Dog Wash
By Tony Wang
Looking for a soft and warm bed for your dog? If you are, you're on the right page, as we've gathered the best dog beds in NZ for you here!
But in case it's your first time getting one, we'll first examine the factors you have to consider when buying a dog bed. This will help you choose one from our list that's right for your pet.
What to Consider When Buying a Dog Bed
Here are the things you have to consider when buying a dog bed:
1) Size
Before you buy a dog bed, you have to know the size of your dog. For this, you can simply get a tape measure and measure him from head to tail.
Your dog should be able to curl and stretch out in the bed without any problem. So as a rule of thumb, a dog bed should be at least 13 cm wider and longer than your dog.
With the right size, your dog will be happy and comfortable in his bed, close to yours, for a great night's sleep.
2) Kinds of Dog Beds
Dog beds come in a wide variety of sizes, shapes, and functions. Here are the most common types of dog beds:
This is a simple dog bed that is nest-like and sits flat on the floor. It is a great bed for most dogs, providing them comfort and warmth.
Nest-shaped dog beds, however, can have variations such as high or open sides, a built-in blanket or top cover, a rectangular or sofa shape, and the like.
Barer in structure, a cot-style dog bed has a thin surface and legs that elevate it from the ground. Therefore it feels cooler and fits dogs with long and thick fur.
Being weather-resistant (usually), cot dog beds can be used both indoors and outdoors. Not to mention they're easy to carry and maintain use after use.
Think of a crib-mattress bed as a mini version of a human bed. It has a mattress and pillow, but with borders that have one open side.
This dog bed provides a high level of comfort and support for your dog. It's also very durable—you only need to replace the mattress if it becomes flat over time.
Older dogs with joint problems will benefit most from orthopaedic beds. The memory foam used conforms to their bodies' shape and puts less stress on their aching joints.
Note that orthopaedic beds can have design elements of the nest-shaped and crib-mattress beds too. You can test which look will work for your dog and decor at the same time.
3) Bed Material
Material is a big part of buying a dog bed. It will determine its quality, comfort, durability, and suitability for your dog.
Plush is soft and comfortable, wool provides warmth, memory foam relieves the body's pains, vinyl is waterproof and durable, and mesh is breathable.
Foamed beds may not be the best option if your dog likes to chew, though. There's also a danger that he might swallow a part that can make him unwell.
In this case, it's better to pick a more durable dog bed such as one made of canvas, along with aluminium for its frame and legs.
4) Comfort
You can get a sense of what bed your dog will be most comfortable with just by watching him sleep.
For example, if you see him in the 'adorable position' or if he balls up as he sleeps, a nest dog bed may be a great choice.
And if you see your mutt sleeping comfortably with arms and feet outstretched on the couch, a rectangular dog bed could work for him.
5) Ease of Cleaning
A dog bed can get dirty pretty fast due to the dog playing then plopping down onto the bed. Hence, you have to keep the bed clean with regular vacuuming and washing.
Furthermore, you should check the care label on the dog bed. That will let you know how to take the best care of the dog bed so it will last.
The Best Dog Beds in NZ
Now that you know how to buy a dog bed, here's our lineup of the top dog beds in NZ!
1)   PaWz Orthopaedic Sofa Dog Bed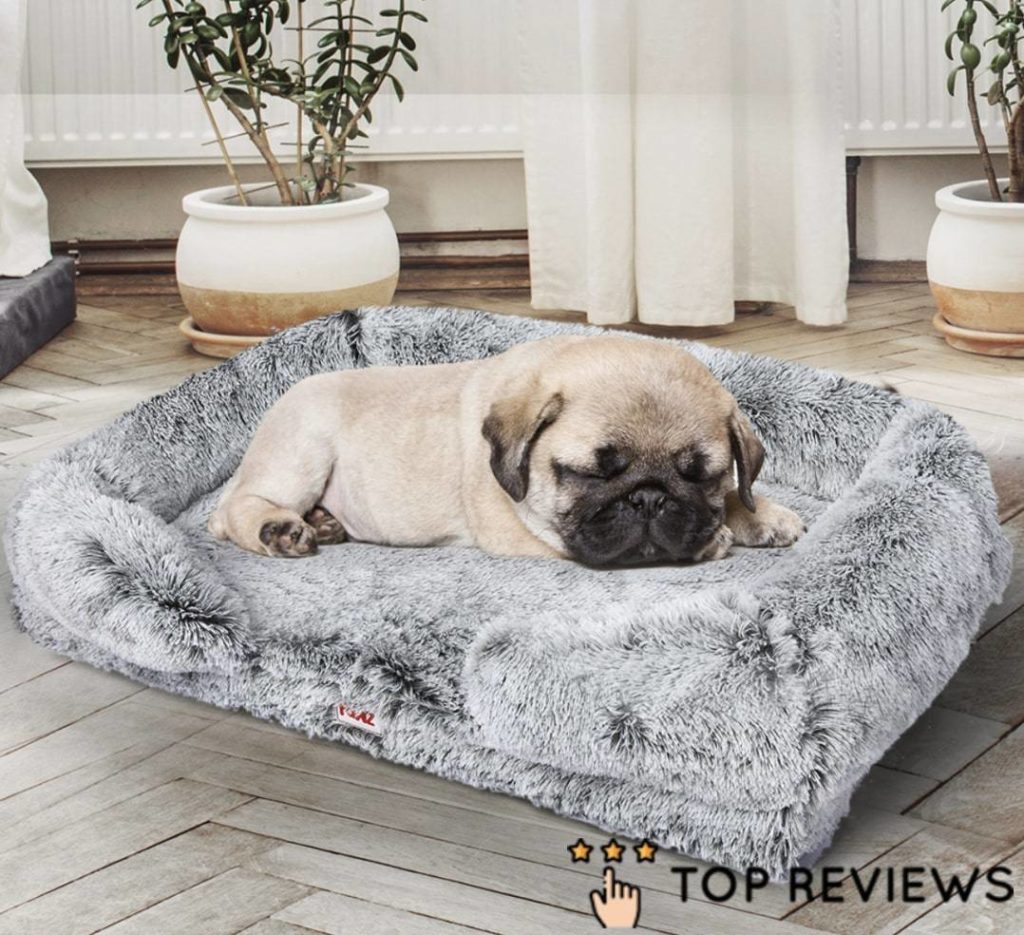 | | |
| --- | --- |
| Best for | Elderly dogs |
| Materials | Plush memory foam |
| Size | 63.5 x 50.8 x 23 cm |
| Weight | 9.16 kg |
| Price | $82.99 |
For older dogs that have aching joints, the PaWz Orthopaedic Sofa Dog Bed is a te-ruff-ic choice, as it conforms to your pooch's body to relieve him of any pain and discomfort.
The bed is fluffy all around and has a bolster where your best friend can lay his head. The bottom of the bed is non-slip so it will stay in its place even for a playful dog.
Its plush filling is high-quality and won't shed out. The fibres are made so strong that they won't pull easily in case your dog takes a bite of the bed.
More importantly, the dog bed resists bacteria, fleas, and dust mites, which can cause harmful diseases. Also, the texture is gentle and won't cause any allergic reactions to your dog.
Premium plush
Warm and cosy
Bacteria-resistant
Waterproof inner lining
Anti-slip bottom
Higher-priced but worth it
2)   Precision Pet SnooZZy Clam-Shell Dog Bed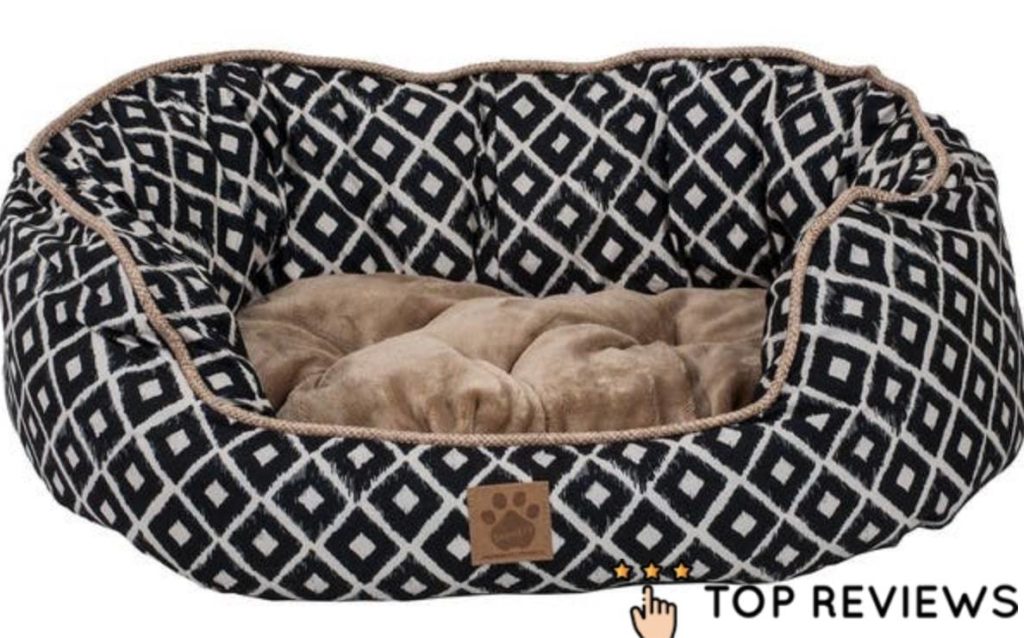 | | |
| --- | --- |
| Best for | Medium dogs |
| Materials | 100% polyester, recycled pillow filling |
| Size | 66 x 56 x 24 cm |
| Price | $112.99 |
The Precision Pet SnooZZy Dog Bed blends style and comfort for your canine companion. It measures 66 cm wide, which makes it perfect for mid-sized dogs.
The bed walls are 100% polyester and the filling made from eco-friendly filling. The higher sides provide a safe and secure space for your furry baby to snooze in.
It has a sewn Precision Pet tag on  the front side of the bed that exudes class. The fabric is machine-washable to make it easy for you keep the bed clean and comfortable for your dog as often as needed.
Groovy design
Eco-conscious soft filling
Durable dog bed
Machine-washable
3)   Paws & Claws Self-Warming Dog Bed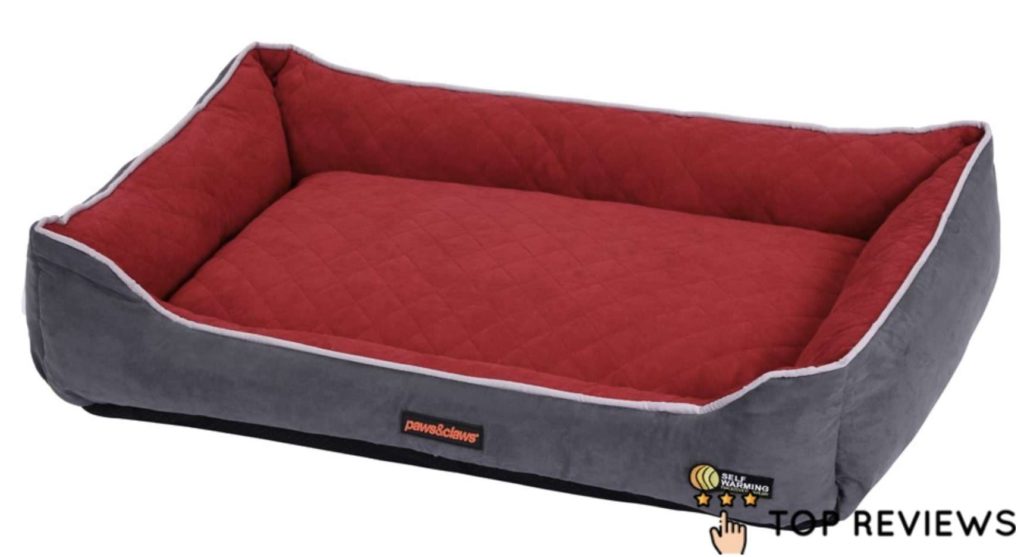 | | |
| --- | --- |
| Best for | Heated dog bed |
| Materials | Suede |
| Size | 90 x 60 x 22 cm |
| Weight | 2.15 kg |
| Price | $58.09 |
Is it getting cold in your house for your dog? If so, you may want to get the Paws & Claws Self-Warming Dog Bed!
It features heat insulation to keep your dog warm and comfortable. Add to this the reflective heat layer in which your dog's heat is collected and returned to him.
The fabric cover is suede, which makes it smooth and relaxing to lie upon. The rectangle shape is simple and minimalist and allows your pet to move in and out easily.
And nope, it's not going to move thanks to the non-slippery base of the bed.
Paws & Claws Self-Warming Dog Bed is one of the best dog beds in NZ. Its size is 90 x 60 x 22 cm, which is perfect for large dogs.
Superb heat insulation
Comfy suede bed
Reflective heat layer
Non-slip base
4)   AllPet Dog Bed Patio Bed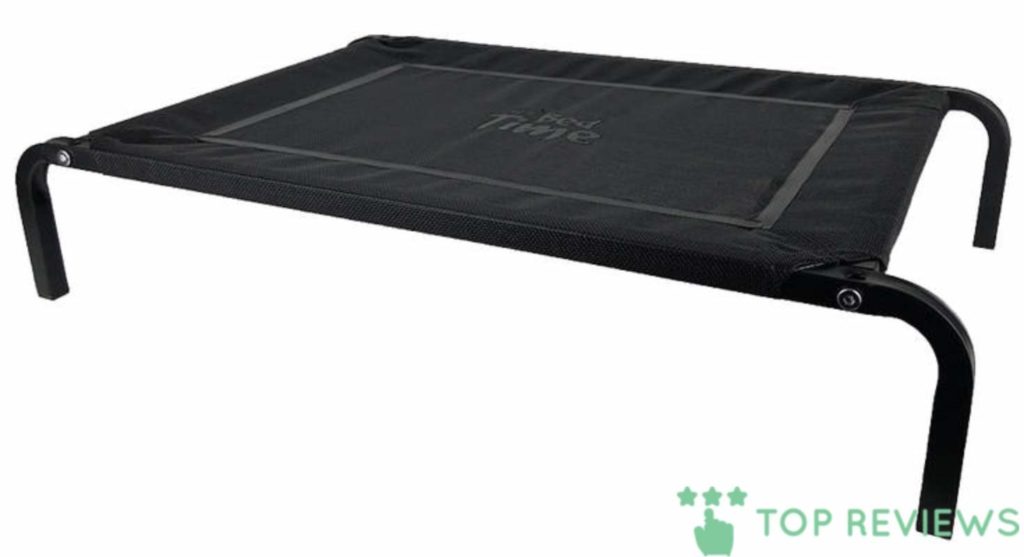 | | |
| --- | --- |
| Best for | Elevated dog bed |
| Materials | Fabric, metal |
| Size | 102 x 76 cm |
| Price | $89.99 |
If you want a super-durable dog bed in your house and out in the yard, look no further than the AllPet Patio Dog Bed!
It is made of metal and fabric that can endure the changing weather. Also, your big dog won't attempt to gnaw the bed as it's positioned at a height off the floor.
The mesh centre fabric will hold the weight of large dogs and make them cool throughout the day. It will also resist stains and spills and is very easy to clean.
The size of this cot-style dog bed is large, but you can also find small and medium sizes from other retailers too.
Tear-resistant mesh cover
Rugged build
Indoor and outdoor usable
Easy-to-clean
Lacks comfort features (such as a bolster or soft padding, for instance)
5)   Paws & Claws Camouflage Mattress Dog Bed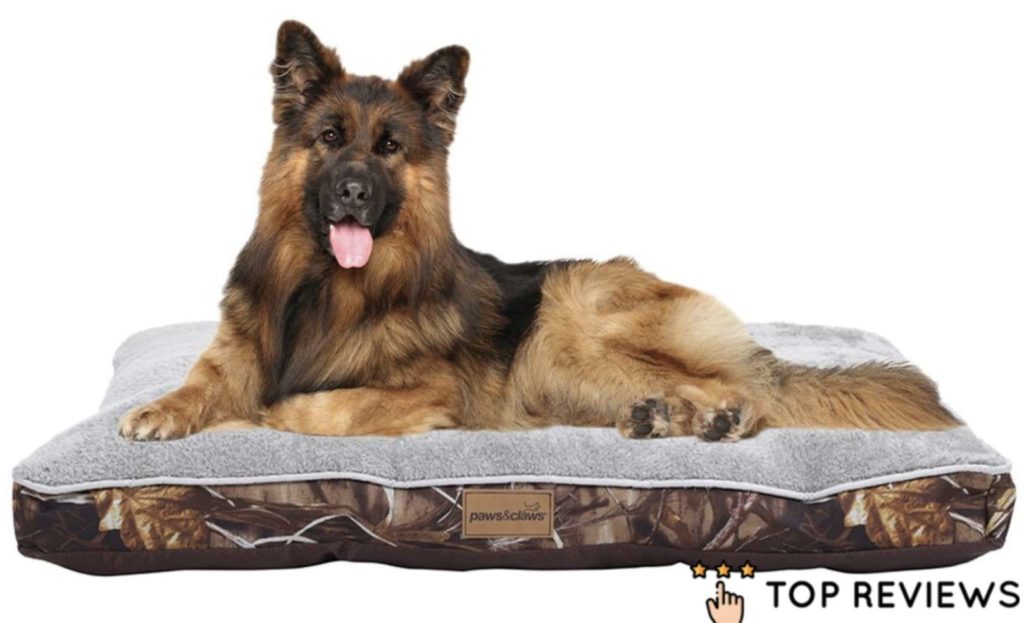 | | |
| --- | --- |
| Best for | Mattress dog bed |
| Materials | Fabric |
| Size | 90 x 70 x 12 cm |
| Weight | 2.3 kg |
| Price | $45.44 |
The Paws & Claws Mattress Dog Bed fits bigger dogs like a Siberian Husky or Golden Retriever. It sports the special Autumn Foliage design that's both stylish and pleasing.
It makes for the perfect spot where your dog can sleep all day under your loving watch. That's because its fabric provides great comfort and warmth.
Moreover, a non-slip base keeps the bed from moving around for your pet. It is also resistant to allergens and bacteria, provided you frequently clean the mattress.
It doesn't have sidewalls, however, so if your pet loves a little bit of freedom, you won't go wrong with this one. Moreover, the bed can be purchased at a great price!
Stylish design
Easy-to-clean
Non-slip base
Value for money
6) Pet Bunk Bed – Sandy Beige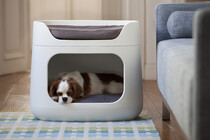 | | |
| --- | --- |
| Best For | Providing services to many industries |
| Materials | Frame: Polypropylene resin Plastic construction, Plush Cushions |
| Size | 23.5 in. L x 16 in. W x 20 in. H. |
| Prices | $149.00 |
If you have toot many tiny fur babies in one house and not enough dog beds, then this Keter Pet Bunk Bed might be what you're looking for.
Who would have thought that bunk beds are possible even for pets? This Pet Bunk Bed is suitable as pet beds for 2 small sized pets. It comes with 2 washable cushions and the set up can also be used as a pet crate or travel carrier.
The whole structure when set up as a bunk bed has a size of 23.5 in. L x 16 in. W x 20 in. H. and comes in a Sandy Beige color. But this set-up can also be detached and can be made into 2 single beds instead of one.
The structure is also made of polypropylene resin Plastic construction which makes it weather resistant. It also makes it durable and low maintenance as it resists damage from many elements, whether it's place out on the porch or inside the house.
The Keter Pet Bunk Bed is fun and innovative that both you and your fur babies might enjoy.
Pros
Innovative 2-in-1
Perfect for 2 small dogs
Easy to assemble
Detachable frames
Washable cushions
Cons
Not for big dogs
Dogs can out-grow
FAQS about the Top Dog Beds in NZ
---
And that wraps up our top dog beds in New Zealand list. We've chosen some products that are quality made and that will be comfortable and lovely for your canine.
Do you have any questions for us? If you do, kindly send us a message and we'll get back to you promptly.
Also, you may want to read about the best pet shops in Auckland. You can find snacks, clothing, and toys there that your pooch will surely like!