The 8 Best Dog Kennels in Auckland
Featured Image Source from Bark Avenue
Need a place for your dog to stay for a day or two? No worries, as we've listed the best dog kennels in Auckland here for you!
We picked the boarding places where your dog will have fun, stay active, make new friends, and be taken care of like family, as many customers can attest.
But first, we'll delve into the price ranges of Auckland's dog kennel services. This will give you an idea of what to expect from them in terms of cost.
How Much Do Dog Boarding Kennels Cost in Auckland
Having collected data from the leading dog kennels in Auckland, we found that the boarding price for dogs ranges from $29.50 to $64 per day or night.
The price mainly depends on the breed and size of your dog and how long it's staying in the kennel. You can usually get a discount if you book more than one dog.
The rates can get higher though if you board your dog during peak hours or holiday seasons. Also, you will incur an additional fee if you check in or check out late.
Some companies such as Central Bark Pet Hotel even offer add-ons like BYO food, walking your dog, and medication, bringing up the boarding price.
Anyway, below is a table showing the price range of the top kennel providers in the city:
| | |
| --- | --- |
| Dog Kennels | Price Range |
| Albany Pet Resort | $29.50 – $35.50 |
| Sharrow Kennels & Cattery | $35.50 – $40.50 |
| PetParks Boutique Kennel and Cattery | $36 – $42 |
| Bark Avenue Luxury Pet Hotel and Doggie Daycare | $36 – $45 |
| Bethells Farmstay Boarding Kennels | $40 – $50 |
| Airport Doggie Daycare and Kennels | $42 – $64 |
| Pets in the City | $45 – $55 |
| Central Bark Pet Hotel | $97.50 – $180 |
Despite these prices, remember that it's important to find a clean, positive, and comfortable place for your dog—with a trained team that will take great care of him.
The Best Dog Kennels in Auckland
Now you know the price range of the best dog kennels in Auckland, let's move on to our list!
1) Airport Doggie Daycare and Kennels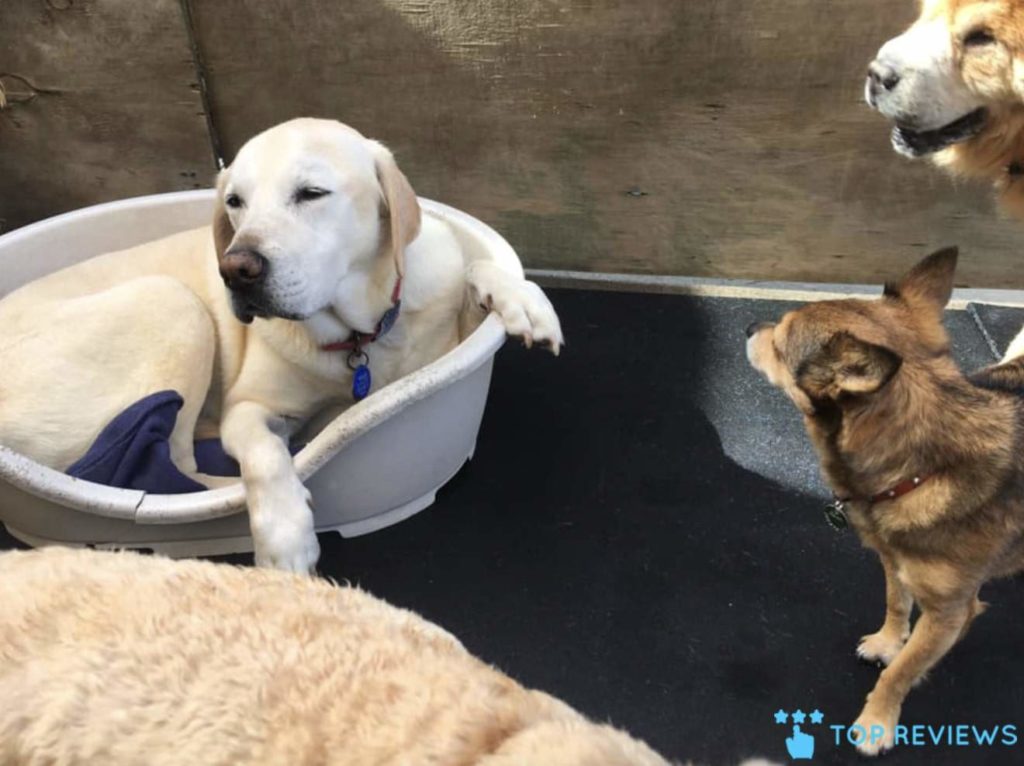 BEST FOR
Loving care and attention for your pooch
SERVICES
Half-day daycare
Full day or day stay
Walks & special outings
Full bath, blow-dry, hair brush-out, and nails
ADDRESS
8b Aintree Avenue, Mangere Auckland, New Zealand 2022
CONTACT DETAILS
Mobile: +64 22 424 7949
Office: (09) 275 1212
Email:

[email protected]

OFFICE HOURS
Monday – Friday: 6.45 AM – 6.00 PM
Saturday: 8.00 AM – 6.00 PM
Sunday: 7.30 AM – 6.00 PM
PRICES
Day Boarding
Daycare, full day: $38
10-day concession cards: $345
15-day concession cards: $495
Concession cards are valid for 2 months and apply to full-day stays.
A minimum booking of 2 days may be required for first-time dogs new to our facility.

Overnight Boarding
Toy Breed (<3kg): $42 per night
Small Dog (3 – 7kg): $46 per night
Medium Dog (7 – 20kg): $50 per night
Large Dog (20 – 40kg): $55 per night
Extra Large Dog (>40kg): $64 per night
A surcharge fee may be applied to one-night-only bookings.
Overnight boarding pickups after 11.00 AM, on the day of departure, incurs a day-stay fee or part thereof

Public Holidays
$25 per dog (inclusive of GST)
Airport Doggie Daycare and Kennels gives total loving care and attention to your pet. It provides a fun, healthy, and sociable environment for him to live in.
The daycare has an open-plan indoor facility and an outside garden where your precious pooch can get some exercise in the morning.
Their services include day stays and overnight boarding, walks and special outings, and grooming services such as a full bath, blow-dry, fur brush-out, and nail trim.
Any particular behaviour and the likes and dislikes of your dog are considered, as well as special diet and medications, but you have to let the staff know of these beforehand.
Airport Doggie Daycare also provides a comfortable bed, sheets, and blankets. However, you can BYO pet's bedding to make him feel at home.
New dog orientations
Online booking system
Plenty of parking available
Situated near the Auckland Airport
Customer Reviews
Your dog should be entrusted to people who are competent, caring, and professional—and the team at Airport Doggie Daycare perfectly fits the bill!
One client named Victoria wrote of Airport Daycare and Kennels:
"Ada is always wagging her tail when we arrive and she can not wait to get inside. Ada always enjoys her time with Jenny and the team. A great option for anyone with an active dog to stay overnight as they get to join in the doggie day care too."
What's more, Hannah shared this on Google:
"Our 2 big dogs stayed at the airport doggie daycare twice while we were on our holidays. I was so impressed with their professionalism, confidence and the openness. People working there appear all confident in their handling of dogs and most importantly love dogs.
We struggled to find reliable dog kennels as often where the dogs play and stay are kept hidden from the entrance. Airport doggie care is open and has cameras showing dogs activities while at the entrance."
2) Albany Pet Resort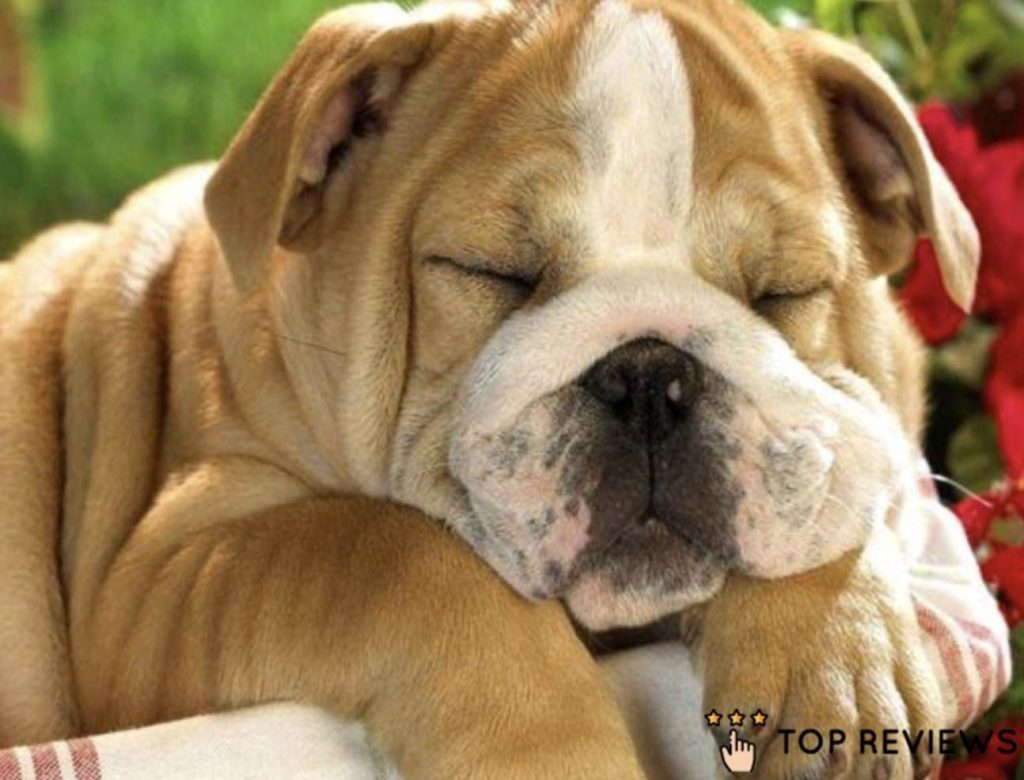 BEST FOR
Warm indoor kennels and large grass paddocks
SERVICES
Overnight boarding
Doggy daycare
Japanese Spitz breeding
ADDRESS
113 The Avenue, Lucas Heights, Albany, North Shore, Auckland, New Zealand
CONTACT DETAILS
(09) 415 9878
OFFICE HOURS
Monday – Tuesday: 8.00 AM – 10.00 AM, 3.00 PM – 5.00 PM
Wednesday: closed
Thursday – Saturday: 8.00 AM – 10.00 AM, 3.00 PM – 5.00 PM
Sunday: 3.00 AM – 5.00 PM
PRICES
Daycare (all sizes): $20

Overnight Boarding
Small Dogs (Bichon, Shih Tzu, Maltese etc.): $29.50
Medium Dogs (Beagles, Spaniels, Whippets etc.): $32.50
Large Dogs (Boxers, Labradors, Collies etc.): $35.50
Cats: $18.50 Small animals (Rabbits, Birds etc.): $15.50

Un-desexed Males: $10 (only by prior arrangement)
Shampoo & conditioner: $29
Public Holiday: $7.50 (dogs), $5.50 (cats)
Over Christmas cats may be housed with another cat if you want your cat to be housed by itself it will cost $25 a day.
Albany Pet Resort is situated on 2 acres of beautiful rural land in Albany, Auckland. It was established in 1955 and is an award-winning breeder of Japanese Spitz dogs.
They offer boarding services for both cats and dogs. They have warm and large kennels made of solid wood, preventing your dog from being disturbed by neighbours.
No matter if your dog is young or old, the Albany Pet staff are kind, caring, and understanding and will help it socialise with others (if it wants) in the morning.
Also, Albany Pet Resort has been recommended by veterinarians. That means your pet's health and special needs are taken into account.
It's also less expensive here at Albany Pet Resort compared to other dog kennels. Daycare only costs $20 for all breeds and sizes while overnight stay starts from $29.50.
Warm and spacious kennel
Affordable price
Eco-friendly cleaning products
Expert and caring staff
Doesn't accept credit cards
Customer Reviews
The dogs are treated kindly, are well-cared for, and always come home happy, according to owners. Indeed, Albany Pet Resort is one of the best dog kennels in Auckland.
Check out this glowing review from Madeleine:
"I would highly recommend Albany Pet Resort our girl Lily been going there since she was a pup so for the last almost 5 years. She is always super excited on the days she goes to daycare and sulks on the days she doesn't go. She also loves having her overnight holidays there too and I always have great peace of mind leaving her there as I know she will always be well cared for. Anya and Liam are always so lovely and friendly and clearly care a lot about the animals that stay there, especially when Lily was recovering from her cruciate ligament surgery they were nothing but accommodating and nothing was ever a problem. They are always happy to offer great advice when any issues arise which has been very helpful as Lily is definitely full of personality with her funny quirky ways. She always comes home super happy and very exhausted."
And let's take a look at another review posted by Cindy:
"Lovely staff & owner – clearly care & love animals! APR was recommended to us by friends of ours a couple of years ago & we've taking our Labradoodle Bella there ever since. Even though we only take Bella there a couple of times a year they remember her well & we know she's in good hands! Bella is always happy when we drop her off & collect her – great to know that she is well cared for while we are away ?"
3) Bark Avenue Luxury Pet Hotel and Doggie Daycare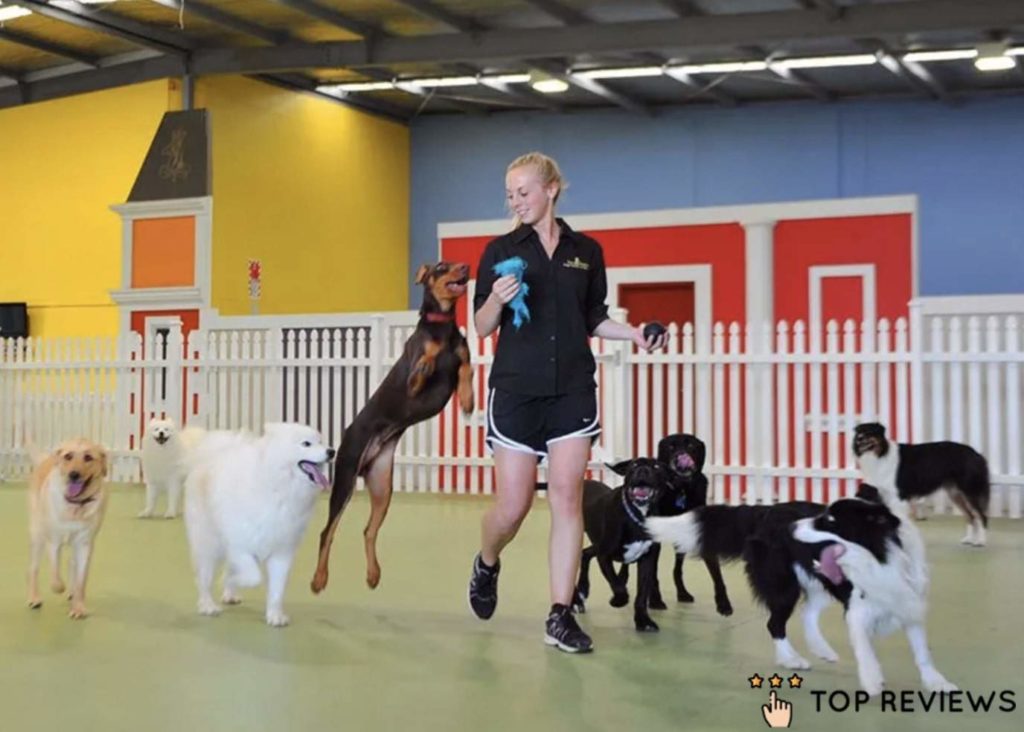 BEST FOR
Luxury dog accommodation
SERVICES
Doggy daycare
Dog kennels
Cattery
Grooming
ADDRESS
55 Airdrie Road, Ranui, Auckland 0612, New Zealand
CONTACT DETAILS
(09) 832 7362

[email protected]

OFFICE HOURS
Opening Hours
Monday – Friday: 7.00 AM – 6.30 PM
Saturday – Sunday: 8.00 AM – 5.00 PM

Office Hours
Monday – Thursday: 8.30 AM – 3.00 PM
Friday: 8.30 AM – 2.00 PM
Saturday & Sunday: closed
PRICES
Dog Kennels
Toy Kingdom (dogs up to 7kg): $36/night
Medium Suite (dogs 7kg – 15kg): $40/night
Large Suite (dogs over 15kg): $45/night

Price for Large Run
1 dog – $70/night
2 dogs – $120/night
3 dogs – $170/night
If you have two dogs boarding together, you will get $5.00 off the boarding rate for the second dog.
Please note that a 20% deposit is required for Christmas bookings.

Doggie Daycare
Casual (1 day): $35
5 day pass: $150
10 day pass: $280
Regular daycare customers' special discount available (for bookings of more than one dog.) Please enquire.

Professional Dog Grooming
Basic grooming, de-matting, wash & dry, etc: Starts at $35
Prices are based on breed, size of dogs, length and condition of coat, and time required.

Cat Boarding Prices
Feline Standard Unit: $25/Night
Feline Deluxe Unit (Double unit for two cats from the same household): $45/night
If you want your furry friend to feel comfortable, happy, and have fun all day long, you can let him stay at Bark Avenue Luxury Pet Hotel if you get busy.
Bark Avenue Pet Hotel has 3,000 square metres of space for your dogs to play in, with outdoor access to play areas to keep their bodies and minds active and healthy.
Different from the traditional boarding places, they have custom-made units for your dog, inside with a cosy bed and bedding for a good night's sleep or an afternoon nap.
At any time, they can interact with fellow dogs but under the supervision of the team. By the way, the team has a soft spot for animals and is full of people who are cheerful and outgoing.
Furthermore, Bark Avenue can give your dog a gentle washing and drying, brushing, and de-matting to make him look neater and more adorable than ever!
Whether for the short or long term, Bark Avenue is an awesome place for your cuddly dog to lounge in.
Custom-made kennels
Spacious daycare facility
CCTV-monitored for safety and security
Second-dog discount
Higher-priced compared to others
Customer Reviews
Bark Avenue holds an almost perfect score on Facebook. Customers say that the space is fun and tidy for the fur babies with caring and attentive staff.
Olga, one pet owner, wrote her feedback of the pet hotel:
"It's the first time my little one has been in doggie care , I was away for a week and I loved seeing the photos of the dogs every day looking at the pictures you could see the dogs were happy and it made me less anxious . I will certainly be bringing my dog back when I go away again."
Also, here's the comment of Jamie on Facebook:
"Caesar absolutely LOVES his weekly daycare visits and holidays at Bark Ave. He cries with excitement in the car and can't wait to get inside when we pull into the driveway. The team there are awesome – They are always so happy to see him and I know they treat him like one of their own. We love seeing the photos and videos of the things they get up to and know that he's in the best hands every time we leave him there. "
4) Pets in the City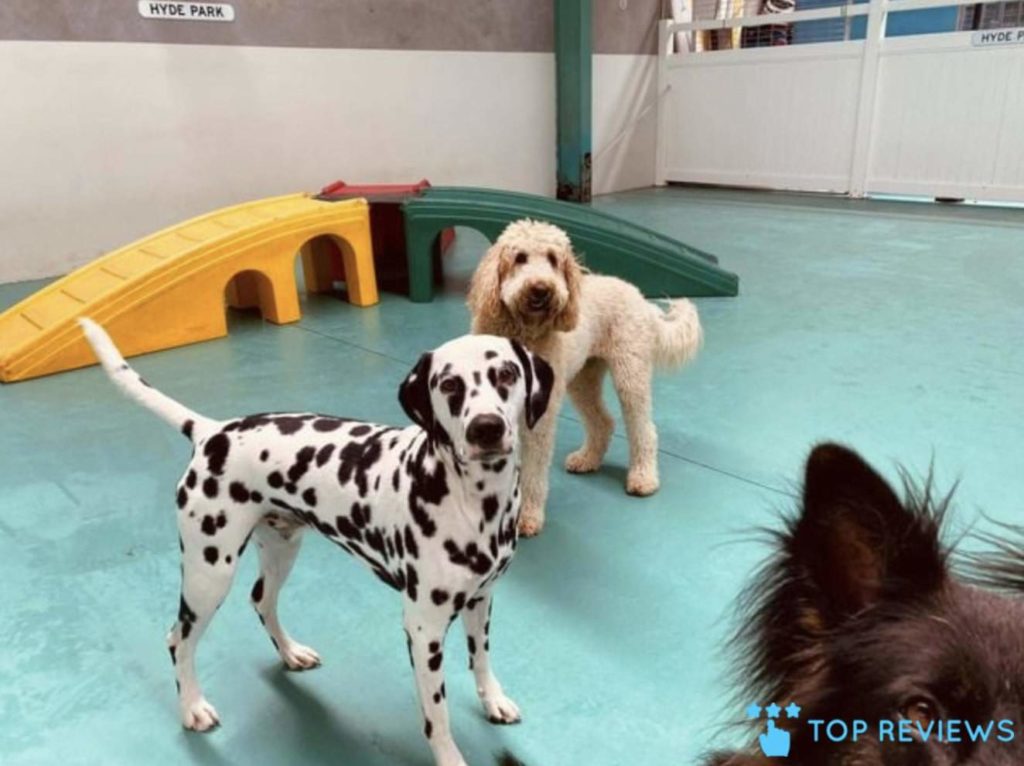 BEST FOR
Immaculate dog apartment hotel
SERVICES
Daycare
Hotel Grooming
Training and puppy school
Pet taxi
ADDRESS
76 Ellice Road, Wairau Valley, Auckland 0629, New Zealand 6 Tiri Place, Mount Wellington, Auckland 1060, New Zealand
CONTACT DETAILS
Wairau Park
Phone: 09 558 5100
Email:

[email protected]



Mt Wellington
Phone: 09 259 4666
Email:

[email protected]

OFFICE HOURS
Monday – Friday: 6.30 AM to 7:00pm
Saturday – Sunday and Public Holidays: 7.00 AM – 6.00 PM
All locations are closed to the public on Good Friday, Labour Day, 25th to the 28th of December, and the 1st to the 4th of January.
PRICES
Apartment Rates (per night)
Toytown Playland (small and toy dogs only): $45
Vista Apartment: $47.50
Premium Apartment: $49.50
Executive Apartment: $55

Check-ins before 2.00 PM will incur an early check-in fee equivalent to a half-day of Day Care ($30.00).
Check-outs after the 11.00 AM checkout time will incur a late check-out fee equivalent to a half-day of Day Care ($30.00).

Peak rates apply during public holidays and busy holiday periods.
Deposits are also required for peak period bookings.
Inspired by pet hotels in America, Pets in the City seeks to bring a luxury experience to your furry friends through an immaculate apartment-style dog hotel, fun-tastic play parks, pampering grooming services, and rapport-building pet pre-school.
Their staff will attend to your dog's needs with care. They've fostered a safe and healthy environment for your dog that you don't have to worry about at all.
Having been successful in their venture, they now have three branches in Auckland— in Wairau Park, Mt Wellington, and Silverdale.
Their luxury apartment rates are $47.50 for the Vista Apartment, $49.50 for the Premium Apartment, and $55 for the Executive Apartment.
And if you're booking a second or third dog from the family, you can also get $5 and $10 off per night for them respectively.
Unusual dog apartment hotel style
Multiple indoor play parks
Second-dog and third-dog discounts
Customer Reviews
According to customers, the staff offer a relaxing hotel experience to your precious pooch and are knowledgeable and friendly.
Let's take a look at Nikki's review of the dog hotel:
"Friendly, kind and happy place. First dog owner and everyone has been very helpful and taken awesome care of Bella. Highly recommend Puppy Daycare."
Furthermore, here's the feedback of Rina:
"It is actually a Hotel for your very much loved Pets. I would not define it as a kennal. The pets that temporarily reside at 'PITC' are well taken care of day & night much like a human hotel where you get to go out and do activities, have a spa, fed room & cleaning service. The pets are spoilt by the staff at Pets in the city. So l personally recommend that if you need peace of mind & wanting somewhere to take care of your loved pet for whatever reason 'PITC' is the place."
5) Barkley Manor Country Park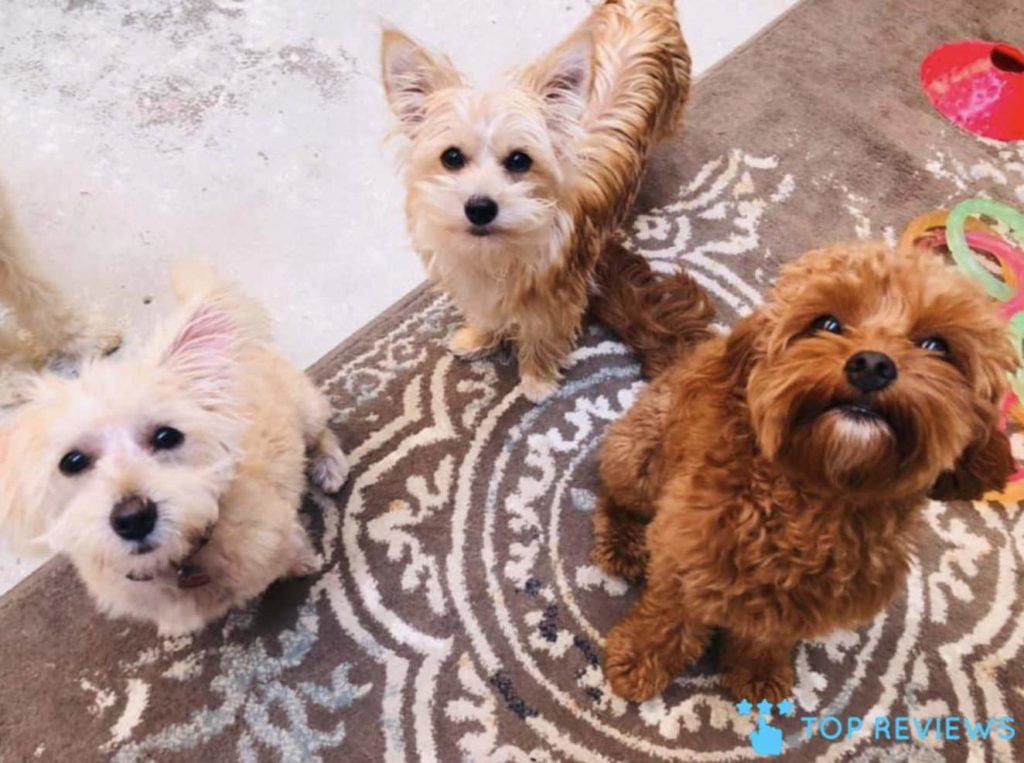 BEST FOR
Country dog experience
SERVICES
Daycare
Adventures
Overnight
Training
Grooming
ADDRESS
398 Great North Road, Auckland, Auckland, 1021, New Zealand
CONTACT DETAILS
09 376 8622

[email protected]

OFFICE HOURS
Monday – Friday: 7.15 AM – 6.00 PM
Saturday – Sunday: closed
PRICES
1 to 4 days: $55
5 days and over: $50
Transport: $10 each way
Kibble and Raw Food: on request
Late check in/early check out: $20

Cancellation Fees- 2 days prior – 50% – 2 to 7 day prior – 25%
For a unique country experience for your dog, you might want to let them stay overnight at Barkley Manor Country Park!
Barkley Manor Country Park is 40 minutes away from its Grey Lynn Park. It sits on 150 acres of land amid fenced meadows and pastures, streams, and clear, boundless skies.
Your dog can play outside in good weather and run, jump, and cavort with other friends under the full supervision of attentive and canine-loving staff.
The doggies will stay in a spacious house that's comfy and cage free. They're free to do as they please, to enjoy and be happy for a single or few nights.
However, since this scenery can be a lot even for a dog, especially a new one, peeps at Barkley Manor offer this overnight package only if a dog has daycare with them.
Cage-free facility
Tranquil country setting
24/7 onsite team
Offers multi-dog discount
Needs to have daycare first with them to join the overnight stay at Barkley Manor Country Park
Customer Reviews
Dogs just loved being in this paradise cared for by lovely people. And with the regular updates pet owners get, clients say Barkley Manor Country Park couldn't have been better.
Monique wrote her feedback of the country park:
"An amazing place for all dogs – individual attention, fun activities in a totally natural environment and great updates for the owners with daily photos and videos. Dogs look constantly happy here. Portia can't wait for her next holiday."
Also, Kokila said this:
"Couldn't rate Barkley more highly! They are so organised (love the walkie talkie systems) and fantastic with the dogs as well as being very conscientious to ensure all of the doggies have a super fun but safe environment.
Also really love the daily updates with photos of all of the crew hanging up – very cool being able to see what your pups get up to during the day there
Leo loves his day care and all the aunties."
6) Good Dog Training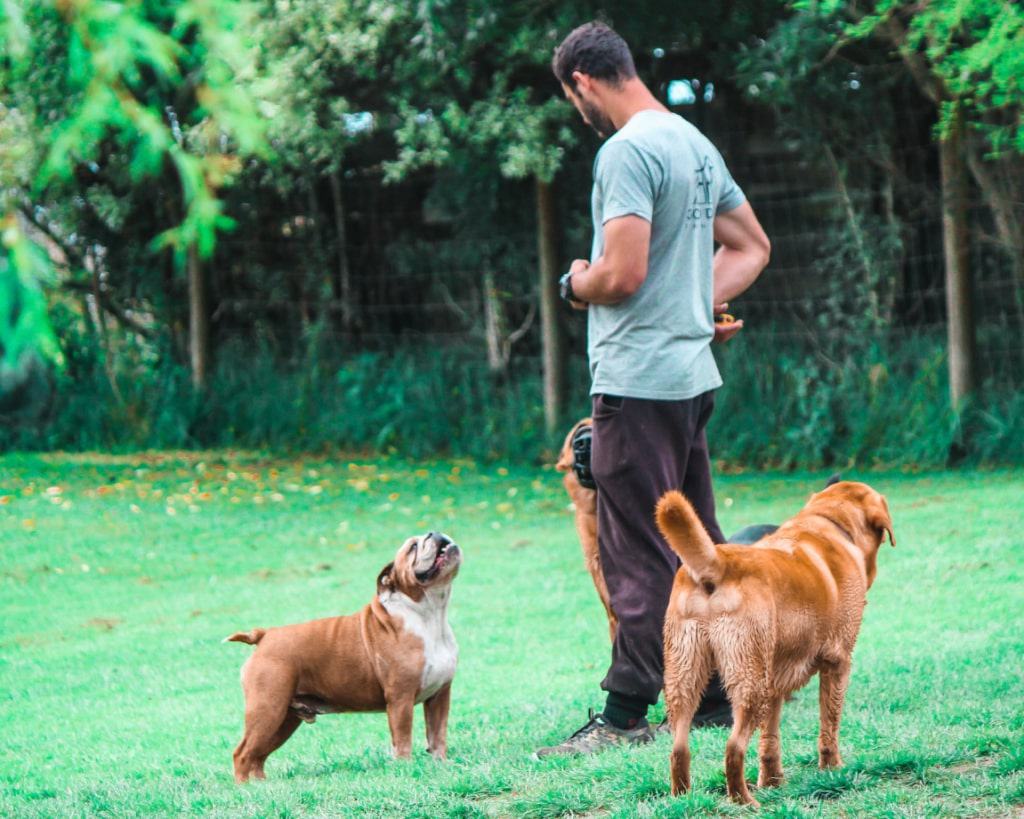 BEST FOR
Country dog experience
SERVICES
Doggie Daycare
Daycare
Overnight Camp
Kennels
Private Consults
Board & Train
Training Classes
ADDRESS
1452 Dairy Flat Highway, Auckland
CONTACT DETAILS
Email:

[email protected]


Phone: 09 426 8904
Mobile: 027 911 4115
OFFICE HOURS
Monday – Friday: 7am – 9:30am & 3:30pm – 6:00pm
Saturday: 8:00am – 9:00am
Sunday: 4:00pm – 5:00pm
Public holidays: 4:00pm – 5:00pm
PRICES
Kennels:
$48 per night. Daycare charges may apply for afternoon pick-ups.
$65 per day Puppies under 5.5 months

Daycare:
$40 – per day
2 Days – $78
3 Days – $108
Unlimited – $120 / week

Overnight Camp:
$90 – full days & 1 night
It's virtually impossible to be with one's dog at all times, fortunately, there are fellow dog lovers who step up to the plate and handle their care while we're gone. One such example of those fellow dog lovers is the team at Good Dog Training.
Good Dog Training is most known for its dog training sessions, where Ryan, owner, and expert dog trainer follows a structure that involves exercise, socialising, and house management system to help dogs become more well-rounded. His and his team's services and expertise don't stop there, though.
Good Dog Training also offers doggy daycares, overnight camps, as well as kennels for short and long-term stays. For your dog to be qualified, they first need to have been enrolled at daycare, overnight camp, or training with Good Dog Training on a regular basis.
Once the doggies meet this criterion, they then need to go on a trial to ensure that they're happy and comfortable during their stay, regardless if it's short or long-term. There's no need to worry about nighttime care, since owners Ryan and Amber live on-site and can cater to the dog's needs.
We should note that Good Dog Training doesn't allow raw food, but owners are welcome to substitute it with dehydrated dog food, which the owners can bring or buy on-site. The team recommends bringing along the food that the dog is most familiar with to lower the risk of upset appetites.
One dog per kennel policy
24/7 care
Long stay option available
Trial run is required to ensure the dog's comfort during long stays
7) Fairfield Pet Lodge

BEST FOR
Kennels for all dog sizes
SERVICES
Kennels, Cattery, Doggy Day Care, Dog Training
ADDRESS
751 Clevedon-Kawakawa Road
Clevedon
Auckland
New Zealand
CONTACT DETAILS
After Hours: 027 222 0307
Mobile: 027 222 0307
Email: [email protected]
OFFICE HOURS
7am to 10am
3pm to 5pm
PRICES
SMALL DOG Kennels
Bichon Frise, Jack Russell, Fox Terrier
$27
ENTIRE $3 per day
Peak season $32

MEDIUM DOG Kennels
Cocker Spaniel, Corgi
$29
ENTIRE $3 per day
Peak season $34

LARGE DOG Kennels
Labrador, Boxer, Border Collie
$31
ENTIRE $3 per day
Peak season $36

EXTRA LARGE DOGS
Spinones, Newfoundland,
Mareema Sheep Dog, Bernese
$33
ENTIRE $3 per day
Peak season $38

OTHER SERVICES
Basic Groom: Wash & brush
$30
Vet visit (local vet)
$30 + Vet fees
Pet Taxi
60c per Km travelled
Fairfield Pet Lodge is a family-owned and operated boutique country pet lodge known for their excellent pet care and service. They offer a wide range of services, including dog training, doggy day care, and boarding kennels and cattery for all pets.
One of the best things about Fairfield Pet Lodge is its staff, which consists of Anton, his wife Cristina, and their daughter Ashlee. All three have a deep love for animals, while Anton has spent 12 years as a dog handler in the police force.
Their affection for animals and Anton's experience makes it possible for Fairfield Pet Lodge to provide quality, personalised care to all of the pets they take on.
In addition to that, Fairfield Pet Lodge is one of the most accessible pet lodges in the area, with it being 7km from Clevedong, a 20-minute drive from Howick and Beachlands, and on the way to Coromandel Peninsula.
Kennels for different sized dogs available
Offers basic grooming and vet visits during kennel stays
Dog training available
Accessible location
Additional fees for peak season stays
8) K9 Heaven
SERVICES
Doggy Daycare
Dog Boarding & Holidays
Dog Grooming
WEBSITE
http://k9heaven.co.nz
ADDRESS
103 Sunnyvale Road, Massey, Auckland 0614, New Zealand
CONTACT DETAILS
+64 9 833 1883
OPERATING HOURS
Monday – Sunday, 7:00 AM – 6 PM
K9 Heaven is a West Auckland cave of fun and pleasure for dogs of all shapes and sizes; all canines of all shapes and sizes are welcome to have a great time.
K9 Heaven is perched calmly in the picturesque Massey West, overlooking a lush green environment with acres of natural flora to explore. Views of the fast-paced metropolis are as near as their joyful, satisfied, laid-back members can get.
They started K9 Heaven from the belief that every dog should have access to safe, stimulating daycare. They think that because dogs are innately sociable creatures, every dog needs access to daycare and safe, engaging socialization. They are delighted to have developed an atmosphere in which your dog will feel comfortable, protected, and treated as the unique individual that he or she is.
Having healthy, satisfied pets necessitates balance. They provide the appropriate amount of fun, exercise, socialization, and relaxation to ensure that your pooch has an enjoyable day out.
Open seven days a week
Safe and comfortable spaces
Experienced staff
Customer Reviews
We cannot recommend K9 Heaven more highly
"The team at K9 have looked after our fur pack with utmost care and love, from wee puppies to nearly 12 years of age. We still smile when they spot their favourite pack leader – how can we choose? They love them all! Over the 12 years, we have experienced over and above service with all their team. The small chats about the humorous things they did during the day were outstanding, equally when they were a bit off too. It simply told us they cared, and what more can a dog owner want? It's an end of an era for our ageing pack for daycare; we will be back for the grooming service as it's where they always feel comfortable and look their best on grooming day! Best wishes to Ollie, Tanya and the Pack Team; the new improvements have not gone unnoticed, and we will miss you all. We cannot recommend K9 Heaven more highly – it is a dog heaven for your dog, and always presents a safe, caring and responsible daycare and added value of a grooming service too!!" – Nadine Rathjens
They go out of their way to make my puppy feel so very welcome
"The team at K9 Heaven are awesome and they go out of their way to make my puppy (who is a gentle wee soul) feel so very welcome. He always comes home so tired and happy from his adventures. I love knowing there is somewhere I can take my dog when I need to, where he will be looked after so well." – Paula P.
FAQS about Dog Kennels in Auckland
---
And that's all for the best dog kennels in Auckland. You now know where you can book your pet when you can't look after them in the meantime.
Did we miss a boarding kennel place that should've been on this list? If you think so, please let us know by messaging us and we'll take a look at your recommendations.
Other than that, you might want to read about the best pet shops in Auckland. These are great shops where you can get food, apparel, or toys for your fur baby.