With a good electric bike, you can easily get around the city or even outside of it. It's a plus to have one… and that's why we've rounded up the best electric bikes in New Zealand for you!
E-bikes have a motor that works with your pedalling to help you sustain speed with low effort. However, you still need to shift gears to adjust to the road.
The latest trends have seen a rising number of people using them. If you want to join their ranks, we'll show you the best electric bikes in New Zealand right now.
But first, it pays to know what you should be looking for when you make your choice. We'll go over those factors before we show you our list of the best electric bikes in New Zealand for this year.
What Should I look for in an E-Bike?
In the main, the things you're looking for will depend on your circumstances. But let's take them one by one so you have a better idea of how to choose a model.
Motor
When it comes to the bike's motor, you should choose between a mid-drive and a rear hub.
A mid-drive motor is built and attached to the lower centre of the e-bike. That makes it stable and balanced for riding.
It's also more capable of taking on inclines such as hills. Torque-powered, you have to step on it for it to get it going and move.
On the other hand, the rear hub motor is set on the back of the wheel, which makes the bike heavier in the back. But it is cheaper and quieter to operate.
Brakes
Hydraulic disc brakes are the best you can get, as they stop gently and seamlessly on the road. They also work well in wet road conditions without needing frequent maintenance.
Rim brakes are good enough to use for most situations, but they don't work as well under the rain, by comparison.
Lastly, cable disc brakes are good-to-have brakes but have to be maintained frequently.
Auto Speed Assist
Electric bikes come with a pedal assist. They are like programs that let you choose a particular speed and make the motor and bike adhere to that speed.
As you pedal to a certain speed, the auto speed assist of the e-bike will take over and maintain that speed throughout your ride. But when you slow down on the pedals, the motor will slow down as well.
Compared to regular bicycles, it helps you tackle longer distances and higher inclines without putting in as much effort as on an ordinary bike.
Front and Rear Suspension
These mainly act as shock absorbers that keep your bicycle in tip-top shape for years to come. They're very important because they not only keep your e-bike durable but also keep you safe and stable when riding it.
Saddle
Choosing the right saddle is necessary because there are some that become uncomfortably painful in longer rides. It's up to you to pick which one feels the best for you.
In case the e-bike that you fancy doesn't have a comfortable saddle, you can let a bike specialist customise it for you.
Wheels
Smaller and smoother tires are only good for cycling on roads. They won't give you enough torque to climb hills or fare well in off-road conditions.
On the other hand, large and treaded wheels give better traction and speed on rough ground while dragging on smooth roads.
Again, choose based on where you plan to take the bike. If you traverse smooth roads more often, go with a bike that has smooth tires — otherwise, treaded wheels are preferable.
In any case, now you know what to think about when choosing an electric bike. Now we're all set for our lineup of the best electric bikes in New Zealand.
1. Aventon Pace 500 E-Bike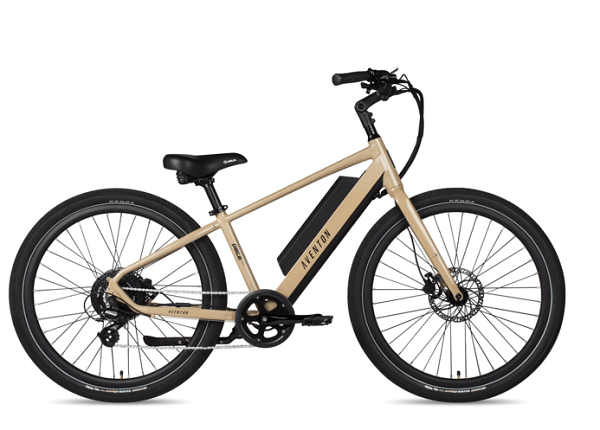 Max Speed: 28 mph (45 kph) | Max Range: 30 mi | Tyres: 27.5"
Price: NZ$1100
You have a sweet bicycle at your disposal when you have the Aventon Pace 500 EBike. It uses a 500 Watts brushless motor that will have you streaming down any city track.
Full control of the bike is given to you with 5 pedal assist levels — great whether you are climbing inclines, going for a casual ride, or training your body. Along with that, it comes equipped with hydraulic disc brakes.
You also have a sleek LCD screen that tracks the remaining battery as well as speed and distance travelled. Change up your settings with the thumb accessible buttons too as you ride.
Long-distance biking will be easier for you with its comfy saddle and rugged 27.5" tyres. And charging will only take a short 4 hours, which means you can take it back out for another spin in no time!
Highlights
500W brushless motor
5" stable tyres
Max speed at 28 mph
5 pedal-assist levels
Cool LCD screen 
Customer Reviews
Buyers gave the Aventon Pace 500 an overall 4.5-star rating from 214 reviews. They cite the shorter commutes, easy assembly, and sand paint as features they liked.
However, the lower ratings stemmed from the brakes not working well, problems in the back hub motor to smaller concerns like, shorter kickstand, loose water holder, and LCD screen not working.
From the Aventon site, Austin Clough writes:
". . . The tires, even after ~350 miles, show minimal signs of wear and have ample traction for any terrain that I have encountered such as wet pavement, gravel, sand, and dirt. For an E-bike, the Aventon Pace 500 is relatively light. My last E-bike had a 250W motor and weighed in at 56 lbs. I was pretty worried about the lack of suspension on the frame of this E-bike. As it turns out, the saddle that they put on this bike makes moderately rough terrain basically irrelevant to the comfort of the ride. It is AMAZING!!! Riding on grass and bumps and cracks in the road brings no discomfort due to the suspension built into the seat itself. There are only two issues that I have with this bike. 1) You have to pedal about half a turn for the throttle to engage ( I am a rather impatient person) and 2) The throttle will only go unassisted up to 20 mph, w…"
2. Magnum Peak E-Bike
Max Speed: 25 mph (40 kph) | Max Range: 30-60 mi | Tyres: 27.5"
Price: NZ$2,899
 Built to conquer both smooth and rough terrain, the Magnum Peak E-Bike is designed for power and distance. With its pedal assist, you can ride it up to 25 mph and sustain that speed without any effort on your part.
It uses a 500W motor located at the hub of the rear wheel. It just takes you 6.5 hours to recharge it over the night.
It also adds a unique, riveting contoured tube connecting to the seat. The seat position is for forward riders, streamlined for faster distance travel of up to 60 miles!
Mind you, it can even be customised upon purchase — for instance, you can choose whether you'd like 27.5" or 29" tyres. Likewise, you can opt to upgrade the schematics for throttle or pedal assistance.
Highlights
Higher torque to tackle trail hills and roads
500W rear hub motor
5-level pedal assist
Has preset options when you purchase
Customer Reviews
Bagging an overall score of 5 stars from 21 reviewers, this is one e-bike many owners appreciate and adore. One buyer, David O., says:
"I love the bike, now that I am used to the added weight I am consistently getting over 60 miles per charge. I am riding more often and farther than ever."
Further validating that it belongs in our list of the best electric bikes in New Zealand, Jonathan G. explains:
"This is a fun bike that meets the needs for a commuter and someone that wants to do some trails. The look is fantastic. It has plenty of power to climb hills. First time I rode it I came back with a big smile. This did not happen with the other electric bikes I had tried."
3. Tuesday August Live 16" LS E-Bike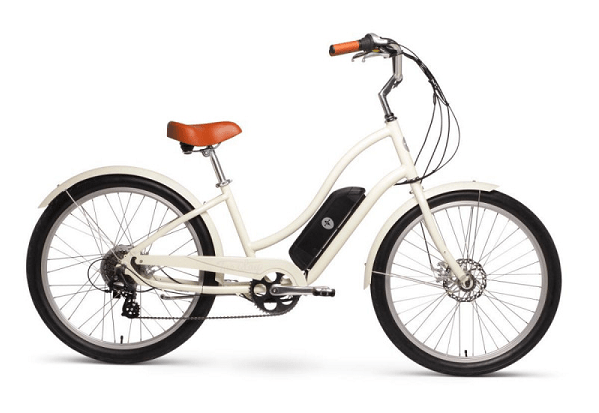 Max Speed: 20 mph (32 kph) | Tyres: 26"
Price: $1,382.17
Get ready to cycle across the streets in a partying mood with the comely Tuesday August Live! You'll never lose your balance as you can plant your feet on the ground anytime you'd like to stop this bike.
Its confident design makes this a popular bike that will receive admiration from those around you. The handlebars are comfortable to grip and the wide padded seat is suited for long rides.
You can enjoy it with 8 different speeds. If you want to go slow, just change it to Walk-Assist mode for a nice and sedate cruise.
Plus, it is powered by the Bafang 250W rear hub motor, which gets it to speeds up to 20 mph. It's probably best for shorter rides, though, as the battery life is usually just worth an hour of speedy biking.
Highlights
Max speed reaches 20 mph
This 16" is designed for women
Comes with 8 speed settings
Attractive design
4. Trek Powerfly 4 E-Bike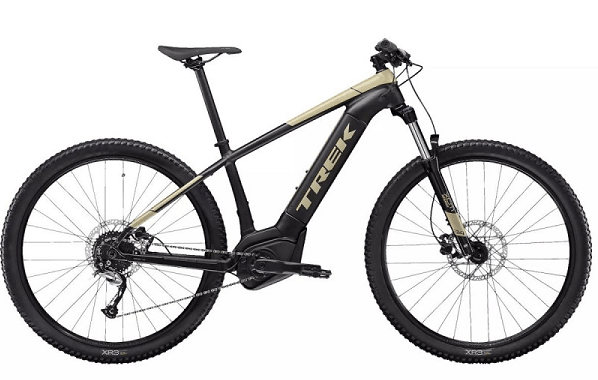 Max Speed: 20 mph (32 kph) | Tyres: 29"
Price: NZ$3,975
This is electric mountain biking at its best. Trek Powerfly 4 has all the stuff you would expect from one of the best electric bikes in New Zealand.
With its detachable battery, topnotch components, finesse, and durable frame, it's hard to argue against it. It provides a great way to ride faster and safer in various terrains.
Its frame is made out of aluminium for lightness and durability. This particular model is painted attractively too, in classy black and gold that you'll never tire of.
The Bosch 500W mid-drive motor gets you cruising at a max speed of 20mph. eMTB mode determines just the exact amount of torque needed to extend the battery life.
Indeed, its XR3 tyres run with lower friction over the ground and ride stably on slippery trails. Finally, you have responsive hydraulic brakes to decrease your speed and stick to the ground. 
Highlights
Fantastic e-mountain bike
Fitted with Bosch 500W motor
Portable removable battery
XR3 tyres for stability and speed
5. Electra Townie Go 8D Men's E-Bike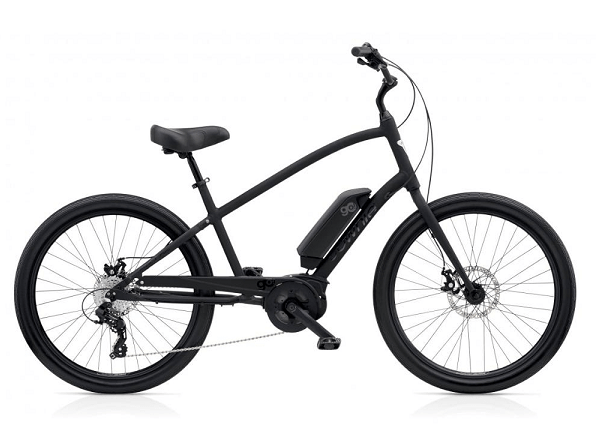 Max Speed: 20 mph (32 kph) | Max Range: 20-100 mi | Tyres: 26"
 Price: NZ$1,999
Though it uses a mechanical disc brake, the Electra Townie Go e-bike lets you ride easily with its 3 pedal assist feature. It is perfect for commutes to work or for hanging out with your cycling friends.
Shimano Tourney 8 gear settings let you climb steep hills or glide across winding roads smoothly. The 250W motor enables you to ride up to speeds of 20mph.
Meanwhile, the Bosch battery keeps you going for a lot of miles. If that happens, just dock it in and it only takes 6.5 hours to hit full charge again.
What's more, you can track your speed, battery, and distance with the Bosch Purion display.  Plus, the aluminium frame gives it a trim and lightweight design along with the 26" x 2.35" tyres.
Highlights
Up to 20mph speed assist
Can shift to 8 gear settings
Distance runner bike 
6. Giant Explore E+4 GTS E-bike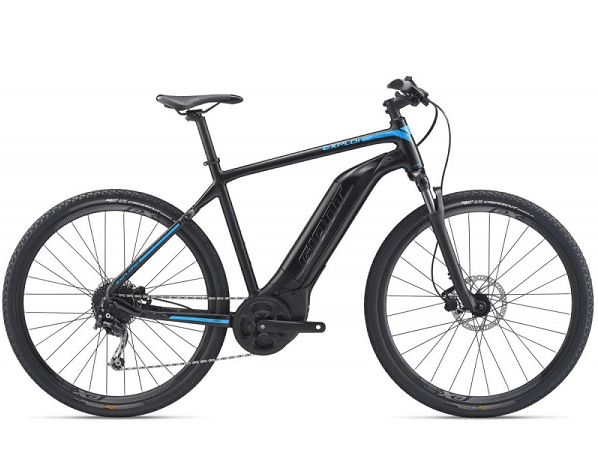 Max Speed: 20 mph (32 kph) | Tyres: 28"
Price: NZ$3144.15
This Giant Explore E+4 GTS lives in off-road paths with lots of turns and uneven ground. It's also a great cargo bike if you add pannier mounts and water bottle holders.
Powered by the Smart EnergyPak 400, it can hit a top speed of 20mph. With a lot of bumps, drops, and air twists, you'll be helped by a Shimano Altus groupset offering 9 shifting speeds.
It also boasts abrasion-resistant 28" tyres. As a result, it's easy to ride even through mud, gravel, hills — across any type of ground!
The frame is an ALUXX aluminium frame that gives it a streamlined shape and light to steer and cycle on. The saddle is a little higher than others, specifically designed to mount over it when its cargo rack is full.
If you like an electric bike that is versatile and can pedal on the trail, road, or help you with errands or cargo, we recommend the Giant Explore E+4!
Highlights
Versatile e-biking
Has Smart EnergyPak battery
9 gear options to choose from
Top speed of 20 mph
7. Boost E 10D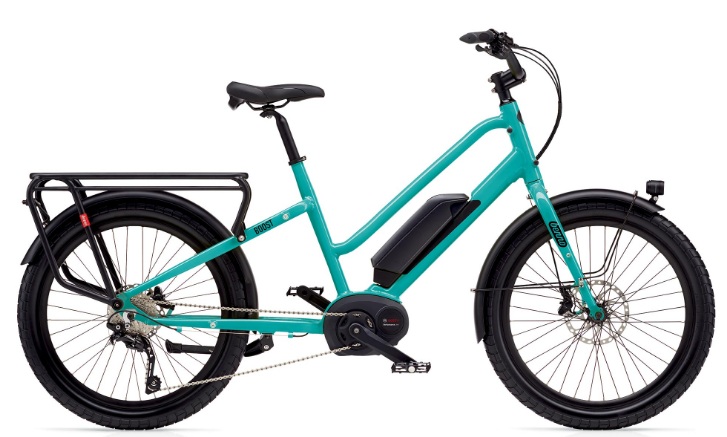 Max Speed: 20/28mph | Max Range: 25-80mi (40-130km) | Tyres: Custom Benno Dual Sport 24″ x 2.6″
Price: $3,999
No distance is farther and no load is heavier when you ride Boost E 10D. This e-bike is compact and extremely sturdy, built with strong yet lightweight frames. 
With its Custom Benno Dual Sport 24″ x 2.6″ tires and Bosch Performance Line Gen 2 motor system, you'd definitely enjoy taking long and uphill rides. Running an errand will also be seamless as ever as its system includes interchangeable racks designed to carry multi-size loads.
Meanwhile, it is also equipped with a minimalist on-board display system which allows you to choose and view riding modes, charging status, speed display, total distance, etc.
Take your ride to the next level with Boost E 10D.
Highlights
Bosch PowerPack 400 watt hour battery
Utility Front Tray can carry up to 25kg/55lbs
Maximum assist speed of 20mph
8. Cube Town Sport Hybrid One 400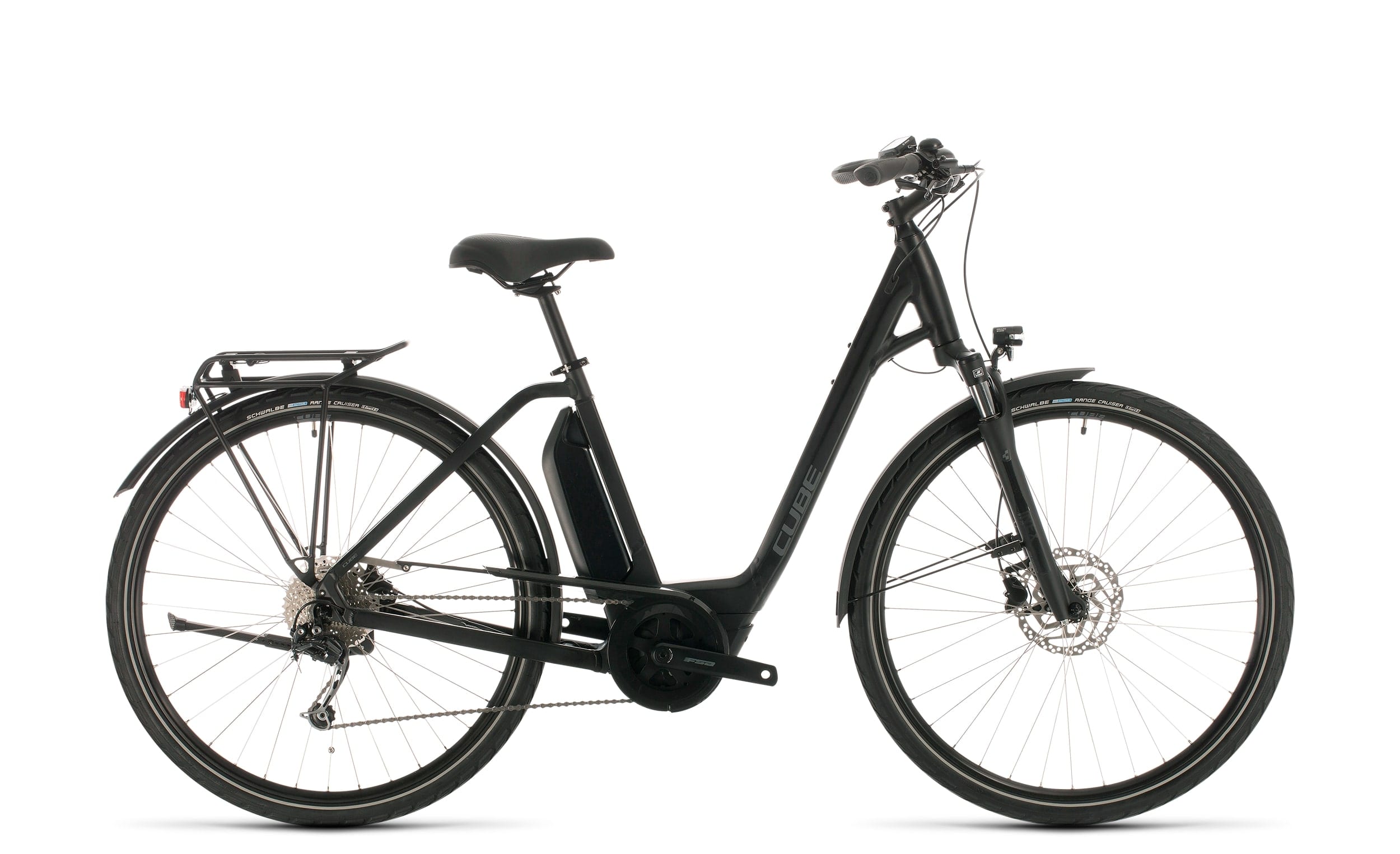 Max Speed: 32 kmph | Max Range: 100 km | Tyres: Schwalbe Range Cruiser, Active, K-Guard, 47-622
Price: $4,199
Travel anywhere you want in style and comfort, with the Cube Town Sport Hybrid One. It is complete with all the features you may need in a bike, such as a water carrier, mudguards, a kickstand, and most importantly, a lighting system.
Its Shimano 9 speed gear set is powerful enough to handle any kind of terrain, while its hydraulic disc brakes ensure that you're always in control. With the Cube Town Sport Hybrid One, your daily commute or occasional adventures will be a breeze.
Highlights
Bosch Active Line Plus drive unit
9-speed Shimano gears
Hydraulic disc brakes
Fully-equipped (guards, carrier etc)
Front suspension
That's it for the best electric bikes in New Zealand! The products we listed here are the absolute best we can find on the island right now, whether in terms of tyres, brakes, motors, or design.
We didn't include the folding bikes or cargo bikes because those belong to a different category, by the way. That said, at least one of our picks (the Giant Explore E+4) is designed so that you can set up a pannier rack for it.
If you have any questions, criticisms, or suggestions, please let us know. We'll be happy to learn and, of course, happy to help you!
If you enjoyed this article, you might like to know about the best hoverboards in New Zealand too, by the way. They're safe, fun, and a great gift for your kiddos this holiday season!