The 5 Best Electric Blankets in New Zealand
The winter season can make your bed awfully cold at night. However, you can counteract that with the best electric blankets in New Zealand!
Electric blankets warm up to keep you snug and dry as you recharge your energy for the next day. Wrapping yourself under an extra layer of blanket or wearing layers of clothing won't be necessary either when you're using them.
You can find a ton of electric blankets on the market today. But because they differ in prices and features, how do you know which is the best one for you?
To help you with this, we'll have a short discussion on how to pick an electric blanket. Knowing these things can help you effortlessly pick from our list later on.
What to Look for in an Electric Blanket
As is true when shopping for many other things, the trick to buying an electric blanket is to identify what you need and want from one. That way, you have an idea of which blankets suit your situation.
To help you out, we'll give you a list of the features you can find when buying an electric blanket. Our advice is to make a checklist of all the features that are important to you here and sort them in terms of priority.
You can then refer to that checklist when browsing our list of the best electric blankets in New Zealand.
1) Digital Timer
Digital timers allow you to feel snug in your sleep for a set number of hours at a time. Settings differ among electric blankets, with some being adjustable for only 2 settings like 1 or 9 hours only, whereas some can be set from 1 to 12 hours.
In conjunction with this, there are blankets that self-adjust to keep you comfortable throughout the night.
2) Overheat Protection
This is an important feature that's totally a plus to have. Overheat protection simply means that your electric blankets will automatically shut off as they detect too much heat.
3) Removable Controls
Having removable controls allows you to basically wash or dry out your blankets. That means a super-fresh and clean blanket to use whenever there's chilly weather.
4) Fitted Blanket
This is a useful feature as it spares you the trouble of worrying about the blanket falling off the bed at night.
Anyway, this also means a blanket can be either a fully-fitted skirt or tie-down. Fitted ones require you to cover the mattress with them, which is easier to set up than having to tie cords at different points around the bed.
This mainly depends on your preference, as overall performance is much the same between the two types of fitted blankets.
5) Lightweight
Wool electric blankets are obviously heavier than polyester or cotton ones. Being lightweight means it's a no-brainer to set up or arrange on your bed.
6) Easy to Use
This refers to the ergonomics of the electric blanket. It can cover many factors, such as the controls being simple and stress-free to use.
Another is that some blankets feature double controllers: one at each side to let you change settings regardless of which side of the bed you're on.
7) Cosy Feet Heating
If you feel uncomfortably cold around your feet, there's a solution for that. Some electric blankets have cosy feet heating that focuses on that part of your body in particular, so you may want to look for them.
The Best Electric Blankets in New Zealand
Now that you have an idea of which features you may want in your electric blanket, it's time to go shopping! We now present to you the best electric blankets in New Zealand!
1) Goldair Fleecy Topper Fitted Electric Blanket (King Single)
Best Blanket for Cosy Sleep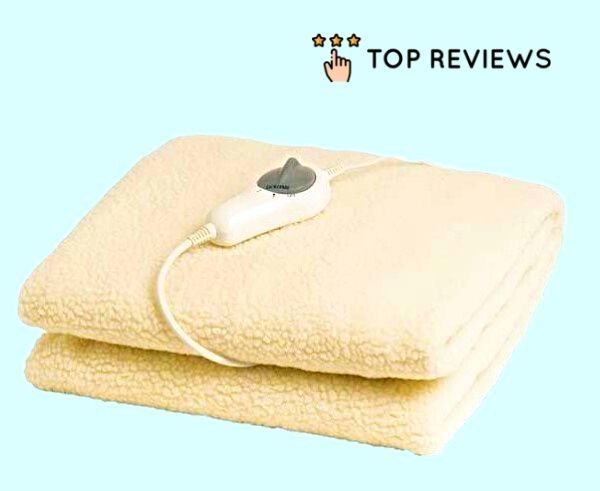 Price: $79
Warm up this winter season as you sleep every night on Goldair's Fleecy Topper Electric Blanket. This is particularly for King Single beds, although there are also sizes for King and Queen beds.
With a fitted skirt style and fleece fabric, the blanket is easily set into place and feels extra cosy. You can also select from 3 heat settings to find the one that's comfortable for you.
The 2 heat switches can be detached to give you safe and tranquil sleep. This also lets you air out or wash your blanket for your next use.
So, whenever you need some extra heat and comfort in your sleep, this fleece topper is one of the best electric blankets in New Zealand for you. We're sure it will make a fantastic addition to your room.
Pros
Comfortable and enveloping warmth
Neat, fitted fleece blanket
3 heat settings
Machine washable
Affordable
Cons
Can look a bit old and dirty
Heavier than other fabrics
2) Sheffield Electric Blanket (Queen)
Best Electric Blanket for User-Friendliness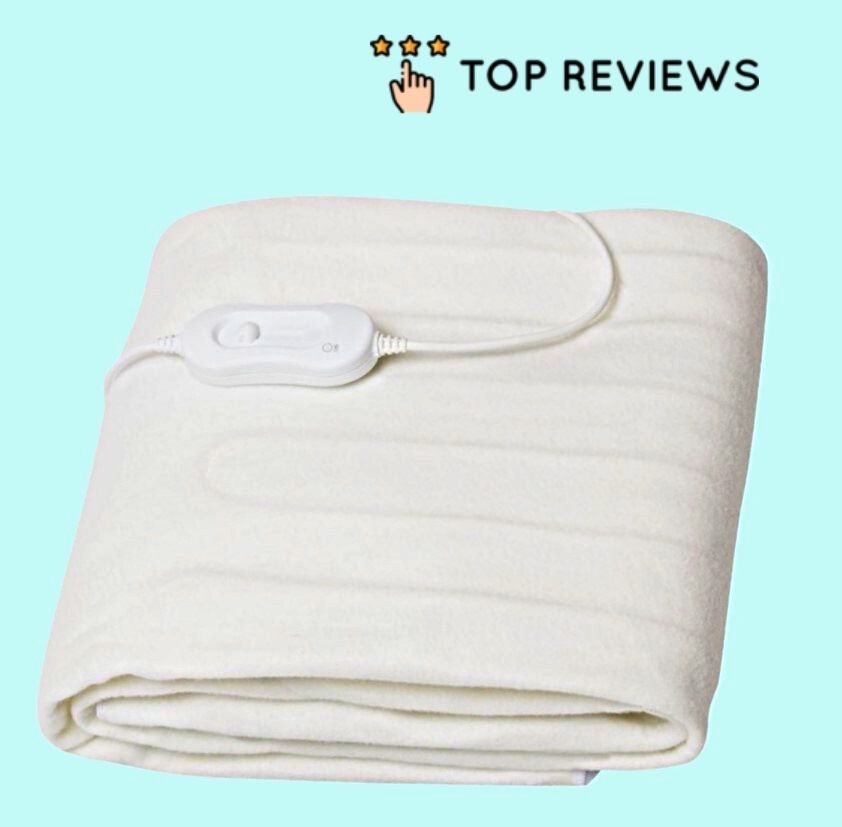 Price: $59.99
If fleece blankets are not your thing, try out something different. Perhaps you would like the Sheffield Electric Blanket (Queen) composed of a 100% soft, polyester fabric.
Because of this, you've just found the perfect blanket to make you warmer in cooler seasons. It features 2 easy-to-use temperature controllers with 3 heat settings.
You have total control and personalisation with this blanket as a result. In addition, this lets you have overheat protection for truly sound and relaxing sleep.
You can also set the Sheffield electric blanket into place by tying it securely to your bed, as it's a fitted blanket.
In sum, this is a blanket coming from a trusted Kiwi appliance and household brand, so you can be fairly certain of its quality. That's why this electric blanket is surely one of the best electric blankets in New Zealand.
Pros
Lightweight polyester fabric
Neat and spotless look
Features overheat protection
Easy-to-use electric blanket
Tie tabs to fit to your bed conveniently
Cons
Less warm compared to other fabrics
3) Living & Co Electric Blanket Tie Down (Single)
Safest Electric Blanket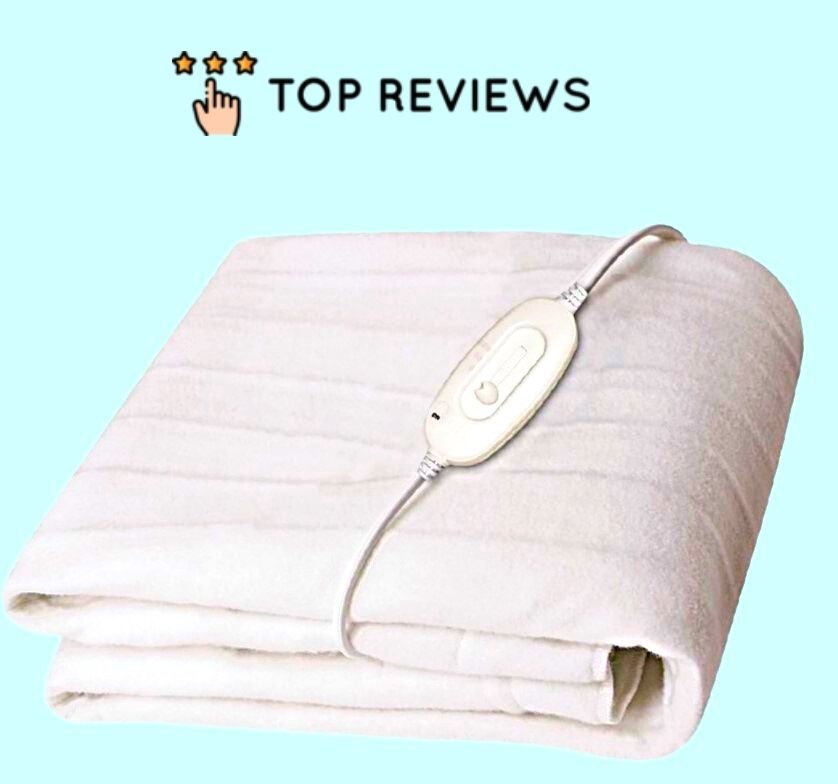 Price: $22
For a warm and toasty single bed, look no further than the exclusive electric blanket from Living & Co. It sports a tie-down design that's easy to secure onto your bed.
Meeting Australian and New Zealand safety standards, this brings not only comfort and warmth, but unmatched safety not present with other electric blankets.
For more safety tips, you should always follow the manufacturer's instructions and make sure to turn the controller off when not in use.
It also features a removable controller making the blanket safe to wash by hand or the washer. The 3 heat options let you pick your preferred heat setting with ease too.
Finally, you also get a one-year doubt-breaking warranty!
Pros
Excellent toasty warmth
Meets AS and NZ standards
Tie-down design to secure onto your bed
Detachable controller
1-year warranty
Cons
Customer Reviews
Living & Co's Tie Down Electric Blanket has been well-received on The Warehouse's online store, except for the fact that the blanket is tiny for bed sizes larger than single.
Here's a short comment by one customer, Ashley C, "I am enjoying using the electric blanket for a sofa bed. It is nice and comfortable."
4) Sunbeam Sleep Perfect Fitted Quilted Electric Blanket (King)
Best Overall Electric Blanket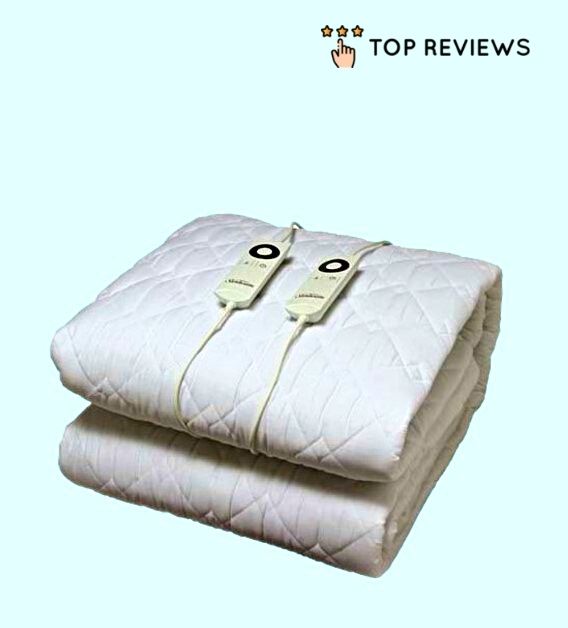 Price: $359
Introducing Sunbeam's SleepPerfect Quilted Electric Blanket! All your warming needs have a solution that can be found right within its design and features.
The fabric is a blend of polyester and cotton topped by a quilt layer for ultimate comfort. It has a fast heat buildup of 5 minutes when set at setting 6.
By then, you're ready for a cosy and reinvigorating sleep. Don't worry, it has a digital timer for 1 or 9 hours and automatically adjusts and settles at the right temperature for you.
Apart from that, it provides cosy foot heating to comfortably warm your feet. Winter can't get to you once you have this in your bed!
And again, the controls are detachable for convenience so you can wash or tumble dry it without any fuss.
Pros
Quilt top layer provides extreme comfort and warmth
Fast heat buildup
Automatically adjusts to the right temperature while you sleep
Cosy feet heating
Features a digital timer for 1 or 9 hours
Removable controls
Waterproof element for safety in washing
3-year replacement warranty
Cons
Short power cord
Expensive price
Customer Reviews
Note that this Sunbeam SleepPerfect Electric Blanket is for King-sized beds, but smaller queen sizes are also available. One customer describes that it feels 'amazingly warm and soft'.
JoyL, another customer, expresses her pleasure with the blanket on productreview.com.au:
"While this electric blanket can feel cumbersome to use at first due to the double controls for temperature and time, it is just perfect once you find the settings that you like. I love the quick heat function that will heat the bed in the time in takes to brush your teeth!
The subtle blue light that glows to the floor when the power button is on is helpful for that bit of light should you wish to adjust the settings.
An all round winner from my point of view."
5) Goldair Micro Fleece Throw
Best for Living or Guest Rooms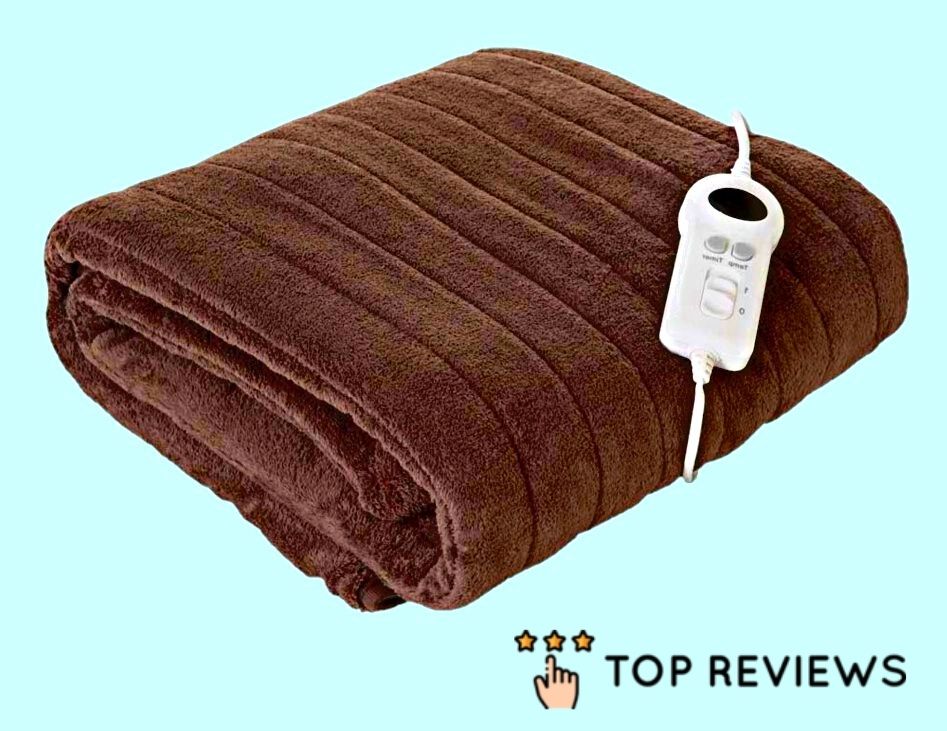 Price: $89
Feeling the winter cold while seated in your lounge suite? The Goldair Micro Fleece Throw is what you need — even perfect to pair with your warm cup of aromatic macchiato in the night.
Veer away from the plain white electric blankets by replacing them with a classy chocolate brown one. It is woven in polar fleece fabric to wrap around your body with a super-soft and cosy feeling.
With a handy digital display, you can easily adjust or see the setting you're on between 1 and 9, while you can warm your blanket in advance with its timer feature.
Moreover, if the blanket needs to be cleaned or washed, simply detach the controller from it. This way, you'll be able to wash it safely, whether by hand or in the washer.
Its approximate size is 120 x 160 cm, making it perfect for lounging or power napping. Overall, it's a great pick for any home!
Pros
Cosy and classy electric blanket
Ideal for living and guest rooms
9 heat settings to pick from
Machine washable
Lightweight and large
Reliable digital timer
Cons
Customer Reviews
Customers are raving about this product on Noel Leeming. They describe it as being larger than expected and easy to use, and said that it provided them warmth where it's needed.
Also, Kirstin D left a review:
"Amazing all round product that keeps you nice and snug while you watch tv. I bought one for me and went back and bought another one for my mother in law for Christmas. I can recommend more highly."
And there you have it — the best electric blankets in New Zealand! These are excellent choices for electric blankets that suit your particular needs and budget.
Are there any questions you'd like to ask us about this topic? If you have one, feel free to drop us a line, and we'll get back to you shortly.
Besides a cup of hot tea and warm bath before you snuggle into your bed, you can also use a portable heater for a toastier room. In line with this, you can read about the best heaters to use in New Zealand.