The 7 Best Electricians in Dunedin
At some point in your life you're going to need the services of an electrician, whether it's for your home or your business. If that point has come to you today, you're on the right page – we've made this list just for you.
Choosing the right electrician can be difficult, so we've narrowed down our list based on the array of services they offer and feedback they received from clients. These two criteria are essential in determining the quality of their work.
Now, before we take a look at our list of the best electricians in Dunedin, let's find out how much this will cost first.
How much do electricians cost in Dunedin?
Electricians are skilled tradesmen and they don't come cheap. Most electricians in Dunedin will charge on average around $45 to $90 per hour for their labor.
However, electricians will also charge for the cost of materials and their call-out fees on top of the labor charge. If they need an extra set of hands for a job, you'll have to pay more for that as well.
In New Zealand, hiring a Master Electrician is more expensive and can cost around $120 to $140 per hour for labor. This increase in price also comes with a proportionate increase in quality, along with a guarantee of higher quality workmanship.
To give you a better grasp of how much a licensed electrician in Dunedin will cost, we summarized the average estimated prices of the most common electrical services in the table below.
| SERVICE | AVERAGE COST |
| --- | --- |
| Electrical inspections | $250 to $400 |
| Power socket installation or replacement | $150 to $250 |
| Power point installation for washing machine or heater | $150 to $250 |
| Hot water cylinder repair | $200+ |
| Heat pump or air conditioning installation | $400+ |
| Heat pump or air conditioning repairs | $150 to $300+ |
Wiring is not included in the table because the final price will depend on the size of your home and the difficulty of the project. For example, though, a basic 100-square-meter 3-bedroom home can range from around $8,500 to $10,000.
The Best Electrician in Dunedin
Now that you know the average costs of hiring an electrician, let's take a look at our picks for the top electricians in Dunedin.
1. Aotea Electrical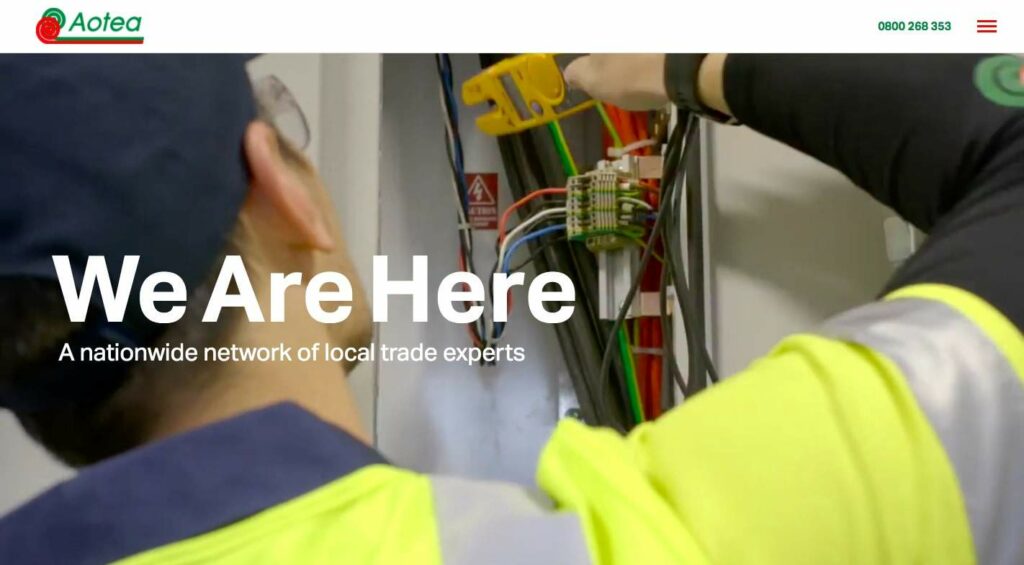 Test
Info
SERVICES
Commercial Electrical, Servicing Electrical, Industrial Electrical, Structured Cabling, Audio Visual, MATV, Security, Fire Alarms, Commercial Kitchen Equipment, IQP, Thermal Imaging, Workshop Repairs, Inspections, 24/7 Callout
WEBSITE
https://aoteagroup.nz/
ADDRESS
Aotea Electrical Southern (Head Office)

23 Macandrew Road, South Dunedin, Dunedin 9012

CONTACT DETAILS
General Inquiries:

Toll-Free: 0800 268 353

Email: [email protected]




Aotea Electric Southern:

Phone: (03) 455-1039; (03) 455-1036

Email: [email protected]

OPERATING HOURS
Open 24 Hours
The Aoetea Group has been around for over five decades, with their head office located in Dunedin. They originally began in the 1970s with a small team and now have over 100 employees in their Southern location today.
The Aotea Group is composed of 25 individual businesses with 28 locations scattered across New Zealand. With over 1000 employees sharing collective resources in a collaborative network, hiring an "Aotean" essentially means you'll have a thousand minds at your disposal.
Aotea specializes in several categories of skilled work, namely electrical, security, communications, fire alarms, and heating & cooling. Each one of their various locations has vetted, licensed, and experienced electricians to handle any job, big or small.
However, Aotea is best known in the construction industry for providing innovative electrical solutions to each building project. They also provide thermal imaging services and certified electrical inspections of any site.
Aotea Southern also has a special internal department that focuses solely on fire alarms, IQP, communications, network cabling, fiber, MATV, audiovisual, and automation.
Despite their ability to take on complicated large-scale projects though, they still take on smaller jobs for both domestic and commercial sites.
All work completed is covered by a Master Electrician Workmanship Guarantee at Aotea. As members of ECANZ, they must adhere to strict codes and service standards.
Aotea offers 24-hour emergency services to customers, but this isn't available in all locations. Luckily, their Dunedin branch offers emergency call-outs no matter the time of day, any day of the week.
If you're looking for a Master Electrician, Aotea is an option worth considering. They have a large network across New Zealand and provide a Master Electrician guarantee, making them one of our top picks in the country.
Two locations in Dunedin
24-hour emergency services
Master Electrician Workmanship Guarantee
Most staffed branch 
Customer service can be improved
Customer Reviews
Highly recommend
"We contracted Aotea Electric Southern to perform a thorough "Test & Tag" in our business. Without a doubt they were fantastic to work with, fitting into our schedule, efficient and a fair price. Highly recommend." – Rebecca Twemlow
Fixed brilliantly fast
"Thanks for amazing service! My ev charger was fixed brilliantly fast and with a great explanation of what went wrong with it to start with!" – Sophie Barker
2. Laser Electrical Dunedin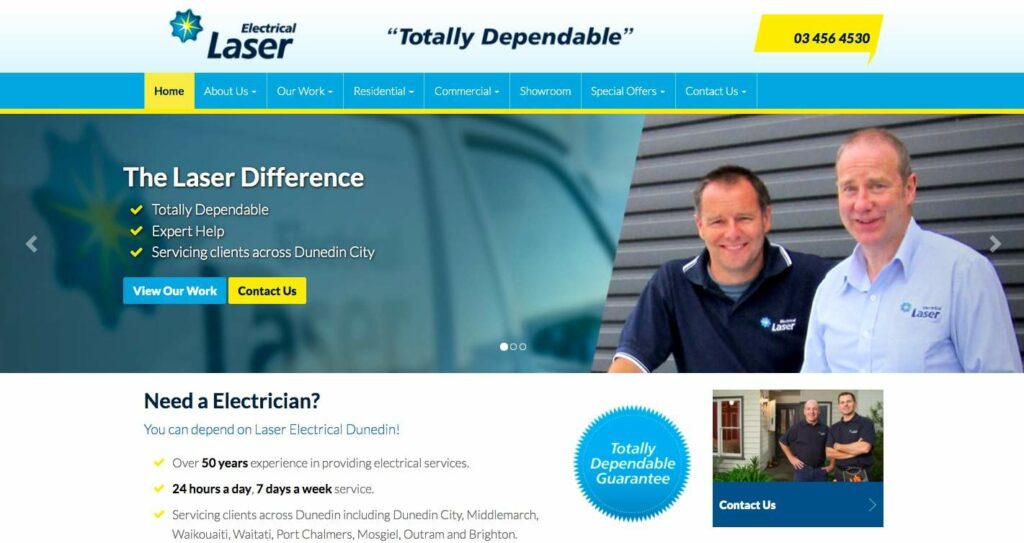 Test
Info
SERVICES
New Homes & Alterations, Residential Renovations, Maintenance & Servicing, Home Theatre Systems, Phone, Data & TV Wiring, Heat Pumps, Ventilation & Heat Transfer Systems, Electrical Assessment Reports, Under Tile Heating, Security & Fire Protection, Lighting Design, Commercial Contracting & Maintenance, Commercial Lighting Design, Data & Communications, Sound Systems, Appliance Testing & Tagging
WEBSITE
https://dunedin.laserelectrical.co.nz/
ADDRESS
257 Hillside Road, South Dunedin 9012
CONTACT DETAILS
Phone: (03) 456-4530

Fax: (03) 456-4531

Email: [email protected]

OPERATING HOURS

24 Hours a Day, 7 Days a Week


Showroom:

Monday to Friday: 8:00am - 5:00pm
Laser Electrical Dunedin was founded in 2001, although it's a combination of two previous businesses that have already amassed 50 years of experience. The owners transitioned to working under the Laser Group to reap the benefits of greater resources, even though they remain a locally owned and operated business.
They are a member of the ​​Electrical Contractors Association of New Zealand (ECANZ) and Master Electricians, which provides a strong guarantee of quality workmanship for first-time clients. Moreover, they are SafePower Assured with a clean health and safety record.
They offer a wide service radius as well, providing their services to clients throughout Dunedin. This includes Dunedin City, Middlemarch, Waikouaiti, Waitati, Port Chalmers, Mosgiel, Outram, and Brighton.
So whether you're a residential builder, commercial or industrial client, Laser Electrical Dunedin has you covered. They are already experienced in working with local organizations and businesses.
One of their specialties is lighting and they can go beyond installing it in the most technically feasible way. Laser Electrical Dunedin can also provide suggestions on positioning your lights to highlight the function of your space and give it aesthetic value as well.
Another reason to choose Laser Electrical Dunedin for your building needs is because of their showroom where you'll find some of the most current electrical products and LED lighting effects on display. Although the showroom operates only during working hours, the rest of Laser Electrical Dunedin's operations are 24/7.
If you have a large project and want to stagger the payments into more affordable increments, Laser Electrical Dunedin has you covered. They offer finance options via Gilrose Finance that can help you acquire their services today and pay later on.
24/7 services
Member of ECANZ
Has a showroom 
Offers financing options
Customer Reviews
Happy with the result
"Really happy with the service so far. Made the appointment for a heat pump installation consultation. The guy arrived right on time, listened to what we wanted and gave great advice. Will follow up after the installation. Now have the heat pump. No problems with the install. All done. Happy with the result" – Paul Admiral
I would highly recommend
"I found Laser Electrical to be fantastic. The service was fast and efficient with staff being friendly, polite and professional. I would highly recommend this company." – Chris Penty
3. Serviceman Electrical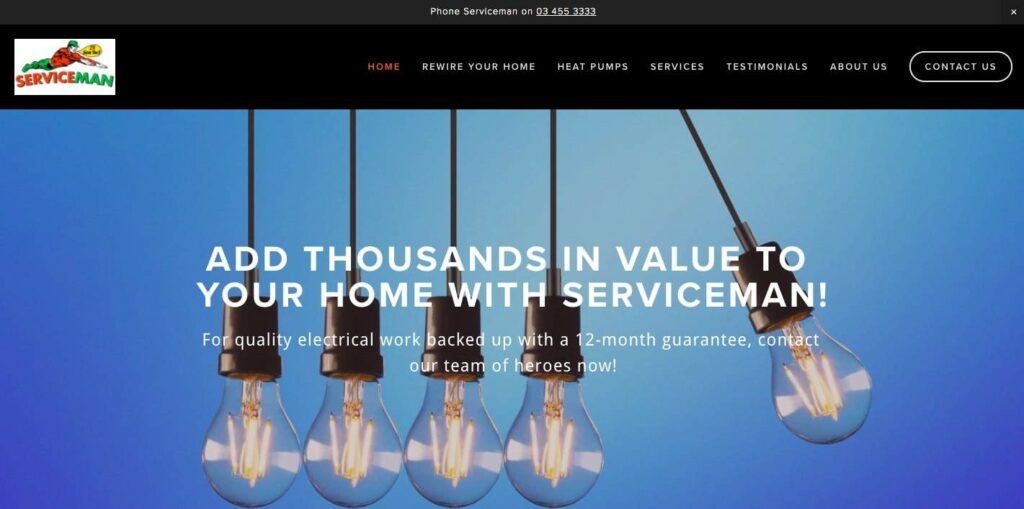 Test
Info
SERVICES
Electrical Inspections, Domestic Electrical, Commercial Electrical
WEBSITE
https://www.serviceman.co.nz/
ADDRESS
40 Prince Albert Road St Kilda, Dunedin 9012
CONTACT DETAILS
Phone: (03) 455-3333

Email: [email protected]

OPERATING HOURS
Monday to Friday: 8:00am - 4:30pm
Serviceman Electrical was founded in Dunedin in 1994 with humble beginnings as a workshop and retail store. Starting with a small team of just two people, they successfully grew the business to a team of 16 qualified electricians.
They also have certified electrical inspectors on their team to conduct safety examinations of any property to ensure it's up to code. Serviceman Electrical is specifically experienced in inspecting older homes that other electricians would generally shy away from.
Serviceman Electrical has the most experience in pre-1970s homes – particularly those that have rubber insulated cables that can degrade and expose the wires. These types of issues can be difficult to detect because the electrical system can operate normally despite posing a significant fire hazard.
So if you need electrical safety assessments, inspections, or rewiring done, Serviceman Electrical is an option worth considering. As a registered member of Master Electrician, they offer a 12-month and $20,000 guarantee for the work that they perform.
This electrical company is also the only Dunedin member of the New Zealand Trade Group. This association grants them access to "industry-preferred" supplies at discounted prices, which means they can offer more competitive prices to customers.
We also like that Serviceman has a unique partnership with The Heating Company that offers a free heating plan designed just for your home. They can also assist you in choosing your preferred heat pump among their carried brands which include Mitsubishi, Panasonic, Fujitsu, Toshiba, and Gree.
So if you have an older home that needs rewiring or you're installing a new heating system, Serviceman Electrical is worth looking into. They specialize in inspections and safety systems, making them one of our top picks of the best electricians in New Zealand.
Specializes in rewiring pre 1970s homes
Has certified electrical inspectors
Master Electrician guarantee
Offers free heating plan and blueprint
No finance options avialble
Expensive rates
No emergency services
Customer Reviews
Highly recommended
"Judith Karen and their team go out of their way to be helpful. They genuinely care about their clients and go out of their way to provide a good service. Highly recommended." – Chris den Dulk
I will definitely use again
"My heat pump was 10 years old and needed to be on 24 degrees to get about 18 degrees in the room, so I had John from Serviceman come around to look at some options…the guys came around and did a great job with the installation, and my house is now a lot warmer…They also fixed up a couple of power outlets while they were there too. I will definitely use again and would recommend anyone else to give them a call." – Richard Bevin
4. Whitburn Electrical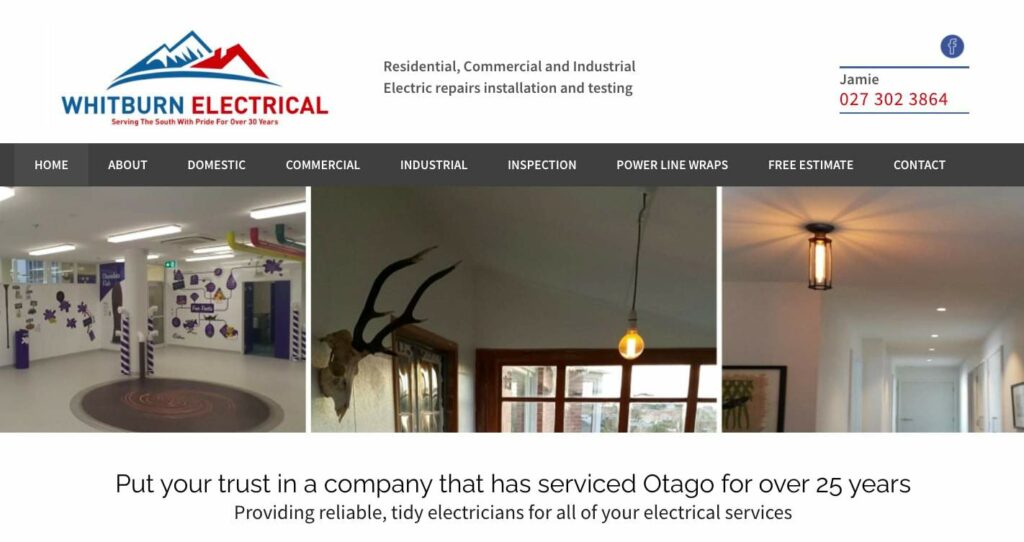 Test
Info
SERVICES
Domestic, Commercial, Industrial, Inspection, Power Line Wraps
WEBSITE
https://www.whitburnelectrical.co.nz/
ADDRESS
69 Jeffery Street, Andersons Bay, Dunedin 9013
CONTACT DETAILS
Phone: (027) 302-3864
OPERATING HOURS
Monday to Sunday: 7:30am - 11:00pm

Call-outs by arrangement
Whitburn Electrical is a family-owned and operated business first established in 1986 by Ross Whitburn. Today, his son Jamie, a fully licensed electrician, has taken the reins to share his years of experience.
The company is also certified for heights, confined places, and even underground mining! These certifications allow Whitburn Electrics to handle a diverse range of jobs, whether big or small.
So if you need an electrician's services for residential or heavy industrial work, you'll need a company that has the appropriate safety training and measures in place at the core of their business model.
Their most popular services (and one they've specialized in) are electrical inspections and rewiring. Whitburn Electrical has the tools to conduct infrared inspections to identify "hot spots" in your home or building's wiring.
If you've spotted the problem too late or neglect to have it fixed sooner, Whitburn Electrical provides emergency services for any urgent needs.
Whitburn Electrical can likewise provide electrical inspections for real estate agents or property managers who need to ensure a home's safety. These safety checks are essential so that you won't need to call them for an emergency later down the road.
The team at Whitburn Electrical is also equipped to install insulation wraps that offer protection against power lines that are too close to your property. These wraps allow workers and tradesmen to do their jobs safely and properly without worrying about any unnecessary accidents.
Moreover, at the onset of each project, Whitburn Electrical always conducts a job safety inspection and analysis to ensure that the team is all aware of their responsibilities and the safety precautions. All of their insulated wraps are installed to the standards set by Worksafe Health and Safety guidelines.
24-hour call out emergency services
Certified for underground mining
Can install safety insulation wraps around power lines
Best suited for commercial customers
Doesn't offer solar power installs
Customer Reviews
Cost effective and reliable
"Very happy with the work Ross Whitburn Electrical did for us. Jamie was able to quickly identify the issue, order the necessary part and get things up and running again promptly. Cost effective and reliable, I would recommend to anyone needing an electrician!" – Mike Milne
Highly recommend
"Prompt and reliable. Turned up when they said that they would, were respectful to the tenants and sorted electrical problem quickly. Highly recommend Jamie and Ross as your preferred electricians in Dunedin." – Ashley Stevenson
5. McArthur & Symons Electrical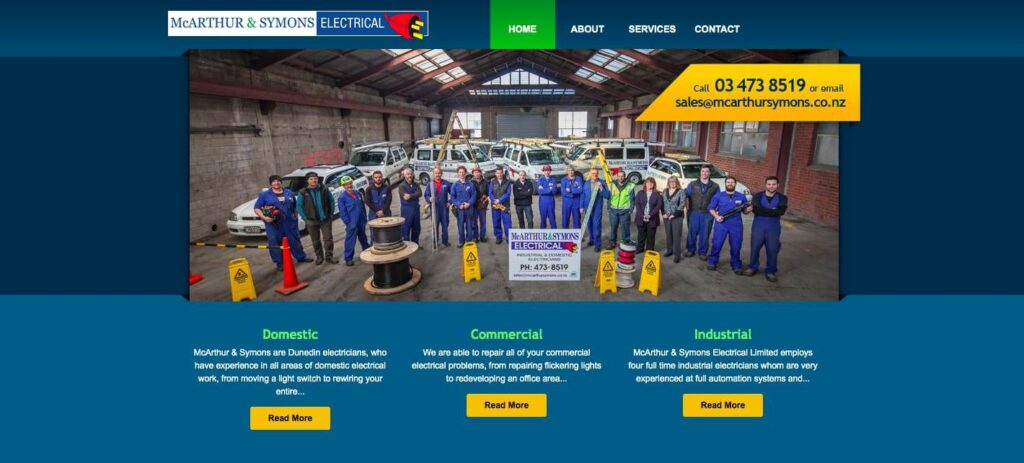 Test
Info
SERVICES
Domestic, Commercial, Industrial
WEBSITE
https://mcarthursymons.co.nz/
ADDRESS
39 North Road, North East Valley, Dunedin 9010
CONTACT DETAILS
Phone: (03) 473-8519

Emergency: (03) 473-8519

Email: [email protected]

OPERATING HOURS
Monday to Friday: 8:00am - 5:00pm
McArthur & Symons Electrical has been serving residents and businesses in the Dunedin area for over 40 years. The company changed ownership in 2009 to Evan and Anne Rees after it was purchased, and they continue to manage and operate it today.
What began as a humble team of two now has over 20 qualified and experienced electricians. Based in Northeast Valley, McArthur & Symons Electrical can accommodate the whole greater urban area from Waikouaiti to Balclutha.
This company is also the official contractor for the Dunedin City Council and the University of Otago, which means they're used to fulfilling large contracts. They are also members of Master Trade and the Electrical Contractors Association of New Zealand (ECANZ) group, able to provide a guarantee of $20,000 for their workmanship.
So, whether you need your entire house rewired or require an electrical inspection for insurance, McArthur & Symons will assist with any domestic or residential electrical project.
They also provide emergency call-out services 24 hours a day, 365 days a year, which is particularly useful for the various businesses they serve. However, McArthur & Symons can also assist you with preventative maintenance so that you can avoid placing an emergency call to them in the future.
Even though McArthur & Symons provides a wide range of large scale services, they can also do simpler projects. This company is not one to shy away from small domestic jobs or full house rewiring – they repair appliances, cut keys, install CCTV systems, and provide heat pump installations as well.
Member of ECANZ
Provides Master Electrician guarantee
24-hour emergency call out services
No particular specialty
Can be difficult to set appointment
Customer Reviews
They approach their work with care
"Evan and the team at McArthur & Symons are wonderful to deal with. They approach their work with care and always have a smile on their dials! I would recommend their electrical services anytime." – Angela McAuliffe
Invaluable with our business
"If you want the job done right and not have to worry about it in the future, then get Evan and his team into it. Evan's years of experience were invaluable with our business, and we can't thank him enough with regard to the help and advice he gave us." – Andy Montgomery
6. Honest Electrical Limited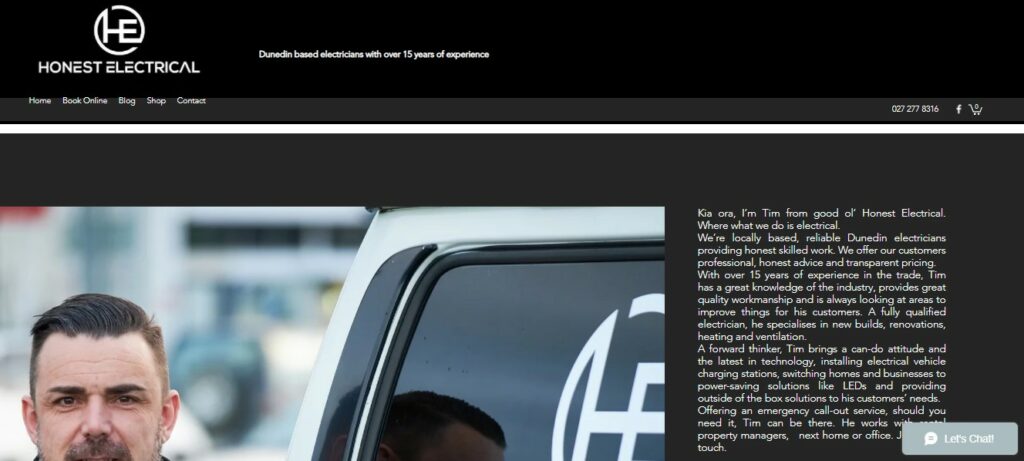 Test
Info
SERVICES
Ventilation installation, Electrical Fault Finding, Data Cabling, Light Fitting Installations, Socket Outlet installations, Oven Repair, Electrical Old House Wiring Re-Wire, Electrical Safety Inspections, Heating, Switchboard Upgrades, TV Wall Hanging, and Electric Vehicle Charging
WEBSITE
https://www.honestelectrical.co.nz/
ADDRESS
Dunedin
CONTACT DETAILS

[email protected]

| 027 277 8316
OPERATING HOURS
Contact for more details
From their name itself, Honest Electrical Limited has the most honest electrical services in the area. Unlike other companies, if they see additional issues in your home, they will make sure to discuss these with you and wait for your decision if you will continue with the appropriate services.
If you want electrical services to be tailored, you are now reading the company that is an expert in this field. Whether you have a renovation, a new home, or even a business, they will work with you and get things done as soon as possible.
Aside from these services, they also offer TV Wall Hanging. This is something that will never go out of trend since your living area will look and feel bigger than before.
Now if you have an old house, you may need to rewire your house wiring to make it neat. With them, your wirings will be arranged in a way that it is easy to distinguish and not that visible anymore.
And by the way, they also can also do inspections. So if you feel like something is wrong, you know who to contact.
Over 15 years of experience
Free electrical quotation appointment
Easy online booking
Operating hours are not mentioned
7. Solcel
Test
Info
SERVICES
Electrical and mechanical solutions for:

Electric Vehicles, EVSE, Elevators, Residential, Commercial, Extra-low Voltage Electrical Services

WEBSITE
http://www.solcel.co.nz/
ADDRESS
44 York Place, Dunedin Central, Dunedin, 9016, NZ
CONTACT DETAILS
Email:

[email protected]

Phone: +64 21 128 6601

OPERATING HOURS
Monday to Friday: 8 AM - 5 PM

Saturday & Sunday: CLOSED
Whenever we talk about a faulty switch or re-wiring, we always make sure that the people who will be fixing these concerns are well trained and certified.
This also goes with electric vehicles that are being popular these days. We just don't look for a mechanic or a body shop that doesn't have any specialty in fixing electric vehicles.
Modern LED lights too are being more useful now since they can save businesses a lot in running costs due to their superior efficiency and life span compared to fluorescent lights that can cause fires as the wiring deteriorates since it generates a lot of heat. This is something that we don't want to happen.
No need to worry about these issues as Solcel Electrical LTD can cater to all of these concerns mentioned above. This company may have just started 2 years ago but don't underestimate them as Gary Fuller, the CEO, has been in the industry for 10 years and counting already.
This company specializes in electrical and mechanical solutions for Electric Vehicles and EVSE, Elevators, Residential, Commercial, and extra-low voltage electrical services. They also make sure that you pay for your money's worth when it comes to providing you their highest standard service of safety and quality.
We are truly impressed that all of their electricians are EWRB (Electrical Workers Registration Board) registered. This just means you are in safe hands.
Focuses on Electric Vehicle Supply Equipment (EVSE)
All electricians are EWRB Registered
Double vaccinated Electricians with NZ tracer app QR code available
Operating hours and WhatsApp number is not seen on their website
Website needs improvement – to attract more customers
Rates are not mentioned
Customer Reviews
Professionalism, Punctuality, Quality, Responsiveness, Value
Services done: Installation, Install fan, General repairs, Install light fixtures, Replace or upgrade panel, Relocate outlets or switches, Remodeling, Repair outlets or switches
"Gary undertook quality work on time and communicated well with us. Highly recommend his services." – Mertz59
Professionalism, Punctuality, Quality, Responsiveness, Value
Services done: Install ground wire, Installation, Install fan, Install outlets or switches, Repair fan, Restore power, General repairs, Install light fixtures, Replace or upgrade panel, Relocate outlets or switches, Construction, Install outdoor lighting, Install electric car charger, Repair panel, Remodeling, Install security system, Repair light fixtures, Repair outlets or switches
"We run a business and use Solcel for all our electrical work and maintenance. We have found the service to be excellent, and the work of a very high standard, whilst being reasonably priced. Highly recommended" – Matt Williamson
Professionalism, Punctuality, Quality, Responsiveness, Value
Services done: Installation, Relocate outlets or switches
"Solcel installed new sockets and relocated existing ones in our office. I was impressed at how quickly they responded to my inquiries via email. They worked around our schedule, were competitively priced and very professional. They went above and beyond to make it easy for us with no disruption to our staff which was greatly appreciated. We will be using Solcel for all electrical work in the future!" – Michelle Wilby
FAQs about Electricians
---
That's the end of our list of the best electricians in Dunedin! Did you find the right electrician for the job?
Did we miss an electrician that you think we should add? If so, please send us a message and we'll check them out!
Now, if you're looking for electricians because you have a new build or renovation, you'll need the services of other tradesmen as well. You might want to check our list of the best plumbers in Dunedin to help you out.