The 6 Best Electricians in Masterton
Hiring a skilled tradesman isn't an easy task and this holds true for electricians as well. Fortunately for you, we're here to help with our list of the top electricians in the area.
With so many electricians out there, we had to narrow down our criteria for this list. We based our choices according to each electrician's range of services, quality of work and of course, feedback from their previous clients.
Before we begin though, let's discuss how much hiring one of the best electricians in Masterton costs first.
How much do electricians cost in Masterton?
When hiring an electrician, you need to remember that hiring one can mean the difference between danger and safety. You should always check out any of your potential hires' experience or take a look at their past work.
With that said, electricians are tradesmen and will charge their customers like other skilled workers. An electrician's fees usually include labor charge, cost of materials, and their call-out fee or transportation.
Now, if you have an electrical emergency after hours or hire one on a weekend or holiday, you can expect a higher call-out fee or hourly rate.
Most electricians in Masterton charge on average around $45 to $90 per hour. If they need to bring an apprentice with them for an extra set of hands, an additional fee of half the electrician's rate will be charged.
Hiring a Master Electrician will result in a significant increase in hourly rates, which can reach around $120 to $140 per hour. However, these skilled tradesmen provide guarantees that their work will be of higher caliber than a regular electrician.
The actual cost of electrical work will vary depending on the type and difficulty of the project.
To give you an idea of how much hiring a licensed electrician in Masterton will cost, we summarized the average estimated prices of the most common electrical services in the table below.
| SERVICE | AVERAGE COST |
| --- | --- |
| Power socket installation or replacement | $150 to $250 |
| Power point installation for washing machine or heater | $150 to $250 |
| Hot water cylinder repair | $200+ |
| Heat pump or air conditioning installation | $400+ |
| Heat pump or air conditioning repairs | $150 to $300+ |
| Wiring | Custom quote |
Wiring is considered a custom quotation because the final cost will depend on the size of your home and the complexity of doing the wiring. For example, a basic 100-square-meter 3-bedroom home can range from around $8,500 to $10,000 for a complete rewire.
Take note as well that for most jobs, the electrician should issue a Certificate of Compliance (COC) or an Electrical Safety Certificate (ESC). These are vital documents and you should keep them in a safe place to have a record of the repairs conducted.
The Best Electricians in Masterton
Now that you know what to expect financially when hiring an electrician, we can take a look at our picks for the top electricians in Masterton.
1. Laser Electrical Wairarapa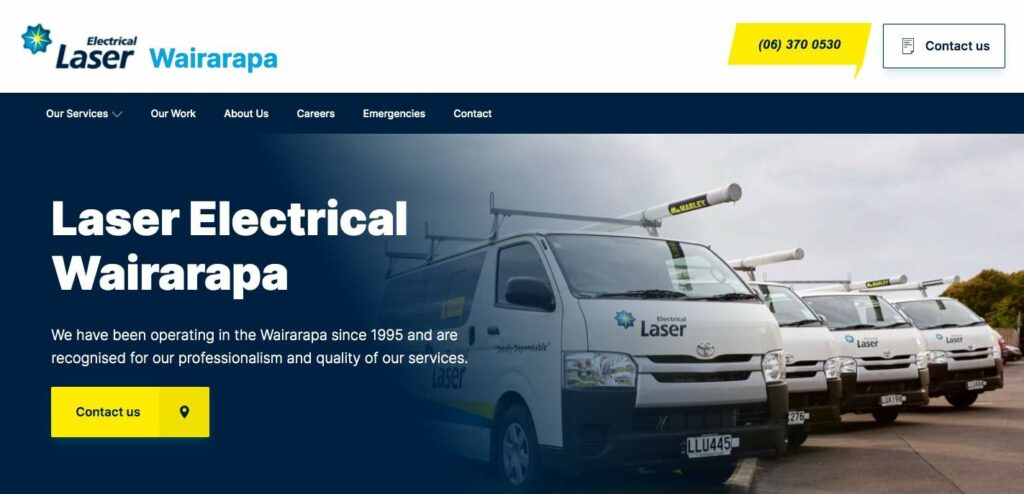 Test
Info
SERVICES
New Home Electrical Wiring and Installation, Air Conditioning & Heat Pumps, Security Systems, Renovations & Alterations, Maintenance & Servicing, Underfloor Heating, Energy Efficient LED, Lighting, Lighting Design, New Buildings, Shop Fit-outs, Maintenance & Repairs, Testing & Tagging
WEBSITE
https://www.laserelectricalwairarapa.co.nz/
ADDRESS
407 Queen Street, Masterton 5840, New Zealand
CONTACT DETAILS
Phone: (06) 370 0530

Email: [email protected]

OPERATING HOURS
Monday to Friday: 7:30am - 4:30pm
Laser Electrical Wairarapa, originally named Strobe Electrical, was founded in 1995 by Di and Steve Norman. They later joined the national Laser Group in 2003, currently focusing on new builds, renovations, and commercial jobs.
Some of their notable commercial projects include providing electrical services to Arvide (formerly Lansdowne Park Lifestyle Village) and Mitre 10 Mega among others. Other clients they accept are real estate and property managers who need to spruce up their properties for potential sales.
Laser Electrical Wairarapa has a team consisting of three tradesmen and three apprentices to provide for the electrical needs of domestic and commercial clients. Their on-call electricians can also respond during emergencies 24 hours a day and 7 days a week.
Their team also has specialized consultants who can oversee the installation of heat pumps, whether for a new build or a renovation.
By the way, Laser Electrical Wairarapa is an accredited installer of Fujitsu and Panasonic products, although they can work with other brands as well.
Another of their specialty services is installing environmentally friendly underfloor heating for your home or business. Their products are compatible with an array of flooring types, including tiles, marble, ceramic, and carpet.
They can assist you with finding heating solutions for your space and can even help with crafting and designing a maintenance plan. So, whether you need a heatpump or want underfloor heating, they have it covered.
Laser Electrical Wairarapa has also won multiple awards, although these were awarded by the Laser Group themselves. This branch was awarded the Laser Franchise of the year and Outstanding Growth and Excellence in Systems.
Accredited installer of Fujitsu and Panasonic heat pumps
24-hour emergency call out services
Part of the Laser Group
Doesn't offer solar installations
No master electrician guarantee
Customer Reviews
Friendly and professional service
"Highly recommend, great friendly and professional service! Good communication with the electrician who came to fix my light switch and he did a great job!" – Hayley Kawana
They go above and beyond!
"Absolutely recommend Laser Electrical. Wonderful friendly staff and service. Great communication and completed our duct system service to a very high standard. They go above and beyond!" – Amanda Mitchell
2. Aoetea Electrical Wairarapa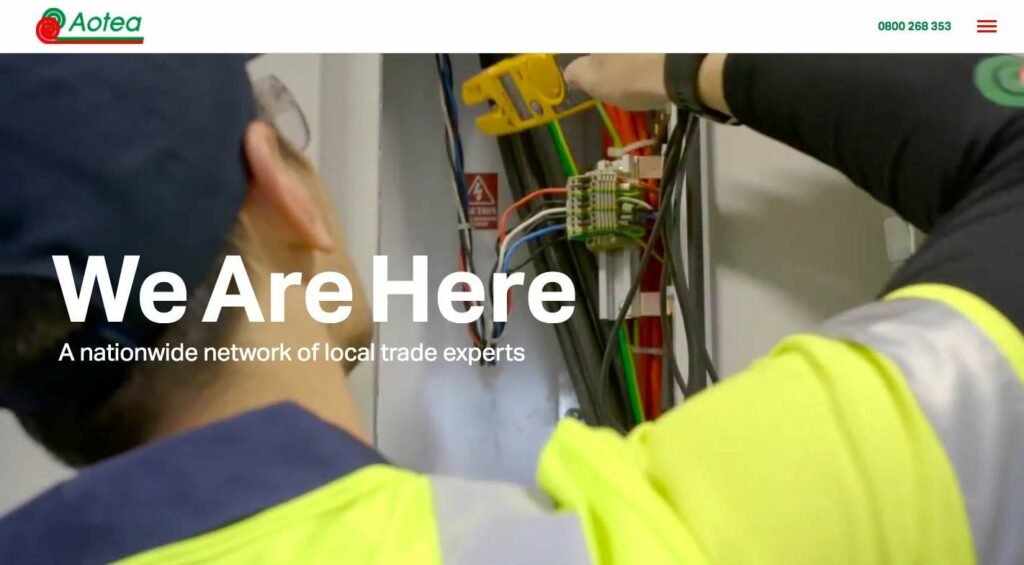 Test
Info
SERVICES
Commercial Electrical, Industrial Electrical, Residential Electrical, Audio Visual, Structured Cabling, Fire Alarms, Air Conditioning and Heat Pumps
WEBSITE
https://aoteagroup.nz/
ADDRESS
71 Bentley Street, Masterton 5810, New Zealand
CONTACT DETAILS
Phone: (06) 370-8340

Email: [email protected]

OPERATING HOURS
Open 24 Hours
The Aoetea Group has been around for over five decades, although their Masterton office was only established in 2015. They originally started with a small team of six employees and have since more than doubled their members to serve the Wairarapa area.
The Aotea Group is made up of 25 businesses spread throughout the country in 28 locations, with an interconnected staff numbering over 1000 people. Not only do they share collective resources but knowledge as well, meaning you'll essentially have this whole team at your disposal for any job.
Their team is capable of taking on a range of job orders, whether it be a domestic or commercial project. Each Aoetea branch, such as the one in Masterton, is qualified and experienced in electrical, heating & cooling, mechanical, refrigeration, and fire alarms.
They have a team dedicated solely to heat pumps, refrigeration, and all things mechanical to service any heating and cooling jobs that come their way. Whether it is a new installation, a minor repair, or a renovation, Aotea has it covered.
However, the Masterton location doesn't provide 24-hour emergency services. Nonetheless, they may be able to send personnel from a nearby branch to accommodate your urgent needs.
All their work is covered by the Master Electrician Workmanship Guarantee and as members of ECANZ, they must adhere to strict standards. They also undergo regular audits to ensure that they are following all codes and regulations.
Each employee has also been vetted and has passed rigorous security background checks. This way, you'll have no worries about having them working inside of your home or property.
Can handle domestic, commercial and industrial jobs
Has a team solely for heat pumps
Master Electrician Workmanship Guarantee
No 24-hour emergency call-out
No financing options
Customer Reviews
In and out in no time at all
"They were great to deal with. Needed to get a light fitting repaired at our old place and they were quick to get me booked in and were in and out in no time at all. Will definitely be contacting them again the next time I need to get any electrical work done. Cannot recommend these guys enough." – Peter Condon
Accommodating and respective
"Aotea Electric Wairarapa provided me with an excellent service. They were professional in their approach, were extremely accommodating and respective. They went that "extra mile" to ensure the job was done in a timely and efficient manner." – Wendy Hemi
3. Compass Electrical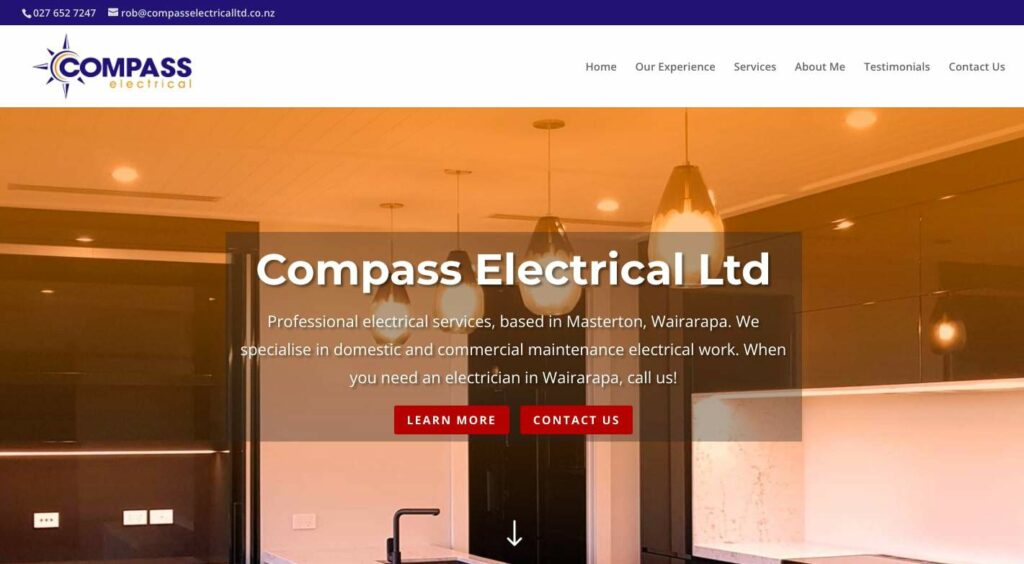 Test
Info
SERVICES
New Builds, Renovations, Hot Water Repair, Electrical Rewires, Oven Repairs, LED Lighting Upgrades / Advice, Smartvent Installation, Security Lighting, Bathroom Ventilation, All Domestic Maintenance, Commercial Maintenance, Commercial Fitouts
WEBSITE
https://wairarapaelectrician.co.nz/
ADDRESS
89 Renall Street, Masterton 5810, New Zealand
CONTACT DETAILS
Phone: (027) 652-7247

Email: [email protected]

OPERATING HOURS
Monday to Friday: 9:00am - 5:00pm
Compass Electrical is owned and operated by Rob Macdonald, who has over 20 years of experience as an electrician. His primary areas of expertise are new builds and domestic electrical maintenance.
The company is affiliated with the New Zealand Trade Group (NZTG), which gives them access to programs and applications that can provide customers with simplified plans and quotations. It can present to clients the scope of the project and how it will be executed, as well as the final look or layout.
Moreover, NZTG provides the Compass Electrical management team with extra support via counseling or resources. This can come in the form of knowledge, tools, or access to supplier networks that can provide competitive prices to their clients.
For some of its products, Compass Electrical has partnered with SmartVent, which provides them with a large selection of home ventilation solutions. SmartVent is also the only NZ home installer that provides instant online quotes.
Compass Electrical has also partnered with Vynco, one of the foremost designers, distributors, and manufacturers of electrical components. Their products are known to be innovative and stylish, which would fit well in a modern urban home.
With these unique companies backing up Compass Electrical's product line, the result is a wide selection of stylish and modern appliances and fixtures.
When you add to that this company's stringent work ethic of turning up on time, communicating clearly with clients, and cleaning up after the job, Compass Electrical is an option worth considering in Masterton.
Member of NZTG
Partnered with Vynco and SmartVent
No 24-hour emergency services
No Master Electrician guarantee
Customer Reviews
Many and sincere thanks
"We appreciate the quality of his advice and workmanship. We are now happy to include Leigh and Compass Energy amongst our team of trusted professionals. Like us we're sure you'll appreciate Leigh's knowledge, enthusiasm and responsiveness. Many and sincere thanks." – Malcolm Cox
4. Taylor's Electrical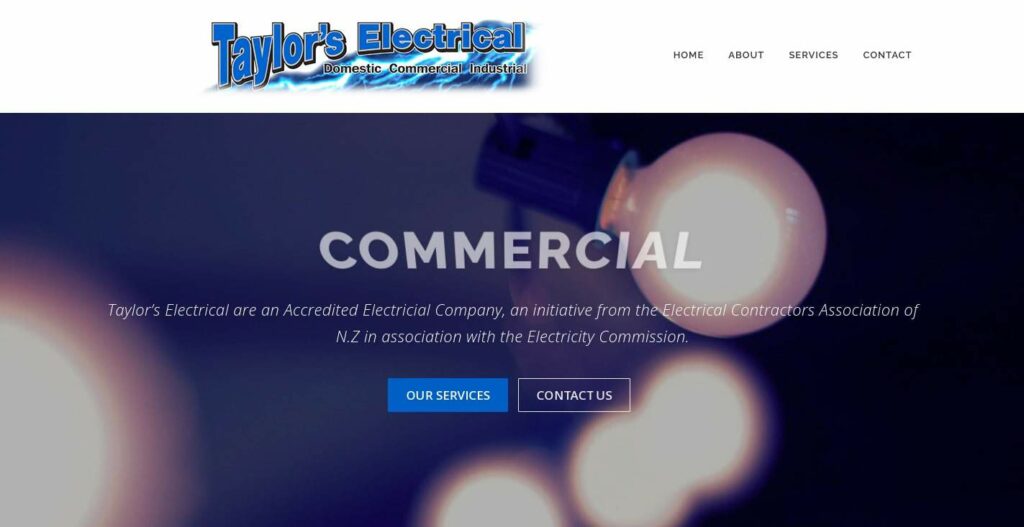 Test
Info
SERVICES
General Electrical Maintenance, Specialists In-House Rewires, Meter Relocations, Stove Repairs, New House Wiring, Osh Safety Testing And Tagging, New Installations
WEBSITE
https://taylorselectrical.co.nz/
ADDRESS
64b Southey Road, Ōpaki, Masterton 5871
CONTACT DETAILS
Phone: (06) 378-9207

Fax: (06) 377-3809

Email: [email protected]

OPERATING HOURS
Monday to Friday: 8:00am - 5:00pm
Taylor's Electrical was established by Geoff Taylor over 26 years ago. It's a business he runs alongside his wife Renee today.
They are joined by five licensed electricians with a combined experience of over four decades, enabling them to provide their expertise to the Wairarapa region.
Taylor's Electrical is an Accredited Electrical Company, a designation given by the Electrical Contractors Association of N.Z. (ECANZ) in association with the Electricity Commission. The company is also a member of Master Electricians New Zealand, offering a $20,000 workmanship guarantee for all residential work.
One of the perks of going with Taylor's Electrical is that you'll receive a Master Electricians certification after every job. This serves as a guarantee that all work was performed to the highest standards and double-checked for safety.
They offer a range of services catering to residential, commercial, and industrial clients. One of their most popular services is rewiring and general electrical maintenance… although they also offer meter relocations, stove repairs, OSH safety testing and tagging, among others.
Taylor' Electrical can likewise provide businesses a way to reduce electricity consumption whether it's in the office or factory. These strategies not only cut down on costs, but they likewise make the site safer as well, whether domestic or commercial.
Despite their cost-cutting strategies, Taylor's Electrical doesn't offer any solar-powered products. We would have liked this company even better if they offered the installation of solar panels as part of its services.
Nevertheless, if you're looking for an accredited electrician that provides a guarantee for their work, Taylor's Electrical is an option worth considering.
Accredited by ECANZ
Member of Master Electricians
Provides a $20,000 guarantee on all work
No solar panel products
No financing options offered
Customer Reviews
TOP marks for service and workmanship
"Taylors Electrical wired and fitted out my new home and garage. They were great to work with, very prompt service, great tradesmen, always on time and would work above and beyond what was expected. If you are looking for an electrician it would be difficult to find better. Honestly TOP marks for service and workmanship, and friendly honest staff." – Grant Muir
5. McKenzie's Electrical 2000

Test
Info
SERVICES
Domestic Wiring, Commercial, Industrial, Data & Security, Thermal Imaging, Ventilation Systems, Testing & Tagging, Electrical Contracts, Solar Power
WEBSITE
https://mckenz2000.co.nz/
ADDRESS
7 Hughan Place, Carterton, 5713, Wairarapa
CONTACT DETAILS
Phone: (06) 379 6433

Mobile: (027) 454-0860

Email: [email protected]

OPERATING HOURS
Open 24 Hours
This next one may not be based in Masterton, but it is near enough to serve Masterton residents!
McKenzie's Electrical was first established in 2000, offering a full suite of electrical services throughout Wairarapa. They are a SiteWise Green business and have received Avetta Accreditation as well.
McKenzie's Electrical 2000 has a team that is composed of fully licensed and registered electricians. They are also a member of the Electrical Contractors Association of New Zealand (ECANZ) and Master Electricians.
They can provide new wiring, re-wiring, data, and security for residential clients, but they are known for their commercial achievements as well. Some of their notable projects include providing electrical services to The Waihinga Centre, Carterton Development, Wairarapa College, and the Five Rivers Medical Centre.
McKenzie's Electrical 2000 has expertise in industrial projects as well, having been involved with complicated switchboards, load calculations, and designing full lighting layouts. They likewise have provided businesses with a complete suite of CCTV systems and automatic gate systems.
We like that McKenzie Electrical 2000 also offers non-invasive thermal imaging to detect wiring problems behind walls. You can even schedule a preventive maintenance program with them to keep your electrical system running smoothly.
They offer free estimates for any of their services, whether it's getting a quotation for thermal imaging services or for testing and tagging in industrial plants.
With their Master Electrician's guarantee and a wide array of technical services, Mckenzie's Electrical 2000 is one of our top picks in the region.
24-hour call out services
Provides thermal imaging
Member of multiple associations
Located just outside of Masterton
Expensive call out rates
Customer Reviews
Experienced & professional
"Thanks for the help – we had an issue with a job and they came straight back and fixed it up. The owner is very friendly and clearly experienced & professional." – Cory Spooner

6. Wired Wairarapa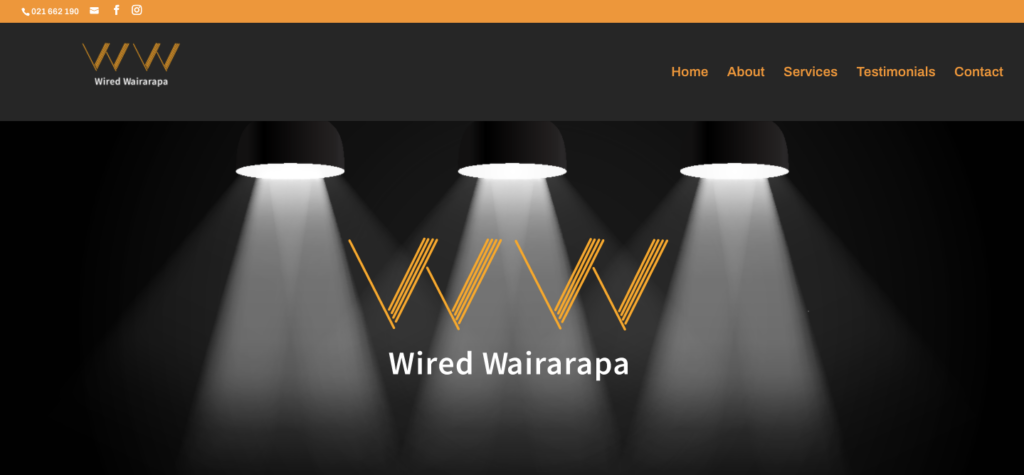 Test
Info
SERVICES
For residential: new builds, renovations & rewires.

For commercial: large-scale projects, small jobs, maintenance.

For industrial: control systems, repairs, and installs.

For farming: ag maintenance, dairy shed wiring, irrigation control.

For pump systems: installation, maintenance, and repairs.

WEBSITE
https://electricianwairarapa.co.nz/
ADDRESS
Masterton, New Zealand
CONTACT DETAILS
021 662 190

Email: [email protected]

OPERATING HOURS
24/7
Wired Wairarapa takes pride in its reputation for excellence in all things electrical.
Wired Wairarapa was started by AJ who has been living in Wairarapa for many years already. He started as an electrician at his previous local company before branching out on his own. At first, he was challenged navigating his first foray into business, but later on, he enjoyed the freedom of being his own boss so that he can spend more time with his beautiful wife and two children.
He enjoys a good challenge and takes pride in being able to problem-solve my way through any job after working in the industry for a number of years. He enjoys being in charge of the entire job and finds it extremely satisfying when a job is completed successfully.
From industrial to commercial to residential to agricultural, Wired Wairarapa has it all from rewiring an entire house, fault finding, repairs, and system pumping. For AJ at Wired Wairarapa, no job in the Wairarapa is too small.
They take on tasks that no one else will. Their customers are always at the forefront of their minds. They want to find a solution that works for you.
Customer Reviews
"We have not long-lived in the Wairarapa and feel so lucky to have found Wired Wairarapa to call on, as we have a 1900s house that loves lots of attention A.J has been wonderful and only a phone call away. The quality of work has been faultless. We have no hesitation in recommending his services." – Linzi Alcorn
"Have used Wired Wairarapa many times. Always have good professional service and a good chap. Very knowledgeable about all.things electrical from household wiring to workplace equipment such as pumps etc. Long-winded review but I think the guys well worth it." – Wade Gallon
How to Choose an Electrician
It can be difficult to choose an electrician, especially if you're unfamiliar with all the technical aspects of it. Moreover, you need to be careful in your selection because their work can directly affect your safety.
1. Make sure they are licensed
Contrary to what most people think, it's not hard to do a check on an electrician's registration and license in New Zealand. All you have to do is ask to see their Electrical Workers Registration Board (EWRB) licence, because it must be on their person at all times.
2. Check if they are a Master Electrician
Hiring a Master Electrician comes with a 12-month guarantee for workmanship and up to $20,000 worth in damages. This ensures that you receive the highest quality work possible that adheres to a strict set of standards.
3. Keep them close
Electricians, just like other skilled tradesmen, charge a call-out fee that covers their transportation costs. The further away they are from your home or property, the higher this fee can be.
4. Ask for referrals
One of the best ways to vet an electrician is to ask for referrals – this allows you to speak to previous clients or even see first-hand the quality of their work. Getting a credible referral from a friend or a colleague is often best when it comes to contract work.
FAQs about electricians
---
And that's it for our list of the best electricians in Masterton! We hope you found the right tradesman for the job from our list.
Did we miss an electrician that you think we should add? If so, please send us a message and we'll check them out!
Now, if you would like to transform your home to a more sustainable and energy saving one, we would suggest checking out our list of the best solar panels in New Zealand.