The 6 Best Electricians in Rangiora
We've already offered you our choices for the best electricians in Christchurch, but if you live in nearby Rangiora, this list today is for you.
Each region might have its own landscape, but the makings of a good electrician remain the same. Our choices in this article are still based on their expertise, range of services, and positive client feedback.
Before we discuss our picks for the best electricians in Rangiora, let's talk cost first.
How much do electricians cost in Rangiora?
Now, if you're going to hire an electrician in Rangiora, you can expect to spend on average around $75 to $80 per hour. These fees for labor can vary up or down, depending on the experience or level of expertise of the electrician.
Master Electricians, for example, can charge up to $120 for each hour of their time. An apprentice, on the other hand, may only cost you around $40.
Unfortunately, the fees don't end there – there are travel expenses (also known as a call-out fee) and the cost of materials to consider as well. Do take note that there's GST to consider as well, which is usually already included in your quotation or invoice.
Now, here's a table showing common electrical services and their price ranges:
| | |
| --- | --- |
| ELECTRICAL SERVICE | PRICE RANGE |
| Automation programming | From $140 |
| Power socket install or repair | $150 – $250 |
| Washing machine/heater power point | $150 – $250 |
| Air conditioning or heat pump repair | $150 – $300 |
| Hot water cylinder repair | From $200 |
| Electrical inspections | $250 – $400 |
| Air conditioning or heat pump install | From $400 |
Moreover, if you call out an electrician after hours or for an emergency, you can expect to pay an even higher hourly rate for their services. So if it's not an urgent matter, we highly suggest you schedule their time wisely.
The table below shows a sample of what an electrician in Rangiora might charge for their services.
| | | | | |
| --- | --- | --- | --- | --- |
| Lead-Time | First Hour | Call-Out Fee | Minimum Charge | Additional Labor (15 minute increments) |
| Next Appointment | $85 | $30 | $115 | $21.25 |
| Same Day Service | $90 | $30 | $120 | $21.25 |
| Emergency | $150 | $50 | $200 | $25.00 |
The Best Electricians in Rangiora
You now know that hiring an electrician isn't cheap, which is why it's important to try to hire one of the best that Rangiora has to offer.
1. Campbell Electrical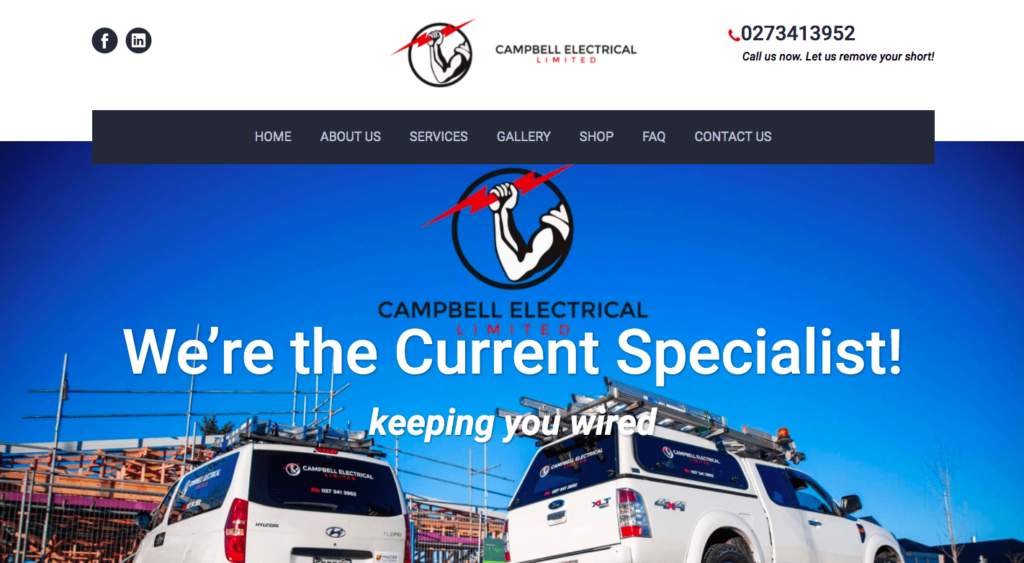 Campbell Electrical was founded by Blair Campbell, a licensed electrician with over a decade of experience in the field. He also has a National Certificate in Electrical and Electronics Engineering from Christchurch Polytechnic Institute of Technology.
Campbell Electrical can handle projects of all sizes, although they specialize mostly in general residential service work. They have also handled a range of commercial fit-outs, repairs, installation of downlights, and Test & Tag.
What we like best about Campbell Electrical though, is that all of their projects come with a one-year workmanship warranty. While they may not provide a Master Electrician guarantee, a 24-month warranty is most welcome.
With a total combined experience of over 50 years among its employees, Campbell Electrical is equipped to handle projects of varying difficulties. So whether you need help with automating the connectivity of your home or installing an emergency power backups system, their electricians have the experience to get it up and running.
Just like other businesses, customer service is at the root of Campbell Electrical's business mantra. While they also claim an "on-time guarantee" when showing up for a job, we would have liked some sort of consequence if they fail to meet that guarantee.
In our opinion, offering a discount on services or labor if they show up late could help convince customers further to avail of their services. Nevertheless, an "on-time guarantee" is not a claim made often, so it's still very much appreciated.
Campbell Electrical also offers 24-hour emergency services, which a lot of business owners will probably patronize. They offer free consultations and quotations as well, even if they have to travel out to a site to inspect it.
In short, if you're looking for a no-frills electrician providing a range of services, Campbell Electrical fits the bill. They can help you from the design stage up to maintaining an electrical system, which earns them a spot on our list as one of the best electricians in Rangiora.
24/hour emergency service
On-time guarantee
Free consultations
No consequences (or discounts) if they're late
Only started offering heat pumps recently (which means it's not really their speciality)
Customer Reviews
They have always exceeded expectations
"We have been using Campbell Electrical for 3 years and will not look elsewhere for any electrical works. They have looked after all of our Commercial electrical needs from general reactive repairs to large Capex projects. Their processes are simple and their quality of customer service is outstanding. The owner has always had a hands on approach when dealing with us and to us this adds a lot of value in building a lasting relationship. They have always exceeded expectations and solved any and all electrical problems that had arisen. Their security solutions are exceptional value for money too." – Calvin Rorke, Commercial Real estate Company
They are the best
"They have done multiple projects for me in the last year including a full large villa rewire project. They are the best I've come across and Blair is a solution focused, switched on operator." – Salt Projects
2. Laser Electrical Rangiora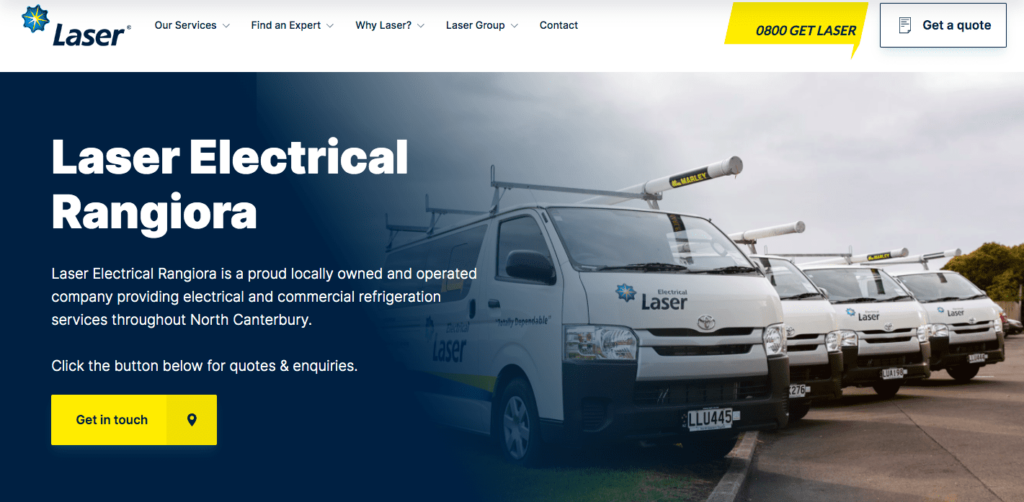 SERVICES
Electrical Repairs, Residential Lighting, Home Security, Solar Panels, Electric Vehicle Chargers, Heating and Ventilation, New Home Electrical, Data & Communications, Home Automation, Central Vacuum, Appliance Test and Tag, Electric Vehicle Chargers, Rural, Industrial
WEBSITE
https://www.lasergroup.co.nz/m/laser-electrical-rangiora
ADDRESS
347A Flaxton Road, Rangiora 7400
CONTACT DETAILS
Toll-Free: 0800-636300
Email:

[email protected]

OPERATING HOURS
Monday to Friday: 8:00am – 5:00pm
The Laser Group was first established by Peter Bassett and David Clemmett in 1983, two registered electricians offering their services. They later transformed into a franchise business, offering locally run businesses "memberships" to operate under the Laser moniker.
Laser Electrical Rangiora is one of Laser Group's "members", which has a team of registered electricians and certified refrigeration engineers. They service the entire greater North Canterbury region, accommodating the residential, rural, and industrial sectors.
They offer a full suite of electrical services, which include heating and ventilation as well. They likewise work closely with agri-businesses, restaurants, and other food-related businesses to install and repair commercial refrigeration equipment.
We like Laser Electrical Rangiora because they're one of the few companies in the vicinity that can install, repair, and maintain PV solar, hot water solar, LED lighting, and EV chargers. However, in our opinion, the best reason to consider Laser Electrical Rangiora is their access to a wide collective network of resources in the Laser Group.
Not only do they have access to lower-cost supplies, but they can tap into the knowledge and expertise shared across the entire company. What this means for you is that Laser Electrical Rangiora can probably fix any problem you have, and if they can't, they'll know somebody in the Laser Group who can.
This particular Laser branch in Rangiora is also worth considering because they also have plumbers on hand. They also have expertise in rural settings, providing electrical services on farms, sheds, cottages, and homesteads.
Another unique service they offer is the installation of a centralized vacuum system for your home or business. These systems can carry dirt and dust away from living or working spaces, making them healthier and cleaner for their occupants.
Now while all might seem well and good, Laser Group Rangiora doesn't offer 24/7 emergency call-out services.
Offers both plumbing and electrical services
Competitive pricing
Multiple branches across New Zealand
No 24-hour emergency services
No financing options
Customer Reviews
They do a great job
"I have used these guys a couple of times. They do a great job, are pleasant to deal with and the communication around site visit timing is excellent." – Steven Holland
Very efficient
"We had 2 heat pumps installed earlier this year….They were efficient and Michael sorted out where to place the external and internal units…By the afternoon, we had two heat pumps and Michael set them to suit us so we had the heat where we wanted. It was all very efficient and low stress for us. We have been very happy with the work, and with the heat pumps Michael recommended and installed." – Louette McInnes
3. Clyne & Bennie Plumbing & Electrical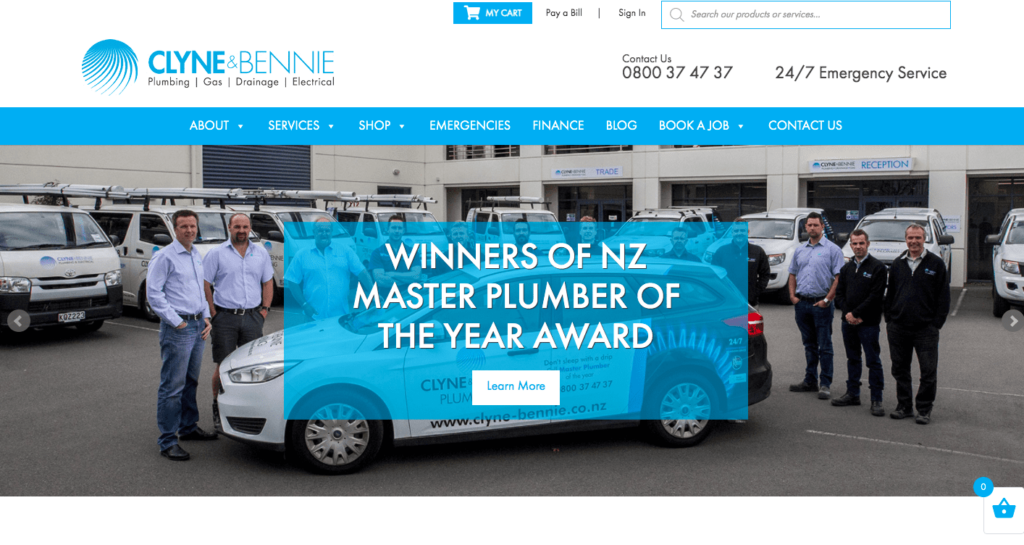 | | |
| --- | --- |
| SERVICES | Residential Electrical, Commercial Electrical, Thermal Imaging, Plumbing, Gas, Sustainability, Drainage, Detection Services, Heating |
| WEBSITE | https://clyne-bennie.co.nz/ |
| ADDRESS | 331B Flaxton Road, Rangiora 7400 |
| CONTACT DETAILS | Toll-Free: 0800-374737 |
| OPERATING HOURS | Open 24 Hours |
Clyne & Bennie has been providing its services for over 65 years to both commercial and residential customers. They serve Christchurch, North Canterbury, and the Tasman District with specialized account managers looking after each client.
They likewise have three branches across the region, taking on projects such as plumbing, gas fitting, electrical and drainlaying. They can handle new builds, alterations, and fit-outs with years of experience dealing with architects, builders, and homeowners.
All of Clyne & Bennie's staff are licensed, registered, and fully qualified as plumbers and electricians. The work they perform is accompanied by both a Master Plumber and a Master Electrician Guarantee that extends up to 12-months.
This company also holds a $20 million public liability insurance for the work that they perform. So if something unfortunate should happen, you know they have the finances to back it up.
Moreover, they have received several recognitions and awards that include the Outstanding Projects Award from NZ Plumbing Awards and Award for Excellence from Canterbury Master Plumbers.
Clyne & Bennie offers emergency 24-hour services every day of the week, with a fleet of fully equipped vans that can quickly dispatch out to any job site. If you need an electrician that can respond to any urgent situation, then Clyne & Bennie is an option worth considering.
Moreover, Clyne & Bennie has over 20 partner suppliers that provide all the materials and parts they need at lower costs and with full warranties. Using one of their partners carries a guarantee that each product has been tried and tested beforehand.
However, you still have the option to choose your own parts, supplies, or supplier. Do take note that if you choose to do so, you will need to provide a Supplier Declaration of Conformity (SDoC) to Clyne & Bennie.
Aside from supplier partners, Clyne & Bennie also collaborates with Gilrose Finance to offer customers payment plans for their services. You'll need to go through an assessment first, but having this option is most welcome.
Clyne & Bennie's wide range of services and thermal imaging capabilities make them an ideal choice for insurance companies, property managers, landlords, and homeowners. So if you're looking for a one-stop shop for all your building, renovation, or repair needs, Clyne & Bennie is one of our top choices in Rangiora.
Master Plumber and a Master Electrician guarantee
24-hour emergency call-outs
Offers financing options 
Need to submit SDoC for third-party parts
Plumbing is their primary service
Customer Reviews
Very professional and pleasant
"Clyne & Bennie responded same day and attended to what had become a major leak very quickly. The tradesman who effected the repair was very professional and pleasant to do business with…Given the nature of the job it was carried out quickly and without any fuss or mess left over. We would thoroughly recommend Clyne and Bennie to carry out plumbing work in a very professional manner. Many thanks." – David Jones
Overall excellent service
"Hot water cylinder decided to leak during level 4 lockdown so this was an emergency. We where very pleased with the quick response of the service man (Kelvin). He quickly assess the problem and set about fixing our cylinder. He had all the parts he needed in his truck. It took about 1.5 hrs from start to finish. He tidied up & removed all the old parts when he was finished. Overall excellent service." – Julie Fechney
4. Pegasus Bay Electrical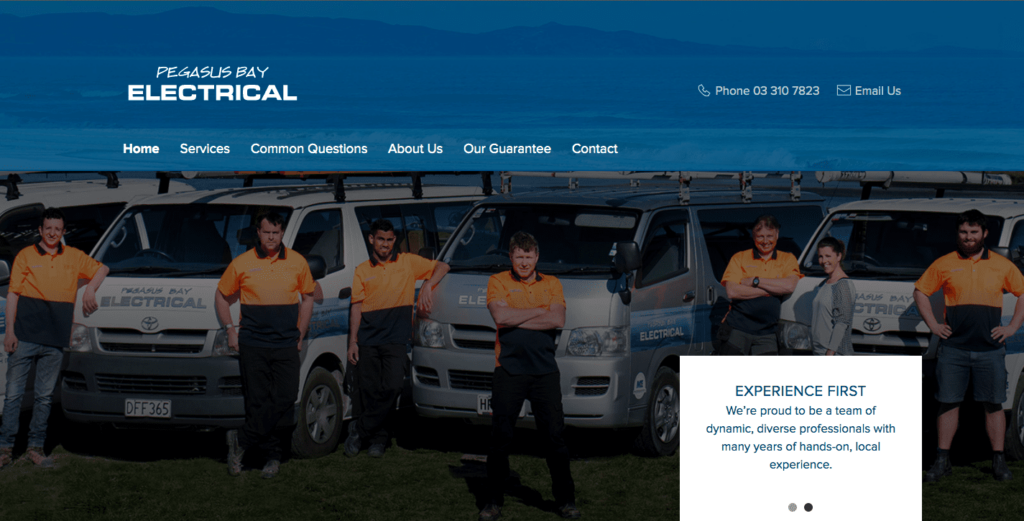 SERVICES
New Home Fit Outs & Wiring, Renovations, Changes And Upgrades, Lighting Design, Planning & Installation, Security Systems, New Power Points, Installation Of Appliances, Installation Of Home Theatre System, Home Automation, Home Ventilation Systems, Network & Data Installation, Planning And Design
WEBSITE
http://www.pegasuselectrical.co.nz/
ADDRESS
688 Lineside Road, Rangiora 7400
CONTACT DETAILS
Phone: (03) 310-7823
Email:

[email protected]
Pegasus Bay Electrical Ltd was founded in 2005 by Stew De Joux, a registered electrician with over two decades of experience in multiple areas of the industry.
They have six skilled and qualified tradesmen with a wide range of experience – three of these tradesmen are registered electricians. They can take on a wide range of projects, although they specialize in property maintenance, new build fit-outs, and renovations.
However, they've also completed several more demanding commercial projects such as office networking, switchboard work, and even farm maintenance.
They likewise are not strangers to providing scheduled maintenance for business owners, facility managers, builders, and project managers.
Rewiring is one of Pegasus Bay Electrical's specialties too – they can outfit any job site with dedicated cables for security, network, communication, and even entertainment.
So, if you're building or renovating, they can even accommodate all your "wants" for the ultimate home theatre layout.
Moreover, if you want a truly modern home or office, they can assist you with home automation so that you can turn on your lights, music, and thermostat with a single button. They can also arrange for you to be able to turn on your heat pumps before you get home, so you can enter into a warm house.
While their services may not come cheap, Pegasus Bay Electrical tops it off with a two-year Master Electrician workmanship guarantee of up to $20,000.
So, whether you're a builder, property manager, homeowner, or even a farmer that needs electrical services, Pegasus Bay Electrical is an option worth looking into. While we're a little disappointed that they don't offer financing options, this company is still one of our top electricians in New Zealand.
Can provide customized wiring for various applications
Master Electrician guarantee up to 24-months
Can service rural settings and farms
No emergency call-out services
No financing options
Customer Reviews
A good team to work with
"Thanks for the great work on our house build, Pegasus Bay Electrical did everything from base of the Pole at the road side, cabled 100m+ into several sheds, then another 40m or so to the house. and did all of the Power and Data cabling (we must not forget the data… there was alot…) for the house. They are a good team to work with and very happy with the result." – Warwick Anderson
BONUS: 5. Gregs Electrical Service Ltd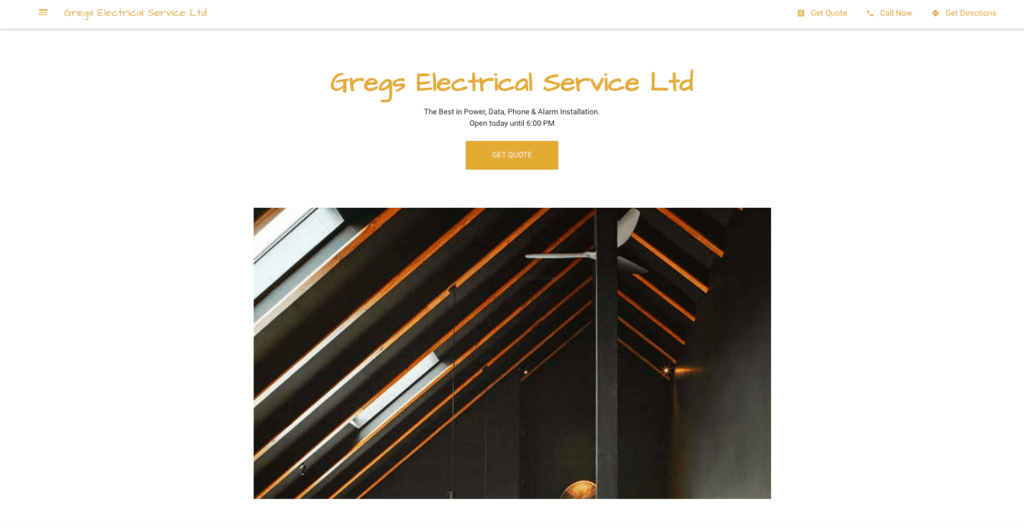 This one's a bonus because even if it isn't in Rangora, it's close enough to serve it.
Gregs Electrical Service Ltd was founded in 1998 by Greg Howie. They provide electrical services to homes & businesses across Canterbury and the North Canterbury Area.
With competitive rates, Gregs Electrical Service Ltd provides services 24 hours a day, 7 days a week. They offer emergency call-outs no matter what time of the day and can respond immediately for any electrical emergency you may have.
They specialize in new home builds, house rewiring, switchboard upgrades, LED lighting, and more. No job is too big or too small for this company, even though they're primarily a one-man operation.
Another specialty service they offer is upgrading all of your old light fittings and fixtures to more eco-friendly LEDs in one convenient package. We like that they use products from Visionary Technologies – a local supplier based in Christchurch that is 100% Kiwi-owned.
We also like that during the installation phase, they'll make sure that there are no gaps in the fittings and fixtures that might allow heat to escape. This thoughtful attention to detail combined with the low wattage-high output LED lights can help lower your utility bill and save you money.
Not limited to residential services, Gregs Electrical Service also specializes in working with industrial installations and appliances. They can provide PLC programming and diagnostics for programable logic controllers from brands such as Allen Bradley, Hitachi & Siemens.
If you need an intricate and dedicated data cabling, security, and alarm system, Gregs Electrical Service also has the experience to do it. They've also installed home automation using Clipsal C-Bus management systems.
Now while Gregs Electrical Services Ltd may primarily be run by a single person, you can expect to have more fair pricing compared to larger companies. Going with a smaller company can also open up negotiations for final invoices.
Offers special full upgrade LED lighting package
24-hour emergency call-outs
Competitive pricing
Small team of electricians
No Master Electrician guarantee
Customer Reviews
Very fair and reasonable charges
"Greg answered my call for help on a Sunday morning when there was no power to the washing machines in my small 24/7 Kandu Laundromat in Kaiapoi. He arrived promptly, traced the problem, repaired the faulty cable and reset the fuse…He is a lovely man, who worked very professionally and invoiced me promptly. I was delighted at his very fair and reasonable charges that were a surprise to me. I highly recommend Greg for any electrical work. I will definitely call him again. Thank you Greg." – Rae Talaward
BONUS: 6. Modserve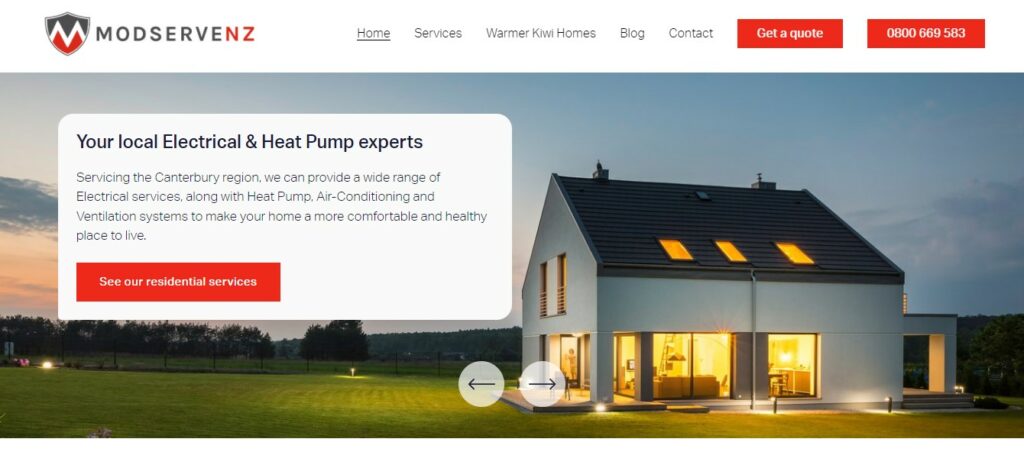 SERVICES
Residential, Commercial, Industrial, Heat Pumps, Home Ventilation, Modular, Barrier Arms, Sustainable Solutions, Thermal Imaging
WEBSITE
https://www.modserve.co.nz/
ADDRESS
Unit 8, 18 Taurus Place Bromley Christchurch 8062
CONTACT DETAILS
Phone: 0800 669 583 | 03 381 7477
Email:

[email protected]

OPERATING HOURS
Monday: 8AM–5PM
Tuesday: 8AM–5PM
Wednesday: 8AM–5PM
Thursday: 8AM–5PM
Friday: 8AM–5PM

24/7 breakdown/on call services
Here is another bonus as this company is established in Christchurch but they are still willing to serve people in Rangiora.
Modserve NZ can provide the Electrical and/or HVAC services you need. Whether you are in the residential, commercial, or industrial field, they can serve you. Modserve also provides 24/7 breakdown & on-call services.
What we love about them is how they can provide full design and installation of Electrical and Heat Pump solutions for both new and existing homes or buildings. Their expertise in full home lighting and power efficiency solutions will make your house more efficient and aesthetically pleasing. Not only that, but it's also a much safer and cost saving option.
Aside from this, they can also upgrade your switchboard. This is crucial to old houses as old switchboards can cause potential fires and can put you at risk of electrocution. Electrical Safety Inspections are important to any homeowner, especially when buying/selling houses, as all electrical wiring, outlets and key electrical components can be checked to make sure there are no faults that can cause potential fires or harm, at a low cost.
Unlike other companies, they do not only offer basic electrical services or 'the cheapest price', they offer and promise high quality products, service and communication from start to finish, always exceeding their customers expectations.
Another service you may get from Modserve is their smart home systems. They will design and install the system most applicable for your home. From Siri enabled lighting moods, door locks & sensors activated by schedules or voice activations, to remotely controlled heating and security, their automation technology works smoothly and is suited to your individual needs.
What's great here is that you will be able to control your home (new or existing) via your phone and from anywhere in the world! MNZ can find an option for any budget.
Extensive range of services
Are approved Warmer Kiwi Homes contractors
Accredited installers for Mitsubishi Electric, Fujitsu, Daikin, and Hitachi heat pumps
Rates are unavailable on their website
FAQs about Electricians
---
And that completes our list of the best electricians in Rangiora. Always remember that hiring a licensed electrician is always best to ensure your safety!
Do you have any questions or thoughts about our selections? If so, you can let us know by sending us a message and we'll get back to you right away.
Now, if you didn't find what you were looking for in our list, then you may want to explore other options near Rangiora. You can check out our list of the best electricians in Christchurch and see if they'll visit your area!