The 11 Best Electricians in Wellington
Wiring or re-wiring your newly renovated house takes a ton of work. But it will be accomplished on time and with quality in mind with the best electricians in Wellington featured here.
You will need to work with an interior designer even to have your dream home. Don't worry, as some electricians are both in that they can design and wire your house at the same time.
Aside from that, they can also replace your fluorescent lights with the more power-efficient LED lights, create a home theatre just for you and your fam, or mount inverter air conditioners.
However, quality of workmanship matters as you don't want to be spending more just for the sake of repairing it. Hence, you should make sure you find those with Master Electricians license.
With that in mind, we now give you the best electricians in Wellington! Here goes:
1) Tim Toomey Electrical

| | |
| --- | --- |
| BEST FOR  | Customer Satisfaction |
| SERVICES | Residential and Commercial Electrical Services, House Wiring and Rewiring, Office Maintenance and Installations |
| WEBSITE | https://toomeyelectrical.co.nz/ |
| ADDRESS | 180 Victoria Street, Wellington, New Zealand |
| CONTACT DETAILS | 027 442 8580 |
| OPERATING HOURS | Open 24 hours |
If there's an electrical fault in your home or a switchboard issue, give Tim Toomey Electrical a call. It is a family-owned business that is now handled by the son, Tim Toomey.
Tim is a certified practising electrician with experience of over a decade. Fault-finding is what he's good at, not to mention he always finds the best solution for the problem at hand.
Services include switchboard upgrade, mains power, lighting, appliance, extraction fans, spa pool, wiring and rewiring, shop fitouts, and also certification of products bought or sold.
Customers have been mostly satisfied with Tim's efficiency and timeliness. And one even said that besides getting the job done, Tim cleaned up the place before leaving, making a good impression.
Highlights
Efficient and timely electrician
Family-owned business
Full range of services
Customer Reviews
Bharath Arshith posted a review on Google Business:
"Tim is our go-to electrician for all of our home electrical and lighting needs. He is one of the best in Wellington. His work is undeniably good. and always responds and communicates so well."
2)  Mainline Electrical (WN) Ltd

| | |
| --- | --- |
| BEST FOR  | Cost-Effective Prices |
| SERVICES | Residential and Commercial Electrical Services |
| WEBSITE | http://www.mainline.co.nz/ |
| ADDRESS | 149 Thorndon Quay, Thorndon, Wellington, New Zealand  6011 |
| CONTACT DETAILS | (04) 499 2290 |
| OPERATING HOURS | Monday to Friday: 7am – 4pm |
For a cost-effective and quality service, Mainline Electrical Ltd is a great choice. The company has been offering residential and commercial electrical solutions in and around Wellington for years.
You might be bothered by say, the air conditioning that doesn't work, or lighting that costs you a fortune in your office. In these circumstances, you can rely on Mainline's professional help.
The team is trained to tackle the simplicities and intricacies of such problems in the calibre of Master Electricians. Additionally, there is no question about safety, as they're members of Site Safe.
That's why this company belongs in the list for the best electricians in Wellington.
Highlights
Provides a cost-effective service
Highly trained and qualified team
Site Safe member
Customer Reviews
nculpittau wrote a reliable review on Google Business:
"Needed an electrician in a hurry due to mums estate needing finalising and a new oven sorted and the team at Mainline were fantastic. The sparky arrived exactly when he was meant to and did the job quickly and efficiently. I will definitely use them again in Wellington and the cost of the work done was very reasonable. Thank you to the Mainline team for making it easy to sort the issues out ASAP."
3) Dave Brown Electrical Services Ltd

| | |
| --- | --- |
| BEST FOR  | Finishes the Work On Time |
| SERVICES | Residential and Commercial Electrical Services, Lighting Design and Installation, Marine Electrical Services |
| WEBSITE | https://www.dbes.co.nz/ |
| ADDRESS | 25 Hudson Street, Island Bay, Wellington 6023, New Zealand |
| CONTACT DETAILS | 04 383 6096 |
| OPERATING HOURS | Monday to Friday: 7.30am – 5pm |
This is what we've mentioned earlier — electricians who guide you from design to installation. Such is Dave Brown Electrical Services, with over a decade's worth of experience.
As they're Master Electricians, you will get value from the incredible quality they provide. As such, you are covered with a workmanship guarantee for the labour and material costs up to NZD20,000.
From new builds wiring and TV installation to outdoor lighting and data cable and over to the marine sector and everything in between, they have the skills and will to accomplish it all.
What's more, you will be meeting respectful, kind, and helpful staff who can work very well given a strict deadline or schedule.
Highlights
Guides you from design to installation
Master Electricians certified
Respectful, kind and helpful staff
Customer Reviews
Kris Beattie, one of their clients, wrote on Google Business:
"Been using Dave Brown Electrical for about 4 years now. Brilliant service every time, often going above and beyond what you've asked them to do. Always send electricians that are friendly, polite and who keep you well informed. Often let you know when they are on their way. Highly recommend."
4)  A.J. Beck and Co Ltd

| | |
| --- | --- |
| BEST FOR  | Highly Experienced Electricians |
| SERVICES | Residential and Commercial Electrical Services, Tiling and Waterproofing |
| WEBSITE | http://www.ajbeck.co.nz/ |
| ADDRESS | 7B, 33 Kaiwharawhara Road, Kaiwharawhara, Wellington, New Zealand 6131 |
| CONTACT DETAILS | (04) 494 6800 |
| OPERATING HOURS | Monday to Friday: 8am – 5pm |
A.J. Beck and Co is seasoned with more than 60 years of experience throughout the Greater Wellington. They have the most experience in our list of the best electricians in Wellington.
It offers great priced electrical services for both commercial and domestic sites. These are wiring, heating installs, security systems, phones, data cabling, appliance repair, and etc.
Besides that, they can do the tiling for you with qualified staff to do the work. By the way they are Master Electricians and Site Safe certified — bringing quality and safety in their workmanship.
Highlights
Licenced as Master Electricians
Competitive prices
Over 60 years of experience
Customer Reviews
Let's check out Rachel Ridley's review on Google:
"Fantastic service from James regarding our tiling. Great job and were on time and tidy. Would thoroughly recommend."
5)  Hoult Electrical

| | |
| --- | --- |
| BEST FOR  | Heat Pump Installation and Repair |
| SERVICES | Residential and Commercial Electrical Services, and Repairs and Maintenance |
| WEBSITE | http://www.houltelectrical.co.nz/ |
| ADDRESS | 6K/10 Lorne Street, Wellington, New Zealand |
| CONTACT DETAILS | 027 218 1167 |
| OPERATING HOURS | Open 24 hours |
If you are going to add or repair a new heat pump for your tenants or home, get in touch with Hoult Electrical. After all, that is their specialty, getting their supply from prestigious brands.
This company was started by Niahll Hoult in 2016 with the aim of delivering quality electrical services to private and commercial locations.
They offer landscape and architectural lighting, heating systems, creative lighting, home automation, preventative maintenance, power outage, and office fitouts.
Along with that, they have an exemplary customer service focusing on the small things that actually matter. That and quality makes it one of the best electrician companies in Wellington.
Highlights
Their specialty lies in installing or repairing heat pumps
Provides commercial and private electrical work
Exemplary customer service
Customer Reviews
Andy Hickman, one customer, left a reliable review on Google:
"Very friendly guy showed up exactly at the agreed time and did the job in no time at all. Very pleased with the standard of work carried out. He was also super friendly to my dog as well, which was great to see. Would definitely recommend."
6) Quality Electrical Services

BEST FOR
Covering all Electrical work
SERVICES

renovations, new installations, repairs, maintenance and emergency services

WEBSITE
http://www.qeswellington.com/
ADDRESS
Strathmore Park
CONTACT DETAILS
0276766610
[email protected]
OPERATING HOURS
Open Daily
Quality Electrical Services is one of the best companies to acquire services from for any electrical work needed both in the residential and commercial spaces.
Precision and care are what make the team in Quality Electrical Services well-recommended by many. Rest assured that the quality of work they provide is something worth its price, if not more.
Check out their website for more information on their services.
Highlights
Experienced electricians
High-quality service for electric needs
Smooth processing
Customer Reviews
Here's what Craig Jones have to say about Quality Electrical Services:
"John was extremely reliable and professional and even met our demands on time with a clear understanding of what was required. The estimate was far better than reasonable and beat the competition. He was even great with our dog and treated us with respect, kindness and totally honest assessments I will definitely use John every time if the need arises again. His work was perfect and we appreciate his well-priced services. Thanks John!"
7) Round House Electrical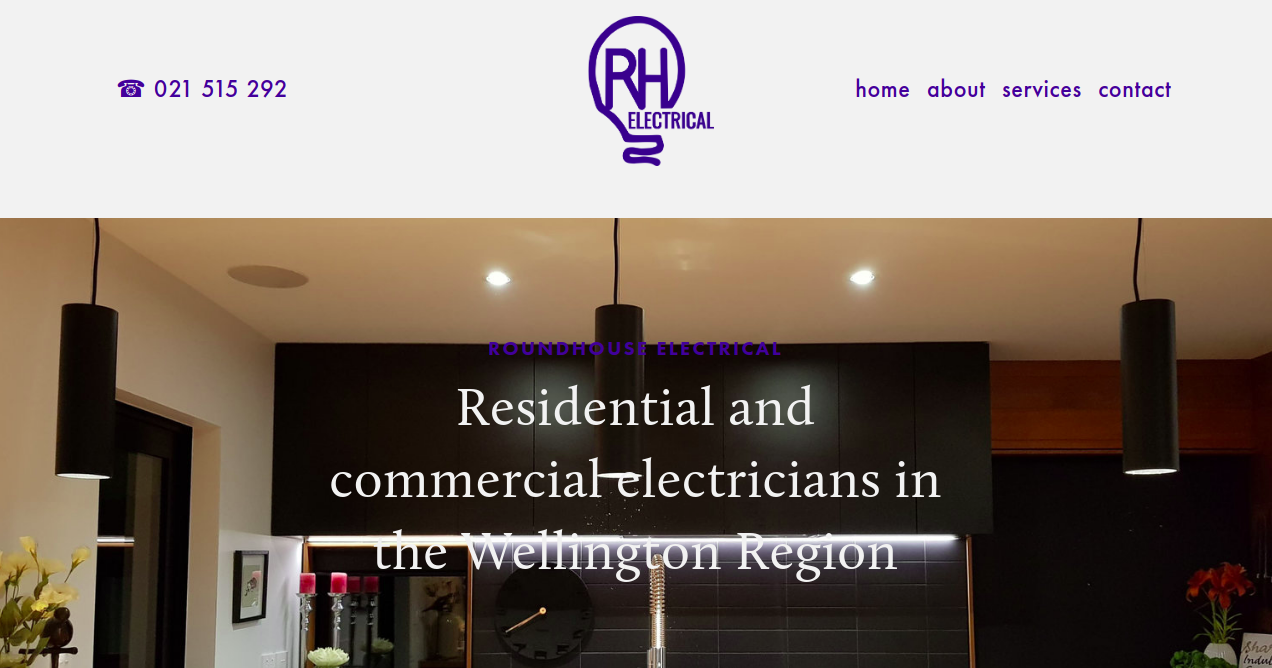 | | |
| --- | --- |
| BEST FOR | Residential and Commerical Repairs and Installations |
| SERVICES | LED Lighting, Security Systems, Switch board upgrades, Internet Data and Cabling |
| WEBSITE | http://www.roundhouseelectrical.co.nz/ |
| ADDRESS | Waikanae, Kapiti coast, Wellington |
| CONTACT DETAILS | (021) 515-292 |
| OPERATING HOURS | Monday – Friday, 8:00 AM to 5:00 PM |
Round House Electrical is a service based in Wellington and Kapiti Coast. It has also provided services from small residential to commercial fit-outs.
They offer many types of electrical services including repairs, renovations, CCTVS, internet cabling and even garden & security! With the many other services they offer, it becomes clear that they are a flexible and reliable team.
They are a team of qualified electricians since 2015 and can present certificates for workmanship. This makes them one of the best electricians in Wellington.
Highlights
Electrical Renovations
Qualified Electrician since 2015
Lighting Designs
Customer Reviews
"Jamie from Roundhouse Electrical was very friendly and experienced, he replaced my halogen lights to Led lights and talked through options for my other lighting needs, highly recommend."
8) Central Electrical Services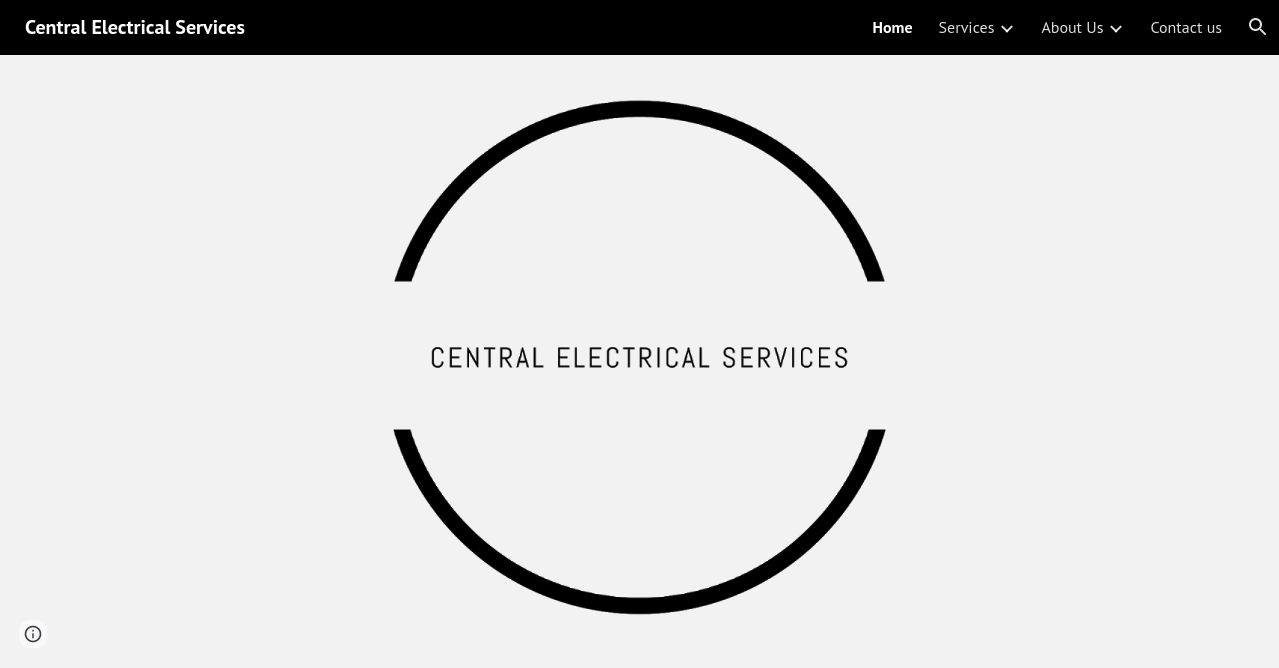 If you're hesitant to contact electrical contractors, then don't worry, because Central Electrical Services guarantees quality customer service.
They are an all-around electrical provider with many kinds of services, but what sets them apart is their efficiency and their priority to each of their costumers. Their products are provided with a warranty and they believe in giving electrical certification as soon as possible.
With their clean workmanship, quality service and efficiency, availing their services will be hassle-free. A service with less stress definitely takes a spot in our list of best electricians in Wellington.
Highlights
Product Warranty
Certification
Honest and Reliable Pricing
9) Eco Wise Electrical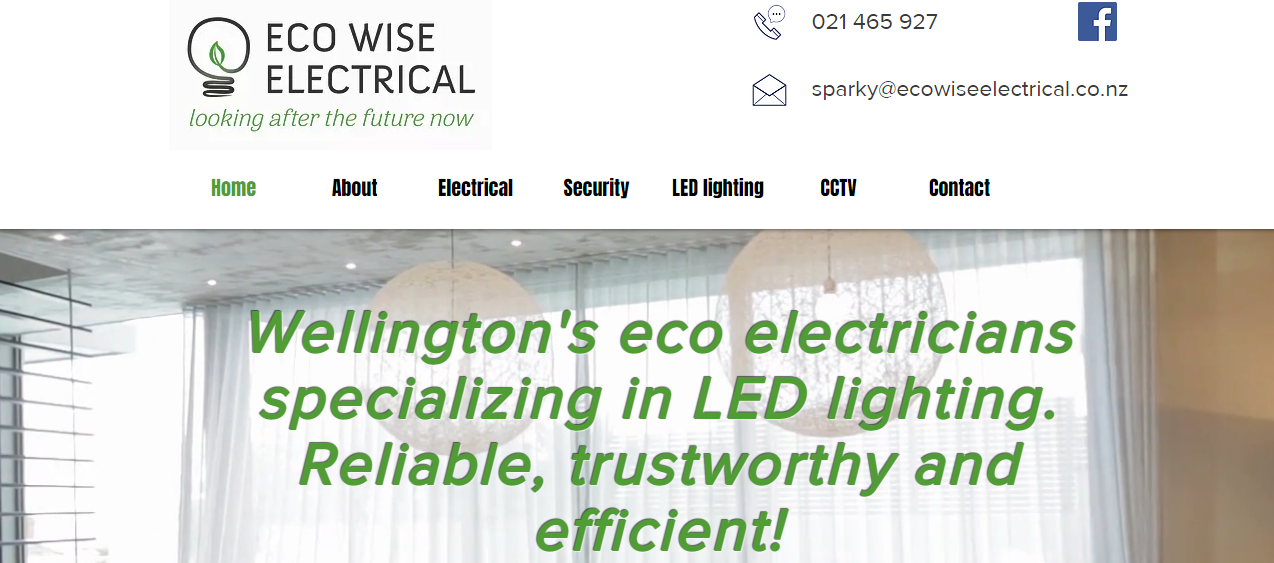 Eco Wise Electrical was established with one main goal in mind: to provide quality residential and commercial eco solutions to the people of New Zealand. This way, clients can acquire proper electricity without having to worry about high power consumptions and the effects they have on the environment.
Eco Wise Electrical offers a wide range of services for electric needs, from general electrical wiring and maintenance to wiring for new homes and recently renovated properties. They also offer light fitting installations for those who are in need of it.
Choosing Eco Wise Electrical for your electric needs guarantees solutions that have been tailor-made to fit your property and its needs. It doesn't matter if you have a tiny home or a large office unit, Eco Wise Electrical will do their best to provide you with eco solutions.
Another thing worth noting about this company is their team, which is made up of highly skilled and knowledgeable individuals dedicated to providing professionalism and friendliness while on the field.
Highlights
Wide range of services also include security, LED lighting, and CCTV
Highly efficient team
Environment-friendly electric solutions
10) SafeChoice Electrical

When it comes to tailor-made electrical solutions that put great focus on safety and stability, SafeChoice Electrical is one of the top choices.
This company has been around for years, servicing the Greater Wellington, the Hutt Valley, and Porirua Basin. SafeChoice Electrical is also open to accepting bigger jobs in the areas of Wairarapa, Manawatu, and Kapiti Coast.
One of the things we love about SafeChoice Electrical is its large service area. Another is the wide array of services they have to offer to residential and commercial clients alike.
Some of these services are electrical advice and assistance, lighting upgrades, new circuits design and installation, safety testing and certification, residential installation and repairs, rewiring, and many more. Electricians that are sent out to areas have all been vouched for in terms of character, professionalism, skills, expertise.
Not only that, but they're certified as well.
Knowing this, clients can rest easy knowing that the wiring on their properties are in safe hands.
Highlights
Large service area
Personalised electrical services
Safe payment methods
Member of the NZ Electrical Inspectors Association
11) Electroworx

Electroworx is not your typical electrician, they can do much more than fixing wirings of houses and commercial spaces. The main reason why we prefer them over other electrical companies is they share tips on how to build a more efficient smart home that, at the same time, lowers carbon footprint.
Some of these tips are installing the Zehnder Heat recovery ventilation, Wiser Home Automation, and Ecodan Air-To-Water Heat Pumps.
Automation is much more important than just controlling things from your phone. It's about being smart with your energy.
With them, you will be able to control when and how energy is used. This will also enable you to get the most out of discounted power rates and home solar generation.
In comparison to others, from as little as $3500 you can turn your home into a smart home. Control your lights, curtains, heating and more.
Apart from these, they also have sister company named Solarworx. With everything getting more expensive, going solar will definitely help reduce your power bill.
Highlights
Offer services all over New Zealand
Extensive range of services
Responds quickly
---
And that's a wrap for the best electricians in Wellington! If you have any unsolved issues related to electricals, all you have to do is contact them.
What did you think of the electrician services we included? Share with us if you've used these services before or if you have any other questions by sending us a message.
Also, we have a guide to the best new build homes in New Zealand. Then maybe if you find a property you like, you can let these electricians conduct an inspection on the wiring in the future.