The 6 Best Emergency Plumbers in Auckland
A leaky tap or clogged toilet can cause a lot of trouble unless fixed immediately. Thus, we've outlined the best emergency plumbers in Auckland for a quick repair.
Just one call and they will be right with you. That is infinitely better than getting delayed with those plumbing issues for a day or two.
Besides fixing leaks and taps, a plumber can do gasfitting for you as well as install hot water cylinders, waste disposal units, and drains.
What's important is to look for qualified plumbers who are of course on time, friendly, and efficient. It doesn't hurt if they have guarantees on their work either!
To make things easier for you, we've worked up a list of plumbers in Auckland who fit the bill. So now, let's now dive into the list of the best emergency plumbers in Auckland!
1)  Response Plumbing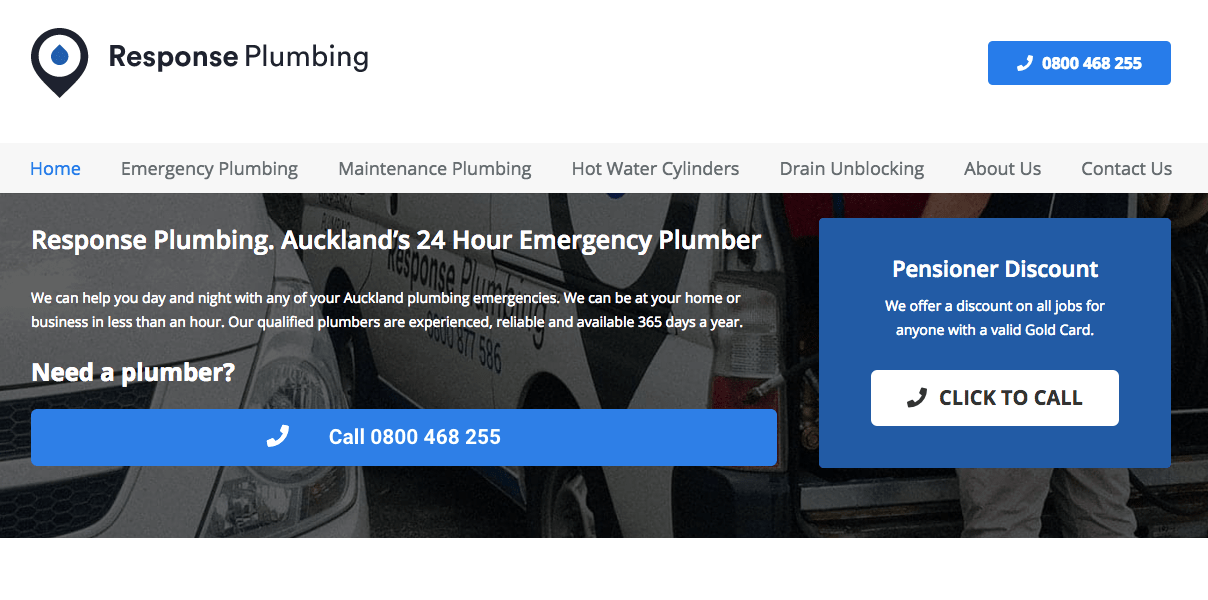 | | |
| --- | --- |
| Areas covered | Greater Auckland area |
| Services | Emergency and Maintenance Plumbing |
| Address | Auckland, New Zealand |
| Contact no | 0800 468 255 |
| Website | https://responseplumbing.co.nz/ |
In need of a plumber right away? Response Plumbing will arrive at your home in the Greater Auckland area in less than an hour.
Their plumbers are certified and have seen and repaired plumbing problems from the simple to the complicated. Spare parts are not a problem either, as they can get it from their suppliers 24/7.
Plus, payment has never been easier through EFTPOS and credit card systems they carry with them. Here's to one of the best emergency plumbers in Auckland!
Highlights
24/7 service even on holidays!
Certified plumbers
Serves the Greater Auckland region
Customer Reviews
Latimer Clark gave a positive feedback on Google Reviews:
"Excellent, friendly service from Response Plumbing. Quick response over holiday time. Good problem solving and pragmatic solutions. Good price and great communications. Highly recommended."
2)  PlumbQuick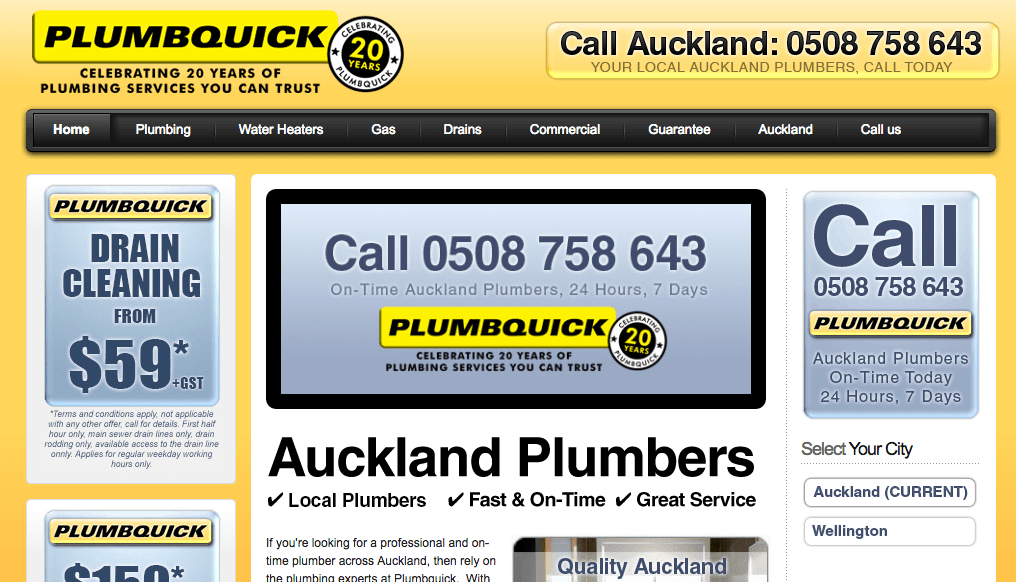 | | |
| --- | --- |
| Areas covered | Auckland-wide |
| Services | Domestic and Commercial Plumbing Repairs, Safety Checks, and Maintenance |
| Address | 11 Percival Parade St Marys Bay Auckland 1011, New Zealand |
| Contact no | 0508 758 643 |
| Website | http://www.plumbquick.co.nz/ |
For professionally licenced plumbers who repair or install everything from sinks to toilets to hot water cylinders and downpipes, contact PlumbQuick!
Their edge is in their comprehensive range of services and a written guarantee that ensures top-quality workmanship. But what's more important is that they are always on time.
For hot water cylinders, they are accredited service agents of Rheem. Whether you like the cheaper standard-type or the energy-saving heaters, they are available.
Call today and they can come to you at once, as their coverage is Auckland-wide!
Highlights
Full range of services
On-time plumbers
Rheem service agents
Customer Reviews
This is a review from Burger King located at Lambton Quay:
"Plumbquick always comes to a call out super fast, follow up work is great and they clean up any mess, highly recommend to anyone wanting a plumbing company that will go the extra mile for their customers, especially Malcolm, who always delivers A+ service!"
3)  PipeFix Plumbing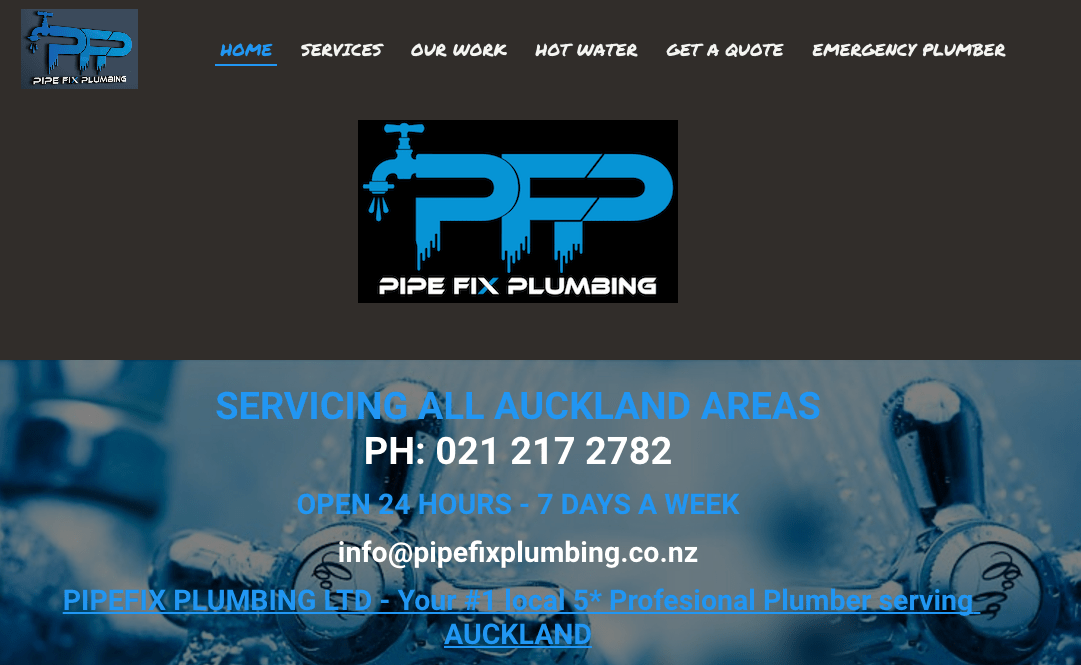 | | |
| --- | --- |
| Areas covered | Auckland-wide |
| Services | Plumbing Repairs, Renovations, and Roof Leaks |
| Address | Campbell Road, One Tree Hill, Auckland 1051, New Zealand |
| Contact no | 021 217 2782 |
| Website | https://pipefixplumbing.co.nz/ |
Formed in 2016, PipeFix Plumbing are Master Plumbers certified company based in Auckland. They are ready to do plumbing work round-the-clock, whenever you need them.
Always, their finished work is spotless, impeccable and neat. Having outstanding quality and customer service, it is easy to include them among the best emergency plumbers in Auckland.
They take on renovation projects, new builds, or just a simple home. And yes it comes with a guarantee for peace of mind and quality assurance.
Highlights
Amazing quality workmanship
Professional and always on-time
Works on homes, renovation, new builds
Customer Reviews
Kelly Weiler writes a 5-star review on PipeFix's Facebook page:
"Tom was absolutely fantastic! Went out of his way to help my family and did such a good job! Charged us less than the other plumbers, Thanks Tom. We will be calling on you again in the future"
4)  Laser Plumbing and Electrical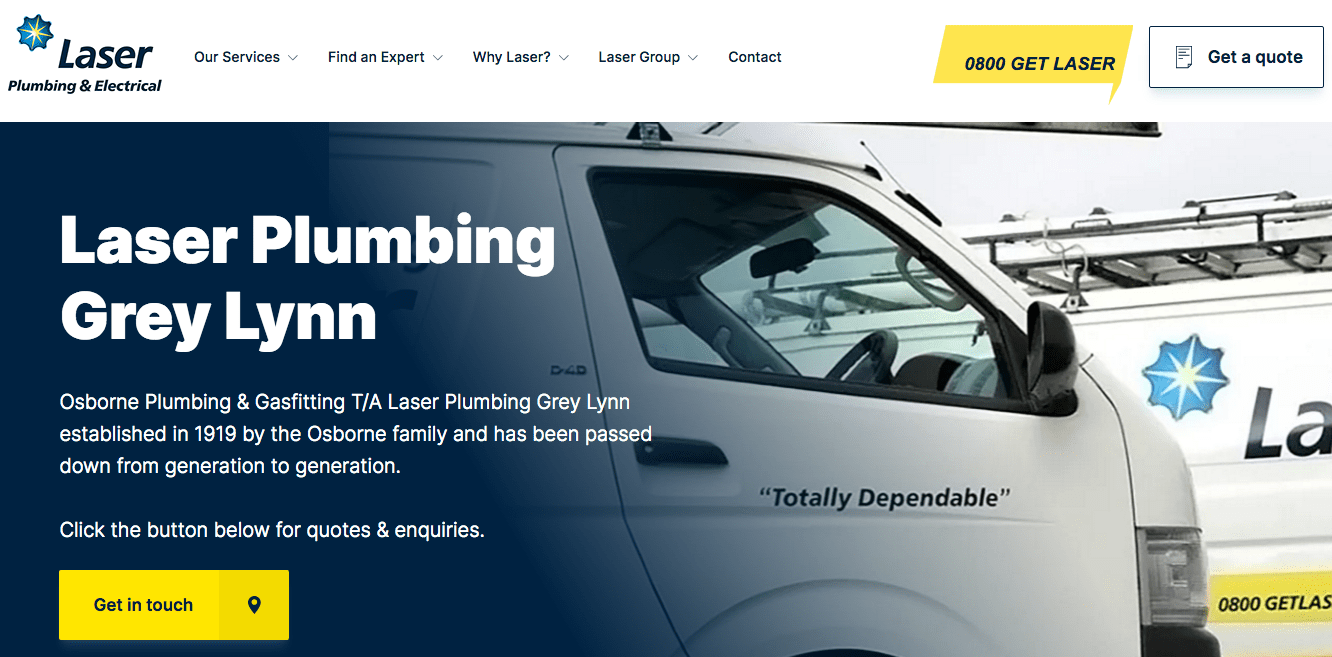 Laser Plumbing and Electrical is one of the best emergency plumbers in Auckland. It has many branches scattered across New Zealand, now with more than 250 employees.
They zero in on new houses from the layout right to the installation. They possess modern tools to unclog the pipe or drain, install spouting on the roof, and conduct a safety check on your gas.
You are provided a Totally Dependable guarantee of fantastic workmanship, dexterous and considerate workers, warranties, and punctuality — as well as assurance that your problems are certain to be solved.
Highlights
Always on time
Superior skills
Totally Dependable guarantee
Customer Reviews
In Google Reviews Ray C recommends Laser plumbing for these reasons:
"1. My mum, who's in her 80s, had no problems contacting them and getting them to come out to fix a toilet. They also came out quickly within about an hour.
 2.They did a great job fixing the toilet, and after invoicing me, it was really easy and quick to pay via their email link"
5)  Ross's Plumbing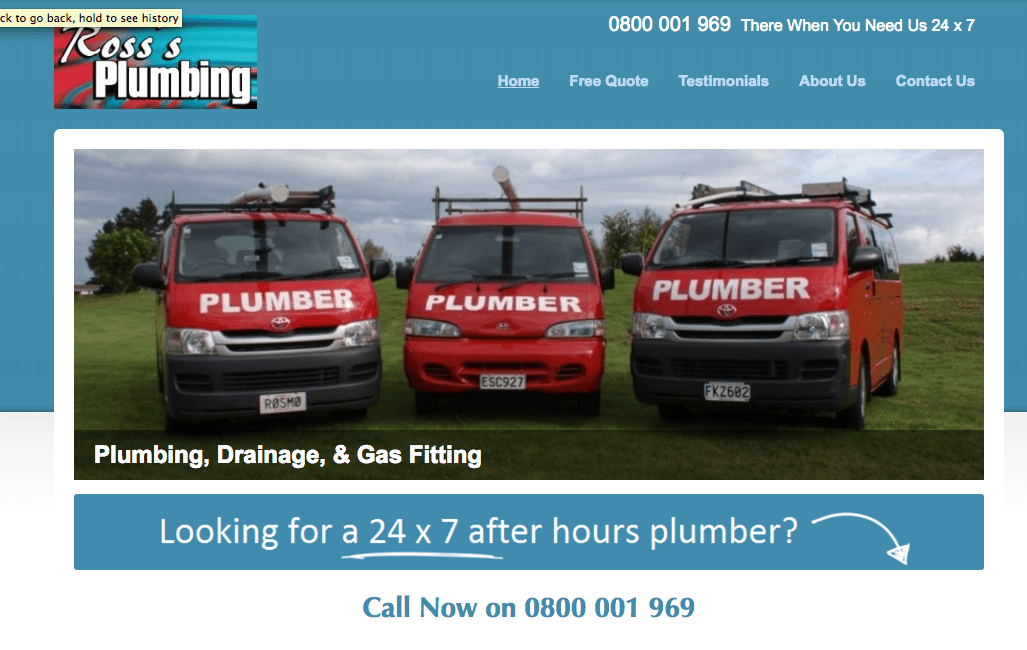 | | |
| --- | --- |
| Areas covered | Auckland-wide |
| Services | Plumbing Repairs, Maintenance, Bathroom, Laundry, and Kitchen Renovations |
| Address | 17 Hobill Ave, Wiri, Auckland 2104, New Zealand |
| Contact no | 0800 001 969 |
| Website | https://24hourplumber.co.nz/ |
Are there a deluge of leaks coming from your roof or burst pipes on Sunday night? Call for Ross's Plumbing immediately. They are available for service 24 hours and 7 days a week.
As a member of the Auckland Plumbers Association, you can trust that they have the expertise and tools that will repair those ceiling leaks, unclogged drains, heaters, and spouting.
If you're keen on a bathroom or kitchen renovation, they can do it for you too! For example, they can build or install vanities, new toilets and sprays, showerheads, cupboards, stoves, and others.
Highlights
24/7 even on holidays!
Auckland Plumbers Association member
For bathroom and kitchen renovations
Customer Reviews
Here's Alan Rayner from Barfoot and Thompson:
"Can't speak highly enough of the team at Ross's Plumbing!! Quick, efficient, on time, and affordable Plumbing from "Real People" Your first and only call for complete plumbing, roofing and gasfitting service."
6) Lombard Plumbing
Next on our list is Lombard Plumbing, a service provider that caters to the entirety of Auckland and surrounding areas.
Now, there are many reasons to like Lombard Plumbing, beginning with its service hours. Unlike other plumbers, Lombard Plumbing operates 24/7, making it an excellent choice for those who find themselves staring at plumbing emergencies.
Another reason is its team, which consists of trained, highly skilled, and certified individuals whose years of experience in the field allow them to competently and confidently work on any plumbing project.
Lastly, the services themselves.
See, Lombard Plumbing doesn't only deal with plumbing issues. It also deals drainlaying services, drain unblocking services, hot water cylinder repairs, and bathroom renovations.
Highlights
Open 24/7
Offers emergency services
Large service area
That's all for the best emergency plumbers in Auckland. You now know whom to call when a plumbing disaster strikes without you expecting it.
Are there any questions about these emergency plumbers we've discussed? You can let us know about it by sending us a message and we will reply as soon as we can.
Take note that some plumbing problems are easy to handle by yourself, incidentally. For example, you can replace your own filter yourself — if you want new tapware or water filter, you can check out the best water filters in New Zealand, and just install one of those.
And if your plumbing problem is that hot water is not coming through, changing or repairing the cylinder will usually do the trick. To know more about this, you can read about the best hot water cylinders in New Zealand.