The 5 Best External Hard Drives in NZ
Looking for an external hard drive to save all your files in? You're on the right page, as we're rounding up the best external hard drives in NZ here today!
To help you find the right external hard drive, we will zero in on the factors you have to consider. Doing so will help you choose from our top product choices on this list.
How to Buy an External Hard Drive
Below are the things you need to consider when buying an external hard drive:
1) Drive Type
External hard drives come in two types: Hard Disk Drives and Solid State Drives. Let's take a look at them here.
A hard-disk drive is a data storage device with a small spinning disc inside that reads, records, and stores data magnetically.
Since hard-disk drives have many moving parts inside, they're prone to impact damage. However, they have a lot of memory and are more affordable than SSD drives.
On the other hand, solid-state drives store data in integrated circuits. Since there are no moving components in them, they have a high tolerance for damage or shock.
SSDs are also convenient and portable. Their advantage over hard-disk drives is that they are faster in transferring files and running apps.
2) Data Storage
Often, the reason we look for external hard drives is to be able to store a large amount of our digital media. For that, we should consider the data storage of a hard drive.
External hard drives, whether HDD or SSD, carry a capacity of 500 GB to 5 TB.
Remember, you don't have to buy the most capacious and premium hard drive; buying one that can keep all your files with a bit of space left over is good enough.
It's also possible to just save your money and get a USB flash drive with anywhere from 16 to 512 GB of storage space.
3) Design
As for the design, you can choose between the more-common portable external hard drive or the desktop-type one.
While portable hard drives are more travel-friendly and affordable, they are less powerful than desktop hard drives in moving, transferring, and organising your files.
Desktop formats are typically 8.89 cm tall and require a power adaptor to connect to your computer. Also, one common feature you can find for this is an inbuilt fan to keep the drive cool.
4) Connectivity
Hard drives can connect to your computer with a USB 3.0, Lightning, eSATA, or Firewire port.
You can also find wireless hard drives today with Wi-Fi tech.
Note that not all of the hard-drive connections are the same: each one brings a different level of speed for data transfer and using the drive's applications.
5) Compatibility
Also, most external hard drives can work on Apple and Windows computers.
However, you may need to reformat yours to work with your device and operating system, but don't worry, if your system version is up-to-date, chances are the reformatting will be snappy.
The Best External Hard Drives in NZ
Great, you now know how to buy an external hard drive. So without further ado, here's our lineup of the best external hard drives in NZ!
1) WD My Passport External Hard Drive (2 TB)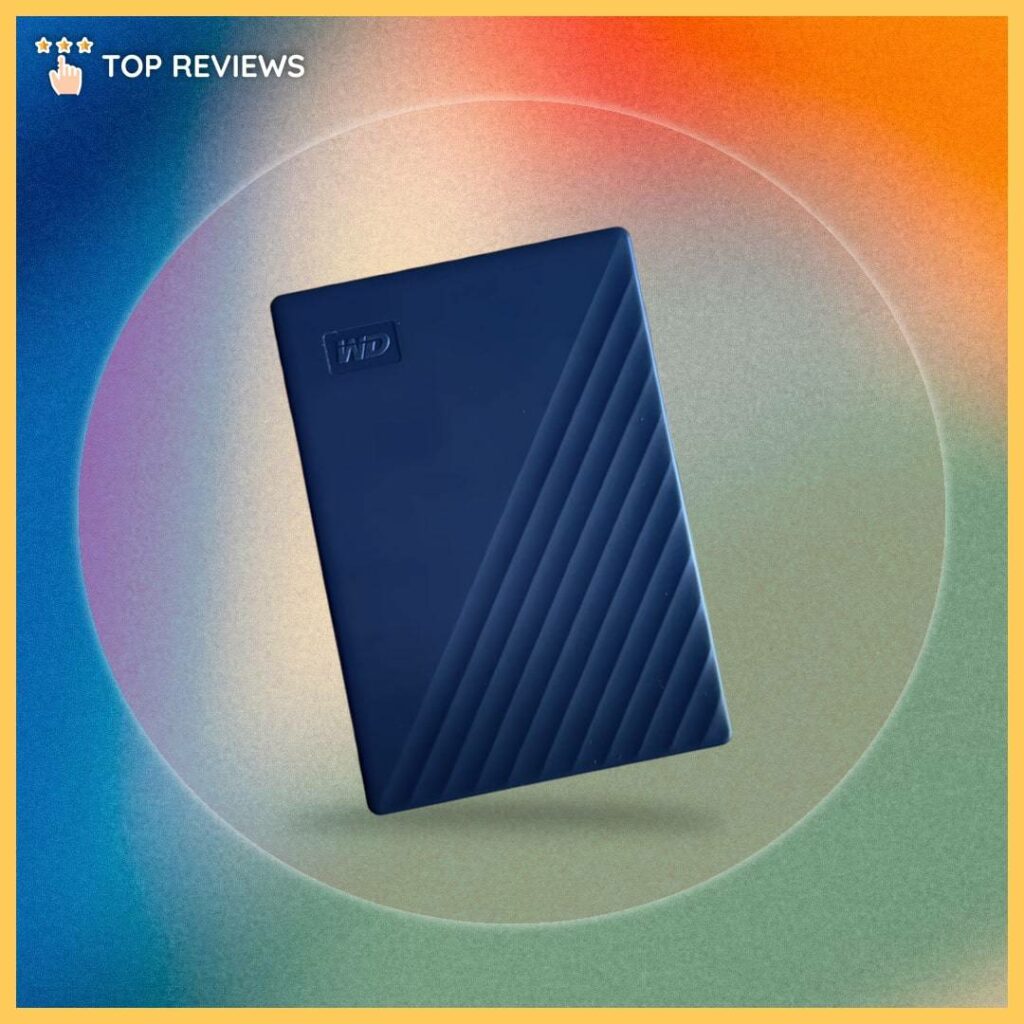 | | |
| --- | --- |
| Best for | Secure backup data |
| Drive type | HDD |
| Capacity | 2 TB Also available in 1 and 4 TB |
| Connectivity | USB 3.0 |
| Price | $131.09 |
The WD My Passport External Hard Drive features 1 to 4 TB of space and secured password protection to back up your most important photos, videos, and documents.
Your hard drive files are completely secure thanks to the AES 256-bit encryption, which is the highest security standard available today.
The drive connects to your Mac or Windows computer using USB 3.0. Its WD Discovery software lets you share, import, and organise your files to the My Passport drive.
Matching those impressive features is the sleek, black, and compact form factor of the hard drive. Furthermore, it's pretty small and can fit in the palm of your hand.
Sleek and compact form
Has password protection
Easy to set up
3-year warranty
Average data transfer speeds
2) Seagate Xbox External Game Hard Drive (2TB)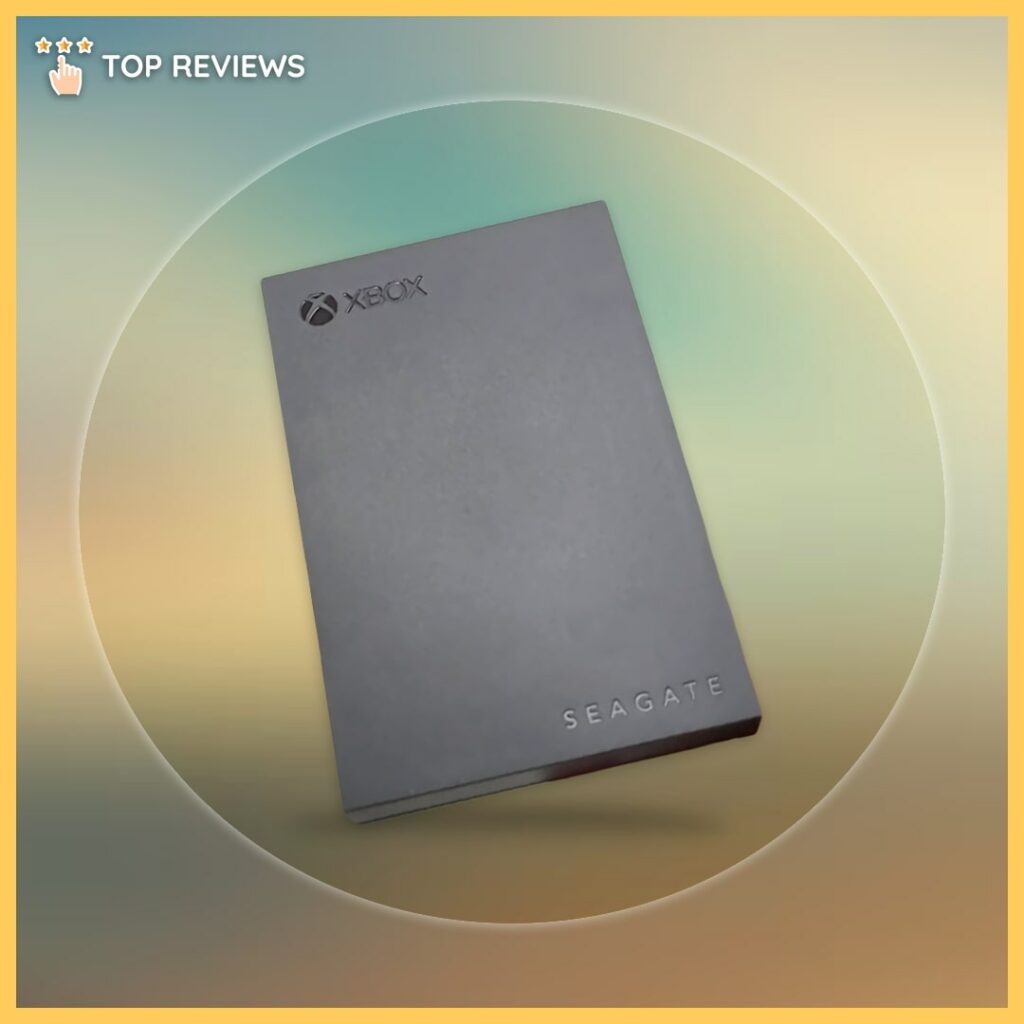 | | |
| --- | --- |
| Best for | Xbox One game storage |
| Drive type | HDD |
| Capacity | 2 TB Also available in 4 TB |
| Connectivity | USB 3.0 |
| Price | $149 |
Want to save a copy of your entire Xbox One or 360 console game library? Well, the Seagate Xbox special edition game drive is perfect for that.
Specially made for Xbox consoles, you simply need to plug it in using the USB 3.0 cable and the console will start it for you—and that's it, you're good to go.
You can consolidate 2 or 4 TB worth of games, downloadable content, videos, music, and photos to this portable device.
This Xbox hard drive is a special edition in arctic colour, looking way better than the green design (in our eyes, anyway!). It's also easy to keep in your room and slip into your backpack when you're going to your friend's house for some gaming.
Plus, if you buy this online on the Market or other sites, you get a free membership trial to Xbox Game Pass Ultimate—whatever game you want to play there—for a whole month!
Stylish arctic design
Plug n' play setup
Portable with no power cable needed
1-month trial to Xbox Game Pass Ultimate
Not compatible with other devices
3) ADATA SD700 External Hard Drive (512 GB)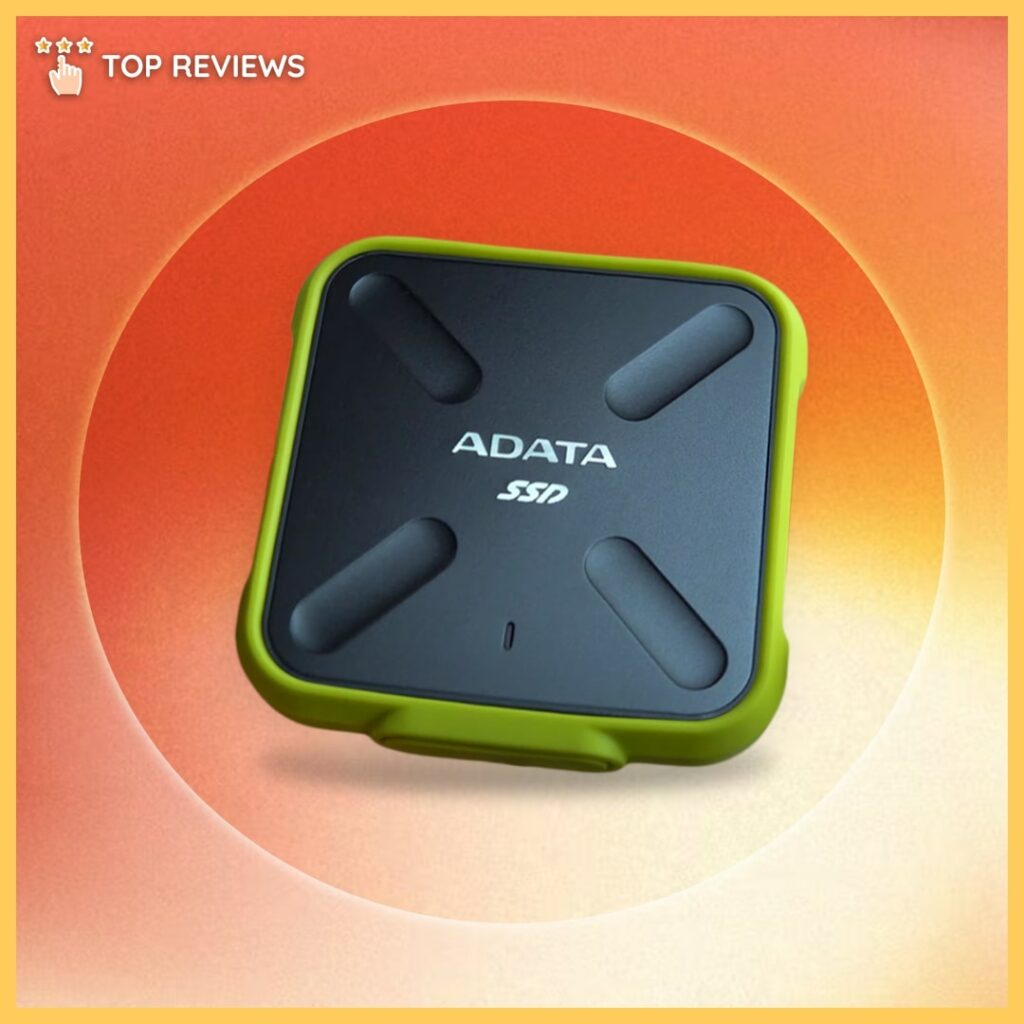 | | |
| --- | --- |
| Best for | IP68 SSD drive |
| Drive type | SSD |
| Capacity | 512 GB Also available in 500 GB and 1 TB |
| Connectivity | USB 3.1 |
| Price | $183.89 |
You can throw this hard drive a metre away from you and it probably won't get damaged one bit. That's a big part of why we like it!
One of the best external hard drives in NZ, the ADATA External Hard Drive meets the IP68 standard, rendering it resistant to wind, sand, dirt, and submersion.
The ADATA SSD has read and write speeds of up to 440 MB/second too, which is fairly fast. It connects via USB 3.1 and is compatible with Mac, Windows, Android, and iOS devices.
Aside from that, the black and yellow colour scheme is pretty cool. This hard drive is available in 512 GB and 1 TB storage sizes.
Dirt, sand, and water-resistant
Military-grade shockproof design
Fast data transfer
Small portable size
Can get pretty hot during use
Customer Reviews
Adata's SSD is a hit on Amazon. Different people benefitted from the easy application launch, seamless transfer of data, super-tough exterior, and value for money.
Let's hear the feedback from one buyer:
"Drive is smaller than you think. The connector cover with rubber gasket is hard to open sometimes — I've only had the drive for a day or so, so I'm sure this will get better. TRIM is supported! That alone makes this worth it. I used few different external solutions before (SSDs in encosures, SanDisk Extreme Pro USB, etc.) but they all slow down eventually because they don't have TRIM support. Trimcheck shows this drive as supporting trim. I feel like ADATA should really tout that this drive supports UASP + Trim more.
Drive is fast — it's not as fast as my Samsung Evo SSD in a UASP enclosure, but it's more than fast enough to run VMs off of it. I've included the CrystalDiskMark showing the speed. Definitely thumbs up from me for now. I will update the review with reliability reports in the future."
Here's another satisfied customer named John:
"Great product Amazon got it to me in less then 2 days and man perfect timing to transfer some large files from my Mac to my Windows Machine, worked very well , Much faster then my Flash stick which is USB 3.0 as well and just as fast on Windows Machine, like that its rugged so can take with my with my Surface Pro where ever I go. Great price and good to see Solid state drive prices dropping to within reach of everyone to buy."
4) Samsung T7 Portable SSD (1TB)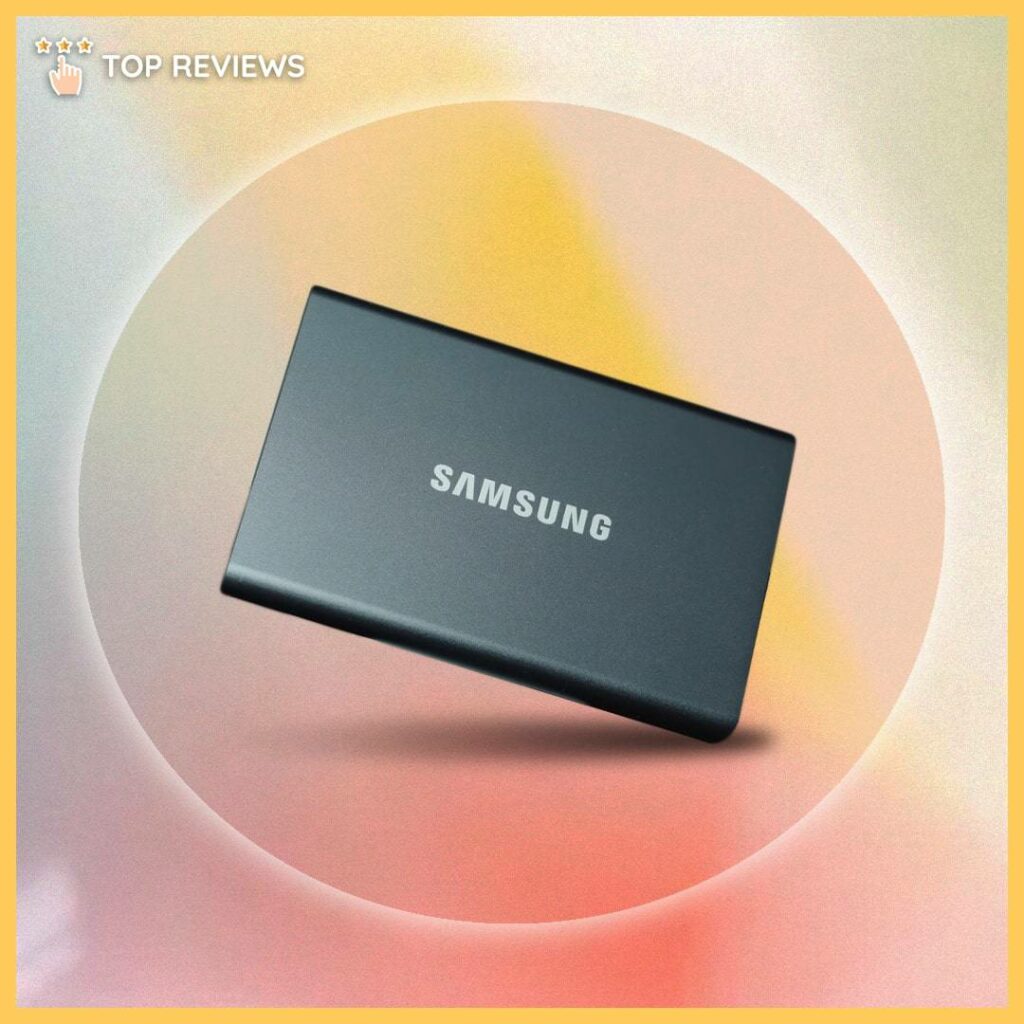 | | |
| --- | --- |
| Best for | High-speed media transfers |
| Drive type | SSD |
| Capacity | 1TB Also available in 500 GB and 2 TB |
| Connectivity | USB 3.2 Gen2 |
| Price | $329 |
Doubling the data transfer speeds of the T5, the Samsung T7 SSD provides blazing hot speeds of 1050 and 1000 MB/second read and write speeds respectively.
The pocket-sized SSD is constructed of aluminium, giving it durability and lightness. It can withstand falls from up to 2 metres while keeping your data safe and unharmed.
By the way, it features AES 256-bit encrypted password protection to protect your files, both small and large, from the hands of hackers and users with malicious intent.
There is a selection of colours for you to choose from, such as metallic red, indigo blue, and titan grey. Also, this comes with a 3-year limited warranty that inspires confidence.
Incredible speed
Top-notch drive security
Impact-resistant
3-year warranty
Expensive
Slower at transferring larger files
5) WD My Book Desktop Hard Drive (8 TB)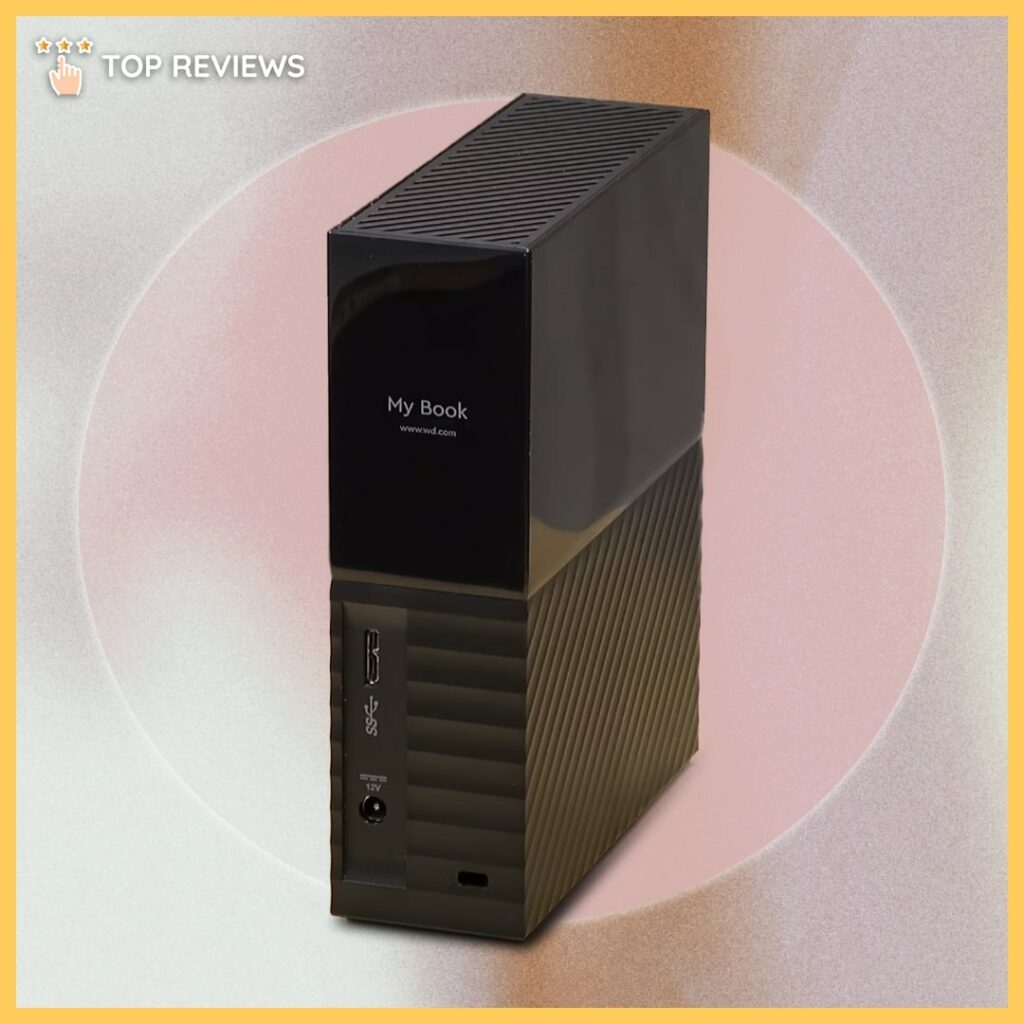 | | |
| --- | --- |
| Best for | Desktop hard drive |
| Drive type | HDD |
| Capacity | 8 TB |
| Connectivity | USB 3.0, USB 2.0 |
| Price | $449.99 |
If you work with tons of projects and files that you can't lose, then the WD My Book Desktop Hard Drive could be for you.
WD My Book has speedy data transfers and an enormous storage space of 8 TB. Your files are password-protected to prevent others from accessing them without your knowledge.
Thanks to the WD Backup software, you don't have to do the backing up yourself. You just choose a convenient time or date and the software will do all the work for you.
My Book's classy and modern design is a winner too. Furthermore, it supports USB 3.0 and USB 2.0 to offer more flexibility for the devices you have.
With solid performance and storage, this desktop hard drive gives you great value for your money, as many customers can attest.
Massive storage capacity
Reasonably priced
Has password protection
1-year warranty
Can get noisy and vibrate a lot
Customer Reviews
Despite the fact that the WD My Book can get annoyingly noisy, its speed, price, and reliability more than make up for it, say users.
Here's what Mark has to say about the desktop hard drive:
"As a digital artist and Maya animator, and a huge movie aficionado, and a photographer, I'm constantly butting my head against storage ceilings.
This is the best bang for the buck you're going to find.
Take it from someone who had terabytes when people still thought gigs were a lot: You can never be too thin, too rich, or have enough disk space.
My 3TB model has been reliable for years, the 1TB from the same family has powered my Stora NAS for most of a decade now. The 8TB is excellent headroom and is literally best bang for the buck, in that it's the sweet spot of dollars per terabyte. Do the math: bigger ones and smaller ones are both more expensive in $/TB.
Recommended."
Also, Johnson shared his experience:
"Purchased this external hard drive to expand storage capabilities on an Xbox One. Plugged the drive in to one of the three Xbox USB 3.0 ports, followed the prompt to format the drive to store game data, and was ready to go. It was easy to move existing game data from the internal drive to the external drive. Note: You will need space on your power strip or electrical outlet to plug in the power adapter.
If you are using this drive with the Xbox One and use a lot of accessories that also need USB ports, you may want to buy a 4-port USB hub. I wasn't thinking about that when I bought this and had to pick one up later."
FAQS about the Top External Hard Drives in NZ
---
And there you have it for the top external hard drives in NZ. You can back up your personal and business files and take these with you on the go!
Any questions or thoughts about this list? If you have one, kindly let us know, and we'll get back to you as soon as we can.
Also, you may want to read about the best laptops in New Zealand. You can use your new hard drive with them to have a copy of your favourite photos, music, and films even when travelling.