The 8 Best Fencing Companies in Auckland
Fences adorn your house to complete its exterior look, along with giving you privacy and safety. If you're planning to put up some fencing around your house, you're in the right place, as we have listed the best fencing companies in Auckland here!
There are many kinds of fences you can choose from as offered by each company. It could be a louvre-type, timber, aluminium, picket, shiplap, or something else.
That's why we went looking for versatile fencing companies that can assist you in finding the right fence for your home. With their skills and knowhow, your fence will be up in no time, adding to the value to your property.
Anyway, without any more ado, here are the best fencing companies in Auckland!
1)  Auckland Gates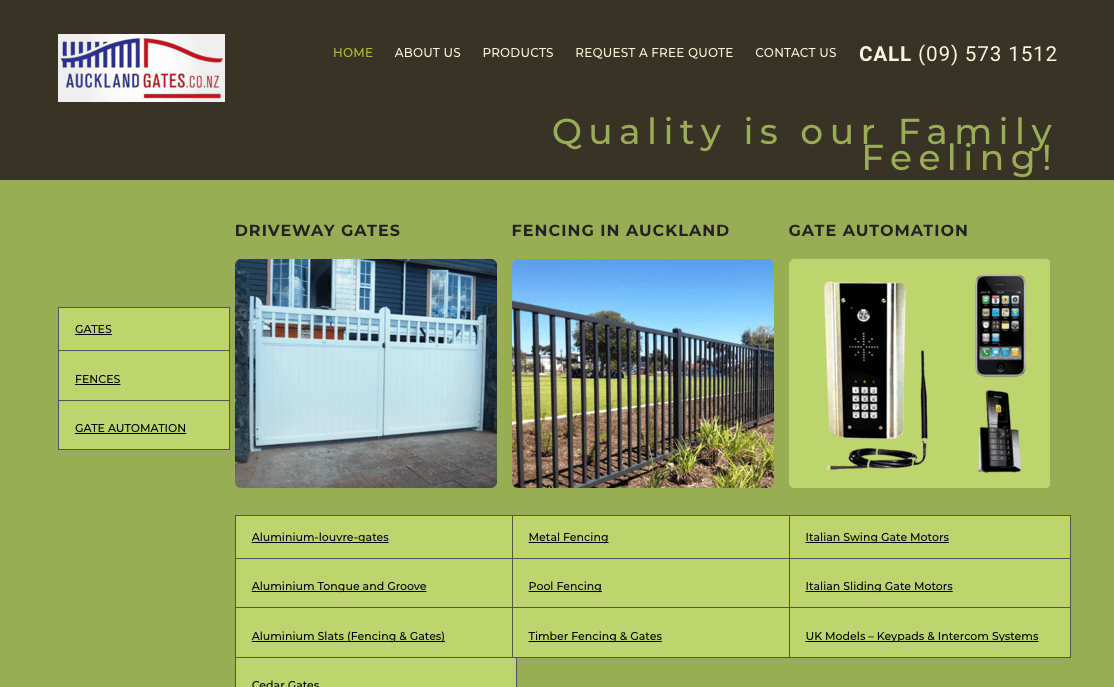 | | |
| --- | --- |
| Areas covered | Greater Auckland area |
| Services | Gates, Fences, and Gate Automation |
| Address | 15 Gabador Place, Mt Wellington, Auckland, New Zealand |
| Contact no | (09) 573 1512 |
| Website | https://aucklandgates.co.nz/ |
Keep your home safer and neater with the aluminium fences of Auckland Gates. For quality and style, they are one of the best fencing companies in Auckland.
They offer metal, pool, and timber fencing and can install it in your house. Constructed of top-grade aluminium, the fencing is very light and durable beside being rust- and graffiti-resistant.
You also receive a solid product warranty of 5 years. Also, they can come to you for maintenance or repair anywhere in the Greater Auckland Region.
Highlights
Neat and durable aluminium fences
Offers a selection of gates, automated gates, and fences
Provides a 5-year warranty
Customer Reviews
R & S Richardson wrote a review for them on the Auckland Gates website:
"We have just had an automatic gate installed by the Auckland Gates team and we love it. It provides the security we need living on a really busy road and it looks great too. Ash and the team were super easy to deal with and were thorough and efficient during the install. We would definitely recommend Auckland gates."
2)  Lifestyle Fences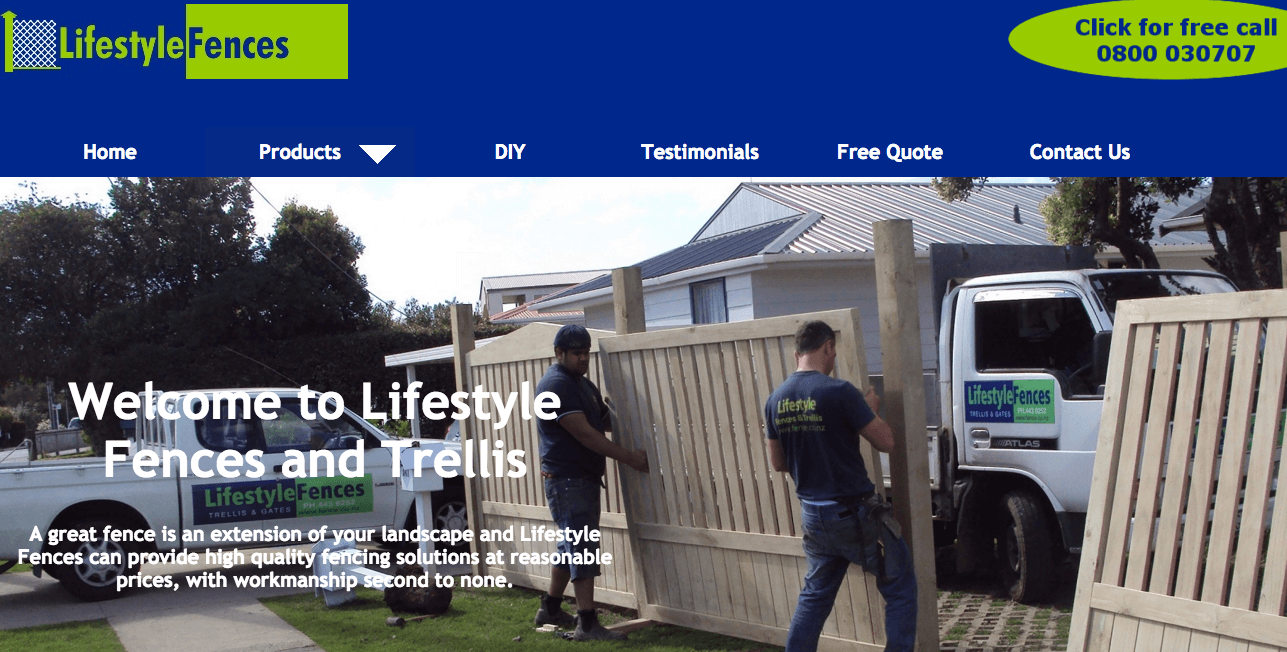 | | |
| --- | --- |
| Areas covered | Auckland-wide |
| Services | Shiplap, Weatherboard, Paling, Picket, Pool, and Screen Fences. |
| Address | 95B Wairau Rd, Glenfield, Auckland, New Zealand |
| Contact no | 0800 030707 |
| Website | http://www.fence.co.nz/ |
Lifestyle Fences is a manufacturer, designer, and installer of trellises, gates, and fences. They have a variety of wooden fences for your home that can give it a country and home-sweet-home feel.
That includes shiplap, weatherboard, picket, pool, and screen fencing. These are terrific and cost-effective options that don't compromise on durability, let alone style — they make for very appealing rustic décor.
They tailor the fences perfectly to fit the perimeter of your house, pool, or garden. And they also give you advice about what will look best for your home.
Highlights
Offers rustic wooden fences
Durable and appealing
You can purchase a product and DIY
Customer Reviews
Job Catcher scores 5 stars and writes a Google Review:
"Barry's team did a great job completing fencing at my property recently. They also coped with the addition of a number of landscaping retaining walls that I added to the project midway through. All done to a high standard, great workers, I'm very pleased with the result. Sam."
3)  Heritage Gates & Fences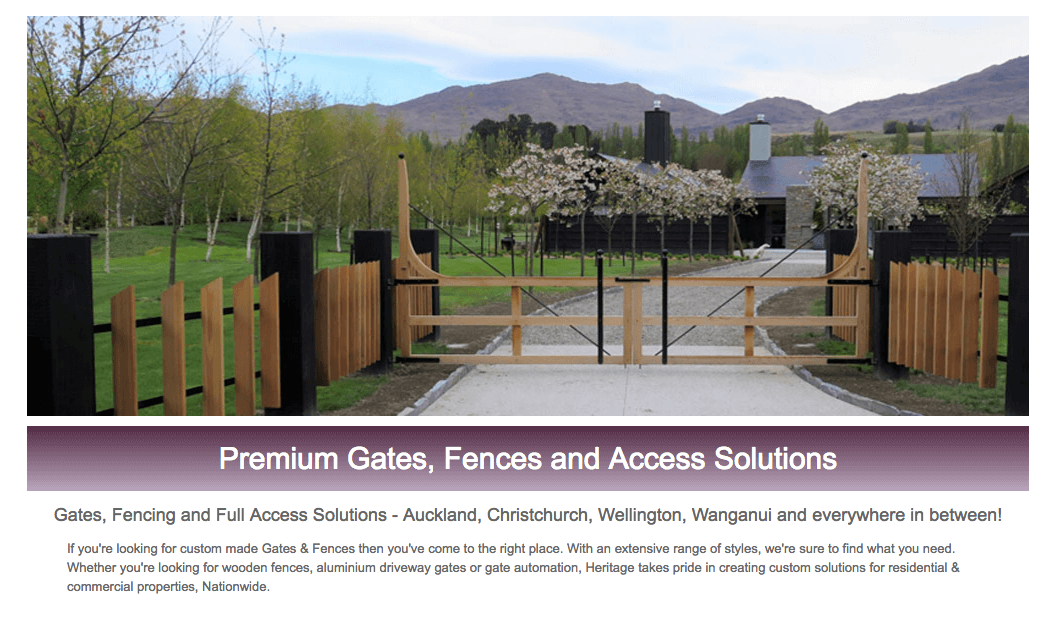 | | |
| --- | --- |
| Areas covered | Auckland and New Zealand-wide |
| Services | Residential, Commercial, Recreational, and High-Security Fencing |
| Address | 6 Harbour Ridge Drive, Wiri, New Zealand |
| Contact no | 0800 428 379 |
| Website | https://www.heritagegates.co.nz/ |
Heritage Gates and Fences is a family-owned business that was established around 30 years ago. Their initial product offerings were timber gates and fences but they have now expanded to offer a full range of fences including mesh security fences.
Each fence has its own unique appeal and they can design ones for bungalows, family homes, playgrounds, businesses, pools, parking, airport, historical houses, organisations. You just need to pick your poison (in our opinion, their cantilever ones look very cool).
Obviously you get quality and accessibility (they cover the entire country) when you work with this company. Therefore, we consider this one of the best fencing companies in Auckland.
Highlights
Offers a multitude of fences
Experienced technicians
Services New Zealand-wide
Customer Reviews 
Lani Fogelberg noted on Google Reviews:
"The team at Heritage Gates are extremely helpful and professional and I would happily recommend them to anyone looking for new gates or options to upgrade their existing gate system."
4)  Durafence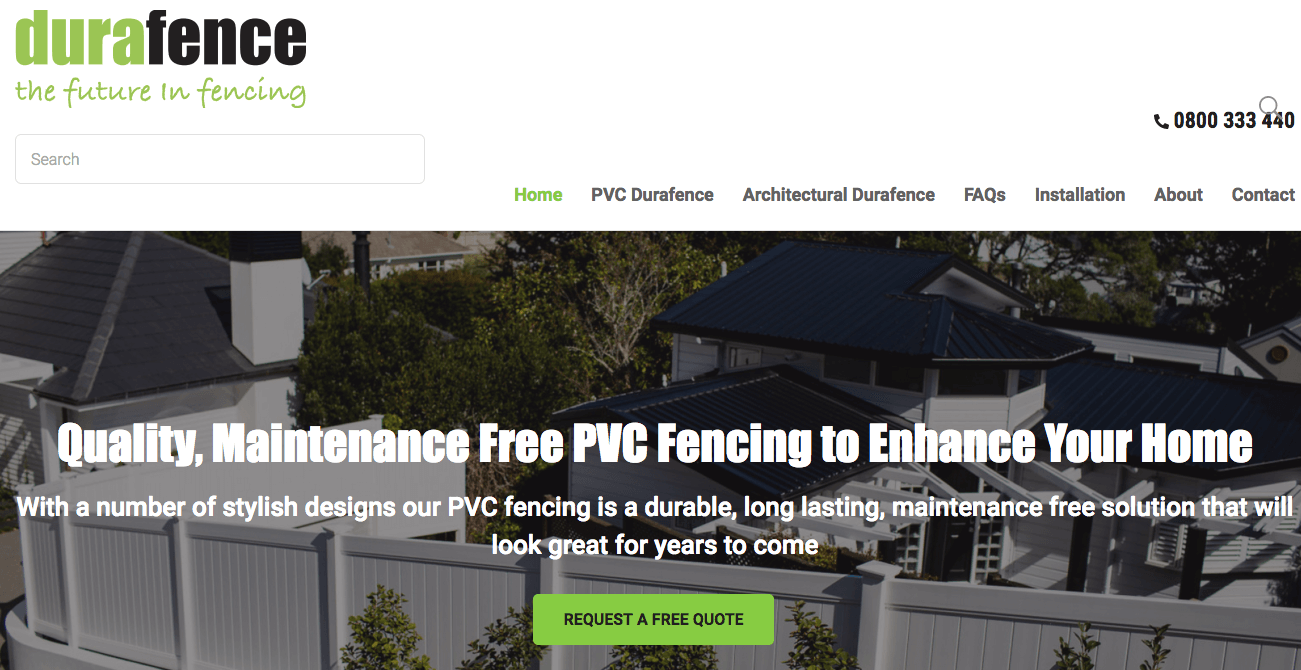 | | |
| --- | --- |
| Areas covered | Greater Auckland area |
| Services | Durafence PVC and Architectural Fencing |
| Address | 93B Morrin Road, Mt Wellington, Auckland, New Zealand |
| Contact no | 0800 333 440 |
| Website | https://www.durafence.co.nz/ |
If you like fencing that is durable and maintenance-free, check out Durafence's PVC fences. These lend your home a neat look with its closed structure, aesthetic line pattern and polished texture.
Durafence's products are durable, neat-looking, maintenance-free, non-toxic, and eco-friendly. A Durafence product can bear the general weather in New Zealand and is also designed to withstand saltwater air.
To match your property, they offer a range of styles for both Durafence PVC  and Architectural Durafence. On top of that, you get an assuring and mind-blowing 15 year guarantee.
Highlights
Long-lasting and maintenance-free fences
Has value for the price
Choose from a range of styles
Customised to your needs
15 year guarantee
Customer Reviews 
Let's see a Google Review from Matt Dodd. He wrote:
"Right from the beginning to the completion of our new fence and gate the service we received from Durafence was excellent. David and his team made the whole process so easy and straightforward. We are absolutely delighted with the end result and heaps of our friends and neighbours have commented on how great it looks…"
5)  Just Fences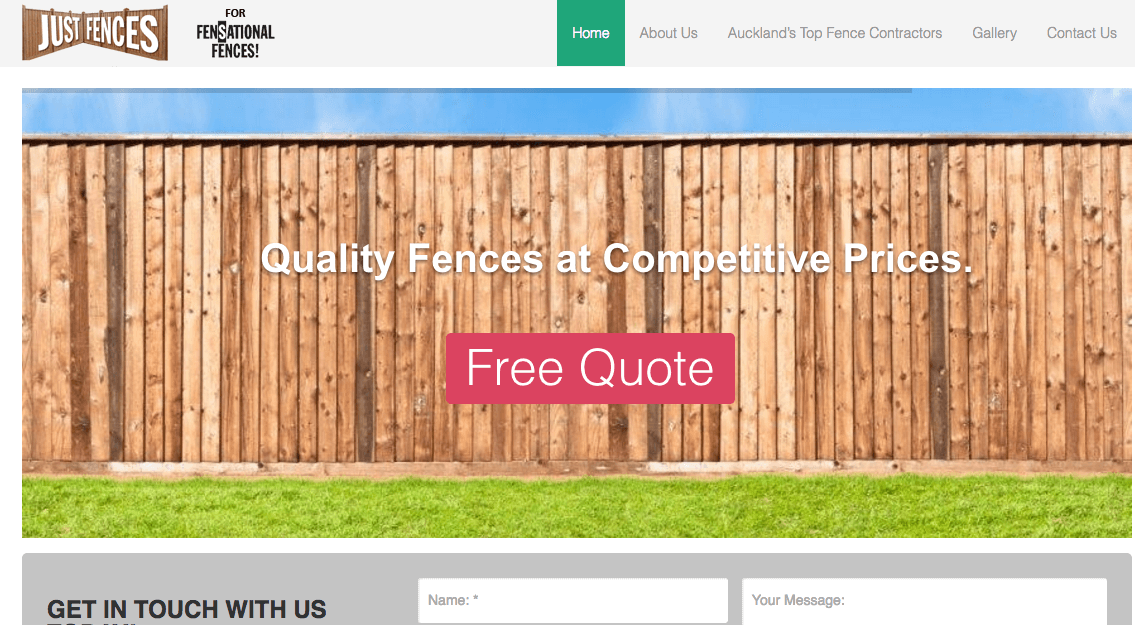 | | |
| --- | --- |
| Areas covered | South East Auckland area |
| Services | Wooden Fences, Pool Fencing, Retaining Walls, Wire Mesh Fencing, and Wooden Gates |
| Address | Auckland, New Zealand |
| Contact no | 020 411 47579 |
| Website | http://justfences.co.nz/ |
Looking for premium timber or aluminium fences? Just Fences is the one for the job. Down to your specifications, they can design and manufacture fences that keep your area secured and sectioned.
These products are made of the finest quality and craftsmanship that can complement your house or swimming pool. They can withstand strong rains, sweltering heat, and forceful blows of the wind.
They try to collaborate with you as much as they can to achieve a result that satisfies. So, for fantastic service and affordable prices, this is one of the best fencing companies in Auckland.
Highlights
Fantastic service and quality
Offers a range of timber, glass, and aluminium fences
Affordable prices
Customer Reviews 
Malcolm Prebble gives a perfect review of 5 stars. He said:
"We used JustFences to replace a 30 metre storm damaged fence between 4 houses on a shared driveway.  We were very pleased with all aspects of the service we received – quoting was prompt and reasonable, work was done exactly when they said it would be done, and the end result was very favourably received by all neighbours affected.  Thank you – and I would recommend this fencing firm to all."
6) AJ General Works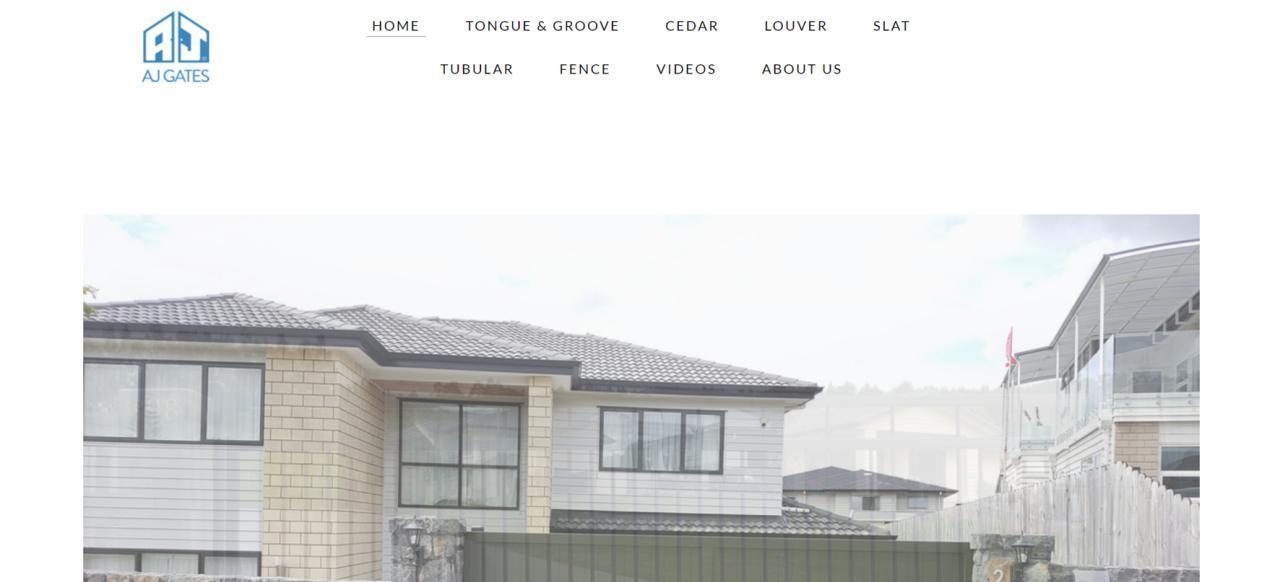 AJ Gates offers one of the best fencing instalment in Auckland. Firmly believing that fences and gates offer the purpose of not only security but an impression to visitors, their amazing team makes sure that you get the best output for both, ensuring aesthetics are met without having to compromise its robustness.
Rest assured that with AJ Gates, you'll be getting high-quality fencing for an affordable price. Check out their designs and materials on their website.
Highlights
Wide range of access and automation solutions
Distinct attention on style
Custom-made gates and fences
Customer Reviews 
Read some of the testimonies that satisfied clients had left on AJ Gates' website:
"Totally recommend. Joe is a professional tradesmen and his workman ship is top quality. We ordered a new automated gate which came in on time and makes our house look modern and new. Thanks Joe "
"Joe and his team created and installed some large electronic swing gates to our property which look amazing. Joe is easy to deal with and a true professional in his work. I would recommend Joe and the quality of his work 100%"
"Just got our sliding gate installed today and we are very pleased with the work Joseph had done. He is really meticulous to detail and very well organised.I was very impressed with his keen eye to detail specially considering our gate is on an incline.so it had to be really level on the top. I compared him with 3 other guys here on trademe and you could really notice the difference with him when I asked for a quote. He knows his stuff. Highly recommended! "
7) Apex Fencing

Areas covered
New Zealand-wide
Services
RESIDENTIAL FENCING
COMMERCIAL FENCING
PARK AND SCHOOL
SECURITY AND CHAINLINK
CIVIL AND INFRASTRUCTURE
Address
34C Forge Road, Silverdale
Contact no
Phone: 09 309 2279
Email: [email protected]
Website
https://www.apexfencing.co.nz/
Considered to be one of the best commercial and residential fencing specialists, Apex Fencing is a company that designs, manufactures, supplies and installs custom-made gate and fencing products.
Having well-trained and professional installing crews and builders, the company can ensure that only the best quality of work will be given to you.
Head on to Apex Fencing's website to ask for precise quotations and a full range of services.
Highlights
8) Solid Gate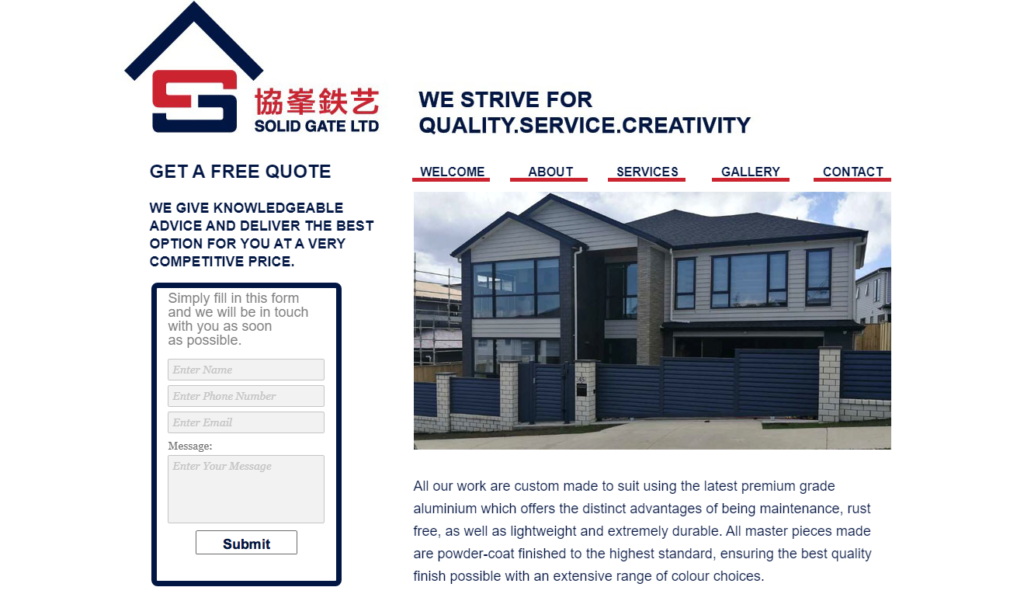 Areas covered
Auckland-wide
Services
Gate And Fence
Privacy Panel
Pool Fencing
Handrail
Automation System
Shop Display
Repair Work
Installation
Address
11D Andromeda Cres,

East Tamaki, Auckland

Contact no
09278 8299

Email: [email protected]

Website
http://solidgate.co.nz
If we're talking about quality metal products, then there is no forgetting Solid Gate.
Solid Gate, since the time it accepted its first client, has built up a reputation for the workmanship and customer service it has to offer. Solid Gate clients have vouched for the company's products, which are made from premium grade aluminium — lightweight, durable, rust-free, and needs very little maintenance to last long.
To top things off, Solid Gate always ensures that every product they make are powder coat finished, with various colour options available.
Another thing to note about Solid Gate is the customisability they can provide to every client. Metal products are created to complement the property at hand; they're also adjusted to accommodate the unique needs of residential and commercial properties.
Some of the metal products that Solid Gate can produce include gates and fences, privacy panels, pool fencing, and handrails. Aside from production, Solid Gate is also capable of installation and repair work, making them an excellent one-stop service choice.
Highlights
Offers 2 years of warranty on motor
Workmanship for gate and fence products comes with 5 years warranty
Excellent workmanship
Lightweight, durable, and rust-free products
And that's all for the best fencing companies in Auckland. Not only will you get a great fence, but you will also get a reliable and fast service with these contractors.
Do you have any questions about our topic today? If so, kindly send us a message and we will get back to you in a bit.
Furthermore, if your roof's chipped paint is giving you as many problems as your fencing, you might like to read our list of the best roof painting services in Auckland too. That way, your new roof can match your new fence.