The 5 Best Fibre Broadband Routers in New Zealand
Fibre broadband delivers the best-in-class speed for your Internet at this time. If you're changing routers or getting a new one, read on, as we've featured the best fibre broadband routers in New Zealand.
With so many routers and brands to choose from on the market, it can be hard to find the right one you need. Not to mention, they may have technical terms that you might have to grapple with.
Not to worry, though, as we'll guide you along the way. We already listed the routers with speed and a stable connection so the Internet won't drop while you're surfing or playing games.
That said, we'll first go over some basics you have to know when getting a fibre router, all the while keeping it simple for you. This will help you choose the right router for your needs from our list later on.
What to Consider before Buying a Fibre Router
Here are the things you need to consider about fibre routers:
1) Speed
Speed is definitely the most important factor in getting any type of router. You can be more productive with a fast connection, after all.
Your Internet speed is measured by its download and upload speeds. These are shown in Mbps (megabits per second) or sometimes Gbps (gigabits per second).
As such, you should check out the stated max download and upload speeds of routers when choosing.
2) Ethernet Ports
Another thing to consider are the ports on the back of the router. These consist of LAN and WAN ports.
A LAN port lets you share the Internet through an ethernet cable plugged to your computer or gaming console, while the WAN port should be linked to your modem, which allows the router to connect to the Internet.
Simply put, your router should have at least one of each port.
3) Distance
As you move away from the router, the signal can lower for your device if its coverage isn't too high. Hence, you will be able to use your Wi-Fi in farther rooms or areas from the router if your router's signal is stronger or its coverage is greater.
You'll find a bunch of our featured routers that are great in terms of distance. Normally, higher coverage is better, for convenience.
4) No of Devices Supported
How many devices or gadgets do you use at home? Fibre routers can support a limited number of them simultaneously with no changes in their speed — you want that number to fit your needs.
This comes in handy when there are a lot of people using the Internet within a single location. Of course, if you only live with a partner or a small family, a lower number of maximum devices supported is fine.
5) Security Features
Now that it's the digital age, more and more phishers and hackers are taking advantage. With up-to-date security features on your router, though, those people will be identified and blocked outright.
Some routers even have parental controls, built-in firewalls, and more. With these, you can be certain that your Internet activity and personal information are secured to the highest level.
6) Price
As there are a vast range of routers available on the market, there is always something that caters to your needs and budget. You can find many that will give you value for your money.
Keep in mind, though: you don't always have to get the fastest or highest-end router. As long as it has the specs you need and terrific quality, go for it.
The Best Fibre Broadband Routers in New Zealand
Now that you know the essentials, let us now present the best fibre broadband routers in New Zealand!
1) TP-Link Archer C7 Wi-Fi Router (AC1750)
Best for Number of Devices Supported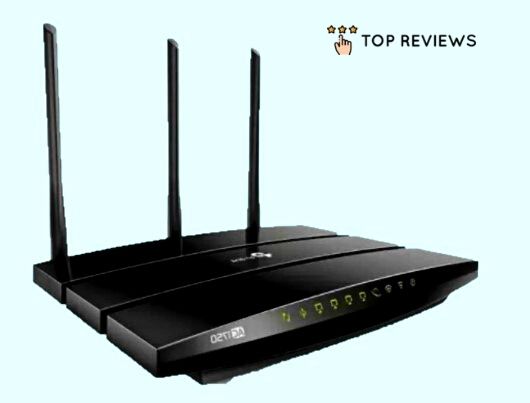 Price: NZ$199.99
Speed: up to 1750Mbps | Ethernet Ports: x4 LAN and x1 WAN Gigabit | USB Ports: x 2 USB 2.0 | Distance: 2500 sq ft | No of Devices: 50
If you want a router that is long-range and that can support a lot of devices in the house, then the TP-Link AC1750 is for you. It is one of the best fibre broadband routers in New Zealand.
The TP-Link AC1750 has two bandwidths that give you a total of 1750Mbps or 1.75Gbps. Its dual channel feature lets you switch over to the other for the best connection in terms of range and speed.
Contrary to how it looks, it actually has 6 antennae, with the other three being underneath the frame. This allows it to have a huge coverage area of 2500 sq ft.
Not only that, but the number of devices it can support is 50 devices! This is surreal — you can organise an event at your home or office and everyone would have access to Wi-Fi!
Furthermore, this router is among the newer 802.11ac models, which explains how it's able to maintain a fast connection despite sharing it with many people at once.
Highlights
3x faster 802.11ac wireless router
Dual bandwidth up to 1750Mbps
Amazing coverage
Supports up to 50 devices
Customer Reviews
Tech Dude gave an in-depth review of this product to finally conclude:
"The signal is strong and punches through the lathe-and-plaster walls of my nearly 100 year old house. Its signal is considerably stronger than the WRT1900ACS that I had (which cost almost three times what this one did), and rivaled the signal strength of the $400 ASUS. It doesn't drop connections, doesn't reboot itself, and delivers a strong and steady stream of data to all devices, wired and wireless."
2) NETGEAR Nighthawk Smart Wi-Fi Router (R7000P)
Best Overall Fibre Router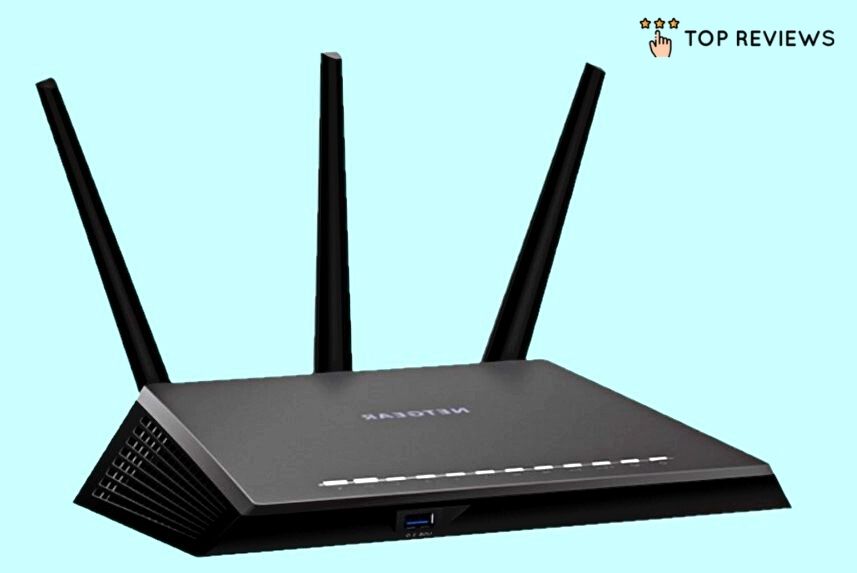 Price: NZ$338.99
Speed: up to 2300Mbps | Ethernet Ports: x4 LAN and x1 WAN Gigabit | USB Ports: x2 | Distance: Wide | No of Devices: Multiple
Want a router with superb speed and secured access? NETGEAR's Nighthawk R7000P is designed to reach speeds up to 2300Mbps — that's perfect for streaming movies and downloading large files.
With its MU-MIMO technology, even though several devices are connected to the router simultaneously, there won't be delays or buffers as compared to other routers.
With 5 ethernet ports consisting of LAN and WAN, copying and sharing of your files has never been faster, let alone easier.
Moreover, you can plug in your external hard drive into the router. You get more storage space to save your pictures and videos even when you're travelling abroad.
Also, it's kept up with the latest innovations in that it supports Alexa-enabled products. Once paired, just say the word and she'll change the router settings for you hands-free.
Highlights
Superb Internet speed
5 ethernet ports
Wide coverage
Features MU-MIMO technology
Alexa-enabled product
Customer Reviews
Shaun654874 mentioned on the NETGEAR website:
"This router has outperformed every router I had before, it has many features for you to play with. It is fast in transfer speed relative to the price you paid for the router. It is easy to control the router via the app. Overall it's a good value for its speed, features and reliability."
3) D-Link Cobra Tri-Band Wi-Fi Modem Router (DSL-5300)
Best for Blazing Hot Speed Fibre Router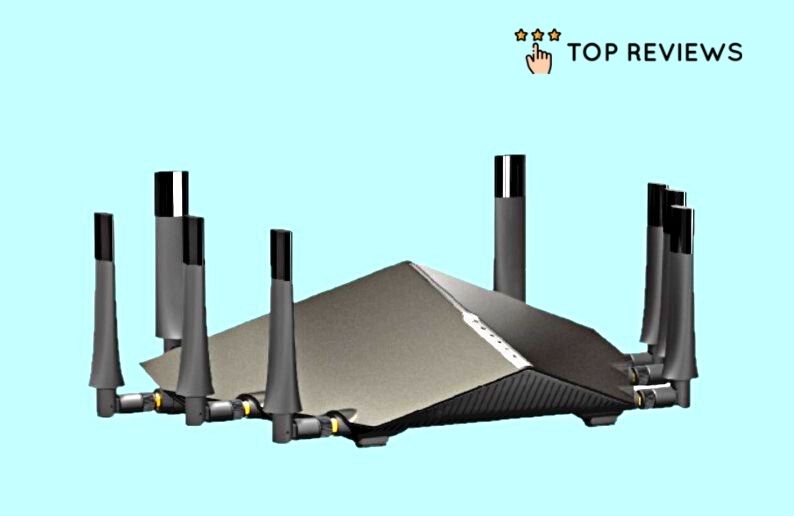 Price: NZ$799
Speed: up to 5300Mbps | Ethernet Ports: x4 LAN, x1 WAN Gigabit | USB Ports: x1 USB 3.0 and x 1 USB 2.0 | Distance: Wide | No of Devices: Multiple
The D-Link Cobra DSL-5300 is a versatile tri-band router with tremendous speed and multi-device support. It is powered by an avant garde 1.8GHz Quad Core Processor inside.
As we said, it has three bandwidths, namely 1,000Mbps (2.4GHz), and two 2167Mbps (5GHz). That adds up to a massive 5300Mbps, which also comes with MU-MIMO as well.
On the back, it has a number of ports including an ADSL or VDSL port, 4 USB ports and a single WAN for connecting computer networks between different locations.
Another interesting feature is the Advanced AC SmartBeam that gives you greater coverage even while you're moving around the different areas at home or even outside.
So whether you're playing online in 4K graphics, downloading a Stephen King Ebook, or just sending emails and answering, D-Link Cobra is a great investment.
Highlights
Venomously fast speeds of up to 5300Mbps
Tri-band modem router
Features a 1.8GHz Quad Core Processor
Supports many devices at once
Several ports including ADSL and VDSL
AC SmartBeam technology
Customer Reviews
Coming from the PBTECH website, Cobra commented:
"Bought this from Penrose store about 2 weeks ago, to replace my old Netgear D6300. Wow, what a difference. Range is more than double, speeds are astronomical.
No longer get ANY buffering on any of my 20+ devices when all the kids are home, despite movies on different devices streaming at once.
It's not the cheapest by any stretch, but it's certainly been the best investment in my home network I've made in a long time.."
4) D-Link Wi-Fi Dual Band Modem Router (DSL-2878)
Best for Budget and Basic Surfing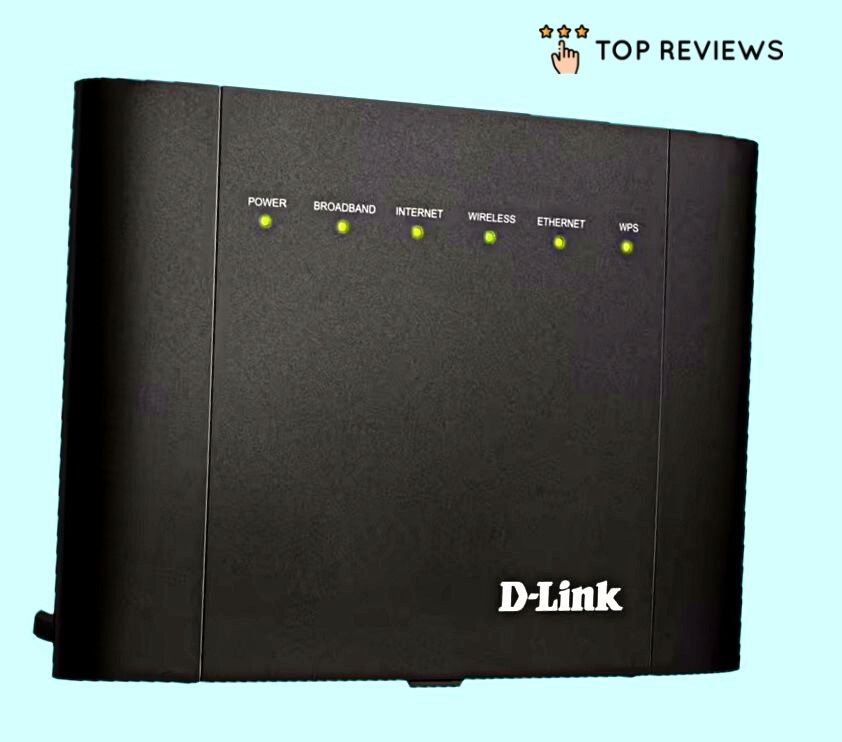 Price: NZ$159
Speed: up to 750Mbps | Ethernet Ports: x 4 LAN, x 1 LAN/WAN Gigabit | USB Ports: x1 USB 2.0 | Distance: Long range | No of Devices: Multiple
If you're a little tight on budget and only need a router for social media and frequent YouTubing, then the D-Link DSL-2878 wireless router will be great!
With Internet speeds divided between two bandwidths of 300Mbps (2.4GHz) and 433Mbps (5GHz), you can enjoy surfing the Net with less interference and more coverage.
In addition to being a fibre router, it can also be used as VDSL2 or ADSL2+ — which is slightly slower of course, but gets the job done to access some websites and links.
You will find 4 LAN and 1 LAN/WAN ports in Gigabits for fast and seamless watching of HD movies, data transfers, file sharing, and so forth.
And it can support a lot of devices such as your Android, iPhone, Smart TVs, Macs, Chromebooks, and tablets. While it is lower in price than most of the others on our list, its quality still packs a punch.
Highlights
Dual-band router with speeds up to 750Mbps
Less interference and more coverage
Has 4 LAN and 1WAN/LAN ports
Affordable price
5) ASUS Dual Band Modem Router (DSL-AC68U)
Best Fibre Router for Security Features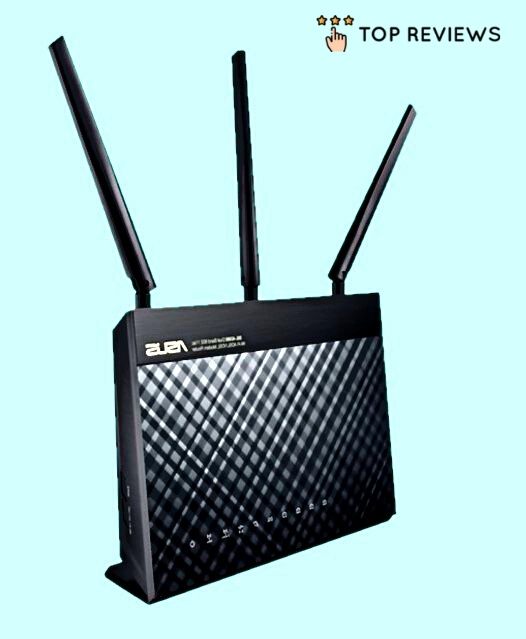 Price: NZ$389
Speed: up to 1900Mbps | Ethernet Ports: x1 RJ11 and x4 RJ45 | USB Ports: x1 USB 3.0 | Distance: Very wide | No of Devices: Multiple
Get the next-level ASUS DSL-AC68U Wi-Fi router for your home if you want top protection. Beside its sleek and cool mesh look, it has industry-leading security features to keep your network safe.
It's both a fibre and broadband router with incredible speeds of up to 1900Mbps. The high-gain antennae deliver strong and stable coverage for total convenience.
Moreover, this can even be strengthened with the AiMesh feature. This lets you pair the three ASUS Wi-Fi routers, which will then work as a whole home Internet system.
Setting it up is a cinch thanks to the ASUS router app. Also, you can change your network settings, parental controls, and update to the latest version through it.
For epic speed and cyber security, the ASUS DSL-AC68U is a router you'd like to have.
Highlights
High-speed router with 1900Mbps
Reliable and strict security features
Works with the ASUS router app
Can be paired with other ASUS routers
Customer Reviews
CharlesS3 rates it with 5 stars and also wrote on the PBTECH website:
"Amazing modem/router! Very easy to setup! Port forwarding for gaming is simple too. Due to the modem having dual processing it manages tonnes of connections all at once, wireless and wired (12+ devices). Wireless range is insane as well!…"
And that's all for the best fibre broadband routers in New Zealand. These routers will give you extraordinary speed for a smooth, lag-free, and fun Internet experience!
Do you have any questions you'd like to ask us about these? If you have one, don't hesitate to send us a message, and we'll get back to you in a bit.
Anyway, we chose high-coverage routers, so they will be unlikely to give you a problem range-wise. However, if you are still having trouble with that, check out our list of the best Wi-Fi extenders in New Zealand.