Some of the things that makes New Zealand a scenic landscape are its lush farms and vegetation. It is no question then that the agriculture-flower business there has flourished, owing to each flower's individual beauty and freshness.
In Auckland you can easily find terrific flower shops to buy from for surprising a friend, your loved one, or your spouse that will make them very happy. Whether you're apologizing or simply adorning your home, here are the 6 best flower delivery choices in Auckland.
1. Devonport Flowers

Captivating flowers for special moments
Kindly order before 2 pm during weekdays and before 10 am on Saturdays
The flowers at Devonport are ensured the freshest and newest when you buy them. Handled by a passionate and skillful team, they have many selections on their posies, bouquets, decorations with bright or pastel colors depending on your choice.
A good pick is the butterfly baby which is a bouquet having pleasant colors and foliage embellished with a fairy blue butterfly on top as shown by the above image.
In addition to flowers, they also have chocolate, teddy bears, greeting cards, vases, and fruit basket. For a change, you may also buy gift vouchers, to save the effort of worrying whether he/she likes it or not.
Customer Review
There were mostly positive reviews for the customers receiving the flowers on time, getting bespoke flowers even if they had no idea what colours or combinations would do. Another Facebook reviewer, Danielle Louise wrote:
"It was such a lovely experience getting our wedding flowers from devonport flowers. All the ladies were so helpful, patient, and very experienced. I was very happy with my wedding bouquet and my bridesmaids flowers matched perfectly to their dresses. I will be telling my husband where to get my birthday and anniversary flowers from :). Thank you so much ladies from devonport flowers."
1. The Floral Studio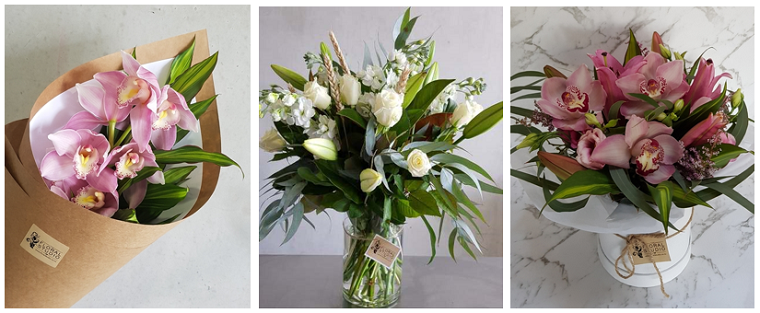 Flowers wrapped in artistic creativity
When you care about the presentation as much as the flowers, then Floral Studio is what you need. Either rolled in Kraft paper, arranged in a top hat or crystal clear in a glass vase, you'll be sure that it will come out extraordinary and exciting.
Bouquets come with a water container with them and this just shows how much they care about the products they sell and the satisfaction of the customers.
Customer Review
Wedding bouquets are one of their specialties and recommendations in Facebook were positive. The flowers delivered have been fresh, new, and gorgeous. Grace Coleman put it this way:
"Natalie put together 5 bridesmaids bouquets, a bridal bouquet, a flower crown for myself and also a button hole for my husband. I was so happy with Natalie's work, everything look just amazing! When the flowers arrived I was over the moon and a bit emotional with how everything looked- it was everything I had asked for but better!! I can't express how happy I was with everything you put together for my wedding day Natalie, it made my day that much more special and you are so talented! Thank you!! If you are looking for wedding flowers you will not be disappointed with The Floral Studios work."
2. Best Blooms

Ideal for romance, weddings, or gifts
Send a gift that will make your love smile, make it the brighter for everyone. A flower is a symbol of hope and to express it, you can have a set bouquet such as the white and green flowers alongside a blueberry chocolate and a lavender soap. Or you may give your special someone a stargazer, fragrant and always beautiful.
Best Blooms offers same-day delivery in Auckland. And it's for free. Other gifts to buy include, teddy bear with flowers, a soap and lotion crate for men. 
Customer Review
The comments have one buyer praise the small detail of sending pictures first before delivering it. The praise mainly comes from the exquisiteness, delivering overseas, and customer care service. Natalie wrote to Best Blooms,
They are stunning flowers!!! She will love them!!!! Thank you so much!
And thank you for being so easy to work with. It was the easiest process using your website.
I was a bit worried trying to do if from South Korea but it was very straightforward and the service has been fantastic!
Hope you all have a wonderful day.
Regards,
Natalie
4. Flowers After Hours

Flowers styled in rustic fashion
Flowers here are presented in a number of tones that fit the decoration of your room or the person you're giving this to. It could be elegant, striking, pastel, or attractive. Pick your poison. They even let you customize how much flowers to put in the container. And also, if you'd like a vase or not.
Customer Review
Despite a negative review of tulips and roses dying, the comments have been overwhelmingly positive with some from the USA West Coast trying to buy flowers for her goddaughter who was recovering in a hospital, even praising the sweet perfume! Here is the comment, Jennifer Thompson wrote,
"I called Wendy from Napa, CA to ask for some pretty Spring flowers to be sent to my goddaughter who was recovering from a serious surgery in Auckland Hospital. The bouquet was absolutely gorgeous – and the perfume so delightful! Thank you for doing such a wonderful job…"
5. Roses Florist

Hard to come by flowers extraordinaire
From an enthusiastic small team with love for flowers, they make sure these flowers stand tall, proud, and gorgeous, free from any chemicals or artificial elements.
First on the picture is the sweet akito flower symbolizing innocence, symmetrically rounded in shape, having a pleasant color. Second is the purple alstroemeria coupled with white daisies. While the third are limonium, having multiple flowers per stem.
These will certainly be nice gifts on special occasions or for no reason at all.
Customer Review
The flowers Roses Florist has, made a lot of people happy. They generally give credit to the stunning arrangements, efficiency in delivering even late, and hospitality. Here is the comment from Reve Lamont,
"My go to florist in Auckland. The staff are super friendly and the floral designs world class. Was absolutely blown away by the flowers the team created for my wedding. The colours and flower combinations were spot on. I received so many compliments both on the day and afterwards. Can not recommend more highly this place. Thanks again ladies."
6. Miss Blossom Flowers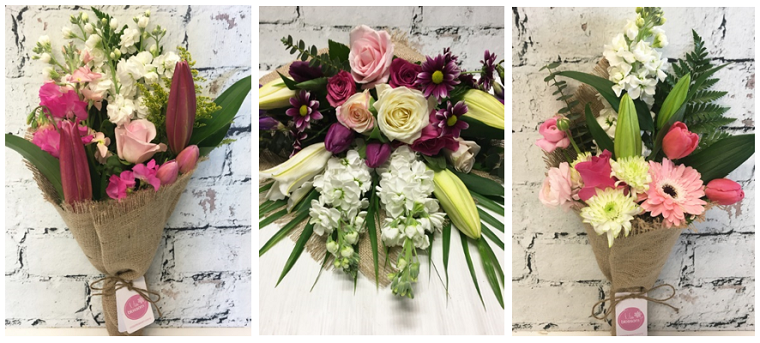 A quaint choice for flower giving
Flowers of different kinds are put together in a single bouquet and the talents of this shop work at it resulting in total aesthetics. Spray chrysanths, gerbera, oriental lilies, tulips, and freesias are wrapped in hessian with twine. Its classic and neo mix make this a stellar gift to someone special.
Customer Review
Customers love Miss Blossom's Flowers. It received praise on how easy it is to describe and get your custom flowers just the way they want it. There's one customer who's already buying her third flowers for this florist, Sophie Miya-Smith wrote:
"3rd time ordering from Miss Blossom, always creates the most STUNNING arrangements I've ever seen!! Had two orders in the past week, one for my mother in law's birthday and one for my mothers, and had my mum's customized so that the two would look different. So easy to communicate with (especially since I made the orders overseas) and absolutely blown away by the quality. Thank you so much again!!"