16 Best Flower Delivery Services in Auckland
Some of the things that makes New Zealand a scenic landscape are its lush farms and vegetation. It is no question then that the agriculture-flower business there has flourished, owing to each flower's individual beauty and freshness.
In Auckland you can easily find terrific flower shops to buy from for surprising a friend, your loved one, or your spouse that will make them very happy. Whether you're apologizing or simply adorning your home, here are the best flower delivery choices in Auckland.
1. The Wild Rose

The Wild Rose provides their customers with the freshest and most beautiful flowers and gifts that are great value for their money. Their team consists of five professional florists that offer flowers at a better value, They are also very passionate when it comes to arranging flowers and making sure that it resembles your ideal design.
People like them because they have subscription offers that when you sign up for a regular delivery of flowers, you will be able to get amazing in-season flowers that are carefully selected and designed to last. These flowers are wrapped and placed in special boxes!
According to their previous clients, they would recommend The Wild Rose because they do not do additional charges and that they stick to what you see is what you will pay.
Needing flowers for larger events? You can definitely visit them at 254 Great South Road, Takanini, Auckland and they will see what they can do for you and your event!
Highlights
Also offer dried flowers, plants, gifts, and add-ons
Cut off time for same-day delivery is midday
Allergy List for their cupcakes is available on their website
Customer Review
Here are some reviews from The Wild Rose's previous customers:
"It's always a shot in the dark ordering flowers from another country but The Wild Rose exceeded my expectations. They are beautiful! My Mum is very happy❤️
Thank you very much.
Kim F
Indio, California"
"Ordered some flowers this morning for my mother's birthday. Great service,same day delivery, my mother really loved them. Thank you."
"Wow!!! Amazing gift I had delivered for my Wife on Valentines day!!! The rose, perfume, presentation & service was OUTSTANDING!!! Great VALUE for money too. HIGHLY RECOMMEND!!!
A HUGE!!! Thank you to The Wild Rose in making our day special?"
2. Go Flowers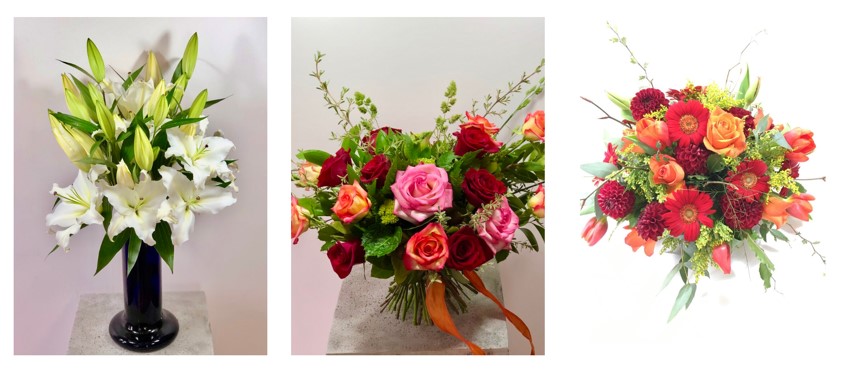 Mother nature-friendly flowers
Go Flowers is a Kingsland based Florist delivering beautiful, bespoke bouquets, posies and floral arrangements Auckland Wide.
They only use the best available, and locally sourced, flowers, offering eco-friendly arrangements by composting green waste and eliminating non-recyclable /non-reusable plastic packaging.
Highlights
Long lasting flowers
Affordable arrangements
Customer Review
February 2019 review: "Thanks so much for the bouquet you did for my girlfriend on Valentine's! I was very happy with the service and she was over the moon with how beautiful it was. Keep up the good work! Will definitely be using you again / recommending you to others." – Callum
3. Brooklyn Flowers

Handpicked flowers for Auckland-wide delivery
Brooklyn Flowers is an owner-operated flower shop in Ponsonby, Auckland. Managed by Brook Thomson and Evelyn Kelly, Brooklyn Flowers is backed by the owners' experience in the florist industry, spreading love and heartfelt emotions through flowers.
Highlights
Fast delivery
Caters personal, corporate, and wedding arrangements
Offers flower gift packages with candles or diffusers
Customer Review
"Brooklyn Flowers is my absolute favourite and now most definitely my go to florist. The presentation of their flowers is utterly stunning. The team's service is super friendly and incredibly efficient. Their beautiful arrangements are exceptional value for money and are perfect for all occasions."  – Fiona MacFadyen, Auckland, Nov 2018
4. Harbour Rose Florist

Harbour Rose Florist is an owner-operated online floral design business located in Beachlands on the picturesque Pohutukawa coast of Auckland. Specialising in wedding Flowers Auckland wide, they also wedding florals for any venue across Auckland, from Browns Bay on the North Shore to Kumeu in the west and Pukekohe in the south. They also offer customised floral bouquets and special occasion flowers delivered free in their local area of Beachlands, Maraetai, and Whitford.
Highlights
Specializes in wedding flowers
Free delivery in Beachlands, Maraetai, and Whitford
Customer Review
5-star Google Review from Tina Amani:
"Harbour Rose Florist supplied the flowers for my wedding and they were absolutely stunning. Sandra created exactly what I visioned and more. I cannot thank her enough. The planning process was seamless and she communicated with me well to ensure that everything was perfect. She set up my centrepieces beautifully and went about the day with no fuss at all. Highly Recommend."
5. Flowers After Hours

Flowers styled in rustic fashion
Flowers here are presented in a number of tones that fit the decoration of your room or the person you're giving this to. It could be elegant, striking, pastel, or attractive. Pick your poison. They even let you customize how much flowers to put in the container. And also, if you'd like a vase or not.
Customer Review
Despite a negative review of tulips and roses dying, the comments have been overwhelmingly positive with some from the USA West Coast trying to buy flowers for her goddaughter who was recovering in a hospital, even praising the sweet perfume! Here is the comment, Jennifer Thompson wrote,
"I called Wendy from Napa, CA to ask for some pretty Spring flowers to be sent to my goddaughter who was recovering from a serious surgery in Auckland Hospital. The bouquet was absolutely gorgeous – and the perfume so delightful! Thank you for doing such a wonderful job…"
6. Roses Florist

Hard to come by flowers extraordinaire
From an enthusiastic small team with love for flowers, they make sure these flowers stand tall, proud, and gorgeous, free from any chemicals or artificial elements.
First on the picture is the sweet akito flower symbolizing innocence, symmetrically rounded in shape, having a pleasant color. Second is the purple alstroemeria coupled with white daisies. While the third are limonium, having multiple flowers per stem.
These will certainly be nice gifts on special occasions or for no reason at all.
Highlights
Afforable prices
Responsive to client queries
Customer Review
The flowers Roses Florist has, made a lot of people happy. They generally give credit to the stunning arrangements, efficiency in delivering even late, and hospitality. Here is the comment from Reve Lamont,
"My go to florist in Auckland. The staff are super friendly and the floral designs world class. Was absolutely blown away by the flowers the team created for my wedding. The colours and flower combinations were spot on. I received so many compliments both on the day and afterwards. Can not recommend more highly this place. Thanks again ladies."
7. The Flower Vault

Fresh flowers from Auckland based flower markets
The Flower Vault's talented florists are experienced to put together something special for any up and coming occasions using locally grown flowers in Auckland. For them. no occasion is too big or too small, which is why they can come up with a wide range of fresh flowers, ready to go arrangements, plants and delivery options.
Highlights
Passionate staff
Artistic bouquets
Speedy delivery
Customer Review
"Awesome flower store! There is a huge selection of fresh and beautiful flowers, the arrangement are very nice, and the service is perfect. Prices are very reasonable, and location is very easy to access. Overall – Very nice addition to a growing Hobsonville community."  – 5-star Google review on Flower Vault from Andrei Diomidov.
8. The Floral Studio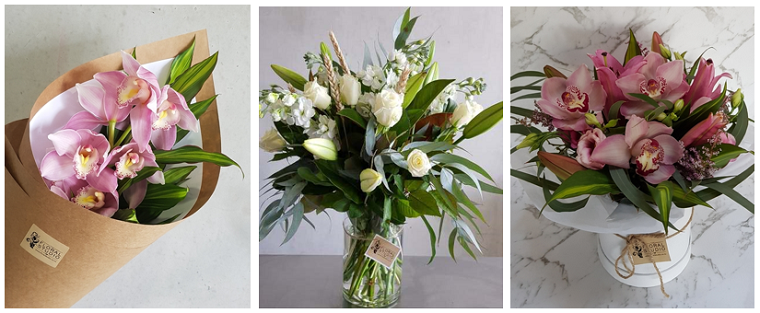 Flowers wrapped in artistic creativity
When you care about the presentation as much as the flowers, then Floral Studio is what you need. Either rolled in Kraft paper, arranged in a top hat or crystal clear in a glass vase, you'll be sure that it will come out extraordinary and exciting.
Bouquets come with a water container with them and this just shows how much they care about the products they sell and the satisfaction of the customers.
Highlights
Amazing service
Bohemian-styled wedding flowers
Customer Review
"Natalie put together 5 bridesmaids bouquets, a bridal bouquet, a flower crown for myself and also a button hole for my husband. I was so happy with Natalie's work, everything look just amazing! When the flowers arrived I was over the moon and a bit emotional with how everything looked- it was everything I had asked for but better!! I can't express how happy I was with everything you put together for my wedding day Natalie, it made my day that much more special and you are so talented! Thank you!! If you are looking for wedding flowers you will not be disappointed with The Floral Studios work. – 5-star Facebook review from Grace Coleman.
9. White Tree Floral Design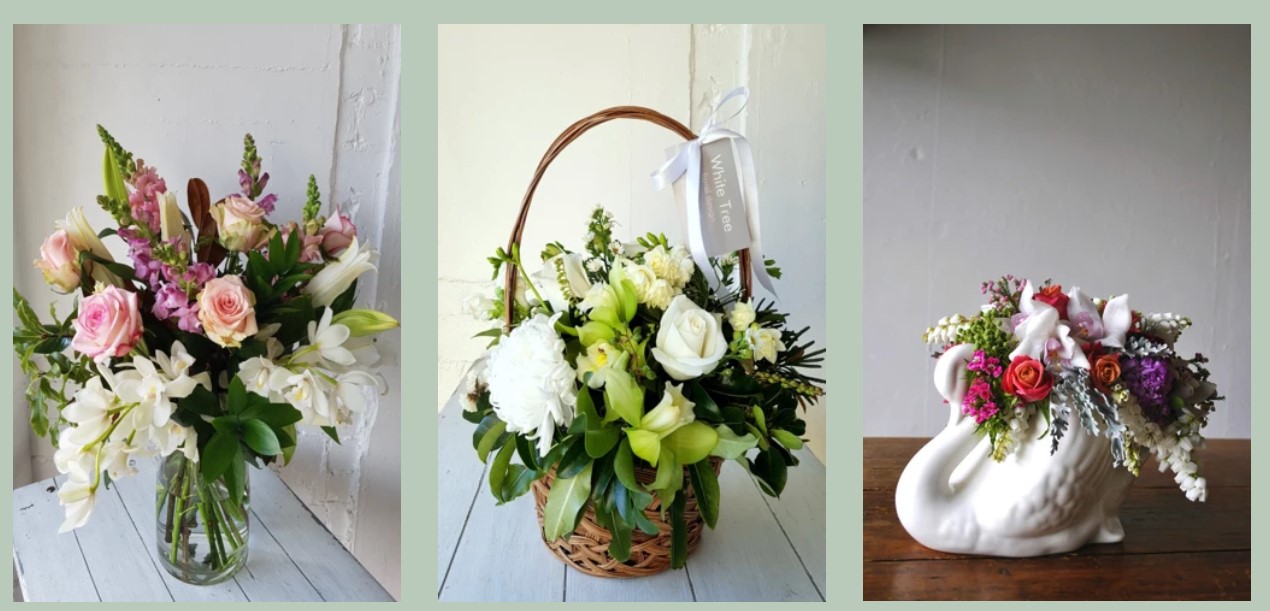 Cool bouquets and house plants
Opened seven years ago, White Tree Floral Design has become a prolific boutique florist owned by Japanese and Kiwi couple.
They're famous for their huge selection of cacti, succulents, house plants, and terrariums as well as giftware.
Highlights
Specialises in Ikebana
Responsive and experienced staff
Customer Review
"As my local florist, these guys are honestly the best – I am in once or twice a week and always amazed by their lovely and often unique arrangements and personal service approach. I now wouldn't go anywhere else for my fresh flower needs! Thanks guys for being such a great local business." – 5-star Facebook review from Sunshine Metro
10. Miss Blossom Flowers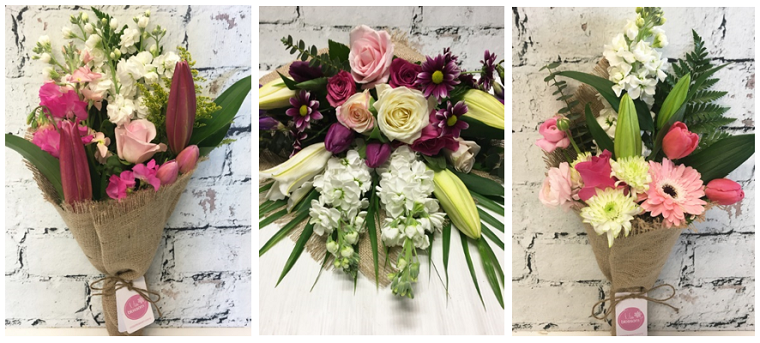 A quaint choice for flower giving
Flowers of different kinds are put together in a single bouquet and the talents of this shop work at it resulting in total aesthetics. Spray chrysanths, gerbera, oriental lilies, tulips, and freesias are wrapped in hessian with twine. Its classic and neo mix make this a stellar gift to someone special.
Customer Review
Customers love Miss Blossom's Flowers. It received praise on how easy it is to describe and get your custom flowers just the way they want it. There's one customer who's already buying her third flowers for this florist, Sophie Miya-Smith wrote:
"3rd time ordering from Miss Blossom, always creates the most STUNNING arrangements I've ever seen!! Had two orders in the past week, one for my mother in law's birthday and one for my mothers, and had my mum's customized so that the two would look different. So easy to communicate with (especially since I made the orders overseas) and absolutely blown away by the quality. Thank you so much again!!"
11. Flowers by Claireville

Simple and natural flowers
Clare has worked with flowers since 2007 in New Zealand and in South Korea. She has dreamed of combining both experiences, so she opened her flower boutique in Osborne Lane, Newmarket in the hopes of sharing that enjoyment and happiness with her customers.
Customer Review
Jerry Wong wrote his experience in Google Reviews:
"Very professional but still willing to put the customer first. Great friendly service and beautiful arrangements. I will definitely buy from Clareville again. Thanks Clare!"
12. Best Blooms

Ideal for romance, weddings, or gifts
Send a gift that will make your love smile, make it the brighter for everyone. A flower is a symbol of hope and to express it, you can have a set bouquet such as the white and green flowers alongside a blueberry chocolate and a lavender soap. Or you may give your special someone a stargazer, fragrant and always beautiful.
Best Blooms offers same-day delivery in Auckland. And it's for free. Other gifts to buy include, teddy bear with flowers, a soap and lotion crate for men. 
Customer Review
The comments have one buyer praise the small detail of sending pictures first before delivering it. The praise mainly comes from the exquisiteness, delivering overseas, and customer care service. Natalie wrote to Best Blooms,
They are stunning flowers!!! She will love them!!!! Thank you so much!
And thank you for being so easy to work with. It was the easiest process using your website.
I was a bit worried trying to do if from South Korea but it was very straightforward and the service has been fantastic!
Hope you all have a wonderful day.
Regards,
Natalie
13. Citi Flora

When it comes to selecting the best flower shop in Auckland, Citi Flora is the perfect choice for you! Since 1997, they have been dedicatedly providing unique flower arrangements, depending on your needs as their customer. May it be for personal, corporate or wedding events, they ensure to bring it to you in fresh and beautiful condition!
One of their best-selling bouquets is their White in a Box. It is a box containing an assortment of roses, white gerberas, lilies and other seasonal white flowers, coupled with ferns. It is ideal for any occasion and can be delivered to you the same day you place your order.
If you'd like to purchase their White in a Box and other bouquets, make sure to place your order at their website. They will see to it that you receive it in a condition that you will surely love!
Highlights
Fast delivery
Caters floral arrangements for personal, corporate, wedding and events
Customer Review
There were mostly positive reviews for the customers. A Facebook reviewer, Gisella Gigetta Curioni wrote:
"A wonderful bouquet made last minute for a special daughter in law who is a new Mum, made her special day even MORE SPECIAL! Thank you so much for helping me from the UK to arrive where the plane cannot take me…yet! YOU AND YOUR FLOWERS ARE AMAZING!! ."
14. Fabulous Flowers & Gifts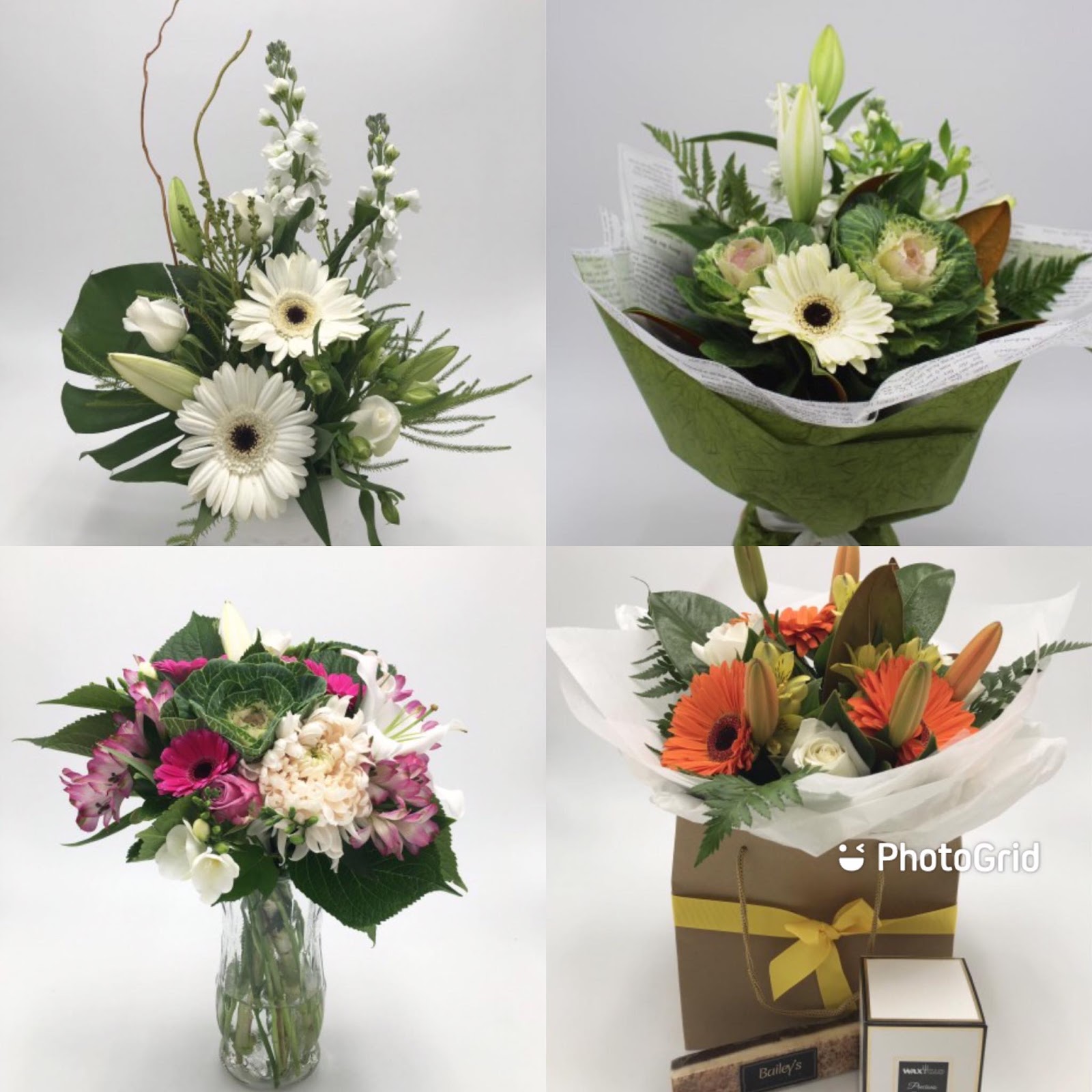 Delivering fresh and long-lasting flowers is Fabulous Flower & Gift's passion. They pour their artistry into this field by providing service to clients, all at a very reasonable price and with a wide range of flexibility.
Every flower from their shop is the product of creativity. The flowers are checked repeatedly for defects before getting delivered to their respective owners. To avoid any problems, they also ensure that they are perfectly customised according to what the customers ordered.
With almost 20 years of dedication in providing their customers fresh flowers, Fabulous Flowers & Gift surely won't disappoint you.
Highlights
Wide choices of flowers
Fast delivery
Long-lasting flowers
Customer Review
Here is a Facebook review from Karen Law:
"Lee and her team really know how to look after their customers! I've loved every bouquet from this florist and the flowers are the always the freshest, so they stay looking great for ages."
15. Roma Blooms Florist

Awesome fresh flowers for an affordable price
Roma Blooms Florist is a go-to shop for any of your flowery needs. With a team of expert designers and florists, Roma Blooms Florist will surely deliver the best arrangements made from the highest quality of flowers.
Aside from flowers, Roma Blooms Florist also offers gourmet baskets, greeting cards, balloons, and the likes. Have a look at all their gifts on their website for a more detailed list.
For deliveries, make sure to check out your flower arrangements before 1:30 pm to have Roma Blooms Florist send it the same day. They also ship outside New Zealand, so if ever you're not in town, you can order online or give them a call.
Highlights
Competitive rates
Friendly florists
Fresh blooms
Customer Reviews
The arrangements sold by Roma Blooms Florist give nothing but happiness and high satisfaction to their customers. Receiving nothing but great reviews, here are some of the feedbacks left on Google:
"Gorgeous flowers. They put so much effort into ensuring that the flowers look good for as long as possible. The gerberas have wire running up along the stem. Photo taken on day 2 – still looking fresh!"
"Just had the most stunning flowers via Roma Blooms sent to a friend in Akld hospital – my friend was instantly cheered up – and sent me a photo. Wow! Most impressive. Have to say Shobhana was a delight to talk to on the phone and super efficient. I wouldn't hesitate to use your services again – definitely recommend. All the best for 2019! Thank you so much. Sue, Wellington :)"
16. Devonport Flowers

Captivating flowers for special moments
Kindly order before 2 pm during weekdays and before 10 am on Saturdays
The flowers at Devonport are ensured the freshest and newest when you buy them. Handled by a passionate and skillful team, they have many selections on their posies, bouquets, decorations with bright or pastel colors depending on your choice.
A good pick is the butterfly baby which is a bouquet having pleasant colors and foliage embellished with a fairy blue butterfly on top as shown by the above image.
In addition to flowers, they also have chocolate, teddy bears, greeting cards, vases, and fruit basket. For a change, you may also buy gift vouchers, to save the effort of worrying whether he/she likes it or not.
Highlights
Gift Vouchers
Experienced Florists
No plastic packaging, all natural
Customer Review
There were mostly positive reviews for the customers receiving the flowers on time, getting bespoke flowers even if they had no idea what colours or combinations would do. Another Facebook reviewer, Danielle Louise wrote:
"It was such a lovely experience getting our wedding flowers from devonport flowers. All the ladies were so helpful, patient, and very experienced. I was very happy with my wedding bouquet and my bridesmaids flowers matched perfectly to their dresses. I will be telling my husband where to get my birthday and anniversary flowers from :). Thank you so much ladies from devonport flowers."