The 5 Best Food Processors in New Zealand
Today, we're going over the very best food processors in New Zealand. We chose high-performing products, included their pros and cons, and even included a few user reviews so you can see what users like you thought of the item.
Aside from all of that, we even wrote a short guide on how to buy a food processor. Hopefully, this will help you find the right product from our list that meets your culinary needs.
What to Look for in a Food Processor
Here are the things you need to look for when buying a food processor:
1) Function
First off, it's important to ask what kinds of foods you plan to make and use the food processor for. This will effectively narrow down your choices for these appliances.
Each food processor is different. It can be good at, say, chopping and slicing ingredients, but not good at kneading dough.
So that you get value for the price, we suggest you get a versatile food processor. This can perform a wide range of functions like chop, slice, dice, puree, blend, juice, and mix.
Also, consider if the device can grind hard cheeses or chop nuts into smaller pieces. There are powerful ones that can do this to make your kitchen life easier.
2) Capacity
Food processors vary in terms of how much food they can handle. For everyday cooking, those with a capacity of 1.8 to 2.1 L should be enough.
You can also find ones in bigger sizes of 4 L and up. This fits larger families and batch cooking, so you will only have to process the food once to cook your special recipes for them!
3) Ease of Use
You should look for a food processor that is simple to use, whether it's putting the parts together, changing the settings, or cleaning after use.
Choose one with parts that easily click into place, responsive buttons that can light up, or a bowl handle so you can lift it with one hand.
With those things, it will be a fun culinary experience to use the processor every time. This should help make you more efficient in prepping ingredients.
4) Features
Below are some features you definitely want in a food processor:
Large feed chute – This can take on larger foods like carrots, potatoes, and tomatoes without needing to pre-cut them.
Food processors may also come with a narrow tube pusher, which can help you push the food through the chute.
LED control light – It lets you see what speed you are currently on, as well as adds style to your food processor. Since it's LED, it consumes less energy too!
Dishwasher-safe – This allows you to put the parts inside a dishwasher to be cleaned. You have to check the manual first if they are dishwasher-safe.
Accessory storage – Some food processors come with accessory storage. This is a neat addition and lets you safely store the sharp blades and discs inside a case.
5) Accessories
Aside from that, each food processor typically comes with a set of accessories to make food or drinks. Let's enumerate the ones you should usually look for below.
Small processor bowl – This grinds down small food items such as nuts, coffee beans, spices, and herbs. It can also be used to make emulsions like mayonnaise and pesto.
Whisk attachment – This is used for whipping eggs or cream for pastries and desserts.
Chipping disc blade -This small blade can be used to make vegetable strips and potato chips.
Citrus juicer – With this, you can make fresh juices like lemon, orange, grapefruit juice, and others.
6) Size and Weight
Of course, you should pick a machine that will fit on your kitchen table. It should be of a size that leaves ample space for other appliances like your oven or rice cooker.
There are many small and lightweight food processors out there, which also helps if you decide to store the unit in the cabinet after you've finished cooking.
The Best Food Processors in New Zealand
With that in mind, you now have an idea of how to choose a food processor. So, here are our top picks for food processors in NZ so you that you can assess them!
1) KitchenAid 1.7 L Food Processor (KFP0719)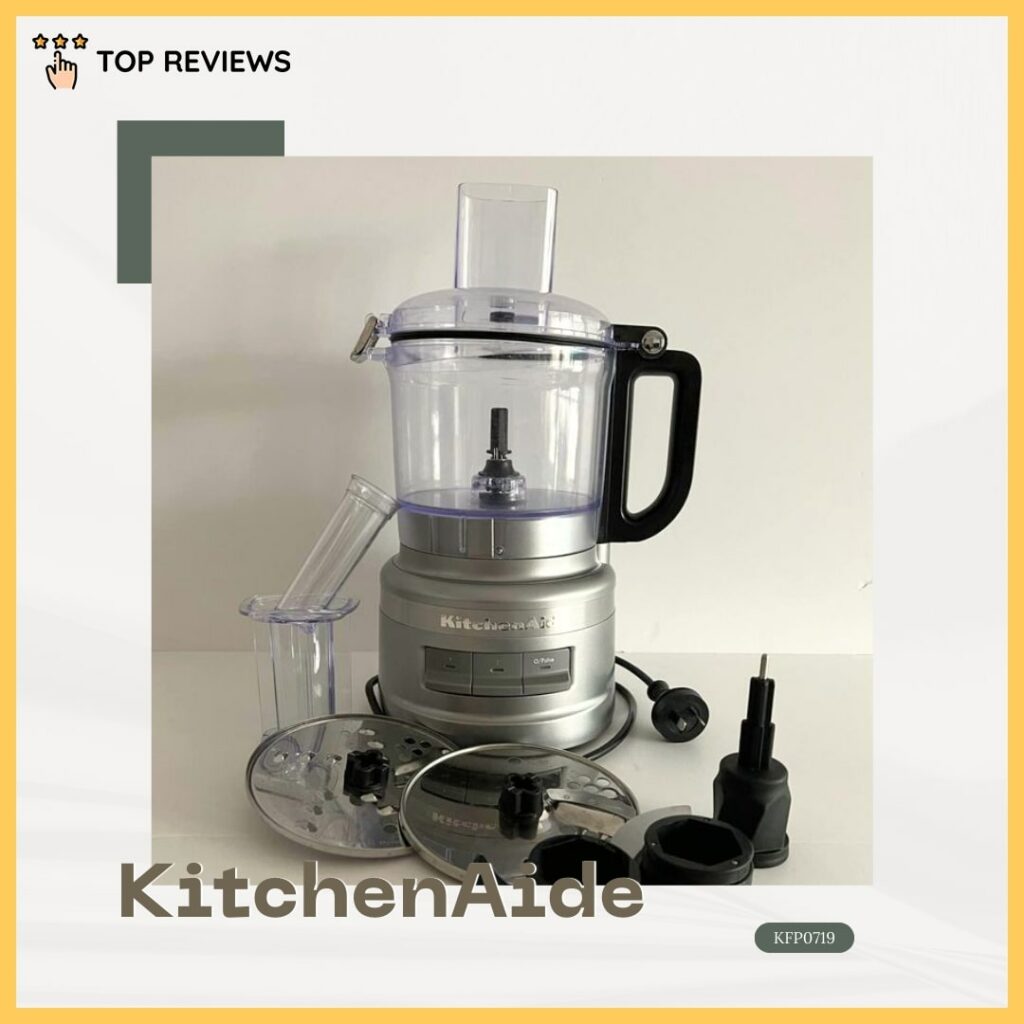 Best for
Easy-to-use food processor
Capacity
1.66 L
Weight
Net: 3 kg
Gross: 4.35 kg
Size
24.5 x 20 x 39 cm (W x D x H)
Accessories
Processing bowl, ingredient presser, multi-purpose blade, dough blade, slicing disc, and reversible medium-shredding disc
Price
$299
The KitchenAid 1.7 L food processor is very easy to use. The parts click into place and the bowl has a latched lid and handle for easy lifting and transferring onto another bowl.
It features 3-speed settings of low, high, and pulse for precision. The paddle buttons are also easy to press and light up with a faint LED to indicate the setting you're in.
It comes with a wide range of accessories including a multi-purpose blade, dough blade reversible shredding disc, bowl, and ingredient presser to push food into the feed tube.
After you're done, you can empty the bowl with a wooden spoon, clean it with soap and water, and let it dry. Then, you can store the device in the cupboard neatly—where it will take up only a small amount of space.
3-speed settings (including the pulse function)
Ergonomic design
Easy to clean
Ample 1.7 L capacity
A bit pricey for its features
Customer Reviews
This product was well-received by users at KitchenAid Australia. Despite its smaller size, it is a powerful and versatile kitchen gadget as well as easy-to-assemble and clean.
One owner named Alda wrote this feedback:
"I bought this a month ago and I use it if recipe requires ingredients using food processors. I would prefer this in white colour to match with my white stand mixer. I only want smaller in size and the other white food processors are too big for me."
Next, Sophie also said:
"This processor is the perfect size for my small kitchen but packs a punch! As an avid baker it saves me so much time chopping nuts or chocolate, making a ganache. The vegetable shredder attachment works a dream too. A great in between size for those without much available space."
2) Kenwood MultiPro Food Processor (FDM300SS)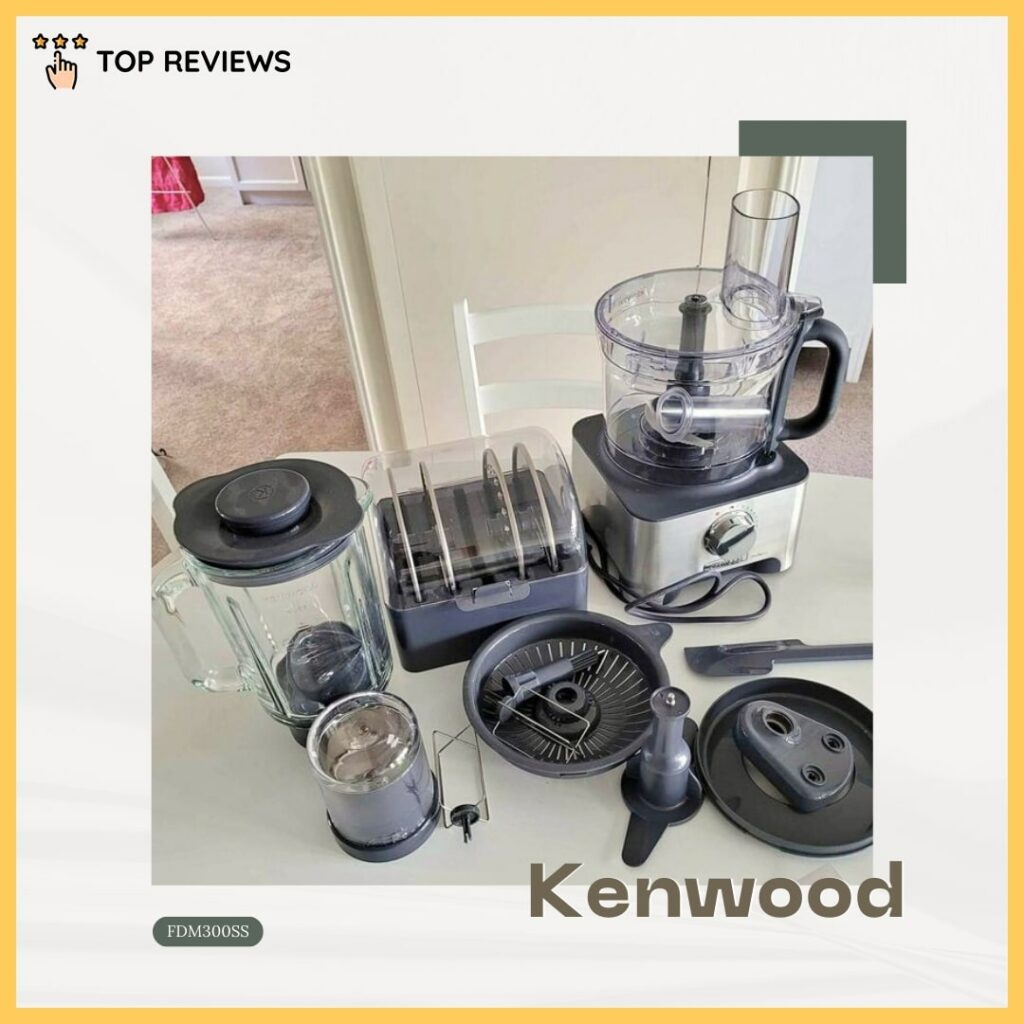 Best for
Value for money
Capacity
Processing bowl: 2.1 L
Blender: 1.2 L
Weight
4.8 kg
Size
23 x 20 x 36.5 cm (W x D x H)
Accessories
Stainless steel knife blade, 2 reversible slicing/grating discs, extra-fine grating disc, dough tool, and whisk tool
Price
$229.99
Planning to make a healthy recipe such as a broccoli salad or creamy soup for dinner? If you are, then the Kenwood MultiPro Food Processor would be ideal for you.
It may be cheaper and lighter than most processors, but its efficiency is pretty consistent, owners will agree. With it, you can slice, dice, grate, blend, whisk, and mix a wide variety of food.
It can even be converted into a blender, which allows you to make frothy smoothies, juices, and soups. The only downside is that its material is plastic and not glass.
Plus, it's easy to clean with its dishwasher-safe parts, except for the spatula. Furthermore, it has cord storage to make the food processor look tidy on your kitchen counter.
Powerful motor (800 W)
Space-saving appliance
Dishwasher-safe parts
Has cord storage
Doesn't knead so well
Bowl is made of plastic, not glass
Customer Reviews
It can't knead dough or beat cakes that well, though it's quite good in slicing and chopping works. One owner said this food processor basically gave him value for money.
Here's what Darren has to say about the food processor:
"It's a great food processor for a great price from a reputal company, don't be put off by the compact size as it has not put a foot wrong and done absolutely everything I have asked it to do with ease, I fully recommend the Kenwood multipro compa e food processor."
But one customer, Siva, said this:
"So far for making Chapatti dough and cake beating. It is not as powerful as the biggerKenwood , but it is quite good The blender works well. I separately bought a grinder ( for spice grinding). It is new shape ((from the grinder we used in the UK). It is not satisfactory."
3) Magimix Compact 3200 XL Satin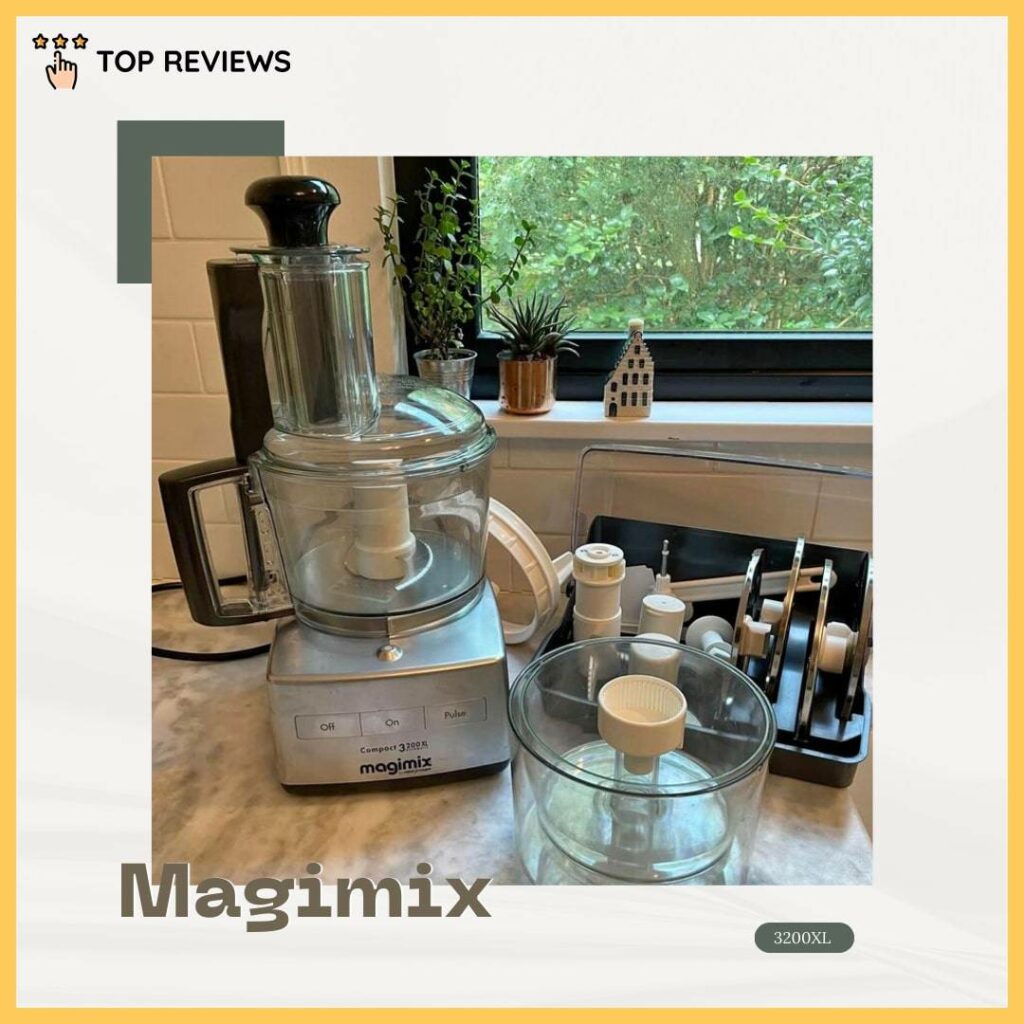 Best for
Versatile food processor
Capacity
Bread dough: 600 g
Pastry: 1 kg
Blending: 1 L
Chopping (meat) – 750 g
Grating (carrots) – 800 g
Egg whites: 5
Main bowl: 2.6 L
Midi bowl: 2.2 L
Mini bowl: 1.2 L
Weight
5 kg
Size
19 x 22.5 x 39.5 cm
Accessories
Extra-large feed tube, triple pusher, stainless steel blade, BlenderMix, dough blade, egg whisk, 2 mm slicing/grating disc, 4 mm slicing/grating disc, spatula, storage box, recipe book
Price
$799
Made in Burgundy, France, the Magimix Compact 3200XL is a food-processing beast that can handle anything from kneading a loaf of bread to dicing hard meat.
It has three bowls you can use to process food: the mini, for small quantities; midi for medium capacity; and the main bowl, used for handling large and tough foods.
Within the unit is a commercial-grade motor that is incredibly quiet. By pressing the auto button, it will sense the food inside the bowl and smartly adjusts its power to cut it.
It has a full range of accessories including an egg whisk, dough blade, triple pusher, spatula, storage box, and even a recipe book!
Magimix Compact is one of the best food processors in NZ that lets you prepare all kinds of food. And the unit and parts are backed by a reliable 3-year warranty.
Simple controls
Extra-large feed tube
Super-quiet motor
Complete accessories
3-year unit and parts warranties
Expensive
Can take some practice to learn about its functions and food results
4) OXO Good Grips Manual Food Processor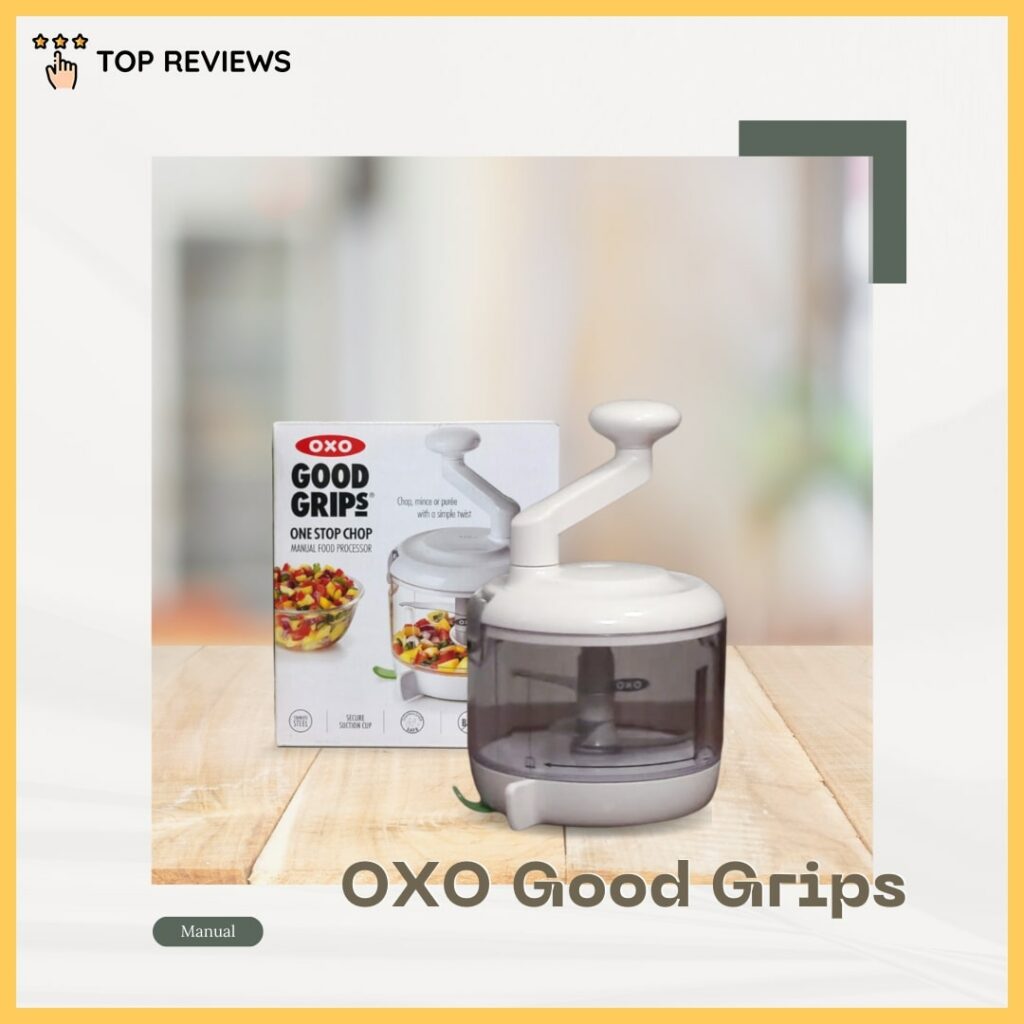 | | |
| --- | --- |
| Best for | Manual food processor |
| Capacity | 1 L |
| Weight | 0.59 kg |
| Size | 7.62 x 15.49 x 18.54 cm (L x W x H) |
| Price | $99.99 |
Looking for an affordable food processor that still delivers amazing performance? Well, you might like the OXO Good Grips Manual Food Processor, then!
Yes, it's small, basic, and manual—but it punches above its weight, many say. It's not as versatile as motorised ones, but it gets the job done with great results.
It has 3 stainless steel blades that spin around as you rotate the comfortable handle with your hand. It can chop, slice, and mince foods finely and consistently.
The processor is very light at 0.59 kg and has a removable handle for easy storage. Besides that, you can put it in the dishwasher for cleaning, which represents further convenience.
Clean white design
Comfortable handle
Great price
Dishwasher safe
Requires manual work
Weak suction base
Customer Reviews
People find this processor likeable with its rotating handle. They used this to make egg salad, salsa, pesto, and chopped baby food, to name a few.
One owner named Lilac shared her experience in using the machine:
"The Oxo worked like a dream right out of the package. Once the handle is pressed into place it has only 3 parts, so it is basic and simple. I have had several food processors, both motorized and manual, but none of them chopped food as finely as this one. I cook for someone without teeth, so that super-fine chopping is important to me, and it did not take many spins to accomplish. I am giving the machine 5 stars. However, I do find this one flaw: the suction base that keeps the machine steady is weak. So if you're only chopping something light, it may stay put. But if you have some heavy chopping, then the suction does not hold, and you have to press down with your hand to keep the machine steady."
Also, Daryl commented:
"We like to make homemade salsas, and this is one of the best 3-blade manual food processors I have ever used. It actually has a suction cup on the bottom and holds tight on my granite counter top while churning the crank! Results in nice consistency, not overly processed!"
5) Philips Daily Collection 1.5 L Food Processor (HR7310-00)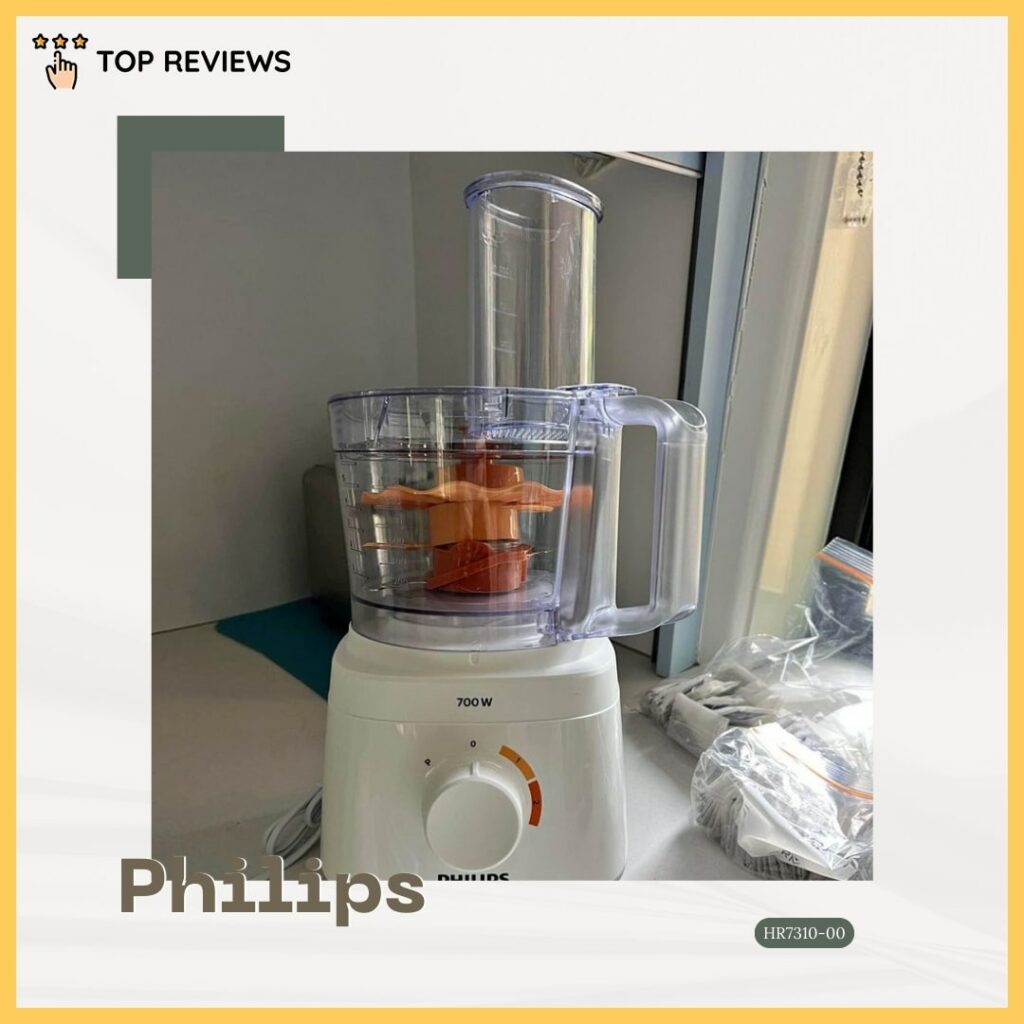 | | |
| --- | --- |
| Best for | Hectic-lifestyle home cooks |
| Capacity | 1.5 L |
| Weight | 2.95 kg |
| Size | 31 x 35 x 26 cm (W x H x D) |
| Accessories | Blade unit S-blade, emulsifying tool, kneading tool, and reversible disc |
| Price | $178.03 |
Philips 1.5 L Food Processor is less costly than Magimix processors. It can grind, puree, whisk, slice, chop, knead, and blend effortlessly thanks to its 700 W motor.
The designers intended this product for people with busy lifestyles. Why? Well, it's hugely simple to use with 3 buttons (high, low, and pulse) and working the accessories is similarly easy.
With a 1.5 L bowl, it can make 5 portions of ingredients at one time. It has a large feeding tube that can accommodate larger food without requiring you to manually cut it.
What's more, it can make sauces and dressings, knead dough, grind chocolate and cheese. Whatever you want to do, it's possible with this reliable processor.
And you can see where the processor's knob is positioned with a colour-coded guide. It has a non-slip base to keep it from moving while in use.
Powerful motor
Large feeding tube
Easy-to-clean
Non-slip feet
2-year warranty
Smaller capacity than competitors
FAQS about the Top Food Processors in NZ
---
And those were our choices for the best food processors in NZ. They are truly worth the buy and will definitely last long for you to cook many delicious recipes!
Do you have any questions about this list? If you have one, please let us know and we'll get back to you in a moment.
Want to have fresh juices at home too, by the way? If so, you can also read about the best juicers in New Zealand so you make your family some orange juice during lunch or dinner.