The 8 Best Fridge Repairs Services in Auckland
Since fridges have an important role in the kitchen, it can be a drag when they unexpectedly break down. But take it easy, as we've got you covered with the best fridge repairs services in Auckland.
For this list, we chose competent ones that provide a fast and efficient repair, to be there when you need it. Also, we considered those that give you great value through their service.
If you're ready, let's now take a look at the best fridge repairs services in Auckland!
1)  ABS Refrigeration Services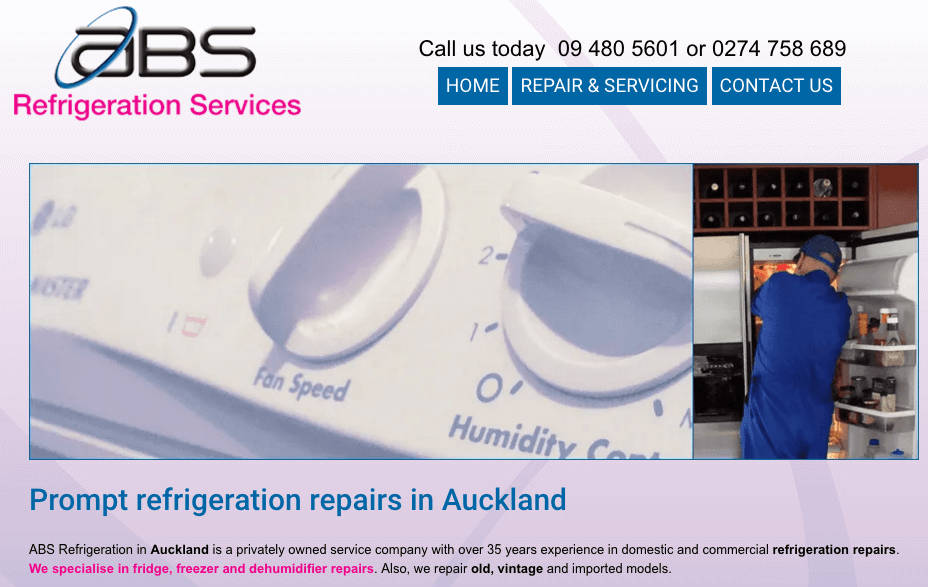 BEST FOR
Hassle-Free Service
SERVICES
Fridge Repair

 

Freezer Repair

Dehumidifier Repair

WEBSITE
https://www.absrefrigeration.co.nz/
ADDRESS
23 Blundell Place, Birkenhead, Auckland 0626, New Zealand
CONTACT DETAILS
+64 274 758 689

 

OPERATING HOURS
24/7
ABS Refrigeration Services is a privately owned repair company for fridges, freezers and dehumidifiers based at 23 Blundell Place, Birkenhead, Auckland.
Thanks to all they've learned in their 35 years of service, they can bring back your fridge to proper working condition in a flash. They can fix almost all major brands, plus vintage and imported models.
They pride themselves on their 'hassle-free service' where they will work as discreetly and efficiently as they can to prevent disruption to your office or home activities.
Along with that, they offer a same-day service if possible to slash off that downtime you're having at home. Definitely, you can expect a quality fridge repair from them!
Highlights
Same-day onsite repair
Quality workmanship
Over 35 years' service
Efficient and reliable technicians
Can fix most major brands
Customer Reviews
One client, Dan Rastkar, said on Google Business:
"Spoke to these guys during covid 19 lock down, super help full over the phone and very supportive.
Than you"
2) Harbour Appliance Services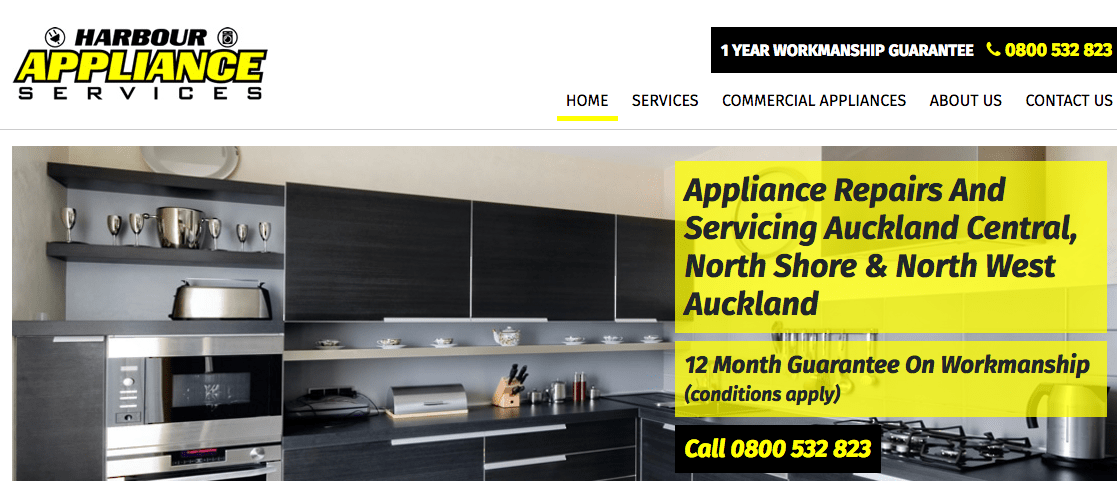 | | |
| --- | --- |
| Best for | Fisher and Paykel Refrigerators |
| Services | Refrigerator Repairs, Washing Machine Repairs, Home Dryer Repairs, Dishwasher Repairs, Electric Hob Repairs and Electric Oven Repairs |
| Address | 34 Fitzherbert Avenue, West Harbour, Auckland 0618, New Zealand |
| Contact no | 0800 532 823 |
| Website | https://www.harbourapplianceservices.co.nz/ |
If your Fisher & Paykel fridge has issues, you should call Harbour Appliance Services! They have a fast turnaround process to minimise your downtime as much as possible.
Their team has qualified electrical technicians who can deal with almost any problem with your fridge. For instance, they can diagnose and repair thermostats, valves, doors, water filters, heaters, and the like.
To give you confidence and value, they back up their workmanship with a solid 12-month guarantee. Expect a same-day or next-day repair service from them too!
Highlights
Fast and reliable service
Specialises in F & P fridges
Qualified electrical technicians
Solid 12-month service guarantee
Customer Reviews
This is one of the best fridge repairs services in Auckland. Harry Bekyan writes a quick review from Google:
"Thank you Rafael, for saving me from frustration.  He not only diagnosed why my fridge leaks all the time, but also gave me instruction how to manage leaking, instead of calling technician all the time!  Thank you for your honesty and care."
3)  Appliance Repairs Parts and Services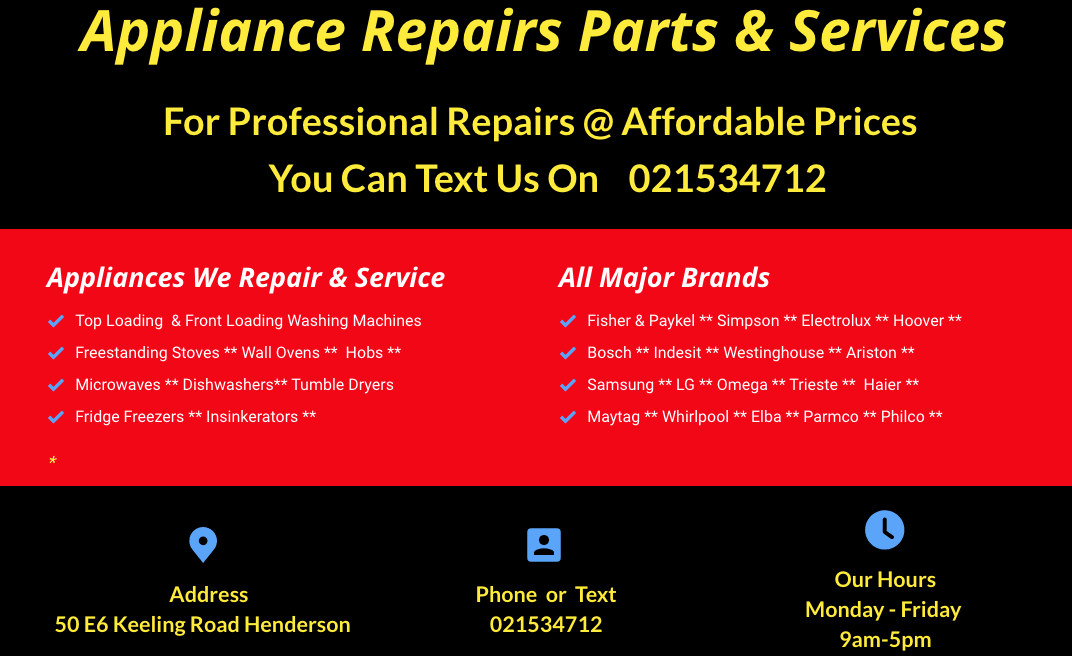 | | |
| --- | --- |
| Best for | Superb Communication with Clients |
| Services | Fridge Freezers, Insinkerators, Washing Machines, Dryers, Stoves, Ovens and Hobs, Microwaves and Dishwashers |
| Address | 50 E6, Keeling Road, Henderson, Auckland 0612, New Zealand |
| Contact no | 021534712 |
| Website | https://applianceman.co.nz/ |
It's rare to find a company that maintains excellent communication and keeps you informed every step of the way. This is what Appliance Repairs Parts and Services offers!
They repair most prominent brands we know, including the likes of Samsung, Maytag, LG, Fisher and Paykel, Bosch, Electrolux, Simpson, Philco and so forth.
Furthermore, they offer economical prices to get your appliance up and running again. The technician also provides valuable and honest advice about the appliance.
Hence, they are one of the best fridge repairs services in Auckland you can trust.
Highlights
Remarkable communication
Repairs most major brands
Affordable prices
Gives honest and valuable advice
Customer Reviews
Mary Maireroa praises the repair technician on Google Reviews:
"I'm glad I read the reviews and choose him. Excellent communication from start to finish. Excellent prompt service and reasonably priced. I would definitely recommend him to anybody that needs an appliance repaired."
4) S.O.S. Appliance Repairs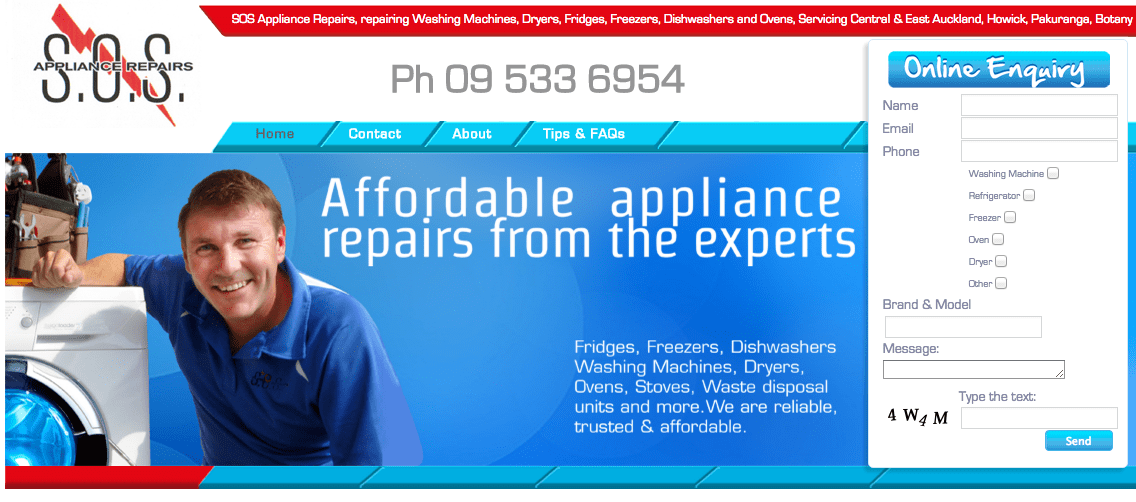 | | |
| --- | --- |
| Best for | Affordable and Professional Service |
| Services | Fridges, Freezers, Dishwashers, Washing Machines, Dryers, Ovens, Stoves and Waste Disposal Units |
| Address | 43A Fratley Ave Farm Cove, Auckland 2012, New Zealand |
| Contact no | 09 533 6954 |
| Website | https://www.sos-appliance-repairs.co.nz/ |
Vance from S.O.S. Appliance Repairs can repair your whiteware appliances in an efficient and swift fashion. He is very down-to-earth, friendly, and brilliant — at least, that's how many customers have described him.
He is a fully qualified specialist and knowledgeable about all the fridge brands out there. He understands that your time is important and thus strives to finish the job efficiently.
Saturday booking is also available, though it needs to be set by appointment. And a bonus is that you get value for price with regard to fridge or fridge freezer repairs.
Highlights
Down-to-earth and proficient technician
Value-giving prices
Can fix almost all fridge makes and models
Saturday bookings by appointment only
Customer Reviews
Kym Kemp shares his experience with S.O.S Appliance Repairs from Google Reviews:
"Have used these guys multiple times over the years, Vance is always professional and honest, I wouldn't hesitate to recommend them to others which I have done many times on our local Facebook page."
5) Fridge Sealers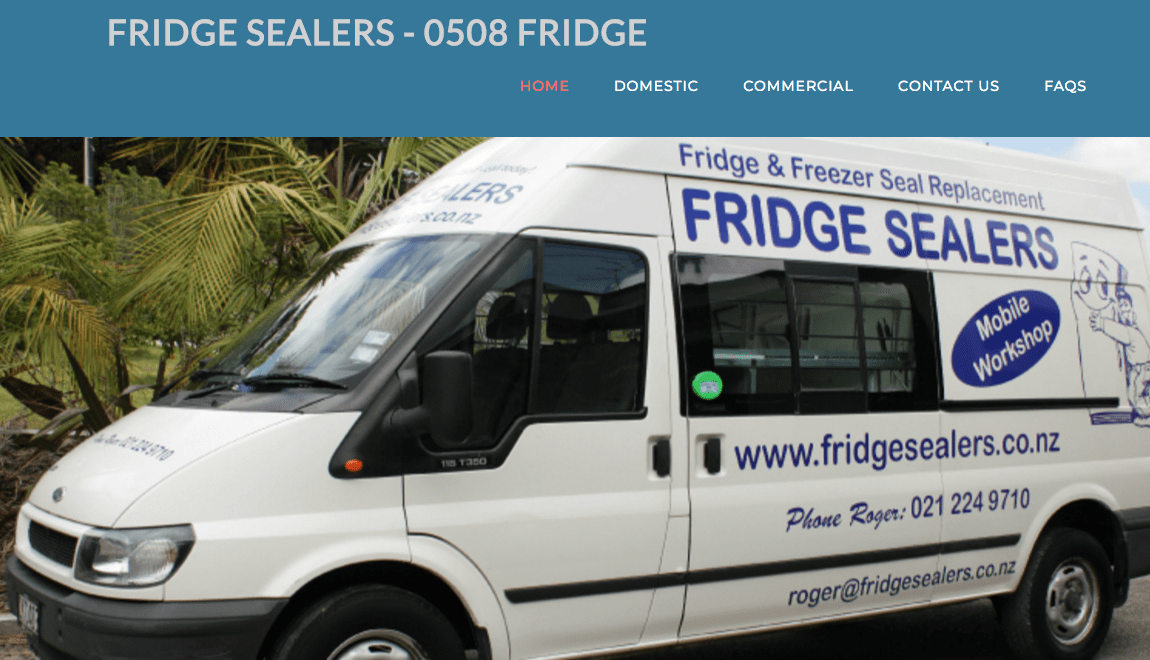 | | |
| --- | --- |
| Best for | Fridge Seal and Gasket Repairs |
| Services | Fridge and Freezer Seal and Gasket Replacement |
| Address | Auckland, New Zealand |
| Contact no | 0508 374 343 |
| Website | http://www.fridgesealers.co.nz/ |
It's rather uncommon to have your fridge seal broken, but the reality is sometimes it happens, especially on older models. In that case, you can call on Fridge Sealers!
Unjoined seals can be a problem in that your food won't be kept at the right temperature, your fridge freezes up your food inside, and you'll end up with higher power bills. Fortunately, the problem can be repaired by companies like this one.
They can replace your gasket or seals on fridges from major brands like Fisher and Paykel, Simpson, Kelvinator, Shacklock, LG, Frigidaire, Samsung etc.
Also, they can visit your home or office to measure and make your new seal on the spot!
Highlights
Fridge Seal repair specialist
Repairs most major brands
On-site measuring and fitting
6)  Norwest Appliance Services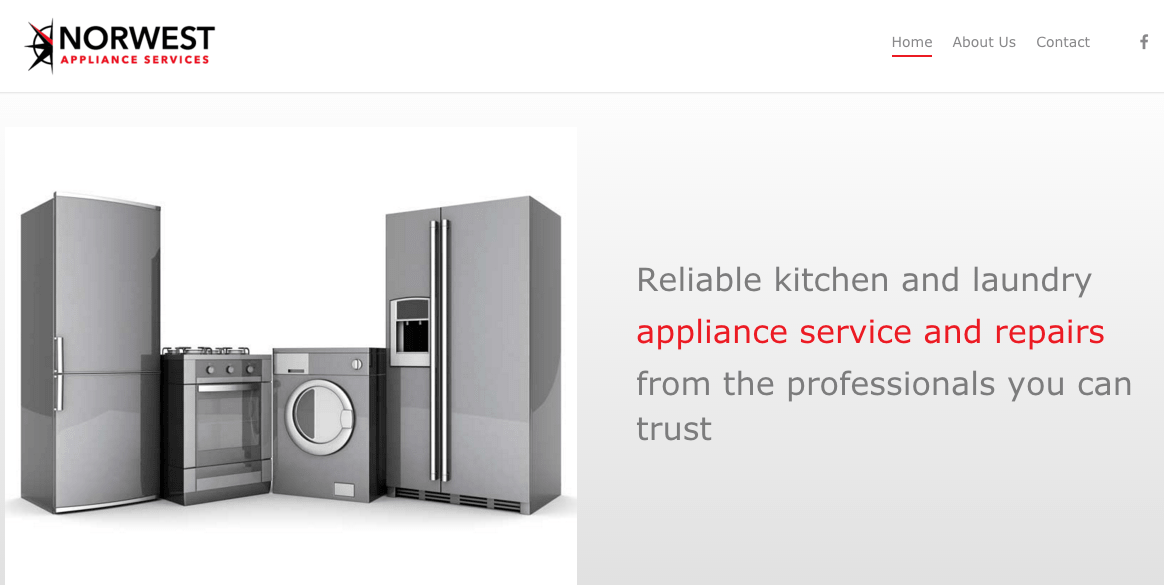 | | |
| --- | --- |
| Best for | Organised, Informative and Fabulous Service |
| Services | Fridges, Freezers, Ovens, Cooktops, Dishwashers, Washing Machines and Dryers |
| Address | 536 West Coast Road, Oratia, Auckland 0604, New Zealand |
| Contact no | 09 833 4702 or 027 701 0067 |
| Website | http://norwestas.co.nz/ |
Have your fridge repaired by a qualified professional at Norwest Appliance Services. Mike has amassed over 10 years' experience in working for respected appliance repair companies.
This gave him well-rounded expertise to repair a broad range of kitchen and laundry appliances. He is very prompt, professional, and helpful to his customers.
He is also adept at fixing most renowned fridge brands, including Simpson, LG, Panasonic, Electrolux, Maytag, AEG, Intec, and Westinghouse.
Finally, in terms of punctuality and customer service, his company is one of the best fridge repairs services in Auckland's west and northwest areas. They always provide what you need and on time.
Highlights
Excellent customer service
Qualified fridge technician
Can fix a range of leading fridge brands
Over 20 years' experience
Customer Reviews
On Google Business, J Pattullo wrote:
"I contacted Norwest on there website. They contacted me promptly and arranged a time. Tradesman was very professional and explained what was wrong with fridge including cost. I would not hesitate to recommend Norwest to others. Mobile eftpos was also very handy."
7) Appliance Rentals
Best for
Home Appliance Services
Services
Fridges, Freezers, Dishwashers, Washing Machines, Stoves, Wall Ovens, and more
Address
N/A
Contact no
[email protected]
0220420665
(09)478-7742
Website
http://www.alloallo.co.nz/
Appliance Rentals is a domestic appliance supplier who has been in the industry for many years. Besides selling durable and affordable appliances, they also offer maintenance and repair services.
Their experienced technicians know all there is to know when it comes to fridge repairs and appliance servicing, so you can count on them to get the job done on the first try.
If you're in need of home appliance repairs, consider Appliance Rentals. You certainly won't regret it.
Highlights
Broad range of appliances
Qualified technicians
8) Jones Services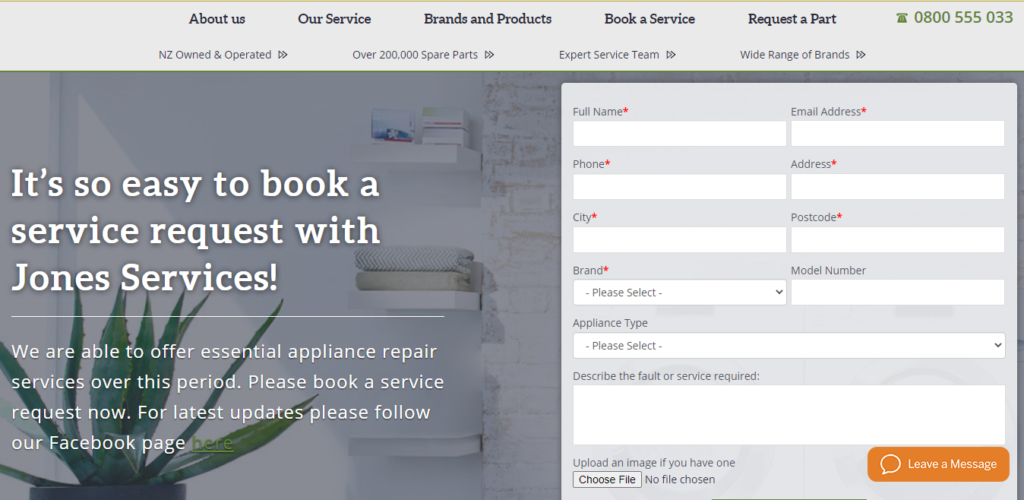 | | |
| --- | --- |
| Best for | European appliances |
| Services | Fridge, dishwasher, washing machine, oven, cooktop |
| Address | 635 Great South Road, Penrose, Auckland 1061, New Zealand |
| Contact no | +64 800 555 033 |
| Website | https://www.jonesservices.co.nz/ |
Jones Services are experts in delivering, installing, and repairing various appliances. They are the first choice technicians for leading European brands such as Asko, Bosch, and Gaggenau.
They have a stock of over 200,000 appliance parts from a wide range of high-quality brands. Aside from this wide selection of materials, they also have the proper equipment for each repair service.
You can easily request an appointment for their repair services through their online forms. They also accept requests for parts on their website.
Highlights
Expertise in European brands
Full-equipped and fully-stocked with parts
Online forms for service bookings and request for parts
Customer Reviews
Andy Schmidt wrote this on Google Business:
"Good service, managed to fix a problem quickly and thoroughly, and returned when there was still a small lingering issue at no extra charge. We used them for our fridge/freezer repair problem"
So there you have it — the best fridge repairs services in Auckland. They are quick and efficient at fixing your fridge with minimal disruption to your kitchen work or food storage.
Any questions regarding the items we included in the list? If you have one, feel free to drop us a line, and we'll get back to you in a bit.
Other than that, you may also be interested about the best oven repairs companies in Auckland. In case your oven gets faulty, these repair companies will sort you out.