The 8 Best Fridges In New Zealand
Fridges are a necessity in every single home to keep food fresh and delicious longer. To help you pick a fridge for your own place, we have a list of the best fridges in New Zealand.
Remember that this is an appliance that you're likely to keep for years — and you're going to be running it most of the time too. That's why it's important to pick only the best options for it.
Now, there are things you'll have to think about when making your choice. For instance, there are several kinds of fridges available, with differing internal layouts, features, sizes, and design.
So, to help you make sense of your options, we'll go over these factors one by one. That way, you'll have a better idea of how to select one from our recommendations.
Types of Refrigerators
There are different kinds of refrigerators available today in the Kiwi market. Not one of them is better than the other, strictly speaking — it depends on which of them you will have the most use for.
Top-Mounts
Top-mounts are the iconic fridges, with a single-door freezer on top and a single-door fridge below. They are usually organised with 3 or 4 shelves, fruits and veggie drawers, and side racks.
Bottom-Mounts
They are exactly the opposite of top-mount fridges wherein the fridge is above whilst the freezer is below in either a single drawer or door.
These are more accessible than the top-mounts if you have a family, as you won't have to bend down to take most of the everyday foods that you need.
French Doors
French doors (or American doors) have 3 levels, the highest level being a 2-door fridge, whilst the second and third levels could be single-drawer or single-door freezers.
Side-by-Side
This modern and sleek type opens on both sides like a French door. The only difference is that it opens into two different sections of a fridge and freezer.
Most models incorporate a convenient water dispenser. This water dispenser is ordinarily placed on the left side door.
Wine/Bar Fridge
These are the smaller fridges, like those you find hidden under a hotel cabinet. These are often meant to keep wine and soda cool.
Since they are small, these are the cheapest models to buy and are an excellent choice to use in small areas or an office.
8 Best Fridges You Can Buy in NZ
Having considered the types of fridges, let's now see the lineup for the best fridges in New Zealand. As you'll see, pretty much every one of the types we listed above is represented here:
1. Samsung 336 Litre Fridge Freezer (SRL336NW)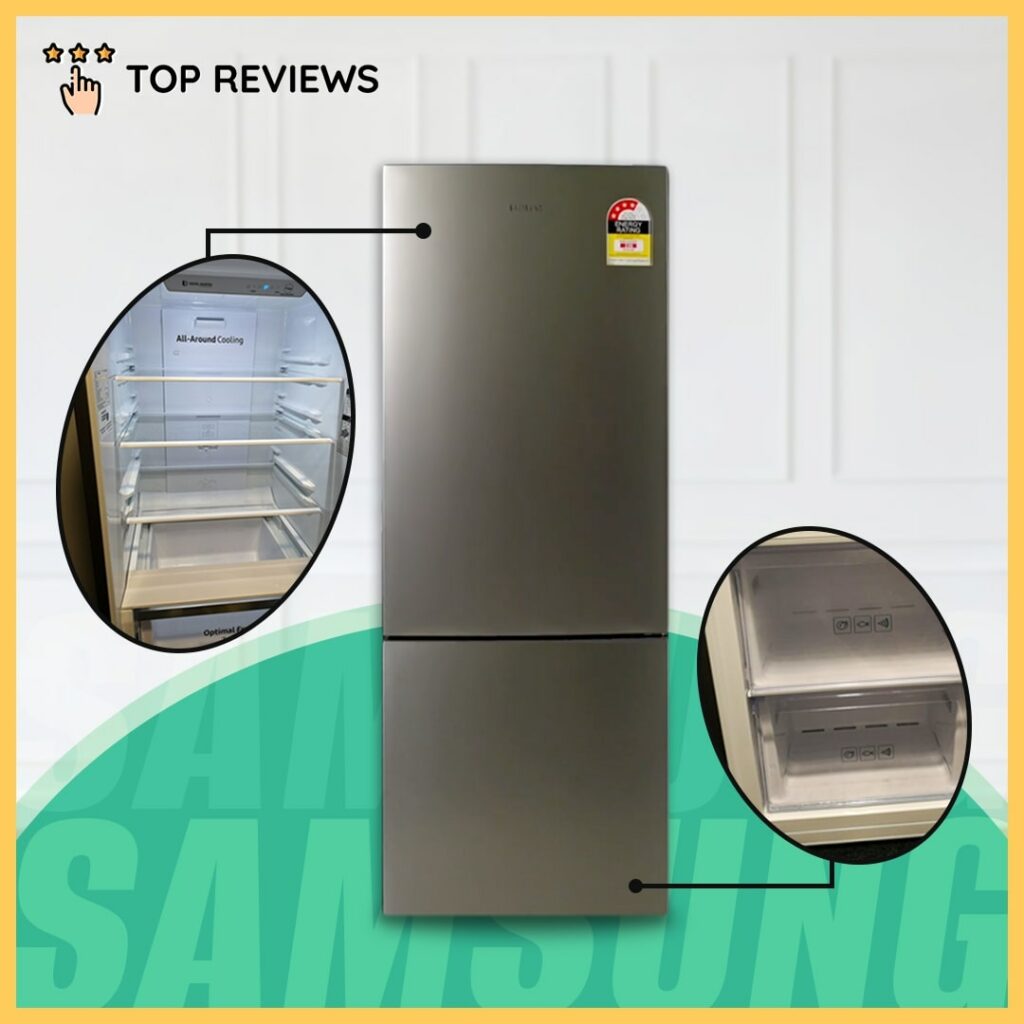 Price: NZ$998
Samsung really designs this fridge for Kiwi homes. Having a dimension of 1700H x 595W x 663D mm, it keeps and stores your food fresh in a way that's perfect for the whole family.
There's a power cooling feature that you can turn on whenever you're in a hurry. You can also adjust the temperature from 1 to 7°C.
An optimal fresh zone holds a lot of vegetables or meat at just the right temperature. At that temperature, juices and nutrients in the beef or fruits will be locked in for freshness.
As for the shelves, they are quite spacious — certainly handy for storing bread, yoghurt, desserts, and others. Below, in the freezer, you have two large compartments free for your use.
The best part is that the fridge runs on a digital inverter compressor, keeping it efficient and quiet in your kitchen. Oh and don't forget it purifies the air inside all the time with a charcoal filter!
Highlights
Designed and made for Kiwi homes
Power cooling feature
Charcoal filter neutralises unpleasant odours
Food stays fresh longer with optimal fresh zone
Customer Reviews
The Samsung 336 Litre has garnered 4.7 out of 5 stars with its quietness, cooling, and spacious storage. Justin commented:
"I rate this fridge 9 out of 10. It's amazing, it is made of very high quality and love the side of fridge made of different material so won't get scratched. It has nice set up on the inside, a lot of room. Keeps food nice and cold. Best fridge I have ever brought. Was brought for a very good price."
2. Panasonic 547 Litre French Door Fridge Freezer (NR-CY54BGSAU)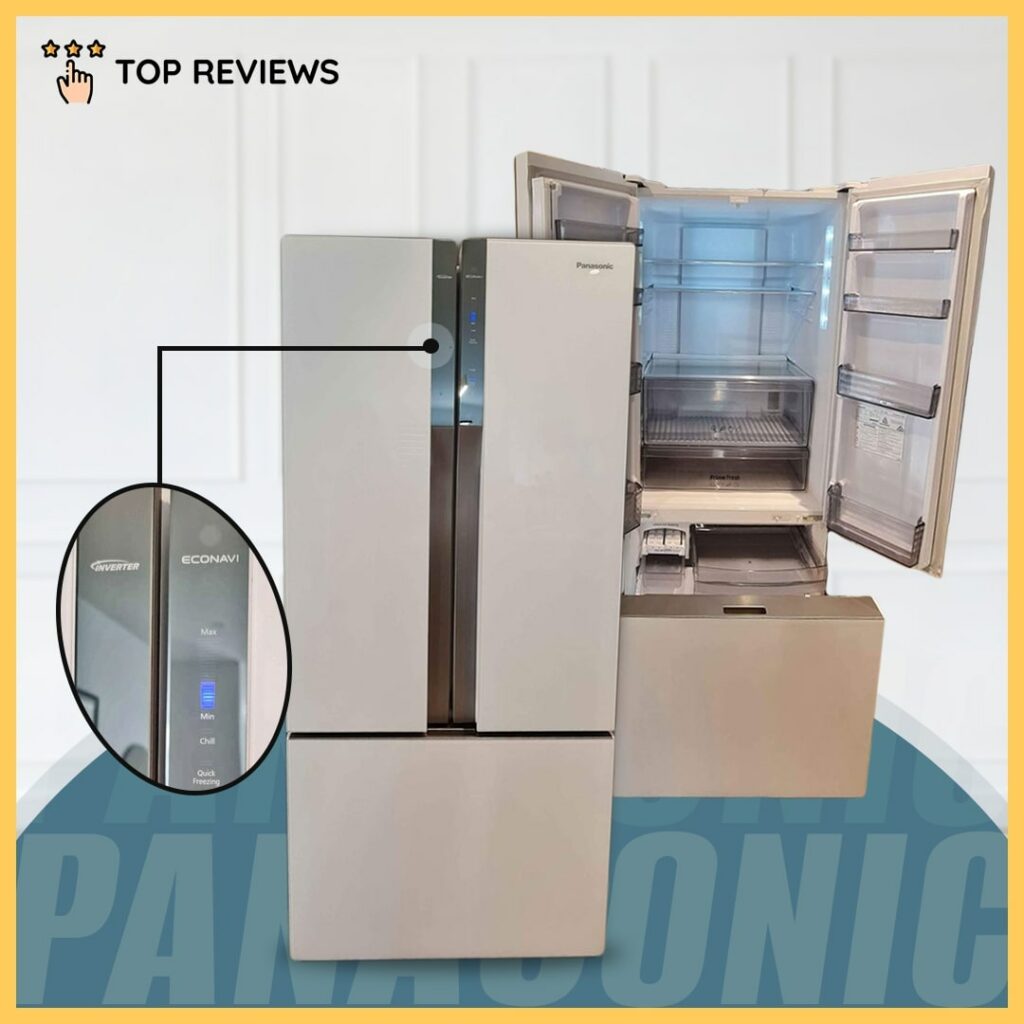 Price: NZ$2998
Whether you're just the type to keep a lot of food on hand or you have a large family at home, then you should definitely consider the Panasonic 547 Litre french door.
First off, it's equipped with a digital inverter compressor. That means your energy usage will still be lower for it than with similarly-sized fridges.
You'll also see Econavi technology with this particular Panasonic fridge. With this, the temperature of the fridge is always kept in check, as it adjusts the cooling automatically, as necessary.
Shelves are tempered and are easy to clean. You also get two side doors that house all your cartons and Coca-Cola, as well as your wine bottles and sparkling grape juice.
As for the design, you'll be proud of how it classes up your kitchen. This is also because of its sleek silver look, not to mention the centre accent of the doors.
Highlights
Ultra-spacious 547-Litre capacity
Uses digital inverter and ECONAVI
Sleek design
Tempered glass shelves for durability
Customer Review
This fridge has received 4.4 out of 5 stars on Noel Leeming. Most owners were very pleased with it, particularly its capacity and inverter technology.
There were still a few critiques, though. Complaints include a buyer saying the doors didn't close equally and that he couldn't open the crisper.
Maybe that was a defect, but let's see what one other reviewer had to say about the fridge:
"Very happy with this fridge. Spacious but not too big. The meat drawer is cool – the meat is almost frozen but not quite. Keeps it fresher longer but easier to quickly cook with without a major defrosting. Freezer drawer nice size. All good. No complaints."
3. Haier 115 L Bar Fridge (HRZ-113)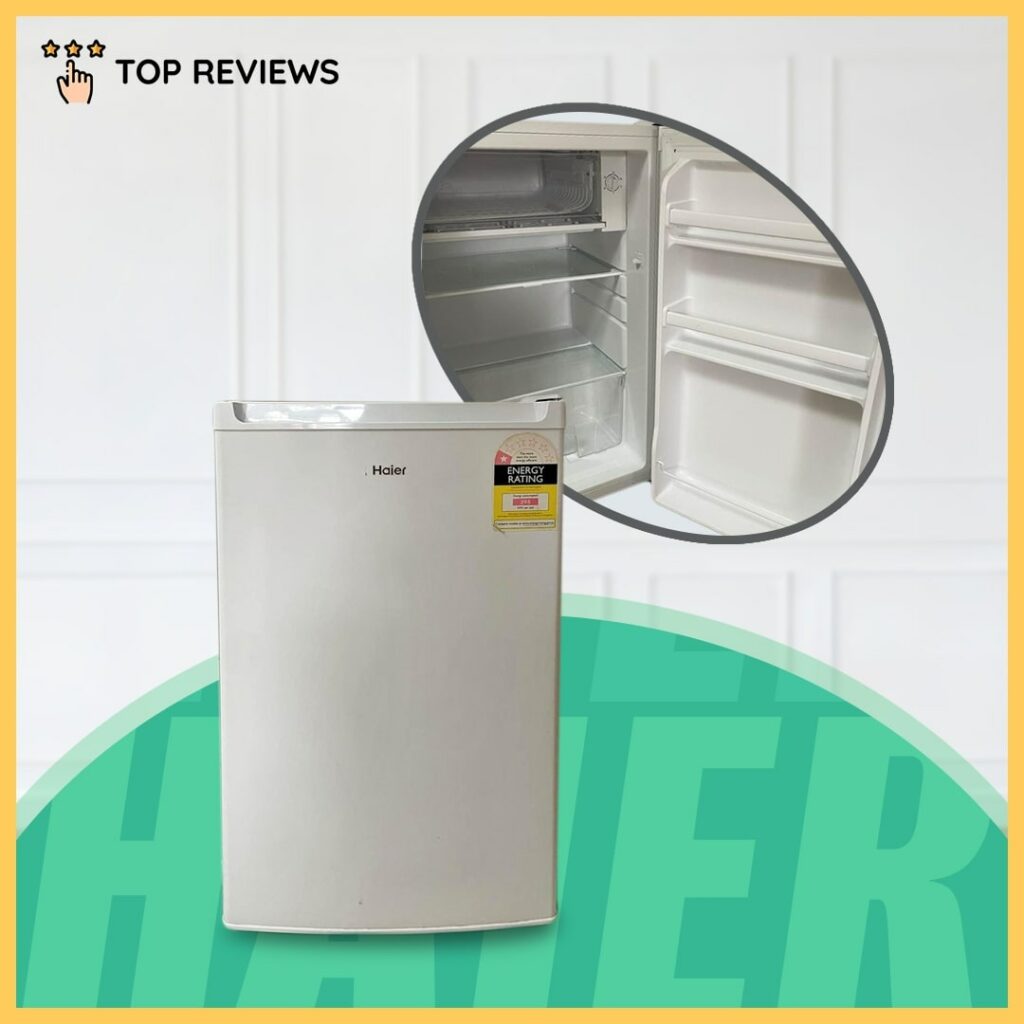 Price: NZ$499
What's cooler than having your own bar fridge in your office? If you're looking to get one, you might as well get the Haier 115 L bar fridge.
Small but powerful, it holds 4 levels within it, including the chiller and the crisper compartment. Meanwhile, in the side racks, you can store everything from jam and ketchup packets to gatorade and a tall bottle of milk.
Of course, even with a fridge this small, you're still in control of the temperature. All you have to do is turn the switch to the level you prefer to personalise your cooling.
The frost-white colour of this fridge makes it shine in any room. Furthermore, you'll never find yourself stuck as it takes up only a small space in your office or bedroom.
The only problem with this fridge might be that it has just a 1 star energy rating. That makes it less efficient than other models of this type and size… although it definitely outdoes them in just about every other area.
Highlights
Holds 115 L space
Removable crisper makes it easy to wash
Temperature control
Customer Review
In spite of its issue with energy efficiency, 31 of 59 people gave the Haier Bar Fridge a 5 out of 5 stars on Harvey Norman. Most of them praised its quietness, ease of use, and coolness.
Let's see an interesting review by Hobart from Australia:
"Brought this little beauty works a treat. Set it on four and items freeze, five even faster. I seen a comment it does not freeze (WRONG) . Takes half a hour to get a cold drink, does NOT need cleaning as often as old designs as frost is minimal. Quiet, has a crisper, keeps lettuce crispy and fruit. I love the Freezer has slide up door so holds extra food items. Yes it hold 2 litre bottle,plus 2 One little, has room for smaller items 3 shelves on the door full lenght. I LOVE it. Covered in back, modern built in handle at top of door. Your hubby will love it.. Just slides out of Box, light weight. fast Delivery fantastic service."
The only disappointment comes to the 1-star energy rating of this product when it had been 3-stars in previous models. Another have likewise complained that the cord length is too short to plug into the socket.
4. Fisher & Paykel 83 Bottle Wine Cabinet (RF206RDWX1)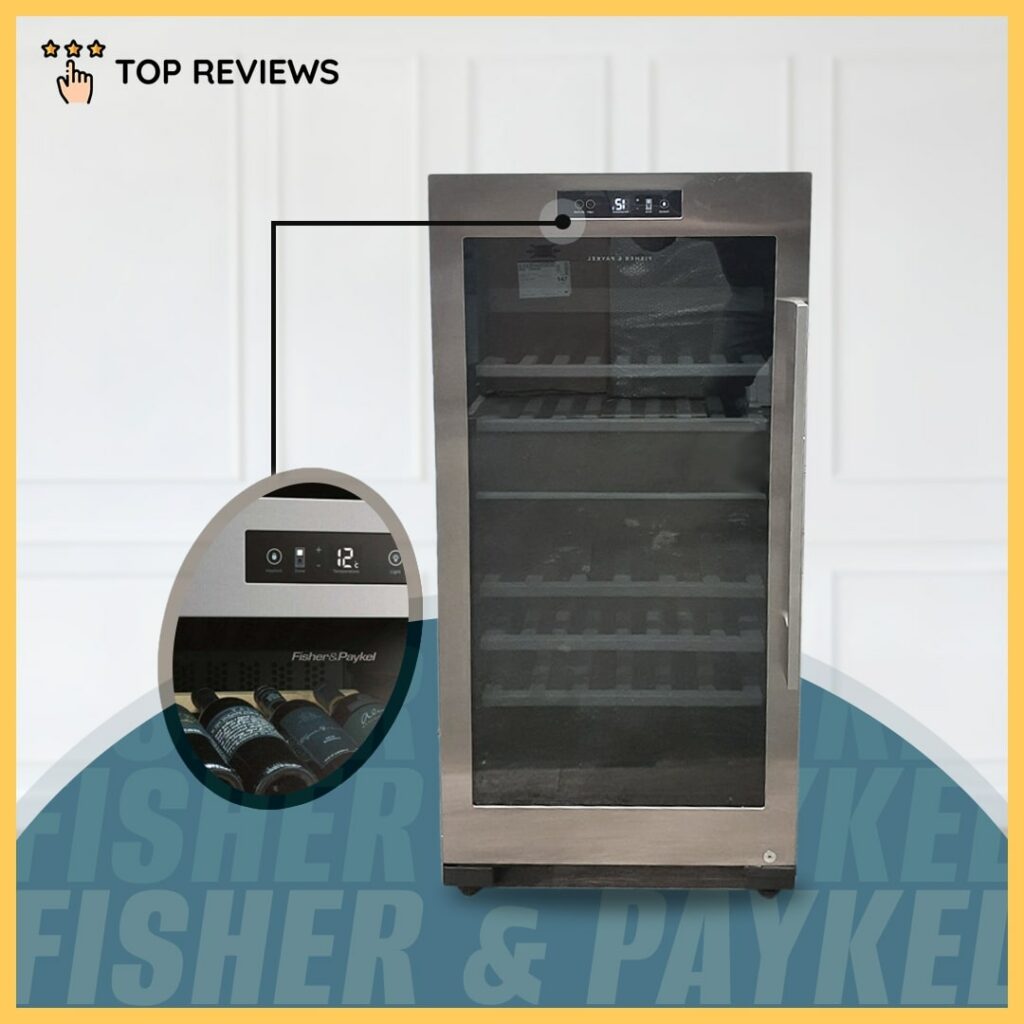 Price: NZ$3,549
Wine lovers will absolutely love the Fisher & Paykel Wine Cabinet 83 Bottle. This fits right into your cocktail bar, cellar, or living room.
With a UV-resistant tempered glass door, your wine bottles will be protected from external heat or radiation. You'll also have 83 bottle holders with two-end wine oak shelves.
This enables you to display your wine either forward or backward or in alternating style per level. It's a sight to behold when you've come home tired after work and want one drink.
Moreover, you can set the ideal temperature for the two zones. Controls are lighted by LED for a sleek and modern look for the cabinet.
This wine cabinet stands at 1270 H x 595 W x 674 D (mm), perfect to fit into a gap in your kitchen or by itself. To make things interesting, you can pair up this wine fridge with other Fisher & Paykel fridges or double doors!
Highlights
Dual-zone temperature control between 5 and 20 °C
Glass is tempered and UV-protected
Displays your wine either by its front or back
Customer Highlights
This wine cabinet is a big hit with a lot of users. Ian scores its 4 stars on wineware.co.uk and states:
"Does what it says on the tin. Very quiet. Simple to operate. Good build-quality. Non-standard bottles reduce maximum capacity, as stated. If asked, I would strongly recommend giving this brand a serious look."
5. Mitsubishi Electric 260 L Top Mount Freezer (MR-260G-ST-A)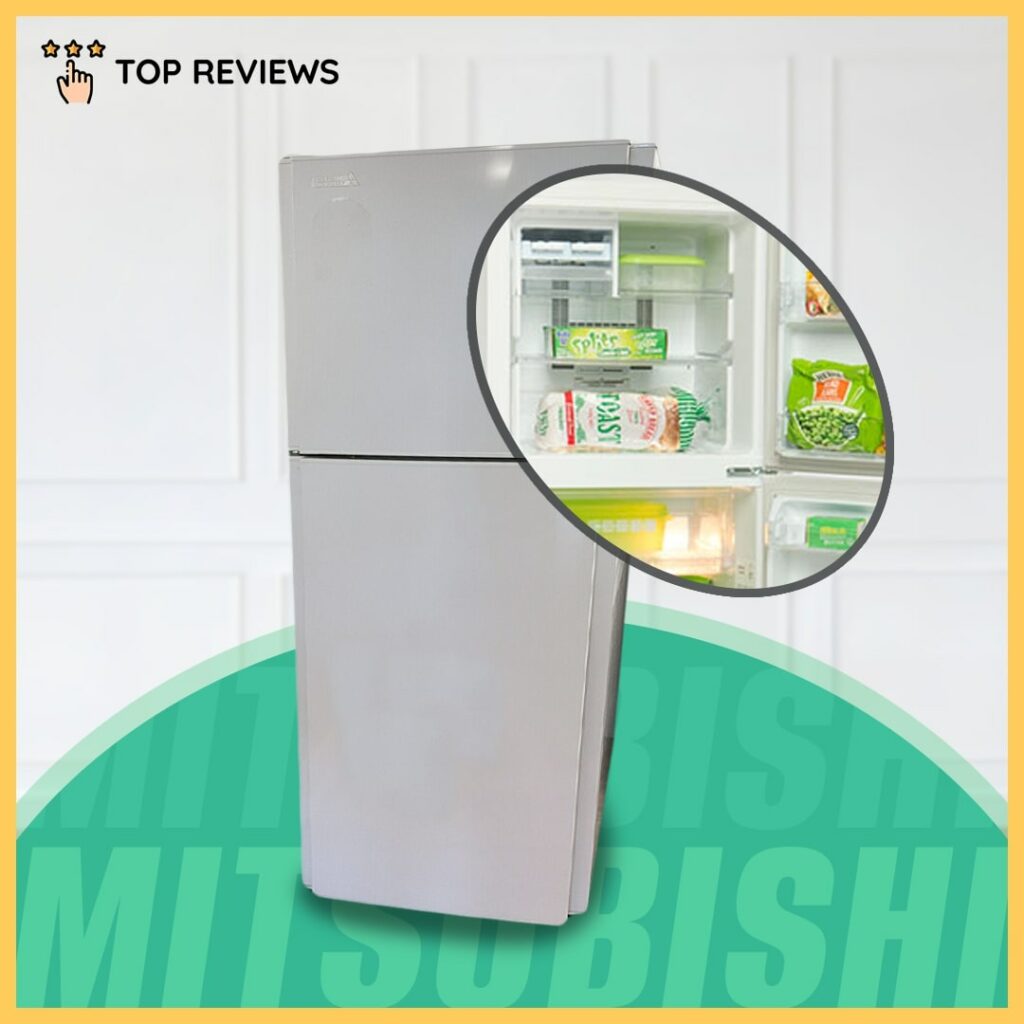 Price: NZ$949
Geared towards the practical side? You'll probably love the Mitsubishi Electric 260 L Fridge. Although it's a classic, this is still a contender for keeping up with the times and staying at the top of convenience.
It has a number of sweet features, one of which is a set of revolving ice trays. In addition to them being removable, you can simply turn the bar for a collection of ice cubes on the go.
You'll also lower your energy usage through the bright LED lights inside. Even better, the shelves are designed and filtered to keep out bacteria and other contaminants.
And it has a 260 L capacity, with enough balance for the fridge and freezer. It also has pockets that can keep all sorts of food items intact and organised.
Finally, it has a 2-Star energy rating, which is not bad at all for a top-mount. Overall, it's easy to see why it's one of the best fridges in New Zealand.
Highlights
260 L total capacity
Bacteria-free shelves
Uses LED lighting
Customer Review
Spidey from Wellington, New Zealand has dropped one review from Harvey Norman. He writes:
"I bought this fridge approximately 3 months ago. It fits perfectly in my apartment and looks great. I love the cooler drawer as it helps keep food longer. My power bill hasn't increased. Overall, I am very satisfied with my purchase." 
6. LG 668 Litre Side by Side Fridge Freezer (GS-L668PNL)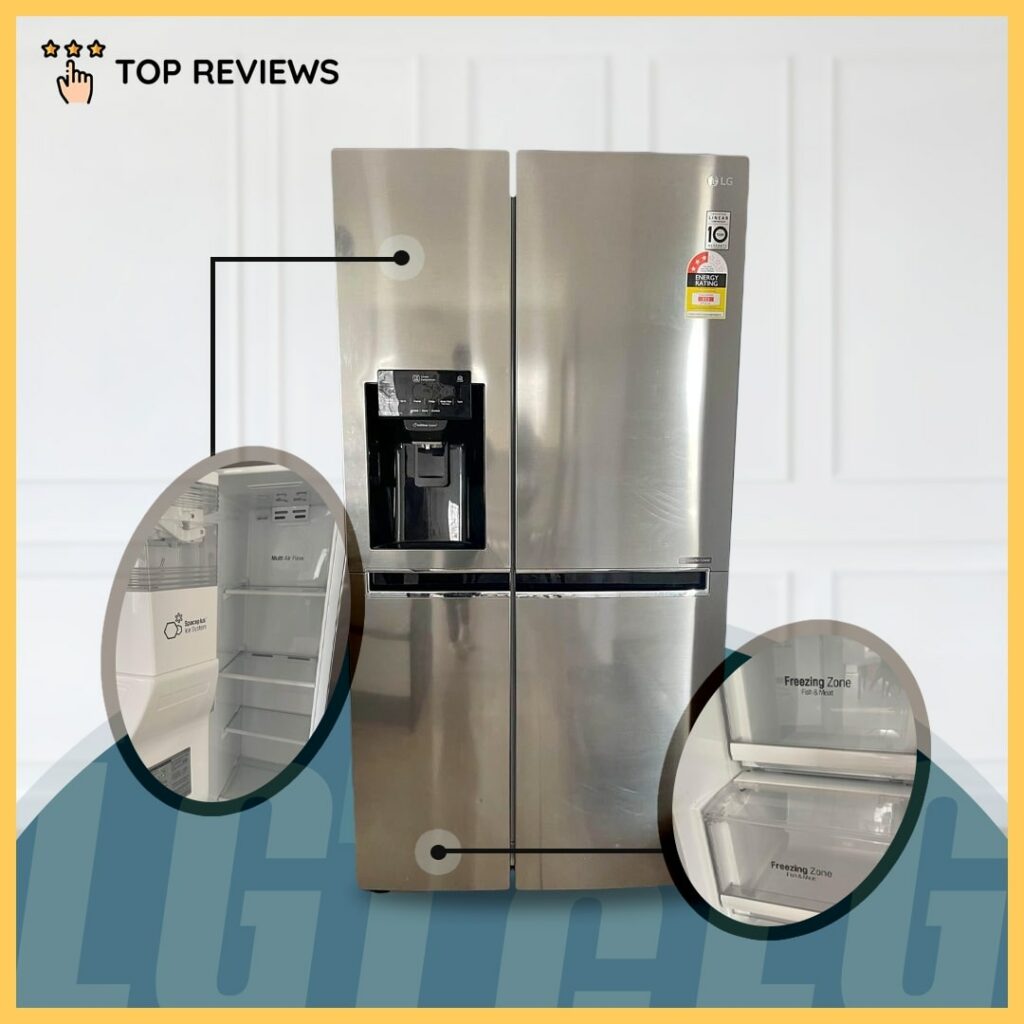 Price: NZ$3299
With this side by side, you have the latest in food cooling technology. First thing you're sure to notice is the nicely added water dispenser on the front.
Your food storage in this case is split between two compartments. And dual-speed cooling fans ensure that the cooling is even and thorough in each compartment and tier.
The water dispenser is fillable from the inside. Note that it's non-plumbed and as such is simpler to use and clean.
It uses LED lights inside. You can adjust or change your fridge and freezer's temperature by using the sleek LED panel, which also lets you choose your light, ice, and lock settings.
This fridge is also fitted with an Inverter Linear Compressor that makes it one of the best fridges in New Zealand, energy-wise. Cooling, quietness, and smart features: it's got everything you need and want!
Highlights
668 L storage capacity
Dual-speed cooling fans
Fingerprint-proof
Built-in water dispenser
Sleek LED controls
Customer Review
The LG 668 has received an average of 4.6 stars out of 5, with most praising its storage, crushed ice, and excellent cooling.
However, there were also a few complaints about the water from the dispenser. Some said that it tasted like liquid plastic as well as creating noise during usage. Others advised letting the fridge air out or cleaning the dispenser thoroughly before use to avoid this.
There were still more positive reviews, though. On appliances online, Mums fridge shares:
"I purchased my new fridge just prior to Christmas and the space and capacity available to store is incredible- also I now have chilled water and ice without the need to plumb in the unit- LG are really forward thinking as plumbing often difficult to achieve in some homes. Thank you"
7. Noel Leeming – Eurotech 128 Litre Fridge Freezer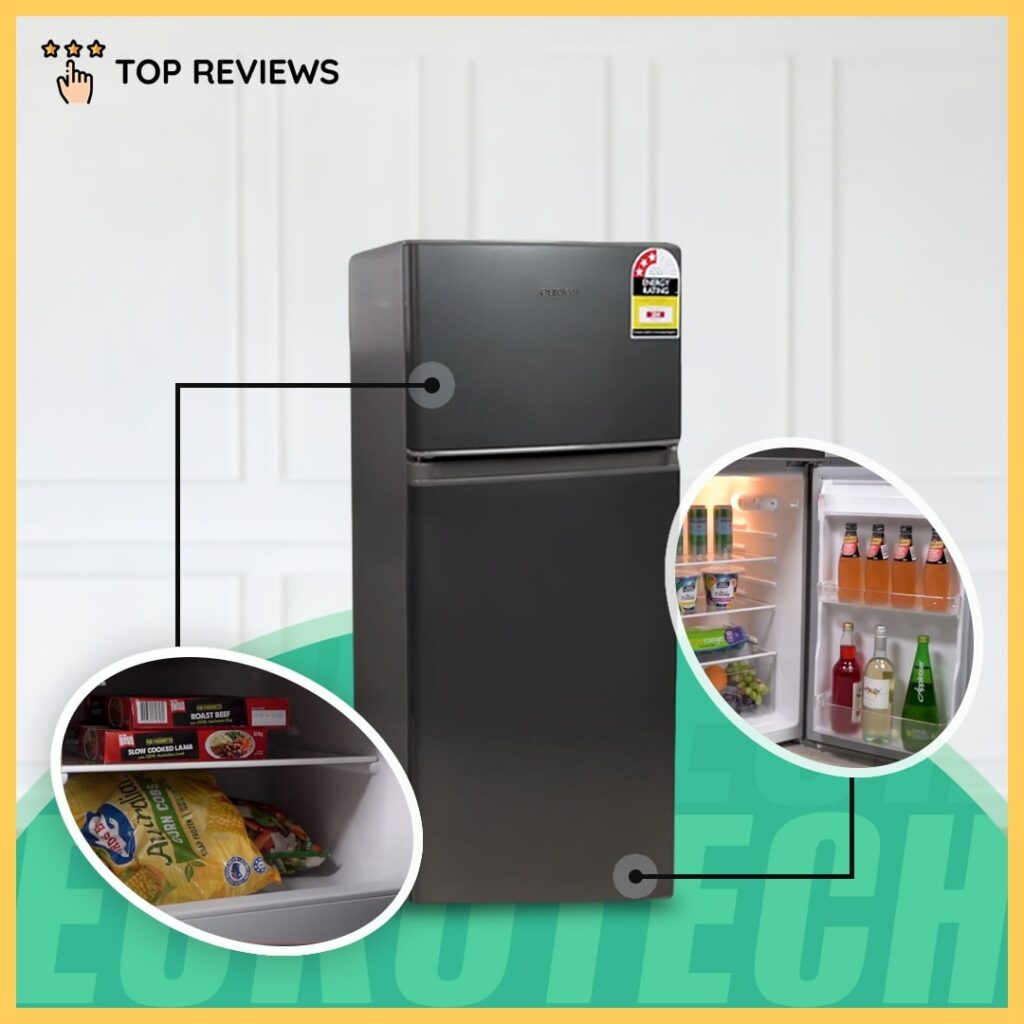 Price: NZ$799
Eurotech's 128 Litre Fridge Freezer is the perfect item for those who are tight on kitchen space. It fits in places, not every fridge can, with it's smaller stature, having a dimension of H 1160 x W 480 x D 520.
The fridge also has reversible doors for your convenience, with two full-width and two half-width door pockets to fit more storage.
You can store your fruits in the fruit tray to retain its freshness, and your meat in the freezer to have it last longer.
For such an amazing fridge, you'll be shocked by just how much it costs. Only at $799, you get to have all the best qualities of a more expensive and bigger fridge.
Purchase your own Eurotech 128 Litre Fridge Freezer and have it delivered at your home in no time! You also get to enjoy a 24-month warranty in case there are defects to fix in the long run.
Highlights
Reversible door
Crystal crisper drawer with a glass cover
2 full-width door pockets
2 half-width door pockets
Manufacturer Warranty: 24 months
Customer Reviews
The Eurotech 128 Litre has received a perfect 5-star rating from customers who purchased it. Here's what one of them had to say:
"We needed a fridge/freezer which was small enough to fit into an existing area which had been used for the same purpose. This Eurotech unit was the only one I could find on-line (all retailers) that would fit. The unit also looked good and was a good price."
8. EuroTech Design – HOOVER 250L INTEGRATED REFRIGERATOR AND FREEZER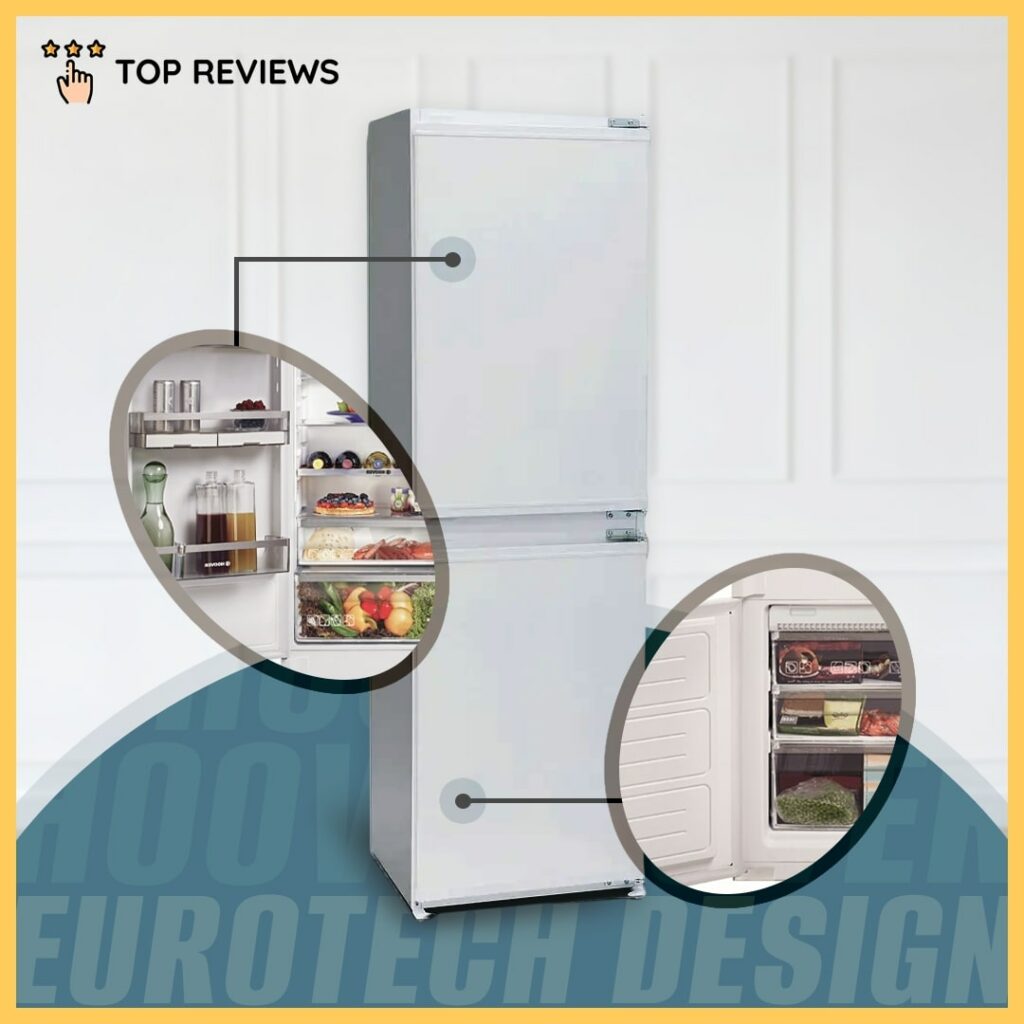 Eurotech's release of the Hoover 250L Integrated is something you should consider purchasing. It has all the great qualities you look for in refrigerators, all in one.
The Hoover features a reversible door design with an open door alert and air fan inside.
The storage compartments are split into parts. It has a vegetable crisper and a fresh zone deli drawer. The main compartment is divided into four glass shelves where you can put in takeouts, juices, and the likes.
Three balconies on the door offer extra space for condiments and water bottles.
And lastly, the freezer has three drawers, separating frozen meat from ice cream and any other goods.
Highlights
Frost free
1.5 star energy rating
Electronic temperature control
Multi-flow cooling system
Interior LED lighting
0–10°C (fridge)
-18°C (freezer)
Anyway, that would be all for the best fridges in New Zealand right now. You could look for these in the stores as quality-wise they are fantastic even as reviewed by customers!
We only listed a few products for this article. But if you have any suggestions or questions about them, just let us know.
By the way, if you also like cooking or are a health guru, you may want to check out our article for the best air fryers in New Zealand. Any of these would make a fine addition to your kitchen, along with the fridges we listed above.