The 6 Best Gaming Desktops in New Zealand
The Big O – In 2019, Origin celebrates its 10th year anniversary by crafting an astonishing doubt breaker chassis that can function as a PS4, Xbox One and Nintendo switch all ingeniously placed together within a desktop frame
Gaming PCs are the test drive of the speed of the processors, newest features, and a new sleek design that captivates. This is owing to the fact that games, especially HD and 2K require the very best graphics card, CPU, RAM and as well as memory. Otherwise the latest games made will not be compatible to your desktop and you'll have to forgo some degree on the immersion factor.
In buying a new gaming desktop for your use, it comes in two ways, prebuilt or customize. Prebuilt comes at a fixed cost with the parts already sorted out, the RGB lights in place, and fans to cool down the interior all set stably inside an aesthetic casing. While to customize, you'll have to act as a mechanic and procure and build up the various parts with the advantage of having it work exactly as you want it. The downside of this is it usually costs more than buying it from retailers, you can get stuck out of the complexity of the CPU, and it uses time.
Unless you're prepared for them, it would be wise to stick with the prebuilt. As you buy you have the option to choose what processor you would want to go with it. You have it all mapped out for you. Besides, you even get a warranty service that will ensure your use of the PC will go as smoothly as much as it can. Hence, without any delay, we'll look into the 6 best gaming desktops to help you decide what to buy.
1. Best overall performance: iBuyPower Gaming RDY ELIBG207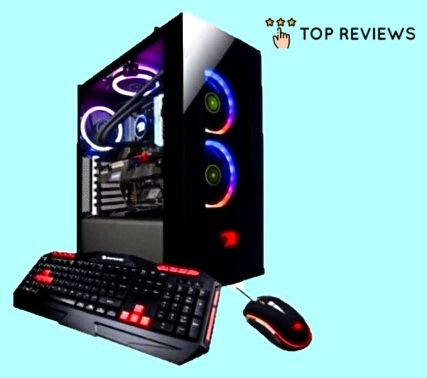 Turbo powered desktop wonder with tool-less access
Processor: Intel Core i9 9900K | GPU: Nvidia GeForce RTX 2080 Ti
RAM: 16 GB DDR4-3200 memory | 1 TB SATA SSD storage | Platform: Windows 10 Home
➕ Ultimate speed performance
➕ Unbeatable graphics (4K)
➕ Highly customizable
➕ Specs are fairly new for the coming years
➖ storage capability
➖ HDD lights are hard to see
An advancement beyond its years, ELIBG207 is built with the hyper-fast 9th generation Intel core RTX 2080 Ti or Nvidia GeForce presenting fully detailed and realistic graphics, and a massive 1 TB storage. Be it entertainment, surfing, or music, you will have all you need with this computer. The design has a transparent exterior where you will appreciate the engine/turbine-like alignment placed pleasingly against each other. And color infused discs give it a showy, futuristic design that you'll love.
Don't be fooled by looks alone, the IO covers, thermal panels of the CPU fill in their best roles to insulate the heat and cool it down inside.
Reviewers mostly adore its simple toolless access to change the motherboard, add parts, change RGB lighting, improve the storage, and many more. If you'd like to go further, you may even custom paint it to your liking. This CPU is a world to yourself where you express yourself as art and that's just the freedom iBuyPower offers. However, building the CPU by yourself will cost you some $200 as opposed to getting the pre-built version.
USD2499.00, See it here
2. Best for Budget: HP Pavilion Gaming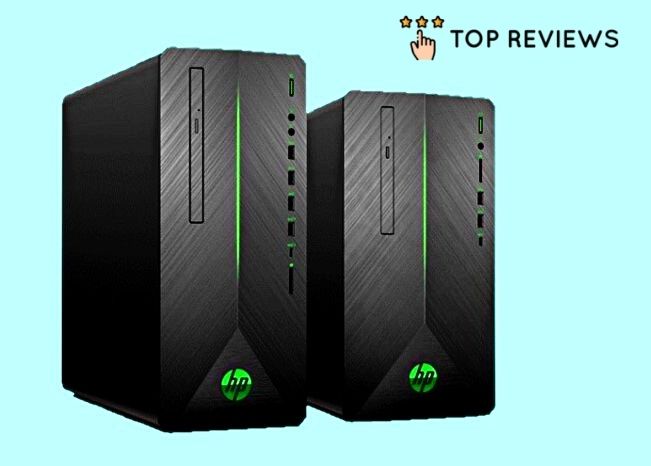 Mid-range PC with an affordable price
Processor: Intel Core i5-i7 / AMD Ryzen 5 3500 | GPU: NVIDIA GeForce GTX 1050-1660 Ti / AMD Radeon RX 550
RAM: 8-16 GB memory | 8-256 GB SSD, 1-2 TB HDD storage | Platform: Windows 10 Home 64
➕ Fast speed with no lagging
➕ Clear and detailed graphics
➕ Immersive VR experience
➕ with Surround Sound 5.1 ports
➖ less RAM and storage
➖ others have a higher GPU
HP Pavilion Gaming renders your graphics using the elaborate NVIDIA GeForce to play the most popular games with no lagging and split-second delay. It is powered by the 8th or 9th generation Intel Core that optimizes your competitive play in Fortnite or PUBG. The price of HP Pavilion Gaming 790 is affordable for only USD599.99 with good performance on your side.
The design is not bad as well with a compact form-factor of black and neon green, brushed diagonally at the front to give it a fine texture and style. The CD drive and USB ports are neatly arranged on the front, and the HP logo is displayed proudly on the lower side while the sword slit in the middle coolly glows in Kryptonite-hued LED.

USD599.99-999.99, check out here
3. Best for 2K gaming: Digital Storm Bolt X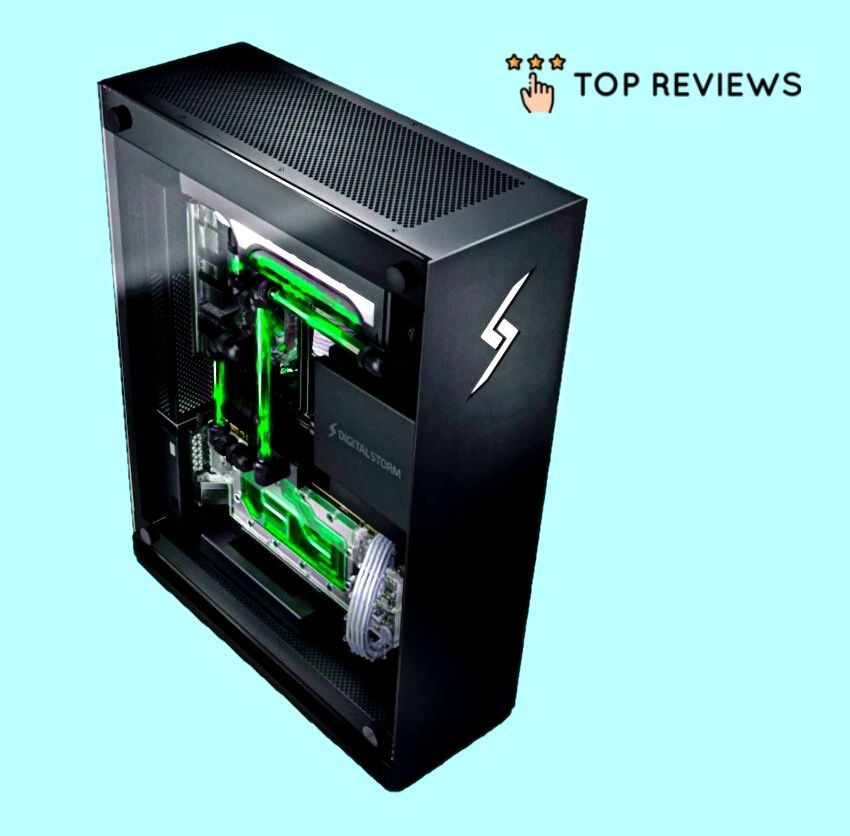 2K gaming perfection and perfect for customizing
Processor: Intel Core i5 9600K / Ryzen series | GPU: Nvidia GeForce GTX 1660 Ti
RAM: up to 64 GB DDR4 memory | Up to 6 TB SSD, Up to 15 TB HDD storage | Platform: Windows 10
➕ Slim and well-organized design
➕ Expandable storage and memory
➕ Very fast and seamless in playing 1080P games
➖ expensive
For a solid HD gaming capability, Digital Storm Bolt X is boosted by Intel Core i5 9600K which is an awesome pick. Having a 2K graphics card, it lets you enjoy the rich and exquisite pictures without compromising its speed and efficiency. From Digital Storm's website, you can either pick Intel Core or Ryzen processors by choosing from a number of packages. More than that, the CPU allows expandable storages in SSD and HDD to maximize the space. And the great thing about the chassis is it displays real time thermographs through corresponding LED lightings withal letting the cooling system manage a strenuous use.
The design is admirable at best with the arrangement of the storage drives, chips, and liquid cooling tubes. It looks like a larger artistic fuse box having everything you need in your digital sanctuary.
USD1786-2259, buy it here
4. Best for space saving – MSI Trident X Plus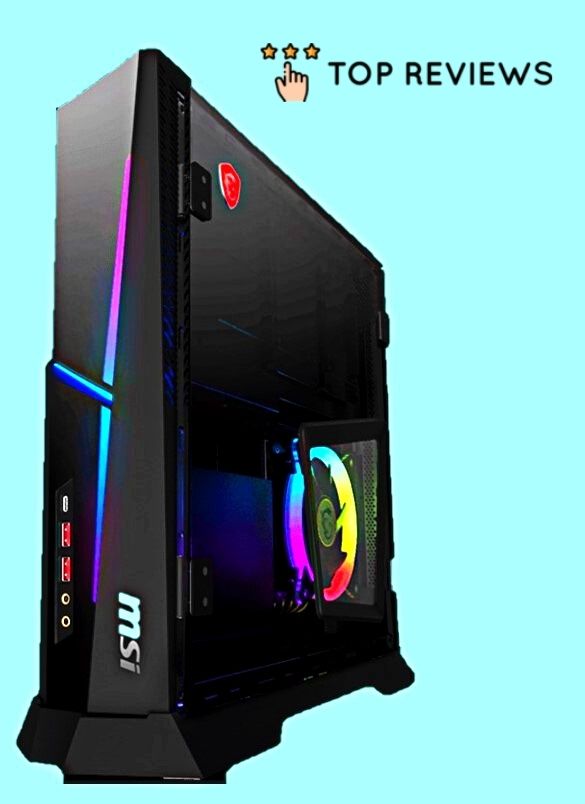 Convenient to place without losing a lot of space
Processor: Intel Core i7 9700K, i9 9900K/ Intel Core i7 9900K | GPU: Nvidia RTX 2070/2080/2080 Ti with realistic Ray Tracing
RAM: up to 32 GB memory | up to 512 GB NV SSD + 2 TB HDD | Platform: Windows 10 Home
➕ Space saving form factor
➕ Hi-powered processor
➕ Graphics uses the prime NVIDIA 2080 Ti
➕ cooling technology
➕ overclocking CPU
➖ expensive
➖ sophisticated arrangement
This just looks like your slim PS4 set on a vertical stand. Small but terrible, MS Trident X brings a superior processor of i5 ninth generation, its graphics cards being worthy of 4K gaming, and a separate placing of CPU, GPU, and PSU with smooth airflow going out and around each of them to cool down. Due to the highest graphics card, it features Ray Tracing where it will make lights, shadows, and reflections realer for a top-notch gaming experience than without it.
The only drawback is its high price and harder time in customizing.
USD1939-2539, check it out in Amazon here
5. Best Customization Options: Origin PC Millennium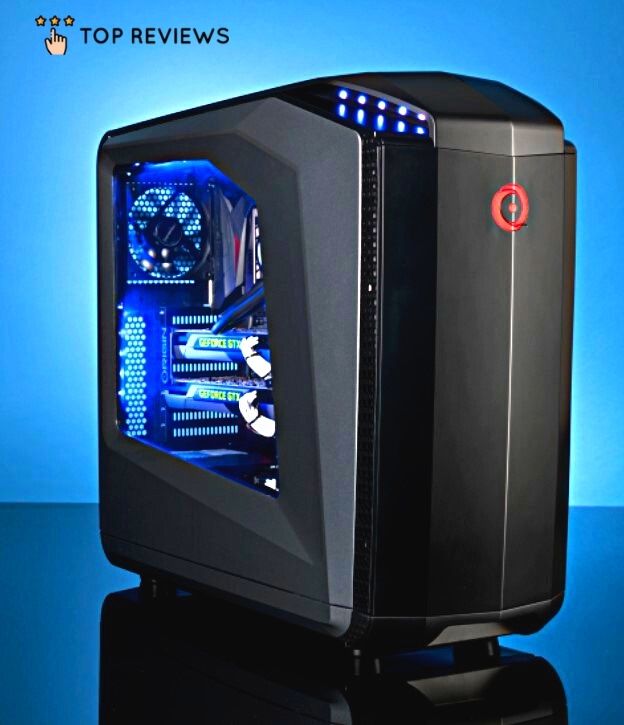 Your very own unique and ultimate desktop PC
Processor: up to 18 core Intel Core i9 / up to 16 core Ryzen Threadripper | GPU: Up to 2-way SLI | RAM: up to 128 GB DDR4 memory | up to 8 storage drives | Platform: Windows 10 Home and Windows 10 Professional
➕ Full customization options
➕ Sleek round look
➕ Ultra powerful and speedy
➕ easy to access components
➖ expensive
Origin PC Millennium is a dream computer desktop turned to reality with its vast customization options, groundbreaking features, and sleek design. As you will be asked your preferred option from the motherboard orientation, RGB lighting, casings (either tempered glass or aluminum) to panel doors, custom image printing and paint. But it doesn't just stop there, the CPU is open to new expansions on storage and memory, serving you for a long time to go.
Its basic features are having Intel core 9th generation that delivers unflinching formidable power and speed capable of long-lasting durability. Graphics cards will let you enjoy games in stunning 4K as it hits some FPS such as Far Cry, Deus Ex: Mankind Divided, and God of War. Inserting 2 2080 Ti cards is possible. We're not in the best part yet which ships the item in a crate that just tells how cool and cared for the item is. Also, warranty and customer service are available 24/7 to guide you through if you happen to encounter any technical problems.
USD 1942-2465, get Origin PC Millennium here
6. Best Design – Alienware Aurora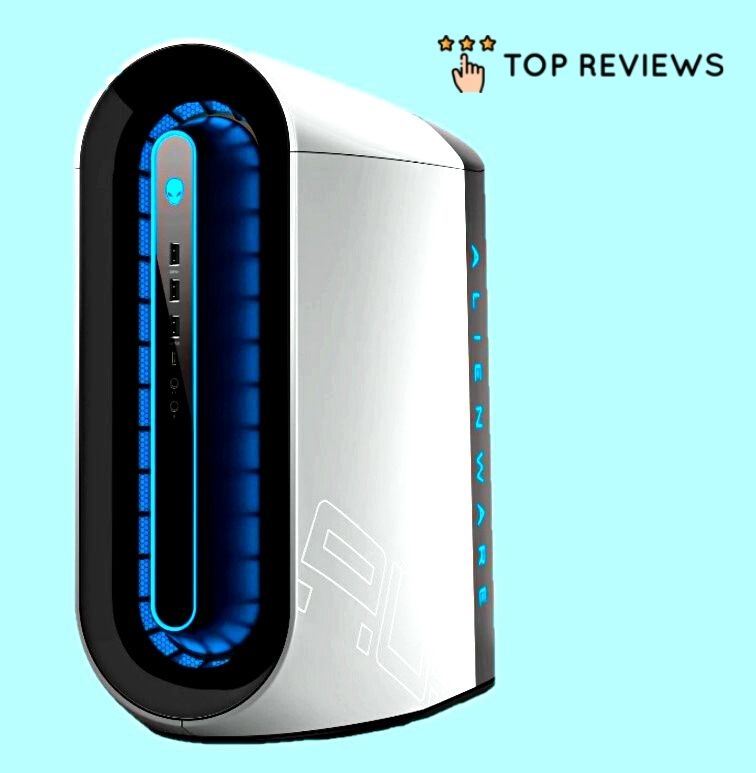 Fascinating Alien themed PC with great specs!
Processor: Up to Intel Core i9 9900K | GPU: Up to NVIDIA GeForce RTX 2080 Ti | RAM: Up to 64 GB memory DDR4 | up to 2TB SSD + 2 TB HDD | Platform: Windows 10 Home
➕ Unique Alien design
➕ Hi-speed CPU
➕ tool-less access to customize
➕ liquid cooling feature
➖ traditional CPU size
A design that would make you wonder about Area 51. Alienware is a unique mid tower that operates on Intel core up to 9900K that starts up the system, a NVIDIA GeForce RTX 2080 Ti for a VR gaming that transports you to another place with a certain mission at hand. Its storage can hold gigabytes of game data, movies and photos. Designed like a UFO that's just landed with legs on the ground, it is finished in a nice matte silver with LED lighting on the alien head logo and the Y on the side.
Don't worry about using it for a long while or in spans of time, as the liquid cooling will defeat the heat and let you continue your gaming without lags, slowdowns, and interruptions. All these you can have for a starting price of USD 799.99. Don't forget to check out their discounts!
From USD799.99, look it up here
Category Review
| | | | |
| --- | --- | --- | --- |
| CPU | Category | Price | Where to Buy |
| iBuyPower Gaming RDY ELIBG207 | Best overall performance | USD2499.00 | ibuypower.com |
| HP Pavilion Gaming | Best for Budget | USD599.99-999.99 | store.hp.com |
| Digital Storm Bolt X | Best for 2K gaming | USD1786-2259 | digitalstorm.com |
| MS Trident X Plus | Best for space saving | USD1939-2539 | amazon.com |
| Origin PC Millennium | Best Customization Options | USD1942-2465 | originpc.com |
| Alienware Aurora | Best Design | USD799.99 | dell.com |