Image Credit: Skyline Buildings NZ
By Ruby Singh
A garage is an extension of your home — besides being a space for your car, it can also be your workshop, sleepout, or even gym. If you have decided to build one, we've rounded up the best garage builders in Auckland to get you started.
We chose adept and experienced workers who can build you a functional and sturdy garage. Second, we chose those who can handle the whole process for you and have great client reviews.
Without further ado, here are the best garage builders in Auckland. They can customise your garage to fit your budget and needs.
1)  Ideal Buildings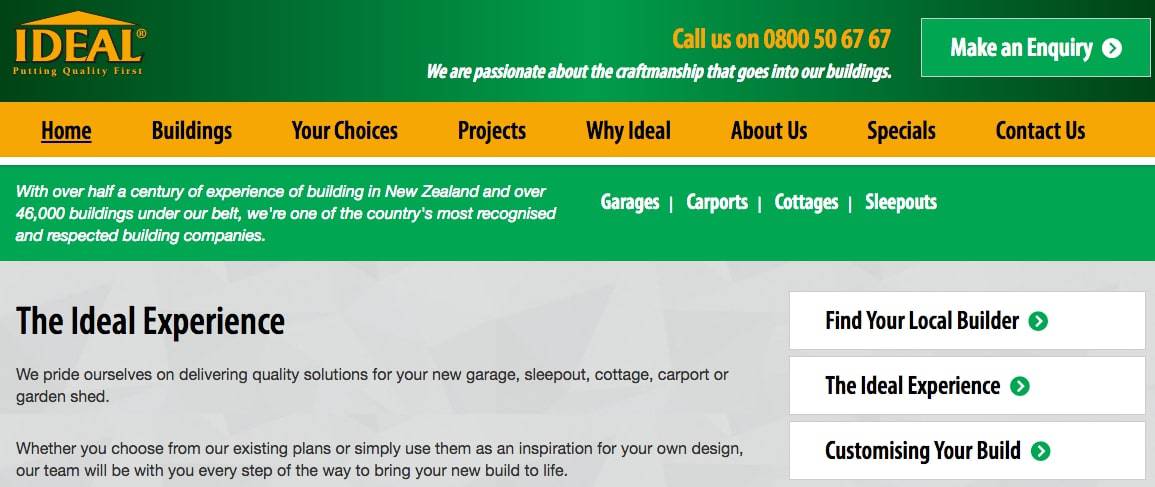 BEST FOR
High-Quality Garages
SERVICES
Garages

Garage Sleepouts

Sleepouts

Cottages

Carports

Utility Sheds

Optional Features

WEBSITE
https://www.idealbuildings.co.nz/
ADDRESS
18 Bruce McLaren Road, Henderson, Auckland 0612, New Zealand
CONTACT DETAILS
+64 800 506 767
OPERATING HOURS
Monday to Friday: 8.30am – 4pm
With half a century's experience, Ideal Buildings has been building lasting and quality garages, carports, cottages, sleepouts and storage sheds.
They have many standard options that differ in cost, amenity and style. However, you can also have your garage customised to your requirements… such as if you'd like it to have some space at the back for your workshop.
From planning and design to completion, they'll handle it. They'll even save you the tedious process of acquiring council consent and inform you every step of the way about what's happening.
Highlights
Quality garage building
Half a century's experience
Offers standard and customised options
Handles the entire process 
Customer Reviews 
Here's the feedback of one client, Kay Bird, on Google:
"Right from the start to finish, we have found Steve great to deal with. Everything went to plan/schedule and Steve shared updates every step of the way, both with us and the tenant.
Thanks Steve and Jacqui for making our new garage addition so smooth and stress free."
2)  Versatile Homes & Buildings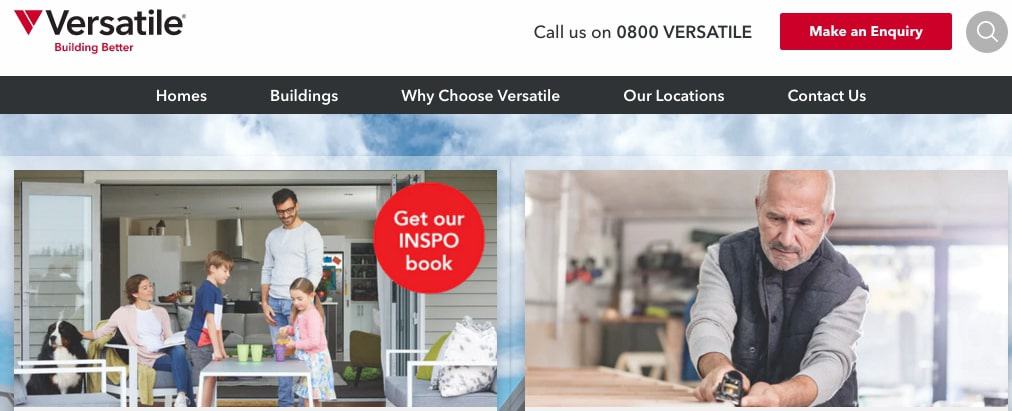 BEST FOR
Robust and Functional Garages
SERVICES
Garages

Sleepouts

Studios

Farm Buildings

Carports

WEBSITE
https://www.versatile.co.nz/
ADDRESS
79 Henderson Valley Road, Henderson, Auckland 0612, New Zealand
CONTACT DETAILS
+64 9-836 6200
OPERATING HOURS
Monday to Friday: 8.30am – 5pm
Versatile provides bespoke solutions for your garage, sleepout, studio, farm shed and carport building needs and has 45 years of expertise.
They've expanded to a network of 30 branches across New Zealand in both city centres and rural areas.
Their offerings include single or double garages, and garage/studio combos. They can build your garage to any width or height as well as match it to your home design and cladding.
They pride themselves on building a highly functional and durable garage while giving you the most bang for your buck. 
Highlights
Robust and functional garages
Customised design
Has a large network across the country
45 years' experience
Value for money
Customer Reviews
Here's Larry Raynor Olive who wrote this review on Google:
"We would like to thank the manager of Versatile Garages Henderson for his integrity and commitment to ensure his customers satisfaction. We very much appreciate the 'Extra Mile' that he went to with the design and construction of our well built beautiful garage and the color scheme compliments the house and has added extra value to the property. With much gratitude from Diane and Larry."
3)  Totalspan Steel Buildings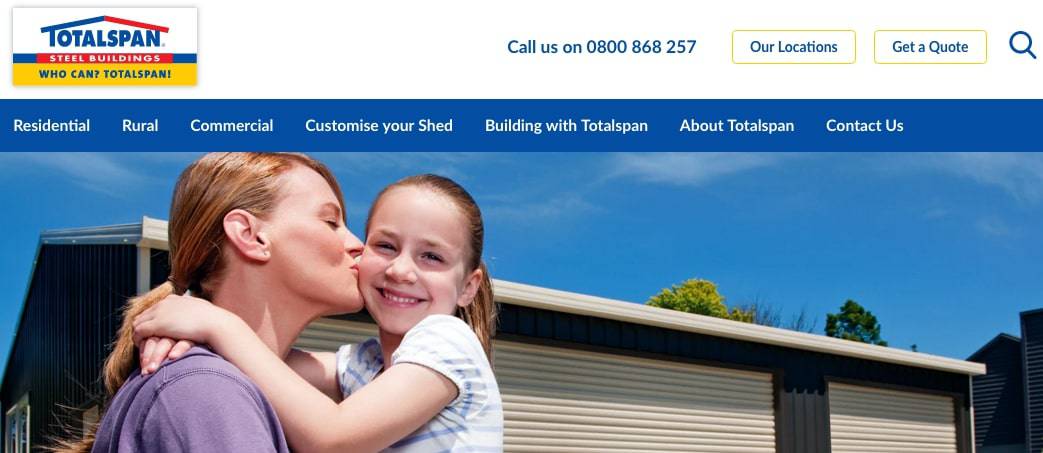 BEST FOR
25-Year Structural Warranty
SERVICES
Carports

Garages

Sheds

Barns

Commercial Buildings

WEBSITE
https://www.totalspan.co.nz/
ADDRESS
182 Fred Taylor Drive, Whenuapai, Auckland 0814, New Zealand
CONTACT DETAILS
0800 868 257
OPERATING HOURS
Monday to Friday: 8.30am – 5pm
Want to build a sleek and functional garage without breaking the bank? You absolutely can with Totalspan Steel Buildings.
Whether you'd like a single garage for your car or boat, garage/sleepout combo, garage with awnings, or large provincial garage, you'll find whatever you need here.
These garages can be designed to the exact configuration you have in mind. Their modular design allows you to install new doors, skylights or windows without any hassle.
Proudly made in NZ, Totalspan Garages can withstand the country's harshest climate. Moreover, these come with a whopping 25-year structural guarantee for your peace of mind.
Highlights
Sleek and functional garage
Modular garage design
Affordable range of garage options
Proudly made in New Zealand
25-year structural guarantee 
Customer Reviews
Totalspan has some of the most efficient and  best garage builders in Auckland. Also, Rebecca said on Google: 
"Great team of people to work with.
Highly recommended
Very professional,
A great job well done, on our purchase."
4)  Skyline Buildings

BEST FOR
Customised and Long-Lasting Garage
SERVICES
Garages

Cottages

Garden Sheds

Carports

Sleepouts

Commercial

WEBSITE
http://skylinebuildings.co.nz/garages/
ADDRESS
1 Rymer Place, Mangere Bridge, Auckland, New Zealand
CONTACT DETAILS
(09) 636 0200
OPERATING HOURS
Monday to Friday: 9am – 5pm
Do you have a wishlist for building your garage? Show it to the team at Skyline Buildings! They offer top-to-bottom customisation of your garage to produce a quality result that will satisfy.
For instance, you can choose the garage type, roof pitch angle, cladding, paint finish, as well as add doors or windows. You might also like to opt for one with high studs.
Having more than 40 independent distributors and 55 years' experience, you can say they're some of the best garage builders in Auckland.
Highlights
Durable and long-lasting garage
Top-to-bottom customisation
Friendly and professional builders
Over 55 years' experience
Customer Reviews
One client, Seamus Turner, commented on Google:
"Friendly and professional team. They listen to you and even customize plans to suit your needs."
5)  KiwiSpan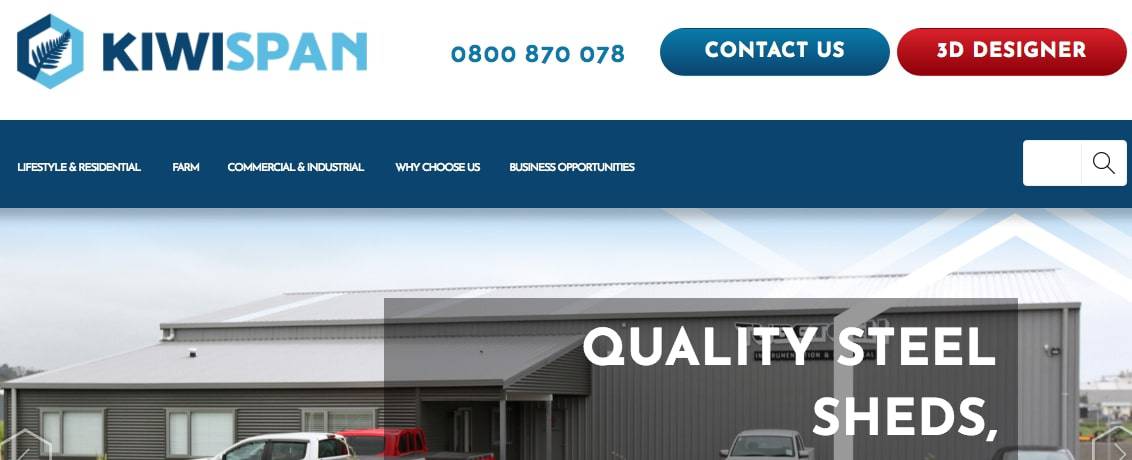 BEST FOR
Efficient and Experienced Garage Builders
SERVICES
Storage Sheds or Workshops

American Barns

Habitable Sheds & Sleepouts

Garages

Carports

WEBSITE
https://kiwispannz.co.nz/
ADDRESS
Astin Construction Ltd, 250 Great South Road, Drury, New Zealand
CONTACT DETAILS
0800 870 078
OPERATING HOURS
Monday to Friday: 8.30am – 5pm
KiwiSpan is another of the best garage builders in Auckland owing to using the finest products, an expert team and their great attention to detail.
From start till finish, their friendly team will guide you and do it all, including getting building consent for your garage. They offer full project management to ensure an enjoyable experience for you.
For your garage, you can choose from single, double or triple bay types depending on your purpose. Furthermore, they can match your garage cladding and roof style to your home.
You can get a quote from them through their Contact Us page on their website or by calling them by the number provided above.
Highlights
First-rate custom garage
Hassle-free process
Use premium products
Expert team
And that completes our list for the best garage builders in Auckland. If anybody can build you a dream garage, they are the ones who can.
Do you have any questions that you'd like to ask us? Feel free to let us know via message and we'll get right back to you.
Oh, and for those who have an existing garage that has a door that isn't working right, we suggest you read about the best garage door repairs in Auckland to get it back to working condition.