By Isla Thompson
Like appliances and pipes, garage doors can just refuse to work out of the blue. If you need an instant repair or new parts, perfect timing — here, we've put together the best garage door repair services in Auckland.
The garage door technicians below can quickly and efficiently repair your busted garage door to get it working just like new. Take a look at them here:
1)  Metro Garage Doors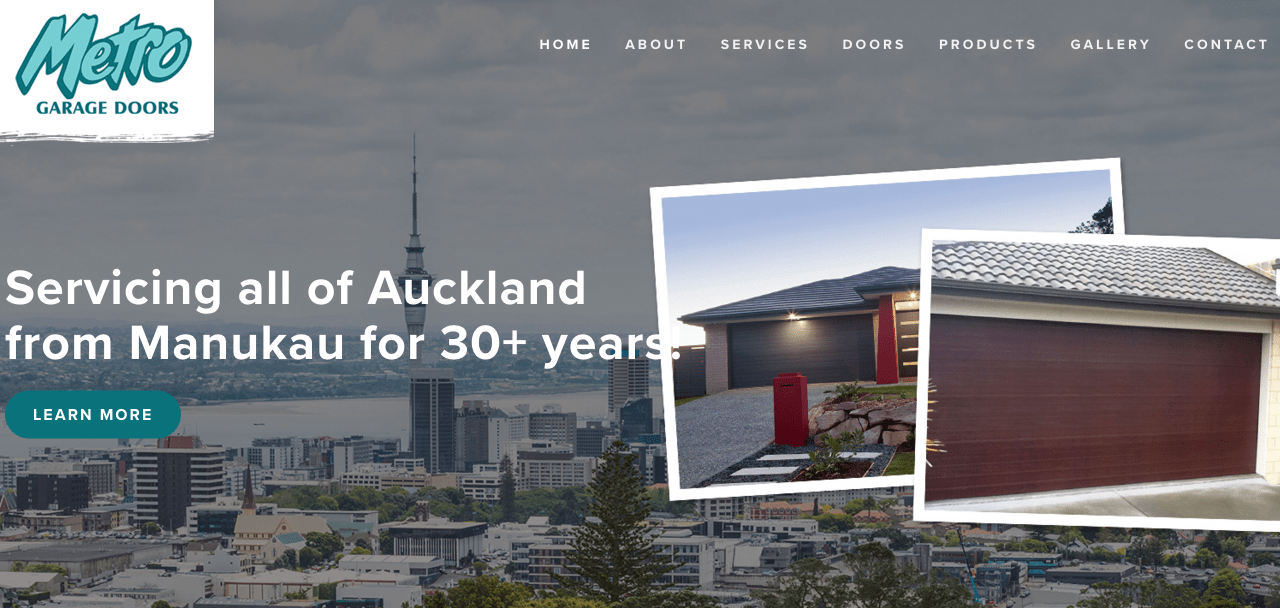 | | |
| --- | --- |
| Areas covered | Auckland-wide |
| Services | Maintenance and Servicing of Garage Doors |
| Address | 20/69 Wiri Station Rd, Auckland, 2104, New Zealand |
| Contact no | 09 263 6608 |
| Website | https://www.metrogaragedoors.co.nz/ |
If your garage door does not fully raise or lower, you can call up Metro Garage Doors. For more than 30 years, they have been selling, installing, repairing, and maintaining all makes and models of garage doors.
Usually it's the door bearing, cable, or motor that needs to be replaced. Otherwise, they can service the entire door to get it back to one piece, all the while ensuring it has safety and style.
Their number-one goal is to satisfy the customer and provide clients with a level of service that's second to none. That makes them one of the best garage door repair services in Auckland.
Highlights
More than 30 years of experience
Bring safety and style to their service
Sells parts, remote, and motors
Customer Reviews
Dave Edge was surely surprised by their speed of service. He said on Google Reviews:
"Garage door coil spring broke Sunday.   Rang Metro 8.30am Monday.  Door repaired before lunch while we were at work.  No mess, friendly, fast, efficient, well priced.  They were recommended by our neighbour so the great service wasnt  a fluke."
2)  North Shore Garage Door Services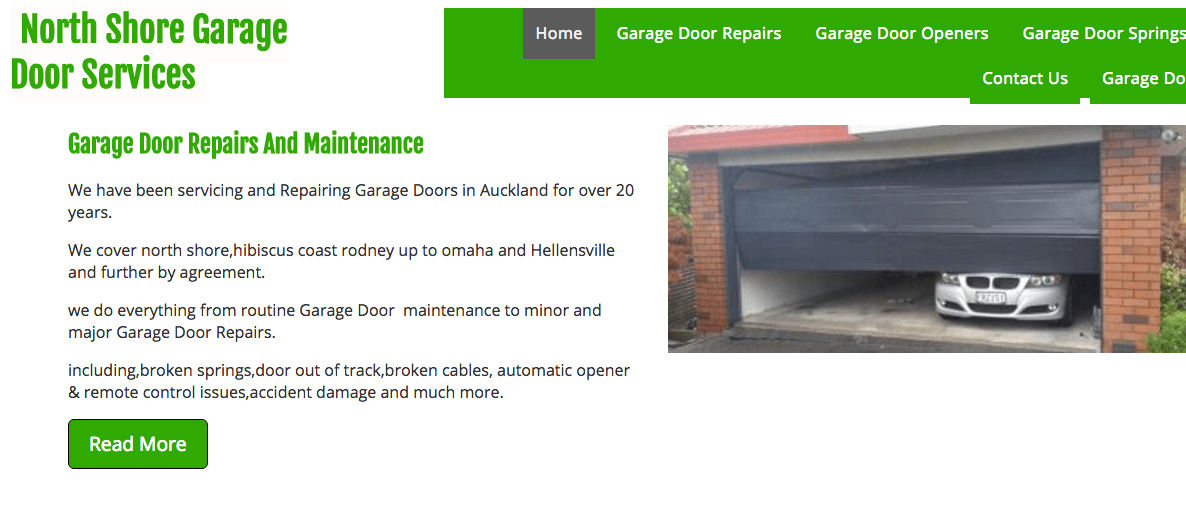 Need a quick fix for your garage door? North Shore Garage Door Services can handle it. This is what they specialise in and have been doing for over 20 years Auckland-wide.
From a simple broken spring to accidental garage damage, they have the skills and experience to get your garage back in one piece. They service all brands like Chamberlain, B&D, Conqueror, Dominator, Guardian, Merlin, Windsor, and etc.
Hence, we added this to our list of the best garage door repair services in Auckland. They can even show up on the same day you call them!
Highlights
Fixes all types of garage doors
Services a large range of brands
Same-day service
Customer Reviews
Rod Schmulian commented from Google:
"Great efficient service at a reasonable price. Installed new spring, checked and lubed door and repaired broken switch in 20 minutes! Can't be faulted."
3)  Independent Door Services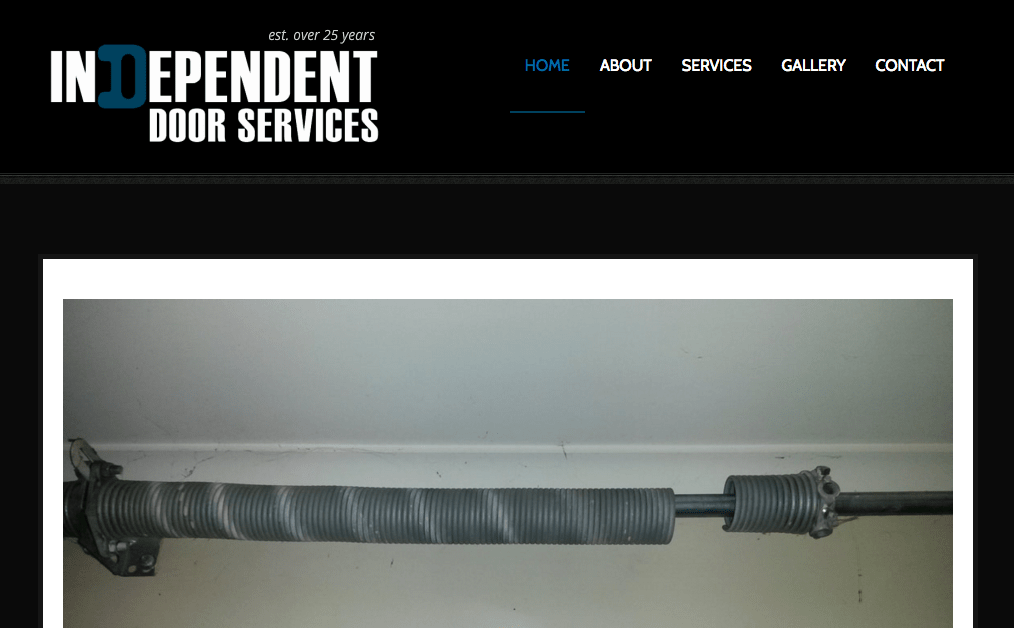 | | |
| --- | --- |
| Areas covered | Auckland-wide |
| Services | Repairs and Maintenance of Garage Doors |
| Address | 5/11 Markedo Place Papakura, Auckland, New Zealand |
| Contact no | 09 298 3462 or 0272 926 367 |
| Website | https://www.independentdoorservices.co.nz/ |
Independent Door Services is a manufacturer and repairer of garage doors. They are a small family-owned business formed by Bruce and Matt Larnder in South Auckland and have been operating since 1989.
The team offers servicing and maintenance of any kind of garage, be it sectional, roll-up, or tilt. They bring the parts or replacement with them when they visit to get your garage repaired during that one-time visit.
Should you require a new garage door, they also offer a great selection of domestic or automated doors — they'll handle the installation for that.
Highlights
Exceptional service and quality
Repairs all kinds of garage doors
Fixes your garage without further visits
Customer Reviews
Trish B wrote an in-depth review for Independent Door Services, scoring it 5 stars:
"Can't think of any way this contractor could have done better. From my first phone call, I received prompt and courteous service, communication was excellent,  advice given was realistic, repairs were effected quickly, long term maintenance information was provided and all with an attitude that left me feeling that I was a 'valued' client. Thank you for your excellent service."
4)  Auckland Garage Door Doctor Ltd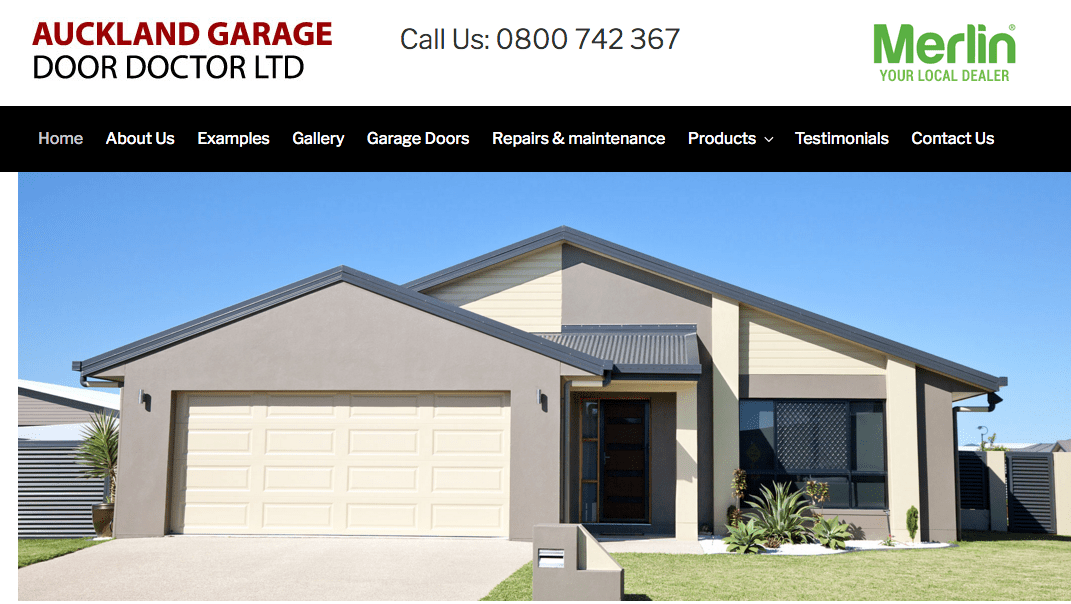 | | |
| --- | --- |
| Areas covered | Greater Auckland area |
| Services | Residential, Commercial, and Industrial Repairs and Maintenance of Garage Doors |
| Address | Unit 7, 199 Triangle Road, Massey, Auckland 0614, New Zealand |
| Contact no | 0800 742 367 |
| Website | https://www.doordoc.co.nz/ |
Got garage door problems? Let Auckland Garage Door Doctor remedy it. Although they are partnered with the Merlin brand, they service and repair all types of garage doors covering the Greater Auckland area.
The team has a stock of spare parts in their vans for a prompt and efficient repair service. Being qualified garage door repairmen, they will ensure that your garage is fixed and also safe so you can have total peace of mind.
To keep your garage in tiptop condition, you can also arrange for maintenance once or twice a year or customised to your needs with their service contracts.
Highlights
Qualified garage technicians
Fast and efficient service
Offers service plans
Customer Reviews
Here's a quick review by Megan Anderson:
"It has been a pleasure working with Bruce, he was fast, efficient and had all that was needed to get the job done right then and there. These guys are the real deal. Thanks Bruce!"
5)  Colins Garage Door Services Ltd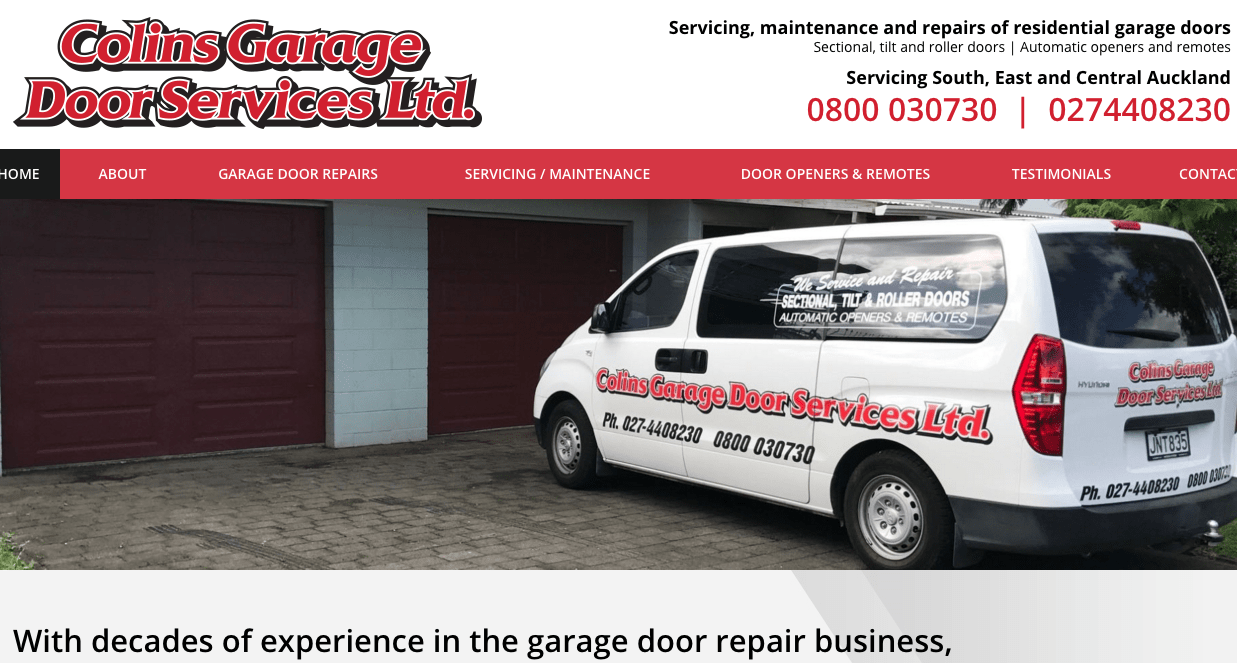 | | |
| --- | --- |
| Areas covered | South, East, and Central Auckland |
| Services | Residential Garage Door Repairs |
| Address | 21 Park Estate Road, Rosehill Papakura, Auckland 2113, New Zealand |
| Contact no | 0800 030730  or  0274408230 |
| Website | https://www.colinsgaragedoorservices.co.nz/ |
Colins Garage Door Services is yet another of the best garage door repair services in Auckland. The company has fast turnaround and competitive pricing, along with a service guarantee.
Colin Morgan has 30 years of experience of repairing residential garages with issues. It could be broken springs, a track that has jammed, or a remote that does not respond to the opener.
You will also get to deal with a polite and friendly team, which is a huge plus. For roller, tilt, or sectional door repairs, you'll get outstanding service here!
Highlights
Competitive rates
10 years in operation
Friendly and courteous team
Customer Reviews
Rob wrote a detailed review posted on the Colins Garage Door Services' testimonials page:
"Just wanted to say a big thank you to Colin for the first class service and communication around our blown garage door motor which was to us, a crisis 🙂 It was fixed today after arranging the time this morning. Colin didn't mess around, quickly diagnosing and fixing the problem, along with tightening chain, re-tensioning of the spring assembly, a replacement fuse, cover clip and overall check and test including spraying all working parts, which was well overdue!"
6) A1 Door Services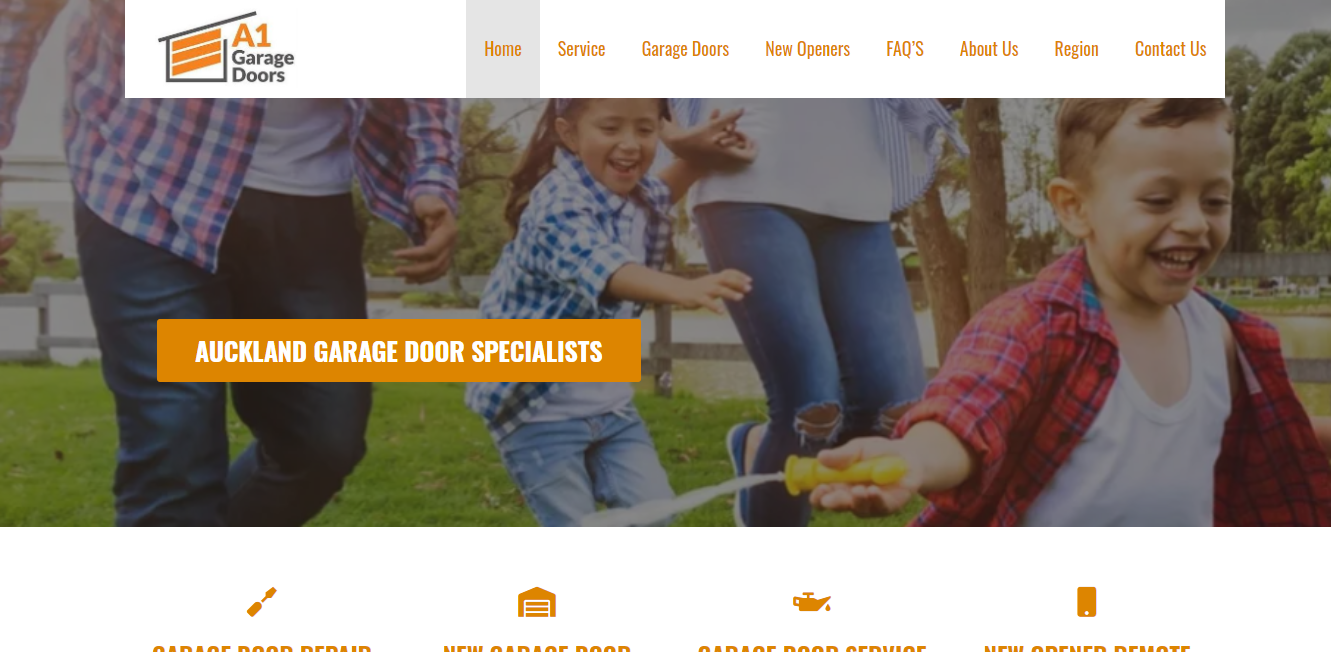 | | |
| --- | --- |
| BEST FOR | Reliable garage door repairs |
| WEBSITE | https://www.a1garagedoors.co.nz/ |
| ADDRESS | 1066 Great South Road, Mount Wellington, Auckland 2016, New Zealand |
| CONTACT DETAILS | 0800 113 667/[email protected] |
| OPERATING HOURS | Between 7am and 5pm, Monday to Friday. |
A1 Garage Doors is a family-run business that has been focused on offering great products and services to our customers for years. The company's focus is the customer, providing satisfactory service, and the on-time delivery of quality products.
They started back in 2003 as a team that was involved with van operations. Since then, they have expanded with skilled and knowledgeable staff who are friendly and reliable.
Now, A1 Garage Doors have multiple mobile service and installation teams available to support their customers Auckland-wide.
They also offer a flexible service outside their usual operating hours when required by customers.
Highlights
Specification of New Garage Doors
Quality Installation of Quality products
Servicing and Maintenance of Garage Doors and Openers
Customer Reviews
Here are some examples of the feedback posted by customers on Google Reviews:
"Great service from the A1 Garage Doors Team! We are really happy with our Merlin garage door, its excellent quality and great price."
"Fantastic service and great staff!"
7) Eden Garage Doors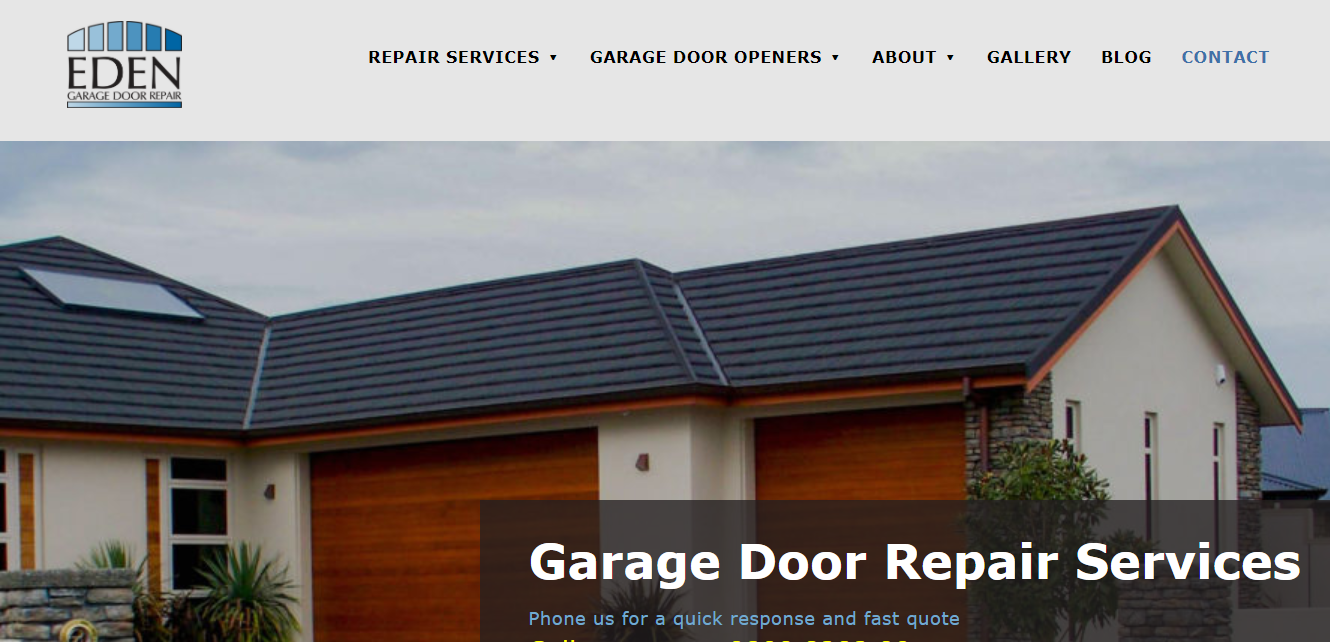 | | |
| --- | --- |
| BEST FOR | Garage door services including the repair of all types and brands of garage doors and automatic openers. |
| WEBSITE | https://www.edengaragedoors.co.nz/ |
| ADDRESS | 245 Beach Haven Road Birkdale Auckland 0626 |
| CONTACT DETAILS | 0800 8282 99 |
| OPERATING HOURS | |
Eden Garage Doors can help with all garage door repairs and servicing from any manufacturer. The team consists of technicians who can easily perform garage door troubleshooting and identify the problem on-site.
Using their expertise, they also perform garage door adjustments, complicated repairs or replacements. Eden Garage Doors also stock New Zealand's favourite door openers.
Moreover, Eden Garage Doors has an exclusive dealership for Merlin and a large range of Merlin garage openers. The team is also readily available if there should be anything that needs to be installed or replaced.
Highlights
Quick response
24/7 service
On-site quotations
Customer Reviews
"Extremely impressed with the service I got from these guys. Had a garage door that I thought would have to be replaced and they managed to fix it. So happy I didn't have to replace the entire door! Highly recommended A++!"

"My garage door spring was broken and they replaced it very fast and professionally."
And we are done with the best garage door repair services in Auckland! These are the services that can get your garage working again and can protect your car and property inside.
Have you got any questions or comments regarding this topic? We'd be happy to know, so just send us a message and we will get back to you as soon as we can.
Anyway, you may want to have an asbestos specialist check on your garage too to be sure it doesn't have any cancerous asbestos. If it turns out that you do, you can read our list of the best asbestos removal services in Auckland and get help from there!