The 5 Best GPs in Christchurch
Are you feeling some sort of generalised discomfort or sickness? To help you out with that, we've rounded up the best GPs in Christchurch for you.
As the name suggests, general practitioners are doctors who address common issues or ailments that you feel.
If you turn out to have a specific ailment that demands specialised attention, they can refer you to a specialist — such as a urologist if your issue turns out to be with your urinary tract.
In any case, we saved you time and effort by finding doctors who are experienced, caring and capable of treating the conditions that are bothering you. So if you're ready, we present to you the best GPs in Christchurch!
1) Dr Geraldine Trevella – Cranford Street Medical Practice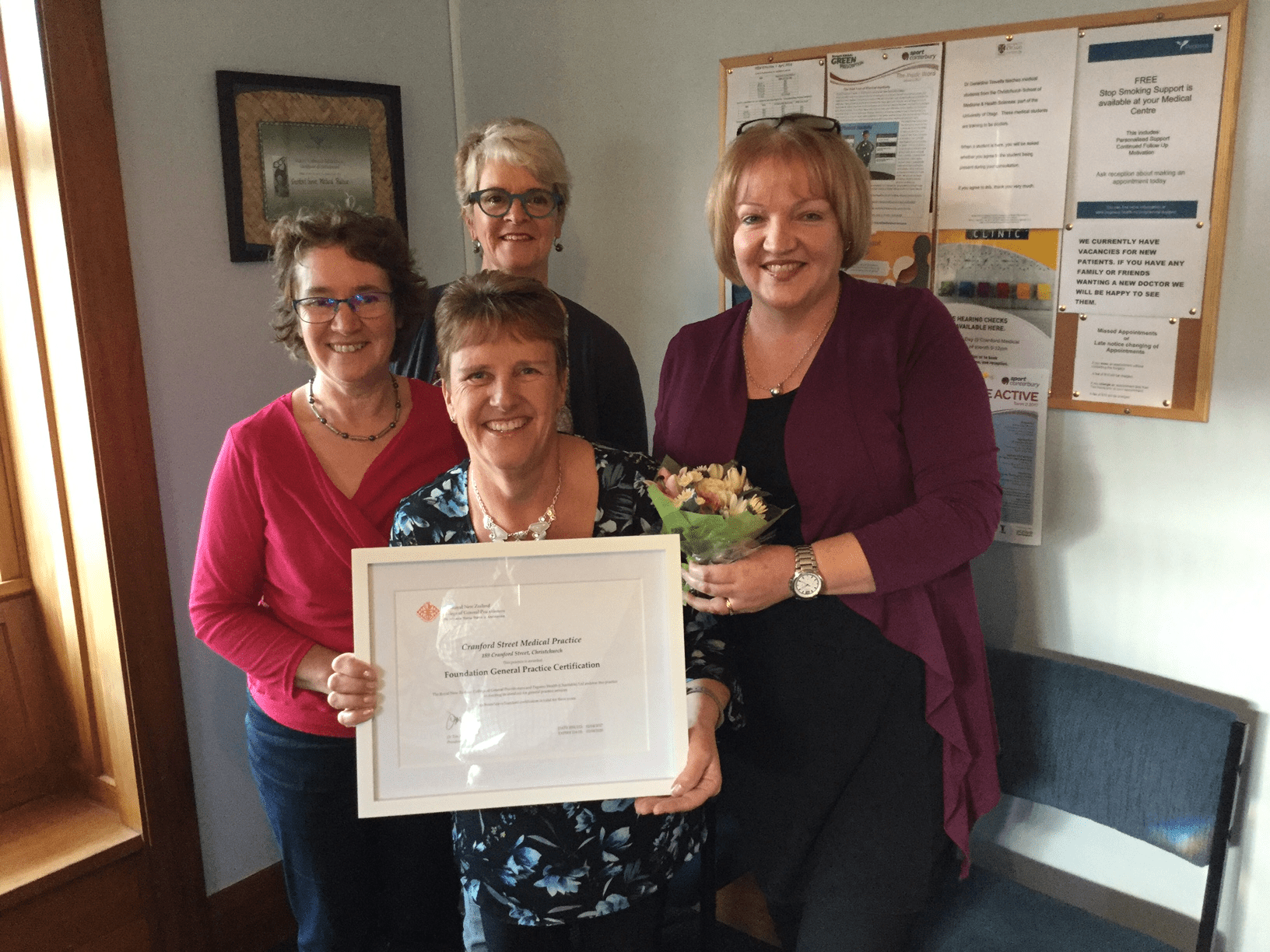 | | |
| --- | --- |
| Best for | Paediatrics and Travel Medicine |
| Services | Travel Medicine, Child Health and Care, Immunisations, Contraception and Sexual Health, Maternity Care, Accident and Wound Care, Chronic Diseases |
| Address | 189 Cranford Street, St Albans, Christchurch 8014, New Zealand |
| Contact no | 03 355 9657 |
| Website | http://www.cranfordstreetmedical.co.nz/ |
Planning to go out of town for several months? It would do you good if you come for a checkup first with Dr Geraldine Trevella, who has a postgraduate diploma in Travel Medicine.
She is the quintessential family doctor, being caring, honest, skilful, and kind to the patient and his or her child. Speaking of children, she has also garnered experience in children's health.
She also has two daughters named Charlotte and Philippa who have both followed their mother's footsteps in pursuing a medical career.
Highlights
Expert GP in Travel Medicine
Has reliable experience in child health
Kind, caring, approachable, and friendly
Customer Reviews
Let's see Dorothy Porter's brief yet honest Google review:
"Doctor Trevella has been my GP for over twenty years. I have always found her excellent in every respect. I know sometimes there maybe a small wait."
2) Dr Munanga Mwandila – Doctors on Cashel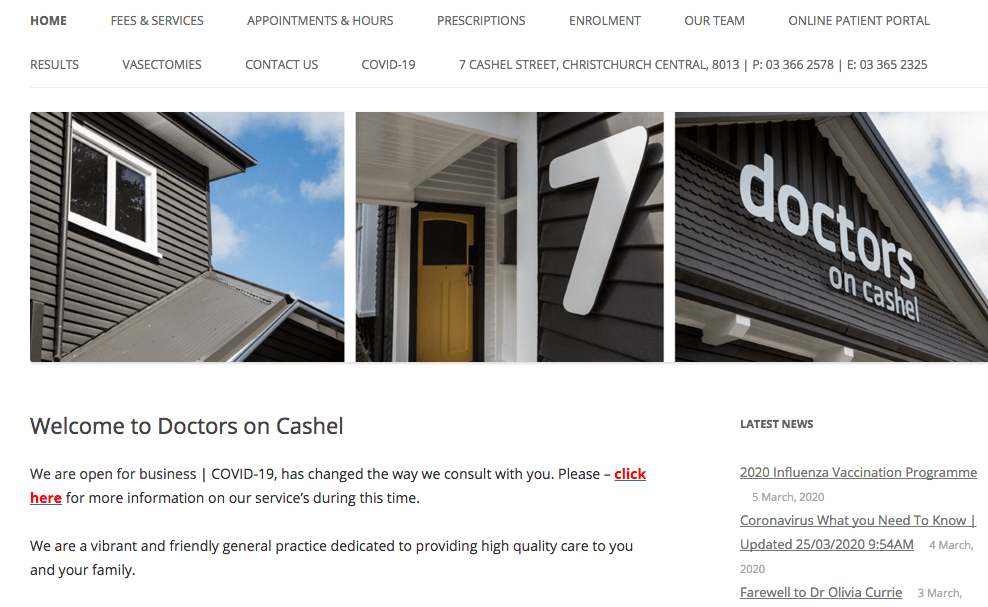 | | |
| --- | --- |
| Best for | Minor Surgeries and Routine Checkups |
| Services | Minor Surgery, General Lifestyle, Chronic Conditions, and Mental Health |
| Address | 7 Cashel Street, Christchurch Central City, Christchurch 8013, New Zealand |
| Contact no | +64 3-366 2578 |
| Website | http://www.doctorsoncashel.co.nz/ |
Dr. Munanga Mwandila is a highly trained GP who has a special interest in minor surgeries and general lifestyle checkups. He currently practises at Doctors on Cashel in Christchurch Central, just blocks away from the city hospital and art centres.
He trained in Rural Medicine and General Practice, and is a fellow of the Royal New Zealand College of General Practitioners and Division of Rural Hospital Medicine of New Zealand.
He can treat chronic diseases such as diabetes, lung problems, and cardiovascular diseases. Additionally, he guides and helps patients deal with their depression and anxiety.
His credentials are on par with the best GPs in Christchurch, and that's why we added him to this list.
Highlights
Highly trained GP
Specialises in general health and rural hospital medicine
Helps to treat patients' depression and anxiety
Fellow under RNZCGP
Customer Reviews
Eugenia Zhang comments on Google Business:
"Went there for Drivers Medical Certificate.Very handy in the city center with free customer parking.Dr Munanga Mwandila and receptionists were all friendly and helpful.Awesome team!!!"
3) Dr Gareth Norton – Riccarton Clinic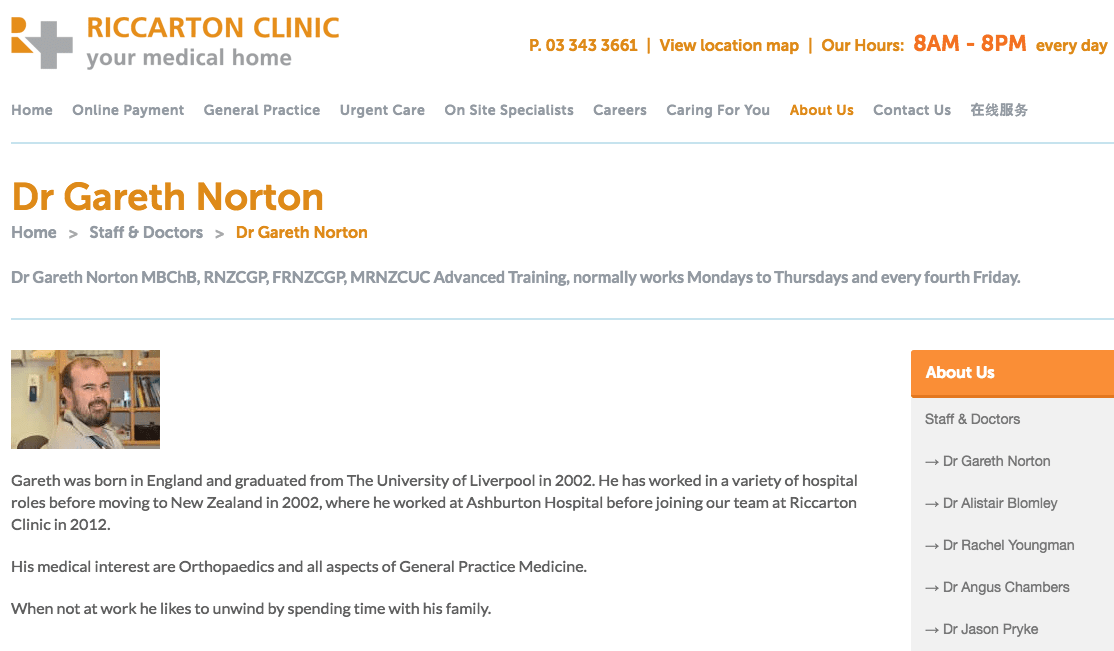 | | |
| --- | --- |
| Best for | Injury Care and Management |
| Services | Orthopaedics and General Medicine |
| Address | 4 Yaldhurst Road, Upper Riccarton, Christchurch, New Zealand |
| Contact no | 03 343 3661 |
| Website | https://www.riccartonclinic.co.nz/ |
If you have been injured from sports or have joint or muscle pain, see Dr Gareth Norton in the Riccarton Clinic. Given his experience and training, he is one of the best GPs in Christchurch.
He was trained at the University of Liverpool to earn his medical degree. After he moved to New Zealand, he had the chance to expand his skills through the Royal College of GP and Urgent Care departments.
He also worked in numerous hospitals treating many patients from different backgrounds. From general medicine to orthopaedic care, he's got you covered.
Highlights
Treats orthopaedic disorders and general medicine concerns
University of Liverpool graduate
Fellow of Royal College of GP and Urgent Care
Worked in various hospitals
4) Dr Neil Beumelburg – Moorhouse Medical Centre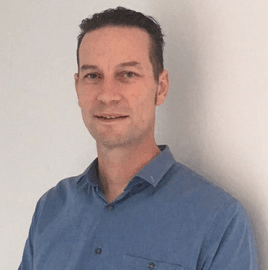 | | |
| --- | --- |
| Best for | General Practice Doctor |
| Services | General Health, Traveller's Health, Women's Health, Minor Surgeries, Sexual Health, and Urgent Care |
| Address | 3 Pilgrim Place, Christchurch City, Christchurch 8011, New Zealand |
| Contact no | 03 365 7900 |
| Website | https://www.moorhousemedical.co.nz/ |
For a great doctor specialising in general practice health (ironically), look for Dr Neil Beumelburg of Moorhouse Medical Centre. He is a proud '91 graduate of Otago Medical School in Dunedin.
Critical to his skills as a GP, he worked at Christchurch Hospital in different roles. He was also in training at the Royal Colleges of New Zealand as well as with GP Registrars.
He is currently the medical director of the Moorhouse Medical Centre. There, he is ready to offer general care, travel medicine, women's health, minor surgeries, sexual health, and urgent care.
Highlights
Otago Medical School graduate
Fellow of Royal Colleges of New Zealand
Worked at Christchurch Hospital
Range of GP services
5) Dr Rebecca Langley – Burwood Health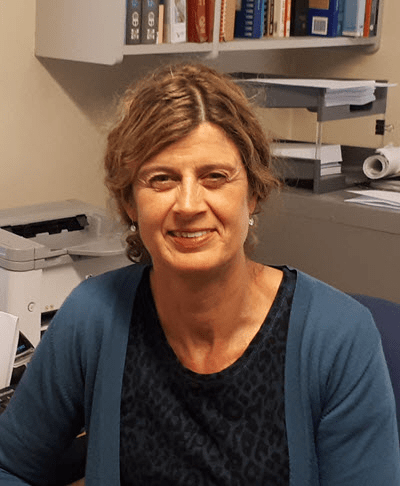 | | |
| --- | --- |
| Best for | Women's Health and Menopause |
| Services | General Health, Menopause, Women's Health |
| Address | 345 Mairehau Road, Parklands, Christchurch 8083, New Zealand |
| Contact no | (03) 383 0219 |
| Website | https://www.burwoodhealth.co.nz/ |
Dr Rebecca Langley completed her education in Otago University. She has a passion for general medicine, especially in the area of women's health and menopause.
Her resume includes Parklands Medical Centre, having worked there for more than 20 years. During that time, she treated the local community and patients from all walks of life.
Her experiences there helped her become who she is today. She is one of the best GPs in Christchurch who can keep you well whether you are travelling abroad for months or getting rid of the cough and colds of your kids.
Highlights
Specialises in Women's Health
Kind and caring GP
Otago University graduate
Over 20 years' experience
And there you have it for the best GPs in Christchurch. These doctors will give you the best care and treatment to keep your family healthy and happy every single day.
Do you have any questions about doctors or GPs in this article? If so, feel free to drop us a line, and we'll get back to you as soon as we can.
Also, if you have concerns about your ingrown toenails, your GP may refer you to a good podiatrist. However if you like to take a shortcut, you can check out the best podiatrists in Christchurch!