The 5 Best Gutter Cleaning Wellington Professionals
Have an overflowing gutter that mars your stylish home? It's time to clean it before it leads to all sorts of nasy water damage! If this is what you need, you're in luck, as we've covered the best gutter cleaning Wellington professionals here!
We selected the ones who are professional and highly capable of keeping just about any gutter system free-flowing and spotless. Also, we picked those who use effective, modern methods and equipment.
Furthermore, we looked at what customers had to say about these cleaners. This told us that we weren't mistaken in having chosen them for this list.
Anyway, here are the best gutter cleaning Wellington professionals!
1)  JetX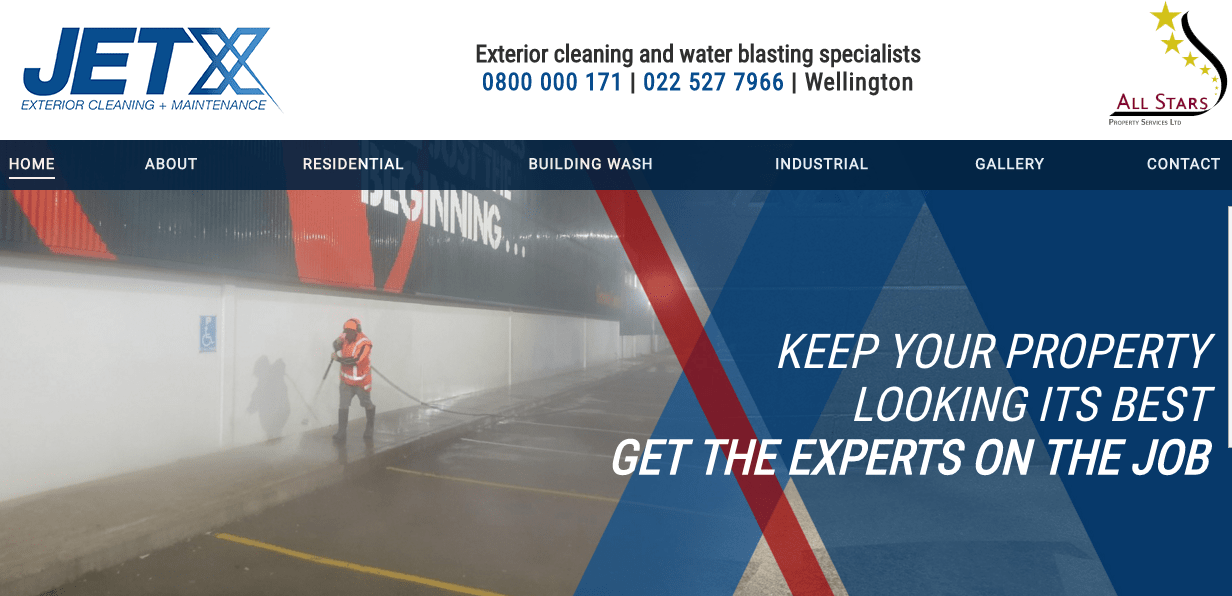 BEST FOR
Professional & Reliable Gutter Cleaning Experts
SERVICES
House Wash

Waterblasting

Gutter Clearing

Building Wash

Restoration

WEBSITE
https://www.cleaningserviceswellington.co.nz/
ADDRESS
Unit 9, 5 Wakefield St, Alicetown, Lower Hutt 5010, Wellington, New Zealand
CONTACT DETAILS
Phone: 0800 000 171 | 022 527 7966

South Island Enquiries: 0800 538 969

OPERATING HOURS
Monday to Friday: 7am – 5pm
Searching for a bona fide gutter cleaning expert in the Wellington Region? You should check out JetX! They provide comprehensive house and building exterior cleaning services.
One of them is gutter cleaning the old-fashioned way — which is to say manually. They will pick up the debris, leaves and waste stuck in your gutter before rinsing it out.
They can also conduct treatment to remove the unsightly and unhealthy moss, mould, and lichen on your roof.
They work with professionalism and care, making sure that your gutter is totally clean and reporting to you if any gutter repairs or replacements are needed.
Highlights
Professional & reliable gutter cleaners
Comprehensive range of services
Manual gutter cleaning
Can also provide roof treatment to eliminate mould, moss and lichen
Customer Reviews 
Let's see the feedback of one customer, Debbie Gee, on Google Business:
"I had a brilliant experience with this company. I had been trying to find a company to clean my gutters, which have leaf screen screwed on, so not everyone will do it. This company was the only one I could find to do the job, and luckily for me, they were also responsive, reliable, prompt, professional, reasonably-priced and did a great job. I was so impressed by that job, I asked them back to wash my roof, and that was also great. Highly recommended."
2)  Chemwash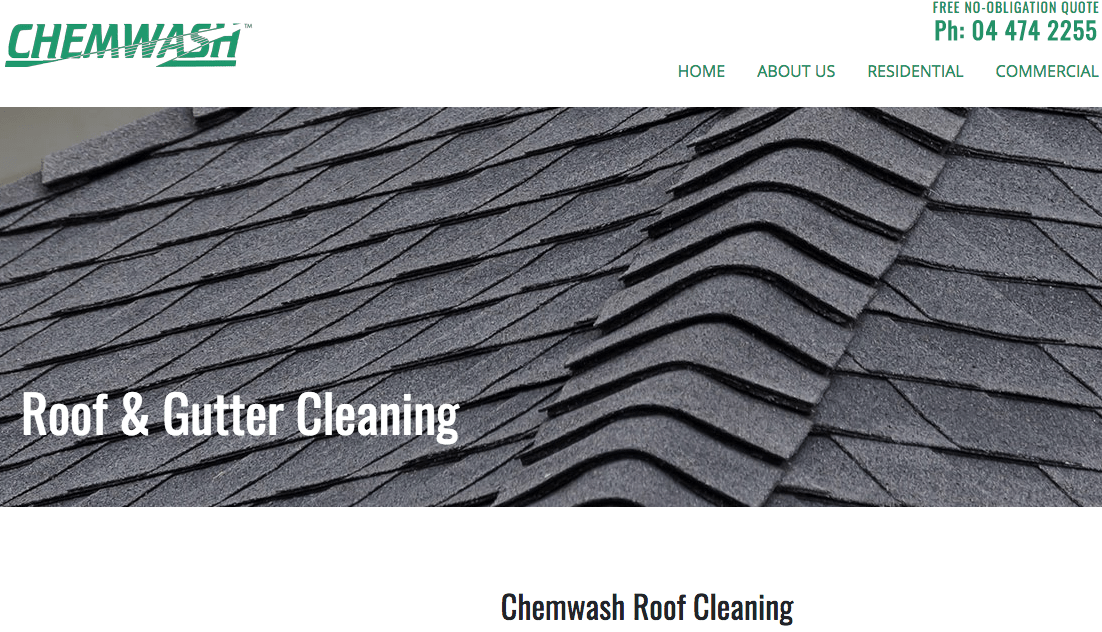 BEST FOR
Top-Quality Workmanship & Service
SERVICES
House Washing

Roof & Gutter Cleaning

Deck Cleaning

Concrete Cleaning

Carpet Cleaning

Pest Control

WEBSITE
https://wellington.chemwash.co.nz/residential/roof-cleaning/
ADDRESS
 83 Kenepuru Drive, Tawa, Wellington 5028, New Zealand
CONTACT DETAILS
04 474 2255
OPERATING HOURS
Monday to Friday: 7am – 6pm
For over 25 years, Chemwash has been washing residential properties throughout Wellington. They offer top-quality workmanship and the same level of care for all work.
They're known for caring about clients' homes almost as much as their clients do. They offer gutter and roof cleaning services to maintain your home — and make it look like new!
They can hand-clean your gutter of dirt, grime, debris and plants, or give it a low-pressure washing. The latter also removes the finer dirt particles and allergenic organic growth from your gutters.
Some of the best gutter cleaning Wellington professionals, they fully guarantee their work as well as your satisfaction. That's why we have no issues recommending them!
Highlights
Top-quality workmanship & service
Specialise in house washing services
Low-pressure washing method
Over 25 years' service
Fully guaranteed work and satisfaction 
Customer Reviews
On Google Business, one customer shared:
"Very polite, professional service.  Provided an extensive clean on both my house and surrounding deck areas.  I found the company, and the workers friendly to work with, and easy to discuss my needs.  Timely response to requested quote and they were offering a discount over winter.  Would recommend and gladly have them back."
3)  Absolute House Wash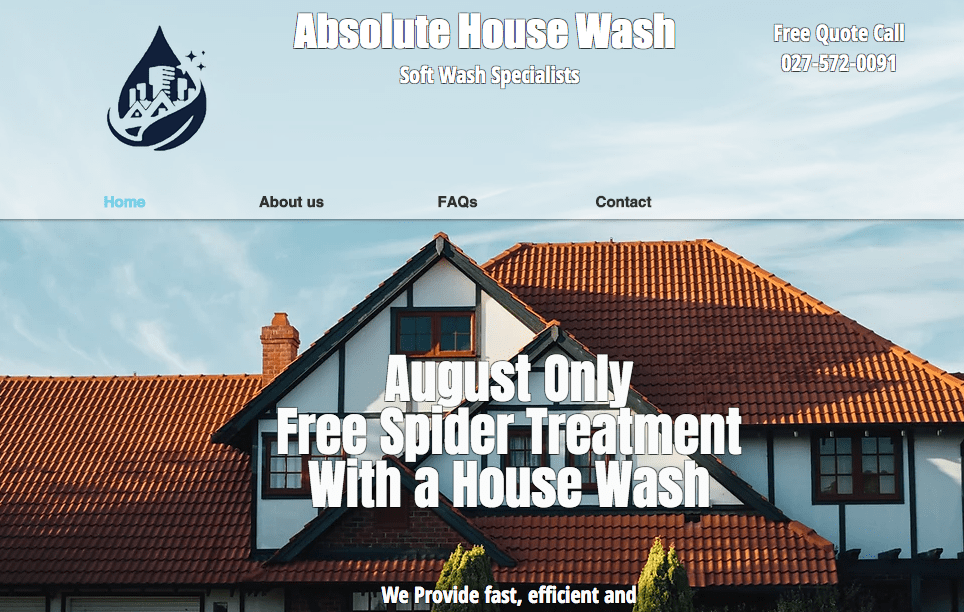 BEST FOR
Fast, Efficient and Affordable Gutter Cleaning
SERVICES
●        Soft Wash

●        House Wash

●        Pathways

●        Driveways

●        Roof Treatment

●        Roof Wash

●        And more

WEBSITE
https://www.absolutehousewash.com/
ADDRESS
Johnsonville, Wellington, New Zealand
CONTACT DETAILS
+64 27 572 0091
OPERATING HOURS
Monday to Friday: 7.30am – 5.30pm
Absolute Wash is a Johnsonville-based residential and commercial cleaning company founded in 2018. They specialise in soft-pressure washing for your exterior space.
You'll get a fast, efficient service as well as hands-on care from Wade, who runs the service. He can clear and clean the accumulated debris from your gutter in a careful and safe manner.
His work is always done to an excellent standard. And he can also provide valuable advice so that you get the most out of the service.
Highlights
Uses soft-pressure washing to keep from damaging surfaces
Excellent workmanship
Fast, efficient service
Affordable prices 
Customer Reviews
Check out Linsay Renwick's review on the website:
"Wade and team were fantastic – prompt and thorough. They even called their own plumber to get some guttering advice for me! And our dog loved them… Thanks so much!"
4)  Dentice Property Services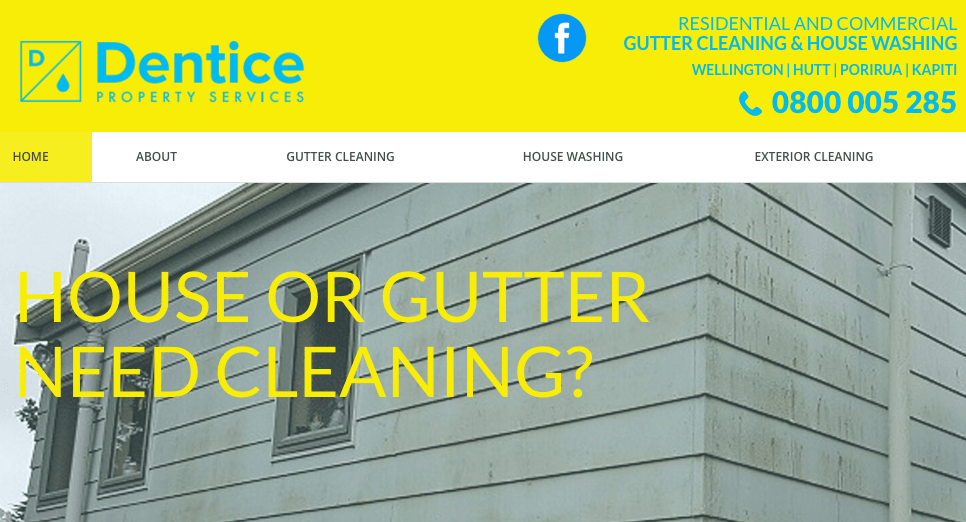 BEST FOR
Safe and Efficient Gutter Cleaning
SERVICES
Gutter Cleaning

House Washing

Exterior Cleaning

WEBSITE
https://www.denticepropertyservices.co.nz/
ADDRESS
Wellington, New Zealand
CONTACT DETAILS
0274 474 091
OPERATING HOURS
Monday to Friday: 8am-5pm
For safe, quick, and affordable gutter cleaning, just talk to the team at Dentice Property Services. They are a highly qualified team with NZQA and safety certifications.
No matter how clogged or full your gutter is, their cutting-edge Skyvac gutter cleaner is capable of taking it on. It can extend up to 10m high to suck up the leaves and waste from your gutter efficiently.
This will reduce the mess resulting from the work and prevent possible damage to your gutters or roofs that tends to happen with traditional gutter-cleaning methods. Ladders, scaffolding, and harnesses won't be needed.
Their technique beats other competitors in terms of quality and speed — and makes them a strong contender for the title of the best gutter cleaning Wellington professionals!
Highlights
Highly qualified & certified team
Use the cutting-edge Skyvac gutter cleaner
Offer a range of house washing services
SiteSafe and WorkSafe NZ member
Affordable price
Customer Reviews 
Kathleen Skudder, one client, wrote on Google Business:
"Gary and his team were professional from start to finish.  They arrived on time with professional cleaning gear and cleaned everything…. Gutters, interior and exterior, soffit, weatherboard, plaster walls, windows. 
They even offered to return if I later found an area that had been missed.  I've had two other companies clean the same tricky two storey house and the Dentice Team were by far the best. I've booked my next wash! Highly recommended!"
5)  Wellington Property Wash Ltd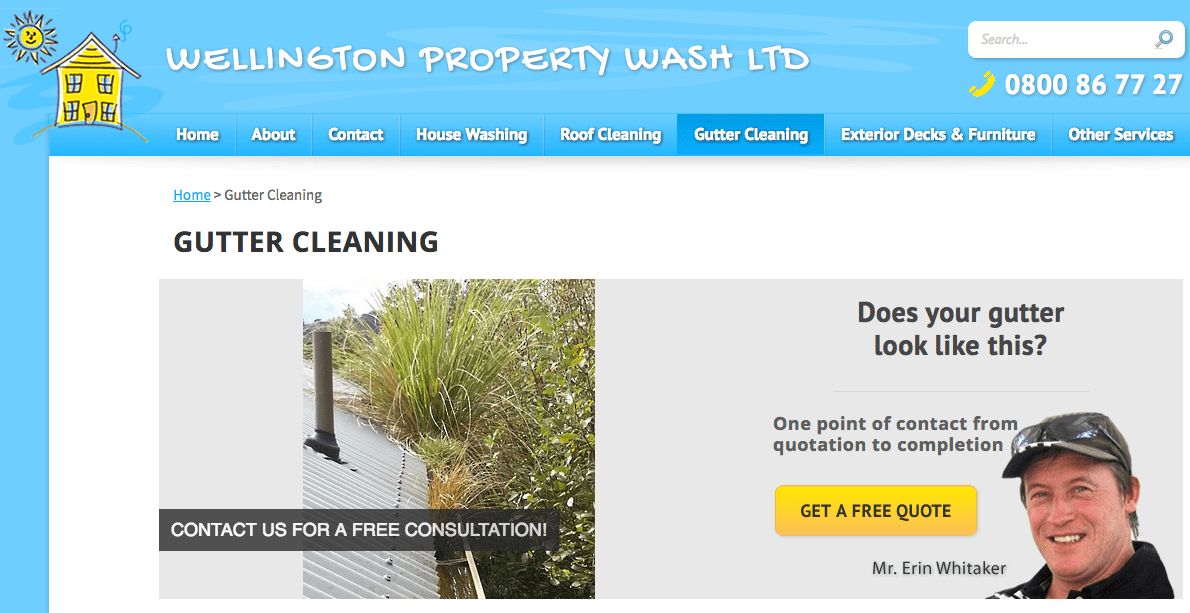 Another of the best gutter cleaning Wellington professionals, Wellington Property Wash Ltd provides gutter cleaning and house washing services across Greater Wellington.
They use eco-friendly, biodegradable products to clean and wash your house or business. These products are safe for your home and family, as well as pets!
They remove the debris that blocks your gutters, downpipes, and spouting. This will prevent flood damage and spare you the high repair costs that can come with that.
So book your free consultation today by calling the number provided above. Their communication is prompt and reliable and they turn up when they say they will. 
Highlights 
Fantastic communication
Provides gutter cleaning and house washing services
Results in clean gutters with free water flow
Uses eco-friendly, biodegradable products
Customer Reviews 
On the website, Lesley Slieker who works at the Wellington Ronald McDonald house said: 
"We have used the services of Wellington Property Wash Ltd on many occasions and have found dealing with Erin an absolute pleasure. 
Being a small charity we are always looking for trades people who can complete a task to a high standard while maintaining a reasonable cost, Wellington Property Wash Ltd consistently meet both these key requirements. 
As Erin is a person who acts with integrity and professionalism at all times, I would not hesitate in recommending him to others".
And those were the best gutter cleaning Wellington professionals! These people will make sure that your gutter is totally clean and can send the rainwater down to the drain smoothly.
Do you have any questions or suggestions for us? If you have one, don't hesitate to drop us a line and we'll get back to you in a jiffy!
You can also check out our other home repair or cleaning lists. For example, you can try the best chimney sweep Wellington professionals to keep your chimney safe and clean!