The 6 Best Guttering Auckland Installers
Without a gutter, the rainwater will cascade off your roof and can badly damage your home's foundation or garden. If you need to install a gutter so that doesn't happen in your property, you're in luck — here, we've listed here the best guttering Auckland installers.
We mainly chose the ones offering excellent products that are known for being reliable and standing the test of time. Next, we selected those with a professional, prompt and efficient team.
We also read the clients' reviews for these companies. This made us doubly sure that our choices for this list had been right.
Whether you're installing a gutter for a new build or a renovation, you can just get in touch with them. Now, if you're all set and ready, here are the best guttering Auckland installers!
1)  Ace Spouting and Fascia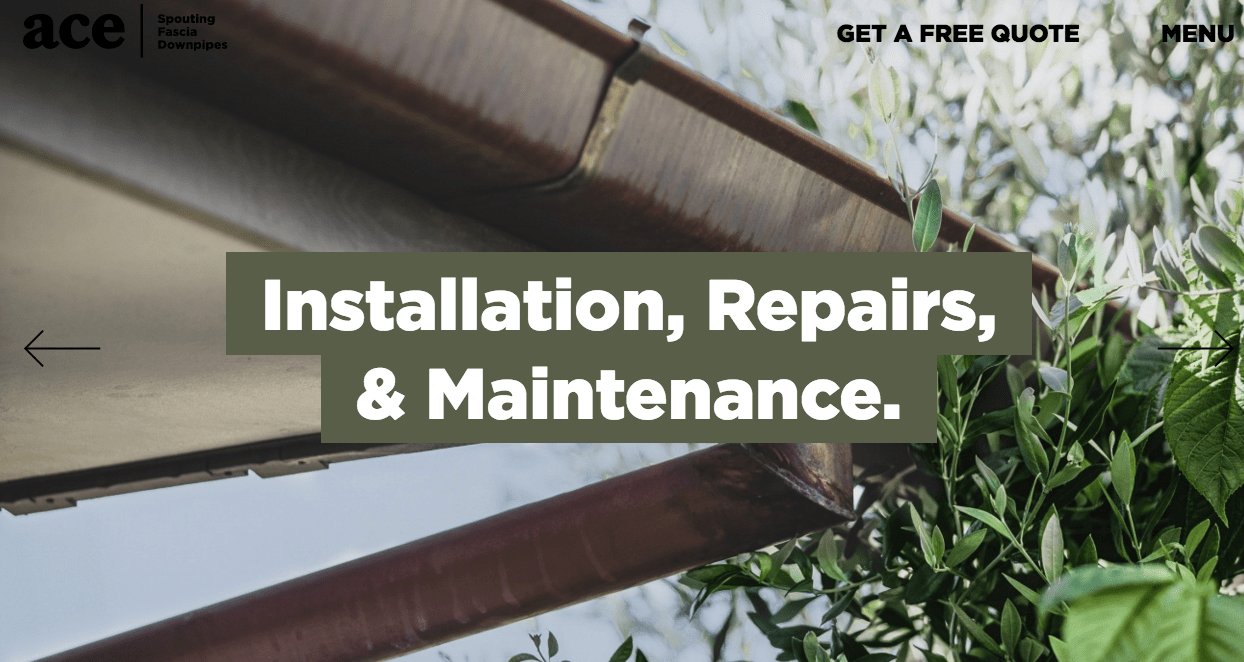 Equipping or replacing your home's rainwater system or guttering? Well, Ace Spouting and Fascia is an awesome choice that supplies high-quality products designed to last!
That's because they use established brands such as Colorsteel, Colorcote, and Marley, as well as sturdy and high-performing aluminium and copper materials.
The Ace Spouting team will provide expert guidance on the installation of your gutter, including the substrate and colour that will best fit the appearance of your house.
In their 10 years of service, they have satisfied many clients with their gutter installation. Indeed, they are some of the best guttering Auckland installers you can find. 
Highlights
Spouting design built to last
Professional and expert team
Use the finest products
Over a decade of experience 
Customer Reviews 
Alister White, one of their clients, mentioned on Google Reviews: 
"Thanks Guys for sorting us out so quickly. Really appreciate that all went to plan, you were quick to quote ( and it was bang on) , quick to install & you tidied up all the mess. Brilliant service."
2)  Continuous Spouting Auckland Ltd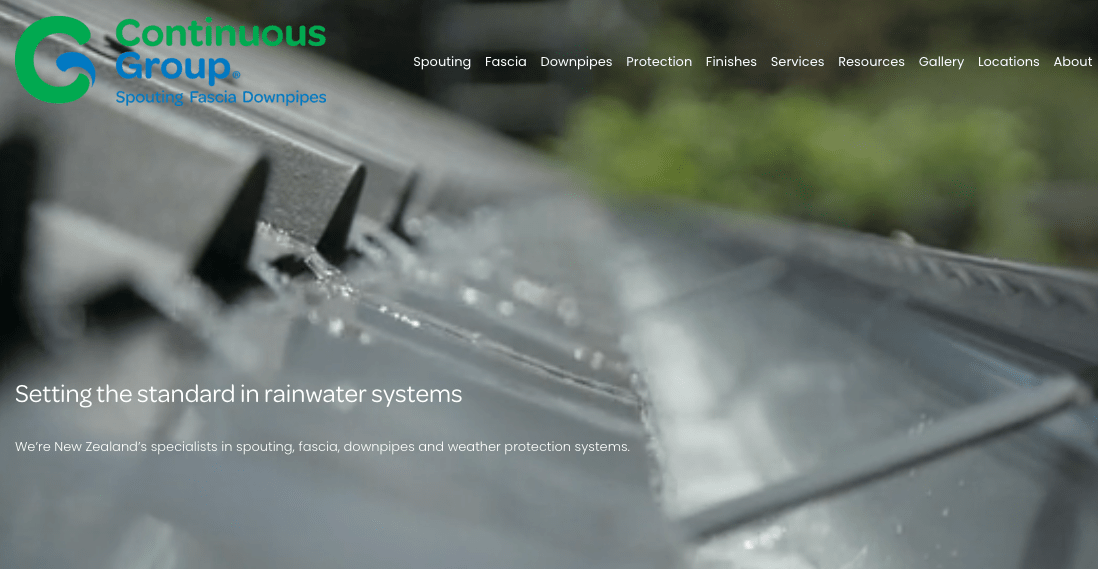 BEST FOR
Reliable Continuous Spouting System
SERVICES
Spouting

Fascia

Downpipes

Protection

Online Quotes

Installation

Warranties

WEBSITE
https://continuous.co.nz/
ADDRESS
94 Takanini School Road, Takanini, Auckland 2245, New Zealand
CONTACT DETAILS
+64 800 501 993
OPERATING HOURS
Monday to Friday: 7.30am – 5pm
If you're looking for a market leader in the guttering supply industry, then your search is over with Continuous Group — another of the best guttering Auckland installers.
They specialise in continuous steel spouting systems that perform better than the less durable PVC or unstable short lengths of pipes joined together in other guttering types.
They have been doing this for over 30 years and they put forward prompt and efficient tradesmen who have the latest equipment and tools to carry out the project on-site.
If there's one thing you can expect of this company, it's their Kiwi can-do attitude. That means they're helpful and reliable, and will provide a guaranteed service. 
Highlights
Specialise in continuous steel spouting systems
More than 30 years' service
Use the latest equipment and tools
Have the Kiwi can-do attitude
Guaranteed service 
Customer Reviews 
On Google Reviews, one customer, Stephen stated:
"Very good experience with Continuous.
Quick to respond to queries and very quick to meet deadlines for the project. Have had no problems with the installment and happy to use their service again in the future."
3)  Taylor Fascia & Spouting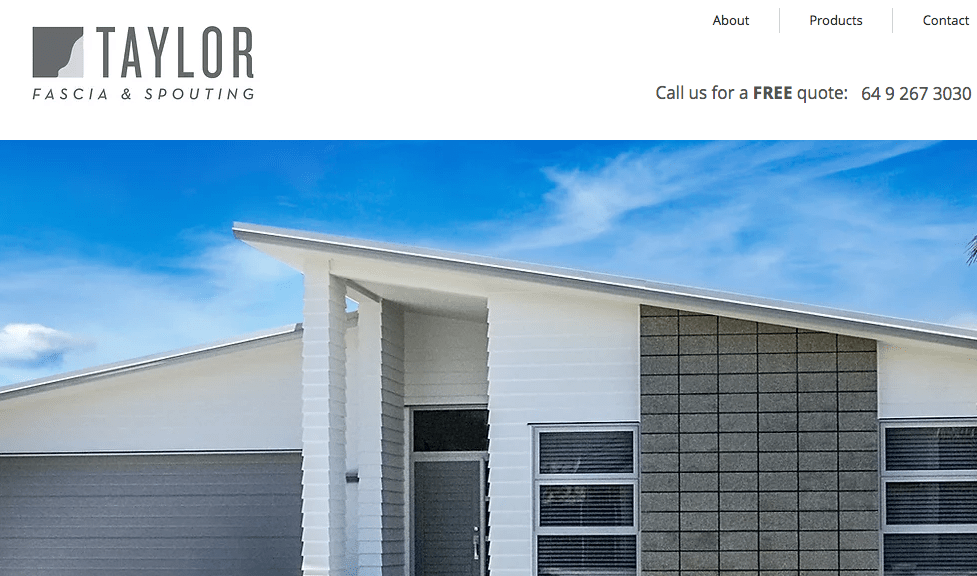 BEST FOR
Cost-Effective Rainwater System
SERVICES
Spouting

Fascia

Downpipes

Rainwater Heads

Respout

WEBSITE
https://www.taylorfascia.co.nz/
ADDRESS
57 Rangi Road, Takanini, Auckland 2245, New Zealand
CONTACT DETAILS
64 9 267 3030
OPERATING HOURS
Monday to Friday: 8am – 4pm
Taylor Fascia & Spouting has been a recognised spouting, downpipe and fascia manufacturer and installer across the greater Auckland region since 1974.
They have a selection of spouting products that are cost-effective, with fire- and corrosion-resistant properties. These come in a range of colours to suit your property.
With 40 years' experience, their proficient installers will be more than happy to assist you. Whether it's for a new build, renovation, or extension, you can count on them!
Furthermore, they can manufacture custom rain heads, spouting or downpipes that you require for your rainwater system.
Highlights
Recognised spouting, downpipe and fascia supplier and installer
Cost-effective products
40 years' experience
Proficient and knowledgeable installers 
Customer Reviews 
Here's the review from one client, Shannon Hibbard, on Google Reviews:
"They were prompt and professional in installing a replacement gutter system for my home. They completed the job on time with top quality workmanship. I would recommend their services to all!"
4)  NZ Spouting Services Ltd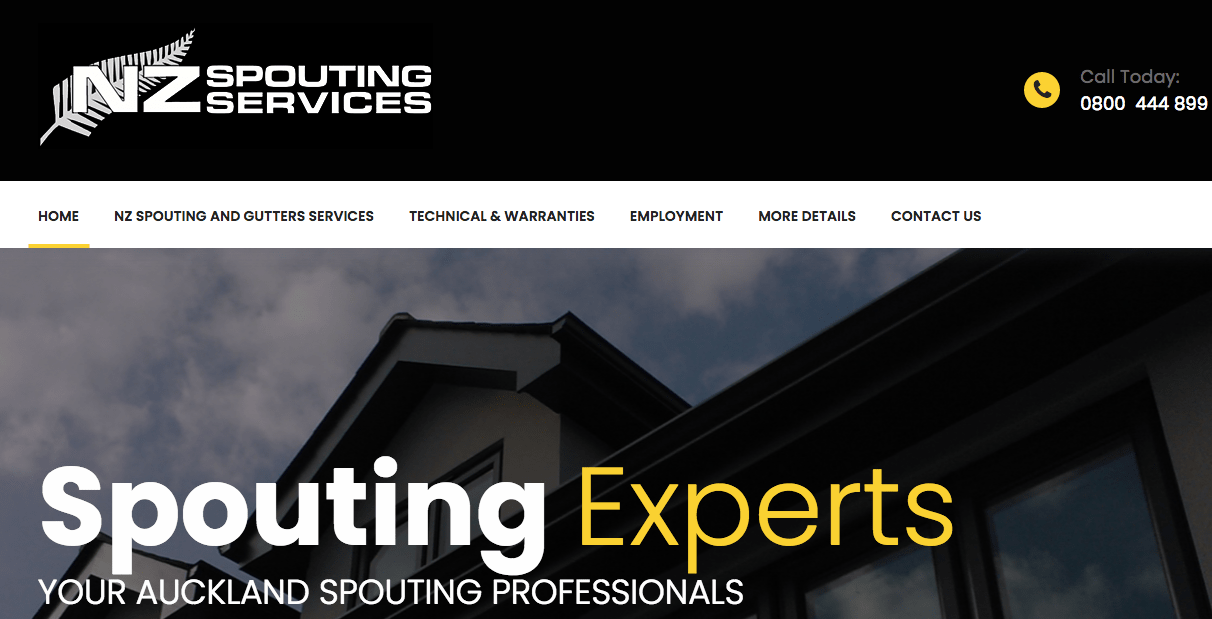 BEST FOR
Material and Workmanship Warranty
SERVICES
Spouting

Guttering

Fascia

Re Spouts

Gutter Replacement

Fascia Replacements

WEBSITE
https://nzspoutingservices.co.nz/
ADDRESS
12a/4 Markedo Place, Papakura, Auckland 2110, New Zealand
CONTACT DETAILS
0800  444 899

021 825 387

OPERATING HOURS
24/7
NZ Spouting Services offers a breadth of quality products for your spouting, guttering and fascia needs. They install and supply for both domestic and commercial settings.
Their expert and knowledgeable staff is reputed to have a high level of workmanship. To prove this, they offer a 10-year guarantee for their service and materials.
Plus, you won't have to break the bank to avail of their full professional service. All these things contribute to the company becoming  one of the best guttering Auckland installers.
The company caters to clients in the Auckland, Manawhai, and Hamiton areas. And they can likewise conduct roof treatment, cleaning and painting, and are open 24/7.
Highlights
Extensive range of quality spouting
High level of workmanship
10-year guarantee for the materials and workmanship
Affordable quotes
Available 24/7 
Customer Reviews 
Check out Chrissie Poynter's review on No Cowboys NZ:
"Great service from Chris who gave us a very prompt and competitive quote, and Hayden and Tony who did the installation of our new guttering. They have made an excellent job and our house looks very smart. A big thank you for excellent and timely service."
5)  Gutter Spouting Specialists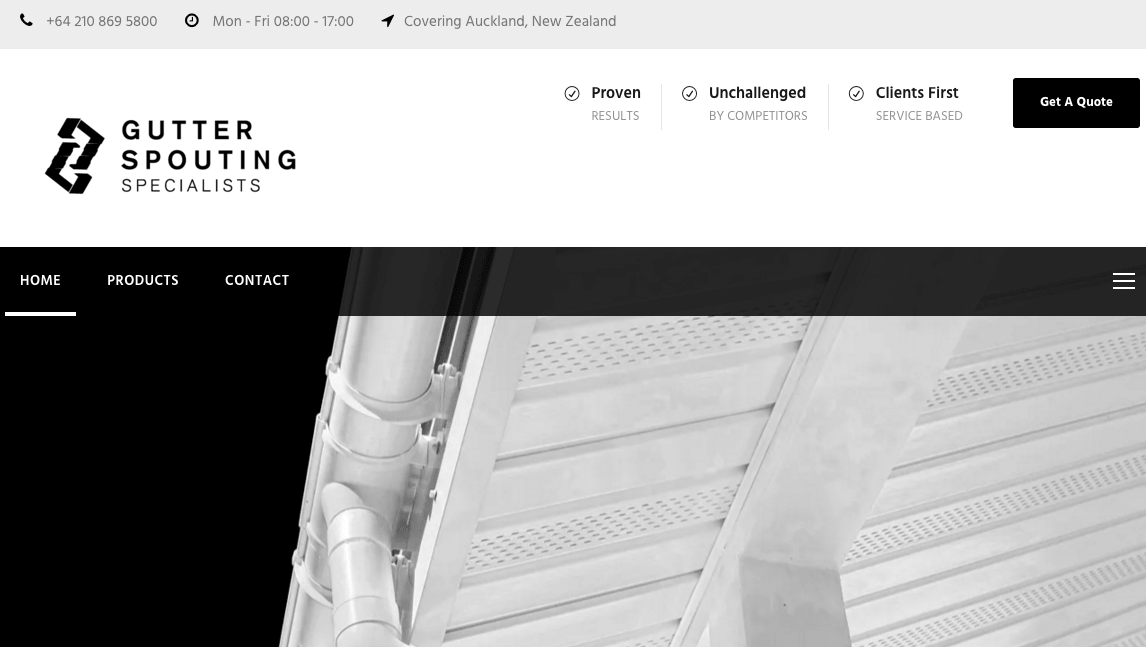 BEST FOR
Affordable and Prompt Service
SERVICES
New Guttering

Replace and Refurbish

New and Replacement Spouting

WEBSITE
https://www.gutterspoutingspecialists.com/
ADDRESS
Queen Street, Auckland CBD, Auckland 1010, New Zealand
CONTACT DETAILS
+64 0210 869 5800

+64 020 413 96621

OPERATING HOURS
Monday to Friday: 8am – 5pm
For an affordable and prompt service, you can bet on Gutter Spouting Specialists! They'll handle your new spouting installation and replacement Auckland-wide.
Run by brothers Caleb and Adam, it provides a hands-on service. They'll listen to your needs and provide an effective solution to finish on time and within budget.
Apart from gutter installation and supply, they can repair your blocked, weathered or cracked gutters — letting your home function perfectly throughout the year.
Many clients have been impressed by their first-class customer service and results-driven approach.
Highlights
Affordable and prompt service
Results-driven approach
Family-owned business
Finishes on time and within budget 
Customer Reviews
John Gordon, one client, writes on the webpage:
"GSS were awesome to deal with. Caleb and Adam make a great team and delivered a perfect result. We were very fussy on our new build but GSS helped make the Guttering and Spouting stress free."
6) Rainaway Spouting on the Spot
BEST FOR
Gutter and Spouting
SERVICES
Continuous Spouting

Traditional Spouting

Traditional Box Gutter

External Fascia

Downpipes

Rainwater Heads

Gutter Guard

Alx Bracket

WEBSITE
https://www.rainaway.co.nz
ADDRESS
CONTACT DETAILS
0800 50 50 52
OPERATING HOURS
By appointment
If we're talking about convenience and quick services, then there is no forgetting Rainaway Spouting on the Spot.
Rainaway first began its journey in 1995, but it wasn't until 2004 that the company began to grow to include numerous locations (all individually and locally franchised) across New Zealand.
That's one of the reasons why we recommend Rainaway in the first place: The company is quick to serve given their numerous franchises.
Regardless of the clients' location, Rainaway can easily come and provide free accurate quotation with the use of the SpoutMaster™, which has been proven to give the best prices.
Aside from quotations, the company can also provide the service quickly, once again thanks to their many franchises nationally.
To end things off, the quality is the same no matter the location. This is because Rainaway, as a client-centric business, dedicates itself on maintaining high standards to ensure customer satisfaction each time.
Highlights
Fast, accurate, and free quotes
Wide array of gutter and spouting products available
Offers franchising opportunities
And that's all for the best guttering Auckland installers! If you are in need of help installing a guttering or spouting system, these companies should be your first port of call.
Do you have any questions about what we've listed here? If you have one, feel free to drop us a line and we'll get back to you in a jiffy.
Other than that, you might like to read about the best gutter cleaning specialists in Auckland. They'll clear your gutters of debris, dirt, and unhealthy mould and lichen.