Auckland is home to many talented hair style and hair colour artists. Whether you like braided, ombré, or just a subtle trim, you're in luck, as we're featuring the best hairdressers in Auckland today!
These are the places most locals themselves suggest when asked about the best hairdressers in Auckland. They offer just about all the salon and styling services you could ever require.
Let's take a look at them now!
1. French Revolver Studio, Auckland City
Walking through Auckland City's French Revolver Studio is akin to taking a trip to a salon, museum, and fashion show in one. No one in the city would fail to include this in a list of the best hairdressers in Auckland — it's that popular!
Stylist Brad Lepper runs this studio with his team. They bring all the fire and passion you need for the perfect balayage, vintage style, fringe cut, or curled hairdo.
This is a great place if you want to feel beautiful and confident in a flash.
2. Killer Hair, Eden Terrace
This salon is all about feeling good, feeling beautiful, and knowing your true self, in the words of the owners, Steven and Mimi Kelly. Just go there and let them do all the hair wizardry for you.
It's a beautiful place to visit too, drawing inspiration from the Masonic Lodge. The place has high ceilings and large windows that let in the bright morning light.
Whether you get a trim for your hair, or colouring for it, it's going to leave you feeling refreshed and wonderful. This beloved salon is open from Tuesdays to Saturdays in Auckland.
3. Ryder, Britomart Place
Ryder salon is styled in an appealing and nicely relaxed brick and wooden pattern using eco-friendly materials. It sits in an urban place where people go out to dine and stroll in the evenings, so it may be perfectly situated for those who want a cut before a dinner date.
It's no question that this is one of the places to unwind whilst getting that perfect 'do. Once they know what you want, the stylists are sure to deliver it, making you look fresh and at your most beautiful.
4. Auckland Hairdressers, Auckland CBD
Talented hairdressers abound in Auckland Hairdressers. You get ace stylists in precision cutting, treatments, colouring, blow-drying, and perming — that's why we list them among the best hairdressers in Auckland.
They also have products good for removing frizz, and dandruff; plus they offer skin care for both men and women. All the stylists have 8 years of experience, at the least.
Monday and Sunday are open only by appointments, so book beforehand.
5. Toni&Guy, Auckland CBD
Toni & Guy is considered as one of the top rated salons not only in Auckland but also internationally. It has over 475 branches across 48 countries, all guarantees to bring you an extensive and exemplary range of hairdressing services, tailored to cater to all types of hairstyling needs.
The team continues to develop and improve their services everyday as they strengthen their fundamental techniques and explore new trends. They also extend their service by offering hairdressing courses for the aspiring hairstylists of the next generation.
6. Marcelo & Co Hair Design
Marcelo & Co Hair Design brings out the best in their clients by applying a modern and personalized approach in hairdressing. They also make sure that you are fully relaxed while having your makeover by offering barista style beverages and nibbles on late nights. 
The salon caters to both male and female where they have a list of separate services for each. 
Setting your appointment with Marcelo & Co Hair Design is also made easy, thanks to their efficient and reliable online booking system.
7. Salon 1925
Salon 1925 is renowned for how they have incorporated the Art Deco era to their salon's aesthetic. The salon offers a wide array of services that can address any and all hair concerns.
Aside from their unique but comprehensive style, Salon 1925 is also known as one of the most environment-friendly salons in the area. Everything about Salon 1925, from their services to the products that they use, is carefully considered with the planet in mind. In fact, the staff are so well-adept at recycling, that they even apply the method to any and all chemical products leftover.
8.  Foxie Style, Dominion Road
The experiences for the team in Foxie Style are varied, as they have many customers, local and international alike. Their belief is that every individual has an exclusive style or hairstyle suitable for his/her appearance and character.
From there, they work on achieving that to the client's satisfaction. And of course, the customer always has the say — they're intent on delivering what you want when you come to them.
This salon offers shampoo, treatment, colouring, straightening, and perming. They'll deliver those to you while ensuring you're comfortably ensconced in your chair… perhaps even with a delectable cup of coffee to sip on throughout the appointment!
9. London Salon, Parnell
Next on the list is London Salon. You'll find this salon in the classy Parnell area in Auckland.
They have a range of services including men's and women's cuts, Keratin treatment, and eyelash perms and tints.
Before you go to a formal dance or wedding event, you can look glamorous and attractive with the help of the hairdressers here.
10. Laboratorie Cut Color Makeup, Kingsland Auckland
Laboratorie Cut Color Makeup is committed to providing their clients with discreet, attentive care, whether they are regulars or casual passersby. You may also expect their team of well-rounded hairstylists to always bring cutting-edge and contemporary (yet wearable) hair designs.
Of course, Laboratorie Cut Color Makeup also makes an effort to not just match the hairstyle with your facial bone structure but also with your personality to make sure that you get the best and most stunning results.
With the team headed by their director Chetan Mongia, who travels to New York twice a year and Sydney to work back stage at New York Fashion Week and Mercedes Benz Fashion Week Sydney, you are definitely guaranteed with world-class hairstyle.
Most importantly, they offer their exemplary services at very affordable prices!
11. DRY & TEA, AUCKLAND CBD
Dry & Tea is not your ordinary hair salon. It offers a wide range of Signature Blow Wave and Styling options backed by a full cut/colour menu plus an extensive tea menu so you feel totally relaxed while having your hair done. They are a one stop shop for event preparation also offering makeup services along with a nail bar. The Dry & Tea team are specialists in styling and have award winning salons in Auckland, Melbourne and Christchurch. 
The team guarantees to bring out the best in you, whether you are prepping for a special event or you want a total hair makeover. As part of their 100% focus on client service, their team of highly talented stylists use the very best in  L'Oreal products. Visiting a Dry & Tea salon is a unique experience like no other.
 While you're at it, have a taste of their rather extensive tea menu of 16 different blends, exclusively offered by Tea Total while taking in the beautiful surrounds.
12. Hiem, Newton
Hiem stands for Hair Inspired by Everyday Minimalism which was founded by a the strong, colorful friendship of Whitney Steven and Kurtis Counsell. They aim to provide top quality coloring and hair treatments, designed to cater to each individual styling needs.
The team makes sure that they do not contribute any more harm to the environment by strictly using eco-friendly and cruelty free products. Instead, they support locally made ones which they believe best treat your hair and scalp.
13. Matt Demon, Grey Lynn
For the gentlemen who are thinking of getting a new, expertly-made haircut, Matt Demon is your way to go. It is one of the top rated hairdressing salons for men, primarily because of the stylists' undeniably wonderful talent in tailoring haircuts suited perfectly for each individual client. 
Matt Demon offers two types of haircut services— the Executive Cut and Express Cut. The Executive Cut is a whole relaxation package consisting of a head massage, precision haircut, drinks menu, and hot towel and will likely take around 50 minutes.
The latter, on the other hand, is perfect for those who are on the go as it only includes the precision haircut and hot towel to finish and takes about 40 minutes. Meanwhile, you may also avail their other services like hair coloring and beard trimming.
14. Helmut, Grafton
Just imagine what beautiful things can international inspiration and local Auckland talent create when combined? Well, one of these is Helmut. This hairdressing salon started believing that you can incorporate art in hair, thus their undeniably stunning portfolio.
Helmut is composed of a team of expert stylists, all with over 15 years of experience in the business. They have a wide range of options for hair styling and treatment and everything is guaranteed to be done with precision and flair.
15. Zea & Co., Grafton
Been meaning to get a total hair makeover but not sure which style actually suits you best? Don't worry because Zea & Co. has some of the best styling experts in Auckland.
The salon offers personalized haircuts for both men and women, as well as hair coloring and treatments for added style. They also do make up sessions, whether it's for a casual event or as huge as weddings.
Truly, Zea & Co. is your one-stop shop for hairdressing and makeover needs.
16. Colorme Hair Salon, Papakura
Colorme Hair Salon is committed in bringing you the best experience and high quality hair transformation services through their team of highly dedicated and well-rounded stylists.
 The Salon is offering a large scale of hair styling and treatment options, namely, Hair Coloring, Balayage, Highlights, Keratin hair straightening , Permanent hair straightening , Smoothning , Haircuts and Special Needs Hair Services.
Should you need professional advice in choosing the style suited best for your facial structure and personality, the staff of Colorme Hair Salon is always willing to provide you with their top-of-the line options.
17. The Following Hair Co., Parnell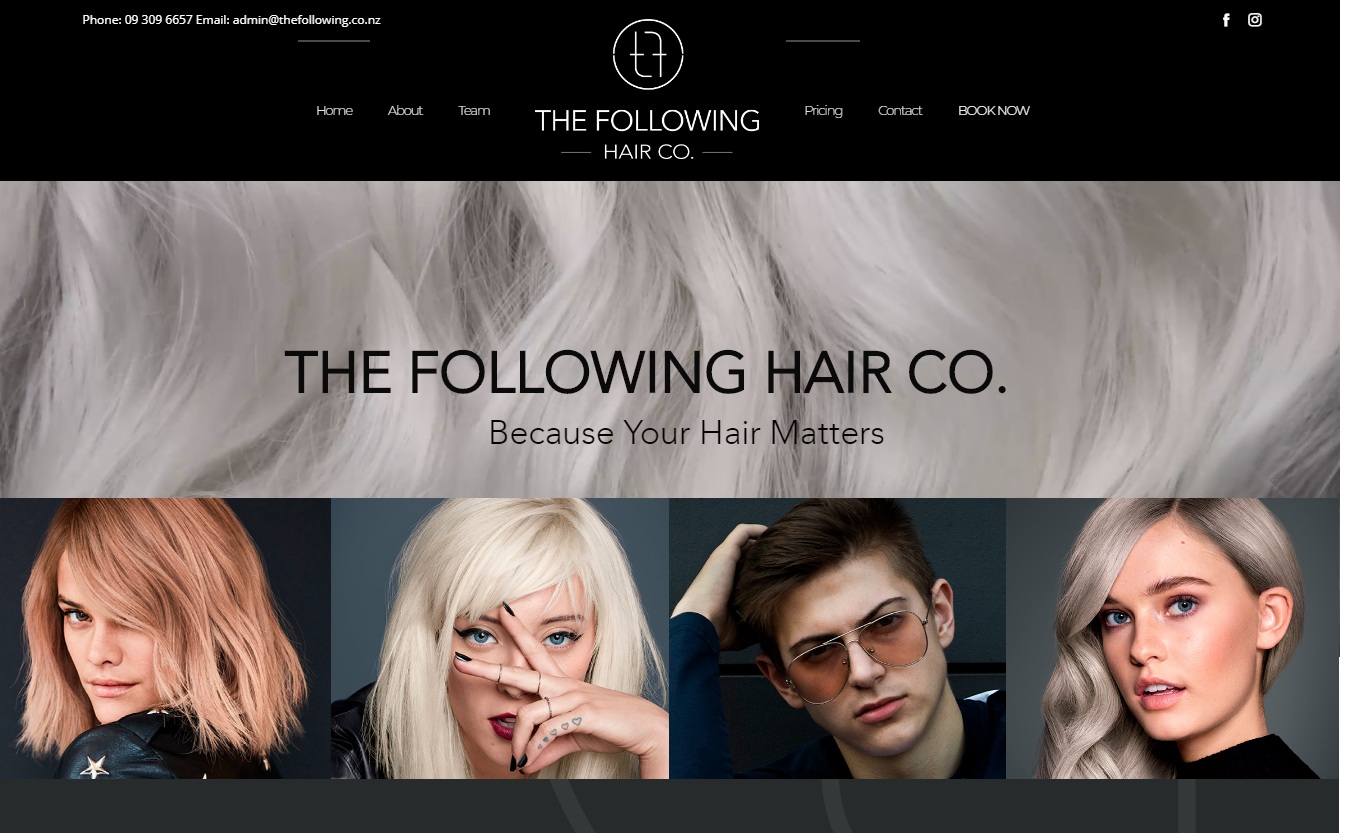 Our hair is one of the most important parts of our physical body, bringing the look of power and elegance. Otherwise, it would not be called the humans' crowning glory. Thankfully, there are establishments like The Following Hair Co., that are always willing to help us take good care of them.
Their team of expert stylists never fails to go the extra mile just to provide their clients with exceptional, world class hair styling and treatments. They understand that each client requires a unique, personal approach and techniques, thus they see to it to always personalize their services.
18. Archer & Co Hair Salon, Henderson
Once in a while, it's fun to get out of your comfort zone and explore new things. It does not even have to be a big one, say a change in hair color? Or getting some curls for a change?
You won't have to worry about the results especially when you are in the good hands of Archer & Co Hair Salon. They have been in the industry for over 12 years, needless to say their trusted expertise. You may even get some great deals if you just check out their current packages posted on their website.
They accept booking and walk-ins, so what are you waiting for?
19. Rose Quartz Hair Studio, Parnell
Rose Quartz Hair Studio is a local hairdressing salon strategically located in the heart of Parnell. The studio offers a wide selection of curated and latest hair inspirations that they guarantee to perform well on you.
More than getting your hair done, Rose Quartz Hair Studio ultimately aims to give you the relaxation and quick break that you deserve. With the salon solely operated by the award-winning Michaela Powell, Rose Quartz Hair Studio promises to bring out the best in you with its top-of-the-line hair styling techniques.
20. Mika Styles, Auckland CBD
Mika Styles is owned by Mika, a highly talented and expert stylist who has more than 20 years of experience in the industry of hairstyling. Over the course of two decades, Mika has handled thousands of clients with different hairdressing needs where she has gained quite a number of long-term regular clients. 
The salon has a wide range of hairdressing services offered at very reasonable prices. They also guarantee to provide you with exceptional services in order to meet, exceed even, your expectations.
21. Gray & Co Hair Stylists, Westmere
Gray & Co Hair Stylists is a local hairdressing salon strategically located in Westmere. It is a modern boutique shop with a relaxing environment and extensive premium hairdressing services. 
They make sure to work on personalized looks so each client achieves the look suited best for their profile and lifestyle. With their team of expert stylists, you are guaranteed to exit their boutique with a fresh, absolutely stunning look.
22. Blaze, Newmarket
Blaze is setting a new standard when it comes to hairstyling and treatment. Led by Redken 5th Ave NYC international platform artist and 5 time NZ Hairdresser of the Year, Mana Dave, the team is notable for their exceptional services tailored to address all types of hair needs.
As a matter of fact, Blaze has been internationally recognized, receiving the award of 2016 L'Oreal Colour Trophy Salon of the Year and Silver for Colour at the International Trend Vision Awards in Barcelona.
Avail their premium services and book your appointment now.
23. Exile Hair Design, Epsom
Exile Hair Design understands that each of their clients has their own styles and preferences when it comes to hairstyling. With this, they offer an extensive selection of hairdressing ideas and inspirations that they believe will bring the best out of their clients.
Whether you need a hairstyle for everyday look or a more glamorous one for a rather larger event, Exile Hair Design promises to constantly provide you with their top quality services. 
24. Hairfit, Ponsonby
Hairfit is Ponsonby Road's boutique hair salon. With it's private hidden gem location, it is the perfect spot to escape, unwind and relax .
HairFit specialises in the latest cuts and colour trends, with in-depth consultations that are personalised to each client, looking at hair condition and face shape, that will bring out the best in your hair and boost your overall confidence!
HairFit's personalised advice ensures you know how to take care of your hair after each treatment and teaches you tips and tricks to help you recreate the styles you love at home.
The salon prides itself in using only safe, sulphate free, paraben free and cruelty free products that not only make your hair Fit from your scalp to your ends but also enables you to have a clear beauty conscience by not contribution negatively to our precious environment.
Hairfit offers wifi to keep you connected if you wish to get some work done, or perhaps you prefer to relax, whilst enjoying HairFit's OMG scalp, massage!
Free parking is available upon request.
25. Glamour Hair Boutique, Rosedale

Glamour Hair Boutique is an award-winning salon committed to providing their clients with reliable, exceptional, and innovative hairdressing techniques to cater a wide range of hair styling needs. 
Backed with their internationally trained award-winning stylists and specialty in in colour, precision cutting and extensions, this salon guarantees to help you achieve your most desired look.
Aside from hair styling, they also offer other related beauty services like make up styling for overall package and best results.
26. D&M, Ponsonby
D&M is not your ordinary hairdressing salon. Everyday, they strive to keep their standards high in order to provide their clients with top-of-the-line services. As a matter of fact, they are home to 4-time NZ Hairdresser of the Year (Hair Expo, Australia, 2016-2019), and top-three finalist for International Hairdresser of the Year 2020 (International Hairdressing Awards, Spain).
Their kind work is not only applicable to their clients but extended to our environment, as well. D&M is a flagship Davines Sustainable Beauty salon which means that 95% of the salon waste is recycled, and the products used in-salon are produced with minimal impact on the environment.
27. Broadway Men's Hairdressers, Newmarket
Prepping for a date tonight and need some last minute grooming? Well, Broadway Men's Hairdressers can be your best bud. From hair cutting to beard trimming, they've got everything that you need, all in the best quality of service.
Upon entering the room, you will be greeted with a vintage setting, bringing a cozy and relaxing environment. You will also be accommodated with their ever so friendly and accommodating staff. 
Their team is led by Michael Zhou, a hairdresser with 3 decades of experience and incomparable skill set. thus you are guaranteed with 100% satisfaction.
28. Nick JinJen Hairsalon
Korean culture is the latest trend right now, especially when it comes to beautiful hairdos. Fortunately, you can get that K-pop look from Nick JinJen Hairsalon.
Nick has had an admirable career in hairdressing, winning the 2012 Photo Revolution (Creative Colour award, 1st place) and getting to style the hair of famous Korean personalities as well.
He is a licenced Korean hairstylist together with having the NZ Professional Hairdressing Certification (HITO) and International Hairdressing Licence (ISPN). His qualifications speak for themselves.
Hence, if you're trying to copy Son Ye-Jin or Han Ga-In's hair, just visit Nick JinJen Hairsalon at Auckland CBD!
29. ASC Salon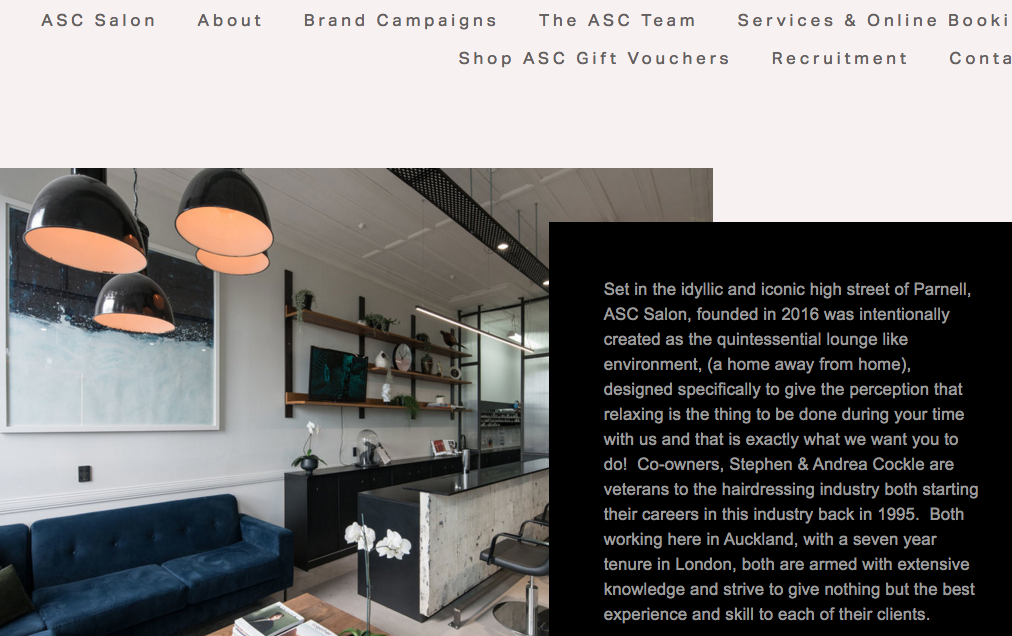 When you enter ASC Salon, you immediately feel at home thanks to their bar-inspired, cosy front desk rife with a television, displays, clock, and ornamental plants. There are mirrors and seats for the customer that go all the way back to the mini lounge with magazines and a cup of coffee.
It is owned by Stephen and Andrea Cockle, who have honed their cutting and colouring skills in London and Auckland. The hairdressers are all about giving you a great experience besides a beautiful trim and cutting.
When you come here, it's all about unwinding and being in a place where your stress and worries cannot exist. And their love of the planet and animals is expressed through their hair products so that you will not only look beautiful but have also helped nature too!
30. McInnes & Co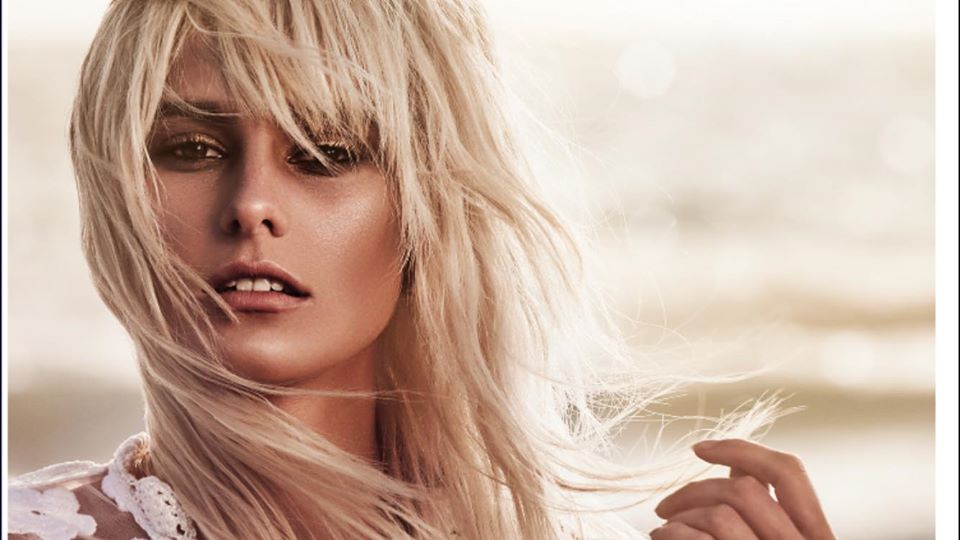 McInnes & Co is a lovely boutique salon located in Central Auckland's Mt Eden suburb. They are particularly skilled in blonde hair treatments such as balayage, hair extensions, block highlights, and braiding.
Lead stylist Abbey is very friendly, considerate, and extremely skilled. She values her clients and goes out of her way to get the beautiful look that you want.
With a lot of clients vouching for them, McInnes & Co is definitely the go-to place where you can be confident and gorgeous when you come out.
31. Headlarious
For hair styling and treatment that's nothing short of headtastic, just visit the Headlarious salon.
Based in Parnell, this salon is a newcomer with lively and skilful hairdressers. They advocate equality and you can see this reflected in their prices — same for men, women, and anyone else.
They talk in the head language and offer many services that make your head (and hair) happy and relaxed. Try their headcreamery to moisturise your hair and keep split ends at bay, go for their headmongous to give an attractive perm to your hair, or do the opposite and straighten it out with their headflat offering.
What's not to laugh and love about Headlarious?!
32. Andrew Mae Extensions and Hair Boutique 
Have you been wanting to grow your hair long and give it a different style? If so, then you should visit Andrew Mae Extensions and Hair Boutique.
Whether you want a temporary or permanent hair extension, their skilled and talented hair professionals will give you the best solution that'll fit within your hair condition, preferences, and even your budget range!
They're the only salon that features a variety of innovative hair extension methods made for all hair types so you'll surely find the one that best suits you. Their well-trained extension specialists offer high-quality products and personalised services so you can have your desired hairstyle!
They provide a full range service including haircuts, hair colours, and hairstyling, making them one of the leading hair salons in Auckland where you can have everything you need!
33. Style Garage
It's no secret that Style Garage is one of the best Japanese hairdessers in the country, with customers coming from all walks of life.  It features a wide array of services that can make anyone's hair look better and livelier than ever!
Style Garage is headed by Shotaro Shimizu, more known as Sho in the salon. He started Style Garage to provide Asians with services that know how to take care of their hair properly.
On top of this, Sho also wanted to sell the Japanese quality of hairdressing to the whole local community, as a way of building relationships with the locals.
If you enter the premises of Style Garage, you will not only be receiving warm and friendly smiles but one-of-a-kind hair treatment as well!
In any case, that completes our list of the best hairdressers in Auckland. Give them a call or visit one of them whenever you are looking for experienced stylists in the area!
Have you already gone to any of those we mentioned above, though? Tell us your opinions — or, if you have other questions or suggestions, please let us know!
If you went looking for a salon to prep for a date, by the way, you may want to know about where to order flowers for your date too. If so, you can take a look at our article for the best flower deliveries in Auckland.