The 8 Best Hamilton Electricians
It can be dangerous if electrical wiring or appliances aren't installed correctly in the house. That's why we've compiled a list of the best Hamilton Electricians here for you!
Their highly qualified teams provide first-class workmanship and fair quotes. They also strictly follow the building codes to ensure your safety and satisfaction.
But before we present our top choices, we're going to examine the price estimates of hiring Hamilton electricians and share some useful tips to help you get value for money.
Price Estimates of Hiring a Hamilton Electrician
Like the rest of New Zealand, hiring an electrician is not cheap in Hamilton. Typically, the minimum fee for doing electrical work in Hamilton is $150.
That's only for the main job because you'll still have to pay for the labour per hour, travel, parts, and GST. Prices can be higher than what you are initially quoted.
Here are the price estimates of the usual work done by electricians in Hamilton. Note that the numbers are only a guide and may vary from the actual cost:
| | |
| --- | --- |
| Electrical Work | Price Estimate |
| Power socket install or repair | $150 to $250 |
| Washing machine/heater power point | $150 to $250 |
| Air conditioning and heat pump repair | $150 to $300+ |
| Hot water cylinder repair | From $200+ |
| Electrical inspections | $250 to $400 |
| Air conditioning and heat pump install | From $400 |
As other electrical jobs will depend upon the size of work, complexity, and materials used, you will need to get a quote from the electrician.
Also, here are some useful tips to lower your spend on using their services:
Find out their actual rates
To prevent surprises on price, you can call the team beforehand and ask for a detailed estimate of the project, including the main work, labour, travel, GST, and materials.
If the price seems too high, then you can get quotes from other electricians and compare them, so you can find the one that will give you the best value.
Avoid emergency callouts unless really needed
Emergency callouts can cost a few hundred dollars + GST. Therefore, if the job can wait, you can just call them on the next day or during their normal working hours.
Call a local electrician
Travel costs are computed based on the distance the electrician travels from their base to your house and back, as well as to the store if they need to get new parts.
By calling an electrician closest to your home, office, or shop, you can lower the expenses you will have to pay them.
The Best Hamilton Electricians
Having gone through the price estimate section, let's proceed to our list of the top Hamilton electricians!
1) 2E Electrical Ltd
BEST FOR
Excellent communication
SERVICES
House building & maintenance Commercial fit-outs & maintenance Home ventilation system Heat pump installation Security camera installation
ADDRESS
18F Perclo Place, St Andrews, Hamilton 3200, New Zealand
CONTACT DETAILS
0800 233 532


[email protected]

OFFICE HOURS
Monday – Thursday: 7.30 AM – 5.00 PM
Friday: 7.30 AM – 4.00 PM
Saturday – Sunday: closed
PRICES
Kindly get a quote from them
With a solid 60+ years of experience, 2E Electrical can solve your residential and commercial electrical needs no matter how easy or complicated the task is.
From simple heat pump installation to full new-build wiring, Damian and his team of qualified electricians will see your project through, from start to finish!
They will work skilfully within your budget and let you know how much the service will cost before commencing the work.
You can trust that they will provide you with safe and quality workmanship, just as they did for many clients. Also, all workmanship is backed by a 2-year guarantee.
Pros
60+ years of experience
Flexible scheduling
2-year workmanship guarantee
Cons
Closed on Saturdays and Sundays
Customer Reviews
A lot of customers favoured them for their prompt and timely work, regular updates about the work progress, and great workmanship.
One client named Rick wrote this review of the electrical company:
"We have found working with the 2E crew an absolute joy. They were responsive and professional in the way they handled the job. Often working under tight deadlines they supplied the right amount of people to get the job done well. I would highly recommend 2E Electrical for any commercial or residential job."
Furthermore, Ross commented:
"I am very pleased with the ducted heat pump installed by the 2e team. The entire install was done in a couple of days, was neat and tidy, with no hassle at all. They were great at letting us know what they were up to and when things would be done. I would recommend them to others."
2) Switched On Electrical Ltd
BEST FOR
Emergency electrical jobs
SERVICES
Domestic Industrial Pre-purchase inspection Outdoor electrical Mains power connection and trenching Commercial electrical services Rental maintenance Moving & relocating
ADDRESS
94C Duke Street, Hamilton, New Zealand
CONTACT DETAILS
0800 36 48 25 07 847 2005


[email protected]

OFFICE HOURS
Open 24 hours
PRICES
Kindly get a quote from them
Switched On Electrical is an electrician company serving Hamilton and the greater Waikato. Their motto is how they conduct their work: do it once and do it right.
They are Master Electricians and comply with electrical codes and standards to keep you safe and well in your home or workplace. They strive to be polite and efficient and respect you and your property when they come around.
Need help on inspecting electrical systems, installing power sockets on your rental space, or setting up a mains power supply in a factory? They can handle them all for you anytime you need them to, 24/7.
Aside from that, Switched On Electrical offers a $10,000 workmanship guarantee for peace of mind as well as a special 15% labour discount for SuperGold cardholders.
Pros
24/7 customer service
$10,000 workmanship guarantee
SuperGold cardholder discounts
Cons
Customer Reviews
Without a doubt, Switched On Electrical is one of the best Hamilton electricians you can find. They provide a tidy, prompt, and friendly service at a cost-effective price!
Check out Marlena's feedback of them:
"Mike and the team at Switched On Electrical are absolutely magic, they kept us in the loop all the way and ensured we were happy and impressed with their quality work. They made some awesome suggestions for our new build and were great to deal with too. I highly recommend Switched On Electrical."
Also, Scott posted this comment on Google:
"These guys are absolutely fantastic, arrived on time and got me out of a jam. These guys are now my go to electricians. Top quality workmanship and highly recommend. Good work guys keep it up your an asset to Hamilton."
3) Best Electrical Ltd
BEST FOR
Lifetime workmanship guarantee
SERVICES
Commercial Outdoor areas Rural Domestic Home automation Home ventilation
ADDRESS
298f Kahikatea Drive, Frankton, Hamilton 3204, New Zealand
CONTACT DETAILS
Phone: +64 7-825 2231
Mobile: 021 147 4002
Email:

[email protected]

OFFICE HOURS
Monday – Thursday: 7.00 AM – 5.00 PM
Friday: 7.00 AM – 4.00 PM
Saturday – Sunday: closed
PRICES
From $150 (inclusive of GST) minimum fee Kindly get a quote from them
Whether you need electrical service at your domestic, rural, or commercial venue, you can simply leave it to Best Electrical Ltd!
Unlike other competitors, it provides a lifetime guarantee for workmanship. With every callout, you get a 36-point electrical check and a smoke alarm for free.
They can fix all problems related to electricity such as hardwiring, alterations, maintenance work, ventilation, home automation, and more.
Best Electrical's team is available during normal working hours and urgent callouts. If they arrive late at your premises, you get $32 slashed off of the final service price.
Furthermore, they promise to clean and tidy up your place before leaving. Otherwise, they will come back the next day to do it.
Pros
Emergency services available
Online payment available
Free smoke alarm with every work
Lifetime workmanship guarantee
Cons
Closed on Saturdays and Sundays
Customer Reviews
Best Electrical has the makings of the best Hamilton electricians as they deliver outstanding quality, on-time service, and helpful advice.
Diana and Iggy Wood shared this review of Best Electrical:
"Best Electrical is our go-to electrical company. We know we will always get a great result, as Ben has been uncompromising about safety standards from the word go. He undertook the electrical work for our ensuite renovation, giving us terrific advice about lighting for a tricky spot. We appreciated his efforts to see that we had a solution that was aesthetically pleasing as well right for the job. He has saved us money with his installation of low energy light bulbs throughout the house. He has put in numerous extra conveniently-placed power points for us and he has installed well-positioned outdoor and security lighting. Best Electrical is completely reliable. The electricians turn up when they say they will, quickly and quietly get on with the job, and leave the place spotless when they go. We wouldn't use any other electricians."
Also, Inde C, the General Manager of the Relax Training Institute of New Zealand, left this review:
"We have been clients of Best Electrical for a number of years through our various business and personal entities. The types of jobs that have been completed have varied in size with work being completed for a Training Institute, Houses and Apartments to a Commercial Building. Through our experiences, we have received a consistent standard in service and quality delivery. Due to this we wouldn't hesitate to refer others to Best Electrical."
4) Endurance Electrical
BEST FOR
SmartVent home ventilation
SERVICES
Commercial electrical work Residential electrical work Home ventilation system Heat pump installation
ADDRESS
New Zealand
CONTACT DETAILS

[email protected]

OFFICE HOURS
Monday to Friday: 8.00 AM – 5.00 PM
Saturday – Sunday: closed
PRICES
Kindly get a quote from them
Formed in 2016, Endurance Electrical takes pride in bringing friendly, caring, and professional service.
They provide a range of electrical services for businesses and homes including fit-outs, repairs and maintenance, heat pump installation, and home ventilation systems.
Their SmartVent products draw in clean and fresh air from your roof or outside of your home. They prevent the damp and mould from growing in the comfort of your home.
The result will be a healthier air, home, and family. Compared to other companies, their SmartVent systems have a more affordable price too.
Pros
Specialises in SmartVent ventilation installs
Accepts credit card payments
Cons
Customer Reviews
Daniel, the owner of Endurance Electrical, has received praise from a lot of customers for his friendly, prompt, and efficient work.
Here's Tracy's comment on Endurance Electrical:
"We recently renovated our kitchen & Dan from Endurance Electrical was fantastic to deal with. Service & response time was great. They worked to our schedule and around other trades that were also onsite. Nothing was a problem, would totally recommend and will definitely use again when needing a sparkle."
What's more, Gary shared his experience with the SmartVent system:
"Endurance Electrical installed our Smartvent system and we have noticed a big difference – has virtually eliminated any moisture build up on the windows. Air feels more dry and comfortable. When using the heat pump the house warms up quite quickly now?Very impressed with the system ? Thanks Endurance Electrical!!"
5) Enlighten Electrical Ltd
BEST FOR
New-housing electricals
SERVICES
Repair Renovate Install HVAC Audio/Visual Data & Networking
ADDRESS
1158 Heaphy Terrace, Fairfield, Hamilton 3214, New Zealand
CONTACT DETAILS
0800 654 448


[email protected]

OFFICE HOURS
Monday – Friday: 7.00 AM – 5.00 PM
Saturday – Sunday: closed
PRICES
Kindly get a quote from them
With qualified and SiteSafe-accredited electricians, Enlighten Electrical has the skill and experience to carry out your electrical task safely and to a very high standard.
Lance and the team can work for you whether you're adding new switches, installing AV equipment, or cabling for optimum TV signals and ultra-fast fibre internet.
According to clients, Lance always arrives at the scene on time and goes on to work immediately, while giving advice as to the best electrical solution for your property.
Is the warm or cold weather bothering you? They can also install a quality heat pump and air conditioning for you sourced from legitimate suppliers.
You can contact the team by phone or email from Monday to Friday from 7.00 AM to 5.00 PM.
Pros
Wide range of expertise
Uses top-quality products
SiteSafe accredited
Cons
Customer Reviews
Enlighten Electrical has received an average rating of 5 stars on Google from their highly-satisfied clients.
Here's feedback from a client named Haren on the website:
"We found Lance to be nice and friendly, and was helpful with suggestions of what would work best for the job. We found his work to be efficient, clean and to a good standard. Will won't hesitate to use Enlighten Electrical for any further electrical work we require in future."
Also, another client named Jonathan posted this comment:
"Lance has completed a number of jobs for us. They have ranged from a simple plug installation right through to rewiring of our rental properties. He is very thorough and we have complete confidence that the job has been done right, done once. He is very professional and enthusiastic and I cannot rate him highly enough. Good Job. Jono."
6) Super Cheap Electrical
BEST FOR
Affordable Prices
SERVICES
Renovations, Heating and Ventilation, Installation, Circuit Breaker Panel Repair, Maintenance, Electrical Testing
ADDRESS
46 Ellicott Rd Hamilton, 3200 New Zealand
CONTACT DETAILS
[email protected]
0272695162
OFFICE HOURS
24/7
PRICES
Enquire for more information
Super Cheap Electrical, as you can see from their name, offers electrical services for affordable prices. They are capable of handling various tasks that are in need of electrical work.
They have experience working with builds new and old. Otherwise, they also have experience with commercial work, industrial projects, heating and cooling systems, and more.
Their prices may be cheap, but the quality of their service is anything but. If you're in needed of their services, you can count on them to be available during all hours of the day.
Pros
Provides quality produces and services
Incredibly low prices
No fuss support and warranty service
No call out fee
Cons
7) Connect Electrical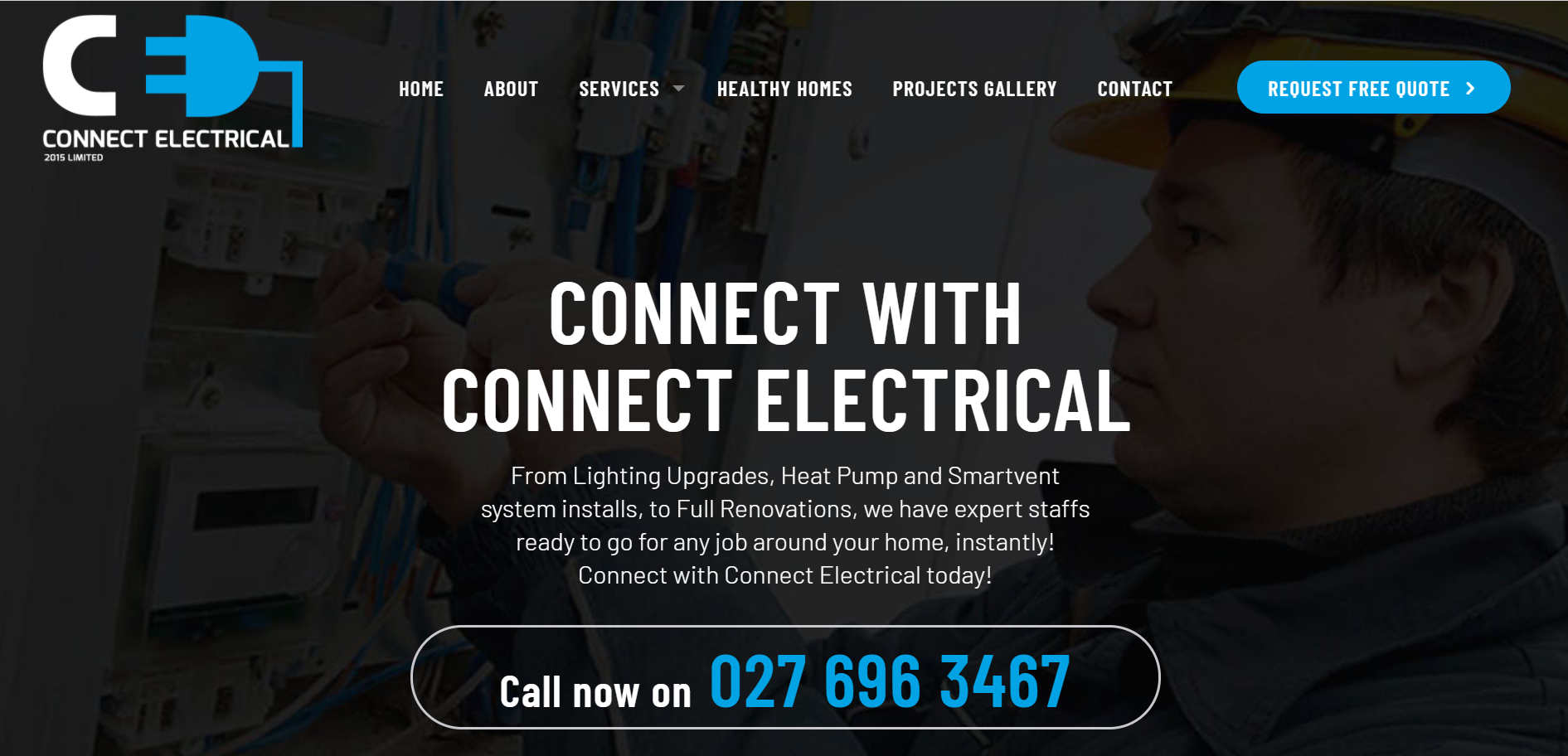 | | |
| --- | --- |
| BEST FOR | Residential, new homes, maintenance, renovations and commercial requirements |
| SERVICES | New Builds, Rewiring, LED lighting, Renovations, Security lighting, Emergency electrical, Swimming pool, Heat Pumps, Ventilation, Refurbishments, Schools, Offices, Houses |
| ADDRESS | Hamilton, Cambridge, Te Awam |
| CONTACT DETAILS | 027 696 3467 | [email protected] |
| OFFICE HOURS | Monday – Friday, 7:30 AM to 5:00 PM |
| PRICES | Contact for more details |
Whether it's lighting upgrades, heat pump or even full renovations, Connect Electrical can help you will all your electrical needs. Connect Electrical specializes in specialise in residential, new homes, maintenance, renovations and commercial requirements.
Their expertise? New builds, security lighting, refurbishments, electrical safety, renovations, extensions, emergency electrical and many more! To top it off, they are also experts in the installation of the SmartVent ventilation systems and LED light retrofitting.
Their humble team of experts pride themselves on going the extra mile for their customers to provide the best solution for any needs. If you are looking for reliable, honest and friendly service at a competitive price look no further than Connect Electrical.
Pros
Provides quality produces and services
Member of Master Electricians
Great communication and customer service
Years of experience and ideas
Cons
Only services areas in Waikato region
Customer Reviews
Previous clients left their review on google:
"From my first email query, I had fast efficient communication with Daniel & team. Communication was professional & timely and I felt that I was listened to when I was asking about the ventilation system installation. James & Liam arrived on time & installation completed within suggested timeframe. I have already recommended them to friend & family members."
"Daniel and the team are great to deal with. Emails are responded to quickly and communication is great. We've had multiple lights and power points installed in a house with a monopitch roof which makes it challenging but nothing is too much of a hassle for them. They'll even make helpful suggestions in terms of placement which is great. It can sometimes be hard to find good tradespeople but these guys are our go to people when we need anything done electrically. Highly recommended."
8) Controlled Electrical | Heat Pumps
BEST FOR
Heat Pumps Services
SERVICES
Heat Pump & Air Conditioning Installation, Heat Pump & Air Conditioning Services, Ducted System Installation, Electrical Services, Compliance with the Healthy Homes Standards
ADDRESS
12A Splitt Avenue, Glenview, Hamilton 3206, New Zealand
CONTACT DETAILS

[email protected]


027 610 9989
OFFICE HOURS
No office hours available
PRICES
Kindly get a quote from them
Controlled Electrical & Heat Pumps has been around since 2013 with home owners, business owners, property managers, builders, and developers as its clients. It has completed projects in different kinds of settings from large scale renovations to inner city apartment blocks, and small, medium, and large scale residential developments.
Its services range from heat pump & air conditioning installation, heat pump & air conditioning servicing, ducted heating and cooling, as well as electrical works in new homes, renovations, pools and spas, and the likes. Additionally, it also offers heating and ventilation that comply with the requirements of the Healthy Homes Standards.
Controlled Electrical supplies New Zealand's largest heat pump brands such as Mitsubishi, Electric, Daikin, Fujitsu, Haier, Toshiba, and Carrier. They provide quality and value heat pumps with a minimum of a 5-year warranty.
An experienced staff who are registered and qualified electricians with specialization in heat pumps is also promised by the company. This level of professionalism extends to the end-to-end service provided by Controlled Electrical & Heat Pumps where a seamless experience from the free consultation to after-sales care is guaranteed.
For pricing information, a free consultation and obligation-free quotation is available. Controlled Electrical & Heat Pumps also has three service locations in Hamilton, Te Awamutu, and Cambridge.
Licensed by the Electrical Workers Registration Board
Specializes on Heat Pumps
Minimum of a 5-year warranty on all heat pumps
Compliance with the Healthy Homes Standards
Efficient, reliable, and cost-effective
Friendly and knowledgeable staff
No office hours available on their website
Customer Reviews
Controlled Electrical & Heat Pumps have received an all 5-star rating from its customer reviews on its website.
Here is Brendon Lean's review as the representative of Cantec Services:
"Fraser from Controlled Electrical has undertaken work for Cantec Services Hamilton Ltd and our Tauranga branch. We would highly recommend their services. They have installed air conditioning and completed the necessary electrical works. We found them reliable, cost effective and always willing to help. Awesome service answered all questions and made sure that everything was working optimally on completion. I have highly recommended their services to others and will continue to recommend them."
Similarly, Lance Vervoort is also satisfied by the services of the company as seen in his review that says:
"Great service – heat pump installed in a very efficient, timely manner at a reasonable cost. A thoroughly professional job, completed by friendly staff who communicated well, which we are very pleased with."
FAQS about the Top Hamilton Electricians
How do I find a good electrician?
A good electrician must have a professional licence and insurance, is polite, prompt, respectful, recommended by others, and most of all, give value for money.
---
And there you have it for the best Hamilton electricians. You now know who to call when you need first-class electrical services for new builds or renovations.
Have any questions or thoughts about our picks? If you have one, kindly send us a message, and we'll get back to you as soon as possible.
Aside from that, you might want to read about the best plumbers in Hamilton. So in case of a leaky pipe or clogged shower drain, you'll know which plumber to get!