The 10 Best Headboards in New Zealand
A headboard can give your bed an aesthetic touch as well as let you sit up or snuggle with your partner comfortably. If you are looking to complete your bedroom decor, we can help you with this list of the best headboards in New Zealand.
It can be tiring for the back to sit up straight for hours reading a book or watching a movie. You'd like to be able to sit back at least so you can stay as comfortable as possible.
Luckily, there are tons of designs to choose from for bed backrests — upholstered, tufted, iron, metal, wooden, artsy, classic, shelf, luxe and more. What's important is you like how it adorns your bed and that it's easy to install, space-saving, and well-built.
But before we present the best headboards, we'll delve first into some of the features that matter when picking headboards. After that, picking from our product suggestions will be easier for you.
Features to Look for in Getting a Headboard
Here are 5 simple things you have to consider when buying a headboard:
1. Design That You Like
Each person has his/her own personal style and what works for one may not work for another. But if you're living with your partner, you should consider something both of you would like.
As we said, there are lots of designs you can choose from in the market. The most common ones are upholstered, tufted (with buttons), neo-classic, traditional, wooden, simple and subtle.
And aside from that, you can also choose from an array of colours available from different stores.
2. Easy to Install
When it's delivered to your house, it's a huge plus if the headboard is easy to install. Easy installation means that it should contain clear and updated instructions, have parts with spares (in case a screw is lost), and takes just a bit of your time.
3. Space-Saving
A headboard that consumes less space lets you have more room in your house. It shouldn't make a room feel stuffy!
There are also headboards that take up a large space. That's fine as long as you make sure it matches the style and the ambience of the place.
4. Well-Built
You won't like a flimsy headboard that can barely stand or stay in one place. And you also won't like a headboard that lacks padding (that makes it uncomfortable to lean on).
Instead, you should get a headboard that is sturdier in construction with metal or wooden legs. There are also kinds that are attached to a wall along with bedside tables.
And you also have to think about its texture — some textures are less prone to damage in a damp environment or aren't likely to tear off or come apart at the seams from being leaned-on.
5. Great in Value
You can usually get a good-looking headboard from NZ$90-200, whereas luxe models (depending on the size) typically range from NZ$200-400, and for true woods, the cost is significantly higher.
A useful thing to do would be to compare prices first, read customer reviews, and consider the other features we looked at here.
The Best Headboards in New Zealand
With all those factors in mind, get ready for the list of the best headboards in New Zealand! These are the ones we like best, but depending on your situation, some may be more suitable than others for you.
1. Nero Furniture Palermo Headboard
Easiest to Clean or Maintain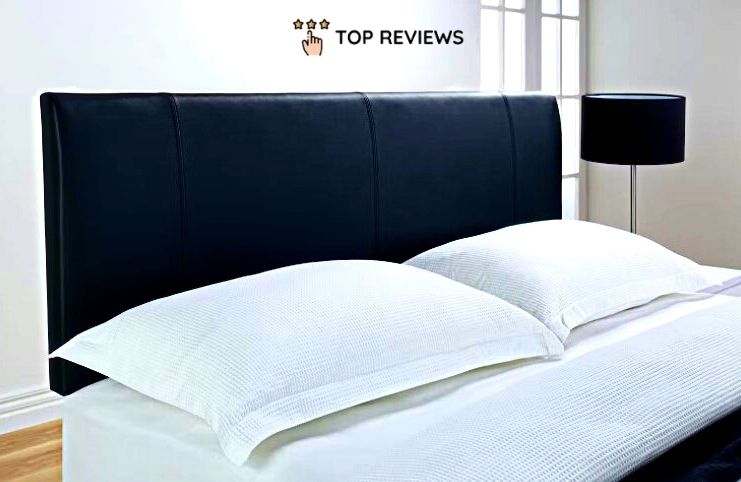 Price: NZ$269
A lot of people have come to appreciate functional and minimalistic fittings. Especially when it's a headboard that offers nice back support on its soft cushioned fabric.
Such is the Nero Furniture Palermo, which has two colours: black (pictured) or gray. It has lined stitches dividing it into sections, and the design gives it a subtle polish.
With a PVC fabric, you can rid it of stains, dust, dirt, and spills with a wet damp cloth in no time at all. In the first place, the dark colours keep it from looking dirty as compared to lighter colours.
It integrates into your bedroom neatly and perfectly. And a great value in price indeed — affordable for you.
Highlights
Soft and comfortable cushion
Provides back support
Easily integrates into your bedroom style
Affordable price
2. Sauder Orchard Hills Bookcase Headboard
Best Veneer Headboard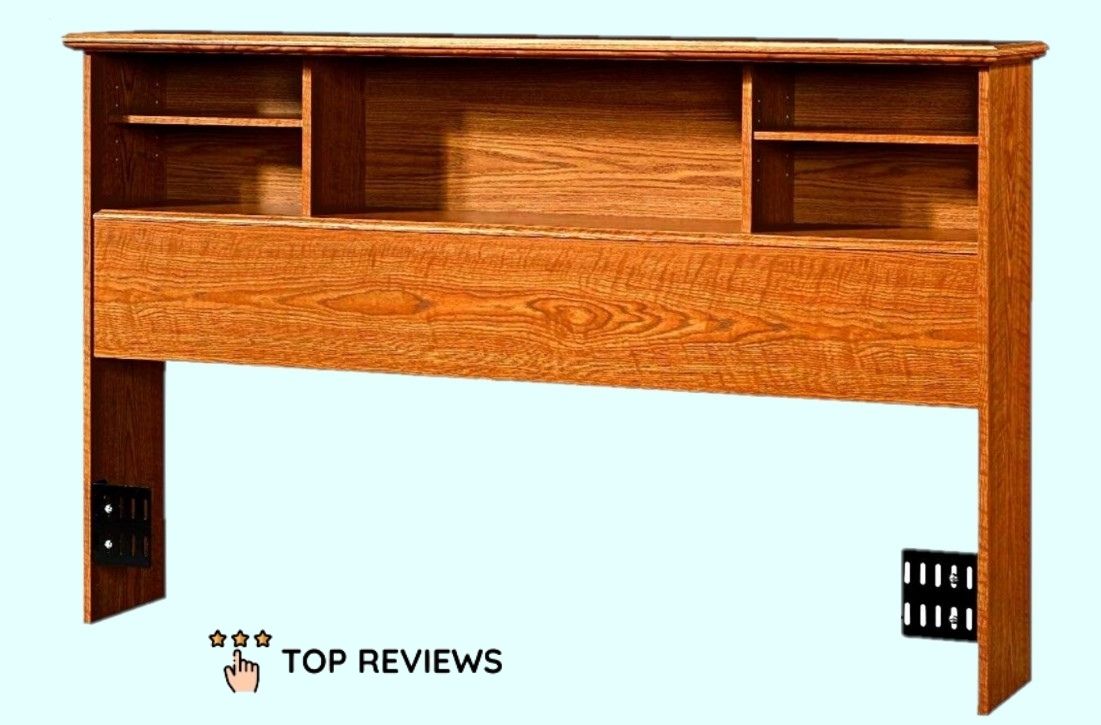 Price: NZ$185
If a plain headboard is not your style, how about a shelf headboard finished in classy Carolina oak? It attaches to your bed with screws for stability and it follows whenever you need to move your bed to clean it.
Class up your bedroom with the Carolina Oak finished shelf headboard. The wood veneer makes it look elegant and sophisticated with wood lines and patterns on its surface.
Space-wise, since it acts like your bedside table already, having a nightstand won't be required. You can put your personal things such as a camera, novels, and pictures with your special someone on the shelf or above.
Not only that, but it lets you organize your things with adjustable shelves and cord management from the back. That way, you can store your smartphone or tablets with no hassle.
Highlights
Elegant Carolina oak finish perfect for bedrooms or guest rooms
Adjustable panel height
Cord management
Attaches to your bed
Customer Reviews
Buyers have commented that it is easy to assemble, strong and sturdy, and has a good price. It received a high score of 4.3 out of 5 stars on Amazon.
Assembly takes a bit of work, but once you get the hang of it, you'll be satisfied, say many of the customers. Steven H wrote:
"For those of you who know their way around assembling knock down furniture, and even for those that do not, this is of decent quality and construction. Once completely built it is solid as a rock. It fits a queen perfectly, but will also work on a full because of the way the frame mounts are designed. If you are putting this on a full, there will be a few inch gap between the foot and the frame on both sides. The color is a medium dark oak."
3. Flash Furniture Cambridge Tufted Headboard
Best for Budget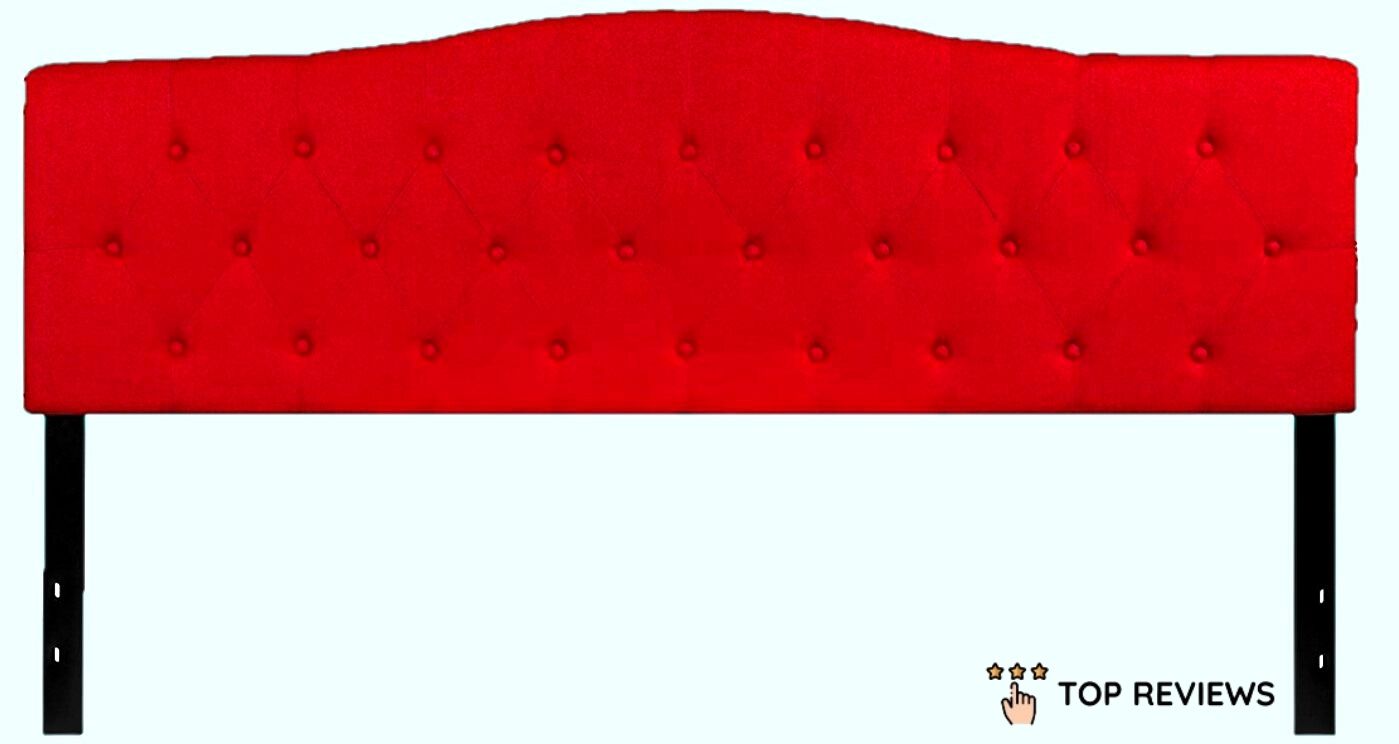 Price: NZ$108
Upholstered headboards give your room a comfortable feel whilst giving you a neat and ready look.
To be different from the typical square, this headboard has a soft round curve on the upper side going across and diamond stitching with buttons on every side of it. It goes well with almost any quilt cover and pillow fabric.
A selection of other colours are available like light gray, black, green, camel, brown, white, red, and orange, and more. Assembly is simple and it's easy to attach to the bed frame.
Highlights
Tufted headboard with diamond stitch patterns
Light and comfortable on the back
12 colours all in all to choose from
Goes well together with quilt, blanket, and pillowcase
Customer Reviews
80% of the reviewers or 691 people gave the Flash Furniture Cambridge Tufted a 5 star rating on Amazon. Its design and colour are praised, along with its being easy enough to assemble for twin, full, queen or king sizes.
Ashley shares what she thinks about this product:
"This headboard is beautiful! Such a nice light grey color. It was very easy to attach to our bed frame – my husband and I put it together in about 30 minutes. I would have given 5 stars, but there was a small, 1-inch imperfection — but it's so small it's likely no one will know it's there but me! Would definitely purchase again and shipping was quick."
4. Wendy Upholstered Headboard
Best Overall Headboard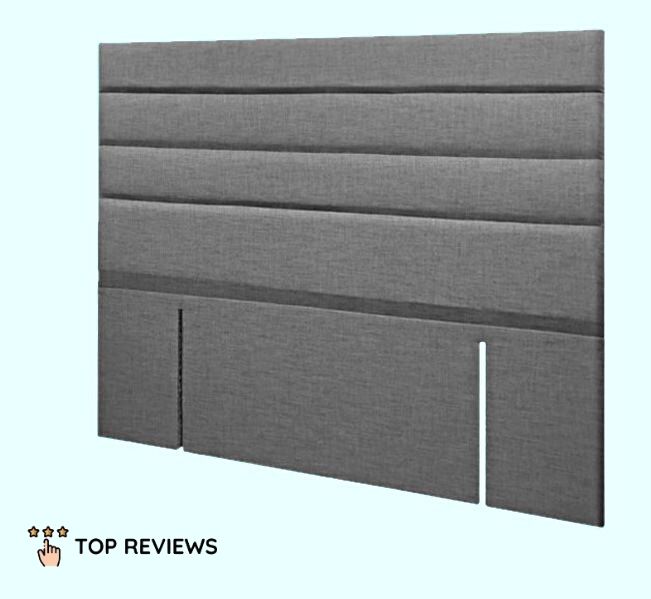 Price: NZ$265
Sleek, black, and modern, the Wendy Upholstered headboard complements your room with your table, things, bed covers, and decoration. It brings total comfort you can always lean on to when reflecting, thinking, or listening to music.
The basic frame is constructed out of wood and plywood, padded, and then covered with polyester. The cushioned layers provide a soft rest for your back, shoulders, and head.
What makes it easy to assemble? Wendy headboards have built-in struts so you can simply insert them into a divan bed base; they can also work with platform beds.
This headboard is available in black, slate, and grey and sizes of single, king, queen, and double to suit your room. This is another wonderful choice for your options among the best headboards in New Zealand.
Highlights
Uses a premium foam to cushion your body
Made of wood and a plywood frame
Ergonomic built-in struts
Various sizes and 3 colours available
5. Modway Serena Rustic Farmhouse Headboard
Coolest Headboard Design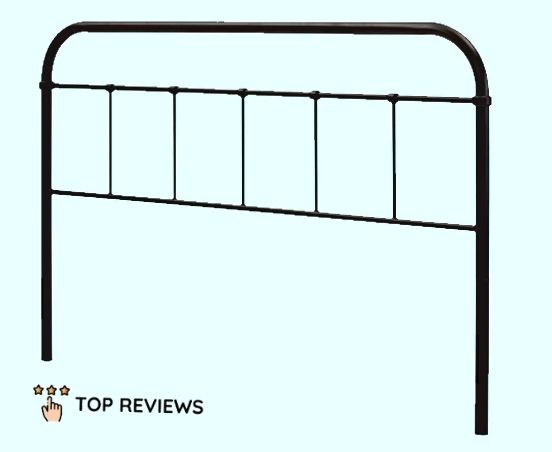 Price: NZ$132
We sometimes wish we're somewhere quieter when we're overwhelmed by urban hustle. This headboard takes you to the country cottage, to a bucolic retreat, to that scenic and peaceful place you'd like to relax in.
The Modway Farmhouse headboard is made of 100% powder-coated steel with safety caps on its feet so that it doesn't scratch or bore holes on your floor. It comes pre-built with struts for easy assembly.
With rounded beams and straight lines, its design belongs to the timeless. It never gets old and fits users of all ages.
You have pastel and neutral colours of brown, gray, light blue, pink and white to personalize it too.
Highlights
Rustic, farm- or cottage-type headboard
Constructed out of steel and metal
Powder-coated to resist rust and stains
Timeless design
Pastel and neutral colours are available
Customer Reviews
Clients are very happy with the farmhouse design. Of course, it's the main attraction for this product.
Owners have also noted how easy it is to put up. With the right hardware, no trouble goes into the assembly, unlike with other headboards.
Keylimepie gladly shares:
"I'm very happy with this headboard. I love the look and for the price, it's fantastic! I knew I would have to modify it as it was not going to be tall enough for my super thick mattress and adjustable base foundation. I also did not want it mounted to the bed. So my husband quickly made an elevated block to put under each post. It's perfect!!!"
6. 24KF Middle Century Headboard
Most Likable Design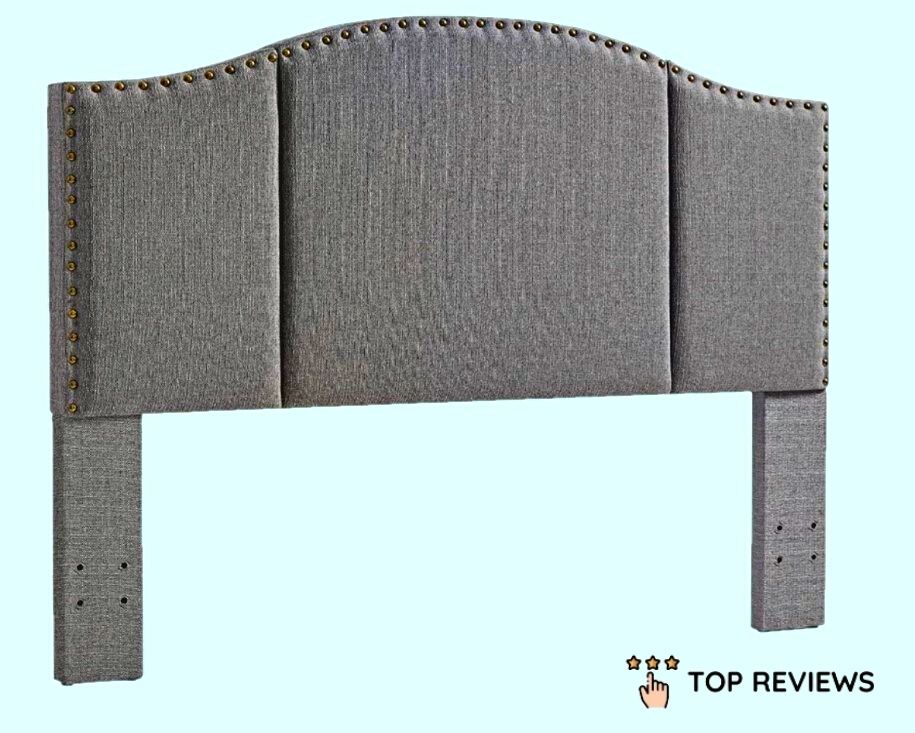 Price: NZ$283
Trimmed with copper nail buttons, it looks like it was inspired by a 70's club mirror with light bulbs around it. The navy blue adds a dark, glamorous, and unique vibe to your room.
The main frame is made of solid wood and the fabric that's used is linen. This is great for sitting up to read and binge-watch new seasons of TV series.
It's well-built and durable (won't wobble or fall over or anything like that). It's also made with quality in mind using strong wood and link materials.
Getting it ready and mounting it to your bed is simple enough with instructions. And there are 3 colours (dark gray, ivory, and navy blue), so it's up to you to select what you like the most.
Highlights
Glamorous design with silver copper nails
Quality wood frame
Linen fabric for smooth and comfortable headboard
3 colours: dark gray, ivory and navy blue
Customer Reviews
As the Amazon reviews have pointed out, it's super-easy to assemble even for girls and not having someone there to help them.
Many have been impressed by how beautiful it looks, especially the perfection of the colour, and by the fact that it's very sturdy and comfortable to use.
Reyna couldn't contain her happiness and excitement and said:
"We received this bed frame a few days ago and couldn't wait to set it up. As soon as my husband opened the box I fell in love with it! The color is absolutely perfect and all is the studs are perfectly placed! It was so easy to set up. The frame itself is padded and sturdy. The legs are very well made and sturdy as well. I totally recommend this frame. Amazing quality for the price. It arrived the day after I ordered and the box was perfectly fine. I am SO excited and happy that I made this purchase for our California king bed."
7. Safavieh Nadine Coastal Headboard
Best Innovative and Eco Design Headboard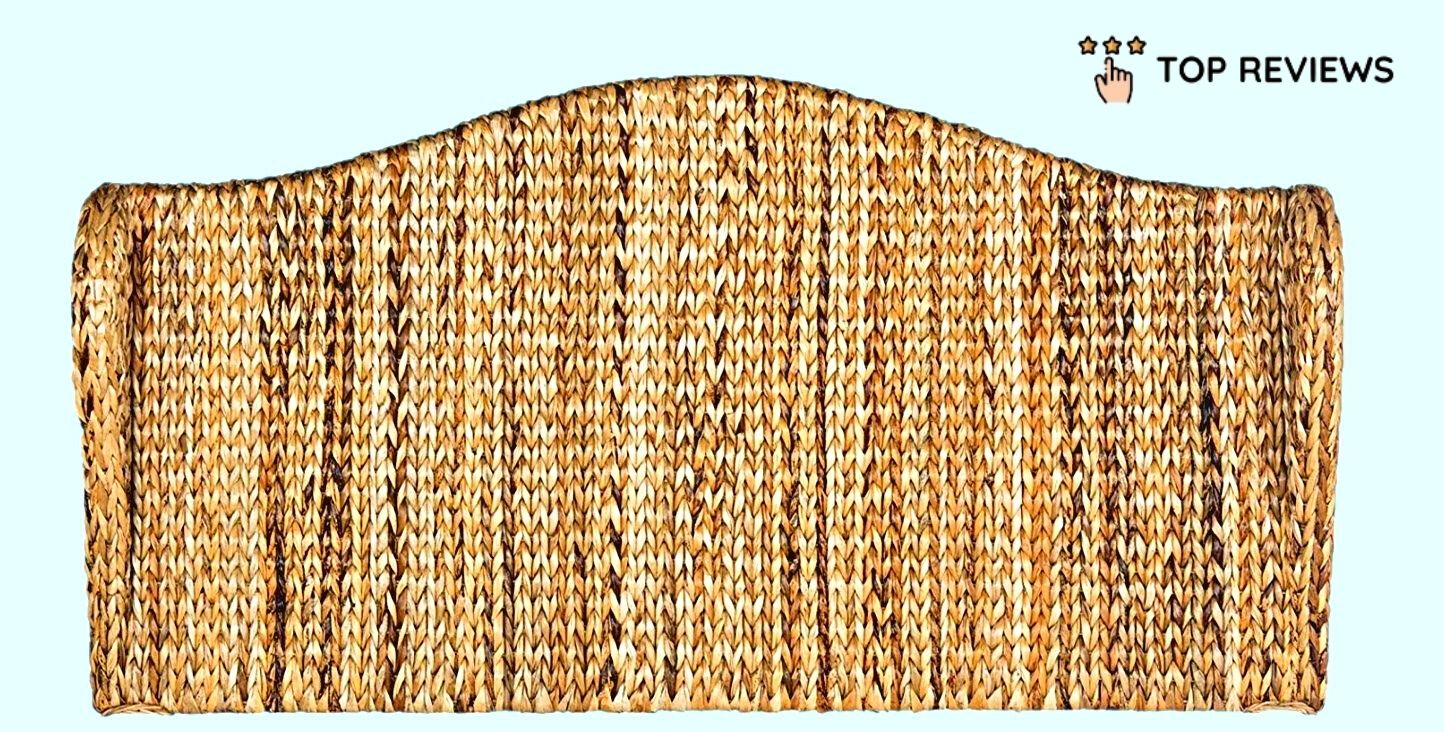 Price: NZ$468
Want a more natural look in your bedroom? Check out Safavieh's unique banana leaf woven headboard. It imbues your room with a sense of natural flair.
Wave-like curves and side wings complete its design. Pick from brown or natural (light brown) tones that match with the character of your bedroom.
Though it feels firm on the back, it is remediable by simply placing a pillow behind you. Banana fibres provide this headboard a high level of durability, just like bamboo fibres do.
Hence, for a high-quality, organic and creative addition to your house, the Safavieh Nadine Coastal headboard is one of your best headboards in New Zealand.
Highlights
Woven from banana leaf fibres
Highly resilient and durable
New, natural look to your home
Available in brown or light brown colours
Customer Reviews
The banana leaf headboard was met with critical approval and satisfaction on Amazon. One mentioned that he liked its "coastal design" and a lot of customers also praised its sturdy construction.
Robin comments about this product:
"Very handsome headboard & well made & very well priced. Was worried about our cat using it as her scratching post, but so far so good. My daughter was worried about the forward facing wings, but they are small and do not block her access to the nightstand whatsoever. A+++"
8. Ameriwood Home Crescent Point Headboard
Best for Modern Home Decor

Price: NZ$156
Perfect for the modern home, this Ameriwood headboard is a simple product of MDF (medium-density fibreboard) and particleboard material. It completes your bed and assimilates into your bedroom nicely.
It takes two people to assemble it to get it done in a shorter time. With just a few lines and shapes, it offers a clean and contemporary look.
The dark espresso colour easily balances with any bright colour in your paintings, bed, or pillow covers. You can even let it support your back by propping a pillow against it as you lean in.
And as it occupies only a small area of space, it lets you move freely around it such as to write on your journal while seated sideways… or get on or off the bed without frustration!
Highlights
Crafted from MDF and particleboard
Simple yet eye-pleasing design
Dark espresso colour complements your decor
Saves your space
9. Milford Padded Duvet Foot Bed
Best for Elegant Comfort

Price: For enquiry
When you're in your own house, it can't be helped that sometimes, you'd want to have attractive furniture– but at the same time, you want it to be functional. There are a lot of items like that out there, but most of the time, they're costly.
Thanks to Sorenmobler, you can have furniture with European & Scandinavian influences combined in your own home. The Milford Padded Duvet Foot Bed is something that can serve as the centerpiece of your bedroom, thanks to its wide, comfortable looking headboard. If you purchase this item, you're sure to live in the lap of luxury and comfort when it comes to your bed.
All timber used in their furniture is made from Solid Timber, so you can be confident of its durability and strength. In addition, the furniture is made right here in New Zealand, and comes with a 10 year warranty. Quality products are all you will get from Sorenmobler, so check out their furniture now.
Highlights
Superior Designs
Sustainable Timber
Expert Craftmanship
10. Winchester Headboard
Best for Luxurious Elegance

Price: $899 NZD
Add a touch of elegance to your bedroom by purchasing the Winchester headboard. Featured in an array of beautiful neutral tones, it is designated to compliment both modern and contemporary interiors.
Winchester is a full floor-standing headboard, made with solid timber and luxurious fabric from Warwick. It sports a sleek, stylish appearance, with its button-tufted surface and wingback design.
The Winchester Headboard is guaranteed to give you a "fit-for-royalty" nighttime experience. Get yours today for a very reasonable price!
Highlights
Fast delivery
Crystal Design
Contemporary type of headboard
Made with solid timber and fabric
And with that, we're done with the best headboards in New Zealand.
All of these are great headboards, so we wouldn't hesitate to recommend them. But remember that before buying anything online, you have to know your bed measurements first in order to make sure you are buying the right product!
Do you have any questions about our discussion today? If you do, let us know by writing them in the comment section below.
By the way, if you happen to also want a new, comfortable mattress, we have you covered with the best mattresses in New Zealand!
On the other hand, if you need a bed that can also double as a sofa for your living room, read our list of the best sofa beds in New Zealand.