By Isla Thompson
Expensive medical bills can cost you your life's savings. Fortunately, with health insurance, you won't be stuck in a quagmire if you ever become sick.
With it, you'll not only have access to the best doctors and treatments, but some health insurance also lets you avoid long queues.
There are heaps of insurance products out there. To add to the problem, choosing health insurance can be complicated given the different rates and levels of cover.
To make the task easier, we'll help you find the right health policy. After that, we'll show you the best health insurance in NZ you can get!
How to Choose a Health Insurance
First, you need to assess your health and take note of any pre-existing medical conditions you have. You can also look to your family history and think about which diseases you may be prone to acquiring.
A healthy person will certainly get a lower premium than someone with pre-existing conditions. Don't forget to get quotes from multiple insurers to find the best price.
Below are the important things to consider when applying for a health insurance:
1. Types of Health Insurance
There are three types of health insurance you can get. These are:
Minor health insurance
Minor health insurance plan covers only the small, day-to-day medical treatments and costs, such as consulting with your general practitioner, physiotherapist, or dentist.
This plan doesn't cover major surgeries and treatment costs.
Major health insurance
Opting for the major medical cover will answer for the more significant surgeries and treatment costs, as well as specialist visits.
This the most popular option of the three types of health insurance. From diagnosis to recovery, you can get treated for cancer, heart attack, amnesia, injuries, and others.
Comprehensive health insurance
The comprehensive option covers all that the minor and major medical plans do. Of course, this is the most expensive of the three and will cover their expenses.
2. Policy Benefits
Here are some of the most useful benefits you should look for when choosing health insurance:
Cancer Care
This benefit insures you against all cancer-related expenses with the inclusion of Pharmac and non-Pharmac funded chemotherapy drugs.
Surgical Treatment
This covers both minor and major surgery costs to treat a particular illness, condition, or injury.
Non-Surgical Treatment
On the other hand, non-surgical benefits include allergy treatments, IV infusions, psychiatric confinement, counselling, consultations, and so on.
Diagnostic Testing
This provides cover for diagnostic testing and health screening like mammograms, biopsies, and more.
Pre-Existing Conditions
This one protects you from the possible discomfort or sickness that could ensue given your pre-existing conditions.
Overseas Treatment
With an overseas treatment benefit,the policy covers you while you're being treated in a foreign country.
3. Excess Option
A key factor in getting the right medical cover is the excess. An excess can be defined as the amount you pay every time you make a claim to your insurer.
For health insurance, you can choose from different excess choices. Most health insurance providers offer an excess of $250.
The higher the excess amount you opt for, the lower the premiums for health insurance you will have to pay.
Be aware that the excess can be paid either each year or on each claim.
4. Terms and Conditions
Like for any insurance, understanding the T&Cs allows you to know the features, exclusions, and conditions of the insurance product.
It's very helpful to let an insurance adviser explain the benefits and terms to you. By doing so, it'll help you make the most of your health insurance policy.
5. Rewards and discounts
Rewards and discounts give you extra value for your insurance.
You can find great perks for health insurance. Southern Cross offers healthy lifestyle, low claim, direct debit, and free child discounts.
With AIA, you can even earn Airpoints on the premiums you pay.
Also, since conditions apply, you have to read them carefully so that you won't miss anything necessary to fulfil them.
The Best Health Insurance in NZ
You now know how to pick from our top selections of health insurance in NZ. Let's proceed to our list!
1) AIA Health Insurance

Best for
AA- Credit rating
Products
Private Health, Private Health Plus
Benefits
Built-In Benefits Unlimited surgery claims Cancer cover Medical hospitalisation and testing Overseas treatment Other support benefits Enhancement passback Specialist and tests (Private Health Plus only) Reproductive health (Private Health Plus only) Health screening (Private Health Plus only)
Optional Benefits Premium waiver
Address
AIA House, 74 Taharoto Road, Takapuna, Auckland 0622, New Zealand
Contact Details
0800 500 108

[email protected]

Office Hours
Monday – Friday: 8:00 AM – 6:00 PM
AIA Health Insurance provides extensive cover of various illnesses and conditions whilst giving you the option of where, when, and who will treat you.
You get unlimited claim amounts relating to any kind of surgery, up to $500,000 for cancer cover, and the ability to get treatment overseas such as in Australia, for one.
The Private Health option already works for most people. However, it doesn't cover reproductive health and specialised testing and screening for different body parts.
In this case, you may want to upgrade to their Private Health Plus policy for an added premium.
If you have any queries regarding the T&Cs, their insurance advisers can walk you through them. You can simply request a callback from them on their website.
Very strong credit rating (AA- as rated by Standard & Poor's)
Earns Airpoints
Simple application process
Free insurance advice
2) Southern Cross Health Insurance

| | |
| --- | --- |
| Best for | Tailored health insurance plans |
| Products | Basics: HealthEssentials Shared Cover: KiwiCare, RegularCare Starter: Wellbeing Starter Broad: Wellbeing One Comprehensive: Wellbeing Two Premium: UltraCare |
| Benefits | Cancer care Surgical treatment Diagnostic imaging & tests Consultations Day-to-day (dental, GP, etc.) Recovery & support Obstetrics Non-surgical treatment Surgical allowances Pre-existing conditions |
| Address | Level 1, Te Kupenga, 155 Fanshawe Street, Auckland 1010, New Zealand |
| Contact Details | General enquiries: 0800 800 181 New member: 0800 100 777 |
| Office Hours | Monday – Thursday: 8.00 AM – 5.30 PM Friday: 9.00 AM – 5.00 PM Saturday & Sunday: closed |
Southern Cross has more than 870,000 insured members to date. It offers a diverse range of health insurance products designed for individuals, couples, and families.
Each insurance plan features different levels of cover to match your requirements, as well as excess choices of $500 to $4,000 and monthly or fortnightly payments.
The policies are also appealing to buyers as they have rewards and discounts you can avail of. For example, they offer family or partner insurance discounts.
Another of the best health insurance in NZ, the Southern Cross Premium UltraCare plan covers some pre-existing conditions to your favour.
Online policy management
Special rewards and discounts
Has a My Southern Cross app
3) Nib Health Insurance

Best for
Value
Products
Everyday, Hospital, and Combined Covers
Benefits
Cancer Surgery Diagnostics Obstetrics Home nursing Dental Glasses & contacts GP visits & prescriptions Physiotherapy / Chiropractic / Osteopathy Remedial massage Acupuncture Vaccination
Address
48 Shortland Street, Auckland CBD, Auckland 1010, New Zealand
Contact Details
0800 123 642

[email protected]

Office Hours
Monday to Friday: 8.00 AM – 7.00 PM
Saturday: 9.00 AM – 1.00 PM Sunday: closed
Formed in 1952, Nib is a preferred health insurer. With their health insurance plans, you get fast access to cancer treatments, surgeries, diagnostic tests, and consultations.
They have three simple options available: Everyday, Hospital, and Combined covers. For each one, you can pick a more tailored standard or premium option.
The everyday plan covers you for GP, chiropractor, and physiotherapist visits, as well as optometrist costs for your spectacles or contact lenses.
You can take it up a notch with the Hospital Cover, which includes cancer care to ambulance transfers.
If you want complete coverage, Nib has a combined cover too, which as the name suggests, features the benefits of both everyday and hospital plans.
We advise that you pick a larger excess if you can, as you'll be able to get a considerable less on your premiums.
Pre-existing conditions will be covered after 3 years from the policy's start date, with the exception for cancer, heart conditions, transplant surgery, and cosmetic surgery.
Affordable premiums
14-day free look period
Rewards and discounts available
Has a Nib app
4) Partners Life Health Insurance

Best for
Benefits
Products
Private Medical Cover
Benefits
Surgical treatment Non-surgical hospital treatment Serious illness treatment Non-subsidised drug treatment Hospitalisation costs Major diagnostic costs
Address
Level 1, 33 – 45 Hurstmere Road, Takapuna, Auckland 0622, New Zealand
Contact Details
Phone: +64 800 145 433 Overseas: +64 995 15020

[email protected]

Office Hours
Monday – Friday: 8.30 AM – 5.00 PM Saturday & Sunday: closed
If you're looking for health insurance with a vast range of benefits, the Private Medical Cover of Partners Life might be for you.
From small beginnings, they've worked their way to becoming one of the current leaders in the life and health insurance industry in NZ. Their aim is to provide you more options than the public health sector can give you.
Apart from the usual medical benefits, they also have overseas treatment, death, emergency transfer, house care assistance, public hospital benefits, and more.
And if you've stuck with Partners Life through the years, you can get a premium loyalty discount from them, as well as a sterilisation benefit.
Good credit rating (rated B++ by AM Best)
Loyalty discounts
Free consultation
5) Accuro Health Insurance

Best for
Fast applications
Products
SmartCare SmartCare+ SmartStay KidSmart StaffCare+ StaffCare
Benefits
Hospital and Surgical Base Plan General surgery Private hospital medical admission Non-Pharmac subsidised drugs Best doctors
Optional Plans Specialist plan Dental and optical plan GP plan Natural health plan
Address
Level 3, 17 Whitmore Street, Wellington 6011, New Zealand
Contact Details
Phone: 0800 ACCURO (0800 222 876) Overseas: +64 4 473 6185 Fax: 04 473 6187

[email protected]

[email protected]

Office Hours
Monday – Friday: 8.30 AM – 5.00 PM Saturday & Sunday: closed Public holidays: closed
Accuro may not be as great as other insurers here, but it punches above its weight to deserve to be in the best health insurance in NZ list. The policy gives the insurer access to the best doctors and treatments around.
You can start out with their basic Hospital and Surgical Plan, and then add a specialist, GP, dental and optical, or natural health plan.
Also covered by the basic plan are non-Pharmac chemotherapy drugs, along with private hospital admission and major surgical procedures.
As they have a free look period of 14 days, you won't have to commit to the policy if you change your mind. Their customisable products apply to individuals, staff, families, and kids.
Plus, you can now apply for their policy online in just minutes. As soon as your policy is approved, you get covered—yep, it's that fast!
Fast application process
Free virtual healthcare
14-day free look period
Limited cover and benefits
6) NZ Insurance Services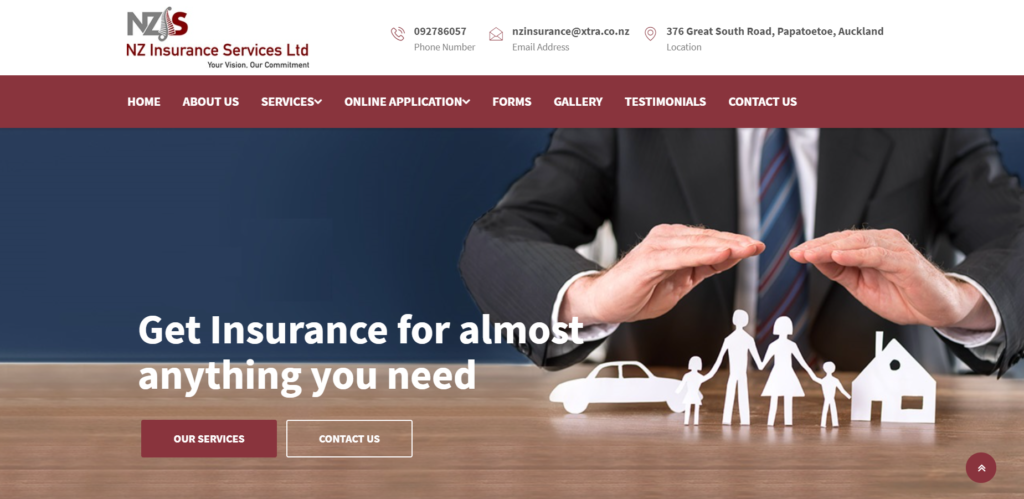 Best for
Insurance for All Your Needs
Products
Life Insurance
Personal Insurance
Business Insurance
Benefits
Enquire for more information
Address
376 Great South Road,
Papatoetoe, Auckland
Contact Details
Call Us: 092786057
Mail Us: [email protected]
Office Hours
Monday – Friday: 9 AM – 5 PM
Closed on Saturday & Sunday
NZ Insurance Services is one of the leading insurance intermediaries in Auckland. They're regarded as Financial Advice Provider (FAP) by the Financial Markets Authority.
They have many years of experience in the insurance industry under their belt. Their team of advisors is more than qualified when it comes to what they do.
They're partnered with some of the leading insurers in the area. You can rest assured that any insurance you apply for will be available for the best possible price.
Many years of experience
Experience in all facets of the insurance industry
In-depth knowledge of the insurance market
Free service disagreement settling
Limited coverage and benefits
FAQS about the Best Health Insurance in NZ
---
And that's all for the top health insurance in New Zealand. By getting insured, you can leave the medical expenses to your provider as you focus on being healthy.
Has everything about our picks been clear thus far? If you have any questions, kindly drop us a line, and we'll get right back to you.
Worried about your family's future? You can also get one of the best life insurance in NZ, which pairs nicely with your health insurance.