The 8 Best Heat Pumps Christchurch Specialists
It's the start of winter in New Zealand, and you might need a heat pump to keep you warm, dry and comfortable. That's why here, we've come up with a list of the best heat pumps Christchurch specialists.
We based our selections on adept and qualified technicians you can trust to install your heat pump. In addition, we picked the ones with fantastic customer reviews to ensure you get an impressive service from them.
Without any further ado, we now bring you the best heat pumps Christchurch specialists!
1)  Heat Force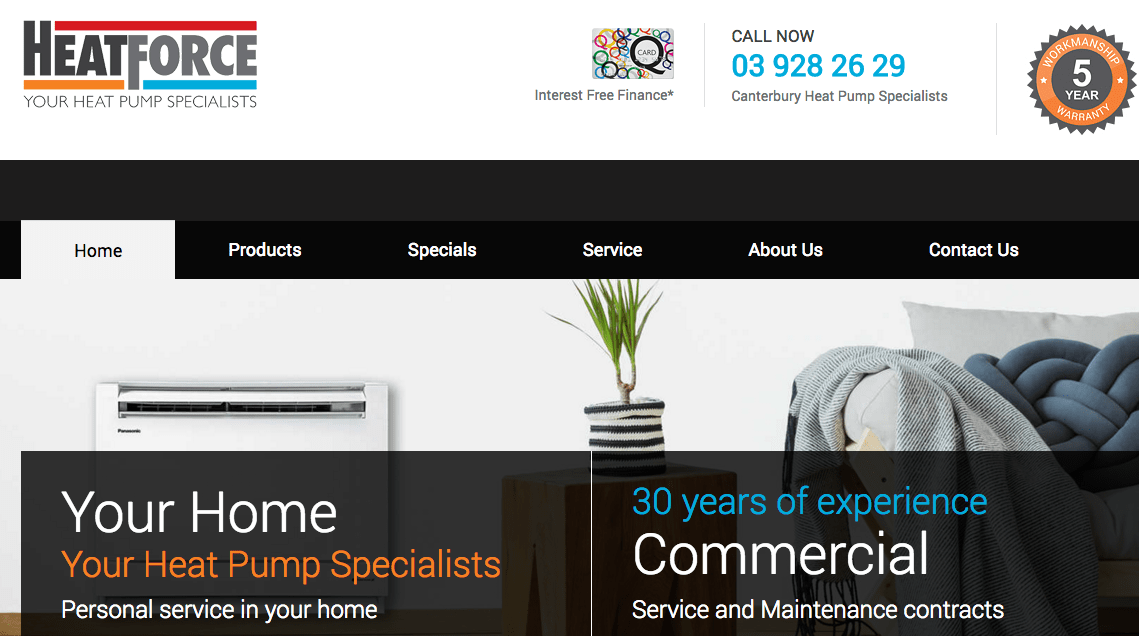 | | |
| --- | --- |
| Best for | Offers a Broad Range of Proven Brands for Heat Pumps |
| Services | Heat Pumps Service, Maintenance and Repair |
| Address | Christchurch, New Zealand |
| Contact no | 03 928 26 29 |
| Website | https://www.heatforce.co.nz/ |
Having 30 years of industry experience, Heat Force is a go-to heat pump retailer and installation specialist for homes and businesses in the Canterbury Region.
They offer most of the leading brands for your heat pump in the likes of Daikin, Fujitsu, Hitachi, Panasonic and Mitsubishi Electric at competitive rates!
But if you're not certain yet about which heat pump to use, you can arrange for an on-site consultation where the expert technical team will answer your questions and give you advice.
On top of that, you get a 5-year workmanship warranty for installations, repairs and maintenance. So if you're looking for the best heat pumps Christchurch specialists, you have one with Heat Force!
Highlights
Authorised agents of prominent brands
30 years of professional experience
Expert, dedicated heat pump specialists
Provides a 5-year workmanship warranty
Great prices and lots of special deals
Customer Reviews
Here's Debbie whose review is posted on the testimonials section of Heat Force's website:
"The heat pump looks amazing very happy with install. Perfectly centred in my eyes! The ceiling and wall are not quite straight anymore thanks to earthquakes but the installer made it look straight and that's all that mattered. Please pass on my sincere thanks. Will highly recommend Heat Force to anyone in the market for the best price and service."
2)  The Heat Pump People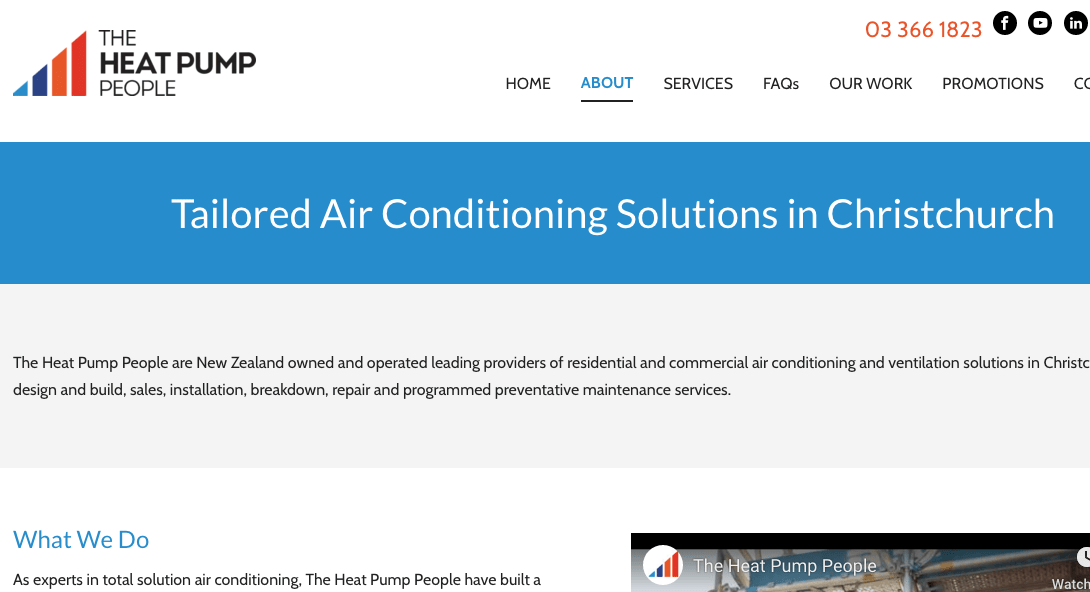 | | |
| --- | --- |
| Best for | Passionate and Well-Versed Technicians |
| Services | Residential and Commercial Heat Pumps, Service and Maintenance and Installation |
| Address | 53A Montreal Street, Sydenham, Christchurch 8023, New Zealand |
| Contact no | 03 366 1823 |
| Website | https://www.theheatpumppeople.co.nz/ |
Another company that fits the bill among the best heat pumps Christchurch specialists is The Heat Pump People. They offer reliable quality solutions through a wide selection of products from respected brands.
Their investment is in their people who work with passion and expertise, as well as adapt to the latest innovation to offer to you. As such, they can deftly assist you from design to installation.
Heat pump brands they offer include Fujitsu, Daikin, LG, Mitsubishi Electric, Toshiba and Panasonic. Here, you will get a phenomenal service that is second to none.
Highlights
Well-versed and passionate team
Offers prominent heat pump brands
Versatile range of products
Phenomenal service and installation
Customer Reviews
Victoria L. said on Google Business:
"The HeatPump People were very accomodating with organising a quote time as well a making sure the job was completed on time. The installers provided me with some very sound advice which I appreciated."
3)  Heat Pumps NOW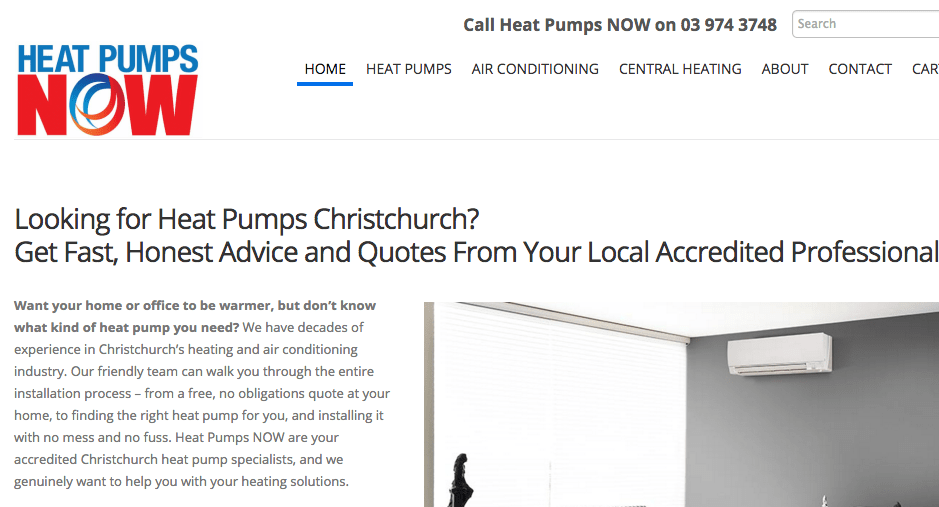 | | |
| --- | --- |
| Best for | Mitsubishi and Fujitsu Heat Pumps |
| Services | Heat Pump Installation, Repair and Maintenance |
| Address | Suite 2/37 Mandeville Street, Riccarton, Christchurch 8011, New Zealand |
| Contact no | 03 377 7393 |
| Website | https://www.heatpumpsnow.co.nz/ |
If you're going for a Mitsubishi or Fujitsu heat pump, then Heat Pumps NOW is for you. Its team of technicians are accredited service providers for both of these established brands.
To ensure you and your family enjoy a cozy home environment for many years, you can have the technician do regular maintenance and repair on your heat pump every 6 months or a bit longer.
Speaking of repairs, they provide a 1-year labour guarantee and a solid 5-year manufacturer's warranty for your peace of mind.
Highlights
Mitsubishi and Fujitsu accredited providers
Also offers repair and maintenance services
Get 1-year labour and 5-year product warranty
Customer Reviews
From the testimonials page on their website, K Carter said:
"I would like to thank you for the fabulous service. We really appreciate dealing with good businesses. The guy was lovely to deal with, friendly and trust worthy. Thanks again."
4)  AA Heat Pumps & Electrical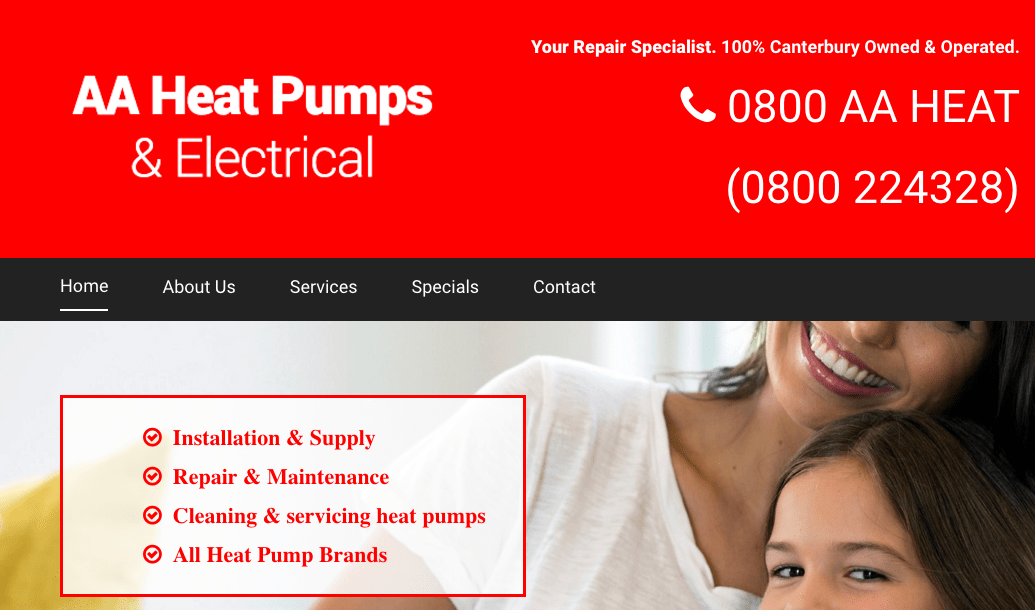 | | |
| --- | --- |
| Best for | Customer Service |
| Services | Heat Pump Installation and Supply, Repair and Maintenance |
| Address | 12 Thackers Quay, Christchurch, Woolston 8023, New Zealand |
| Contact no | 0800 224 328 |
| Website | https://www.aaheatpumpsandelectrical.co.nz/ |
AA Heat Pumps & Electrical is a heat pump supplier and electrical company in one! They have a wealth of experience and knowledge to let you have a dependable heat pump to keep the air purified and clean.
They offer heat pump brands such as Daikin, Toshiba, Mitsubishi and Fujitsu. Customer service is their forte, and they always go above and beyond their line of duty to make you satisfied.
In addition to installing your heat pumps, they provide electrician services too to keep your wires and LEDs in perfect working order.
Highlights
Supplies and installs top heat pump brands
Excellent communication
Highly capable and experienced specialists
Does residential electrical work
Customer Reviews
Catherine Morris was quite impressed with AA Heat Pumps & Electrical's services. She wrote:
"Great service from Alex. He installed a replacement ducted heat pump for us, having inspected our very old one which was unfixable and he explained everything involved and the charges really well. The job included removal and disposal of the old unit and needing access to roof so required temporary removal and replacement of a section of roof tiles. Excellent work and very reasonable charges…"
5)  HPAC Climate Control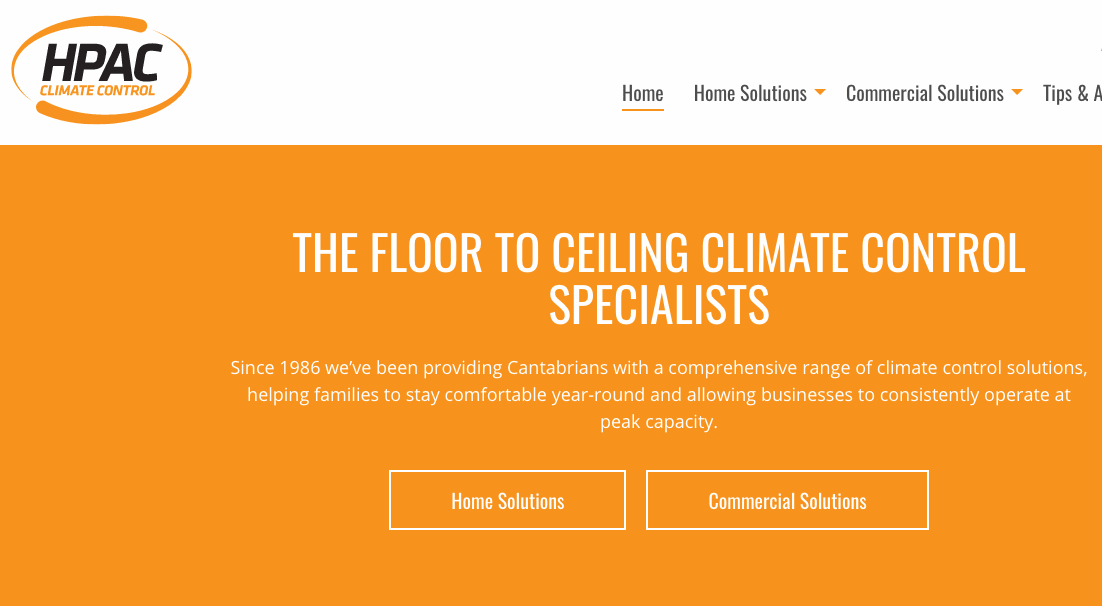 | | |
| --- | --- |
| Best for | Reliable Advice and Energy-Efficient Heating |
| Services | Heat Pumps, Hot Water Heat Pumps, Underfloor Heating, Heat Recovery, Servicing and Aftercare, Design Solutions |
| Address | 355 Blenheim Road, Upper Riccarton, Christchurch 8041, New Zealand |
| Contact no | 03 348 3057 |
| Website | http://www.hpac.co.nz/ |
HPAC Climate Control is a mecca for all your heating requirements to bring a warm, healthy environment in your home. They've become a trusted service provider for Cantabrians for over 30 years.
They offer a personalised solution from indoor heat pumps to servicing and maintenance. Furthermore, they supply most of the leading brands that are well-made and energy-efficient.
Since choosing a heat pump can be challenging based on your living space and what kind you should get, their qualified personnel will guide you to ensure you will pick the right heat pump.
Indeed, HPAC is one of the best heat pumps Christchurch specialists that can help you!
Highlights
Your one-stop solution for heat pumps
Brings you top heat pump brands
Expert and considerate team
Gives invaluable advice
Over 30 years of service
Customer Reviews
Susan Muteswa gave 5 stars on Google Reviews and wrote:
"Had a heat pump installed by these guys. Wonderful service. Great installation tidy and neat work. They serviced the other existing one too they did a great job. I recommend these guys."
6)  Coolheat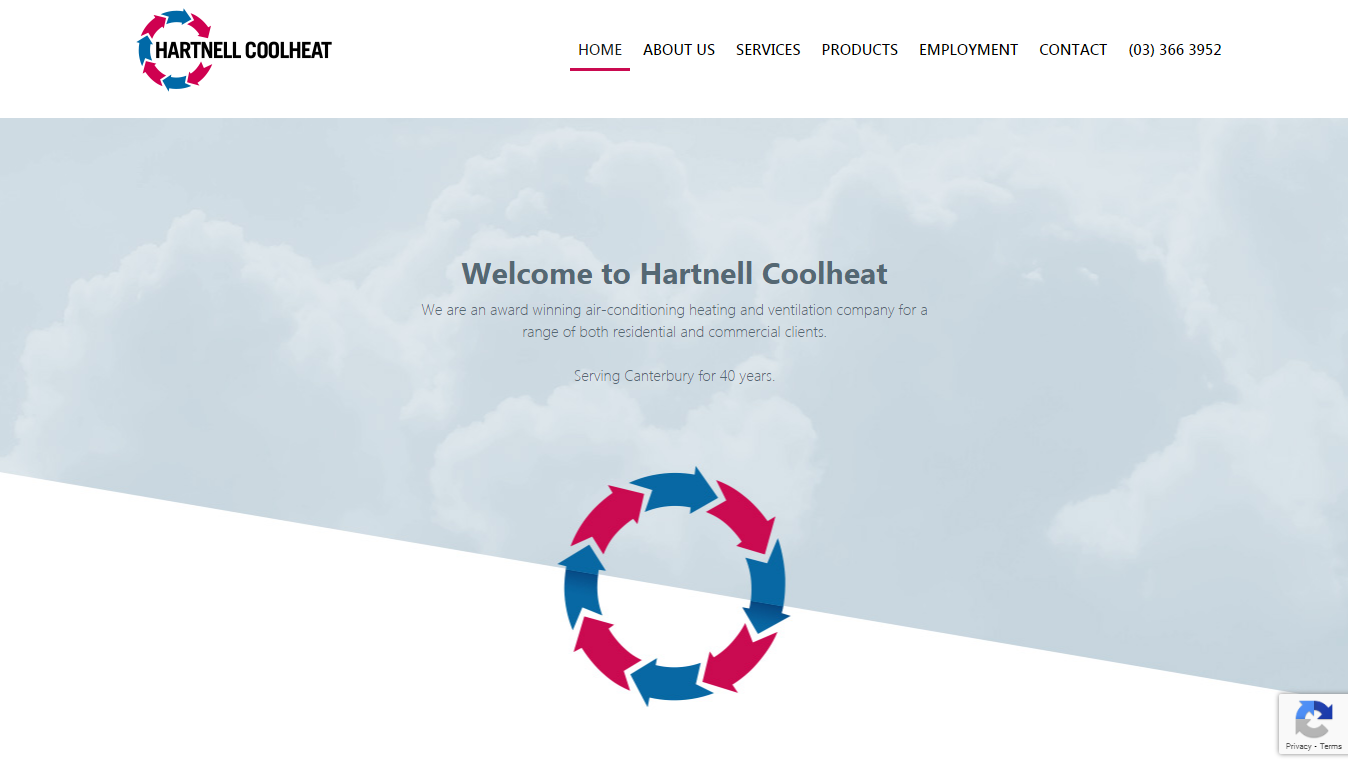 Best for
Reliable Advice and Energy-Efficient Heating
Services
RESIDENTIAL HVAC SOLUTIONS
COMMERCIAL HVAC SOLUTIONS
MAINTENANCE & SERVICE
CONSULTANCY & IQP
HEALTHIER HOMES CANTERBURY
Address
36 Brisbane Street, P.O. Box 7423
Christchurch, New Zealand
Contact no
Telephone: (03) 366 3952
Email: [email protected]
Website
https://www.hartnell.co.nz
Coolheat is well-known for being an expert in heating, ventilation, and air conditioning. After serving Canterbury for more than 40 years, there's no doubt that they're knowledgeable and reliable when it comes to heat pumps.
Their staff are experts in their line of work. You can count on them to offer quality service for affordable prices.
Highlights
Site Safe member
Professional workers
Prompt and efficient service
Reliable equipment
7) Heat Pumps by Wakefield Electrical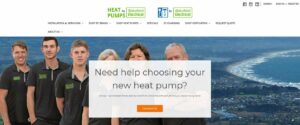 Best for

Quick and Efficient Service

Services 

Heat Pump Installation and Servicing

Address

64D Brisbane St

Sydenham

Christchurch 8023

Contact no

03 371 7434

Website

https://shop.wakefieldelectrical.co.nz/
Next on our list is Heat Pumps by Wakefield Electrical.
Wakefield Electrical is a locally owned and operated company known for providing professional, reliable service. The company is a certified Mitsubishi pump installer and supplier, as well as a master electrician that serves Christchurch and Darfield.
The Wakefield Electrical team consists of skilled, friendly and well presented staff that endeavours to get things right the first time around. Their extensive backgrounds in the respective field allows them to quickly and efficiently work on heat pump jobs.
Aside from the expert team, Wakefield Electrical also makes use of top-of-the-line equipment, which helps ensure the success of every job the company takes on.
Highlights
Installs and supplies heat pumps

Offers electrical services

Various style options available
8) All Electrical & Heatpumps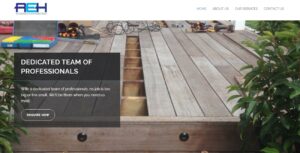 Best for

Electrician and Heating Specialists

Services 

Electrical, Aircon and Heatpumps, Ventilation

Address

42 Moffett St, Islington
Christchurch 8042

Contact no

(027) 406 7414

Website

https://sparky4u.co.nz
All Electrical & Heatpumps was established in 2007 by James Randle, who wished to provide the people of Christchurch with professional electric and heating services.
Throughout the years, James and the company has steadily built up a reputation for their service excellence. All Electrical & Heatpumps caters to residential and commercial clients, and offers a wide array of services including electrical repairs, renovation services, and heat pump installations.
It's also worth noting that All Electrical & Heatpumps is known for being extremely responsive to inquiries, polite in every client interaction, and attentive to the clients' requests and needs.
The team takes into consideration what is asked of them and promptly provides expert advice, recommendations, and appropriate solutions.
Highlights
Competitive pricing
Free quotes
Honest and reliable service
And with that, we conclude the best heat pumps Christchurch specialists. These excellent professionals can set up a new heat pump for you to keep you relaxed and comfortable in the winter season — actually, in all the seasons.
Do you have any questions for us regarding our topic for today? If you have one, don't hesitate to send us a message, we will get back to you as soon as we can.
Other than that, you may want to explore more about heat pumps in general. For this, you can read about the best heat pumps in New Zealand!