The 6 Best Heat Pumps in New Zealand Reviewed
During colder weather, heat pumps are an efficient way to keep us comfortable and warm. However, it can be overwhelming to try and pick the best heat pump in NZ with the overwhelming choices in the market.
Luckily, we're here to help you out with that. We've run up a list of the best heat pumps in New Zealand and included factors to consider when making a selection.
If you're ready, let's go ahead and take a look at our top picks for heat pumps in New Zealand.
The Best Heat Pumps in NZ Reviewed
1.   Rinnai Pro Series Pro-Pel coating
Best Overall
COLOR
WHITE
REFRIGERANT
R32
SYSTEM CODES
• HSNRP26 (2.6 kW)• HSNRP35 (3.5 kW)• HSNRP50 (5.0 kW)• HSNRP60 (6.0 kW)• HSNRP70 (7.0 kW)• HSNRP80 (8.0 kW)
MARKET RELEASE
September 2022
UNIT INDOOR OPERATING RANGE
Cooling: 16∼32 °C
Heating: 0∼30 °C
DIMENSIONS W x H x D (mm)
MODEL
INDOOR UNIT
OUTDOOR UNIT
2.6 & 3.5 kW
802 x 200 x 295
915 x 370 x 615
5.0 & 6.0 kW
971 x 228 x 321
995 x 398 x 740
7.0 & 8.0 kW
1082 x 234 x 337
995 x 398 x 740
Rinnai has always been one of the experts in total home living, they have been known for providing quality products to Kiwi families that give solutions they need for a healthy, comfortable, and sustainable way of living.
From hot water systems, ducted heating to gas fires, they have it all. Recently they have released a new product named the Pro Series High Wall Heat Pump. It is specifically designed for New Zealand's ever-changing climate with its optimal heating and cooling all year round.
This smart system is packed with a variety of innovative features including Wi-Fi connectivity, self-cleaning function, and sleep mode. Furthermore, it has the Rinnai Pro Series Pro-Pel coating.
The coating improves the heating efficiency by accelerating the defrosting and it uses nanotechnology to efficiently stop bacterial development and provide better long-term performance.
Wifi control
Inverter Technology
Dehumidifying Mode
Low Noise Level
Has a variety of types
Need to request a quote to get the price
2. Mitsubishi EcoCore AP25 Series High Wall Heat Pump
Best for Energy Efficiency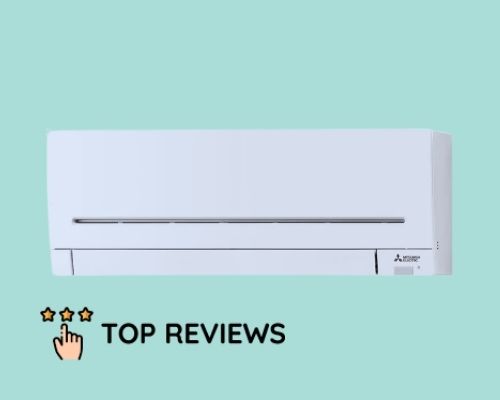 PRICE
NZ $2,361.00 – $4,242.00
COOLING/HEATINGCAPACITY (SIZE)
2.0 / 2.5 kW 2.5 / 3.2 kW 3.5 / 3.7 kW 4.2 / 5.4 kW 5.0 / 6.0 kW 6.0 / 6.8 kW 7.1 / 8.0 kW 7.8 / 9.0 kW
FEATURES
Silent Operation, Night Mode, Dual Barrier Coating, R32 EcoCore Technology, Blue Fin Condenser
DIMENSIONS
Indoor: 1100 x 257 x 325mm
Outdoor: 840 x 330 x 880mm
ENERGY STAR RATING
5.5 cooling / 5 heating
WARRANTY
60-month manufacturer's warranty
The Mitsubishi AP25 is touted to be the country's quietest heat pump, measuring only 18dBA on the lowest setting. You can have a comfortable sleep even if this heat pump is in your bedroom.
It also has a special Night Mode setting, which means the outdoor unit's noise will drop even further by 3dBA when enabled. To ensure the perfect night's sleep, the operation indicator light will also dim and all audible notifications will also be disabled.
One of the most cumbersome factors of a heat pump in NZ is cleaning up all the dust and dirt that can build up over time on the indoor unit. Thankfully, with a patented Dual Barrier Coating, the AP25's internal parts will stay clean year-round for maximum comfort and energy efficiency.
Its washable Air Purifying Filter can trap airborne contaminants, enhancing the air quality in your home – it can provide significant deodorizing effects as well. Mitsubishi has updated the size of the filter capture area in this model to increase dust collection efficiency.
All these enhancements matter because when your heat pump has to exert less effort to perform its task, it automatically makes it more eco-friendly. With the addition of its advanced R32 EcoCore Technology, the refrigerant used in this heat pump is eco-friendly as well.
You don't have to worry about the outdoor unit breaking anytime soon either since it's been treated with the Blue Fin anti-corrosion process, which is especially useful in coastal areas that have high salt content.
With all that, the only thing lacking in this Mitsubishi heat pump is aesthetics – it's quite clunky and outdated for one of the best heat pumps in the market. However, it does come with a Wi-Fi interface, so it's not all old-fashioned in terms of the UI.
Overall, if you want a quiet machine and you live near the water, then this could be the best heap pump in NZ for you.
Check out the link we provided so you can check Mitsubishi heat pump prices in NZ.
Quietest fan at 18dB on the lowest fan setting
Various sizes available up to 7.8/9.0 kW models
Looks/design is a little stodgy
Mitsubishi app is not user-friendly
3. Panasonic ECONAVI AERO Series Reverse Cycle Inverter
Best Performance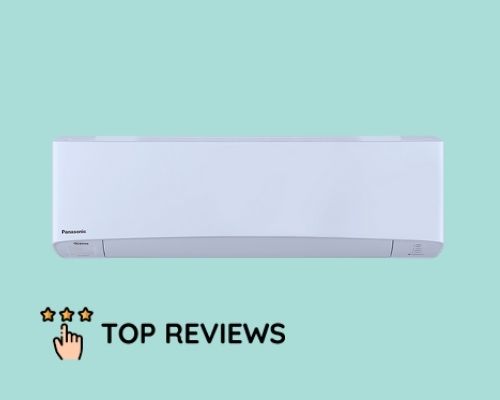 PRICE
NZ $1,979.00 – $2,699.00
COOLING/HEATING CAPACITY (SIZE)
2.0kW / 2.7kW 2.5kW / 3.2kW 3.5kW / 4.3kW 4.2kW / 5.1kW 5.0kW / 6.0kW 6.0kW / 7.2kW 7.1kW / 8.0kW 8.0kW / 9.0kW
FEATURES
ECONAVI Intelligent Eco Sensors, Nanoe-G Air Purifying System
DIMENSIONS
Indoor: 919 x 194 x 295mm
Outdoor: 542 x 780 x 289mm
ENERGY STAR RATING
5.0
REFRIGERANT
R32
WARRANTY
5-Years
If you're looking for a heat pump in NZ that's been specially designed to handle the unpredictable weather of New Zealand, look no further than the Panasonic Aero Series. They can heat up your home even if the temperatures outside reach -15°C!
What's more, you can control the temperature better with the remote control's large LCD panel that helps you adjust temperatures with a precision of up to 0.5°C. You can likewise choose to adjust the force, noise level, and energy consumption of your heat pump to suit your needs.
For even more convenience, you can even connect your Aero Series Heat Pump with the Panasonic Comfort Cloud app to control it from your smartphone or tablet. That means you can turn on the heat pump before you come and enjoy the comfort of a warm home when you arrive, note that the app cannot retrofit older models.
The highlight feature is the Intelligent Eco Sensor, which helps the Aero Series adjust its cooling or heating intensity by sensing the room and adjusting accordingly. It can detect your presence, changes in light, and can even point its airflow to wherever you are in the room.
Depending on the size of your home, you can have different sizes to choose from. If you need it for a small room, the 2.0kW/2.7kW variant should suit your needs while larger spaces in your home will benefit from the 8.0kW/9.0kW size.
However, the Aero series units can sometimes emit a noise when turning on heat mode. Panasonic claims that this is due to the unit expanding and contracting during the heating cycle and should only occur for a few minutes after turning it on.
Regardless of this minor issue, due to its features, the Aero series provides great value for money and comes equipped with several nice features that make it one of our top heat pumps in New Zealand.
Inverter Technology for optimised heating
Smart Eco Sensors that adapt to your room
5-star energy rating for heating
Can be noisy when starting up heat mode
Fan can be loud for most people
4. Fujitsu Dual Console Heat Pump/Air Conditioner
Most Convenient Floor Heat Pump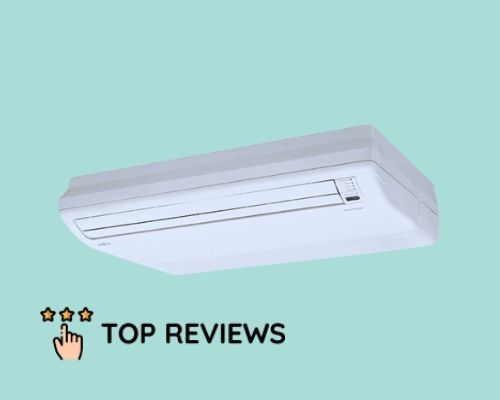 PRICE
NZ $2,623.53
COOLING/HEATING CAPACITY (SIZE)
7.1kW / 8.0kW
MODEL
ABTG24LVT
FEATURES
Apple-Catechin Filters, Cobalt Blue Coating, High-Density Multi-Path Heat Exchanger
STAR RATING
Cooling 2.2
Heating 2.5
DIMENSIONS
Indoor: 655 x 990 x 199mm
Outdoor: 620 x 790 x 290mm
REFRIGERANT
R410A
WARRANTY
6-Year Manufacturer's Warranty on Parts & Labor
Voted the most trusted Heat Pump brand in the 2020 Reader's Digest Trusted Brands Survey, Fujitsu got one of its dual-console heat pump units on our list. What makes this product unique is that it can be installed on the floor or under the ceiling, which is handy for those who don't have wall space for a traditional unit.
However, having the heat pump on the floor does take up considerable space, even though it's more accessible for cleaning. Installing it on the ceiling requires it to be strategically placed as well, so these are things to consider before purchasing this unit.
Still, it has convenient features: one of the pet peeves people have about heat pumps is that the settings reset to default in the event of a power outage. This Fujitsu Dual Console will automatically restart in the same mode in such an event, though.
We also like this Fujitsu heat pump because you can opt to upgrade the remote control for more precise adjustments or backlit LCD's. You can choose from three variants of remote controls or avail of the anywAiR Wi-Fi device so that you can control your Heat Pump/Air Conditioner with the free myanywAiR App.
If you have asthma or respiratory conditions, this unit comes with Fujitsu's Apple-Catechin filters which have been certified by the Asthma and Respiratory Foundation. These filter systems will help enhance the quality of air in your home by trapping dirt, dust, or micro-pollen that might come into the air channel.
This Dual Console product is a split-type unit, but you won't have to worry about the outdoor unit corroding since it's coated with Cobalt Blue, which promises to withstand New Zealand's climate and extend its performance life.
With its High-density multi-path heat exchanger, it can efficiently keep your home warm and will operate silently, especially when used in quiet mode. It will operate at approximately 30-40s decibels, ensuring that nothing bothers you in the middle of your work or household chores.
If you have allergies or if you have young children with you, this could be one of the best heat pumps in NZ for you.
Floor/ceiling installation
Asthma New Zealand approved
Dual-fan louvre heating
nly two size variants available
Can take up considerable space on your floor
5. Mitsubishi Electric HyperCore KW60 Floor Console Heat Pump
Best Floor Heat Pump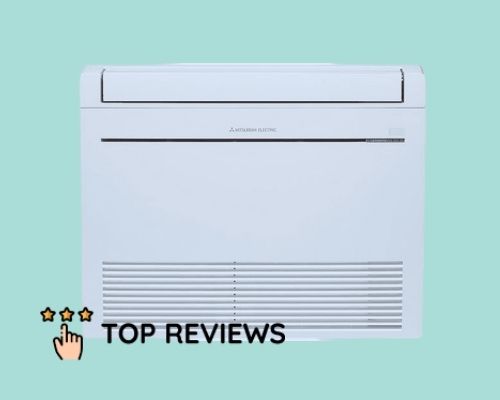 PRICE
NZ $5,799.99
COOLING/HEATING CAPACITY (SIZE)
5.0 / 5.8 kW
6.1 / 6.5 kW
MODEL
KW60VGHZ
FEATURES
Rapid Heating, Multi Vane Flow, Nano Platinum Filter, Anti-Allergy Enzyme Filter, HyperCore Technology, Optional Wi-Fi Control upgrade
ENERGY STAR RATING
2.5 cooling / 3 heating
DIMENSIONS
Indoor: 825 x 296 x 695mm
Outdoor: 940 x 380 x 630mm
REFRIGERANT
R32
With HyperCore Technology, the KW60VGHZ can operate and heat your home at full-rated capacity even when the temperatures outside reach -15°C, making it ideal if you live in a colder part of the region.
Moreover, this Floor Console Series is equipped with Rapid Heat, which as the name implies, can quickly warm up a room to your desired temperature when the two-way airflow is selected. It does this by cycling warm air downward before sucking it back in through its multiple vanes and reheating it again, essentially heating the air twice!
We like this product from Mitsubishi because it has a detachable base that allows the unit to be recessed directly into your wall. This in turn decreases the space it occupies by 33%, transforming a 215mm obstruction to 145mm, perfect to be installed during a renovation or home building project.
Its synergistic vanes swing and can direct the warm air toward all sides of the room, but since it's a floor console, it may not reach all the corners of the room. However, you do get fresh, allergen-free air because of the Nano Platinum air filters that also remove unpleasant and uninviting odours.
The KW60VGHZ comes with a standard wireless remote control that features the ability to save programmable presets for each day of the week. However, you can also upgrade to a Wi-Fi-enabled remote so you can control it with your smartphone or tablet.
Admittedly, when we were checking out prices for heat pumps in NZ, this isn't exactly the most affordable. However, if you have the budget for it it's worth all the extra nifty features. The Rapid Heat alone makes it one of the best heat pumps in NZ for those cold snowy evenings.
Features a removable base to set into a wall
Can upgrade to a Wi-Fi enabled remote
RapidHeat technology can quickly heat up a room
Only two size variants available
Heat may not be dissipated evenly
6. Fujitsu Premier Plus Air Conditioner
Best for Asthmatics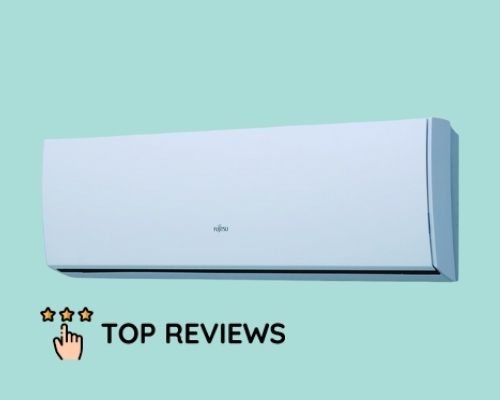 PRICE
NZ $1,479.00
COOLING/HEATING CAPACITY
4.2kW / 5.4kW
MODEL
ASTG14LUCB
FEATURES
Apple-Catechin Filters, Cobalt Blue Coating, High-Density Multi-Path Heat Exchanger
ENERGY STAR RATING
Cooling 2.0
Heating 2.5
DIMENSIONS
Indoor: 282 x 870 x 185mm
Outdoor: 540 x 790 x 290mm
REFRIGERANT
R401A
This classic inverter model is one of Fujitsu's most popular variants, known for its energy efficiency and asthma-friendly features.
Using static electricity, the ASTG14LUCB can clean microscopic dust and particles like pollen and smoke with its Apple-Catechin filters. As it's certified by the Asthma and Respiratory Foundation, you can rest assured that the air quality in your home will be enhanced significantly with it.
With several energy-efficient features, such as DC rotary compressors, Inverter Control, and fan motors, you'll be able to minimize your power consumption while still heating your home effectively. For a more proactive approach, you can manually select the economy mode via its remote control or set the on and off timers.
You can opt to upgrade the remote control among three variants for more precise adjustments, although you'll need to install an additional communication unit on the heat pump for them to work. We suggest getting the anywAiR Wi-Fi device instead so that you can control your Heat Pump/Air Conditioner with the free myanywAiR App.
However, purchasing this unit on Heathcotes does not come with any install services, so that will come at an additional cost unless you're in the Waikato region. Nevertheless, the customer service staff will instruct you on how to get this heat pump properly installed in your home.
With a five-year product warranty, the ASTG14LUCB is convenient, easy to install, and will work well for the average home. That sums up why we decided to put it on our list of best heat pumps in NZ.
5-year product warranty
Economy mode for greater energy savings
Does not come with complimentary installation
Standard but outdated design
What to Consider Before Getting a Heat Pump
Before you purchase a heat pump, there are some things you need to take note of to ensure you're purchasing the right product for your home.
Type
There are actually two kinds of heat pumps that are common today: the reverse cycle heat pump and the floor heat pump.
Room Size
The bigger the room, the longer it takes for the heat to circulate around the area, so you should get a heat pump that is capable of covering the room. Insulation in your home also plays a huge part in keeping the place warm and more comfortable.
Energy Star Rating
Heat pumps are rated with energy stars by the EECA (Energy Efficiency and Conservation Authority). This helps you select heat pumps that are more energy-efficient to help you plan and have lower electricity costs.
A higher Energy Star rating can be more expensive at first because products with it tend to cost more. But because it saves energy, it will pay off in the long run while delivering optimum heating or cooling for your home.
Price and Maintenance
Heat pump prices in NZ can vary so it's worth checking several suppliers. A lot of stores online sell heat pumps exclusive of the installation costs. However, service or repair stores lump them together for an estimate of NZ$2,500-NZ$4,500.
For heat pumps to perform at their best, it's necessary to clean or maintain them every 6-8 months if you use them a lot. You can go longer between cleanings if you don't use yours too much.
Some Tips to Maintain Your Split Heat Pumps in NZ
We added this section since cleaning and maintaining your heat pump in NZ is important if you don't want to have to replace it too quickly! Here are some tips that might help you if you have a split heat pump:
Check the warranty of the product in case you discover that you need some repairs.
Make sure that you turn off the main power source before cleaning the inside or outside unit.
Clean your air filters on the inverter or inside unit every 3 months.
Call in a qualified heat pump technician to check on its status and condition twice a year.
You can also wash the outside coil (located mostly on the side) with a garden hose.
Check that the water drain is not clogged or full so that the split heat pump works smoothly.
Always turn off your air conditioner when not in use or when you're leaving the room for a while.
Clean the outside cover of your inverter for a constant, clean, and neat look.
FAQs about Heat Pumps in New Zealand
---
There you go — the best heat pumps in New Zealand! All of these are more than capable of giving you the toasty-warm feeling you want for your home in the middle of winter.
So what do you think of the products we included here? If you already have one of them, please let us know how you like it and whether or not you think it deserves to be in this list.
And if you still can't decide whether you need a heat pump or heater, you'd probably like to see our best heaters in New Zealand too. They offer yet another way to heat up your home.