By Anders Wilson
When we feel cold, using the heat pump helps make us feel comfortable and warm again. If you don't have one yet, you're in luck, as we're talking today about the best heat pumps in New Zealand.
There are many types and models of these available now. As such, it can be overwhelming to try and pick one from the many on the market.
But we're here to help you out with that. We've run up a list of our own favourite heat pumps in New Zealand and you can refer to that for your main options.
Before we get to that list, though, there are more things to sort out — like, for example, what factors to consider when making a selection.
We'll talk about those factors first, and will even show you how to maintain an outdoor unit if you end up with one, later on. So, let's begin!
What to Consider Before Getting a Heat Pump
There are a few things to factor in before deciding to buy a heat pump:
Type
There are actually two kinds of heat pumps that are common today. One is the reverse cycle heat pump and the other is the floor heat pump, like those featured in this article.
Keep in mind that heaters are different from heat pumps as well. Heaters basically produce heat through electricity, while a heat pump takes in air from its outside unit and blows warm air into your room. 
Room Size
The bigger the room, the longer it takes for the heat to circulate around the area.
In this light, you should get a heat pump that is capable of covering the room. Insulation in your home also plays a huge part in keeping the place warm and more comfortable.
Energy Star Rating
Heat pumps are rated with energy stars by the EECA (Energy Efficiency and Conservation Authority). This helps you to select heat pumps that are more energy-efficient.
At the same time, this helps you to plan and have lower electricity costs.
A higher Energy Star rating can be more expensive at first, because products with it tend to cost more. But because it saves energy, it will pay off in the long run while delivering optimum heating or cooling for your home.
Price and Maintenance
A lot of stores online sell heat pumps exclusive of the installation costs. However service or repair stores lump them together for an estimate of NZ$2,500-NZ$4,500.
For heat pumps to perform at their best, it's necessary to clean or maintain them every 6-8 months if you use them a lot. You can go longer between cleanings if you don't use yours too much.
As to when it should be cleaned, a good time would be in the spring or before the winter.
The Best Heat Pumps to Use in New Zealand Homes
Now that we've tackled these important factors for your decision, let's round up the best heat pumps in New Zealand! We'll start with one that's great if you're concerned about your power bill.
1. Daewoo Air Conditioning Unit/Heatpump 5.0KW Cooling & 5.2KW Heating
Best for Large Spaces on a Budget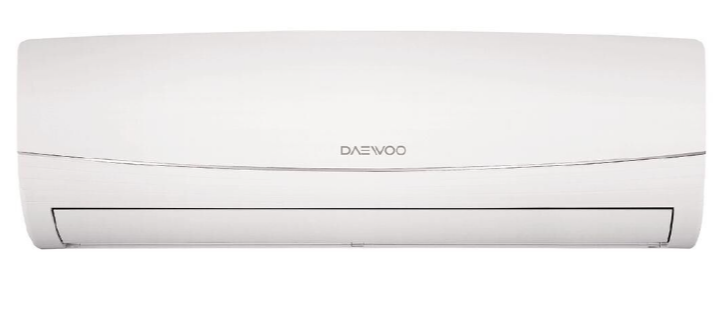 Cooling capacity – 5kW | Heating capacity – 5.2kW
Price: NZ$1,499
This Daewoo model is a great choice if you need a really large space heated (or cooled, for that matter, as it also serves as an air conditioner). With 5.2kw of heating power, you can use it to cool down spaces like your family room — that means areas of about 30sqm.
As far as looks go, it's stylish but standard. On the bright side, that means it won't stick out like a sore thumb on your wall.
It also boasts an 11-function remote control, a 5-function LED display on the indoor unit, and sleep and timer functions. You can also set fan swing speeds as desired.
Overall, it's a solid choice for those who need something powerful at a good price.
Highlights
Suitable for larger rooms (about 30sqm)
Has titanium dioxide nanocoating on key components for durability and rust-resistance
2.  Mitsubishi EcoCore High Wall Heat Pump (MSZ-AP25VGKD)
Best for Energy Efficiency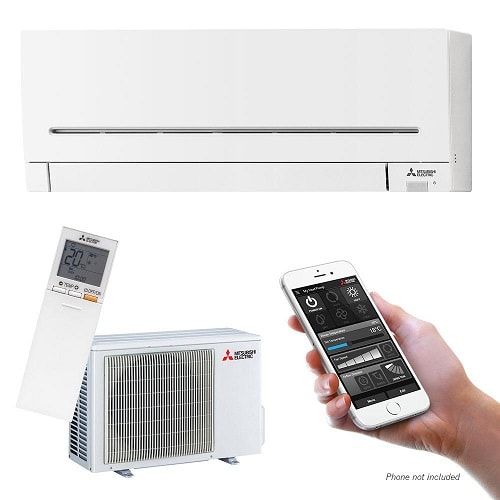 Cooling capacity – 2.5kW | Heating capacity – 3.2kW | Energy Star Rating: 5.5 cooling / 5 heating
Price: NZ$2,133
Chilly weather be gone! With the Mitsubishi EcoCore, your living space will have warmth and comfort with its super-quiet operation and efficiency.
Speaking of quietness, its lowest fan setting at 18dB won't interrupt you in the middle of your work or nap. What's more, its outdoor unit goes down 3dB with night mode.
Thanks to the Dual Barrier Coating, it stops dust and dirt from landing on its internal parts. Therefore, your heat pump will work without dropping in performance throughout the year.
It also uses the safer R32 refrigerant, which produces one-third less greenhouse gas. This is healthier for our planet than the R410A, which is used in ordinary fridges.
And also, a 5 star heating rating means it is more efficient than ever. It won't contribute as much to your bills for the month.
Highlights
Quietest fan at 18dB on the lowest fan setting
Dual barrier coated to prevent dust build up
Strong airflow
5-star heating energy rating
3. Panasonic AERO Series Inverter Air Conditioner (CS/CU-Z35TKR)
Best Overall Performance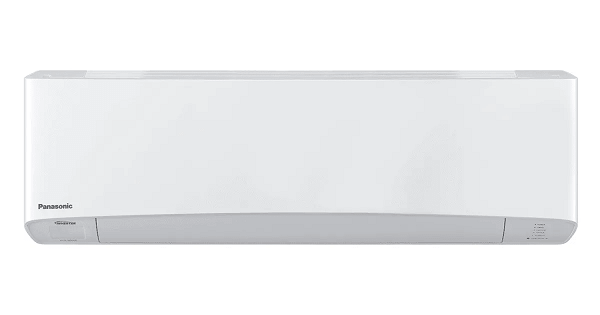 Cooling capacity – 3.5kW | Heating capacity – 4.3kW | Energy Star rating: 4 cooling / 5 heating
Price: NZ$1,620
In terms of design and heating, the Panasonic Aero Series Air Conditioner is another great brand to have. It is more affordable than other heat pumps available and comes equipped with several nice features!
For instance, it has Smart Eco Sensors that detect the space in your room, the people in it and even the sunlight. Then, it ingeniously adjusts the airflow to heat or cool a room until you come back.
Next, aerowings blades send out warm or cool air in more than one direction. As for the cooling, it has a unique mode of Shower and Fast Cooling to take out the summer heat in style!
Overall, Panasonic placed in third in Canstar Blue's heater pump survey for 2019. It scored 5 stars in functionality, value for money, and ease of use, but only 3 stars in quietness. 
Highlights
Inverter Technology for optimised heating
Smart Eco Sensors that adapt to your room
5 star energy for heating
4. Fujitsu Floor Console Heat Pump/Air Conditioner (ABTG24L)
Most Convenient Floor Heat Pump
 Cooling capacity: 7.1kW | Heating capacity: 8.0kW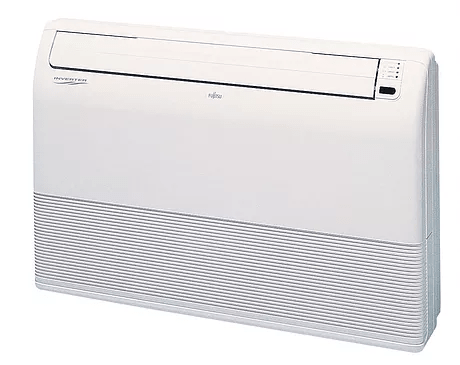 Price: NZ$3,103
Bringing efficient heat in a slim package, the Fujitsu ABTG24L is one of the best heat pumps in New Zealand. You also get two units when you buy this—indoor and outdoor units.
It has a dual-fanning system that swings either upwards or downwards to speed up the warming process. Doing so enables it to disperse the heat evenly around the room.
Aside from the warm air it gives out, it is also easy to keep clean thanks to the catechin filters. The catechin filters trap dirt, dust, or micro-pollen that might come into the air channel.
Sound is at a minimum at 30-40s decibels. That's so that nothing bothers you in the middle of your work or household chores.
To further validate that this is a great product, you get a parts warranty of 60 months in Heathcotes. And in the course of it, you get a free assessment and delivery costs too! 
Highlights
Dual fan louvre heating
Floor/ceiling installation
Whisper quiet
Asthma New Zealand approved
5. Mitsubishi HyperCore J50 Floor Console Heat Pump with Wi-Fi (MFZ-KJ50VE-A1)
Best Floor Heat Pump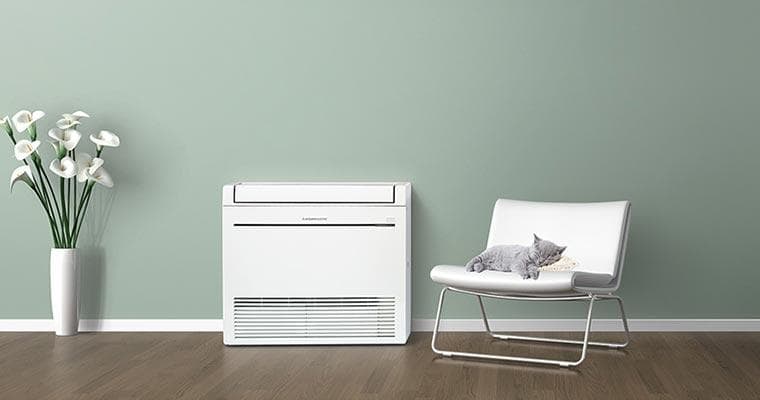 Cooling capacity – 5.0kW | Heating capacity –  5.8kW | Energy Star Rating: 2.5 cooling / 3 heating
Price: NZ$5,199
The Mitsubishi HyperCore KJ50 Heat Pump has you covered during icy cool nights. With RapidHeat technology, you won't have to wait long before the heat wraps you comfortably in its embrace.
Its synergistic vanes swing and direct the warm air toward all sides of the room. All you get is fresh, allergen-free air because of the Nano Platinum air filters that also remove unpleasant and uninviting odours.
Controlled via the remote, it's simple and hassle-free to program for each day of the week. Not to mention it's Wi-Fi enabled, so you can see how it's doing at any time of the day through your smartphone or iPad.
Highlights
Distributed airflow through its 3 vanes
Features a removable base to set into a wall
Accessible via app
6. Fujitsu Premier Plus Air Conditioner (ASTG14LUCB)
Best for Asthmatics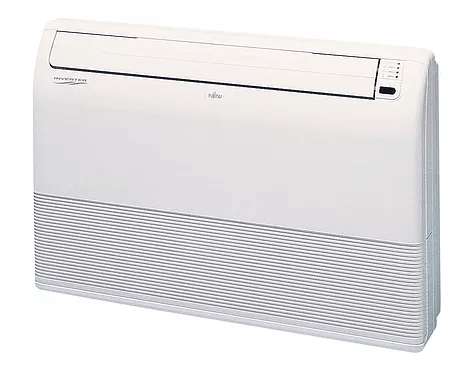 Heating Capacity – 5.4kW | Cooling Capacity – 4.2kW | Energy Star rating – 2.5 heating / 2 cooling
Price: NZ$2,099
Whatever the climate you have at home, you can trust the Fujitsu Premier Air Conditioner. Aside from rescuing you from the unbearable heat, it can also send out warmth during cold, freezing days.
It comes with a remote where you can vary the temperature, for one. Then you have auto on or off timers, a versatile louvre pattern, and the option to save energy through the economy mode.
It comes with a split outdoor unit that can power up to 4 indoor air conditioning units at the same time. This outdoor unit is engineered with a blue-fin addition so that it may bring better heating inside the house.
Fujitsu General receives 3 stars on functionality, reliability, quietness, and value for money. That said, it also  received a perfect 5 stars for ease of use on this year's ranking from Canstar Blue NZ.
Highlights
Convenient louvre settings
Has economy mode
5-year product warranty 
Customer Review
This is an amazing heat pump that a lot of users will like because of how easy it is to use and set up. Let's hear about the review of Kim L:
"Good heat pump. Got this one as appropriate size to heat only living area of our small 3 br house. If I had known how reasonable my power bill was going to be I would have purchased a more powerful model to heat all of the house."
7. Panasonic Z42 Heat Pump/Air Conditioner (CS/CU-Z42VKR)
Best for Larger Rooms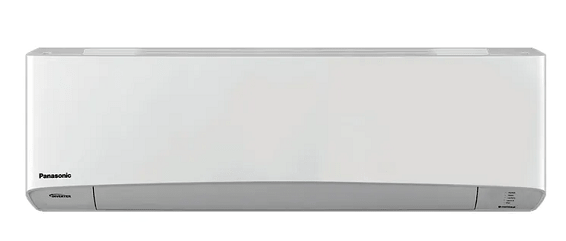 Cooling capacity – 4.2kW | Heating capacity – 5.1kW | Energy Star rating: 3 cooling / 3 heating
Price: NZ$1,598
A higher cooling or heating capacity denotes better circulation for larger rooms and spaces. If you need that, we recommend getting the state-of-the-art Panasonic Z42.
When you're feeling cold and shivering, just leave it to this heat pump. It works in just about any weather, from -15° to 24°C.
It's also part of the Aero series and can blend in with the vibe of any modern or contemporary room. It has a slim form and gray and dark white colouring for a sleek, modern look.
Another feature is the nanoeX technology, which deodorises unpleasant odours as well suppresses microorganisms and their growth. As a result, you'll breathe a cleaner and fresher air.
The inverter technology of the Panasonic Z42 also adjusts the compressor rotation whenever it's on. This saves more energy, packs more power, and warms up the place with sucking up too much electricity.
All of that tells you why it earned a spot on the list of the best heat pumps in New Zealand this year!
Highlights
Heating/cooling for larger rooms
Inverter compressor for efficient operation
Aeroslim design
Asthma-safe
Some Tips to Maintain Your Split Heat Pumps
We added this section since cleaning and maintaining your heat pump is important if you don't want to have to replace it too quickly! Here are some tips that might help you if you have a split heat pump:
Check the warranty of the product in case you discover that you need some repairs.
Make sure that you turn off the main power source before cleaning the inside or outside unit.
Clean your air filters on the inverter or inside unit every 3 months.
Call in a qualified heat pump technician to check on its status and condition twice a year.
You can also wash the outside coil (located mostly on the side) with a garden hose.
Check that the water drain is not clogged or full so that the split heat pump works smoothly.
Always turn off your air conditioner when not in use or when you're leaving the room for a while.
Clean the outside cover of your inverter for a constant, clean, and neat look.
There you go — the best heat pumps in New Zealand! All of these are more than capable of giving you the toasty-warm feeling you want for your home in the middle of winter.
So what do you think of the products we included here? If you already have one of them, please let us know how you like it and whether or not you think it deserves to be in this list.
And if you still can't decide whether you need a heat pump or heater, you'd probably like to see our best heaters in New Zealand too. They offer yet another way to heat up your home.