By Tony Wang
To take on the cold weather night or day, we buy heaters and have them warm our homes. There are many kinds of heaters but most of us today get the portable heaters. Unlike the traditional fireplace, portable heaters can be bought for a cheaper price and can be just as effective, at the same time saving the power use through 24 hour timers and maintain the temperature all throughout your sleep with a built-in thermostat.
The weather in New Zealand gets a yearly average of 16 degrees Celsius in the North and a chillier 10 degrees Celsius toward the Southern island. And the winter gets even lower than that, even to sub-zero temperatures of as much as -6. That's why choosing an efficient and reliable heater benefits Kiwis tremendously. Plus, doing so will keep everyone healthy, happy, and cozy living in your home sweet home.
In this article, we are going to tackle the different types of heaters, explain their pros and cons and finally, list the best products to see which one fits your home.
For small spaces and personal use
Panel Heater
Works just like convector or oil column heaters in their taking in of cold air and heating it which then provides a little heat. The little heat it produces makes it safer to use around children or pets, although it doesn't mean to say they shouldn't be careful when playing near it. Wall-mountable or can be displayed with stands.
Pros: Due to its lower heat output, it works well in complement with fans or heat pumps. It is safer around children and pets. It can be set up standing or mounted on a wall. They are efficient heaters by working like heat pumps, taking heat energy from outside and sending them through and into a place. In other words, they use power only to turn on and not to generate heat.
Cons: Low heat output doesn't cover the entire room and they may take up space you could instead use for other purpose.
Here are the best panel heaters in New Zealand:
Goldair Eco Panel Heater with Timer 425W (GEPH211) – NZ$148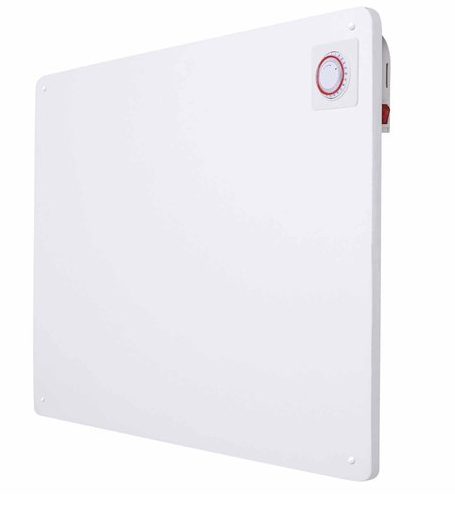 Simple-looking, energy efficient panel heater uses radiant/convection technology and heats over a large area. The surface is plain white with a paintable surface, 24-hour timer. It's quiet in operation, easy to install and can be wall-mounted as well.
Kent Micathermic Panel Heater with Digital Display 2000 Watt (KPE216-147) – NZ$159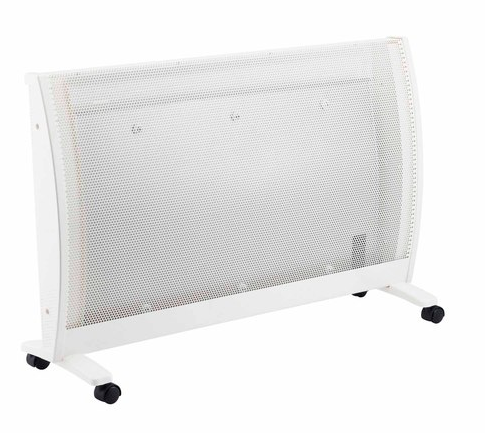 Elegant, minimalist design. This Kent Panel heater works as both convector and radiant heat. It has 3 heat settings at the estimated level for different sized rooms, 18-hour timer, and safety tip-over and cut out switches. Can be wall-mounted or freestanding. This heater is silent upon being used.
Fan heater
Small and lightweight, fan heaters blow around the heat evenly all around your room. This is good if you'd like your room to be heated as soon as you turn it on. A lot of models come with a thermostat to warm the air and maintain it overnight, a timer for auto turn off. Given their space saving size, they are an excellent companion to oil-based column and panel heaters as warm air from them gets trapped under the ceiling.
Pros: Quickly heats up as soon as it's turned on. It can fit in your room conveniently. They are safe and can be left on for the entire night. Buying them will only cost you less than panel or flame effect heaters. Most models have tip-over switch turning off as soon as it is jarred or moved suddenly.
Cons: Fans can be knocked over or tilted occasionally. It can only heat up a smaller surface area in the place. Could be noisy as the fans operate.
Here are the best fan heaters you can buy in New Zealand:
Goldair Upright Fan Heater (GSFH220) – NZ$19.99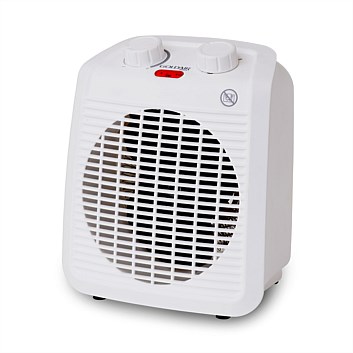 Safe and Handy Fan Heater brings 2 heat settings, 1 cold setting, an adjustable thermostat, safety tip-over switch and overheat protection. 1800W enables it to circulate the warm air in larger type rooms.
Delonghi Chrome Fan Heater (HVS3032C) – NZ$88.19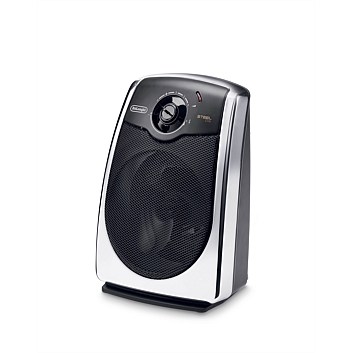 Higher end, sleek chromed fan heater. This particular model will heat up your room with 3 heat settings, anti-frost protection, water drip protection, cool integrated handles, adjustable thermostat, and helps with ventilation during hot days. Plus, it's never noisy when used.
Radiant Heater
Rather than heat the air, a radiant heater provides heat on people and objects by its visible light. Heating takes place quickly without you having to wait. It is ideal for sections of the room that's colder, can reach high ceilings, or a particular area.
Pros: It can heat up in a jiffy used in a particular area or section of the room and people nearby it. It replaces the cold air with warm air instantly. Some models come with a fan to distribute the heat around.
Cons: There is a burn risk since its light radiates on a particular object. It is best used in your presence and turned off as soon as you're done. Radiant heaters are harder to come by in New Zealand and most of them do not have timers or thermostats.
Here are the best radiant heaters you can get in New Zealand:
Goldair Radiant Heater with Turbo Fan (GIR400) – NZ$139.99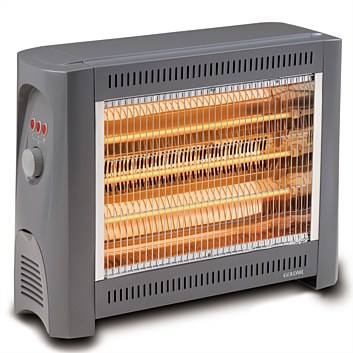 Nice and portable radiant heater. It works on 2400W power with safety cut out and tip-over switch to prevent fires, 3 heat settings, and convenient carry handles. It also comes with a 2-year warranty service.
Goldair Radiant Heater 2.4kw – NZ$59.98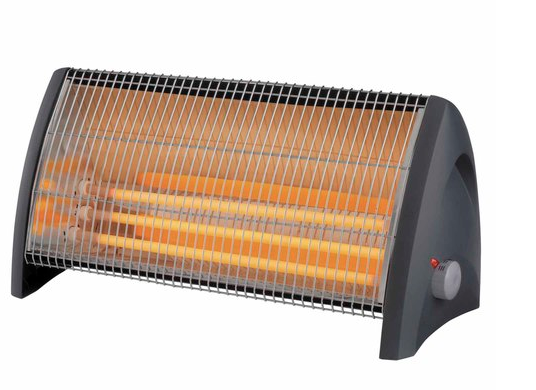 Modernistic compact radiant heater. Its radiant elements are designed to be long lasting. It also has 3 heat settings, safety cut out, and tip-over switch. Two integrated handles make it simpler to carry and bring to different places where you live. 
For medium sized rooms
Oil-column heater
These are heaters that start by heating the oil inside their metal fins for the warm air to rise. Once they are set, they give out a comforting warmness in the room atmosphere. The only thing that hinders it and not succeed is that the hot air may get trapped just beneath it. Nevertheless, they are great heaters to have in the living room, dining room, or your study.
Pros: Provides a steady heat in the room although it might take longer than expected. It can best work with fan heaters or panel heaters to give more warmth and comfort. Thermostat and timer controls are mostly available with oil-column models.
Cons: Upon turning it on, it takes a longer time to heat up the oil. It finds trouble heating areas with high ceilings and larger rooms. The surface of the heater can get very hot and hence is not safe to be too close to hazardous objects for example, gasoline or curtain and people as well. Another is it is heavier to move around.
Here are the best oil-column heaters in New Zealand:
Number 8 Oil Column Heater 7 Fin 1500W White (N8OC120) – NZ$54.98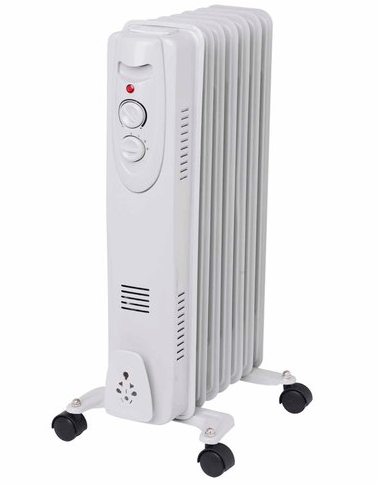 Ultra slim Oil Column Heater with 7 fins. This space saving apparatus features 3 heat settings, an adjustable thermostat, and a safety tip-over switch.
Goldair Oil Column Heater 2400W 11 Fin (GOC350) – NZ$139.99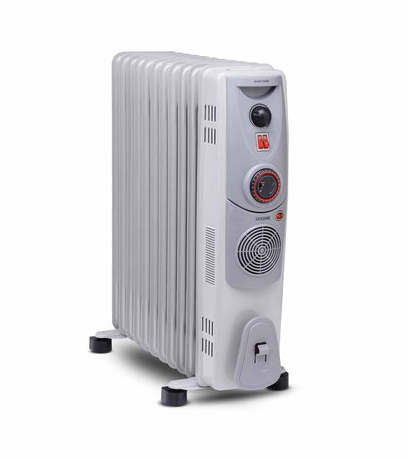 A heater that is complete and easily transported. It comes proudly with 3 heat settings, adjustable thermostat, tilt switch, and a ceramic fan to send the heat evenly under a very short time.
Oil-free column heaters
To take away the cold lingering in your home, Oil free column heaters use an element in lieu of oil to give its metal fins a hot touch that is sent up into the air. It uses an element that makes heating much faster than its oil-column counterpart.
Pros: Oil-free column heaters are easier to heat up. They are good heaters that can warm up a medium sized room. They are lightweight and convenient as well as safe to leave on. Many sizes are available to adapt to your living space.
Cons: High ceilings and larger rooms can be harder for this type of heater. Though the metal fins without being covered or casing gets hot, you may opt for a wall-mountable feature to keep it away from kids' reach.
Here are the best oil-free column heaters in New Zealand:
Dimplex Oil Free Column Heater with Bluetooth Control (EVORAD2BTA) – NZ$219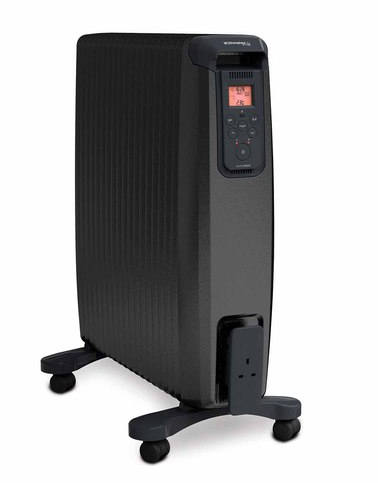 Highly efficient and with faster heating times. Since it uses less time in heating than oil-column heaters, it conserves more energy for personal and environmental benefit. It features an ingenious Eco heat setting, adjustable thermostat, Bluetooth smartphone control, Drytech technology, and 24-hour timer. Portability is A grade with castor wheels.
Dimplex Eco Drytech Eco Oil Free Column Heater (OFRC15B) – NZ$149.78
A space efficient heater with a sleek countenance. Eco in performance and space, it features 2 heat settings and Drytech technology to warm up your presence and surfaces by using less energy than oil counterparts. Thermostat control keeps the temperature well maintained. Castors enable this heater to be easily moved around the place.
Flame effect heaters
Here's the traditional fireplace we all loved in the winter season except that it's made in a newer, eco and better version. Just like the hearth, it lights up in different LED effects without needing to worry about safety, cost, and maintenance. And the temperature is adjustable. It heats up the home when you need it and makes the evenings a formal and beautiful setting.
Pros: A heater that saves energy and can offer heat to a room comfortably. LED and 3D effects serve as an alternative for you to set to make it exciting. They even have tip-over switch to shut off automatically when jarred or moved about while operating.
Cons: Having no wheels, it is harder to transfer to other places at home. Surfaces can be hot that everyone should be careful around it. Flame effects can be repetitive at times and can't totally replace the classic elegant fireplace.
Here are the best flame effect heaters to buy in New Zealand:
Dimplex Electric Fire Heater – NZ$251.99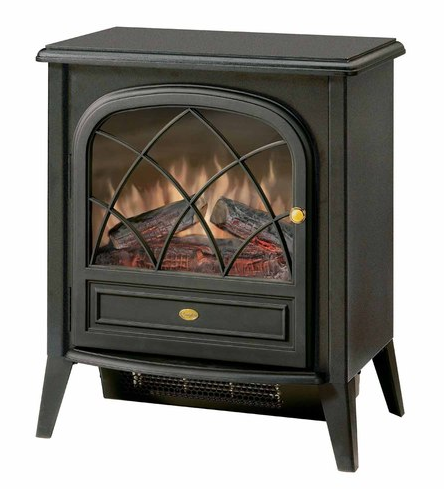 Pleasant and relaxing electric wood stove. 2kw heat output. Select from 2 heat settings. Features LED lights (energy efficient), Optiflame with log effect, and Tilt switch. Classic matte black.
Convector Heater
Convector heaters follow the same concept as an oil column or panel heater, taking in the air outside it and heating it for it to diffuse throughout the room. It is light and easy to switch from one place to another. When it functions, it doesn't make annoying noises.
Pros: Efficient type heaters with features as thermostat. It is safe to use as you sleep at night with the temperature constantly set. It operates silently without disturbing you. An excellent heater to use in medium sized homes. Built-in fans assist in circulating the heat in the room.
Cons: Air can get trapped underneath the ceiling. It takes more time to warm up a larger room. It can get knocked over unwantedly.
Here are the best convector heaters you can get in New Zealand:
Delonghi HSX Slim Style Convector Heater 2400W HSX3324FTS – NZ$146.99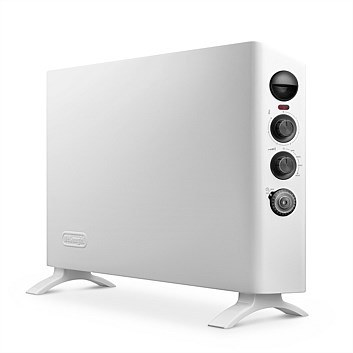 Slim and minimalist styled body. 2400W heater. With 3 heat settings. Adjustable thermostat, all done with the help of a lateral forced fan.
Goldair Convector Heater 2300W (GCV340) – NZ$139.99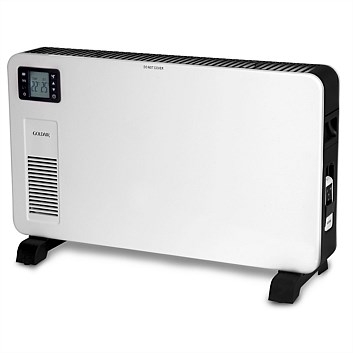 Classy and hi-tech design. Goldair's GCV340 features 3 heat settings, LCD display, turbo fan, overheat protection, and remote-control access. Suitable to heat a medium and large size rooms.
For suites and lounges
Micathermic Heater
A very efficient heater that works as both an oil-based column and radiant heaters. One difference is its use of mica sheets instead of oil within to heat up whilst it can also direct the glowing heat element toward people and furniture. The heating process only takes a minute and gives warmth and dryness to larger spaces.
Pros: It has background and radiant lighting that will heat up your room in no time. It is also a more efficient heater as it uses less energy in its quick heat-up and performance. Self-regulating thermostat keeps the temperature even in the house.
Cons: Its metal fins can get very hot unless they are widened or encased. And so does all of its sides. In addition, radiant heating emits heat rays that can be prone to fire and safety hazards. Mica can cause starting noises in the heater.
These are the best micathermic heaters you can buy in New Zealand:
 Goldair Micathermic Heater (GMH360) – NZD$209.99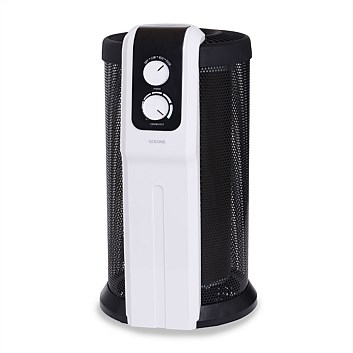 Sleek and compact Goldair GMH360 is the answer during cold days. 2200W is fit for large rooms. With 3 Heat settings, adjustable thermostat, safety tip-over switch, and 360-degree heating. It also features double heating sides for a more efficient warmer atmosphere.
Number 8 Micathermic Heater – NZ$49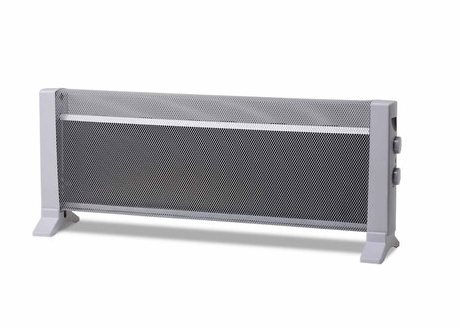 For a cheap option, try Number 8 Micathermic Heater. It features 2 heat settings, an adjustable thermostat, and a safety tip-over switch. 1200W means it is capable of heating up small-medium rooms.
Ceramic Heater
Ceramic heaters are akin to fan heaters and are available in personal or tower models. The air is heated up through PTC (Positive Temperature Coefficient) ceramic where it transfers the heat over to the metal fins and is then blown away by the fan. Light and portable, it replaces the cold air with a warmer temperature around the house.
Pros: Very lightweight and portable. The heat distributes around the room equally and evenly without getting stuck in high ceilings. Mostly have tip-over switches for automatic shut off. Since it doesn't employ radiant heat, they are safer options to use than other heaters.
Cons: With a narrow structure and base, it can get tipped over and damage the product while smaller sized ones may not cover a larger room for a while. Furthermore, heating up process may take a little more time.
These are the best ceramic heaters you can buy in New Zealand:
Goldair Black Ceramic Heater – NZ$29.99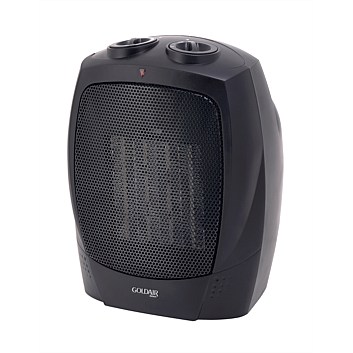 Portable 1500W ceramic fan heater with 2 heat settings, 1 fan setting, and an adjustable thermostat.
Delonghi Bendline Ceramic Fan Heater (HFX60V20) – NZD$146.99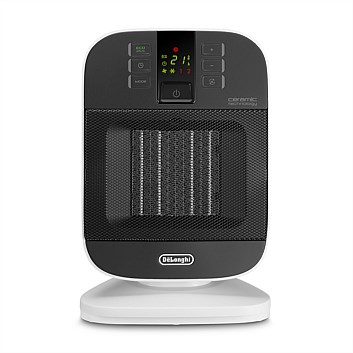 Smart and classy look. You'll be shivering less with Delonghi Bendline Ceramic Fan Heater that is built with automatic turn off, an electric control panel, dust filter with an oscillating base. This 2000W heater is excellent for large room heating and spaces up to 60m3.
Safety Reminders
Before using the heater that you've bought, it helps to peruse the instructions for a safe and proper use. Give it a clearance of at least 1 meter distance from any furniture, curtains, or wet clothing. Many micathermic heaters produce hot surfaces on them that placing them near anything might cause harm. Always be careful it as it could be painful if you accidentally touched it.
Speaking of burns, the metal fins get so hot in oil or mica-based heaters, it's better to choose models with wider or protected fins and heat shields. Alternately, you can set it up on the wall or turn it off when you're finished using.