Featured Image Source from Hirepool
By Amelia Montgomery
Keeping your hedges attractive and neat can take a lot of work. Fortunately, we've put together a list of the best hedge trimmers in New Zealand here for you!
But before we present to you our picks for top products, we'll discuss the basics of buying a hedge trimmer, including the types, performance, some buying advice, safety, and more.
How to Buy a Hedge Trimmer
Here are the factors you need to consider when purchasing a hedge trimmer:
1. Types of Hedge Trimmers
There are 3 common types of hedge trimmers you can find. Let's differentiate each of them below.
Double-Sided Hedge Trimmer
Double-sided hedge trimmers have teeth on both sides of the cutting bar. These are great for trimming and sculpting hedges at chest-height.
Single-Sided Hedge Trimmer
This type is suitable for cutting larger sections of hedges in one sweep! Having only one cutting side, it's less heavy than double-sided hedge trimmers.
If you need the advantage of reach, pole hedge trimmers should be your choice. They can cut both high and low hedges, as well as ground cover.
Furthermore, you can angle the hedge trimmer to reach higher places and finish your work sooner. With it, you won't likely need to use a ladder.
2. Performance
Hedge trimmers cut differently in terms of power and speed (measured in CPM or cuts-per-minute), cutting capacity, and suitability for the trimming work at hand.
A higher CPM means that the hedge trimmer is fast and efficient in clipping shrubs or hedges. You should get a machine with at least 1,000+ cuts-per-minute for speed.
The cutting capacity simply refers to the thickness of a branch that your hedge trimmer can cut. The higher it is, the larger the area or the more branches it can cut.
As for suitability, we've already mentioned single, double, and pole hedge trimmers.
3. Ease of Use
Ease of use for hedge trimmers cannot be understated. As you want to finish your trimming efficiently and easily, ergonomics is important.
Having a light hedge trimmer makes manoeuvring it a breeze. However, some tools sacrifice this a little in exchange for higher performance or longer battery runtime.
Some hedge trimmers let you rotate the rear handle to cut hedges from different angles and vary the speed levels for a more accurate and personalised cut.
You can also find features like an electronic brake to stop the hedge trimmer's operation immediately, while others let you push a button to add power as you cut.
4. Battery
The battery of a hedge trimmer will determine how long you can use it. The best batteries are lithium-ion batteries ranging from 7.5 to 80 Volts for longer use times.
While batteries are mostly included in the price of buying a cordless hedge trimmer, they can be sold separately at an additional cost, along with the charger.
You can even use the battery for other tools of the same range (as with the Ryobi ONE+ hedge trimmer). As a result, this can save you more money in the long run.
It will help if your hedge trimmer has a battery indicator. With it, you will have an idea of how long you can use the tool before needing to charge it again.
5. Safety
A hedge trimmer should be powerful and easy to use, but more importantly, it should be safe to use.
For this, look for hedge trimmers with a durable blade guard to protect your front hand from their spinning cutter.
Aside from that, make sure to read the manual before using the hedge trimmer. And don't forget to wear safety glasses, protective gloves, and non-skid shoes to reduce your chances of injury.
The Best Hedge Trimmers in New Zealand
Now that you know how to buy a hedge trimmer, allow us to list down the top hedge trimmers in NZ!
1) Mako Hedge Trimmer with 18V Battery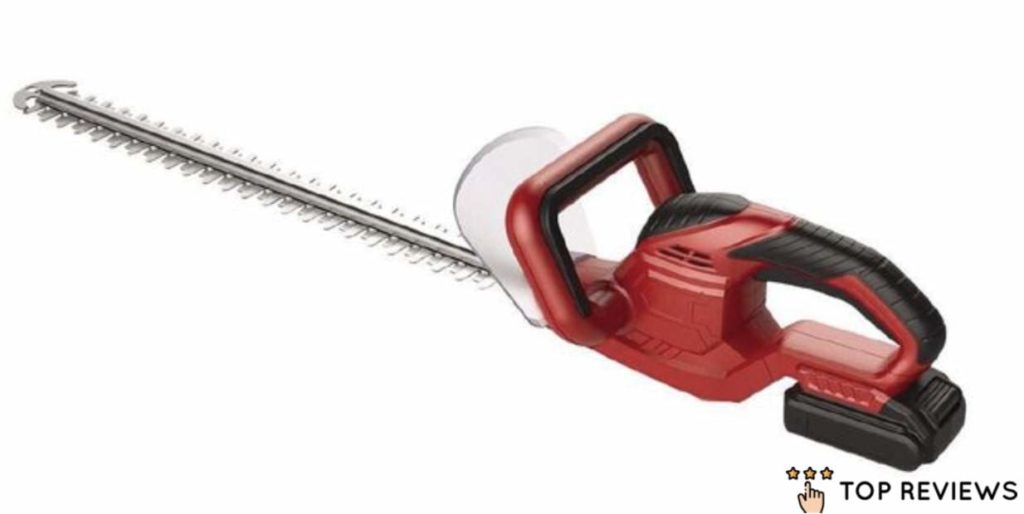 | | |
| --- | --- |
| Best for | DIY hedge trimming |
| Blade length | 560 mm |
| Cutting capacity | 22 mm |
| Weight | 3.4 kg |
| Price | $129 |
The Mako 18V Hedge Trimmer is an efficient and lightweight hedge trimmer designed for DIY works around your home or office.
This hedge trimmer has 1,300 cuts-per-minute and a blade length of 560 mm. Although not as powerful as the others, it's good enough to give a neat and even trim.
Encased within its frame is a 2.0 Ah battery. To keep you working in the day, you can buy an extra battery pack and charger for this tool from different retailers online.
Plus, the Mako hedge trimmer includes a blade guard to protect your hand from the rotating blade. It comes with a 2-year product warranty for your peace of mind.
Efficient and lightweight
Cordless operation
Equipped with a blade guard
2-year warranty
Slower-cutting compared to other hedge trimmers (1,300 CPM)
2) Kiwi Garden Electric Hedge Trimmer 450W

| | |
| --- | --- |
| Best for | Budget-priced hedge trimmer |
| Cutting capacity | 16 mm |
| Weight | 2.75 kg |
| Price | $69 |
With a lower price point and ergonomic design, Kiwi Garden Electric Hedge Trimmer makes trimming your place's unruly shrubs and hedges easy work!
This trimmer features a double-sided blade that can cut foliage up to 16 mm in diameter. It weighs just 2.75 kg and has ergonomic handles making it lighter to wield.
At any time, you can stop the slashing jaws of the motor by pressing the electronic brake. The plastic handle guard is durable and offers protection to your front hand.
Since it's not cordless, you can only use it near a power socket or with an extension cord. It also comes with a cable holder to keep the wire from going ahead of you.
Neat and efficient cut
Ergonomic handles
Has an electronic brake
Convenient cable holder
Limited reach since the hedge trimmer is corded
3) Greenworks Long Reach Hedge Trimmer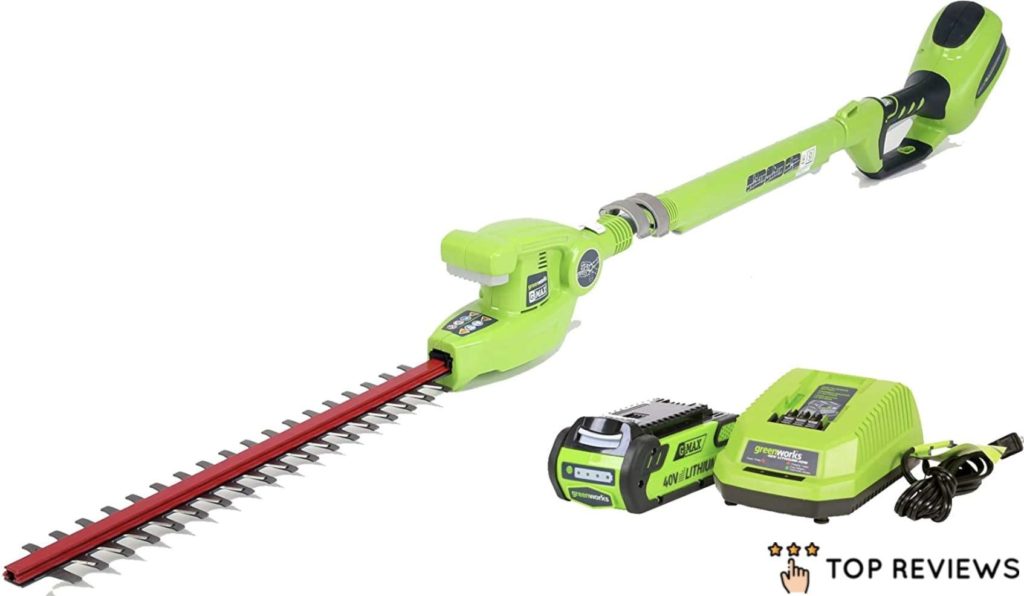 | | |
| --- | --- |
| Best for | Tall hedge trimming |
| Blade length | 508 mm |
| Cutting capacity | 15.9 mm |
| Battery | 40V G-Max lithium-ion battery |
| Weight | 4.35 kg |
| Price | $319 |
With this Greenworks pole hedge trimmer, you can trim tall hedges and shrubs safely and without a ladder.
This long-reach trimmer is extendable up to 1.98 m and can pivot between 8 blade positions to cut hard-to-reach hedges from many angles.
With a blade length of 508 mm, you can shear hedges up to 15.9 mm thick easily and accurately. Furthermore, the trimmer is light to carry and quieter than other brands.
It is powered up by a 40V G-Max lithium-ion battery, which can run for 30 minutes non-stop. At any time, you can view the battery indicator to know how much is left.
And bonus: you can load this battery into different Greenworks tools.
8-position blade
Less noise
Extendable up to 1.98 m
The battery is usable with other Greenworks tools
Expensive
Can get heavy if you extend your arms fully when using it
Customer Reviews
Most of the customers praised the adjustable head, ease of use, value for money, and battery power—especially if you bought the 4 Ah battery, which lasts for an hour's use!
Here's an excerpt taken from one customer's review:
"We have owned this hedge trimmer for two years and it is the best trimmer yet.
It is sharp and the blades have remained sharp, and perhaps, most importantly, have remained in alignment keeping the cutting surfaces in proper alignment. We have 3 neighbors who also have come to love it and it is loaned out regularly…"
Also, check out this feedback from Terry:
"Using the hedge trimmer is really easy and intuitive. It makes trimming our tall bushes and Wisteria so much easier and does a great job. I love how the trimmer head can be angled to make it easier to level off the tops of bushes. The trimmer does get a little heavy if using it with your arms fully extended, but most of the trimming I needed to do didn't require that. The instructions don't cover this very well, but when you are done trimming and want to separate the trimmer from the pole there is a button at the base of the pole with a downward arrow on it that you press inward (toward the pole) rather than downward to easily separate them. Battery life is limited by which of the 40 volt G-max batteries you use. Greenworks sells a 40 volt 2 Ah battery estimated to run about 30 minutes on a full charge, but they also sell a 4 Ah battery estimated to run up to an hour. The trimmer should work fine with either one (the battery I currently own is 2 Ah, and it allowed me to trim trees and bushes with a single charge).
I you are a homeowner looking for a cordless hedge trimmer to keep your bushes in good shape this Greenworks trimmer is definitely worth the money. I am so happy with their cordless system that I may also invest in one of their cordless blowers, too."
4) Ryobi Hedge Trimmer 600W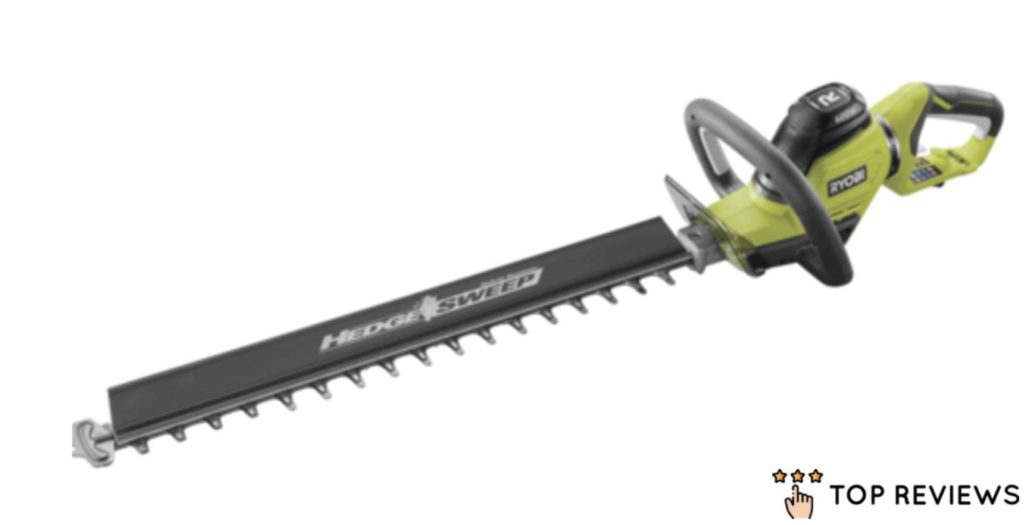 | | |
| --- | --- |
| Best for | Hedge shaping |
| Blade length | 600 mm |
| Cutting capacity | 28 mm |
| Weight | 3.1 kg |
| Price | $159 |
Power, control, manoeuvrability… The Ryobi 600W Hedge Trimmer has everything you need and is one of the best hedge trimmers in New Zealand you can find!
It has a superb rating of 3000 cut strokes per minute and 600 mm bar to give your garden a smooth and neat cut.
With rotatable rear handles and even weight distribution, your arms and body won't tire whatever direction you cut—be it straight-on, side-on, overhead, or low on the ground.
It's therefore excellent for shaping your garden. You'll finish all the work early and with the least effort that you'll be able to do other important things.
On top of that, the low price means you get great value for money with this tool. No matter how different or woody the stems are, this thing will surely get it done for you.
5 cutting angles for the rear handle
Even weight distribution
Accessible front trigger
Affordable
A bit delayed when starting the trimmer
5) Stihl HSA 56 Hedge Trimmer

| | |
| --- | --- |
| Best for | Safety features |
| Blade length | 450 mm |
| Cutting capacity | 16 mm |
| Battery | AK 10 battery |
| Weight | 2.9 kg |
| Price | $495 |
The Stihl HSA 56 is designed with safety in mind, with a blade tip protector, a neutral lock position, and a heavy-duty stout guard.
It doesn't just have defence though: it has a great offence too. For instance, its dual blades, with droplet-shaped hooks, draw in the hedges and twigs for a sharp and precise cut.
Its AK 10 battery runs for 40 minutes when fully charged. This battery can be used for other cordless products by Stihl, such as leaf blowers, grass trimmers, chainsaws, and lawnmowers.
The only drawbacks are the vague instruction guide and the price (with battery included).
Light and efficient to use
Quiet operation
Neutral-locking position
Long-lasting blade guard
Expensive
Vague instructions
Customer Reviews
This product has received rave reviews from customers who said that it was reliable, sharp, and efficient to use in cutting a wide expanse of bushes and hedges.
One reviewer on Stihl USA said this:
"Amazing product and rivals the gas powered models. Light, portable, and powerful. Highly recommend for a homeowner with a medium amount of bushes."
Furthermore, here's a comment from another user:
"We needed to trim 800 ft. Of Rose of Sharon hedge and love that it did it on one charge. I will continue to buy stihl products due to dependability and quality products."
FAQS about the Top Hedge Trimmers in NZ
---
And that's it for our list of the top hedge trimmers in NZ. Certainly, by using these awesome tools, your home will look tidier and more pleasing than ever before.
Do you have any questions or suggestions for us? If you have one, kindly send us a message, and we'll reply or check out your recommendations promptly.
Looking for a great lawnmower to manicure your lawn as well? No problem: for this, feel free to check out our best lawn mowers in New Zealand list!