Top 7 Places for the Best High Tea in Auckland
Snack times are among the joys that we look forward to every day. Whether you want to enjoy a sandwich and cup of tea or host a small party for your own snack time, we've listed the top places for the best high tea in Auckland here for you.
We carefully selected those with a great mix of savouries and desserts. Also, we picked those that have a wonderful ambience and rave reviews from clients.
Without any more delay, here are the top places for the best high tea in Auckland!
1) Debretts Kitchen

BEST FOR
1920s-inspired high tea meals
SERVICES
High Tea

Breakfast

Lunch & Brunch

Dinner

House Bar Snacks

Drinks

WEBSITE
https://www.debrettskitchen.co.nz/high-tea/
ADDRESS
3B O'Connell Street, Auckland CBD, Auckland 1010, New Zealand
CONTACT DETAILS
+64 9 925 9000
OPERATING HOURS
Monday to Friday: 6.30am – 9pm

Saturday & Sunday: 7am – 9pm
Feel like travelling back in time to the roaring 20s or the Great Gatsby era? If so, you can reserve a spot for your high tea at Debretts Kitchen.
The restaurant offers fine high tea meals including sumptuous dishes, cakes, cocktails and desserts.
From Smoked Salmon Pinwheels and Devilled Eggs with Crispy Prosciutto to irresistible Bees Knees and Strawberry Rickey cocktails, they have it all.
Also, the dress code requires guests to be in flappers or dappers (1920s attire). Ladies may want to buy a 20's-inspired pack that comes with props such as faux pearls, bright feather boas, demure long gloves, and lovely headbands.
Bookings are essential: the team will also ask about any dietary requirements. However if you intend to cancel, make sure to do it by 6pm the day before.
Highlights
20s-inspired high tea menu
Delectable food and desserts
Food is prepared-to-order
Booking should be made in advance
Customer Reviews
Kyla James gave this feedback about Debretts Kitchen:
"High tea was amazing. All of the little treats were delicious and the scenery was very opulent.
Absolutely would come back again. Staff were not very present unfortunately hope to see this improve next time."
2) Wintergarden Cafe

For small gatherings, parties, or events, High Tea at the Pavilion is oh-so-perfect. This is available on Saturday and Sunday every 1st and 3rd week of the month.
The place feels just like home, with lovely windows, a relaxing ambience, and of course, delicious light food and a cup of soothing Webster's leaf tea.
You can take your pick from their tier stand of scones, sweet treats, and finger food. They also offer vegan and gluten-free selections for people following a certain diet.
Highlights
Perfect for small gatherings and events
Satisfying light food
Cosy ambience
Has vegan and gluten-free selections
3) Bluebells Cakery

BEST FOR
Great variety of menus
SERVICES
Savouries

Sweets

Refreshment

WEBSITE
https://bluebellscakery.com/pages/high-tea-auckland
ADDRESS
361 New North Road, Kingsland, Auckland, New Zealand

161a Hillsborough Road, Hillsborough, Auckland, New Zealand

Ground Floor, Commercial Bay, Auckland, New Zealand

CONTACT DETAILS
09 377 3429
OPERATING HOURS
Monday to Friday: 7am – 4pm

Saturday: 8am – 3.30pm

Sunday: 8.30am – 3pm
Formed in 2011, Bluebells Cakery is one of the top places for the best high tea in Auckland. They offer tastes of everything that the bakery has been known for.
They offer all sorts of high tea options for guests with their vegan, vegetarian, gluten-free, pregnancy-friendly, kids, and standard menus. Not to mention the fact that they're open 7 days in the week.
We suggest trying their Herbed Egg Tea Sandwich, Mini Sausage Roll, or Mini Quiche Lorraine. It can be paired with drinks of cold lemonade, flavourful coffee, or Almighty Juices.
They're based in 3 locations: in Kingsland, Hillsborough, and Auckland CBD. In Kingsland, you can book 2-12 people, so it's perfect for small parties or larger social events.
Highlights
Great variety of menus
Divine food!
Spacious eatery
Formed in 2011
Customer Reviews
Here's feedback from Shivani Singh about Bluebells Cakery:
"A Bluebells Cakery High Tea is the absolute best and a must! Their fantastic mix of sweet and savoury treats are so delicious! It made our Father's Day. Everything was packed and labelled beautifully and delivered on time. On the day I had completely forgotten about the delivery and was out when it arrived. The lovely delivery person kindly left me a voicemail message to let me know that the boxes had been delivered. I had also ordered a pack of 6 cupcakes, that were so delicious! Thank you so much, Bluebells Cakery! Highly recommended!"
4) Cornwall Park Bistro Cafe Creamery

BEST FOR
Customer service
SERVICES
Savouries

Sweets

WEBSITE
https://www.cornwallparkeateries.com/high-tea
ADDRESS
Cornwall Park, Pohutukawa Drive, Epsom, Auckland, New Zealand
CONTACT DETAILS
+64 9-630 2888
OPERATING HOURS
Wednesday to Friday: 10am – 11.30am | 2pm – 4pm

Saturday & Sunday: 2pm – 4pm
For an overall delightful high tea experience, we strongly recommend Cornwall Park Bistro's high tea.
Their service has been said by guests to be fast and friendly, which is why it fits right in with the top places for the best high tea in Auckland.
They have tasty meals for savouries and sweets that will never fail to delight. Their variety of tea options from Harney & Sons is also a highlight.
Take note of the times indicated above and always book beforehand. Otherwise, they might not let you in or you may find that other people have occupied the place before you.
Highlights
Offers a range of tasty meals
Premium Harney & Sons tea
Fast and friendly service
Lovely ambience
Customer Reviews
Let's hear the review of Sachindri Rana about Cornwall Park Bistro's high tea:
"I was here with a group of friends for High Tea! I must say, the ambience was great and the experience was priceless with all wonderful people around me. The staff was very friendly and had great customer service skills. Patience is the key when it comes to large groups and the staff nailed it. They had good tea options. And the High Tea food was also and yummy! The key here was the presentation which was great. Would highly recommend and visit again. 🙂 Cheers"
5) The Tearooms at Shamrock Cottage

BEST FOR
Sweet and savoury food
SERVICES
Morsels

Sandwiches

Desserts

WEBSITE
https://www.shamrockcottage.co.nz/high-tea
ADDRESS
73 Selwyn Road, Cockle Bay, Howick 2014, Auckland, New Zealand
CONTACT DETAILS
+64 9-533 1370
OPERATING HOURS
Tuesday to Sunday: 8.30am – 4.30pm
The Tearooms at Shamrock Cottage frequently host private and public events for high tea. Your high tea here can be tailored based on your desired theme, food, and dietary requirements.
This teahouse is where you'd like to go to unwind, talk, and enjoy sweet and savoury food. On their three-tiered stands, you can get tasty morsels, sandwiches, and scones.
Another of the top places for the best high tea in Auckland, they have an inviting atmosphere with a roaring fire and a pleasant, sun-drenched courtyard.
Highlights
Sweet and savoury food
Can host your event (i.e. baby shower, birthday)
Heavenly desserts
Inviting atmosphere
Customer Reviews
One customer, Kris Jones, reviewed The Tearooms at Shamrock Cottage on Google:
"My first time visiting this place. Its like stepping into time, i love this cosy place. Lovely staff and service. The homemade food was really tasty. I got the homemade chicken and vegetable soup."
6) Moxie Restaurant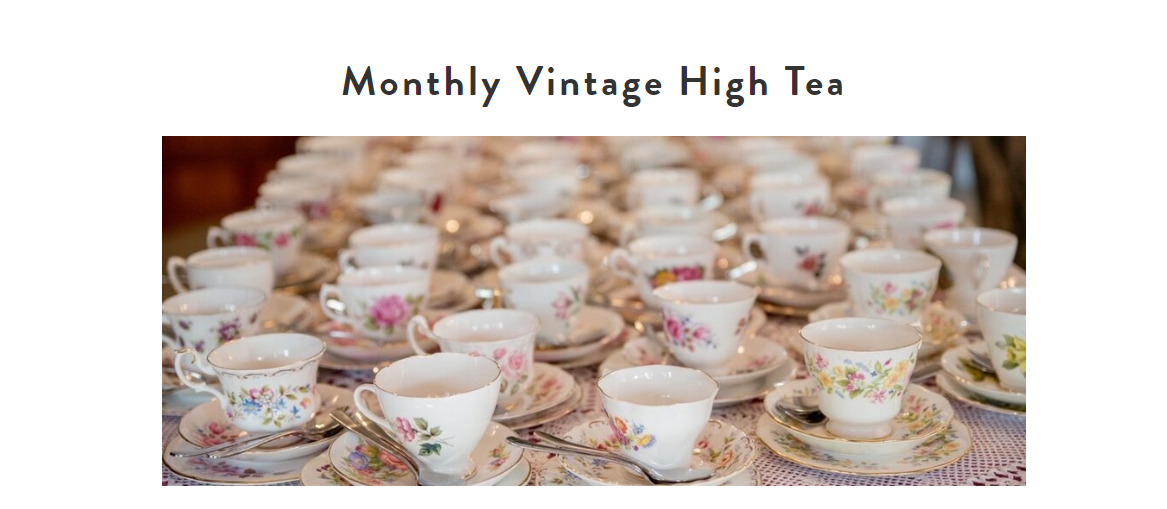 Moxie Restaurant was built upon the simple principle that eating and cooking were human things to do. The owners enjoyed cooking and seeing people enjoy their modern cuisine in a highly respectable establishment, complete with tables, chairs, and smooth jazz compilations.
As for high tea, it's held every last Sunday of the month. The restaurant is dressed up in vintage wear, with floral table tops, actual flowers, teacups, pearls, candles, and teapots. The experience is completed with the best tea accompanied by silver teaspoons, sugar tongs, crystal creampots & jam jars.
Highlights
Good ambience
Amazing and wide-ranged menu
Friendly and professional staff
Customer Reviews
"Fantastic food, friendly service and relaxing atmosphere."

"Beautiful little restaurant with the most amazing food and staff. The service was exceptional and the whole atmosphere was very laid back. We will definitely be visiting again very soon. Romantic atmosphere"

"Able to cater for my dietary requirements- vegetarian without garlic or onion, etc. Very tasty food, nice atmosphere, and great service. Wonderful for special occasions or a date night.
Romantic atmosphere"
7) Eden Garden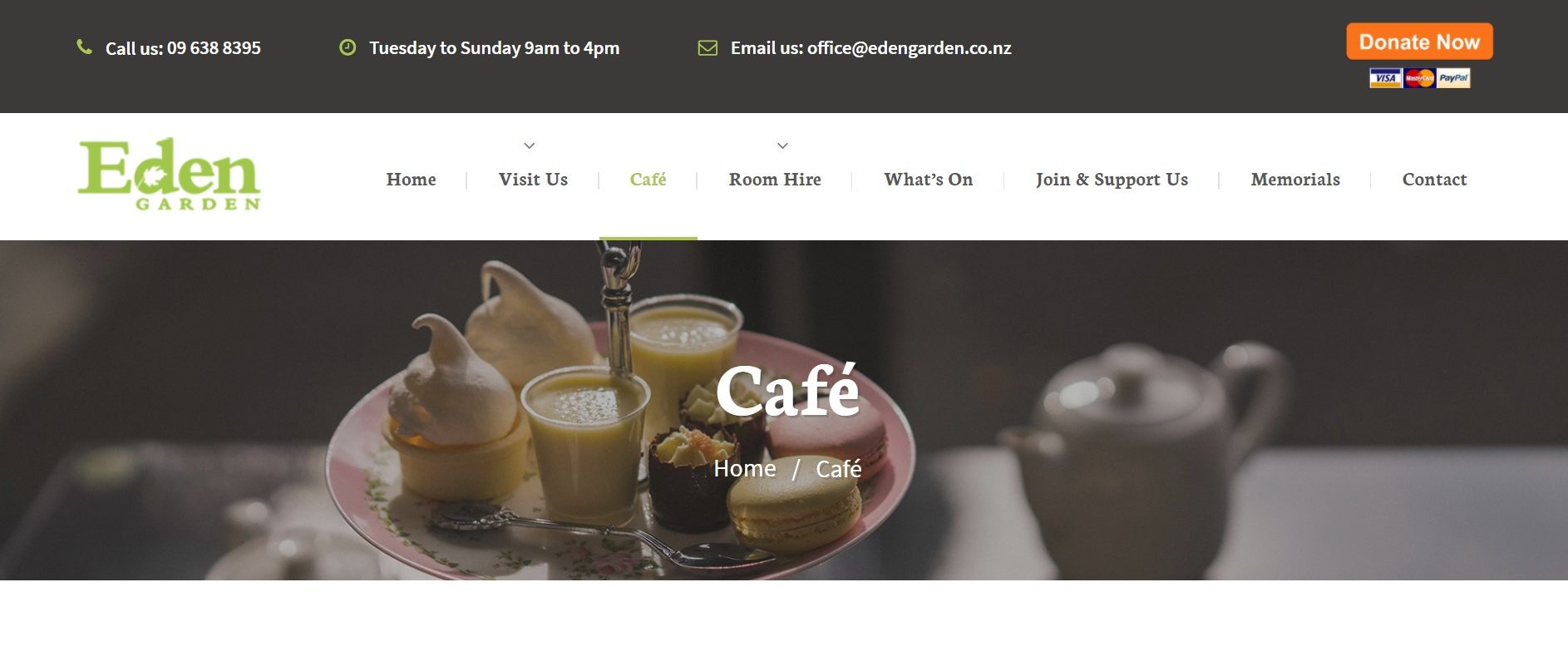 | | |
| --- | --- |
| BEST FOR | Gorgeous garden and woodland paths |
| SERVICES | Dine-in, Tea, Gardening, Photography/Room Hire |
| WEBSITE | https://edengarden.co.nz/cafe-2/ |
| ADDRESS | 24 Omana Ave Epsom Auckland |
| CONTACT DETAILS | 09 638 8395 | [email protected] |
| OPERATING HOURS | Tuesday to Sunday 9am to 4pm |
Eden Garden is the epitome of beauty and peace. Situated at the slopes of Mt. Eden, it is a sanctuary worth checking out.
It's the perfect place not only to see the scenery, but to also enjoy tea and some biscuits while doing so.
Most of the food offered are made by their amazing chefs, too, so you're to expect delicious meals.
Consider going to Eden Garden for good tea and food, all other details to know are in their website!
Highlights
Decadent pastries and yummy finger food
Relaxing ambiance
Good tea
Lovely garden
Customer Reviews
Read some of the feedbacks left on Eden Garden's Google Review:
"Stunningly beautiful – Tulips on full display until 13th September. Put your walking shoes on, grab a mask and enjoy hours ….. or a quick hour. Walking in amongst nature, beatiful nature in the city. For those who are young, young at heart and fit lots of walking tracks right to the trop of what used to a the quarry. There is an entrance fee which covers the massive maintenance upkeep and planting $12 adults, $8 seniors and Im not sure children may be $4. Open Wed – Sun. 0900am – 1600pm. And please support the wonderful cafe ….. fantastic food, service and location." – Shirlene Pisani
"Really enjoyed my visit with my dad's tree, which has been very well looked after. Even though it's been 32 years since his passing, Eden Gardens still had his information on computer. I couldn't remember the name of his Rhododendron (which they found for me). Greatly appreciate the friendly service & the laughs we made. Thank you soooo much. If there were more stars, I would give them" – Michelle Knox
"Oh my goodness, what a gem of a place hidden away under the shadow of Mt Eden. Never been here before and was well worth the wait. Great walking tracks through the garden's with exquisite plants and bird life.
Does get busy and tracks can be a steep climbing is optional. However there are bench seats everywhere to take in the sights and sounds. Very enjoyable." – Brendan Ford
So you've just read through the top places for the best high tea in Auckland. You can book with these cafes or restaurants to enjoy homemade and savoury light meals.
Do you have any questions or comments about our topic? If you have one, feel free to send us a message and we'll get back to you in a bit.
Also, note that we have a lot of other lists of places to visit for great culinary experiences. For instance, you may be craving some hot pot or Korean BBQ food too. In that case, you can check out our list for the best Korean BBQ restaurants in Auckland!