The 8 Best Home Builders in Auckland
Starting on a new house build can be a daunting and long process. Fortunately, we've found the best home builders in Auckland who will not only make it simple and stress-free for you — but make it enjoyable as well!
We picked the ones who are highly knowledgeable and experienced to design and build your home. Then we selected those with great communication.
Furthermore, we read what customers said about the builders. This let us know that we were indeed right in choosing them for this list.
These people care about your new home like their own. Now, here are some of the best home builders in Auckland you can find!
1) Tailored Building Solutions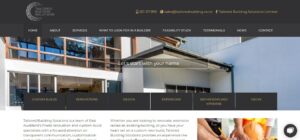 Tailored Building Solutions has been in service since 2010. Paul Buddle, the qualified and passionate builder of the company, believes that every project should be approached with creativity, quoted with honesty, and finished to the highest standard of excellence.
People like them because they manage projects from conception to completion. Another reason is they are the one who gather the relevant conatcts for architects and subcontractors to ensure that the clients building needs are met with the most high-quality materials and workmanship.
Over the years, through Paul's building experience, they have built a reputation for themselves due to the outstanding quality of their services.
Unlike other companies, they always focus their attention to customer experience and are dedicated to deliver a stress free and transparent service.
Highlights 
Accurate and dependable quote
Adjusts to fit your schedule
Can take any size of project
Customer Reviews 
Here are some reviews from Tailored Building Solutions' previous clients:
"Paul has undertaken a total renovation of our house including and not limited to a new kitchen, a walk in wardrobe conversion an extension to our house and extending various rooms by taking walls out and replacing with supporting beams etc. The quality of the work is second to none and Paul is always very accommodating to our needs. We have since had Paul undertake electrical upgrades and audio system installations"
"Paul and his team at Tailored Building Solutions (TBS) did a renovation and addition to our 1960's house in Howick Auckland . His brief was to keep the new addition in line with the existing house , something TBS did extremely well . Other than the usual council hold ups the project was completed on time and to a very high standard . I would not hesitate to recommend TBS for any future renovations ."
2)  Ashcroft Homes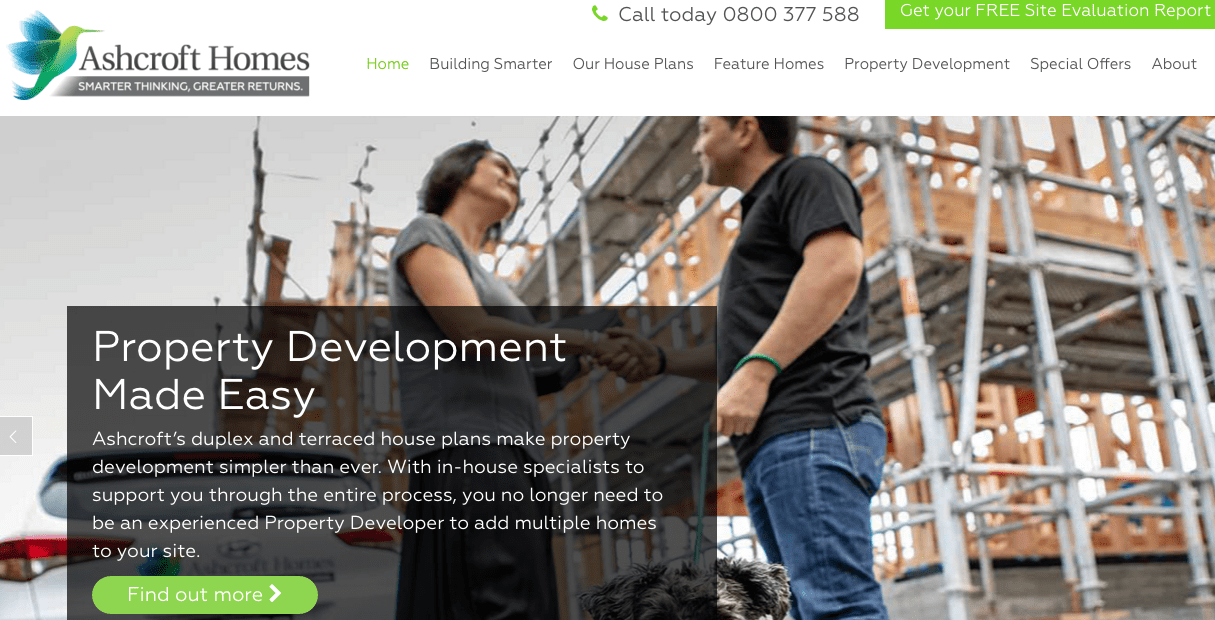 BEST FOR
Property Development
SERVICES

Townhouse and Terraced House Specialists
Property Development
Subdivision Services
House Plans

WEBSITE
https://ashcrofthomes.co.nz/
ADDRESS
Level 2, 35 Karaka Street, Eden Terrace, Auckland 1010, New Zealand
CONTACT DETAILS
0800 377 588
OPERATING HOURS
Monday to Friday: 8.30am – 5pm
If you are a landowner or property developer looking to minimise your cost while maximising your profit, then Ashcroft Homes is here to help!
They pride themselves on constructing nice, beautiful homes at affordable rates for you. They offer subdivision, property development or house plans, and house & land packages.
With over 12 years' experience, they comprise fully trained, trade-specialised teams who will ensure that the building process will be an exciting and enjoyable experience for you.
If you need advice or have enquiries regarding your new build, just talk to the team at Ashcroft Homes, certainly one of the best new home builders in Auckland!
Highlights
Minimises the building cost while maximising your profit
Fully trained, trade-specialised teams
Over 12 years' experience
Offers a range of services
Customer Reviews 
On Google Business, one of their clients, Tom Tang, shared: 
"This was our first time building a home and we would like to say we are very happy with how Ashcroft Homes handled the entire process. From the subdivision to construction, the entire process was stress free with a professional team who would always keep us up to date. We now have a great new home thanks to the wonderful people at Ashcroft. Highly recommended. Thank you to Nathan, Brendon and Richie along with the rest of team."
3)  Landmark Homes West/Central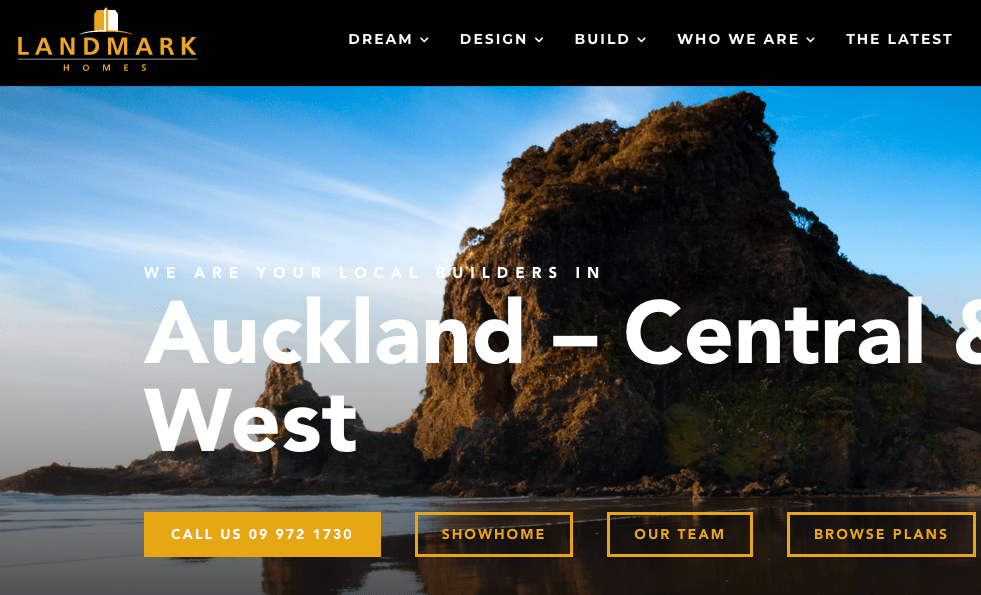 BEST FOR
Architectural House Designs
SERVICES
Design and Build Design

Remove or Demolish and Rebuild

Ready-to-Build Designs

Subdivisions

Feasibility Assessment

House and Land Packages

WEBSITE
https://www.landmarkhomes.co.nz/
ADDRESS
517 Rosebank Road, Avondale, Auckland 1026, New Zealand
CONTACT DETAILS
0800 477 110
OPERATING HOURS
Monday to Friday: 9am – 5pm
Building your dream home in the West or Central Auckland area? We know a great builder — and it's none other than Landmark Homes!
They pride themselves on their superior and meticulous workmanship. Here, they offer you comprehensive options for building and designing.
From demolishing and rebuilding through to a full new home and everything in between, they can handle it.
It's their job to inform you at every stage of the building project and take care of the resource consents, documents and all those red tape along the way.
Rest assured, you will get a breathtaking new home you and your family will happily settle into. As such, they are another of the best new home builders in Auckland!
Highlights
Breathtaking new home
Comprehensive list of services
Highly skilled and knowledgeable team
Smooth and efficient building process
Customer Reviews
One client, R Weeks, said on the webpage:
"We found Landmark the most professional, and easy company to deal with."
4)  Byrne Homes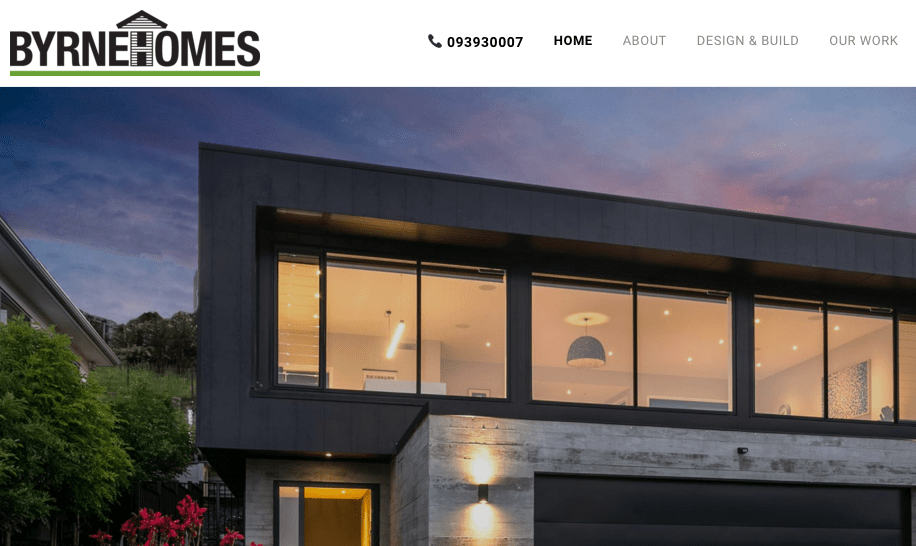 BEST FOR
Exceptional Design and High-Quality Houses
SERVICES
New Builds

Design & Builds

Renovations

WEBSITE
https://byrnehomes.co.nz/
ADDRESS
Unit 3c/23 Wainui Road, Millwater, Auckland 0932, New Zealand
CONTACT DETAILS
+64 9-393 0007
OPERATING HOURS
Monday to Friday: 7.30am – 5pm
At Byrne homes, they can make your dream build a reality! They are a multi-award-winning team led by Joe and Lisa.
Using modern technology and building methods, they provide exceptional workmanship and quality in building, resulting in a unique, great-looking home!
They will coordinate with you to ensure a seamless and hassle-free building process. Since they are Master Builders, you get a 10-year guarantee for the finished house.
You can see their attention to detail, architectural skill and excellence in some of the projects that they've completed — totally first class!
Highlights
First-class workmanship & quality homes
Seamless and hassle-free building process
Professional team with an eye for detail
Registered Master Builders
10-year guarantee on all houses
Customer Reviews 
One client, Adam Johanson, said on Google Business: 
"Great builder with an eye for detail and design. Joe and Lisa make a great team and we couldn't be more happy with how our house turned out. Highly recommend."
5)  KC Home Builders Ltd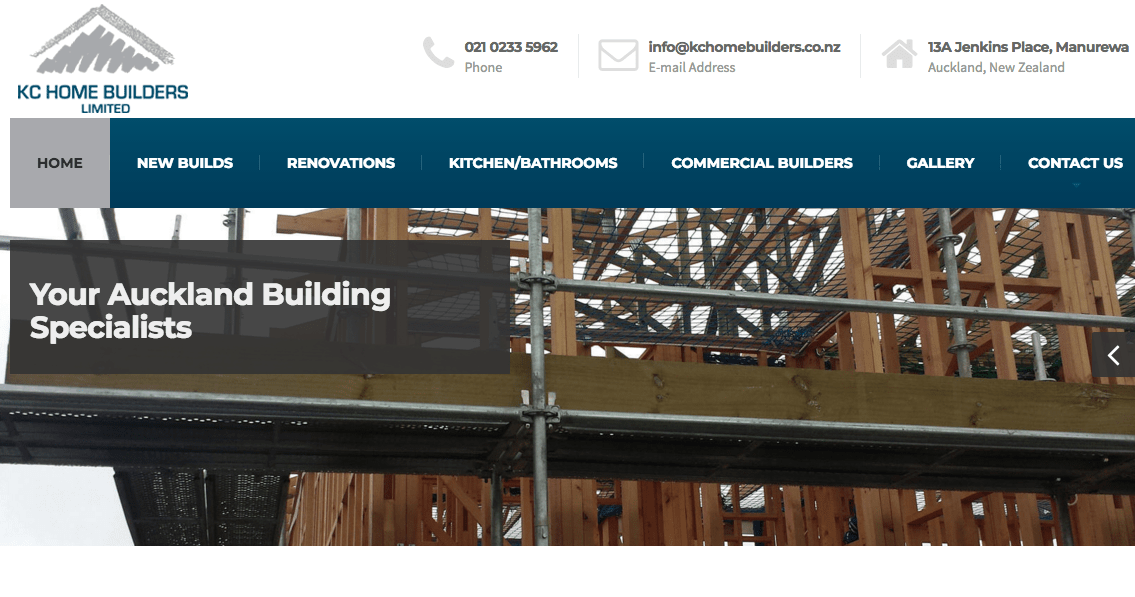 BEST FOR
Guaranteed Workmanship
SERVICES
●     New builds

●     General carpentry

●     Renovations

●     Alterations

●     Bathroom remodelling

●     Kitchen remodelling

●     Fixing leaky homes

●     Commercial fitouts and alterations

●     General building maintenance

●     Painting and tiling

●     Building inspections and reports

●     Demolitions

●     Brick laying

WEBSITE
https://kchomebuilders.co.nz/
ADDRESS
13A Jenkins Place, Manurewa East, Auckland 2102, New Zealand
CONTACT DETAILS
+64 210 233 5962
OPERATING HOURS
Monday to Friday: 8am – 6pm

Saturday and Sunday: 9am – 4pm
KC Home Builders Ltd offers new builds, renovations and alterations, and property repair and maintenance services. They work on all project sizes.
They are a team made up of Licenced Building Practitioners and trusted subcontractors. They promise the highest levels of workmanship and care in working on your new build.
Over the course of building your home, they can project-manage to look after everything for you. They're known for doing their utmost to save you time, effort and resources.
All their workmanship comes with a solid guarantee of 5-10 years. And you can totally trust them given their excellent track record of over 30 years of service.
Highlights
Well-constructed home
One-stop destination for your building and design needs
Licenced Building Practitioners
5-10 year workmanship guarantee
Over 30 years' experience
6)  Alpha 1 Builders

BEST FOR
Home Renovations
SERVICES
Home Design and Renovation
WEBSITE
https://www.alpha1builders.co.nz/
ADDRESS
45 Monaghan Avenue

Mount Albert

Auckland 1025

CONTACT DETAILS
09 846 8110
OPERATING HOURS
Monday-Friday: 8 AM-5 PM
Saturday: 9:30 AM-3 AM
Closed on Sundays
Alpha 1 Builders are experts in home renovation. They're the among the most trusted renovation companies in Auckland.
Their expert team uses quality materials and tested systems. With their help, home renovations can be done with as little stress as possible.
Highlights
Free bungalow and villa renovation guide
Many years of licensed building experience
7)  Sentinel Homes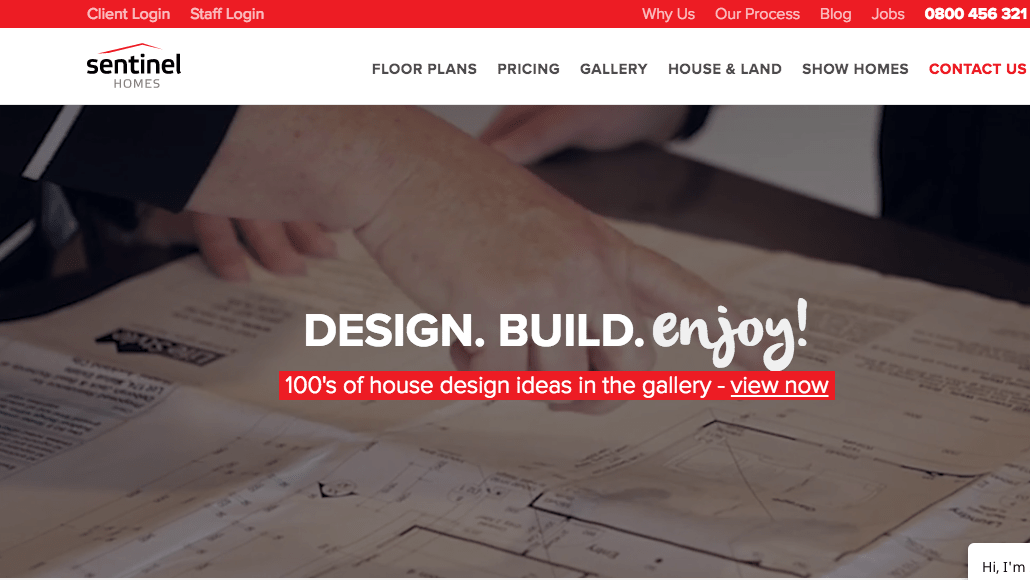 BEST FOR
Reliable & Prompt Communication
SERVICES
New Home Design & Build

Sentinel Mobile App

Custom Design

Quotations

WEBSITE
https://www.sentinelhomes.co.nz/
ADDRESS
Level 2, 6 Mitchelson Street, Ellerslie, Auckland 1051, New Zealand
CONTACT DETAILS

[email protected]

OPERATING HOURS
Monday to Friday: 8.30am – 5pm
Sentinel Homes is an award-winning new home builder with show homes in Huapai Hub and Papakura in Auckland, New Zealand.
They have seamless and reliable communication throughout the design and build process — which gets them into the best new home builders in Auckland list!
They help clients get tailored or proven designs for a stunning new home. Their core values, which they live up to sincerely, are "Integrity, Innovation, Quality and People".
With them, you'll get a dream home built with the expertise and creativity that they're known for! And did you know that they have a mobile app too?
Highlights 
Award-winning home builders
Seamless and reliable communication
Honest and skilled service
You can stay updated on the building progress through their mobile app
Customer Reviews 
Kevin & Angie Mounsey from Hamilton writes on the website: 
"All the way through, communication was excellent and the Sentinel Homes crew were like our mates! The house was built on time and bang on budget – we couldn't have asked for better."
8) Mr Thom Builders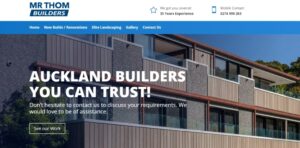 BEST FOR

Property Building and Renovations

SERVICES

All kind of renovation

Property Maintenance & Development

Renovation & landscaping

House Plans

WEBSITE

https://mrthombuilders.co.nz/

ADDRESS

14a Kurahaupo St, Orakei, Auckland 1071, New Zealand

CONTACT DETAILS

+64 274 998 263

OPERATING HOURS

Monday to Friday: 9am – 5pm
If you are a landowners or property developers looking for a best construction or renovation service in Auckland that helps in minimizing the costs and maximizing the profits then Mr Thom Builder is the one stop solution.
Their staff will help you achieve your dream project with less hassle from your end. They aim to make the renovation process as easy and comfortable as possible for their clients by providing full project management, and timely assistance.
They pride themselves on completing nice, beautiful home projects for their clients. They do all kinds of renovation from alteration to roof cladding because they manage the whole process.
They have been in the building trade for over 33 years. They are certified builders and they will ensure their clients receive an enjoyable experience.
Highlights
Fully trained, c

ertified builders

and trade-specialised team

Over 33 years of experience

Offers a range of services
And that's it for now for the best home builders in Auckland! With the help of these experienced builders, you will get an extraordinary house to live in.
Do you have any questions you'd like to ask us? If you have any, just send us a message and we'll get back to you as soon as possible.
Also, you can check out our other building and design lists if you want. For example, you can read about the best plasterers in Auckland to finish up your home just the way you want!