The 12 Best Home Inspection Auckland Companies
A good building report will give you confidence in purchasing or selling a property. It will save you from blowing your investment or dealing with rebellious clients in the long run. That's the reason we listed the best home inspection Auckland companies here: to spare you such problems!
We selected qualified and experienced house inspectors who will give an in-depth and accurate report. Secondly, we chose those whose communication is prompt and clear.
Even on the phone, these tradesmen can report to you about the potential home. Now then, here's our list of the best home inspection Auckland companies!
1) City Line Ir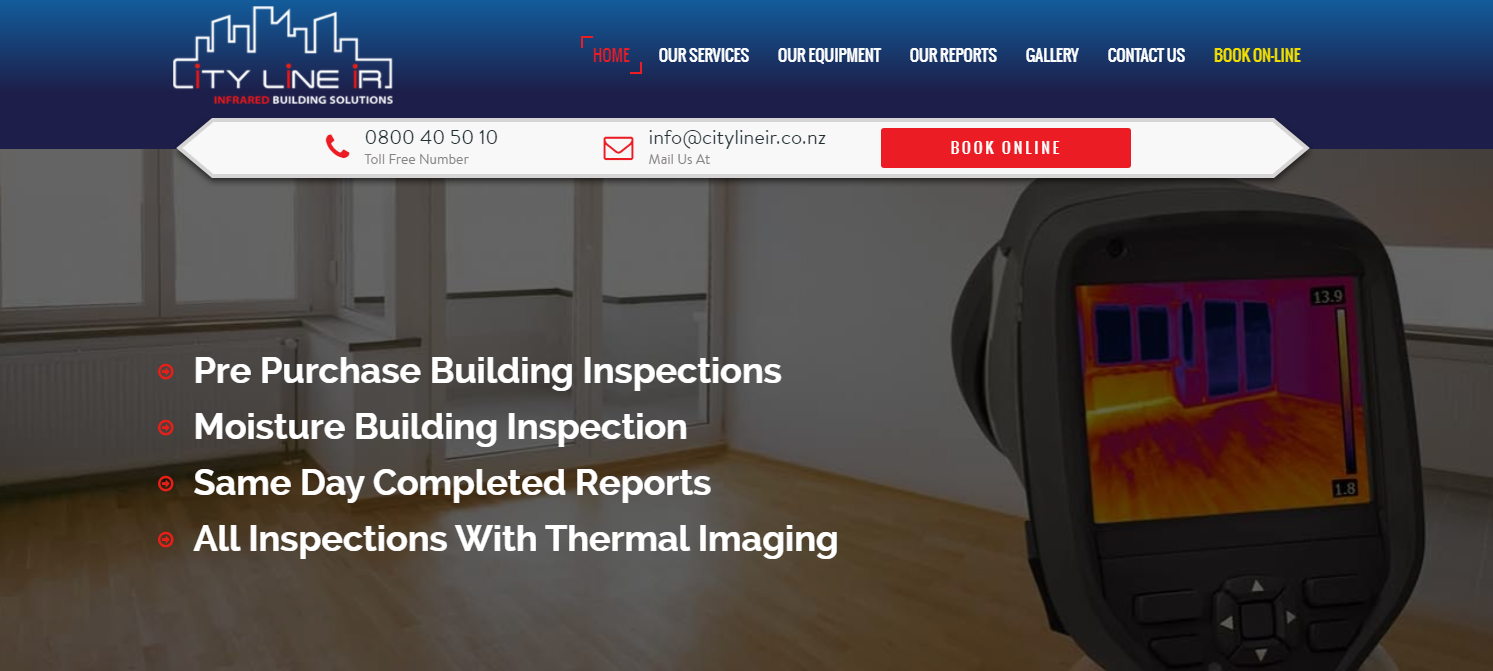 BEST FOR
Infrared/thermal imaging Moisture & Building Inspections
SERVICES
Pre Purchase Building Inspection

Sellers Pre-Listing Inspection

Leak Tracking Inspection

Home Moisture Inspection

Pre Painting / Maintenance Inspection

Meth Lab Testing

WEBSITE
http://aucklandbuildinginspections.kiwi/
ADDRESS
Auckland, New Zealand
CONTACT DETAILS
0800 40 50 10
[email protected]
OPERATING HOURS
Contact for more information
Up next is a home/building inspection company that stands out thanks to the equipment they use during inspections and their experience of over 15 years undertaking inspection.
City Line Ir offers infrared solutions to the people of the wider Auckland district. The company makes use of various infrared/thermal imaging devices, such as Flir cameras, to find moistures in properties and undertake full comprehensive building inspection.
With their sophisticated equipment, City Line Ir takes on requests for pre-purchase building inspections, sellers pre-listing inspections, leak tracking inspections, home moisture inspections, and pre-painting/maintenance inspections.
Other unique offerings of the company include meth lab testing and industrial services.
City Line Ir is very thorough in every inspection they conduct. With their 15 years of experience, houses are looked over in great detail.
Reports from City Line Ir are prepared the same day and come with full details, written explanations, and photos, all of which work to help clients make better, informed decisions.
Highlights
Same day report
Infrared inspections
Non invasive moisture testing
Excellent communication
Fully written comprehensive reports
Meth Testing
Services all areas of Auckland
15 years experience undertaking building inspections
2) NZ House Check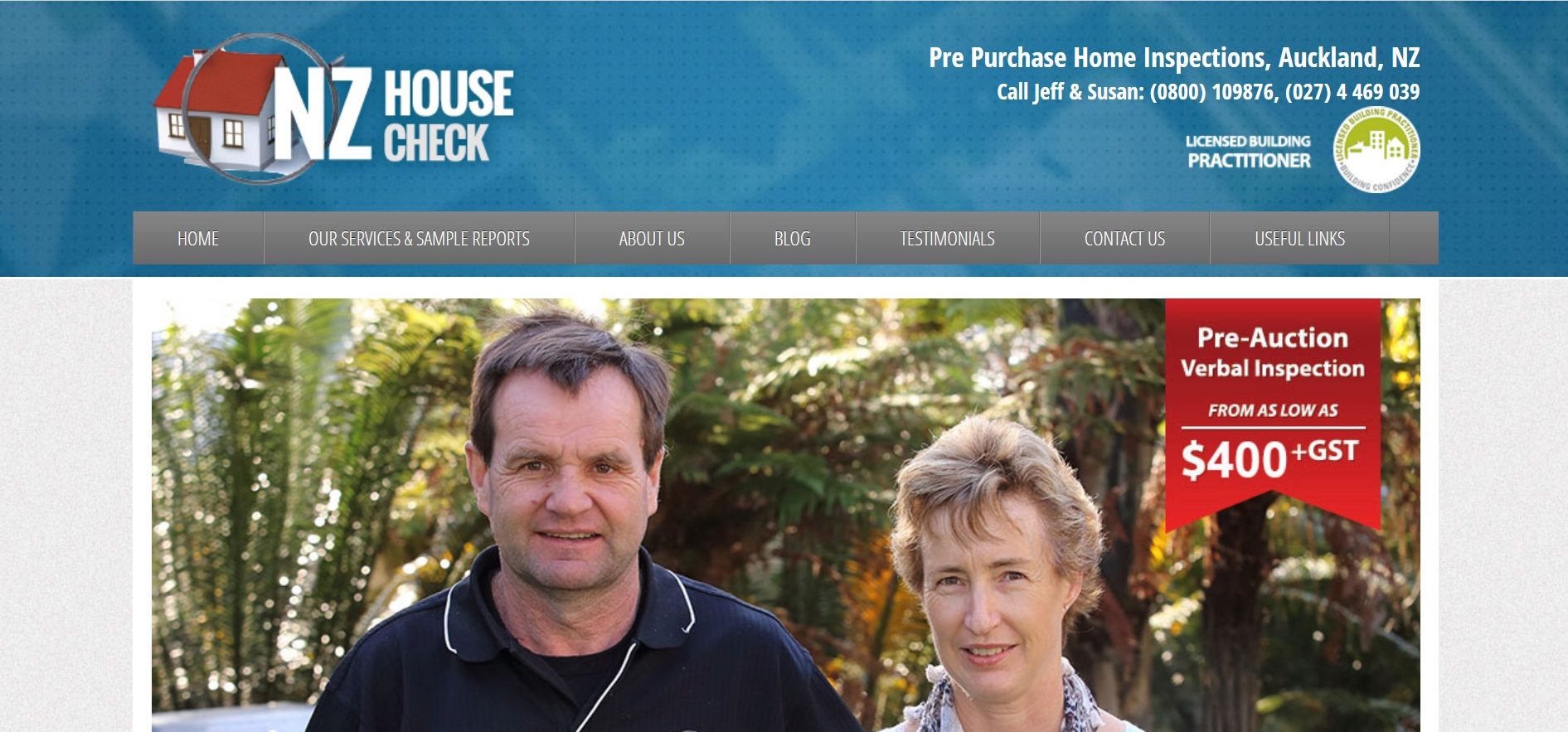 | | |
| --- | --- |
| BEST FOR | 24 hour turnaround |
| SERVICES | Pre-Purchase Home Inspection, Component Moisture System, Thermal Imaging, Meth Testing |
| WEBSITE | http://www.nzhousecheck.co.nz/index/ |
| ADDRESS | 24 Hyperion Drive, Manurewa, Auckland 2105, New Zealand |
| CONTACT DETAILS | (0800) 109 876, (027) 4 469 039 | [email protected] |
| OPERATING HOURS | Monday – Friday, Open 24 hours |
NZ House Check is an inspection team of two: Jeff & Susan. They are an Auckland based house inspection service. They are a small business and all the inspections are carried out by Jeff personally.
Though this does not mean they are not professionals. They are very thorough in their inspections and check everything such as all electrical fittings, plumbing connections, comment on all the general conditions of all structural materials and more.
They also offer testing. The same day results is only $120 + gst. Finally, the best part is that this team will only require payment after the client has received the report.
Highlights
24 hour turnaround
Rates start at $300
No payment until after receipt of the report
Customer Reviews
Here are some positive reviews recommending Jeff & Susan as giving trustworthy reports:
"Hi Susan and Jeff, Thank you for your report and for your efficiency. Based on your findings, we have decided not to go ahead with this purchase, so we appreciate your honest assessment. We feel it would be unwise, to say the least, for us to make a long term investment, of any sum, in such a poorly constructed dwelling."
"At first we didn't think it would be worthwhile getting an inspection done on a house only 10 years old. How wrong we were!! Jeff found alot of faults including moisture in bathroom, broken fence, leaking pipe in the laundry and many others. The report was informative and full of photos. As a result the owner fixed the issues and in the case of the leaking pipe they had to strip back walls & repaint. This saved us alot of money and time. Jeff came back at short notice to check the works were being done correctly and to sign them off. Overall, well worth the money invested in getting a building report and follow up inspections. At the end of the day when you are buying a house there are only two people on your side, your lawyer and your building inspector. We would recommend NZHOUSECHECK to anyone buying a house."
3) The Property Inspectors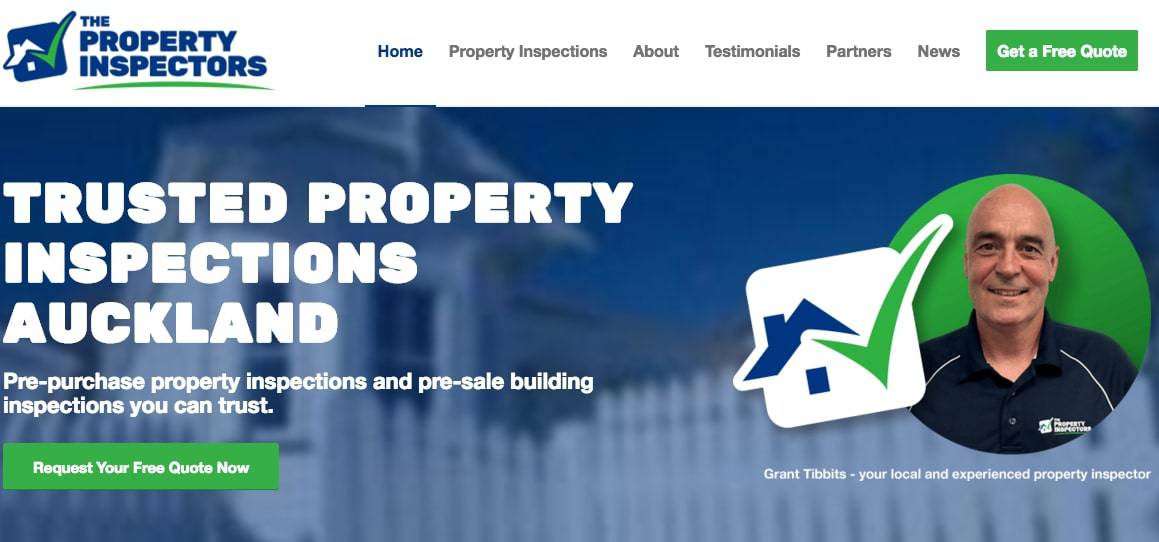 BEST FOR
Superb Communication
SERVICES
Pre-Purchase Property Inspections

Pre-Sale Building Inspections

Comprehensive Reports

WEBSITE
https://www.thepropertyinspectors.co.nz/
ADDRESS
Highland Park Drive, PO Box 82400 Highland Park, Auckland 2143, New Zealand
CONTACT DETAILS
+64 27 293 9808
OPERATING HOURS
Monday to Sunday: 8am – 8pm
Afraid that a house has cracks, damage or faulty wiring you don't know about? Leave it to the pros like The Property Inspectors!
WIth them, you'll get a complete, fully detailed building report to be sent to you on the same day. Grant Tibbits, the inspector, will explain everything that you need to know.
Their communication is seamless, according to previous customers. One even said that he felt easy knowing that Grant cares about the work and knew what he was doing.
As can be seen in their impeccable Google Reviews rating, The Property Inspectors is one of the best home inspection Auckland companies you can rely on.
Highlights
Same-day, fully detailed report
Professional and reputable home inspector
Seamless communication
Perfect review score 
Customer Reviews 
Miriam, one of their clients, wrote a review on the website:
"Grant was a professional that provided both a professional service as well as a through report. He was happy to go beyond his service help us with our enquires and was efficient in communication. Highly recommended."
4)  Innohome Ltd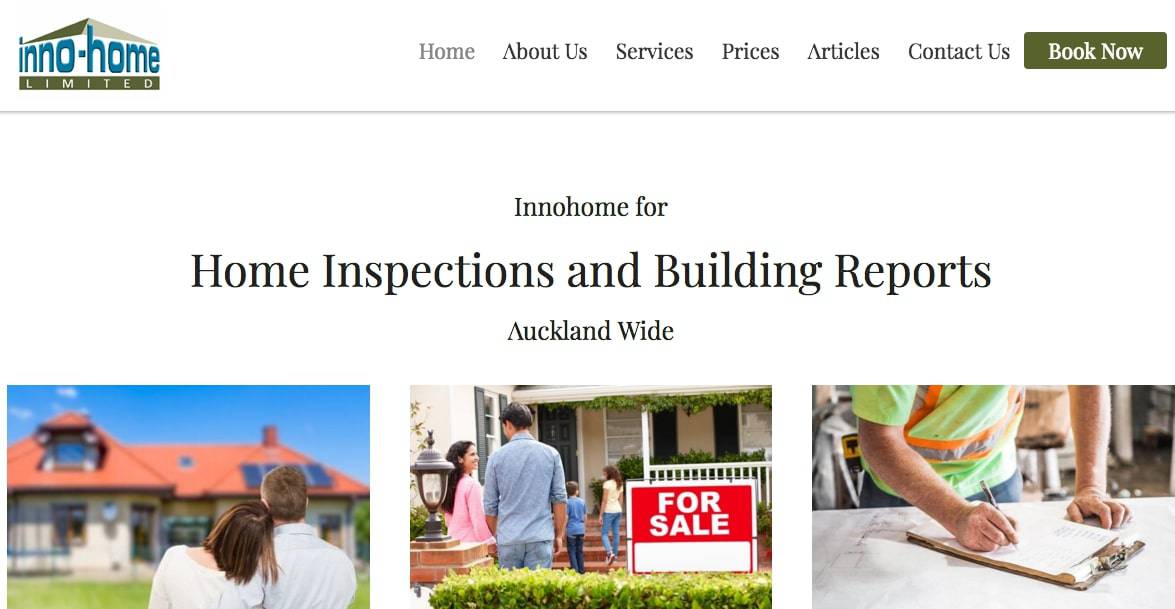 BEST FOR
Insightful and Reliable House Report
SERVICES
Pre-Purchase House Inspections

Building Report

WEBSITE
https://innohomeinspections.co.nz/
ADDRESS
22A Shakespear Road, Army Bay, Auckland 0930, New Zealand
CONTACT DETAILS
+64 27 363 2300
OPERATING HOURS
Monday to Sunday: 7am – 8pm
When buying a new property, it's vital to be certain that the house is 100% safe and defect-free. When you need this sort of service, you should get Innohome Limited.
Innohome provides an insightful and clear house or building report that will identify the issues and costly repairs needed for that property.
Often, their licenced team may take samples from the room to conduct asbestos or moisture tests. Additionally, they can check the prospect property's file from the Council.
Furthermore, they have fast turnaround as well as a top-notch service, say their clients. That's why we added them to our list of the best home inspection Auckland companies.
Highlights
Descriptive and accurate report
Licenced team
Fast turnaround within the day
Goes the extra mile for their clients
Customer Reviews
Check out James Beck's review on the website:
"Kevin is extremely professional and has made the process of getting a building inspection done so easy for us. He traveled out of town and in the same day called and explained what he found as well as getting the full written report to us the next day. He went beyond what was asked and took a sample of the ceiling for us and dropped it off for asbestos testing.
Definitely, a service that went high above our expectations and the full written report is extremely descriptive and gives a great insight into the house and repairs we will need to do."
5)  House Inspections Ltd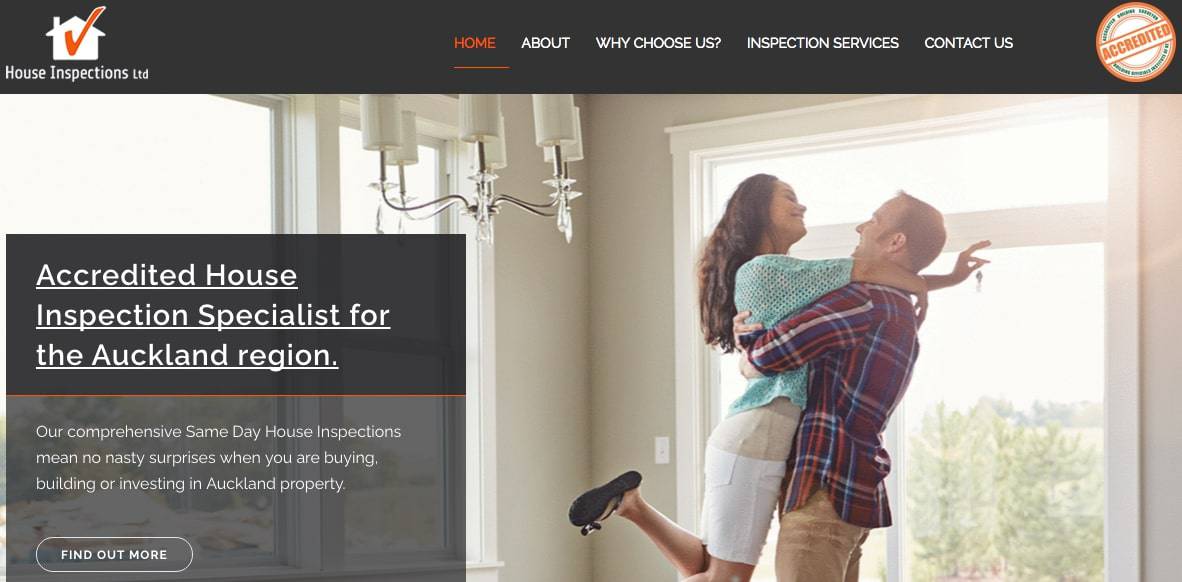 BEST FOR
Fast and Friendly Service
SERVICES
New Home Construction Inspections

Same-Day Inspection Reports

Pre-Purchase House Inspections

WEBSITE
https://houseinspectionsltd.co.nz/
ADDRESS
Auckland, New Zealand
CONTACT DETAILS
+64 210 707 049
OPERATING HOURS
Monday to Friday: 8am – 8pm

Saturday & Sunday: 9am – 8pm
Let the eyes of experience catch a new build's stealthy issues, nasty surprises or future repair implications before you buy. For this, House Inspections has got your back.
They are a leading building inspection firm serving clients in Greater Auckland. They have a trade-qualified and insured team who can survey houses for building issues.
Your report will be sent to you via email and all your questions will be answered by the team even after hours. Customers have commended their fast and friendly service.
Highlights 
Fast & friendly service
Trade-qualified team
Same-day report
Carries an indemnity insurance
Customer Reviews 
On Google Business, Rachel Taylor wrote this:
"The pre-inspection report conducted by John was thorough and professional, with clear indications of any areas to be mindful. Annotated colour photographs accompanied the report to make it easy to understand and see highlighted areas. The communication from Krista and the speed in getting this completed was brilliant. We would certainly recommend House Inspections Ltd and will use them again in the future.
Thank you for a reassuring and good quality service."
6)  What's Up House Inspections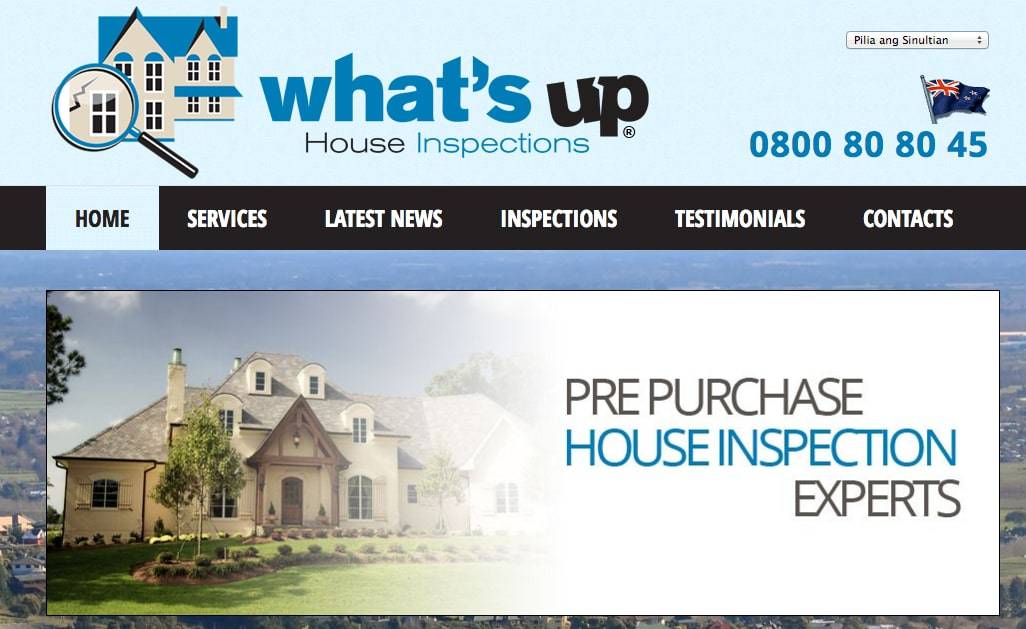 BEST FOR
Exceptional Service and Thorough Report
SERVICES
Pre-Purchase House Inspection

Meth Sampling

Thermal Imaging Report

Pool Inspection

WEBSITE
https://www.whatsuphouseinspections.co.nz/
ADDRESS
184B Hill Road, Auckland, New Zealand 2105
CONTACT DETAILS
0800 80 80 45

021 237 1925

OPERATING HOURS
Monday to Sunday: 8am – 9pm
What's Up House Inspections specialises in pre-purchase home inspections giving a thorough report and exceptional service to their clients.
One of the best home inspection Auckland companies, their team are BOINZ-approved and licenced builders so they know what's up and what shortcomings a house has.
Customers said they get great, in-depth reports detailing the physical condition of the new build from these inspectors. The survey is accompanied by photographs and reliable descriptions.
Aside from that, they can also carry out pool inspection, meth sampling and thermal imaging reports for flat roof types and decks.
Highlights 
Thorough reports
Licenced builders
Exceptional service
Wide range of services
Customer Reviews
One customer, Cheryl, commented on the website:
"We were very happy with your prompt response and found your building report to be detailed and informative…"
7)  Absolute Building Inspection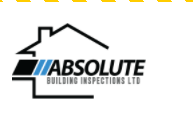 | | |
| --- | --- |
| BEST FOR | Expert and Professional Building Inspection |
| SERVICES | Foundations, Sub-floor Structure, Borer Detection, Flooring, Exterior Claddings and Joinery, Insulation, Roof, Driveway, Decks, Plumbing and Drainage, Impending Maintenance |
| WEBSITE | https://absolutebuildinginspections.co.nz/ |
| ADDRESS | 83 Russel Rd., Pukekohe RD1, Auckland |
| CONTACT DETAILS | 0800 732 236 or 021 111 7510 |
| OPERATING HOURS | Monday to Friday (7:30 am to 5 pm) and Saturday to Sunday (7:30am to 7pm) |
When it comes to specialized in building design, codes, and materials used in residential construction, Absolute Building Inspection is your most trustworthy partner. They offer a wide range of services like flooring, roof space, driveway, insulation, and many more.
John, the inspector, gives professional service together by sharing his extensive knowledge in terms that are easy to understand by the clients.
With over 30 years of building industry experience, John will surely provide you the high quality service you deserve!
Highlights 
Full qualified builder
30 years of experience
Wide choices of services
Offers good advice
Staff is friendly and patient
Sends official report via email
Customer Reviews
Kiwi Chick, a satisfied client, wrote a feedback about John's expertise. Take a look at the review:
"Thank you so much John for your extremely comprehensive and professional service. We really appreciated your down-to-earth and fully informative approach. Your qualifications, affiliations and full indemnity insurance ticked all the essential boxes for a pre-purchase home inspector, and gave us piece of mind at a time of such uncertainty and in a field where many others lack such reliability. I whole-heartedly recommend you to others and would happily employ your expertise again. Thank you for helping me to have peace of mind when buying my house!"
8) Castlebridge Surveys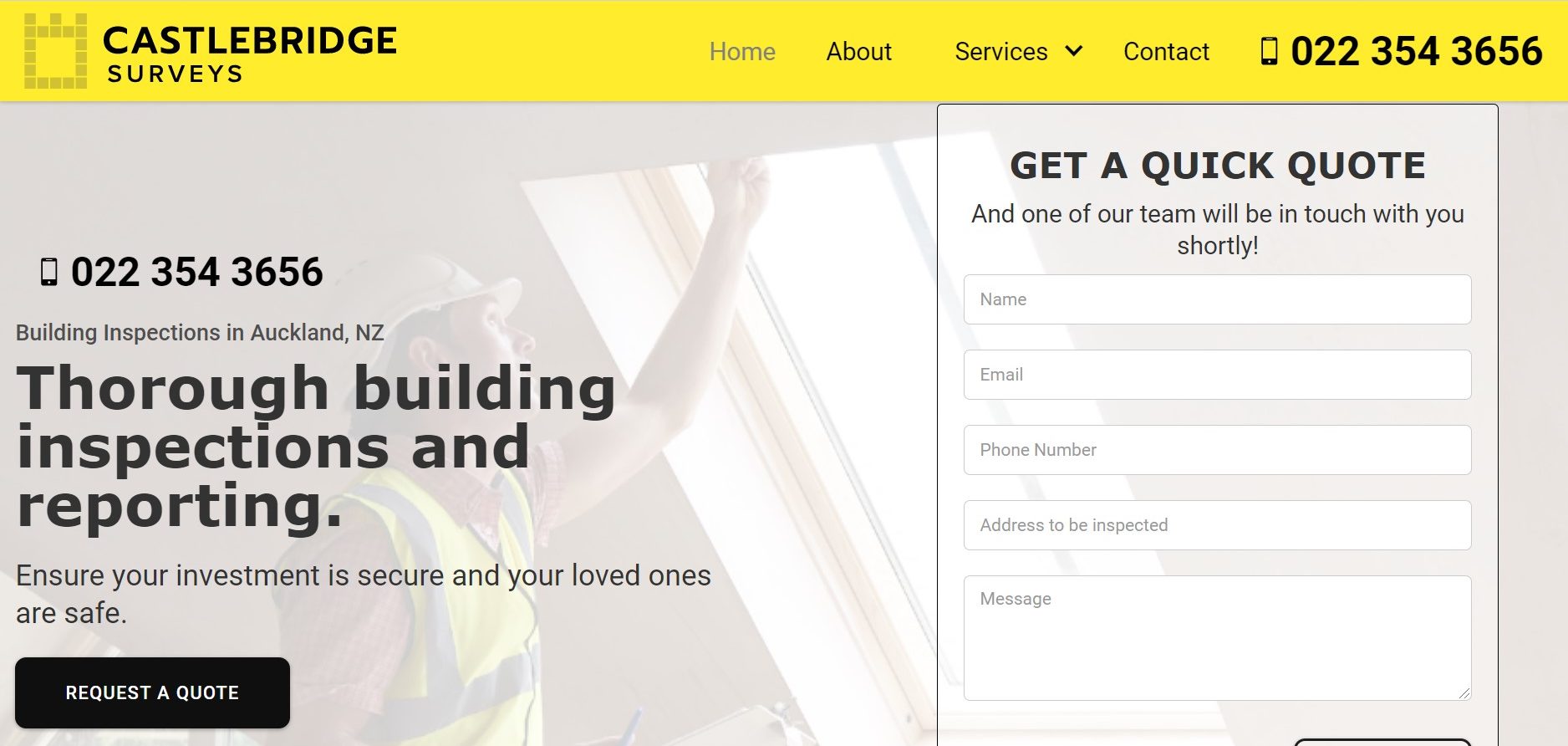 | | |
| --- | --- |
| BEST FOR | Easy Communication |
| SERVICES | Pre-Purchase Inspections, New Construction Inspections, Moisture Testing, Surveying Consultancy |
| WEBSITE | http://castlebridgesurveys.co.nz/ |
| ADDRESS | 14 Waterloo Quadrant, Auckland CBD, Auckland 1010, New Zealand |
| CONTACT DETAILS | 022 354 3656 |
| OPERATING HOURS | Monday – Friday, 8:00 AM to 6:00 PM |
Never risk your investment by missing even the most minute details that can affect your property in the long run. With Castlebridge Surveys, they'll be checking for every single, especially the ones that you might miss.
No residential building inspection is too complicated or big for Castlebridge Surveys. They will provide the correct advice and give comprehensive reports on what risks you are buying into.
Above all, they also offer insurance up to $1M and give reports that use simple language for easier understanding. Castlebridge is known to be one of the best building inspectors in Auckland, NZ. Their regular clients found their services to be very professional, thorough and cost-effective.
Highlights
Professionally qualified chartered and registered building surveyor
Insurance up to $1M
Easy to understand reporting
Quick and easy quote request process
9) Exact Building Inspections

BEST FOR
Detailed Reports
SERVICES
PRE PURCHASE AND PRE SALES INSPECTIONS
FULL WRITTEN AND VERBAL REPORTS
HOUSE INSPECTIONS
METH TESTING
SAFE AND SANITARY REPORT
SOLUTIONS TO ANY PROBLEMS AND ADVICE
WEBSITE
https://buildinginspections.nz
ADDRESS
Auckland
CONTACT DETAILS
P: 021 849 123
OPERATING HOURS
Monday – Friday: 7:30 AM – 7 PM
Exact Building Inspections offers comprehensive house inspections to their clients. They're well-known for providing reports that accurately detail the house's condition, from foundation to the interior.
They offer pre-purchase, pre-sale, and general house inspections — all of which come with ample documentation and supporting photographs. Their skilled team of inspectors will also provide numerous solutions and advice to any problems they may come across during the process.
They can conduct Safe & Sanitary Reports if needed but are unable to provide letters of acceptance. Otherwise, they offer their services to houses all around the Auckland.
Highlights
Combined 40 years of building experience
Licensed Building Practitioner & Trade Certified Inspectors
Invasive and non-invasive moisture testing methods available
Services all areas of Auckland
10) Harbour Home Inspections

BEST FOR
Same-day comprehensive home inspections
SERVICES
Detailed onsite inspections with fully written reports
WEBSITE
https://buildersreport.kiwi
ADDRESS
Birkenhead North Shore
CONTACT DETAILS
021 248 6961
0800 248 696
[email protected]
OPERATING HOURS
Contact for more information
Harbour Home Inspections is owned and operated by "Registered Master Inspector" Mark Hadfield, who has over 33 years of experience in the industry including over 5 thousand inspections.
Mark is widely known for providing very comprehensive reports after meticulous onsite inspections. This combined with Harbour Home Inspections same day report delivery and excellent customer services have placed Harbour Home Inspections in high regard to their loyal North Shore customer base.
Not only is Mark commended for his knowledge and expertise in inspections, but people have also praised him for being on time and highly professional. He's thorough with each job and ensures that clients know what they're getting into should they purchase the property they're looking at.
Highlights
Registered Master Inspector (NZ)
Fully written comprehensive reports including a personal verbal overview
Trusted unbiased reports
Over 30 years in the industry
Over 5 thousand inspected conducted
Superior customer service
Customer Reviews
With a 4.8 star rating on Google and 98% satisfaction on NoCowboys, (with over 50 independent reviews) Harbour Home Inspections have proven their quality of work over time. A previous client wrote on NowCowboys:
"This is the 3rd time I have seen Mark who helped with my home inspection
Again, he showed professionalism and had great knowledge
Really lucky to have met Mark."
While another on Google commented:
"Contacted Mark to assess a property we were looking at buying. Really impressive service from start to finish. Very responsive, professional and highly detailed. Was great to get a detailed verbal update, followed by a very thorough and professional written report. Mark highlighted a number of points we certainly would have missed! Highly recommend Harbour Home Inspections!"
11) Action Home Inspections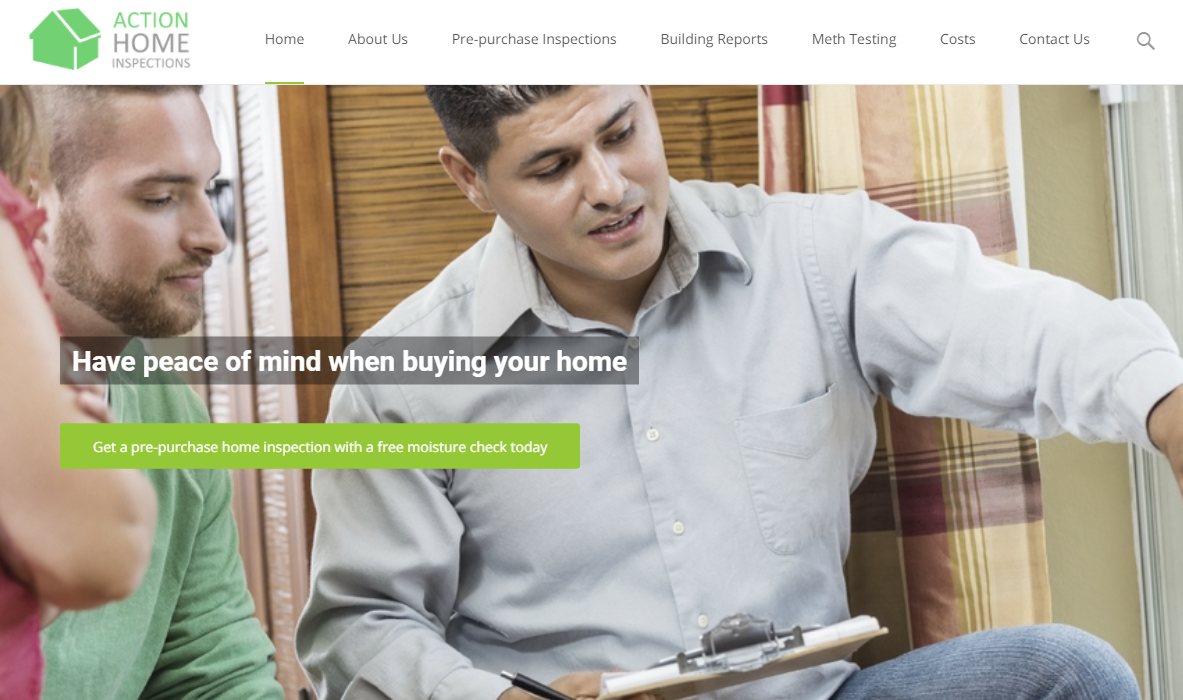 Next on our list is Action Home Inspections, a home inspection company with over 25 years of experience in the field. Over the years, the company has easily surveyed leaky homes and apartment complexes.
In terms of the inspection reports, Action Home Inspections does an excellent job of providing reports that are thorough, accurate, and easy to read.
It doesn't stop there, though. Action Home Inspections has more to offer in the form of meth testing.
Meth testing aims to give potential homeowners the peace of mind after checking if their desired home was once a laboratory.
All in all, Action Home Inspections makes an excellent choice for home inspections given its thoroughness and the quality reports it has to offer.
Highlights
Transparent rates
Offers meth testing and building reports
Same-day reports
Inspectors are licensed building practitioners
12)  Inspect House NZ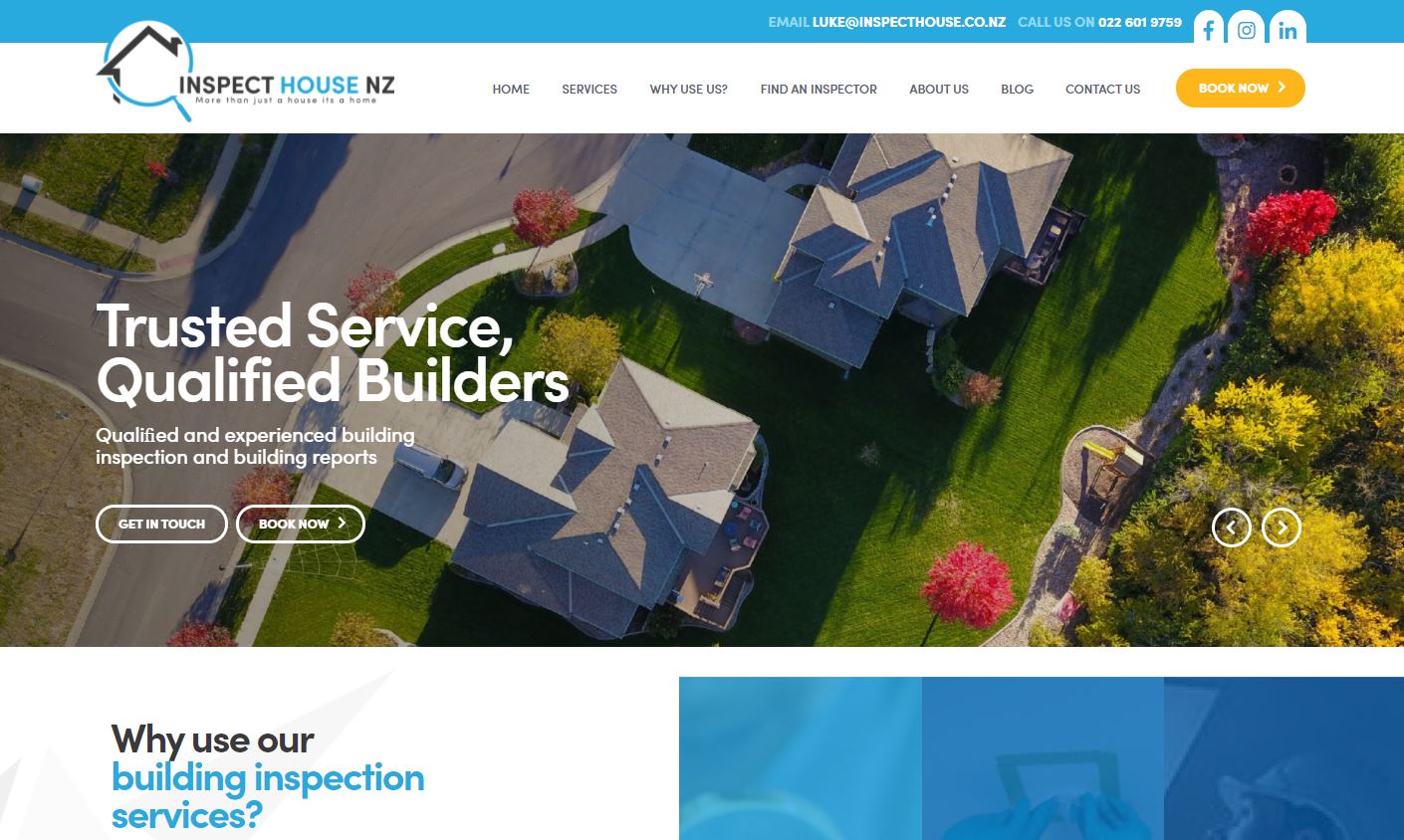 BEST FOR
Competitive Rates
SERVICES
Building Inspection

Meth Testing

Moisture Testing

Add-Ons

WEBSITE
http://www.inspecthouse.co.nz/
ADDRESS
Great South Road, Ellerslie, Auckland 1051, New Zealand
CONTACT DETAILS
+64 22 601 9759
OPERATING HOURS
Monday to Sunday: 7am – 10pm
Inspect House NZ provides comprehensive inspection reports for commercial and residential properties in particular cities around New Zealand, including in Auckland.
They have a team of qualified and competent inspectors who are familiar with the building industry. Together, they have a century's worth of combined experience.
Building reports contain detailed information and full-coloured pictures for each room they inspect. That also includes foundations, roofing, cladding, hot water systems, etc.
You'll swiftly get your report in 24 hours — and at a competitive price! Plus, their team carries full indemnity insurance for your peace of mind.
Highlights
Qualified inspectors
Same-day report
Full indemnity insured
Competitive rates
Customer Reviews 
One client, Robert Wilcox, shared this on the website:
"We used Inspect House NZ to complete a building report on our new home in Papakura, we found the report  comprehensive and  Morgan informative and easy to understand. His qualifications, full indemnity insurance and pricing made it an easy choice for us when it came to choosing a inspector. Thank you so much for your professional service and giving us peace of mind going into our new home."
And that's all for the best home inspection Auckland companies. They are going to help you make an informed decision and have that extra bit of confidence before buying a house.
Has everything been clear so far? If you have any questions or comments, just send them over to us by message and we'll get back to you in a bit.
Furthermore, you may want to read about the best home builders in Auckland. They can work with these home inspectors to ensure that you get the best possible home for your family.