The 8 Best Hot Yoga Auckland Studios
Ready to sweat your body out by doing the more challenging but more rewarding hot yoga? If so, you're on the right page, as we've featured the best hot yoga Auckland studios for you here.
We based our list on those with adept and personable teachers, as well as neat and tranquil studios. Apart from that, we selected those with favourable client reviews to ensure you'll have a great experience in practising hot yoga.
Without any delay, here's our list of the best hot yoga Auckland studios!
1) Hot Yoga Works

Sweat your way to a leaner, stronger body and a calmer mind with Hot Yoga Works. It is conveniently situated at the popular Britomart precinct in Auckland City.
They offer a range of classes including Hot Yoga Beginners and Express Classes, Hot Yoga Advanced Class, Hot HIIT Pilates, Yin Class and Hot Dance.
Students noted that the teachers were encouraging and supportive in teaching yoga. One said she got value for money and another that her skin was glowing after the practice.
At Hot Yoga Works, you will be well-taken care of and get the exercise that your body needs for a healthy lifestyle and mindset.
Highlights
Value for money
Supportive and friendly instructors
Gives you a leaner, stronger body
Range of classes to join in
Convenient location
Customer Reviews
Here's one student's comment of Hot Yoga Works at Britomart:
"Hot yoga works is fantastic, the staff are knowledgeable and cater to beginners to experts. I had not done this type of workout for many years, and loved getting back into it with the positive attitude from the instructors."
2) Breathe Hot Yoga

Looking for the perfect hot yoga session that will make you feel amazing inside and out? That's easy—just head down to Breathe Yoga studio.
Everyone is welcome here, irrespective of age, gender, size, and skill level. If you're a beginner, no problem, as they let you borrow mats and towels from the place.
Whatever your fitness goal is—whether it be to increase your core strength, burn away the calories, or become healthier in mind, body, and spirit—they have you covered.
Their hot yoga classes are held in a modern, tranquil, and temperature-controlled room. These do the work to maximise your training, making it more effective.
Highlights
Makes you feel amazing inside and out
Tranquil, modern studio
All skill levels are welcome
Talented yoga teachers
Customer Reviews
Let's see this feedback from one student, Nadia D., about Breathe Hot Yoga:
"Honestly, just the BEST thing you can do for your body and hauora. Mentally, physically, spiritually – you leave the hot room feeling completely rejuvenated and content. Such amazing, pleasant instructors- a great vibe and energy which constantly flows in and out of the space. Can't recommend enough.??"
3) Achel Hot Yoga

Achel Hot Yoga offers Bikram hot yoga and Inferno Pilates classes. They are one of the best hot yoga Auckland studios open to all backgrounds, ages, and ability levels.
They focus on giving you a full-body workout with low-impact, high-intensity exercises. Discover the strength, balance, and flexibility you never had before.
No bookings are necessary—you just have to show up 15 minutes before the class starts. You can view the schedules of upcoming hot yoga classes on their website.
Highlights
Hot Yoga classes to improve your strength and flexibility
Open to all backgrounds, ages, and ability levels
No bookings necessary
Have two locations: Manukau and East Tamaki
Customer Reviews
One student, Roselle O., shared a nice review of her experience at Achel Hot Yoga:
"Amazing! The team are so wonderful – happy to answer any odd question even if it's only semi related. And to handle it if for some odd reason you want to start crying in class (not because of the yoga just because I was losing the plot at work).
Bikram has done wonders for my body and I am so excited where I will end up with it!
Try it =) But take a drink bottle.
p.s. both studios are great"
4) Eastwest Yoga

Eastwest Yoga's hot yoga classes are perfect for beginners or those with injuries. The studio is heated to 38 degrees to enable more effective and deeper stretching.
Bikram Yoga's 26 sequences + 2 breathing exercises are hard work, but ultimately rewarding and fun to do. In doing this, you will get wonderful therapeutic results immediately!
You can choose from a 90- or 60-minute hot yoga class. Both have the same level of intensity and make a great starting point for you to advance to moving exercises and meditation.
Other classes you can join at Eastwest Yoga are Vinyasa, Align, and Yin Yoga.
Highlights
Perfect for beginners or those with injuries
Therapeutic and fun hot yoga
Choose from 90- or 60-minute hot yoga class
Exercises are done in a 38-degree heated room
Customer Reviews
Check out Michael S.'s comment of Eastwest Yoga below, one of the best hot yoga Auckland studios:
"My happy space, with talented teachers/instructors each with a unique perspective – Nikki, Kirsty, Amelia and Sheryn are so inspiring. This yoga studio is inviting, warm, modern and filled with friendly people who have growth mindsets. There is a great range of yoga styles and classes to practice – Flow, Hot, Align and my favourite – Yin. Personally, I think I have made great progress since starting in 2014 and I am really appreciate meditation and mindfulness that are inherent in every class."
5) Om Yoga Studio

Om Yoga Studio offers a complete range of yoga classes, including Hot Vinyasa Flow and Hot Hatha Yoga classes. You'll be in for a detoxifying session when you join these classes.
Hot Vinyasa Flow follows the same sequences as Vinyasa Flow but in a room that's 32 degrees hot. If you want a little heat and challenge, this class might be for you.
On the other hand, hot Hatha yoga is a traditional approach that focuses on stretching the spine and lower body area, including the quadriceps, hips, and hamstrings.
People are saying that the studio is beautiful and serene and has lovely teachers. As such, Om Yoga Studio is truly one of the best hot yoga Auckland studios to go to.
Highlights
Detoxifying hot yoga sessions
Offer hot vinyasa flow and hot Hatha
Beautiful and serene studio
Lovely teachers
Customer Reviews
One client, Reniss R., has this to say about her experience at Om Yoga Studio:
"Very experienced verity of teachers, different yoga style classes, enjoyed attending on regular basis."
6) Mahi Yoga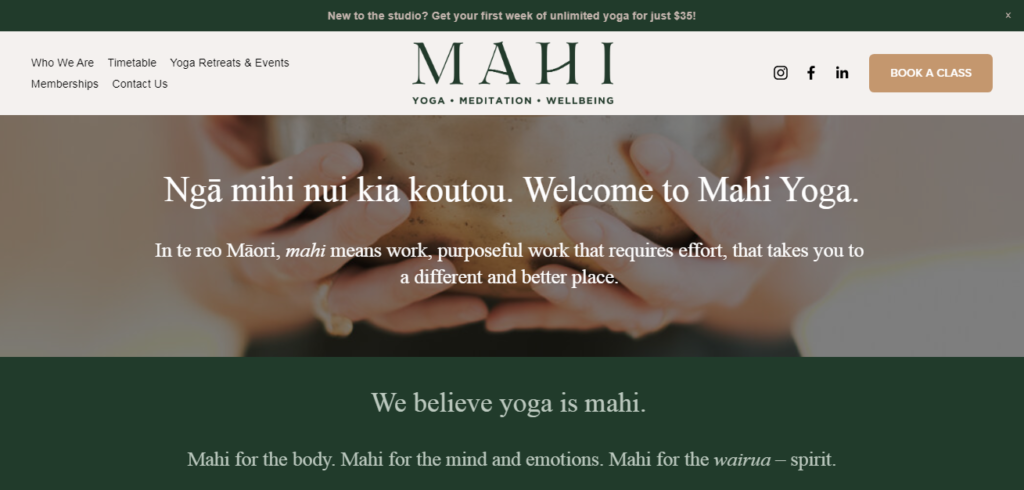 Mahi Yoga offers dynamic and relaxing yoga classes for everyone. They can accommodate people of various expertise, from beginners to advanced practitioners.
Classes are held in the main Mahi Studio with smaller classes in their Meditation Room. At Mahi, you'll find your inner-city escape to practice yoga and mindfulness in a peaceful and calming environment.
They also offer regular Beginner's Yoga Courses and other workshops and retreats centred on yoga, mindfulness and meditation. Find out more on their website or through their free Mahi Yoga app.
Free mat rentals are available for all the classes they offer. If you're interested in visiting them frequently, you might want to consider their memberships.
Highlights
Energising yoga classes
Free mat rentals for all classes
Wide range of in-studio props
Classes can be heated based on seasons

Facilities (changing rooms, showers, hairdryers and complimentary products, water station with filtered water, sparkling and hot water for tea)

Gentle Yin Yang Classes for all levels
7) Kia Kaha Studios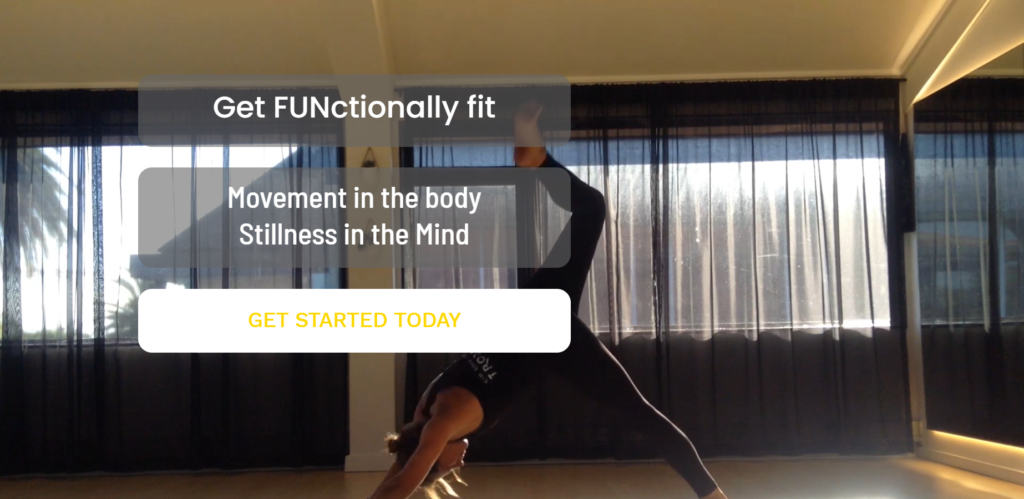 The Kia Kaha Studio aims to bring out the best in their students. They do so by offering a wide range of exercise programs, from yoga to HIIT and everything in between.
Their instructors are skilled and passionate in what they do. You can count on them to help you push your limits without overexerting yourself.
Their studio is furnished with all the facilities you will need. The comfortable and nonjudgemental environment will help you enjoy yoga in the best way possible.
Highlights
Various exercise programs available
Nonjudgemental environment
Well-furnished studio
Skilled instructors
8) Yoga Lane Waiuku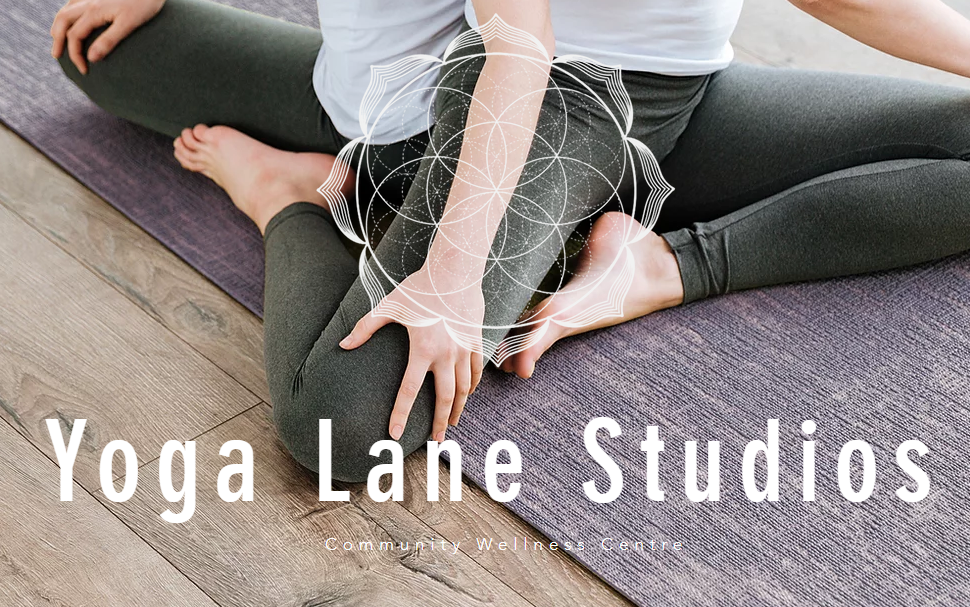 BEST FOR
Beautiful Space and ambience
SERVICES
Yoga for beginners, Hatha Yoga, Hot Yoga, Vinsaya Yoga
WEBSITE
https://www.waiukuyoga.co.nz
ADDRESS
40 Queen Street, Waiuku 2123, New Zealand
CONTACT DETAILS
027 554 7785
OPERATING HOURS
Mon: 9:30 AM – 7:30 PM
Tue: 9:30 AM – 7:30 PM
Wed: 9:30 AM – 7:30 PM
Thu: 9:30 AM – 7:30 PM
Fri: 9:30 – 10:30 AM
Sat: 8:00 – 10:30 AM
Sun: 9:30 – 10:30 AM
For some, doing yoga can be an individual hobby, but for others, yoga can be more than that. Taking yoga classes is an opportunity to not only be in tune with body, but also to build a community and this is what Yoga Lane Waiuku Studios is all about.
They offer different kinds of Yoga classes such as HOT Yoga, Hatha, Vinyasa and other workshops such as mindfulness hours, meditation as well as small art events. That's right, Yoga Lane Waiuku Studios opens its doors to art jamming and small performances as well. It's also worth noting that they offer beginners yoga courses as well.
Yoga Lane is also open every day and even offers memberships and discounts. With the friendly staff and beautiful, ambient space, you're sure to have a fruitful yoga session.
Highlights
Accommodating and friendly staff
Beautiful and ambient space for yoga
Discounts and memberships
Customer Reviews
Previous students have left these reviews:
"Great space and lovely people. Something for everyone, whether you're looking to sweat it out in Hot Yoga or enjoy some more traditional based practices."
"Beautiful people, beautiful space. Always feel very welcome. A+"
And that finishes our list of the best hot yoga Auckland studios. These studios will be the perfect choice for you if you can take the heat and want to come out glowing and energised!
Got any questions or comments for our list? If you have one, just write a comment below and we'll get right back to you.
Aside from that, you may want to get yourself a slip-proof yoga mat for doing hot yoga. You can get one from our top picks for the best yoga mats in New Zealand.