6 Best House Insurance in NZ New Zealand Compared
Featured Image Source: PxHere
Insuring your house is a smart move, since it's one of most important investments you'll make in your lifetime. Lucky for you, we've put together a list of the best house insurance policies in New Zealand.
You can find a wide range of policies here with various benefits and costs. Our selections were curated with the best product offers, extra or optional benefits, and amount of coverage in mind.
Before you discover what the insurers have to offer, we will start by talking about premiums for fire damage cost first. From there, we'll discuss our picks for the best house insurance in NZ.
How Much Does House Insurance for Fire Damage Cost in New Zealand
House insurance policies can differ for each insurer and can also vary across cities. This is because factors such as a low-risk neighborhood come into play when valuing premiums.
On average, a house insurance premium for a home valued at $450,000 of sum-insured cover will average around $1,000. This is, of course, if you only take the base or standard policy without optional add-ons.
We compared quotes from the insurers in our list for how much the premiums would cost for a home worth approximately half a million in Auckland and Hamilton. The average rates are posted below:
| | | | | | |
| --- | --- | --- | --- | --- | --- |
| | AMP | AA Insurance | Trade Me | Tower | Initio |
| Auckland | $987 | $1,385 | $1,150 | $1,045 | $982 |
| Hamilton | $997 | $1,257 | $1,118 | $1,059 | $982 |
If you add extra add-ons, such as protecting the contents of your home, premiums can easily reach up to $1,500 – $ 2,000 a month for the same sum insured amount.
The best practice is to always get quotes from different insurers to compare the policies adequately. Otherwise, you might be missing out on a better deal.
The Best House Insurance in NZ New Zealand Reviewed
You now have a better idea of how to choose a house insurance policy from our list, we hope! Here's our list of the top policies if you want the best house insurance in NZ!
1. Trade Me Insurance House Plus Cover
Best for Value House Insurance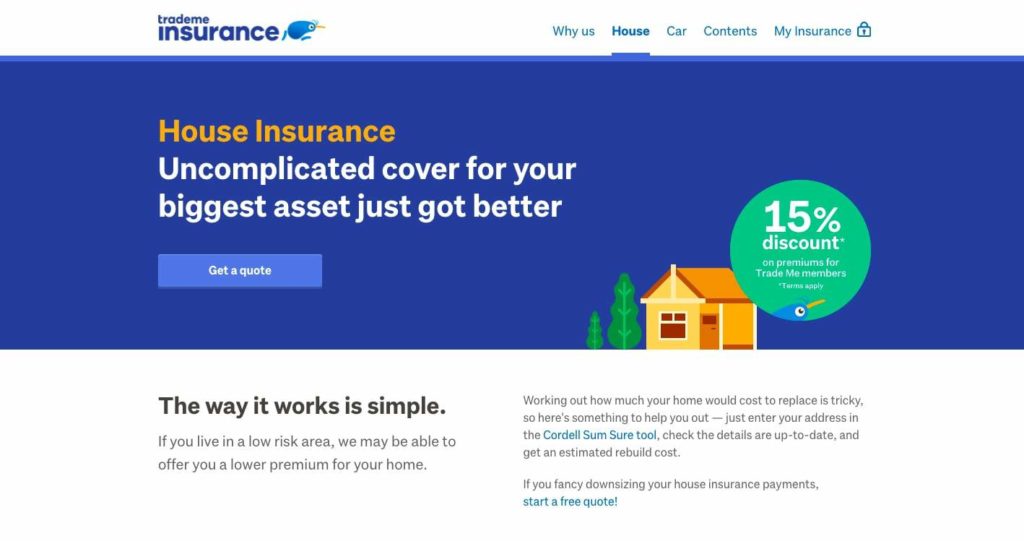 PRODUCTS & SERVICES
House Insurance, Car Insurance, Contents Insurance
HOUSE INSURANCE
House Plus Cover
FEATURE BENEFITS
Complete Replacement, 15% Discount for Trade Me Members
FINANCIAL STRENGTH RATING
A- (Excellent)
WEBSITE
https://www.trademeinsurance.co.nz/
CONTACT DETAILS
Toll Free: 0800-950-145
Email:

[email protected]

OPERATING HOURS
Monday to Friday: 8:00am – 7:00pm
Saturday: 9:00am – 6:00pm
Sunday & Public Holidays: 9:00am – 5:00pm (chat only)
APPLY ON TRADE INSURANCE
Before we begin, you'll need to know that Trade Me's House Plus Cover policy has been written in collaboration with their partner Tower Insurance. The latter is a member of the Insurance Council of New Zealand and is also featured on our list, which we'll discuss later.
Moving on, their House Plus Cover policy covers the rebuilding cost of your house and property outside, whether it's caused by fire, damage, or an accident.
Take note that only the main building of your home and permanent structures or utilities are covered by the policy. This includes all fixtures that are attached to interior plumbing or electrical wires, and gradual damage is already included.
So, it won't cover things like hot tubs, trees in your backyard, or generators in your home, among others. However, it will include garden retaining walls… but only for up to $25,000.
One reason to have your home insured with Trade me is that if your house suffers damage from a fire, the claim will be settled with no house sum insured limit. All of their policies provide a full replacement for fire, which means they'll rebuild it even if it costs more than your insured sum.
They'll either completely replace your home or give you a lump sum amount equal to the value of the square meter shown. This value is either on your certificate of insurance or written on your contract with Trade Me.
However, if the fire was the cause of a forest fire or other natural disaster, you cannot file a claim.
Since the value of a home is influenced by its location, if you live in a low-risk area, you can qualify for a chance to have lower premiums with Trade Me's insurance. Furthermore, if you choose to pay a higher excess, your premiums go down accordingly.
Homeowners aren't the only ones who can benefit from Trade Me's home insurance policies. Landlords can also avail of cover for leasing a property in New Zealand, which includes protection from intentional damage by tenants.
Furthermore, if you're already a Trade Me member, you get a 15% discount on your house insurance premium.
If you're a landlord, this could be one of the best home insurance companies in NZ for you, especially as it covers protection from deliberate damage by tenants.
Higher excess will get you a lower premium
15% membership discount
Easy and stress-free claim process
No-claims bonus
Additional excess of $1,000 if you make a claim for loss to your house, if it is left unoccupied for more than 2 months
No emergency assistance line
2. AMP Home and Contents Insurance
Best Home and Contents Insurance Bundle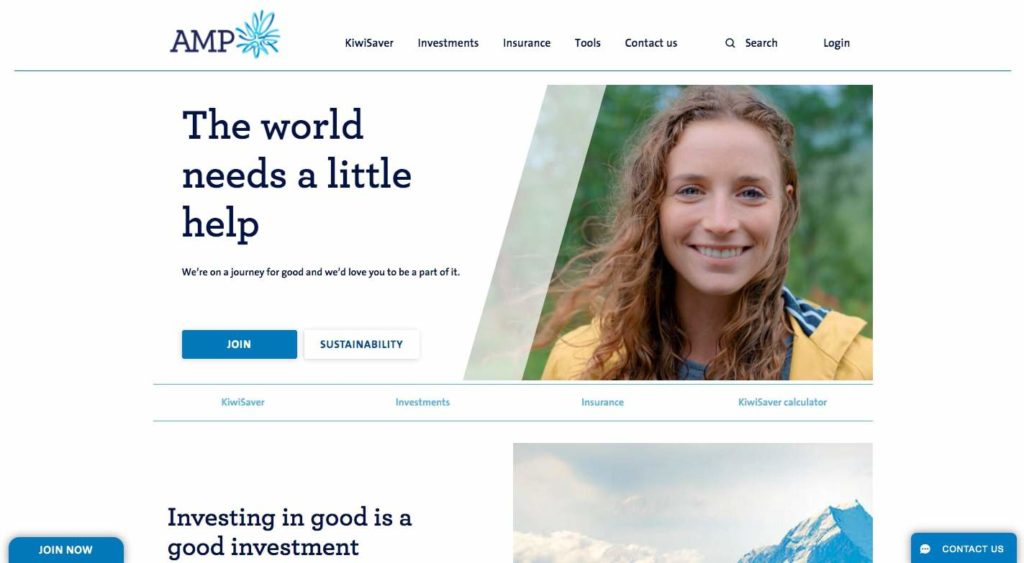 PRODUCTS & SERVICES
Homeplan, Everyday, Roadside Assistance (Homeplan Car), Travel insurance
HOUSE INSURANCE
Home & Contents Everyday, Home & Contents Everyday Plus
FEATURED BENEFITS
SumExtra, Personal Liability
FINANCIAL STRENGTH RATING
A+ (Strong)
WEBSITE
https://www.amp.co.nz/
CONTACT DETAILS
Phone: 0508-806-244; 64-9-916-4417
Email us:

[email protected]
APPLY ON AMP HOME INSURANCE
Need the best home and contents insurance in NZ? Well, the AMP Home and Contents Insurance is a brilliant choice for that. You'll have two policies to choose from, either the Everyday or Everyday Plus plan.
The only major difference between the two is cover for gradual damage, garden damage, and the amount of cover for specific categories. The Everyday Plus includes a greater cover for destruction to your driveway, retaining walls, and the removal of debris if necessary.
Otherwise, your house will be covered comprehensively for accidental damage, theft, temporary accommodation, and natural disasters like floods, earthquakes, storms, and fire.
Just in case you cause any loss or damage to your neighbor's property with fire, you're insured for up to $2,000,000 for personal liability. You also get up to 10% of the sum insured for up to one year for temporary accommodations if your home is unlivable.
For the best protection, you'll want to add the optional SumExtra, which provides extra assistance at claim time if the expenses needed to rebuild your home are more than your sum insured.
We like SumExtra because if a non-natural event causes damage, you're completely covered for full replacement or repair, even if the amount is greater than your sum insured. If a natural disaster is the reason, however, SumExtra will pay up to 10% more than your sum insured.
As for the contents of your home, the following are covered: temporary storage, valuable artwork, and decorations to small items like jewelry, watches, laptops, and handbags.
While their coverage sounds great on paper, ironically, AMP's policy wording is some of the longest we've seen and is difficult to digest. However, it's highly recommended that you read the 48-page document.
In the end, AMP's house insurance offers one of the best policies we could find – it only falters in coverage amounts in specific categories. Otherwise, they have more than earned their spot on our list of the best home insurance companies in New Zealand.
Overall, this is the best home insurance in NZ if you have plenty of personal valuables.
Comprehensive home and contents cover
24/7 emergency assistance
SumExtra optional addon is recommended
No special discounts or offers
Paths and driveways only covered until 100m
Long, complicated policy
3. Tower House Insurance
Best House Insurance for Fire Damage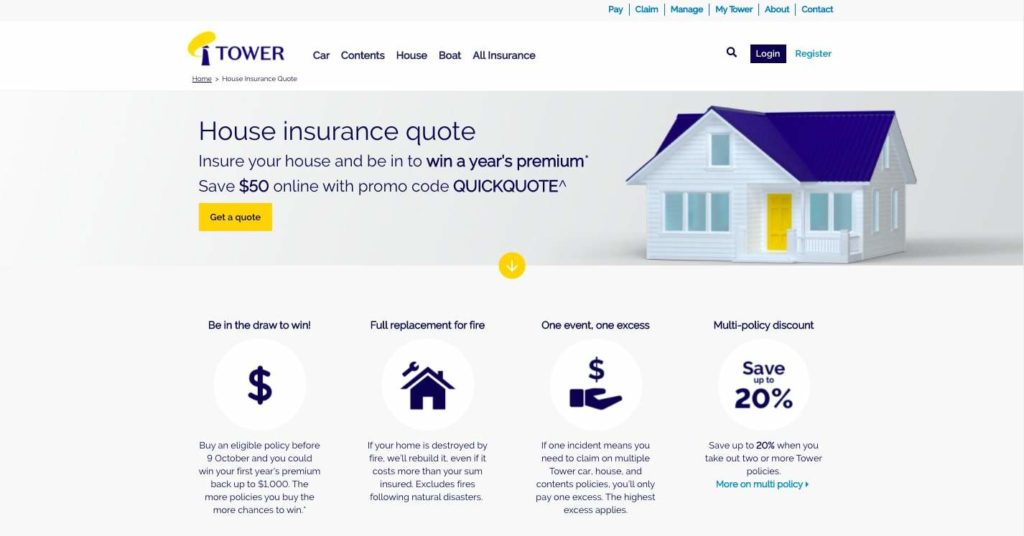 PRODUCTS & SERVICES
Car, House, Contents, Business, Travel, Motorbike insurance Boat insurance, Lifestyle Block & Farm Insurance, Caravan or Trailer Insurance, Motorhome Insurance
HOUSE INSURANCE
Standard, Plus, Premium, Landlord
FEATURED BENEFITS
WriteMark Plain Language Standard, One event – One Excess, Full Replacement for Fire, No-Claims Bonus
FINANCIAL STRENGTH RATING
A- (Excellent)
WEBSITE
https://www.tower.co.nz/
CONTACT DETAILS
Toll Free: 0800-379-372
OPERATING HOURS
Monday to Friday: 8:00am – 7:00pm
Saturday: 9:00am – 6:00pm
Sunday: Closed
Public Holidays: 9:00am – 6:00pm
APPLY ON TOWER
Tower offers three house cover policies: Standard, Plus, and Premium. The three policies cover essentially the same things, differing only on the cover amounts, with Premium having the highest payout.
However, the Standard plan also doesn't include demand surge protection, which is the increase of sum insured if the cost of labor and materials surge due to a natural disaster. The Plus and Premium plans, on the other hand, provide a 10% and 15% increase in your cover respectively.
Moreover, the Standard plan also doesn't include a Stress Benefit allowance – this payout is given to essentially help you feel better if your house is damaged. The Plus and Premium plans will dole out $1,000 and $2,000 respectively in their policies for that.
Now, if you have a carpeted home, you'll want to get the Premium plan, because of the Carpets Extended Replacement benefit. This states that Tower will replace your carpet if it gets damaged, either by finding a similar kind or completely replacing it.
Tower's policy also includes minor benefits that most people might look over but could be very handy one day. Some examples of these include their Carpets Extended Replacement benefit and their reduced excess for any glass breakage.
However, it's very important to take note that two major categories aren't covered: theft damage and fires caused by natural disasters.
Tower tries to make up for this by offering a lot of enticing discounts and bonuses such as Airpoints rewards, and no-claims bonuses, just to name a few. You can even save up to 20% when you take out two or more Tower policies at any time.
Tower also makes it to our list because they offer a Landlord Home Insurance Policy. This can protect rented properties from fire (excluding natural disasters), loss of rent, legal liability, and even offers up to $30,000 for methamphetamine contamination.
As a landlord, you don't have to take out a separate Contents policy to cover window coverings and any whiteware that you provide your tenants. And the entire property is protected from deliberate damage caused by renters as well.
You can manage your account conveniently online with their web portal, so you don't need to wait in line. You'll be able to make a claim, payments, and update any personal information as well.
Their specific coverage for protecting rented properties from fire really make them one of the best house insurance companies in NZ for fire damage.
Full replacement of your home if it's destroyed by accidental fire
Offers bonuses if you haven't claimed any payouts
Paying premiums can earn Airpoints Dollars
Up to 20% in savings for taking out multiple policies
Offers policies for landlords
Excludes fire resulting from natural disasters
Doesn't cover fencing, retaining walls, and driveways
No theft cover
4. AA Insurance House Insurance
Best Overall House Insurance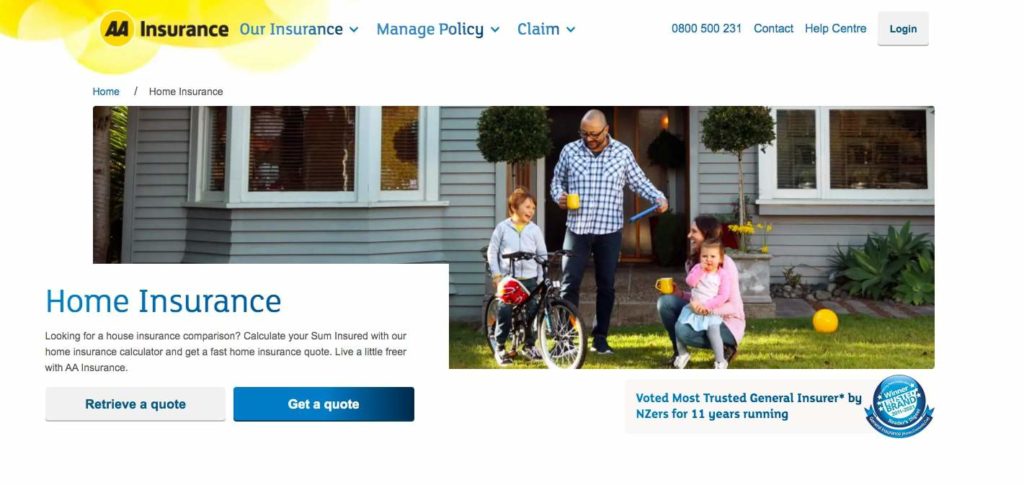 PRODUCTS & SERVICES
Car & Vehicle, Home & Contents, Small Business Insurance, Health Insurance, Life Insurance, Travel Insurance, Pet Insurance
HOUSE INSURANCE
Home, Home & Contents, Landlord, Renters
FEATURED BENEFITS
One Event-One Excess, Multi-Policy Discount, AA Member Discounts, Lower Premiums with Higher Excesses, AA Home Response, AA Home Response Plus
FINANCIAL STRENGTH RATING
A+ (Strong)
WEBSITE
https://www.aainsurance.co.nz/
CONTACT DETAILS
Toll Free: 0800-500-231
OPERATING HOURS
Call Centre Hours
Monday to Friday: 8:00am – 8:00pm
Saturday to Sunday: 8:00am – 6:00pm

Small Business Team Hours
Monday to Friday: 8:00am – 4:00pm
BUY IT ON AA INSURANCE
AA Insurance has been named the Most Trusted General Insurer of Kiwis for 10 years straight by Reader's Digest. Their house insurance protects your home with a replacement cover and they'll pay for the full cost of rebuilding or repairing your house from non-disaster damage.
However, the basic policy will only cover major appliances and fixtures that are permanently fixed, built, or attached to the home's structure, wirings, or plumbing.
So if you want coverage for personal items such as your jewelry, computers, small appliances, or furniture, you'll have to combine it with their Limited Contents Insurance policy. By doing so, you'll receive a special discount and have your things automatically covered by burglary, fire, storms, floods, and natural disasters.
This is a great insurance policy… though a little pricier than some of the others on this list. But if you're the type who often loses their house keys or locks themselves outside, then this just might be for you.
As a policyholder, you'll automatically have AA Home Response added to your cover. This is an emergency hotline that you can call when you need a tradesperson urgently, such as not being able to enter your home or if you need an urgent repair.
This service is available 24/7 365 days a year and applies to the ten most likely incidents to occur, which include plumbing issues, electric problems, and gas leaks, among others. Even if you don't need the services of a skilled worker, AA's call center hotline is open 24 hours a day for any queries you may have.
However, AA Home Response isn't free – you'll still pay for the tradesperson's time and any materials needed to assist you.
Nevertheless, if your home becomes unlivable as a result of damage, AA will provide payment for temporary accommodations for you. To make it even better, the cover extends to your family and pets as well!
They'll provide a payout of $20,000 for one year, but that can be increased to $40,000 if the damage to your home was due to a natural disaster, such as an earthquake.
AA Insurance offers several discounts if you hold multiple policies. If you're an AA Member, you'll also receive rewards in the form of Dollar Discounts and you're eligible for any other promotions offered by their other services.
In all, if you want 24/7 hotline emergency service and a company that can cover you from burglary, fire, storms, and natural disasters, then this is the best house insurance in NZ for you.
Full replacement for damage not caused by natural disasters
Covers you for temporary accommodation
Pays for key or lock replacement
Excess-free glass cover
24 hours claim support
21-day cooling period to cancel membership
Higher premiums compared to other insurers
Need to pay for AA Home Response labor and materials
5. Initio Insurance
Best Home Insurance with a Lifetime Repair Guarantee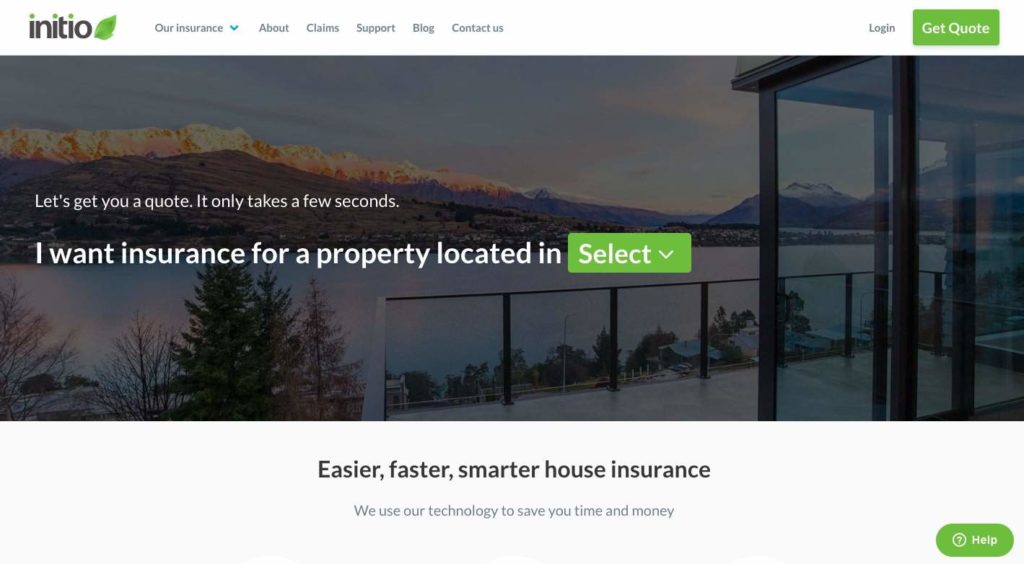 PRODUCTS & SERVICES
House & Contents Insurance, Landlord Insurance, Home & Paying Guests (eg. Airbnb), Holiday Home Insurance, Multi-unit Insurance, Home & Income, Trade Property Insurance, Car Insurance
FEATURED BENEFITS
Temporary Accommodation, Reduced Glass Breakage Excess, Excess-free Keys & Locks, Hidden Gradual Damage, Excess-free Blocked Pipe, Inflation Protection
FINANCIAL STRENGTH RATING
AA- (Strong)
WEBSITE
https://initio.co.nz/
CONTACT DETAILS
Toll Free: 0800 763 929
Emergency claims: 0800-227-653
Email:

[email protected]

;

[email protected]

OPERATING HOURS
Monday to Friday: 8:30am – 5:00pm
APPLY ON INITIO INSURANCE
Initio Insurance was the first insurance company to offer house insurance online that could cover you immediately. They were first established in 2011 and became finalists in the New Zealand Insurance Awards for two consecutive years in 2018 and 2019.
Initio's policies are underwritten by NZI (IAG New Zealand Ltd and they offer a range of property policies. Their diverse catalog includes rentals, vacation homes, and of course your main home or residence.
In fact, dealing with Initio is mostly done online, even when filing for claims. They can provide instant premium estimates for your house with a few clicks on your mouse.
However there's a caveat – online quotes can't be provided for a property that has a replacement value worth more than $2,870,000. By then you'll have to speak to one of their customer representatives.
Unlike other companies that provide multiple options to customize your cover, Initio has taken a bold move and offers no variations. Instead, they claim that they want to "build it for you".
Their House & Contents Cover policy's maximum payout is for the sum insured for your home and includes several great benefits. Some examples are its $20,000 payout for temporary accommodations and inflation protection building costs go up due to a disaster.
They'll also pay up to $1,000 with no excess if you lose your keys or have them stolen. Moreover, if you have issues with a blocked pipe or encounter problems from hidden gradual damage, they'll pay out $500 and $3,000 respectively.
Take note, that if you go on vacation or abroad to work, your cover is limited to fire, explosion, lightning, or earthquakes only if your insured home has been unoccupied for 60 days.
You'll want to pair your house coverage with their Contents Cover because of their New-for-Old Replacement inclusion. This essentially means that items in your home can be covered for replacement or repaired to like-new condition.
It also includes cover for both legal liability and personal liability with over $1 million in claims if you cause damage to another property or an accident in your home injures somebody.
If you own or rent multiple properties then you'll like Initio Insurance even more. Whether you're a full-time landlord, have an Airbnb property, or are flipping a house for sale, they've got a plan for you.
So if you want convenient and best home and contents insurance in NZ, then this provider may be for you.
Can manage your account online with Initio dashboard
Instant estimates for premiums and plans online
Has plans for landlords and Aribnb renters
New-for-Old Replacement benefit
Only offers home and property insurance
$2.87 million limit to online quotations
6) Progressive Insurance Brokers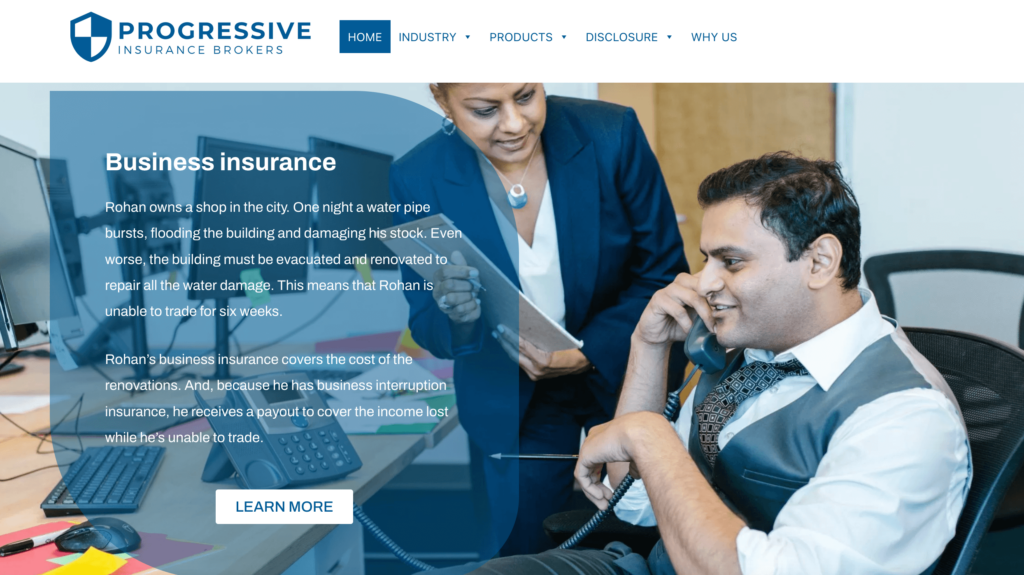 PRODUCTS & SERVICES
BUSINESS
Business Interruption Insurance
Contract Works Insurance
Truck & Motor Insurance
Professional Indeminty Insurance
Management Liability Insurance
Public Liability Insurance
Trade Credit Insurance
Marine Insurance
Corporate Travel Insurance
Cyber Insurance

PERSONAL
Home and Contents Insurance
Private Motor Insurance
Landlord Insurance
FEATURED BENEFITS
Home Insurance: covers your building against things like flood, fire, explosion, natural disasters such as earthquake, storms or lightning strikes, damage by vandalism or break-in, and liability to third parties.

Contents Insurance: protects your valuable possessions, such as furniture, electronic items, whitegoods, sporting equipment and jewellery – so you can repair or replace them if they are damaged or stolen.
FINANCIAL STRENGTH RATING
AA- (Strong)
WEBSITE
https://progressiveinsurance.co.nz/
CONTACT DETAILS
0800 461 262
[email protected]
OPERATING HOURS
8:30 am to 5 pm Monday to Friday
Progressive Insurance Brokers can help you find the best deal that fits your business's budget. From AIG to QBE, their large network of insurance providers can find you the most suitable policy options to match your unique requirements.
They specialise in working with businesses across a wide range of industries. This means that they can help identify risks that are specific to your type of business.
We had to include them here because they can also make claims during your time of need, so you don't have to.
We heard that they can help with the paperwork and follow up on delays, so you can get on with running your business.
So if you're after convenience and affordability, Progressive Insurance could be one of the best home insurance companies in NZ for you.
Large network of insurers
Easy claims process
Assists with paperwork and delays
No online policy management
No online quoting
How to Choose House Insurance in New Zealand
Lots of factors are considered today by insurers, including location, history, and damage risk. That can sound overwhelming to the average homeowner!
But as we said, we're here to help. Here are some tips you can use in choosing house and contents insurance:
1. Calculate your sum correctly
First, it's vital to calculate the total cost of rebuilding your house if it were to be destroyed by an accident or a natural disaster. This will give you a clear idea of the 'sum-insured' or cover amount that you should get from the insurer.
However, be sure to include the cost of any demolition works and the necessary permits for construction as well. Most people forget to include these in their sum insured amounts.
2. Compare quotes and policies from different insurers in NZ
It's very helpful to get at least two or three quotes first from insurers to find the best policy deal. Doing so could save you hundreds of dollars per year.
Always go through each company's policy with a fine tooth comb and creating a table of pros and cons can help you visualize the differences easier.
3. Choose higher excess
Excess is the amount that you pay when you make a claim on your policy. You see, insurance typically doesn't cover everything when you make a claim: part of the cost is paid by you (the excess) and the rest by the insurance company.
Here's a simplified example. Say your house was damaged and it will take $1,000 to fix the damage.
You make a claim to your insurance company for the repair. If your policy states that your excess for claims is $200, that means you have to pay the $200 out of the $1,000 repair.
In effect, you can only ask the insurance company for $800 when filing a claim for the repair (assuming your policy allows you to claim this much for the specific damage concerned, of course!).
When buying a house policy, you have the option of increasing your excess to lower your premiums. This will help lower your insurance expenses every month or year.
4. Check if the benefits you need are included
House insurance products differ in the benefits offered, as well as their terms and conditions. You have to check that most of the benefits you need are included.
Hence, you have to read through them in the policy wording. This will avoid any dispute with your insurer and put you in a better position of making a successful claim.
5. Take advantage of the discounts
Depending on your insurance provider, they may offer great deals here… with the most common being membership, multi-policy, age, and promotion discounts.
Tower Insurance even rewards you with Airpoints for the premiums you pay. That will be great for those who'd like to book free flights or buy Air New Zealand products.
Plus, your insurance may have a no-claims bonus. This means that if you don't make a claim within a year, you can get discounts on your premiums.
Bonus tip: you can reduce your premiums if you pay them annually rather than monthly.
FAQs about NZ House Insurance for Fire Damage
---
That's it for our list of the best house insurance in NZ New Zealand! We hope our article helped you make a choice to protect your home and family.
Did we miss an insurer that you think should be on our list? Please don't hesitate to send us a message so we can check it out.
Now, since you're already protecting your home, you might want to protect your income as well. We've got you covered with this list of the best income protection insurance in New Zealand.