9 Best House Painters in Wellington to Trust with Your Project
Going for a contemporary paint finish on your new or existing property? If so, then we believe we can help you, as we've covered the best house painters in Wellington here to spruce up your house!
We based our choices on adept and experienced Wellington painters who will ensure you get a fantastic painting. What's more, we picked those who use high-quality products as well as being known for being friendly and respectful.
Also, we checked out what customers said about these contractors — telling us that we were correct in having chosen them for this list.
Be it interior or exterior painting, these painters can brilliantly do it for you. Now, if you're ready, here are some of the best house painters in Wellington! 
The Best House Painters in Wellington Compared and Reviewed
1)  Viet Duc Ltd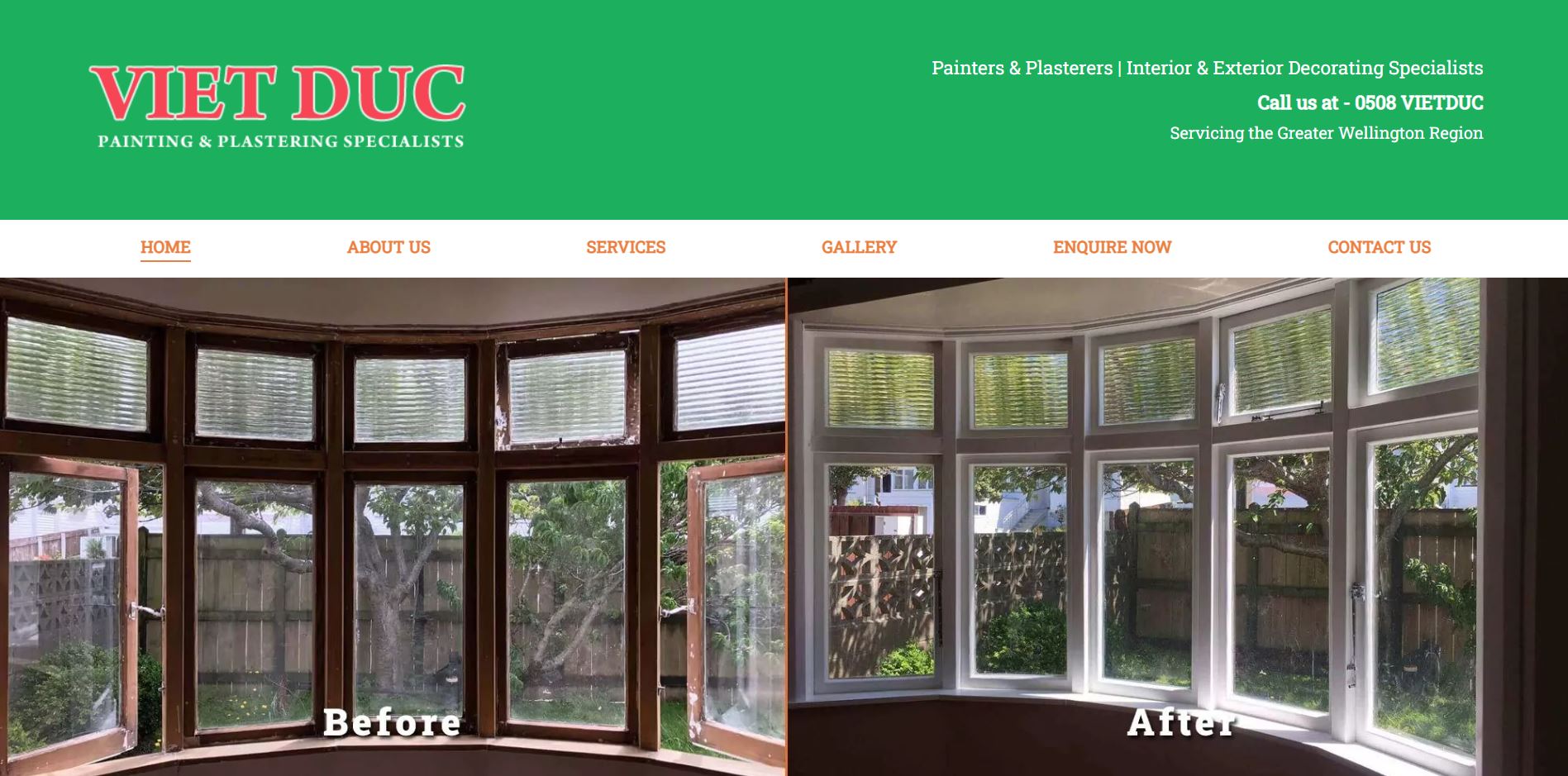 | | |
| --- | --- |
| BEST FOR | Home Painting |
| SERVICES | Interior Painting, External Painting, Commercial Painting, Industrial Painting |
| WEBSITE | https://www.vietduc.co.nz/ |
| ADDRESS | 74 Oriel Avenue, Tawa, Wellington 5028, New Zealand |
| CONTACT DETAILS | +64 274 400 246 |
| OPERATING HOURS | Monday – Sunday, 8 AM – 5 PM |
If you're looking for the best professional painting and plastering services in Wellington, you should definitely check out Viet Duc Ltd. They have been serving the area for more than 15 years and are known for the excellent quality of their work.
Their personnel have a wealth of experience painting on various types of residential properties, like apartments, villas, and flats. You'll also love how accommodating they are with special requests with regards to paint jobs.
You can also count on Viet Duc Ltd for your home restoration and commercial building maintenance needs. They only use quality products and offer only the most beautiful colours, so you can rest assured when it comes to their final output.
They also have the complete equipment that enables them to reach and paint over even the most difficult areas to reach for seamless paint application. All of this is carried out by their highly-trained painters, giving you the best service you deserve.
Highlights
Offers 10% cash referral fee

More than 15 years of experience in the industry

Complete painting equipment and quality products

Open everyday
Customer Reviews
Quality of work is excellent
"VietDuc did an outstanding job. The quality of their work is excellent, and they are friendly and considerate in their work in the house. Very good value and the follow up was great. Next time I need some painting done I will be in touch." – Carolyn Heaton
Paint looks amazing
"Viet Duc painted all rooms in our house including the ceilings. They were able to fit us in with short notice and worked very quickly to do an amazing job. The paint looks amazing and they got the walls looking great before painting too. Would definitely use them again." – Andrew Darlington
2)  Saigon Decorators Ltd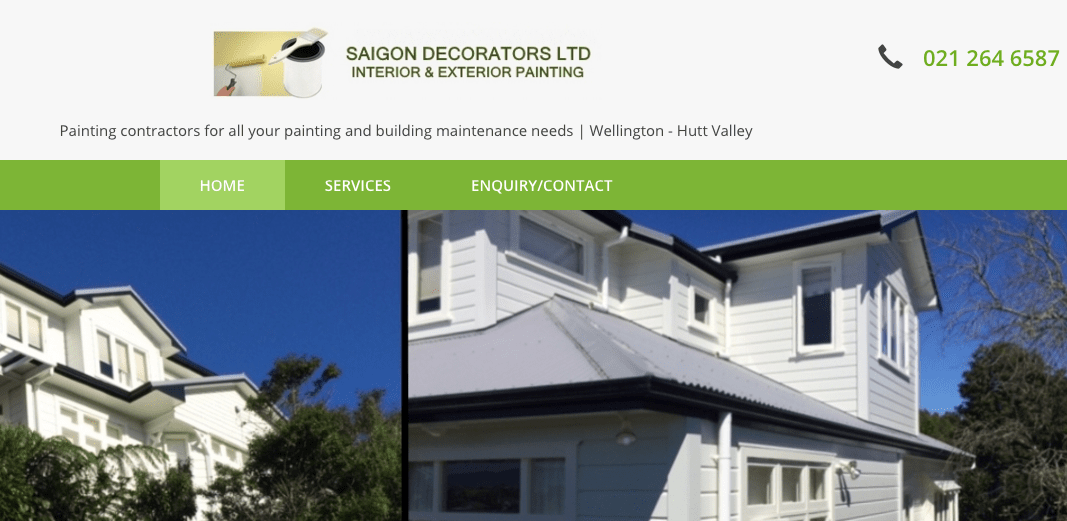 BEST FOR
Precise House & Roof Painting
SERVICES
Paint Preparation

Interior Painting

Exterior House Painting

Property Maintenance

WEBSITE
https://www.housepaintingwellington.co.nz/
ADDRESS
75 Kauri Street, Miramar, Wellington, New Zealand
CONTACT DETAILS
021 264 6587
OPERATING HOURS
Monday to Friday: 9am – 5pm
With 30 years of experience as house painters in Wellington, Saigon Decorators has painting down to a science. Their house painting services include interior and exterior painting as well as roof and decorating services.
Tam and his team can be relied upon whether you need a paint update or full makeover. As house painters in Wellington, they have great attention to detail, they can advise you on which colour will suit your house best.
In some cases, they can also do chemical stripping and plastering in order to ensure your painting will be smooth and flawless.
Also, they offer at least a 2-year guarantee on their painting services, giving you confident assurance of the quality of their work. 
Highlights
Proficient and reliable staff
30 years of experience
Offers painting and decorating services
Minimum of a 2-year guarantee on paint workmanship
Customer Reviews
This Wellington house painter company is clearly one of the best house painters in Wellington. Check out Michael Stevenson's feedback on the website:
"The team at Saigon Decorators, led by Tam, completed a painting and staining job at a property I own in Creswick Terrace, Northland. I took Tam's advice to use a particular New Zealand made product, known to work well with cedar weatherboards. The results speak for themselves. I urge anyone who uses Saigon Decorators to take their technical advice on what products to use. The standard of workmanship and professionalism was extremely high. The job was on time, on budget, and it looked amazing."
3)  Green House Ltd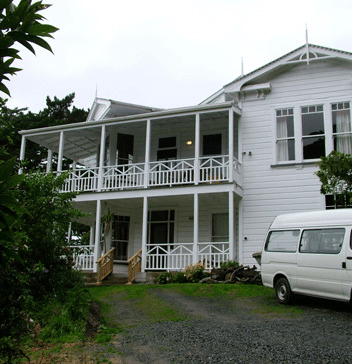 | | |
| --- | --- |
| BEST FOR | Environmentally-Friendly and Odour-Free House Paints |
| SERVICES | Exterior & Interior House Painting |
| WEBSITE | https://www.wellingtonhousepainters.co.nz/ |
| ADDRESS | 3 Sinclair Street, Seatoun , Wellington, New Zealand |
| CONTACT DETAILS | 027 442 0665 |
| OPERATING HOURS | Monday to Sunday: 8am – 5pm |
Green House Ltd is a professional Wellington house painting contractor serving Wairarapa and Auckland regions. They are composed of a reliable and professional team.
They bring over 35 years' of experience in being house painters in Wellington using only eco-friendly and odour-free paint supplies. These are totally safe and harmless for people, children and pets.
As you can see with their completed work, their painting is stunning whether for the interior or exterior of the house, for rental properties or small personal houses.
Furthermore, they can refresh your tired, outdated roof and give it a new lease on life. Prices are very competitive in exchange for quality and superb service!
Highlights 
Stunning, clean paint job
Uses eco-friendly and odour-free paint supplies
Over 35 years' of experience
Reliable and professional team
Covers Wellington, Wairarapa and Auckland regions 
Customer Reviews 
Let's see the feedback as posted by Aaron and Kath Haftka on Google Business:
"These guys are great they painted my roof and it looks awesome
I text Tim after viewing him on grab one. He got back to me and one of his boys come round in the weekend. After I accepted the quote he book me in and as it was a roof and weather permitting soon as he could get on the roof he did. Awesome work guys."
4)  Red Owl Painters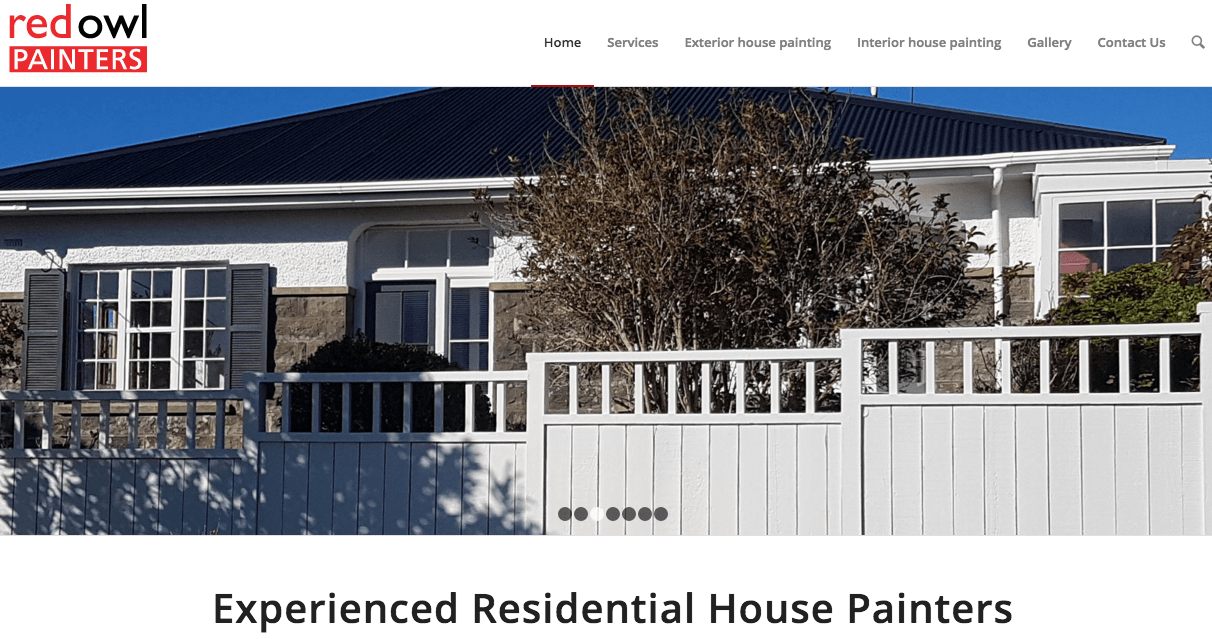 BEST FOR
Quality Finish
SERVICES
Exterior House Painting

Interior House Painting

WEBSITE
https://www.redowl.co.nz/
ADDRESS
2 Duthie Street, Karori, Wellington 6012, New Zealand
CONTACT DETAILS
+64 27 566 6800
OPERATING HOURS
Monday to Friday: 9am – 5.30pm

Saturday: 10.30am – 2.30pm
Using premium products and paints, Red Owl Painters in Wellington promises a quality, long-lasting finish to your house that will not only make it attractive but also add great value to it.
The company's skilled house painters in Wellington have a keen eye for detail and serious industry knowledge. If you don't know what paint will work best, they can give you excellent advice or suggestions.
Moreover, they tailor their services to meet the client's requirements. This is to ensure that you'll get a result you'll be completely satisfied and happy with.
Whether it's a small renovation, weatherproof coating, or full new house painting, you can bet that they are one of the best house painters in Wellington!
Highlights
Provides a quality finish every time!
Skilled staff with keen attention to detail
Bespoke, full painting services
Uses premium products
Customer Reviews 
One client, Michael Isaacs, commented on Google Business:
"Red owl Painters work to an exceptionally high standard. They put a lot of time into their preparation and end result looks fantastic. We will definitely be using them again. Thanks!"
5)  Right Choice Decorator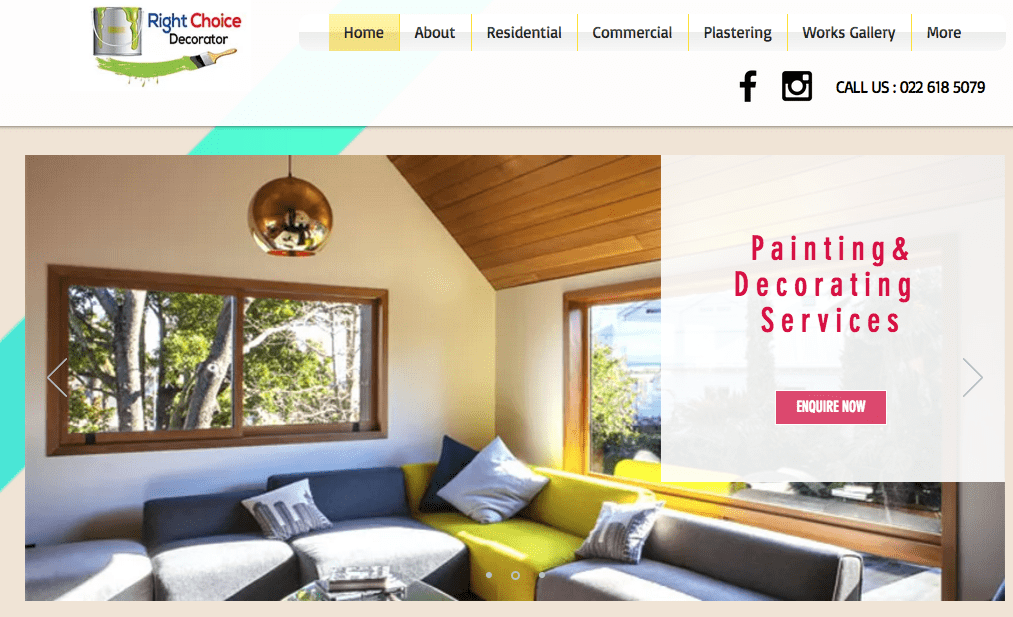 BEST FOR
Affordable Painting Services
SERVICES
One-Off Painting

Interior and Exterior Painting Services

Painting, Decorating and Plastering Services

Residential and Commercial Painting Services

WEBSITE
https://www.rightchoicedecorator.co.nz/
ADDRESS
139 Homebush Road, Khandallah, Wellington 6035, New Zealand
CONTACT DETAILS
+64 22 618 5079
OPERATING HOURS
Monday to Saturday: 8am – 7pm
If you have a tight budget to spare for painting services in Wellington but still want the inside and outside of your house to look great, then call in the team at Right Choice Decorator!
Their reliable painters in Wellington will transform a neglected or outdated room into a space that's both cosy and beautiful. And they maintain excellent communication throughout the project.
In addition, they are clean and tidy in their work and take care of your property. And they always conduct surface preparation before painting to produce a high-quality finish!
So that you won't have to call other tradesmen, you can just let their professional crew do the wallpapering for you — and some interior decoration too! 
Highlights
Affordable painting services
Professional and friendly team
Ensures your place is always clean and tidy
Also does decorating and plastering work 
Customer Reviews
Let's take a look at Nina Lynch's review on their webpage:
"Thomas and his team are very prompt, friendly and affordable. We could not be happier with the rooms' transformation. We look forward to welcoming our newborn into a beautiful, bright home."
6)  AAA Master Painters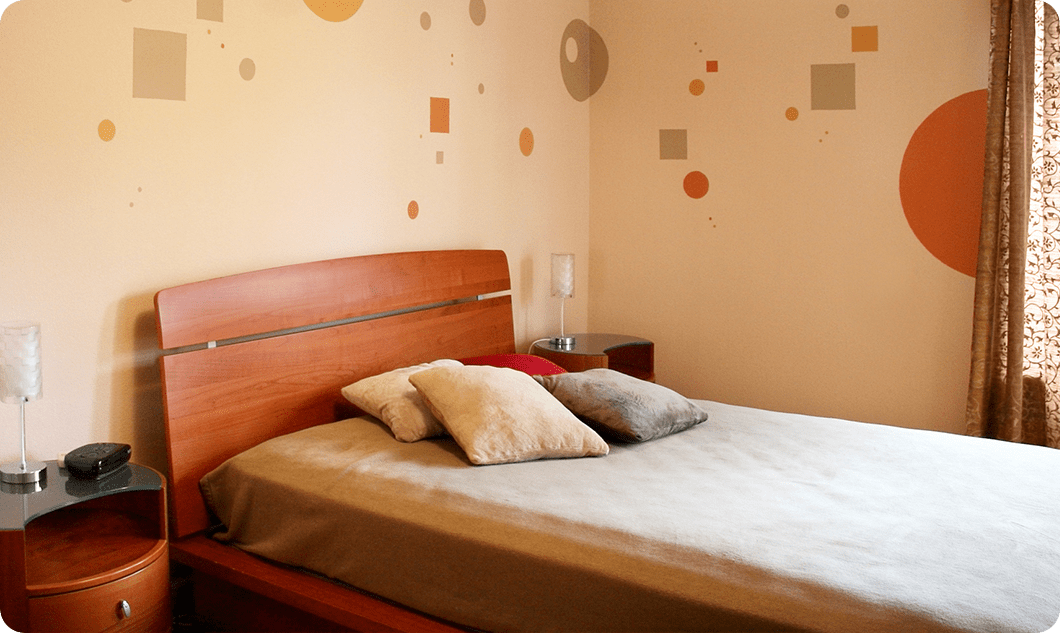 BEST FOR
Insured & Guaranteed House Painting
SERVICES
House Painters

Gib Stopping Services

Commercial Projects

Textured Painting

Wallpapering Services

WEBSITE
https://www.aaapainters.nz/
ADDRESS
164 The Terrace Wellington, New Zeaalnd
CONTACT DETAILS
+64 21 595 959
OPERATING HOURS
Always Open
AAA Master Painters has some of the best house painters in Wellington — a number of them have been painting for over 20 years, so they have a storehouse of knowledge and skill to help you with.
AAA's painting residential service is swift and professional, not to mention economical. It includes house, commercial and industrial painting, wallpapering, textured painting and Gib stopping.
Don't worry, their paintwork is guaranteed for your utmost satisfaction and peace of mind. They aim to provide you with a painting standard that you'll be happy with!
You get a free quote and colour swatch advice if you need them, and that's one of the reasons we included them on our list of best house painters in Wellington.  And they cover the entire Wellington Region including Upper Hutt, Lower Hutt and Porirua. 
Highlights
Swift, professional, and affordable service
Experienced painting contractors
Satisfaction guaranteed
Offers a selection of services
Free quote and colour advice 
Customer Reviews 
Here's one client, Judy, who shares on the website: 
"I have AAA Master Painters doing texturing (interior & exterior), painting and gib stopping for me. I can confirm that I have only ever received positive feedback. This company is reliable, have high work standards and are great with communication. I would be happy to recommend the services of this company."
7)  1Brush Paint Services

BEST FOR
Painting & Decorating
SERVICES
Interior Painting, Exterior Painting, Light Commercial Painting, Pressure Washing, Paint Stripping, Roof Painting
WEBSITE
https://1brush.co.nz/
ADDRESS
N/A
CONTACT DETAILS
[email protected]z
0278233300
OPERATING HOURS
N/A
1Brush Paint Services may be a small company, but you can count on them to provide high-quality house painting services in Wellington. Their services cover both exterior and interior areas of the home.
They also offer house cleaning services, such as pressure washing and paint stripping. 1Brush Paint Services understands that a home is an investment, so they'll do their best to help preserve it.
Highlights
Free, no obligation quote available
Painting uses airless spray application
8)  Paradise Painting Services

Paradise Painting Services has been serving the Wellington region for many years. They've handled projects both big and small.
They're well known for providing excellent and friendly services. If you choose them as your house painters in Wellington, you'll surely get quality services worth their price.
Highlights
Free quote
Extensive experience
9)  VH Painting Services

BEST FOR
Fast and cost-effective work
SERVICES
Interior and exterior repair, preparation and painting including: re-cladding, roof repair, paint stripping, plastering, decking and fencing
WEBSITE
https://vhpainting.co.nz/
ADDRESS
N/A
CONTACT DETAILS
Call: 04 973 1743 or 021 294 5988
Email: [email protected]
OPERATING HOURS
N/A
VH Painting Services is a company that takes pride in their commitment to their job. They offer a wide variety of services, from exterior repair to decking and fencing.
They are networked with other professionals you may need for house construction and renovation. If you decide to hire them as house painters in Wellington, you can rest assured that they will be with you from start to finish.
Highlights
Free, no-obligation quote
Connected with other contractors
And that's it for now with our list of the best house painters in Wellington! Brighten and lighten your home with the assistance of these expert painters!
Do you have any questions that you'd like to ask us? If you have one or have suggestions, feel free to drop us a line and we'll get back to you promptly.
Other than that, you can also check out our other design or building lists. You can, for instance, read about the best handyman Wellington professionals to do or fix various mechanical or electric works at home. And if you want to safe keep your home, why not check our list of best house insurance in NZ.