The 5 Best Humidifiers in New Zealand
Cold and dry air can irritate the body by causing chapped lips, a sore throat, or flu. Fortunately, we've listed the best humidifiers in NZ for you to solve that problem.
In using them, you'll have healthier and cosier air at home. But before we show you our top selections, we'll look into how to buy a humidifier so you can easily pick from our list!
How to Buy a Humidifier
Here are the factors you need to consider when shopping for a humidifier:
1) Type of Humidifier
Humidifiers come in 4 major types which are:
An ultrasonic humidifier uses high-frequency sound wavestocreate an ultra-fine water mist that fills a room or area.
It uses cool water and has no burn hazards for children. It's also less expensive than other models because it doesn't have a filter with it.
Then again, the absence of hot water and filter means that bacteria may be present and discharged into the room, so regular disinfection of the device is very important.
A lot of humidifiers integrate cool mist and ultrasonic functions. A cool-mist humidifier makes the air in your home cool and moist.
These models produce less white dust, which is caused by having excess minerals in the water. Equipped with a filter, these types will require more maintenance.
The cold air can make the skin brittle and the body heavy. A warm-mist humidifier makes a person sleep and feel better, especially when he is sick or unwell.
The only concern with this humidifier is that it can cause burns when accidentally touched. So, this is a no-no for children's rooms.
This type of humidifier releases water vapour into the air through its fan and wick filter. It hinders the growth of mould and mildew, making it perfect for winter.
Additionally, it prevents white and gray dust from sticking onto furniture and textiles. It is less expensive to buy compared to other humidifiers.
2) Fill capacity
Humidifiers have different water tank sizes. This can usually range from 0.2 to 10 L.
A larger tank holds more water and can be used for a longer time. In the same way, a smaller tank holds less water but will need frequent refilling.
However, capacity is not a good indicator of how long the humidifier can bring moisture to your room, as it can depend on the product and your mist setting.
3) Room Size
Another factor to consider is the room size. You'd want the mist to wrap your entire room, so your family members can benefit from the air too.
Generally, humidifiers with smaller tanks can cover small to medium spaces, but those with larger water tanks coat a larger area since they work for longer periods.
4) Features
Mist Control – This allows you to control the level of mist produced in your room. This is available for all humidifier types except ultrasonic models.
Multi-Fan Settings – You can find this control only on mixed coolers and humidifiers. This lets you change the vapour's intensity in your room or hallway.
Timer – It's a very handy feature for automatically turning off the humidifier, for example, when you sleep while it's on and want it closed early in the morning.
Essential Oil Trays – These are used for putting essential oils with unique scents that diffuse around your room.
LED Display – This is a sleek and cool way to see what settings the dehumidifier is on. This won't consume much energy too.
5) Quietness
If you want a quiet humidifier, you should get an ultrasonic model, as this doesn't have an internal fan to add to the noise.
Evaporative humidifiers, on the other hand, are a bit noisier due to their spinning fans, which work continuously to raise the humidity in your space.
The Best Humidifiers in New Zealand
With those things in mind, you're now ready for our list of the best humidifiers in NZ. Let's go!
1) Crane Cool Mist Train Humidifier 3.79 L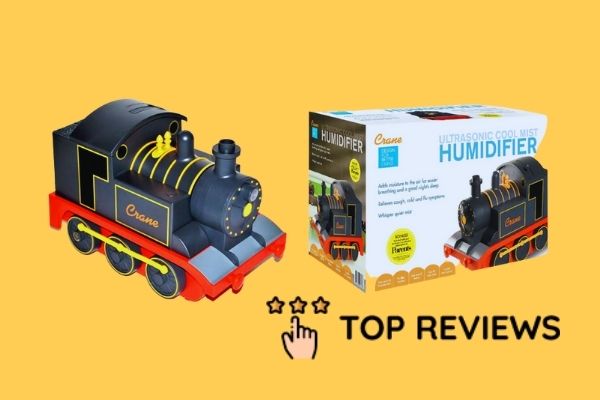 | | |
| --- | --- |
| Best for | Kids' room |
| Dimensions | 42 × 23 × 27 cm |
| Weight | 7.45 kg |
| Fill capacity | 3.79 L |
| Power rating | Up to 45 W |
| Price | $139.95 |
Looking for an adorable humidifier for your little ones? If so, the Crane Cool Mist Humidifier in a red train design is perfect!
This humidifier emits an ultra-fine cool mist that adds moisture to the air. This will bring gentle and clean air for your kids, as well as a comfy night's sleep.
Aside from keeping out the cold and coughs, the ultrasonic humidifier has an antimicrobial base that hinders mould and mildew growth for up to 99.96 per cent.
This fun humidifier carries a 3.79-litre capacity, which can dampen the air for small and medium rooms. It also runs whisper-quiet so as not to create any disturbance.
And no, you won't have to replace the filter every-so-often, so there's no hassle. Plus, it consumes less energy and will barely be noticeable in your monthly power bills.
Perfect for small-and-medium rooms
Whisper-quiet
Energy-efficient
No filter required
Expensive
A bit hard to empty the water tray
Customer Reviews
What most customers like about the adorable humidifier is the adjustable humidity level, gentle light, and great capacity – you won't have to refill it often.
Here's feedback for this product from one customer:
"I have had this humidifier for 10 years when I had my first child it recently broke due to me getting water inside the unit. I was lucky enough to find sameone again. I'll be honest I never put it on the shelf it was always on the ground and it worked great. I don't believe that it's safe to inhale essential oils for anyone, so it really doesn't matter that you cannot use essential oils with this unit. I bought another humidifier but it started making loud noise and waking up the baby so I returned it. From my experience having this one for 10 years, it works great, very quiet and no light. Recommend it for sure."
Also, another buyer named Han-Jou said:
"This is the second animal humidifer I've bought from Crane. It works perfectly! I love how I can adjust the quantity of mist coming out. It's powerful and can boost up the humidity level of a regular bedroom fast. It can contain a good quantity of water so I only need to refill the water about once a day. I will repurchase again for sure!"
2) Crane Drop Cool-Mist Humidifier 3.75 L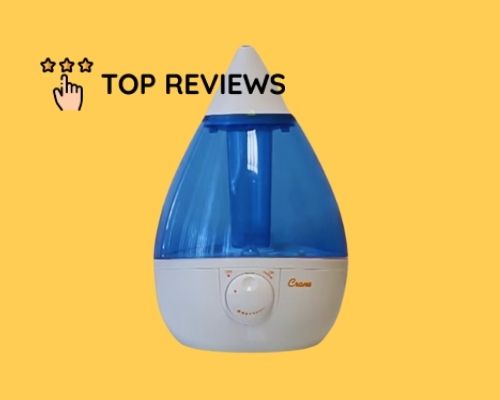 | | |
| --- | --- |
| Best for | Power-efficient cool-mist humidifier |
| Dimensions | 26 × 26 × 36 cm |
| Weight | 6.95 kg |
| Fill capacity | 3.75 L |
| Power rating | up to 45 W |
| Price | $129.95 |
The tear-drop shaped humidifier comes in a broad range of colours and designs for everyone, including this one in white/pink, white/blue, indigo/black, grey, clear, and opaque.
It's similar to the features offered by the adorable train humidifier. However, it is a bit lighter and can cover larger spaces or rooms for up to 50 square metres.
Customers don't like the drooping cone design, since water can leak out from it. Despite this fact, this humidifier does its work pretty well.
It is great for dealing with sinus irritations, cold, and flu symptoms as well as dry skin and hair for both children and adults.
And having 3.75 L volume means you can use the appliance for up to 24 hours at the lowest setting, but less if you set it to a mid- or high-humidity level.
Humidifies larger rooms
Great capacity
Lots of colours available
No filter needed
Water can leak out from the cone top
Customer Reviews
People used this to relieve discomfort and sore throat and it worked amazingly. Apart from that, it is very reliable, quiet, and easy to refill, according to customers.
Let's hear the review of Adrianna of one of the best humidifiers in NZ:
"I was sick for 6 weeks with a sore throat and finally came to the realisation that the air in my house was too dry and most likely the cause of my irritated throat. Within 2 days of using this humidifier my throat was completely back to normal! This humidifier can hold a lot of water and can run for a long time. My house is 1000 square feet and it is able to humidify the whole place from a central location. I know this because after it's been running on the strongest setting for a while the air appears to be slightly foggy and I can see it in every area of my house. It does emit some light and have a low humming noise which may be a deal breaker for those who are sensitive to light and sounds during sleep but it's effectiveness far outweighs any negativity. I find it fairly easy to clean – I just use vinegar and water about once a week and haven't seen any build-up or discolouration on any of the parts of the unit. Definitely recommend!"
What's more, Vero shared her experience in using this humidifier:
"Went through several different models due to bad products to finally come to purchase this one. SO happy with this one!
1. Sound: it's very quiet. Has a small 'humm' kind of like an aquarium.
2. Light: there's a small light on it when it's running which is just a little brighter than an alarm clock but not bothersome enough to affect my opinion of it.
3. Humidity : it's perfect! You can change the amount of water that mists out of it to your liking. Product says not to put it directly onto wood or furniture so just put a plastic placemat underneath and works fine. No leaks at all.
4. Refill: you can surprisingly put a LOT of water in it so not necessary to refill every day.
Overall, very pleased with this item!"
3) Lenox Portable Evaporative Air Cooler and Humidifier 10 L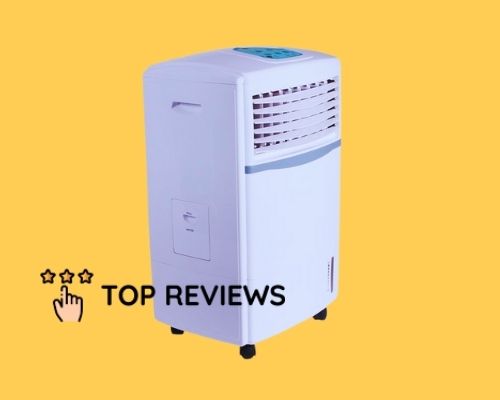 | | |
| --- | --- |
| Best for | Cool and clean air |
| Dimensions | 40 x 30 x 65 cm |
| Weight | 7 kg |
| Fill capacity | 10 L |
| Power rating | 60 W |
| Price | $173.23 |
For cooling and cleaning the air over long periods, you need a mightier humidifier, just like the Lenox Portable Evaporative Air Cooler and Humidifier.
It is versatile and can cool, humidify, and purify medium to large rooms. And you don't have to get close to turn it on every time, thanks to the remote control.
With its castors, you can also relocate this monster cooler-humidifier around your house easily. It has recessed handles for you to lift it over obstacles on the way.
Having 3-speed modes and fan orientations, you can customise the setting for a healthier air environment. It also has a timer, which is great for conserving energy.
Since it's a big model, you would have to do more regular cleaning and maintenance. Though it isn't as good as a stand-alone purifier or humidifier, it still packs a punch.
Versatile humidifier
Enormous capacity
Portable with wheels
3 fan-speed settings
Bigger footprint
Requires more cleaning
4) Aromatic Oil Diffuser and Humidifier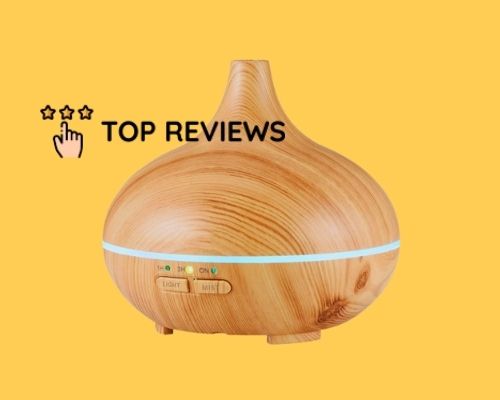 | | |
| --- | --- |
| Best for | Essential oil diffuser and humidifier |
| Dimensions | 17 x 17 x 15 cm |
| Weight | 0.54 kg |
| Fill capacity | 0.4 L |
| Price | $76.99 |
Stressed from work or have a painful sore throat? Well, you can relax with the fragrant and invigorating mist from the Aromatic Oil Diffuser and Humidifier.
The device is very simple to use and can run for 6 to 8 hours straight. It is great to place beside your bed or on a table in your room.
You can sleep without interruptions as it runs quietly in the background. Also, you can change the ambience of your room by changing its light to your desired colour.
As for the downsides, it doesn't have an essential oil included so you would have to get one for this diffuser. Moreover, the fill capacity is small, which measures 0.4 L.
Note that this is available in wood or a dark wood finish to complement your decor!
Easy to use
Changeable lights
Quiet operation
12-hour runtime
Essential oil not included
Small capacity
5) Catzon Air Conditioner and Humidifier with LED Light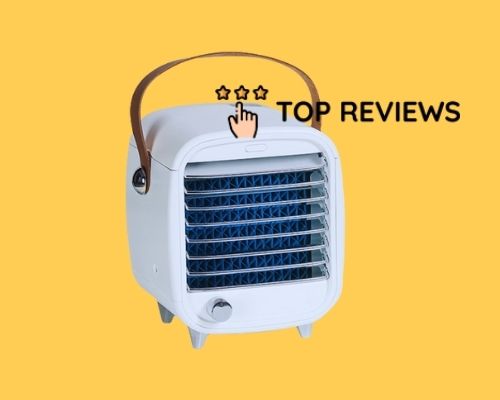 | | |
| --- | --- |
| Best for | Portable cooler fan and humidifier |
| Dimensions | 14.5 x 13.2 x 17.25 cm |
| Weight | 0.70 kg |
| Fill capacity | 0.2 L |
| Power rating | 4.5 W |
| Price | $75 |
The Catzon portable air conditioner and humidifier will keep you cool and calm during hot summer nights. It is also built with an LED ambient light for those who want to use it while writing at the desk!
Its 0.2 L capacity is measly compared to other brands but is enough to humidify the air for several hours. You can easily carry or place it without taking up a lot of space.
There is a dial on the front of the device for straightforward adjustment. It also has a brown plastic handle that matches with the interior blue triangular grilles.
Nice and portable design
Simple dial control
Affordable
Has an LED desk light
Can only humidify small areas
Small water tank
FAQS about the Top Humidifiers in NZ
---
And there you have it for our top humidifiers in NZ list. Remember to find a humidifier with features that you and your family need.
Do you have any questions or suggestions about our picks? If you have one, kindly let us know by dropping us a line and we'll check them out.
Also looking for a dehumidifier? Feel free to browse our list of the best dehumidifiers in New Zealand to eliminate dust and mould, as well as make your home cooler.