The 7 Best Insulation Wellington Specialists
Feel that the air inside your home isn't as cold or warm despite maxing out your temperature-setting appliances? It might have to do with your home's insulation, which is why we've listed the best insulation Wellington specialists here for you.
We handpicked the ones who are qualified, reliable and experienced in insulating your home safely. Also, we chose those who are amiable and helpful as well as having great rates.
Now if you're all set, here are the best insulation Wellington specialists!
1) PinkFit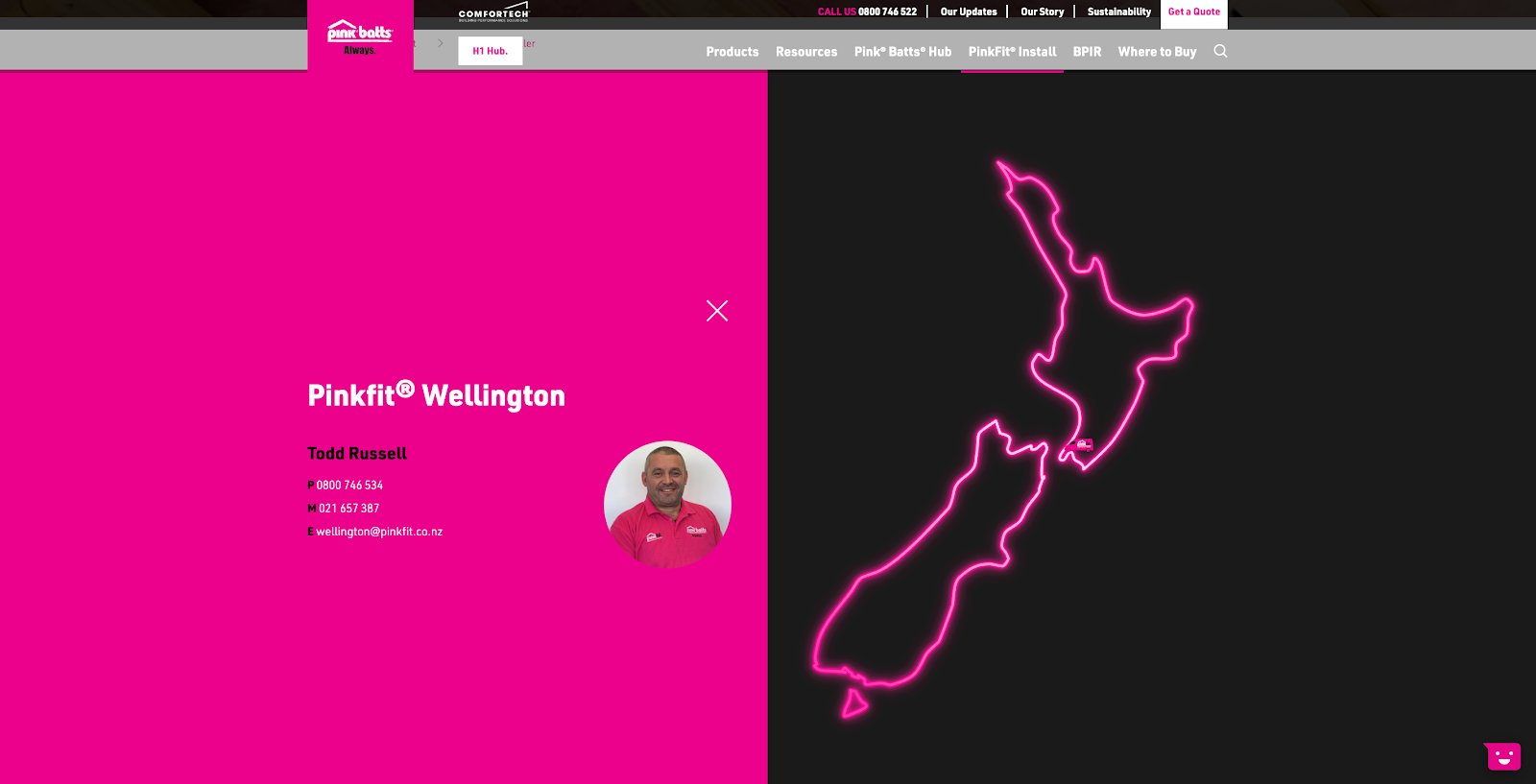 | | |
| --- | --- |
| BEST FOR | High Standard Ceiling and Underfloor Insulation |
| SERVICES | Ceiling, Floor, Wall, and Acoustic Installation |
| WEBSITE | https://www.pinkbatts.co.nz/pinkfit |
| ADDRESS | New Zealand |
| CONTACT DETAILS | 0800 746 522 |
| OPERATING HOURS | Monday to Saturday: 8:00 am – 5:00 pm |
We recently engaged PinkFit for our home insulation needs, and their services proved commendable. Our experience with their team was positive, as they exhibited professionalism and punctuality throughout the process.
The efficiency displayed by PinkFit was noteworthy. Our insulation project was completed within the promised timeframe, showcasing their commitment to timely service delivery. The swift and organized manner in which they operated demonstrated a high level of efficiency.
In terms of quality, PinkFit exceeded our expectations. The insulation materials used were of top-notch quality, ensuring effective insulation for our home. Our satisfaction with the end result highlighted the company's dedication to providing high-quality solutions.
Our budget-conscious approach was well-met by PinkFit's cost-effective solutions. The pricing was reasonable, offering value for the investment made. We appreciated the transparent and fair pricing structure, making the entire process hassle-free and budget-friendly.
However, while PinkFit excelled in many aspects, there was a minor issue with communication. There were instances where we felt the need for more proactive updates on the project's progress. Strengthening communication channels could further enhance the overall customer experience.
Highlights 
Expert in everything insulation
Service on time – every time
Insulation assessment report and quote by email
Installation Guarantee Certificate for all jobs
Customer Reviews
We chose PinkFit for our insulation needs, and we were impressed with their prompt and efficient service. The team completed the project on time, using high-quality materials that noticeably improved our home's insulation. The cost was reasonable, making it a worthwhile investment.
Our experience with PinkFit was excellent overall. The professionalism of their team, coupled with the top-notch insulation materials, exceeded our expectations. Despite a minor communication hiccup, the cost-effectiveness and quality of service make PinkFit a reliable choice for anyone considering insulation solutions.
2) Sustainability Trust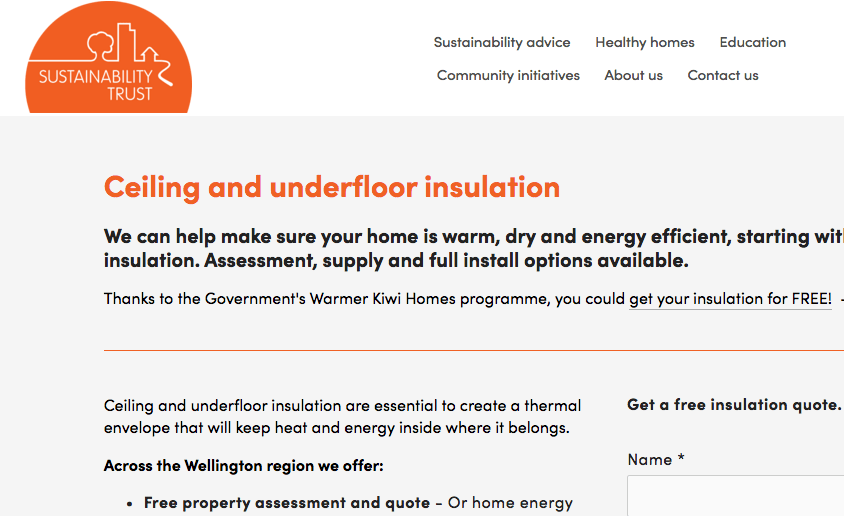 BEST FOR
High Standard Ceiling and Underfloor Insulation
SERVICES
Heat Pumps & HeatingCentral HeatingInsulationHome Energy Assessments

Subsidies & Finance

Advice for Rentals

Condensation, Ventilation & Moisture

Lighting

WEBSITE
https://sustaintrust.org.nz/insulation
ADDRESS
2 Forresters Lane, Wellington 6012, New Zealand
CONTACT DETAILS
0508 78 78 24

[email protected]

OPERATING HOURS
Monday to Saturday: 8.30am – 4.30pm
Sustainability Trust is a social organisation dedicated to providing people a warmer, healthier and more energy-efficient home.
Among the services they offer are heating, insulation, lighting, and ventilation. In the area of insulation, they specialise in ceiling and underfloor supply and installation.
Their expert staff can inspect your place to figure out what insulation is best for your home or budget. You can rest assured that the installation will be done to a high standard.
They have a 0% interest repayment plan too that you can pay off in up to 12 months. That's a convenient option letting you focus on other concerns you may have first.
Other than that, if you live in a low-income area or have a Community Services Card, you may be eligible for a free insulation service from them. 
Highlights 
Specialise in ceiling and underfloor supply and installation
Use high-quality products
Expert & knowledgeable staff
0% interest repayment plan option 
Customer Reviews
A client from Newlands, Kieran, writes on Google Business:
"We like the values of the Sustainability Trust, the price was really reasonable, and the feedback we had read from other customers was great. The installers made short work of what turned out to be a pretty tricky job with our ceiling and underfloor insulation. We can't recommend you highly enough!"
3)  GO2 Insulation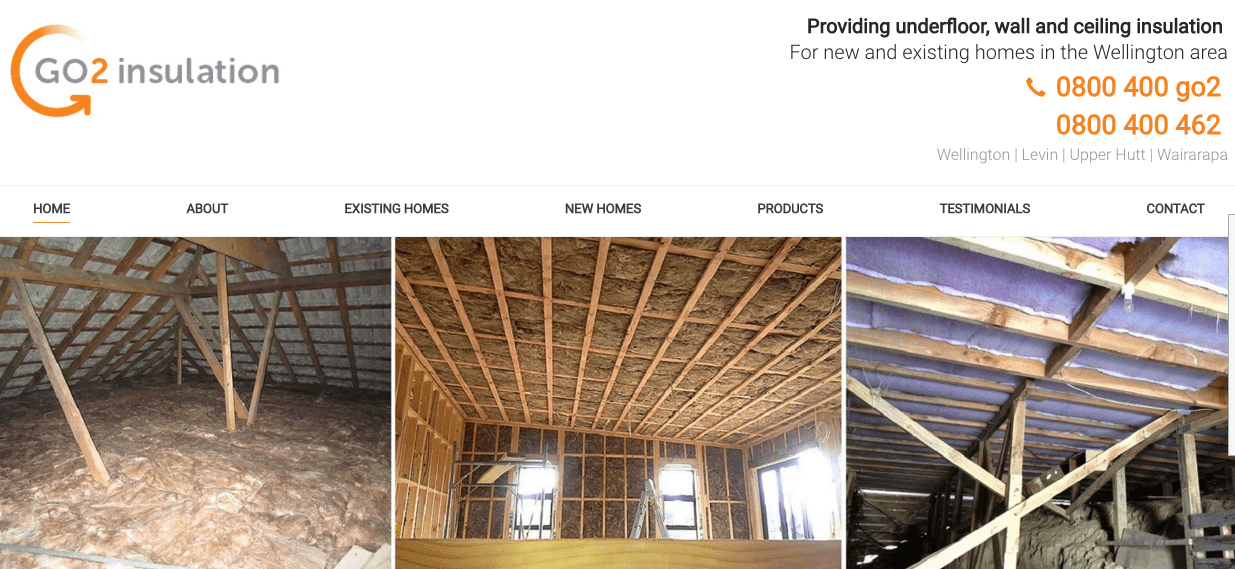 | | |
| --- | --- |
| BEST FOR | Top-Spec Insulation Products |
| SERVICES | Existing HomesNew HomesProducts |
| WEBSITE | https://www.go2insulation.co.nz/ |
| ADDRESS | 57 Takapu Rd, Takapu Valley, Wellington 5028, New Zealand |
| CONTACT DETAILS | 0800 400 462 |
| OPERATING HOURS | Monday to Saturday: 7.30am – 5.30pm |
If you're a homeowner, landlord or property developer requiring insulation, GO2 Insulation is the company to call! Their service is also affordable and timely.
They are certified insulation specialists and comply with NZ standards for safe and proper installation. They can provide wall, ceiling, and underfloor insulation installs.
Their professional team uses top-quality products to insulate your property. This results in a cosier and healthier home during any season with lower power costs.
And given their experience, they can take on work whether it's simple or complex. That's why they belong to the best insulation Wellington specialists list!
Highlights 
Certified insulation specialists
Uses top-quality insulation products
Works on both existing and new homes
Complies with NZ standards for safety and quality installs
Affordable rates 
Customer Reviews 
One of their clients, Gena, writes on the web page:
"I just wanted to say, thank you very much for the easy organising of our insulation.  Your install guys were fantastic, clean and thoughtful.  They got in and got out with no hassles.  Would highly recommend using Go2 Insulation. Thanks again."
4)  Wellington Moisture Barriers & Insulation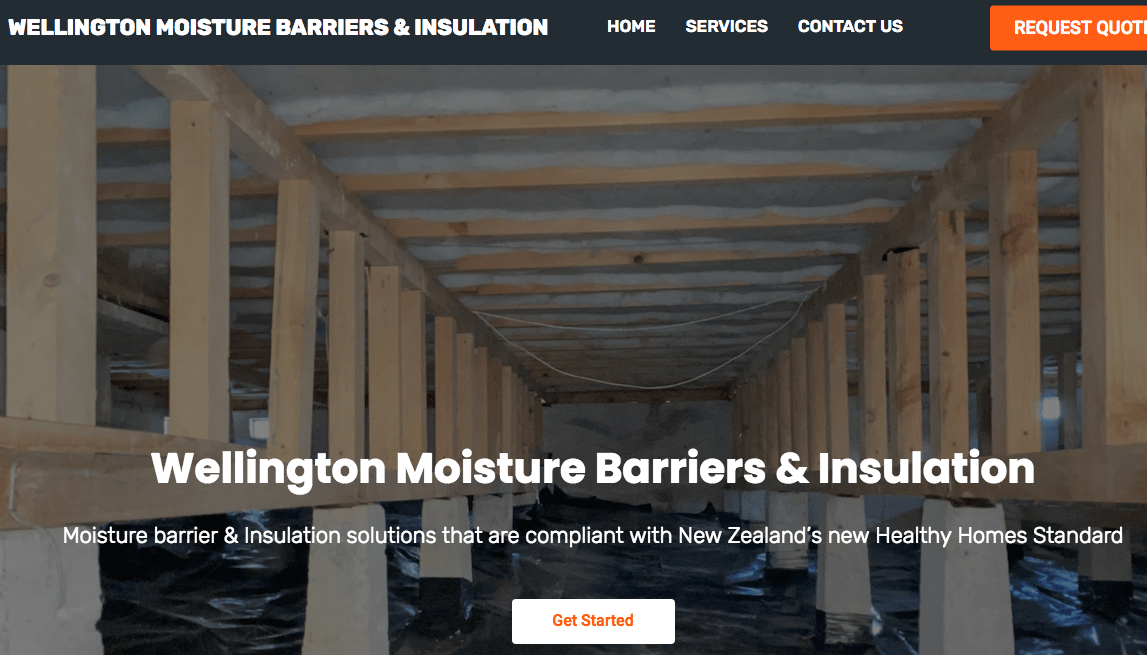 BEST FOR
Expert Workmanship & Competitive Prices
SERVICES
Ground Moisture Barrier InstallationInsulation Installation & Upgrades
WEBSITE
https://www.moisturebarrier.co.nz/
ADDRESS
9 Maybury Way, Island Bay Wellington, New Zealand
CONTACT DETAILS
021657387

[email protected]

OPERATING HOURS
Monday to Sunday: 6am – 10pm
Rental properties currently have a new requirement in place for insulation, which is the Healthy Homes Standard. Wellington Moisture Barriers can help you with that.
They can help install, retrofit, or replace your insulation for your ceiling, roof and underfloor. That's to make you comfortable whether it's sweltering or chilly outside.
As a Site Safe member, they work in accordance with strict safety and health standards. This keeps their employees and clients safe throughout the project.
They pride themselves on their superb workmanship and low rates and cover the entire Wellington Region.
Highlights
Superb workmanship and low rates
Complies with the new Healthy Homes Standard
Installs ceiling, roof and underfloor insulation
Site Safe member
Also offers ground moisture barrier installation
Customer Reviews 
Check out the feedback of one customer, Bridge Lewis, on Google Business: 
"Honest, trustworthy guy. Given his work and moral ethics – I wouldn't hesitate to recommend him. We need more tradestaff like him in the world."
5)  Insulmax Wall Insulation System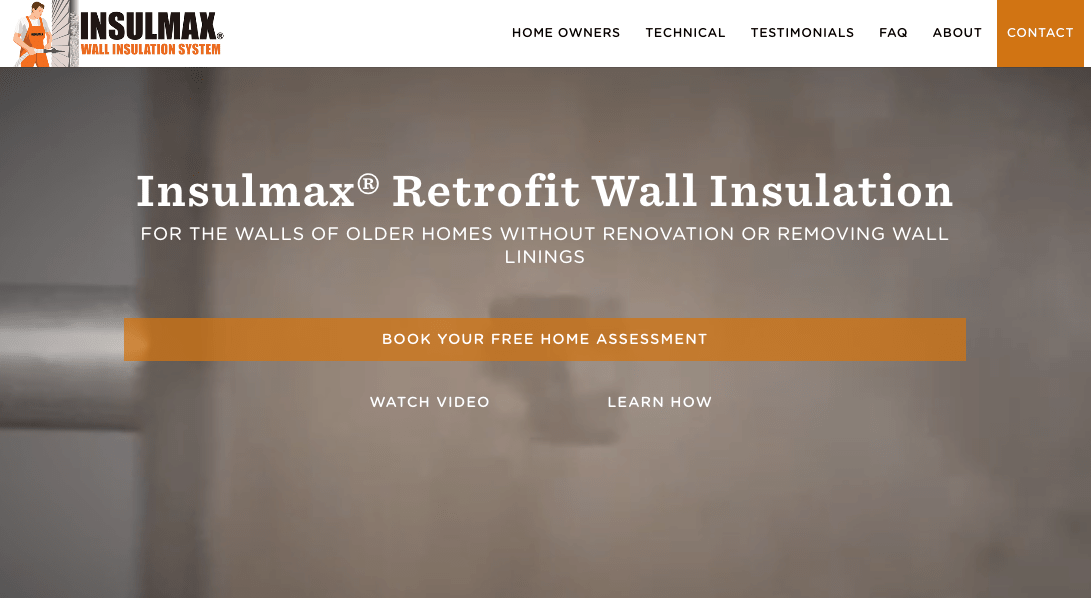 | | |
| --- | --- |
| BEST FOR | Blown Mineral Fibre Wall Insulation |
| SERVICES | Insulmax Retrofit Wall Insulation |
| WEBSITE | https://insulmax.co.nz/ |
| ADDRESS | 50 Wainui Road, Waiwhetu, Lower Hutt 5010, New Zealand |
| CONTACT DETAILS | +64 4-972 2523 |
| OPERATING HOURS | Monday to Saturday: 7am – 9pm |
Insulmax Retrofit Wall Insulation involves blowing mineral fibre through a small cavity in your cladding or wall lining. This can be installed in all kinds and types of NZ homes.
This product is CodeMark-certified, which assures you of it being high performance and reliable as well as complying with the NZ Building Code.
It can make your home warmer, drier and more comfortable. The insulation process merely takes 2 days to complete, including the area being tidied and cleaned for you.
Owing to its affordability and ease of installation, Insulmax has seen growing demand in New Zealand. And to top it off, you get a written guarantee of 50 years sans the paint!
Thus, Insulmax has to be one of the best insulation Wellington specialists.
Highlights
Suitable for all kinds and types of NZ homes
CodeMark-certified
Warmer, drier and more comfortable home
Licenced insulation installers
Affordable and easy to install
50-year written guarantee
Customer Reviews
One customer wrote a review on Insulmax's website: 
"You have a top crew who worked non-stop for several hours until the job was complete. Good communication throughout the process and a walk through with the installer and a thermal camera showed just how complete and thorough the final result was. I already had the ceiling and floors insulated but having the walls done has made the house significantly warmer. Less heat pump and much less firewood being used. Many thanks."
6)  AAA Insulation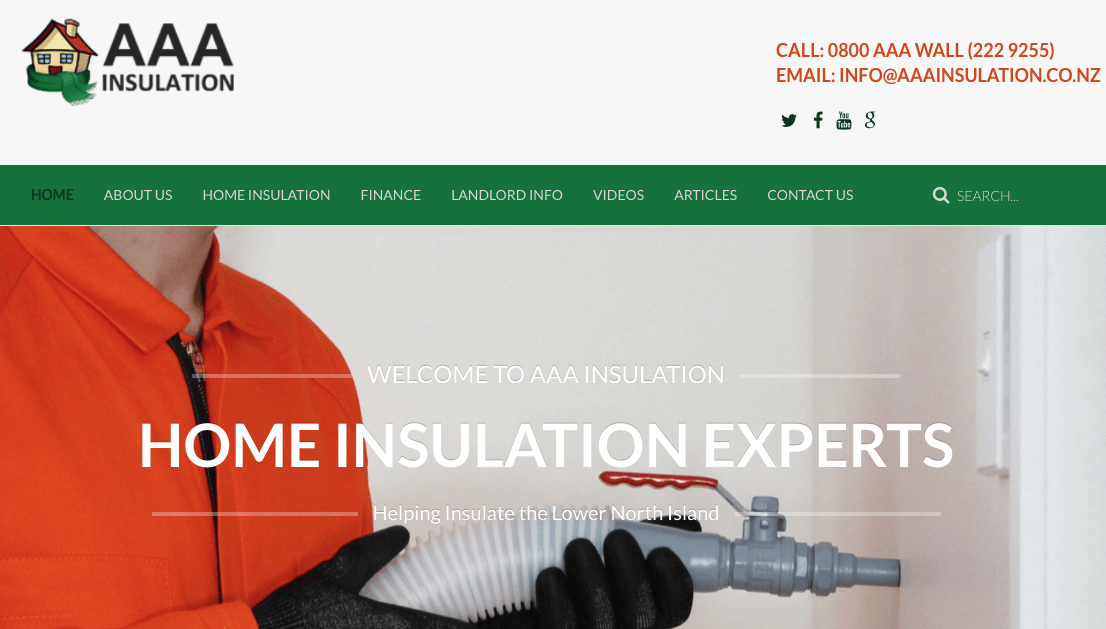 BEST FOR
Honest and Reliable Service
SERVICES
Wall InsulationRoof InsulationFloor Insulation
WEBSITE
https://aaainsulation.co.nz/
ADDRESS
Wellington, New Zealand
CONTACT DETAILS
+64 21 375 359

[email protected]

OPERATING HOURS
Monday to Friday: 9am – 5pm
Keep your home warmer or cooler while cutting your energy costs through AAA Insulation. They have the best products and modern equipment to insulate your walls, roofs and floors.
They utilise Jet Stream Max mineral wool blown into your roof. They can also lay Warmafloor, which is an effective and moisture-resistant insulation underneath the floor.
Their honest and dependable staff can assist you in your needs. Say you have a budget — they will work within those terms and give you the best possible solution for your means.
Note that AAA Insulation serves the lower North Island from Gisborne to Wellington.
Highlights
Modern insulation equipment
Offers insulation for walls, roofs and floors
Uses high-quality products
Honest and dependable staff
Serves lower North Island locations
Customer Reviews
Here's Nathan Hume who commented on Facebook about one of the best insulation Wellington specialists:
"The team at AAA Insulation were able to install  my new Cosywall insulation within a day  from the external wall. You can't even tell the work had been done. Terrific job. Makes such a difference to keeping heat in. Highly recommended."
7) Total House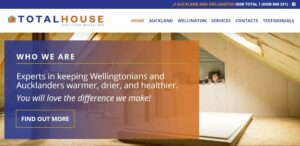 | | |
| --- | --- |
| BEST FOR | High-quality insulation products |
| SERVICES | Ceiling and underfloor insulation, Acoustic insulation, Wall insulation, Insulation product supply, Moisture barrier installation |
| WEBSITE | http://www.totalhouse.co.nz/ |
| ADDRESS | 18 Goodshed Road, Maidstone, Upper Hutt |
| CONTACT DETAILS | |
| OPERATING HOURS | Monday to Friday: 8am-5pm |
Total House is an expert in insulation services, ensuring premium quality output for both your home and office.
They offer a complete insulation contracting; from the ceiling and walls to the floor, Total House will definitely help you keep warm on cold days.
Acquire their free assessment on your residential and commercial space and let them do the rest of the work thereafter!
Highlights
Free advice on all home energy solutions
Quality workmanship
Quick service
Customer Reviews
Take a look at a review left by Graham Archer, a very satisfied client of Total House, proving just how amazing they are in their works.
"We had a very unsatisfactory situation with another Insulation Company and when we mentioned the problems we were having to a builder friend he told us, as a better choice, we should contact Total House in Upper Hutt, which we duly did and oh what a difference. From total House Upper Hutt, we received prompt and very pleasant service, a fair price and contact via phone, text and email keeping us continually up to date and informed. The inspection, quote and install were done in a quick friendly manner, on time, on the right day. All things we hadn't been getting previously. Going on our experience this Upper Hutt Total House team in our book scores a 10 out of 10 and we whole heartily do not hesitate to recommend them to anyone requiring an insulation install to be undertaken from a reputable and reliable Company."
And that's a wrap for the best insulation Wellington specialists! These contractors will help make your home toasty warm in winter and breezy cool in summer.
Do you have any questions you'd like to ask us? If you have one, kindly drop us a line and we'll get back to you as soon as we can.
Additionally, you may be interested in the best heat pumps Wellington installers. There, they can install for you energy-efficient heat pumps that will reduce your energy bills!