The 5 Best Insurance Brokers in Auckland
Insurance is a tricky, complicated and tedious affair – but it's also necessary to protect yourself, your family or your business. Hiring an insurance broker to guide you through the process just might be one of the best decisions you'll ever make.
To help you find the best insurance brokers in Auckland, we based our top picks on their customer feedback and the products that they offered. We also took into account the insurers that they partnered up with.
The best reason to hire an insurance broker is that they don't cost anything at all! So before we begin, let's find out why their services are free in the first place.
How much do insurance brokers cost in Auckland?
As previously mentioned, you, as a client, don't pay anything to insurance brokers! So now you might be asking yourself: how do they make money?
Insurance brokers are paid a commission by insurance companies for every policy that they sell to a client. These commission rates can vary greatly between brokers and insurers depending on the type of insurance product.
Just to be clear – insurance brokers work for you and not the insurer. Brokers are legally obligated to provide you with the best policy to suit your needs, regardless of what insurance company you decide to go with.
With that said, your insurance broker must also disclose what commission they are going to receive from your policy. If they don't offer the information upfront, you can ask them and they should tell you.
While some brokers might receive no commission at all or may only receive a one-off payment for a policy, it isn't uncommon for them to receive a percentage off your annual premium as well. Their take from insurers can reach up to 7.5% per year off your yearly premium.
For example, if your annual premium is $20,000, your broker can make up to $1,500 each year, as long as your policy is still in effect. So, while you don't technically pay them directly, they still earn a profit for having you signed as a client.
To make things easier, we've created the table below as an example of commission rates that brokers may have with insurers. 
| PRODUCT | INITIAL COMMISSION | ONGOING COMMISSION (PER ANNUM) |
| --- | --- | --- |
| Personal, Business and Health Insurance | 30% to 150% of the premium | 0% to 7.5% of premium |
| Mortgages | 0% – 1% of lending amount | 0% to 0.20% of lending amount |
| KiwiSaver | up to $300 | up to 0.40% based on KiwiSaver account balance, paid monthly |
| Managed Investment Schemes | $0 | up to 0.40% based on account balance, paid monthly |
The Best Insurance Brokers in Auckland
Now that we've clarified how they get paid, let's take a look at our picks of the best insurance brokers in Auckland.
1. Global Finance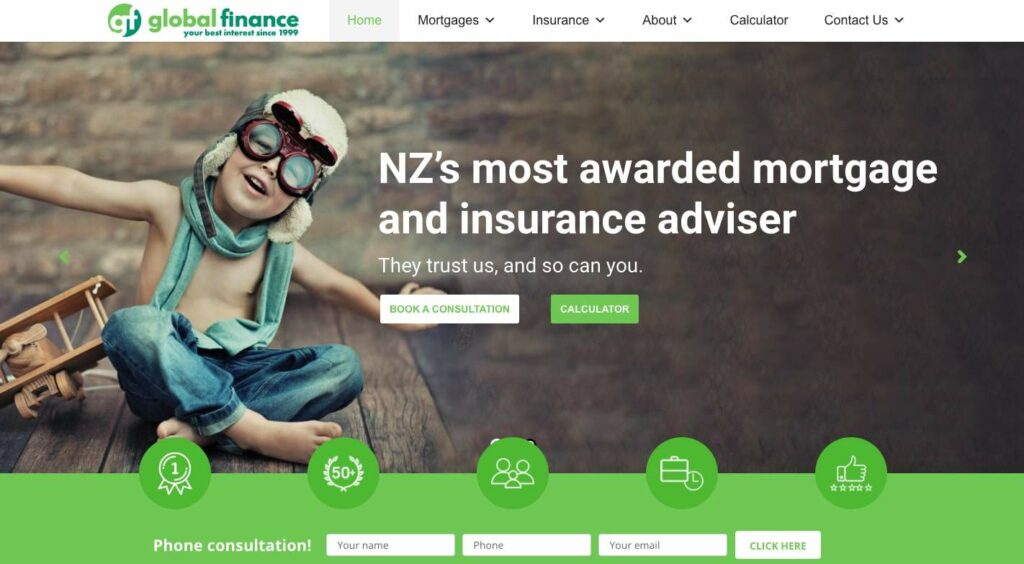 Test
Info
SERVICES
Life Insurance, Critical Illness and Trauma Insurance, Total & Permanent Disability Insurance, Mortgage Protection Insurance, Medical Insurance, Income Protection Insurance, Mortgages
WEBSITE
https://www.globalfinance.co.nz/
ADDRESS
Airport Oaks Branch (Corporate Office)

Kudos Business Centre, 18-22 / 203 Kirkbride Road, Airport Oaks, Auckland 2022




Henderson Branch

103 Lincoln Road, Henderson, Auckland 0610




Manukau Branch

28E Lambie Dr, Manukau, Auckland 2104




Tauranga Branch

Shop no # 16, 83 Pyes Pa Road, Tauranga 3112

CONTACT DETAILS
Airport Oaks: (09) 255-5500

Henderson: (09) 836-5555

Manukau: (09) 263-5555

Tauranga: (07) 577-0011


Email:

[email protected]

OPERATING HOURS
Monday to Friday: 9:00am - 6:00pm

Saturday: 12:00pm - 6:00pm
Global Finance was founded in 1999 by Ajay Kumar to help New Zealanders with their finances, initially specializing in mortgages and loans. Since then, they have diversified their offerings to include insurance products and services.
They claim to be the country's most awarded mortgage and insurance firm, receiving the likes of ANZ's Top Mortgage Adviser of the Year from 2012-2018. They have also been finalists in other award categories such as EY's Entrepreneur of the Year awards in 2019 and 2021.
Although primarily earning their reputation as a mortgage broker, they use the same strategies and outlook on their insurance services as well. Their insurance brokers can help you check if you have the right personal insurance and optimized premiums for your needs.
Unlike other brokerage firms that rely on commissions from insurers, Global Finance opts to provide a salary to their employees instead. This is meant to help them remain unbiased and offer you the best options possible.
They offer personal risk insurance products mainly from AIA NZ, Cigna, Asteron, Partners Life, AMP, and Fidelity Life. In terms of health insurance, they collaborate with insurers such as Southern Cross Health Insurance, NIB, AIA NZ, and Partners Life.
However, Global Finance's list of providers may change without notice and are not limited to their key offerings. This can work to your advantage though since they can offer a mix of policies from different companies to find a solution that best meets your goals.
Suffice it to say, they've got you covered whether you're looking for life, critical illness, disability, or health insurance. They can also protect your income and find you a quicker way to pay off your mortgage as well.
We particularly like their life insurance products because it includes a range of benefits such as funeral support and special events increase options. They likewise offer upgrade riders such as rate-to-age and income benefit options that can help take care of your family in the event of your death.
Employees are paid salaries instead of commissions
Comprehensive life insurance policies
Multi-awarded company
Specializes more in mortgages
Offered insurers may vary
Customer Reviews
Very happy with the service
"Made insurance appointment with Nilesh Gandhi. He was very professional and gave very professional advice regarding my policy. We have made policy with Asteron Life. Very happy with the service provided." – Nitesh Chandra
Fantastic responsive service
I received a fantastic responsive service from my adviser Gajay. Top Class. He made the process easy, answered all my questions really well, and overall made the process as straight forward as possible. Thank you 🙂 – Natasha Tennent
2. FutureProof Life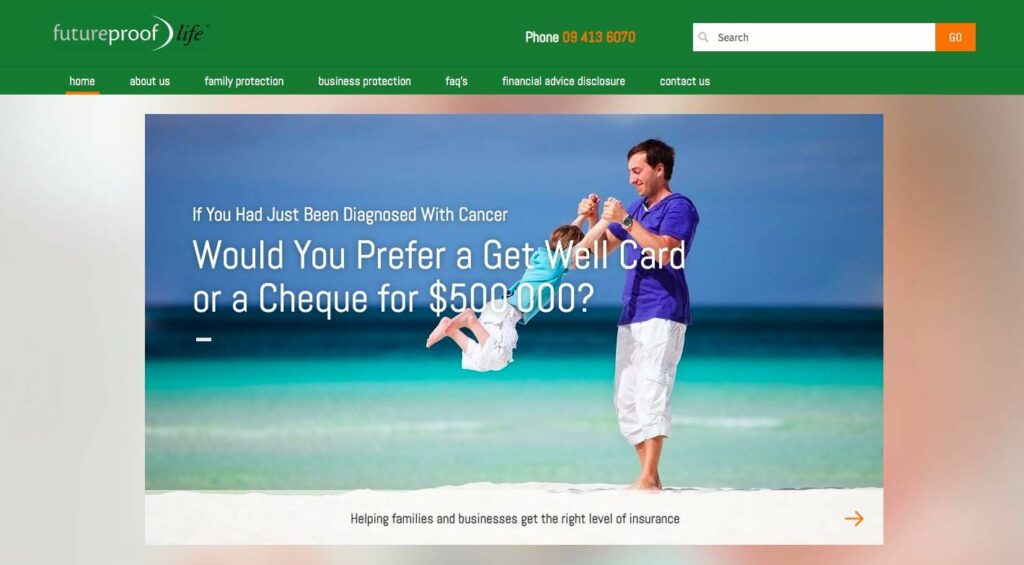 Test
Info
SERVICES
Trauma Cover, Income Protection, Health Insurance, Free trauma cover for children, Mortgage Protection, Key Person Protection, Partnership/Shareholder Protection, Group Health & Income Protection, Health Insurance
WEBSITE
http://www.futureprooflife.co.nz/
ADDRESS
180 Greenhithe Road, Greenhithe, Auckland 0632
CONTACT DETAILS
Phone: (09) 413-6070

Email: [email protected]

OPERATING HOURS
Monday to Friday: 8:00am - 4:00pm
FutureProof Life is a locally owned and operated family business founded by Lindsay and Vera Armishaw. They specialize in risk management for businesses and "lifestyle protection plans" for individuals.
If you already have insurance, they can review your current insurance plans for free! And all information is kept private and confidential even if you don't push through with their insurance plans.
They have partnerships with seven major insurers to offer you the best policy possible. These are AIA/Sovereign, Accuro, Asteron Life, Cigna/Onepath, Fidelity Life, NIB, and Partners Life.
Now, for those looking to protect their families, especially their children, FutureProof Life offers free trauma cover for kids. Each policy is worth $50,000 covering up to 48 traumatic events for children ages 4 months to 21 years old.
This offer is only available though if parents avail of trauma cover for themselves first and depends on the insurer as well. Nevertheless, FutureProof Life offers a range of options that can cover 29 to 48 major illnesses with lump sum payouts.
FutureProof Life also offers several health insurance products mainly falling under two main categories. These are Comprehensive Care and Major Medical/Surgical policies, both of which cover a range of services such as primary care and major hospital expenses.
They also offer income protection in two main types, Agreed Value for the self-employed and Indemnity, which is catered towards salaried earners. These two plans can pay out up to 55% to 75% respectively in the event of a work stoppage due to medical conditions.
For businesses, FutureProof Life has several unique products that include Key Person Protection, Partnership & Shareholder Protection, Group Health & Income Protection. Each plan can be designed for a business' particular needs to protect both employer and employee.
Free trauma cover for children 4months to 21 years old
Can review your current insurance for free
Large payout percentages for income protection
Shorter operation hours compared other brokers
Only offers policies from 7 insurers
Customer Reviews
Very responsive and reliable
"If you are looking for a trusted company that offers life, health insurance.I highly recommend this company. They are not just a company that offers insurance what's matters is the after sales service. Very responsive and reliable. They will find a better plan for you that suites your budget as well. Very accommodating especially "David". Thank you so much for helping us David more power to you and your company…" – Lady Sheena Aguilar
Professional and helpful
"We decided to redo all our personal insurances over lock-down last year and Rob and Futureproof Life really impressed us. We ended up saving on our existing monthly payments yet getting a much better deal across the board. Rob was really professional and helpful. All our meetings were documented and updated and we felt in really safe, competent hands. We would highly recommend Rob and his team." – Rebekah Bourhill
3. Network Financial Services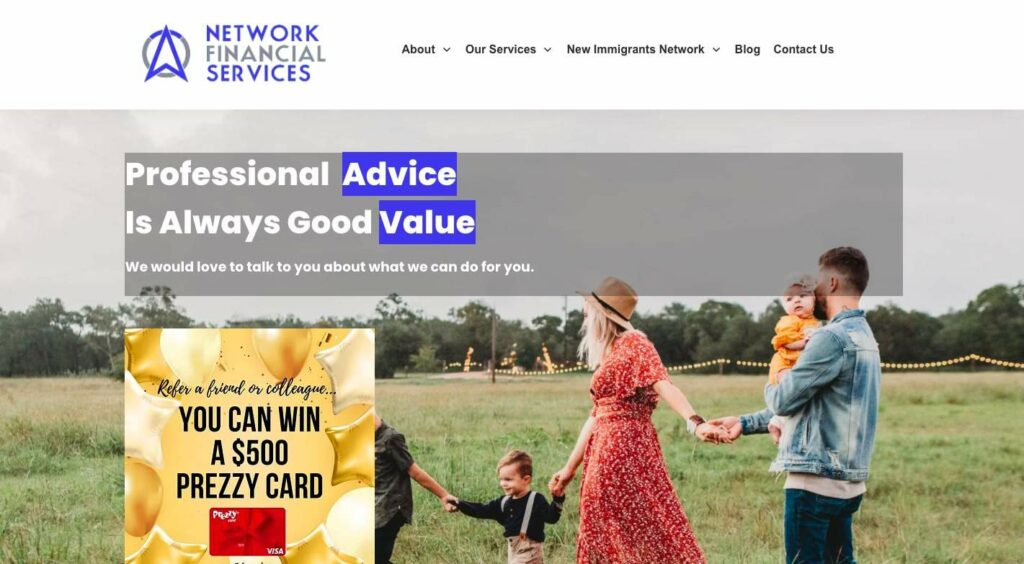 Test
Info
SERVICES
Personal Insurance, Business Insurance & Advice, Home Loans, ACC, KiwiSaver
WEBSITE
https://networkfs.co.nz/
ADDRESS
Unit 2/1 Airborne Road, Rosedale, Auckland 0632, New Zealand
CONTACT DETAILS
Toll-Free: 0800-275-637

Email: [email protected]

OPERATING HOURS
Monday to Friday: 8:30am - 6:00pm
Network Financial Services was established in 2012 by Eugene van Heerden. He has over 25 years of experience as a financial adviser and runs the company alongside family and a team of professionals.
For those that prefer a more personalized relationship with their insurance broker, a small family-owned and operated business is an option worth considering. Oftentimes, a family business also treats clients like family, which makes the tedious process of insurance more relaxed.
Network Financial Services specializes in personal, business, and health insurance, although they broker mortgages as well. They primarily work with AIA, Asteron Life, Cigna, and Partners Life although they have partnerships with over 30 other insurers.
The Network Financial Services team is composed of a mix of salaried employees and contractors, both of which may receive commissions from any policies you undertake through the company. This mix of advisers could work to your benefit as they can potentially offer you a varied mix of products to suit your needs.
Network Financial Services can also provide limited information on KiwiSaver and managed investment schemes. They have formed partnerships with Generate and New Zealand Funds Management ("NZ Funds") to offer clients this service.
Now, Network Financial Services provides the most common personal insurance products sought out such as life, trauma, and personal disability, among others. However, their business insurance products are worth taking a look at as well.
One unique offering is their Start-Up Income Protection and Business Continuity plans. These policies protect small business owner-operators or their staff from work stoppage due to medical reasons and can provide a monthly payment of up to $50,000 per month.
On the other hand, Network Financial Services also offers Business Life Insurance which pays out a lump sum if you or one of your key personnel dies. This payout is meant to either replace income or minimize any debt incurred.
Network Financial Services isn't all about insurance – they can also offer business advice and CFO services to help plan, assess, or monitor the financial health of your business. They can likewise assist you in dealing with grants from the government or searching for financiers.
With a varied mix of services offered, Network Financial Services is on our top picks in New Zealand. They offer a wide array of policies from over 30 insurers, which covers most of the basics that anybody is looking for.
Team is composed of salaried employees and contractors
Start-Up Income Protection can help protect small businesses 
Offers business advice and CFO Services
Assistance with KiwiSaver may be limited
Doesn't offer nationwide service
Customer Reviews
Helpful and friendly
"We recently dealt with Johan in relation to making changes to our Kiwisavers.Johan was very helpful and friendly. He made this process easy and stress free which is all we could ask for. Thanks again Johan for all your help. I would recommend Johan and the team at NFS to everyone." – Brad Foord
Very professional, polite and friendly
"This was so easy to do with Garghan, he kept me in the loop every step of the way. He gave me good options and was very professional, polite and friendly. I really appreciated the quick response. Thanks Network Financial Services- Garghan is an asset to your team." – Cherie Hawkins
4. MakeInsure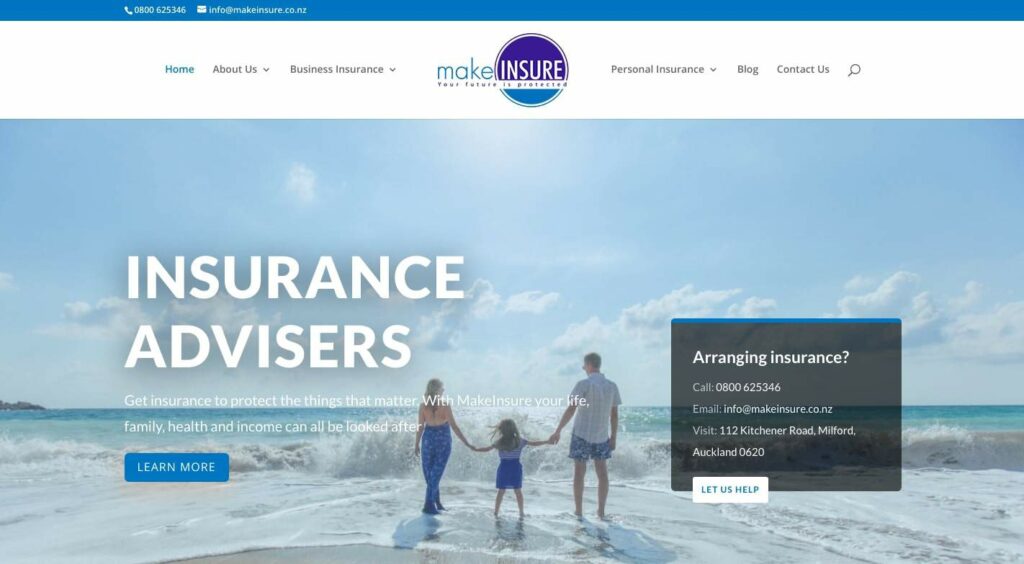 Test
Info
SERVICES
Life Insurance, Health Insurance, Travel Insurance, Trauma Insurance, Mortgage Repayment Insurance, Disability Income Protection, Permanent Disablement Insurance, Key Person & Revenue Protection, Debt Protection, Shareholder Protection
WEBSITE
https://makeinsure.co.nz/
ADDRESS
112 Kitchener Road, Milford, Auckland 0620
CONTACT DETAILS
Toll-Free: 0800-625346

Email: [email protected]

OPERATING HOURS
Monday to Friday: 8:30am - 5:00pm
MakeInsure was founded in 2016 by Scott Haak, who is an insurance adviser that holds a Level 5 National Certificate in Financial Services. He has over a decade of experience with a background in customer service and business development.
Offering their services all across the country, MakeInsure's goal is to provide you with insurance product options that best serve your needs. Moreover, they provide you with an annual review of your current policies in place to ensure that you're still holding the best option to service your financial goals.
MakeInsure doesn't charge any upfront fees for any preliminary consultations on KiwiSaver or risk advisory services. So if you want to consult on your current standing and decide not to continue with a policy, no administrative fees will be paid on your end.
They work exclusively with top insurers such as AIA, Accuro, Fidelity Life, Asteron Life, Cigna, Partners Life, Southern Cross, and Nib Health Insurance. If you don't find an insurer that you like on this list, you'll have to look somewhere else, because that's all they offer.
Nevertheless, MakeInsure offers a wide array of personal insurance options for individuals, businesses, and groups. The products offered cover all the basics that you'll need to ensure that you're covered should unexpected or unforeseen circumstances arise.
Moreover, as a one-man team, MakeInsure offers one of the most personalized experiences in insurance. This allows them to intimately discuss all policies with you to ensure that your end goals are met.
Offers nationwide services
Owner has a Level 5 National Certificate in Financial Services
One-man team can make the insurance process slower
Policies limited to 8 insurers only
Customer Reviews
Would highly recommend
"Scott helped us navigate our way through life insurance to ensure we were getting the best package to suit our needs. He was there to explain and guide us through every step, making the whole process so simple. Would highly recommend to anyone looking to sign up or switch to another insurer." – Georgia Coleman
Very personable and stays in contact
"What I love about doing business with Scott is his genuine desire to provide the best solution for my needs not just about making a sale which has been my experience in the past. Scott is very personable and stays in contact. I have recommended him to all my family and you won't be disappointed if you engage Scott at MakeInsure" – Andy Rolston
5. Ease Insurance Brokers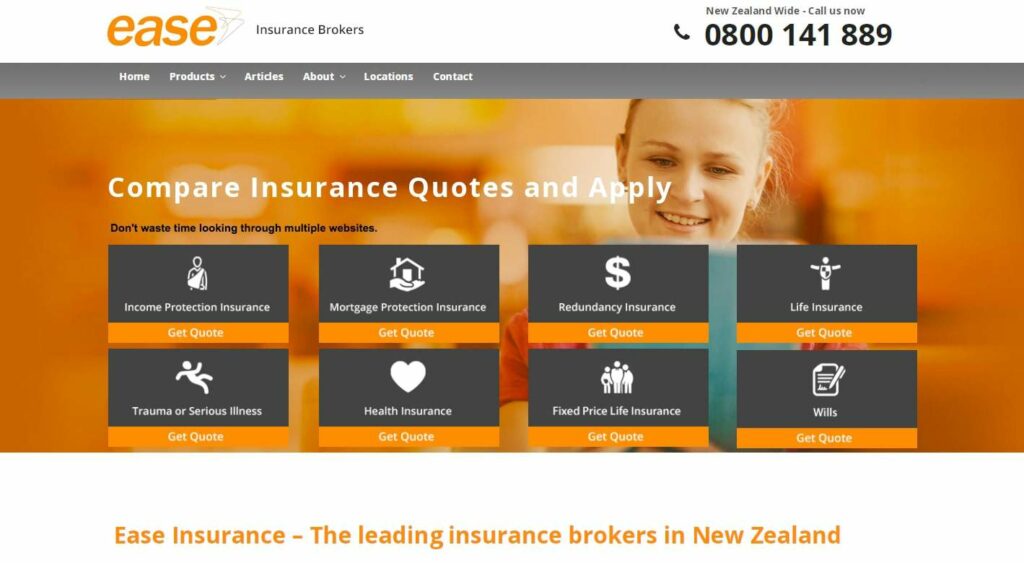 Test
Info
SERVICES
Income Protection Insurance, Mortgage Protection Insurance, Redundancy Insurance, Partners Life Insurance, Life Insurance, Serious Illness Trauma Insurance, Health & Medical Insurance, Fixed Price Life Insurance, Wills, Funeral Services
WEBSITE
https://easeinsurance.co.nz/
ADDRESS
Building 730, Level 3, 261 Morrin Road, St Johns, Auckland 1072
CONTACT DETAILS
Phone: (09) 631-7771

Email: [email protected]

OPERATING HOURS
Monday to Friday: 10:00am - 5:00pm
Ease Insurance Brokers was established in 2001 by Andrew Ball, who is a Registered Financial Advisor and specializes in accounting. He also has a New Zealand Certificate in Supervisory Management and Certificate of Competence on Insurance Advice Process that is recognized by the NZQA.
Although based in Auckland, Ease Insurance Brokers can provide life, health, income insurance all over New Zealand, whether over the phone or the internet. However, speaking to a broker in person has its perks – you can receive a full financial review, advice and a written recommendation.
Now, after your initial free consultation, the brokers will compile and prepare all of their policies that meet your needs. Moreover, even after you sign a policy, Ease Insurance Brokers can still help you make a claim or modify your policy without additional costs.
There are no administrative fees for their services too, meaning you don't pay Ease Insurance Brokers anything for processing any documents on your behalf.
However, Ease Insurance Brokers only offers products from 7 insurance companies, which somewhat limits your options compared to other brokers. However, the advantage is that they are more likely to know these policies intimately and can potentially help you navigate the processes more smoothly.
Ease Insurance Brokers provides policies from AIA, Asteron Life, Fidelity, Cigna, Partners Life, Greenwich, and Nib. However, they may have a preference for offering you products from Partners Life due to a special partnership agreement.
While Ease Insurance Brokers may not offer business insurance, one of their unique products is Redundancy Insurance (also known as loss of job insurance or salary insurance). It essentially offers extra protection if you lose your job or decide to leave your current occupation for another.
Moreover, Ease Insurance Brokers can even offer assistance in drafting your will (if you don't have one) via a "questionnaire" that you can quickly answer. While this is only a draft and not legally binding, you can always take it your lawyer to have it looked at.
They offer funeral insurance as well, which can go hand in hand with your life insurance product. It ensures that your family or loved ones don't have to suffer the exorbitant costs of laying you to rest should you pass away.
Best for life insurance products
Offers funeral insurance
Can offer assistance in drafting wills
Only offers products from 7 companies
Doesn't provide business insurance
Customer Reviews
Service is fantastic
"I have been with Ease Insurance Brokers for a number of years now and the service is fantastic. Andrew is a true professional and goes the extra mile. I had to make a claim in the last few months and he supported us through the claim from start to finish . I don't live in Auckland all my dealings have been over phone and email and the service is amazing and very efficient." – Lisa Buchanan
Upfront, honest and reliable
"Andrew is true professional. He helped me to get an Insurance policy and when I had to make a claim, he processed the claim application and ensured that the claim was accepted by the insurance company and was paid out (which is the most important thing). During the whole transition, Andrew was upfront, honest and reliable. His communication was timely and kept me informed on the status. I would very much recommend Andrew for any Insurance related services. 5 stars to you Andrew." – Satheesh Namala
FAQs about Insurance Brokers
---
That's our list for the best insurance brokers in Auckland! We hope you found the company that best suits your needs!
Did we miss any other good insurance brokers? If so, please send us a message, and we'll check them out!
Now that you've looked through general insurance brokers, you might be looking for one specifically to help you get a home loan. If so, then check out this list of the best mortgage brokers in Auckland to help you out.