The 5 Best Insurance Brokers in Christchurch
Whether you're just starting out your professional life or are thinking of your family's security in the future, getting yourself a solid insurance plan is a smart move to make. However, navigating insurance options can be tricky, so you'll probably need an expert to help you out.
This list of the best insurance brokers in Christchurch is a handy guide on choosing the best adviser on your journey to financial security. We've based our picks on their reputations, the products they offer and what their clients have to say.
Don't worry about expenses – this won't cost you anything! Let's find out why.
How much do insurance brokers cost in Christchurch?
If you've been shopping around for insurance brokers, you probably have seen them advertise that their services are free. We're here to confirm that yes, insurance brokers are free!
Brokers receive their compensation through a commission that is a percentage of the premium that you pay the insurer. This number can vary greatly among brokers but they are obligated to inform you exactly how much they will receive.
Generally, insurance brokers make on average between 12.5% to 20% of the annual premium that you pay the insurer. However, brokers may also earn nothing at all or as much as 30%.
To give you a general idea of how much brokers stand to make from your policy, we've summarized a few key points in the table below.
| | | |
| --- | --- | --- |
| PRODUCT | INITIAL COMMISSION | ONGOING COMMISSION (PER ANNUM) |
| Personal, Business and Health Insurance | 30% to 150% of the premium | 0% to 7.5% of premium |
| Mortgages | 0% – 1% of lending amount | 0% to 0.20% of lending amount |
| KiwiSaver | up to $300 | up to 0.40% based on KiwiSaver account balance, paid monthly |
| Managed Investment Schemes | $0 | up to 0.40% based on account balance, paid monthly |
Do take note though that brokers can charge you other types of fees, such as professional or service fees. Some examples of what you can be charged for are making changes to contract terms or drawing up a completely new contract.
However, insurance brokers are obligated to inform you of their fees and you must agree to them before they can charge you. They are not allowed to have any undisclosed fees.
The Best Insurance Brokers in Christchurch
Since we have a better understanding of how much brokers receive their payment, we can now take a look at our picks for the best insurance brokers in Christchurch below.
1. Apex Insurance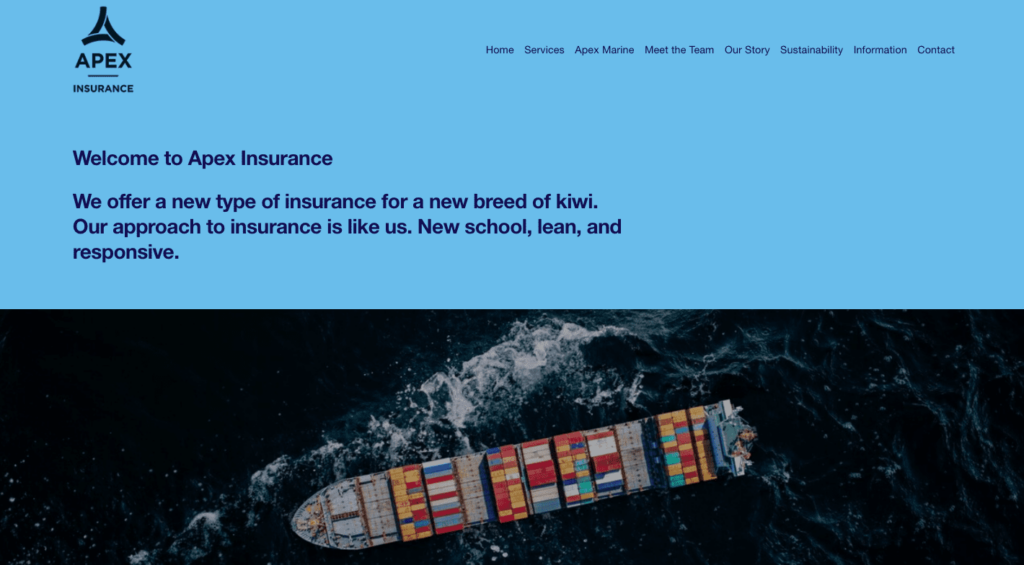 SERVICES
Body Corporate, Business Interruption, Commercial Motor VehicleCorporate Travel, Creative Industries ,Cyber Risk, Directors & Officers Liability, Education, Inland Marine, Management LiabilityMaterial Damage, Ocean Marine Cargo, Employment Practices, Liability, Fidelity & Crime, Film Insurance, General Liability, Personal Accident, Professional Indemnity, Sports & Leisure, Statutory Liability, Technology Sector , Trade Credit
WEBSITE
https://apexinsurance.co.nz/
ADDRESS
Grant Thornton House, Level 3/134 Oxford Terrace, Christchurch Central City, Christchurch 8011, New Zealand
CONTACT DETAILS
Toll-Free: 0800-273-903
Phone: (03) 983-7125
Email:

[email protected]

OPERATING HOURS
Monday to Friday: 8:30am – 5:00pm
Apex Insurance is a non-corporate independent insurance company that started solely by protecting businesses. They were established over 25 years ago and have successfully expanded by purchasing other brokerages, allowing them to diversify their offerings.
They are a member of NZBrokers, which is a collective of other brokers that help each other. The main advantage of being a member is having the backing of $520 million in Gross Written Premium, which strengthens Apex Insurance's financial standing.
In our opinion, one of the best reasons to choose this Apex Insurance is that they're members of the Sustainable Business Network and are the first internationally accredited carbonzero-certified insurance broker.
As an environmentally conscious business, they donate 20% of their policy commissions to the Million Metres Streams Project, which is a program dedicated to restoring New Zealand's waterways.
Another one of their unique services is Apex Marine, which is a joint venture with Brent Mullan that provides insurance advice and products dedicated to the marine industry. They offer sustainable solutions to businesses that also protect travel, cargo, and trade, among others.
Even though the marine industry is one of their areas of expertise, Apex Insurance has a diverse array of products for a range of businesses. They can accommodate creative industries such as art, advertising, and film with policies that can cover anything from the cast to the crew, film negatives, and other production-related concerns.
Apex Insurance also covers more traditional aspects of businesses such as general liability, personal accidents, fleet insurance, and even protection from cyber threats. In our opinion, if you're looking for comprehensive coverage for your business, this company is worth considering.
With four offices around New Zealand, Apex Insurance is one of our top insurance brokers for Kiwis. As a start-up business themselves, they offer a wide range of options for a variety of industries.
Specializes in marine industry insurance
Internationally accredited carbonzero-certified business
Covers a wide range of businesses
More for businesses as opposed to personal insurance
No mortgage or health insurance offers
Customer Reviews
Great team culture all round
"The Christchurch team have been outstanding to work with. Excellent advice, supportive, responsive and knowledgeable. We have a tricky claims scenario and the technical expertise has been amazing, meaning a positive outcome for us. Everyone we have dealt with has been the same – a great team culture all round. Thanks!" – Rachel Wilson
Willing to go the extra mile
"I've just got my business insurances all sorted through Julian at Apex Insurance. I cannot recommend Julian enough, he has been super helpful all along the way. He was always friendly and willing to go the extra mile to get the right cover to suit my business and he did just that at a great price. Thanks Julian!!!" – Steve Oskam
2. imsure Insurance Advisers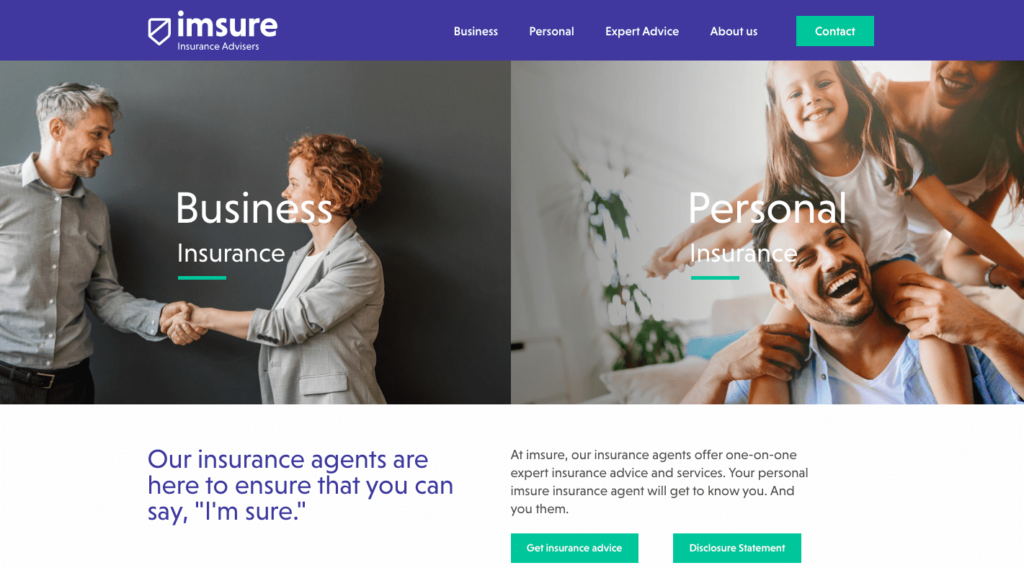 | | |
| --- | --- |
| SERVICES | Key-Person, Buy-Sell Cover, Group Policies, Life, Trauma, Health & Medical, Income & Mortgage, Total Permanent Disability |
| WEBSITE | https://www.imsure.co.nz/ |
| ADDRESS | 2/31 Stevens Street, Waltham, Christchurch 8011 |
| CONTACT DETAILS | Phone: (021) 954 754 |
| OPERATING HOURS | Monday to Friday: 9:00am – 5:00pm |
imsure Insurance Advisers was founded by Cameron Bryant in 2006 to give clients the most "personalized insurance experience" possible. He is a member and served as regional chair of the Million Dollar Round Table, an organization composed of the country's leading financial advisers.
This company might only offer policies from 9 insurers, but they've picked some of the most popular in New Zealand. These are Partners Life, Asteron Life, Cigna, Fidelity Life, Nib, Southern Cross, Sherpa, The Mortgage Girls, and AIA.
Now, imsure has special partnerships or deals with some of their insurers so don't be surprised if they might favor some over the other. For example, they may prioritize The Mortgage Girls for home loans and Sherpa for commercial insurance.
Nevertheless, one reason to go with imsure is that they offer the option for Level premiums, which basically maintains the same price for your premium annually even though the coverage increases. While this policy scheme may cost more initially, it just might save you money in the long run.
We also like imsure's life insurance policies because they offer unlimited cover and provide you the option of a single lump-sum payment or regular monthly payments. You can also adjust to increase your cover at any time during a life milestone, such as marriage or a new child, which is also known as "special events".
They have two kinds of trauma cover products as well, whether you're looking to acquire some for yourself or your business. With Living Assurance or Progressive Care, you can opt for a one-off lump-sum or several payouts, respectively, in the event of injury or illness.
imsure's health and medical products are also quite enticing, providing your choice of provider and unlimited surgical cover. You can get up to $300,000 for cancer care and global cover for when you're traveling abroad.
If you're interested in one of their products, you can reach out to any of their brokers directly! Each person's contact information is conveniently listed on their website, so you can choose which broker you want to personally handle your financial plan.
Life insurance plans offer unlimited cover
Health and medical has global insurance cover
Offers special packages for some of their partner insurers
Works with only 9 insurers 
May favor some insurers over the other because of promotions
Customer Reviews
Went above and beyond
Insurance is never a fun thing to deal with, and I was aware it may be tricky for me due to previous conditions.I dealt with Beck Metcalfe and she made the whole process so easy, not daunting, and really went above and beyond to deliver great service and secure me a great package. I would have no hesitations recommending Beck to anyone who needs to sort out their insurances." – Sarah Wombwell
I wouldn't go anywhere else
"I can't speak highly enough of Darren who I spoke with regarding my insurances at Imsure. Darren was very genuine and knowledgeable and gave excellent advice around what level of cover I should have. In the past, I've always felt like I was being sold something I potentially didn't need. Darren took the time to understand me and my situation and recommended great solutions I could feel confident about. I wouldn't go anywhere else for my insurance needs." – Liam Flick
3. Advanced Mortgage & Insurance Solutions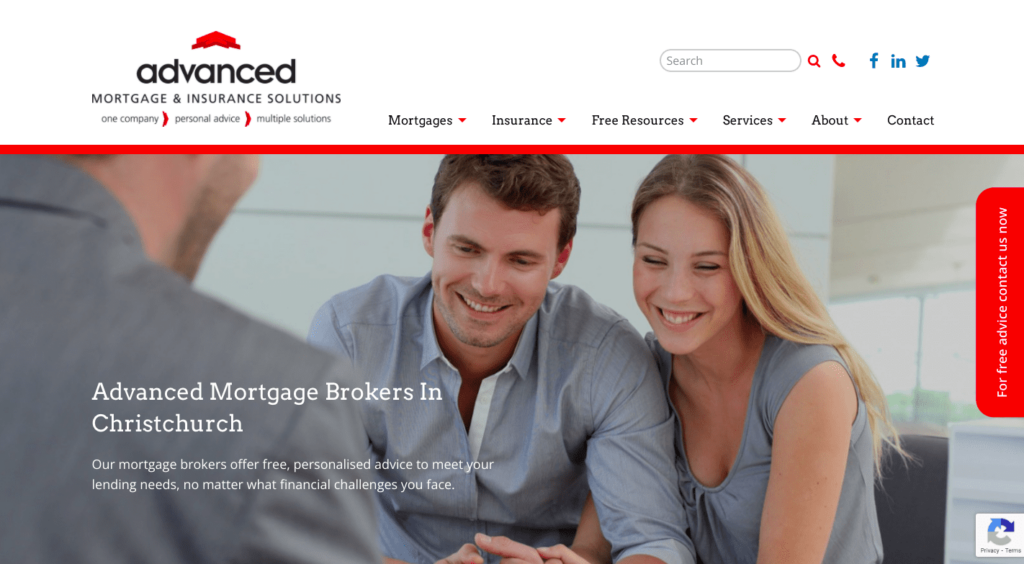 SERVICES
Mortgage Services, Life, Medical, Disability, Trauma, Income Protection
WEBSITE
https://www.advancedmortgagesolutions.co.nz/
ADDRESS
918 Colombo Street, Christchurch Central City, Christchurch 8013
CONTACT DETAILS
Free Phone: 0508 466 356
Office Phone: 03 980 4541
Fax: 03 980 4571
OPERATING HOURS
Monday to Sunday: 8:30am – 5:00pm
Advanced Mortgage Solutions was founded in 2008 by Scott Miller, a former property investor with over fifteen years of experience. Although they started by offering a comprehensive range of home loan options, they offer other insurance products as well.
This company claims they love a challenge and can accommodate the needs of a first home buyer, a property investor, or even those who have been declined by the bank. They can also assist senior citizens with Home Equity Release loan products.
Advanced Mortgage Solutions is an ideal choice to shop for mortgage insurance (as you might expect from the name), which provides security when you can't make payments due to illness or disability. They can find you a policy that will offer up to a 110% payout of your monthly payments for each month you can't work until you're 65 years old if necessary.
Not limiting themselves to just mortgage, Advanced Mortgage Solutions offers several other insurance products as well. They cover all the basics that an individual may need such as life, medical, disability, trauma, and income protection insurance.
However, before you start considering their policies, take note that Advanced Mortgage Solutions doesn't offer joint cover for your spouse or partner. This means that you would have to apply for separate policies that will have separate premiums as well.
Nevertheless, Advanced Mortgage Solutions can customize each insurance product according to your needs, providing you with a tailor-made package. For example, you can add special cover for terminal illness to your life insurance plan, which can increase the payout by 25%, while your partner can opt for Level Term Cover.
Their medical cover also offers some unique add-ons, letting you skip lines and choose how, where and when you get treated. You'll also have better chances for getting advanced medical procedures without worrying about how to pay for your hospital bill.
In short, Advanced Mortgage Solutions is one of our top picks in New Zealand, especially if you're looking for an experienced mortgage broker and an insurance package along with it.
Open daily from Monday to Sunday
Offers comprehensive mortgage insurance
No joint cover
Only provides personal insurance cover
Customer Reviews
Would definitely recommend
"Scott was awesome to deal with, very knowledgeable in every aspect of our dealings, helped us with lawyer recommendation, insurance and kiwisaver advice and was a calming influence in a very stressful time. We would definitely recommend Advanced Mortgage Solutions to others and will be back for more advice in the future ourselves." – Mark & Vanessa Dunn
I wouldn't go anywhere else
"We used Advanced Mortgage & Insurance Solutions for our first home and the service has been exceptional. Greg worked tirelessly to ensure we got our mortgage and Shane has been a great help with insurance as well. Maintained great communication thorough out. I wouldn't go anywhere else in the future." – Jay Pachchigar
4. Become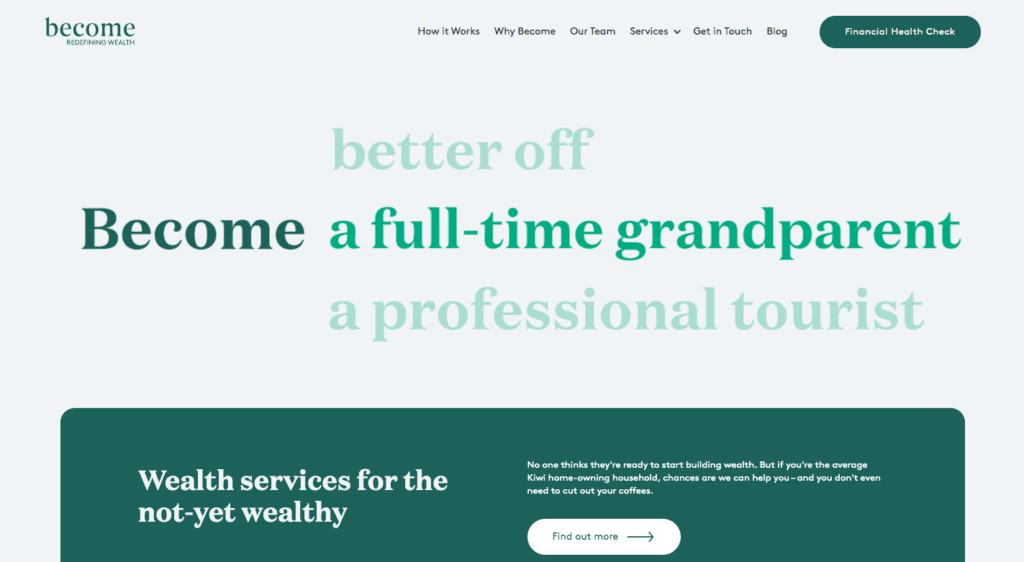 SERVICES
Financial Planning, Personal Insurance, Investments, Structures &Estate Planning, Mortgages & Loans, General Insurance, Tax & Accounting, Business Strategy, Insurance, Loans & LendingTax & Accounting
WEBSITE
https://www.become.nz/
ADDRESS
Level 1/134 Victoria Street, Christchurch Central City, Christchurch 8011, New Zealand
CONTACT DETAILS
Phone: 508-232-663
Email:

[email protected]

OPERATING HOURS
Monday to Friday: 9:00am – 5:00pm
Become.nz was founded by Richard Clark, who is also the co-founder of Medcapital, an insurance brokerage built exclusively for health professionals. His newest venture aims to use the same successful business model to offer all New Zealanders options to secure their financial future.
Now, what makes Become a unique business is that they have a team of various experts, each specializing in a specific area – namely mortgages, insurance, and investments. This team then brainstorms on the best financial plan for you by analyzing and crafting your options from different angles.
So each potential client at Become.nz gets a free 30-minute financial health analysis to discuss the basics of your current status and goals. This quick and preliminary assessment is conducted only over the phone.
After the free consultation, the whole team then meets to contribute to their area of expertise. They will draft an initial plan covering all major aspects of your financial future.
In short, with Become.nz you don't just hire a single broker, you get the minds of multiple experts working for you.
They don't just create any plan or dust one off the shelf – this team builds one specifically for you. They also try to achieve the best balance between a comfortable life in the present and for the future.
Now, while this customized plan seems like a dream come true, it does come at a cost. They charge $500 for their initial comprehensive plan, dubbed as a "membership fee".
If you decide to pursue this plan, they may also charge a "portfolio fee" and "custody" fee which is the cost of managing your account to ensure that you stay on track. This means you essentially retain their long-term services to update your insurance or revisit your finances if you feel the need to do so.
Now if you're not satisfied with their customized financial plan, they offer a money-back guarantee. They claim that they've never issued a refund, which makes it an enticing offer worth considering.
Customized and comprehensive financial and insurance plans
Have a team of experts working for you, not a single broker
Expensive "membership fee"
May charge other fees for maintaining your account
Customer Reviews
Approachable, smiling and friendly,
"Approachable, smiling and friendly, no pressure and arranging. They give you clear answers to your questions and clear instruction on what needs to be done. They have also put us in contact with the right persons outside of their business." – Deborah Le Corre
Go above and beyond
Such a great team to deal with, they go above and beyond and nothing is an issue. Highly highly recommend!!" – Kate Thompson
5. Friendly Finance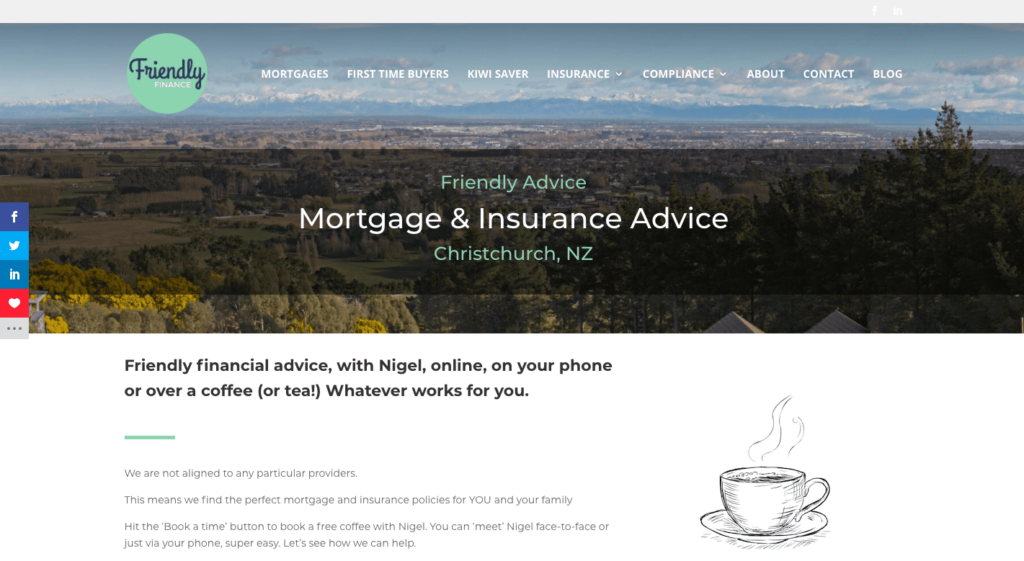 SERVICES
Medical, Trauma, Income Protection, Business Medical, Business Key Man, Business Income Protection
WEBSITE
https://www.friendlyfinance.nz/
ADDRESS
407 Springs Road, Halswell, Christchurch 7676, New Zealand
CONTACT DETAILS
Phone: (021) 186-2768
Email:

[email protected]

OPERATING HOURS
Monday to Friday: 8:00am – 8:00pm
Saturday: 9:00am – 5:00pm
Friendly Finance was established by Nigel Elson, who has over 12 years of experience as a financial adviser in the UK before starting his own company in New Zealand in 2017. He has a Level 5 Certificate in Financial Services and is an ANZIIF associate for general insurance.
Together with his wife Kelly, a mortgage specialist, they provide financial advice to help clients achieve their financial security and insurance plans.
We like the relaxed atmosphere when consulting with Friendly Finance – it can even be done over a cup of coffee or tea.
They're also not a one-off consultancy or brokership service. Friendly Finance can be in it for the long haul with you if you choose that, providing you with complimentary financial check-ups on demand.
Friendly Finance can present you with options from some of the most premier lending and insurance providers in New Zealand. For your insurance needs, they're partnered with Asteron Life, CIGNA, AIA, Partners Life, and Accuro.
Do take note that Friendly Finance doesn't provide advice or offer products from insurers or lenders they're not partnered with. So if you've got your eye on a specific company that's not on their list, then it's best to look somewhere else.
While Friendly Finance services are free, they may charge a "service fee" for their time if you repay, refinance or cancel a policy within 27 months or before they receive their commission. This fee will be calculated per hour of their time spent advising you, but will not exceed $2,500.
If you decide to take Friendly Finance's advice, they can offer medical, trauma, and income protection products for your personal needs. Though they may not have a wide array of cover, they provide handpicked options that are curated for your specific needs.
Level 5 Certificate in Financial Services
Relaxed atmosphere – can even consult over a cup of coffee
May charge service fees
Specializes more in mortgage 
Customer Reviews
Business without compromises
"I was unsure about his use of "Friendly" until I saw him going far beyond the extra mile and providing us with that support we are lacking in Today's business and society. He really understands helping each other is good for our souls and business without compromises. Thanks Nigel!" Cristian Szwarc
Great service
"Nigel made sure I understood what the process was in layman's terms without making me feel small or inadequate, as i was finding it a daunting and very vulnerable position to be in. He made it straight forward and empowering. Nigel was always contactable and went above and beyond, even coming to open homes with me and helping me with my offers. Nigel has also been key in advising me about my Kiwisaver and investing in my future. I look forward to watching my investments grow and utilising Nigel in the future.
Many thanks for a great service." – Michelle Appleton
FAQs about Insurance Brokers
---
And that's our list of the best insurance brokers in Christchurch! We hope we gave you a great place to start looking for one of your own.
Do you already have an insurance broker who isn't on our list? If you think we should add them, kindly send us a message and we'll check them out!
Now, if you're specifically looking for somebody to help you with a home loan, then you're in luck! We've got a list of the best mortgage brokers in Christchurch to help you get started!