By Leo Williams
Since it's your home, it naturally follows that you have a vision in mind about the design you like. If you need a hand in decoration, here we have listed the best interior designers in Auckland.
The best interior designers will do all they can to realize your vision of your interiors. Some of them will even organise your preferences into a harmonious result you could never have achieved by yourself.
And having them around will get you the best prices for furniture, textiles, and accessories. Unless you're an expert or are an interior designer yourself, your best call will be to depend on them.
Now without elaborating any further, here are the best interior designers in Auckland!
1)  Trinity Interior Design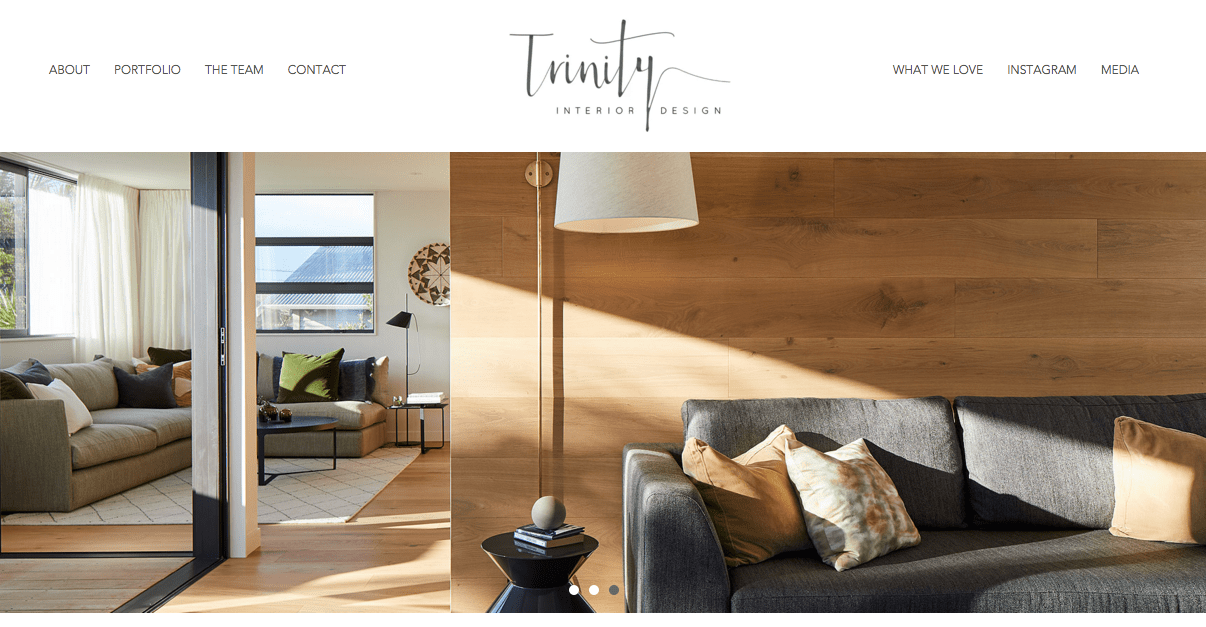 Bagging the 2019 NZ House and Garden in the Winner and Supreme Winner categories, Trinity Interior Design has many of the best interior designers in Auckland!
They leave customers smiling owing to the designers being great listeners. Indeed, they have the skills to back up their claims of excellence.
Trinity's Interior's style emphasises the small details, timelessness, and practicality. And they source your furniture, accessories, and hardware from well-known companies at the best prices.
Highlights
Thoughtful and functional design
Great team communication
Furniture, fittings, and hardware at the best prices
2)  Mal Corboy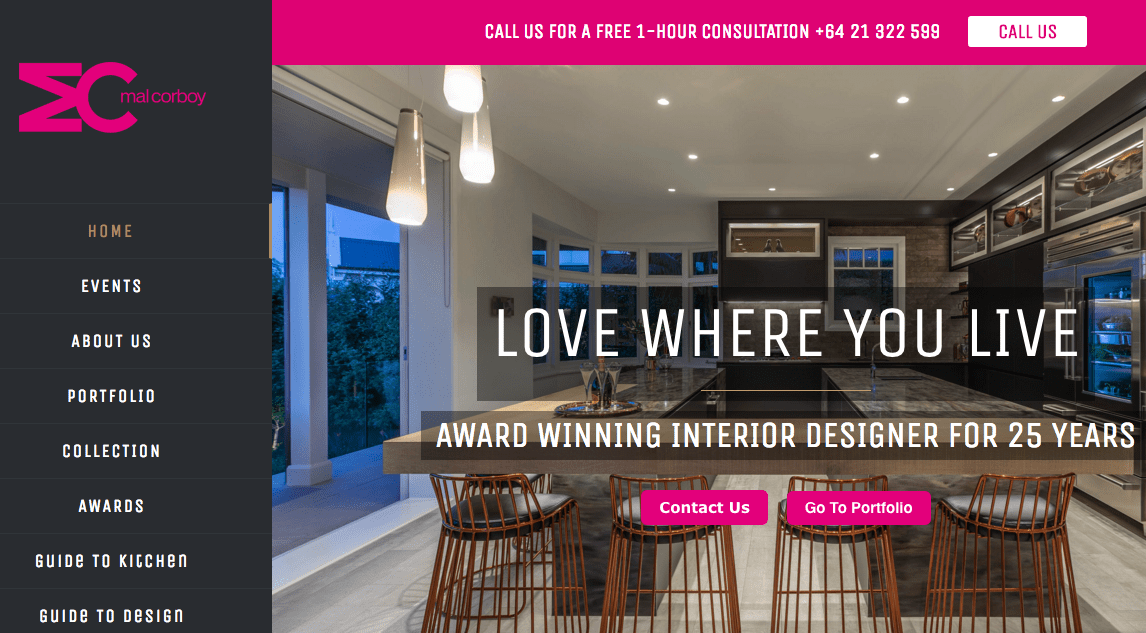 | | |
| --- | --- |
| Best for | Luxury Kitchens and Bathrooms |
| Services | Bathroom, Kitchens, Luxury Kitchen, Interior |
| Address | Level 2, 60 College Hill, Freemans Bay, Auckland 1011, New Zealand |
| Contact no | +64 21 322 599 |
| Website | https://www.malcorboy.com/ |
If you'd like to class up your kitchen or bathroom, get in touch with Mal Corboy. His style leans a little toward the vibrant side — that complements the liveliness and comfort in many spaces.
Now a little bit about Mal — he is an award-winning interior designer for clients locally and internationally. He has more than 25 years of experience with a burning passion for the craft.
In the course of his work, he has showcased his skills in designing the interior of beach houses, apartments, cafes across Auckland and Australia.
Highlights
Kitchen and bathroom interior
Award-winning designer
Does his work worldwide
Customer Reviews
On Google Reviews, Vanessa Green wrote:
"Thank you to Mal for creating a fabulous kitchen for an inner city apartment. Style, grace and functionality. Everything was great. Mal also designed out bathrooms that we are thrilled with. He is not just a kitchen designer but an overall creative planner that enhances the value of your property."
3)  Nicola Manning Design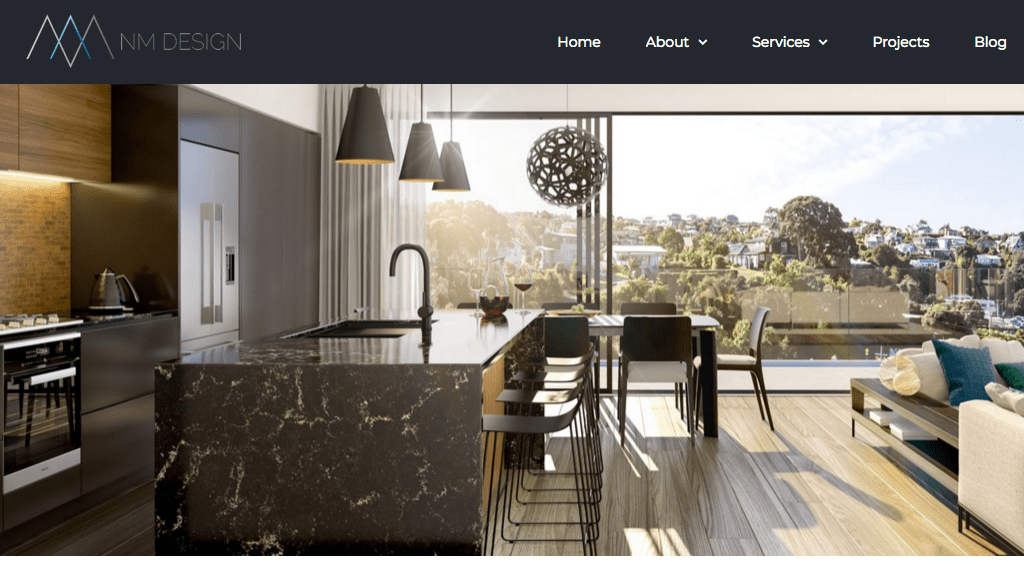 | | |
| --- | --- |
| Best for | Bathroom Renovations |
| Services | New Build, Renovation, Multi-Level Residential, and Commercial |
| Address | 41 Upland Road, Remuera, Auckland, New Zealand |
| Contact no | 09 523 0108 or 027 440 5091 |
| Website | https://nmdesign.co.nz/ |
If you're stuck with the layout that's too garish, dark, or cramped, Nicola Manning Design is at your service! That can be changed for the better, according to your needs.
Depending on the brief, Nicola will work with you to ensure you get the right design for your place. She will also handle the buying and placing of artworks, flooring, furniture, and everything else.
Her design is stylish and classical without compromising function. You know how inconvenient it can be if the function is given up, but for her, style and function always go together.
This firm has also won the 2020 Best of Houzz Design and Service. Moreover, it is a member of the Design Institute and CDS.
Highlights
Renovation design experts
Blends style with function
Creative and resourceful
Customer Reviews
Let's see a review by Alison Ward on Google Reviews:
"Nicola has helped me on a variety of projects and has always provided me with creative practical solutions with a great finished product.  Nicola has great communication with clients and has managed to get my projects finished on time and within budget.  I would highly recommend Nicola's services."
4)  Pocketspace Interiors Ltd.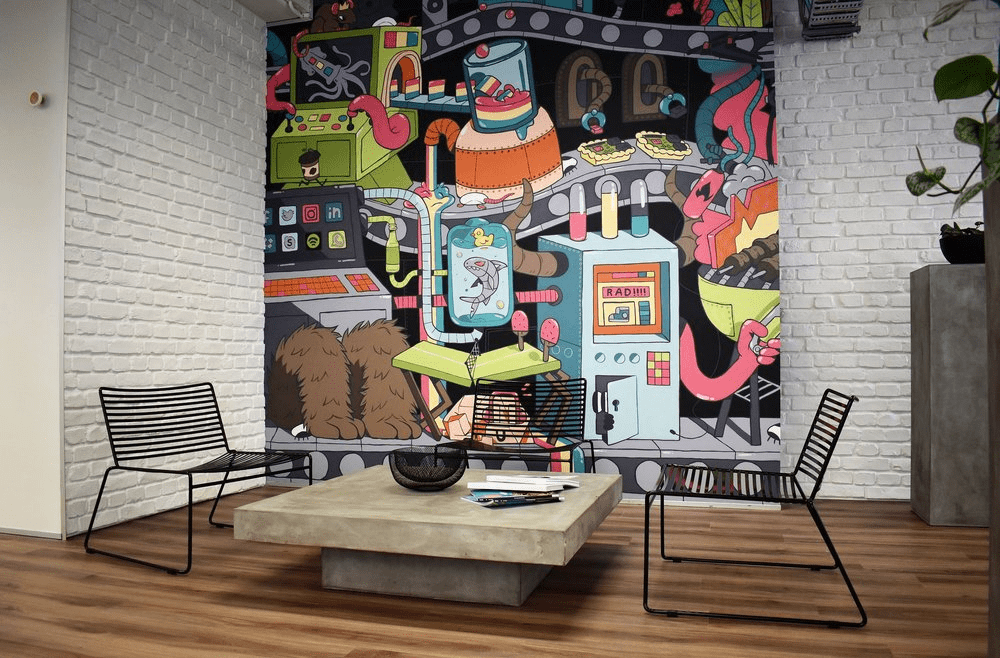 | | |
| --- | --- |
| Best for | Creative Office Design |
| Services | Residential and Commercial Design |
| Address | 9 Kirk Street, Grey Lynn, Auckland 1021, New Zealand |
| Contact no | 09 212 6820 |
| Website | https://www.pocketspaceinteriors.co.nz/ |
Pocketspace Interiors gives out a clue in its name already — they are skilled at redesigning small spaces using their creativity. With them, spaces are maximised and comfort is optimised.
This is what they are good at as one of the best interior designers in Auckland. That's just the tip of the iceberg too, as their services include site planning and feasibility, sourcing, colour scheme, etc.
If you see their portfolio, you will be in awe of their work, which has a stark beauty and coherence. They work on both residential and commercial settings.
Highlights
Innovative and stylish design
Specialises in designing small spaces
Holistic and complete service
Customer Reviews
Katie and Kevin describes their satisfaction with Pocketspace:
"We are just delighted with our new bathroom – even though it is a small space, thanks to the design it feels so much bigger.   Laura and Lucy worked hard to make it a painless process for us – and thanks to the excellent tradespeople they engaged, it has been completed to the highest standard."
5)  Cuthbert Interiors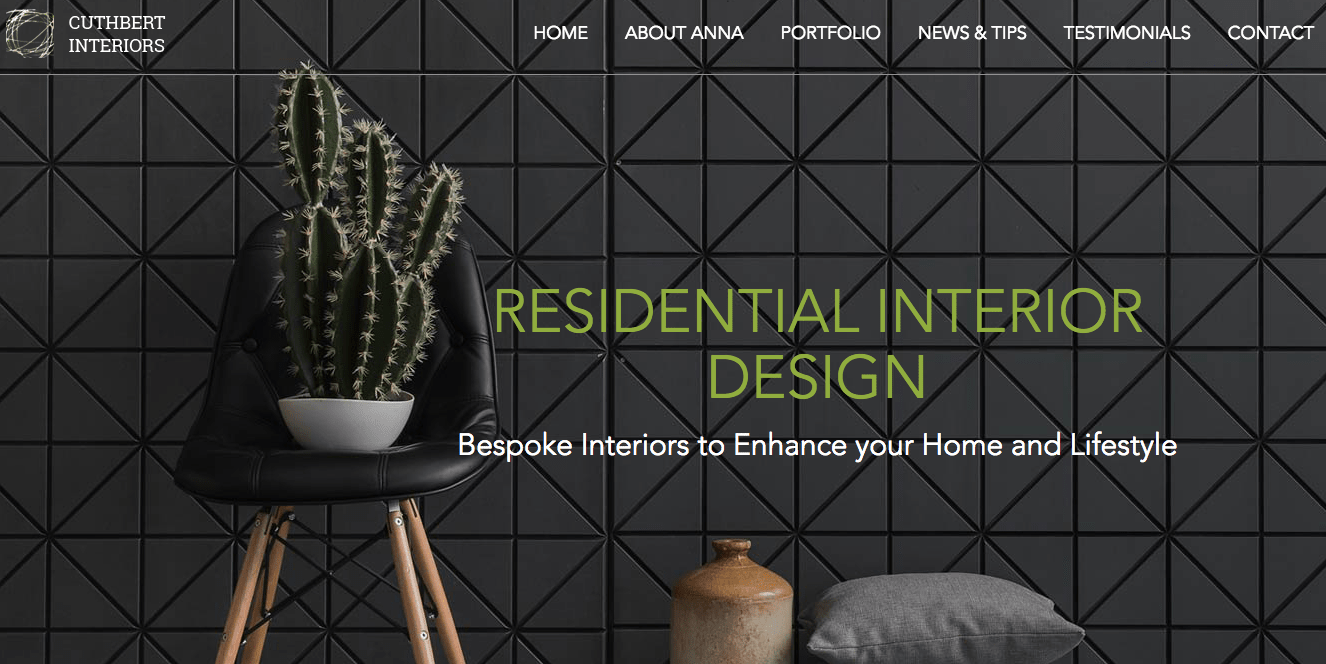 | | |
| --- | --- |
| Best for | Various Styles of Home |
| Services | Residential Interior Design |
| Address | Level 1, 11 Earle Street, Parnell 1511, New Zealand |
| Contact no | 09 3922 149 or 021 379 208 |
| Website | http://interiors.co.nz/ |
We each have a unique personality and design preference. Cuthbert Interiors is very adept at designing in a range of styles that will suit your personality, budget, and schedule.
It can be traditional, vintage, rustic, romantic, kid-friendly, or modern. Anna will collaborate with you every step of the way, as she goes on to work with creative flair and skill.
Aside from this, she will source the matching products and act as your project manager. This way, you can focus on other important things and of course, enjoy life.
She trained at the KLC School of Design in London, graduating with honours. With more than 21 years of experience, Cuthbert Interiors is one of the best interior designers in Auckland.
Highlights
Over 21 years of experience
Different styles for your home
Furniture, rugs, lamps sourcing
Customer Review
Tony Carter wrote a review for Cuthbert Interiors found on the website:
"Anna from Cuthbert Interiors furnished our new holiday home in Mangawhai for us. She did a wonderful job from specifying all the products right through to installation. We are delighted with the result. She made it so easy and handled everything for us which was wonderful."
6) Karen Fergusson Interior Design
With 30 years of interior design experience, Karen Fergusson Interior Design has become an award-winning design studio. They offer great services wherein projects are delivered on time and on the budget.
She gives emphasis in refreshing designs, neutral colour palettes and interiors with lots of natural light. She is skilled in bringing brightness into space through the vision of her clients.
Throughout her numerous projects, Karen Fergusson has taken projects from small luxury developments to large commercial projects. She will surely provide you with the greatest designs and this is why she is one of the best interior designs in Auckland.
Highlights
30 years of interior design experience
On schedule & budget accomplishment of the project
Award-winning boutique designer
7) Templer Interiors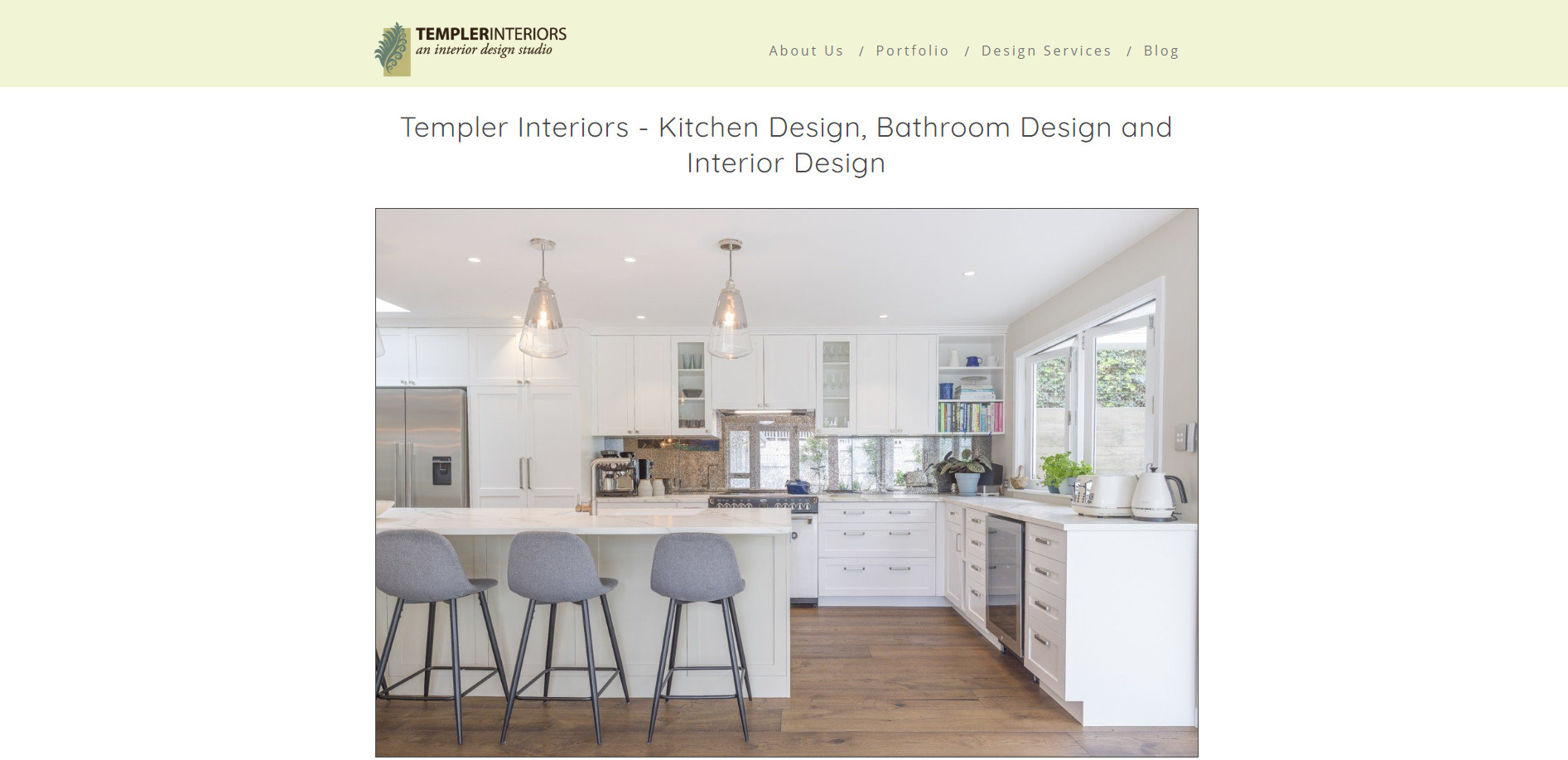 BEST FOR
Kitchen & Bathroom Design
SERVICES
Product Selection & Project Coordination
ADDRESS
123 Gowing Drive,
Meadowbank, Auckland, 1072
(visitors by appointment only)
CONTACT DETAILS
021 288 6248
WEBSITE
https://www.templerinteriors.co.nz/
Templer Interiors is an interior design firm that offers a full suite of services. They can handle projects of any scale, from small renovations to completely new builds.
Their services include design, product selection, and project coordination. Susan Templer, its owner and principal, has a degree in Business Management and a Certificate of Interior Design. She is more than capable of fulfilling any of your interior design needs.
With more than two decades of experience, you can count on Templer Interiors for your renovations. Contact them now!
Highlights
Many years of experience
Offers the full set of interior design services
And that's all for the best interior designers in Auckland. You won't go wrong with them as they have a keen eye for detail, are fun to work with, efficient, and best of all, talented.
Do you have any questions about our discussion? Feel free to send us a message and we will be right with you soon.
At any rate, if you are also looking for great interior door suppliers, you can read about the best interior door companies in Auckland. The right doors can add a definite note of style to your interiors!